Spring officially sprung last week in Australia and the Southern Hemisphere. Sadly my Northern Hemisphere friends, that means winter is heading back in your direction. Of course if you are reader near the equator that just means life will be getting a whole lot wetter and muggier.
As we have all been told time and time again, breakfast is the most important meal of the day. Sadly I am one of those people that are not great fans of breakfast, but I am really making an effort to change.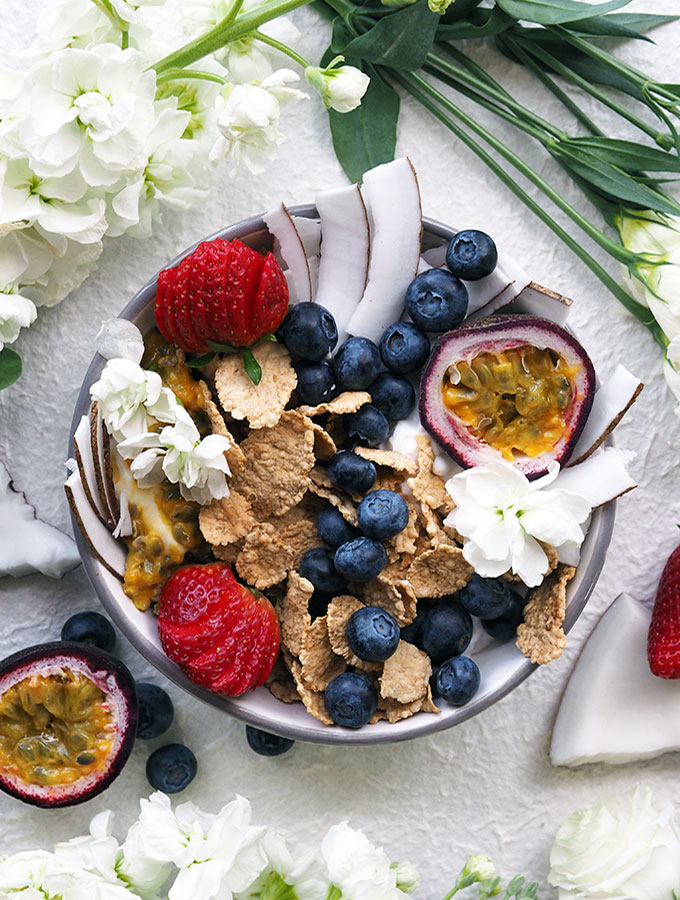 Every time I head up to stay with mum and dad, mum makes freshly squeezed juice, there is fresh fruit and of course a variety of cereal, all healthy stuff. I channel my inner 15 year old and usually just go for the juice. Today, just as for the past few decades, my mum continues to roll her eyes at me and says "are you sure you don't want something to eat?"
As I get older and the reality of life hits that I am no longer a teenager, I really do need to start looking after myself. Starting my day properly is one step in that direction.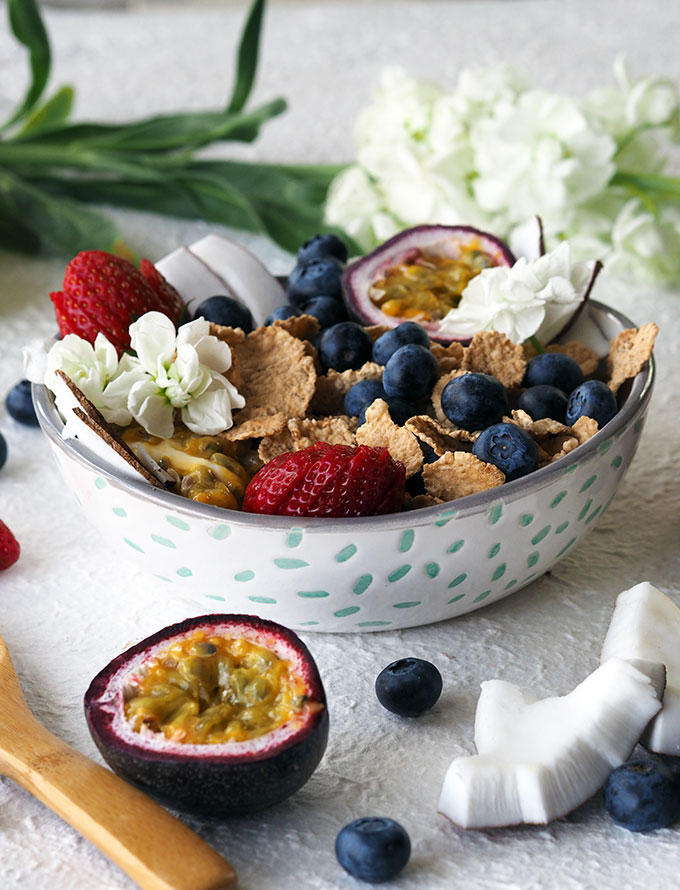 This Spring I am not only spring cleaning my house, I'm spring cleaning my diet. Starting fresh, making a pact with myself to start my day the right way, and eating a high protein and fibre breakfast. There is exercise thrown in there too……. somewhere………
With a brekkie bowl as pretty as this, how is this not the right way to start your day?
One little fact that has spurred me on to make sure I do include cereal with my breakfast, is some recent data released from the Australian Bureau of Statistics. It seems that people who eat breakfast cereal over other breakfast foods have slimmer waists and are more likely to be a healthy weight.
We should be eating one fifth of our daily kilojoule intake in the morning to get us ready to face the day. I'm not talking about sugary cereals, it's all about cereals that have higher protein, whole grains and are high in fibre. Team that with Greek yoghurt, fruits and nuts and you have one very healthy start to the day. It will help regulate your appetite and ticks the box for good gut health.
Sure I'm not going to create a brekkie bowl like this every day of the week. We could call this my pick me up and make me smile brekkie bowl. My ultimate brekkie bowl in fact.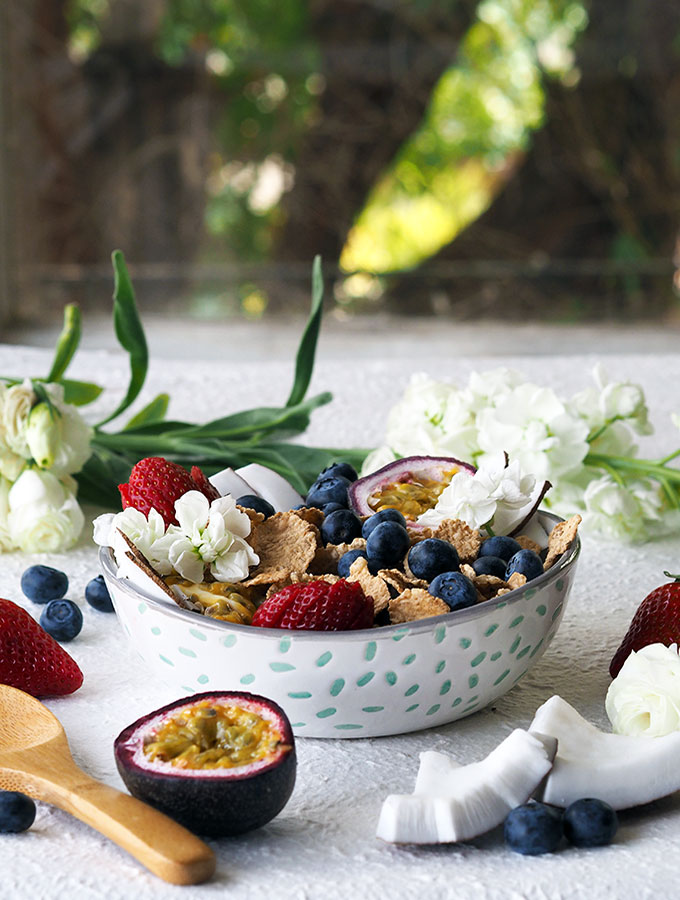 What is in my ultimate Spring brekkie bowl?
Cereal: The foundation of my bowl. I personally like breakfast cereal flakes, ones that are high in protein and fibre. What you use is totally up to your taste buds, just steer clear of those sugar laden cereals.
Fruit: I always go for what is in season. Blueberries and strawberries are in abundance right now, and they are so good for you. Make the most of it! Passionfruit is also in season, I'm a big fan so of course they are added.
Nuts: I have a love of freshly grated or shaved coconut, almonds would be my second choice.
Dairy: If I am having a brekkie bowl with lots of fruit, I tend to add yoghurt. I like my cereal crunchy and feel it adds the right balance with the fruit.
I've also come across some interesting, amusing and slightly whacky brekkie bowl facts.
Brekkie Bow Facts – Did You Know…
Fruit is the most common addition to Aussies' breakfast bowls, there are just over seven million of us that do. That seems an obvious fact to me, but did you know that more than half a million people add vegetables to their breakfast bowls!
Just shy of a million Aussies add herbs and spices to their cereal bowls, and nearly four million add nuts.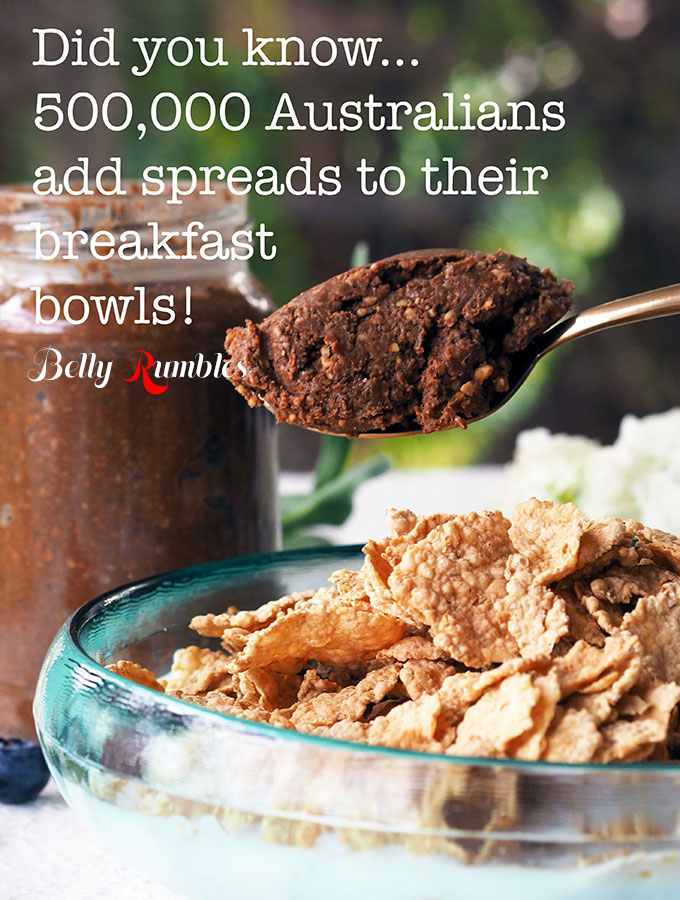 Social media plays a big part on what Aussies eat for breakfast. Just under half a million of us choose what goes in to our breakfast bowls solely on what looks good in social media.
My female readers may be surprised to know that out of the 500,000+ people that post a photo to social media of their breakfast bowls every day, that men are three times more likely to do so than women.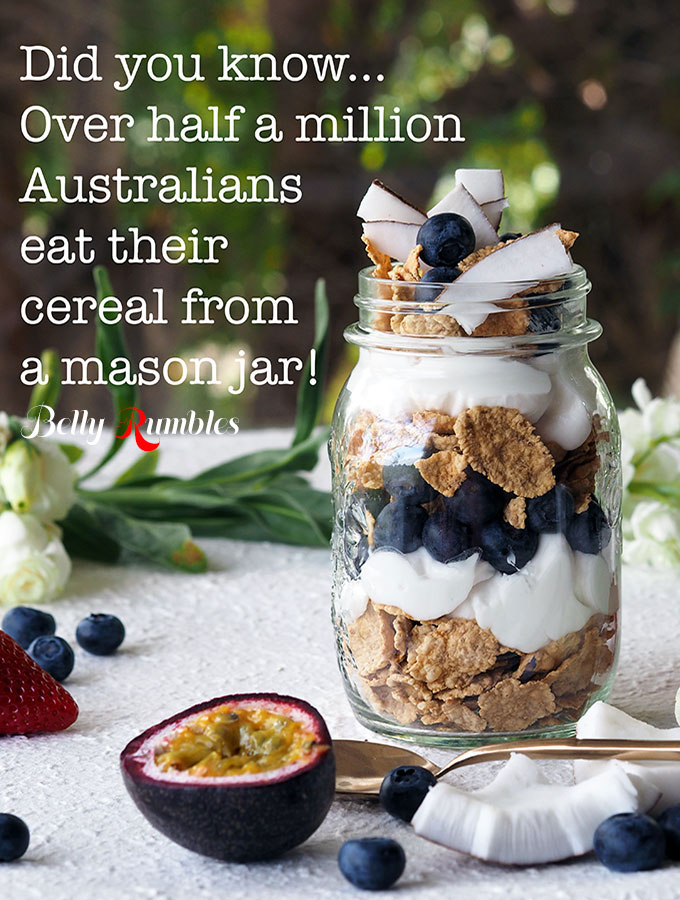 800,000 Aussies eat their cereal from a plate, but just over half a million of us eat it from a mason jar. You big bunch of hipsters you!!
59% of us like our cereal plain and simple with just milk, but 49% of us like to pimp that bowl.
And the really whacky…
More than 300,000 Aussies eat cereal with a fork….. I mean, seriously???
1.1 million of us have a special spoon we eat our cereal with
1 million of us eat it right from the box (I'm guilty of that one).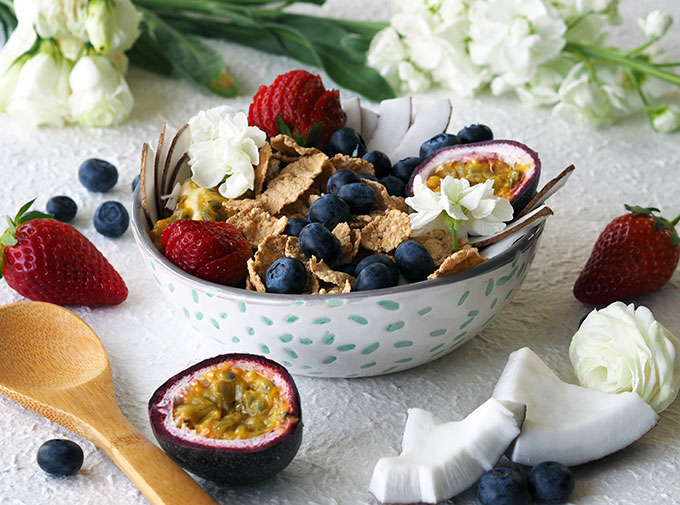 Now I've shown you mine, I would love you to show me yours!
Share with me your ultimate cereal brekkie bowl on social media. If you tag #mybrekkiebowl #bellyrumbles on Instagram I would love to give some of the best brekkie bowls a shout out. Also tag #mybrekkiebowl @cereal4brekkie on twitter or #mybrekkiebowl @lovecereal4brekkie on Facebook to share that brekkie bowl love.
What would go in to your ultimate cereal brekkie bowl?
Sara xxx
Belly Rumbles would like to acknowledge its partnership the Australian Breakfast Cereal Manufacturers Forum (ABCMF) for this post. Statistics provided from The Galaxy Research study of Australian breakfast habits. This recipe was created, developed and photographed by Sara McCleary.
Become a subscriber and don't miss a single delicious recipe, restaurant review or travel adventure.