The Vic on the Park is a very dog friendly Sydney pub located in Marrickville.
Harley turned eight months old this month and I can't believe how quickly time is flying. Still very much a puppy, even though she is looking more like a fully grown husky these days.
She's a very sociable pooch, adores people and dogs. So much so she has started doggy day care, which she loves. Just like day care for human toddlers, Harley had to go through an interview process. Thankfully she passed, and now spends the odd day playing with lots of other puppies. She can't wait to get there, and comes home quite exhausted.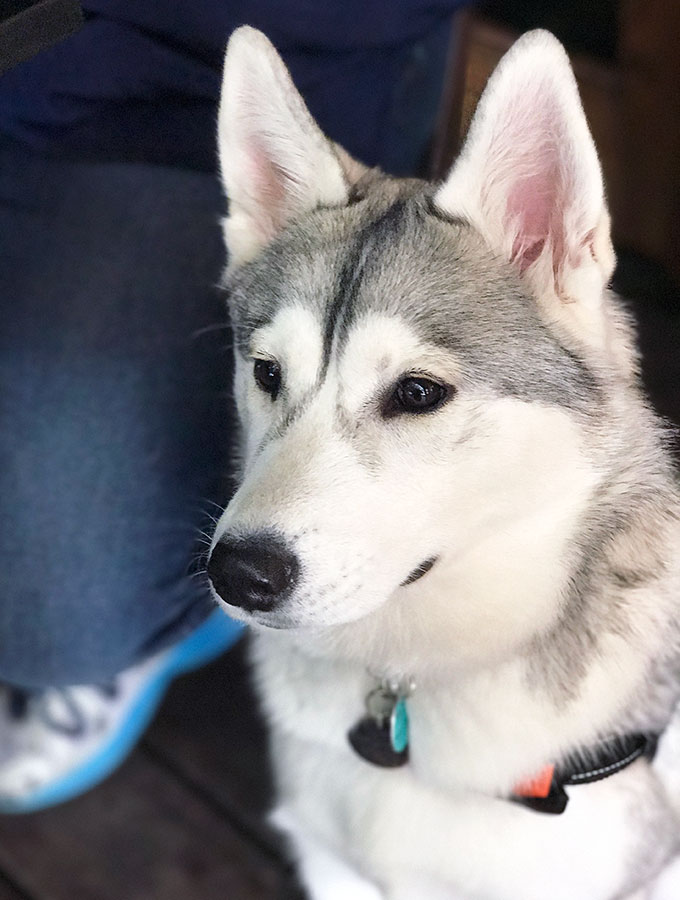 My biggest issue with doggy day care is I am checking their Facebook page every half an hour for video updates and pictures. She even comes home with a little report card of her playmates for the day and what she got up to.
Her social nature has made checking out dog friendly Sydney establishments a total breeze. Sydney has a few dog friendly places to visit, and over time we are hoping to visit them all.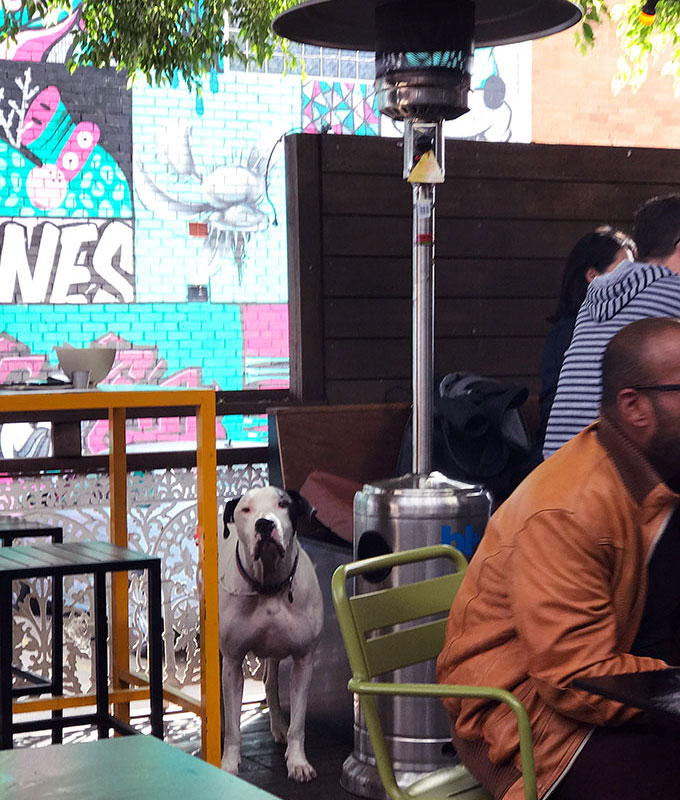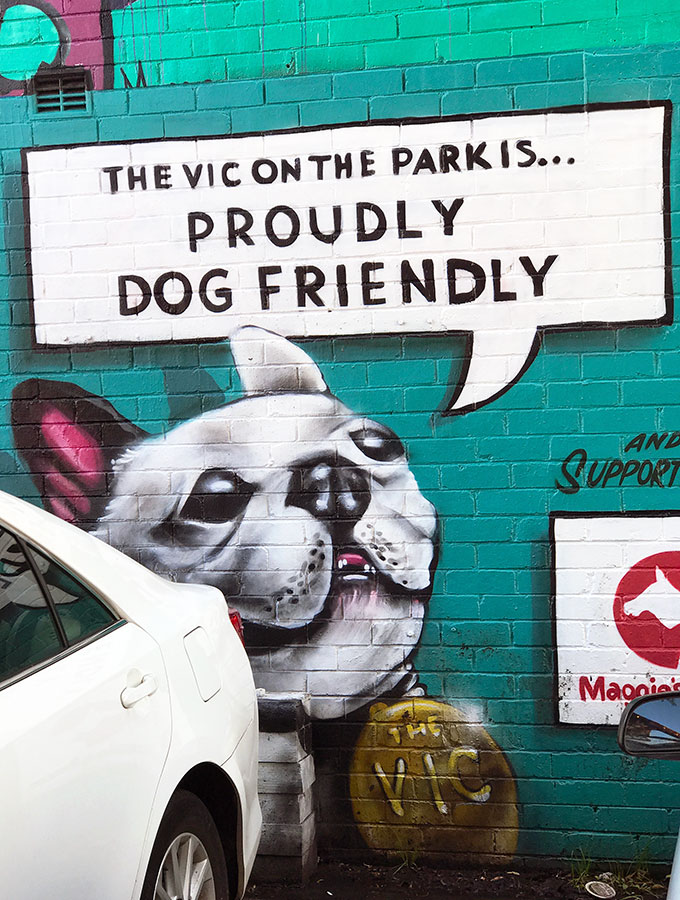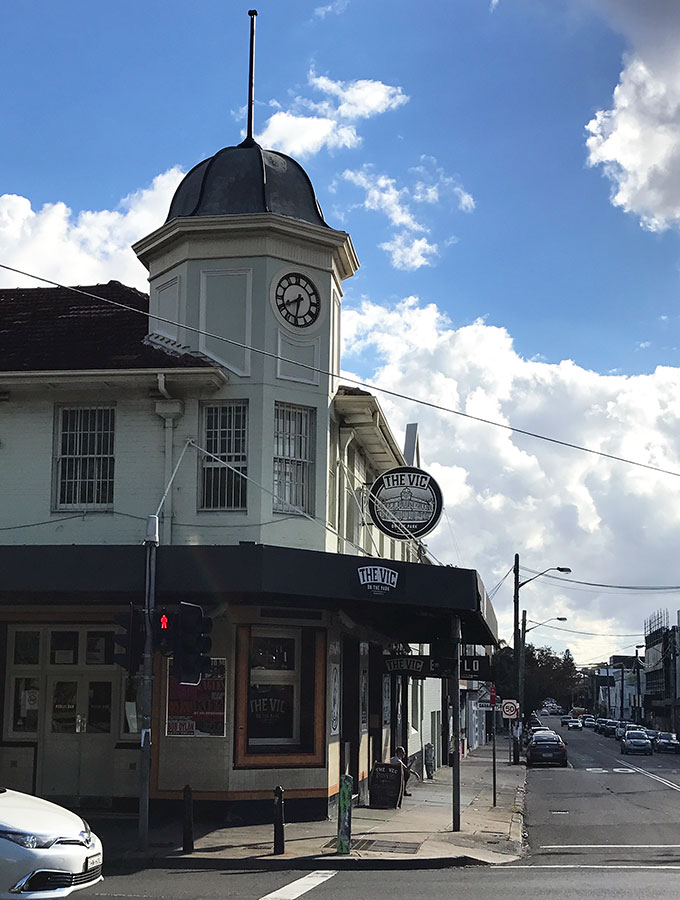 The Vic on The Park is extremely dog friendly and was highly recommended to us by others that have fur babies. No dogs allowed inside, but there is a rather large balcony where your pup is welcome.
We arrived early for lunch on a Sunday. I felt it best to try and beat the crowds as The Vic on the Park have a doggy badge draw on Sunday afternoons. For $15 you fur baby gets a bandanna, a numbered dog tag and entries into the weekly draw. Basically they become part of The Vic doggie possie (my words not theirs).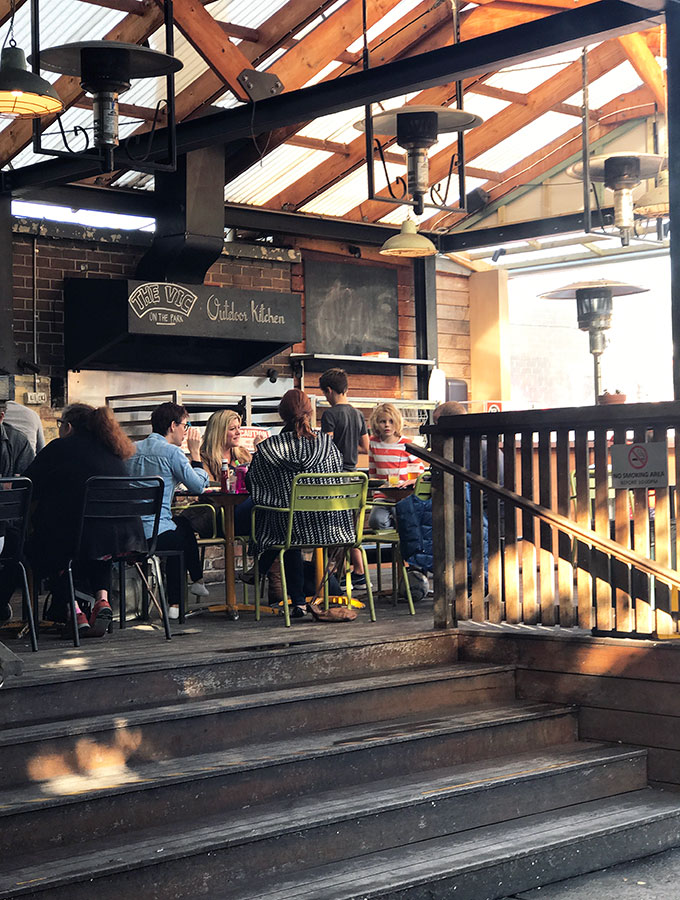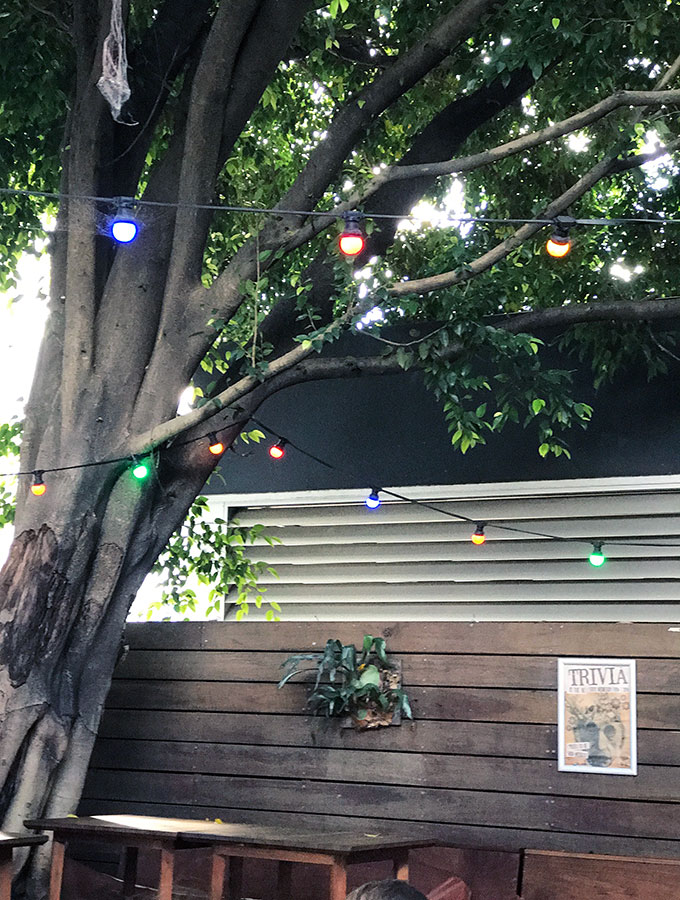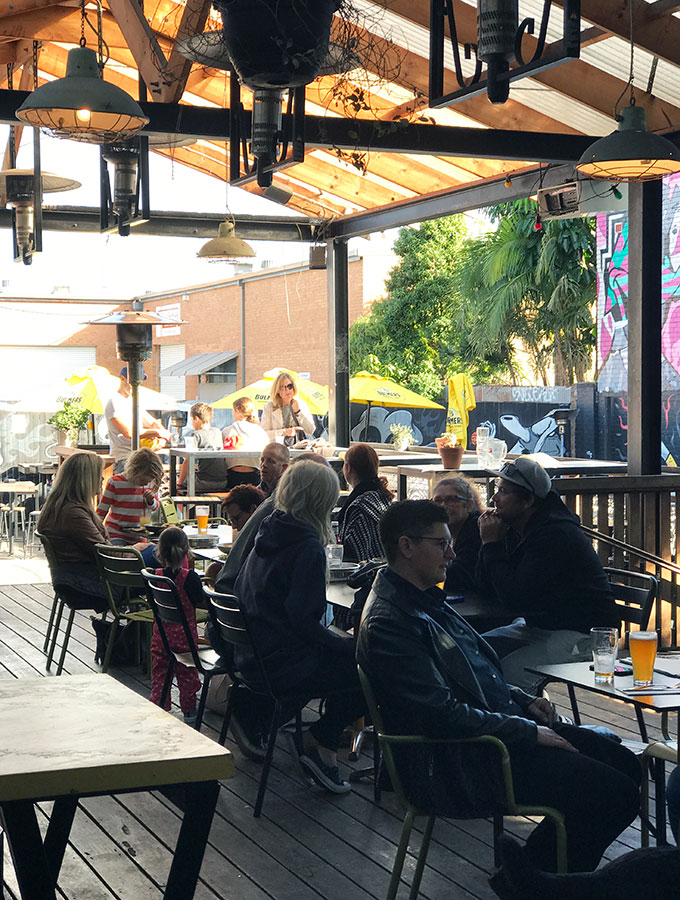 They have a small core menu, which is complimented by a generous chalkboard of weekly specials. All in all, it is a pretty solid menu with something for everyone, except your pooch. Which was a little bit of a disappointment as a lot of dog friendly Sydney eateries are offering doggy dishes as well. When you are ready to order just head to the bar, place your order and you will get a buzzer when your food is ready.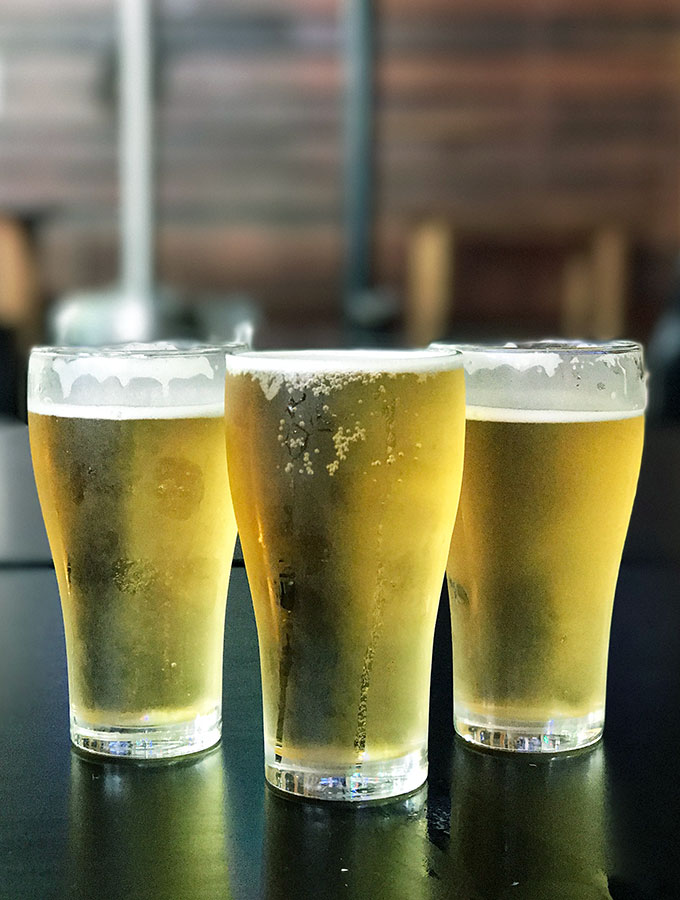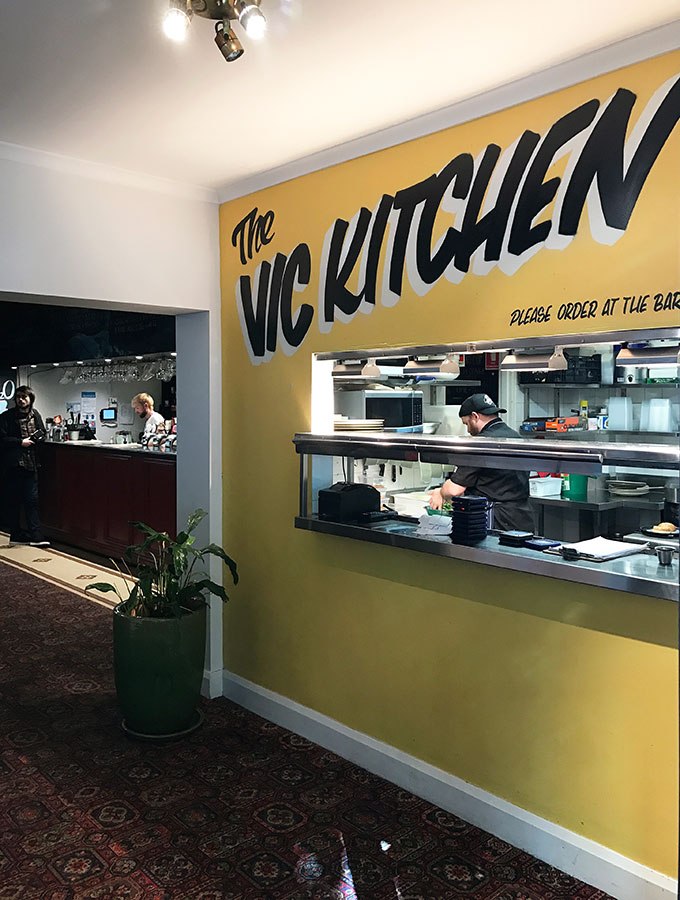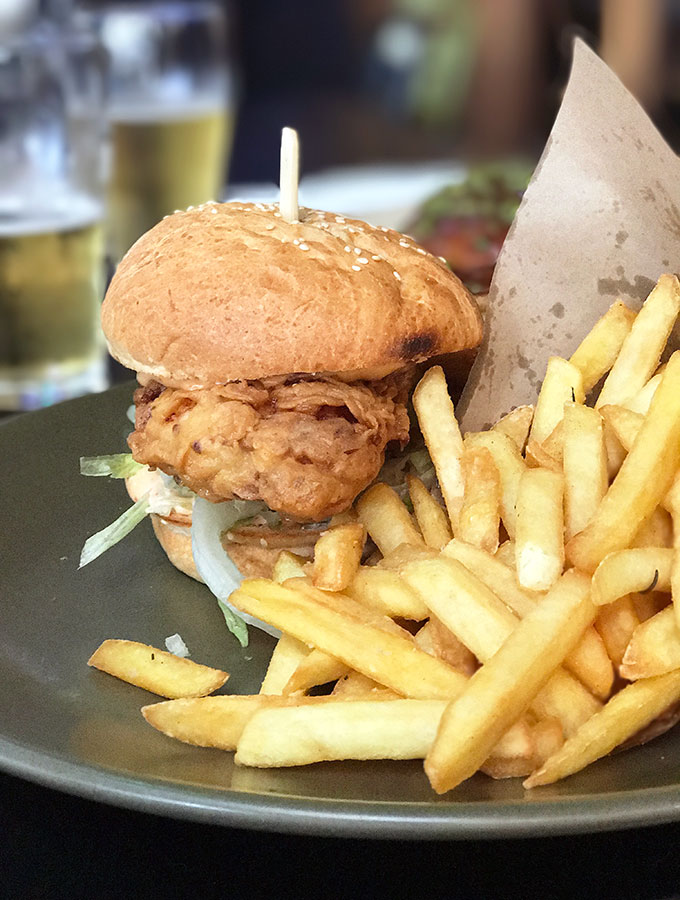 Buttermilk fried chicken burger with lettuce, tomato, avocado, chipotle mayo & hot chips ($19)
Josh ordered the buttermilk fried chicken burger. It's a great burger and the chicken is super crunchy and juicy. The chips are great, super crunchy on the outside and fluffy on the inside, just how chips (fries) should be.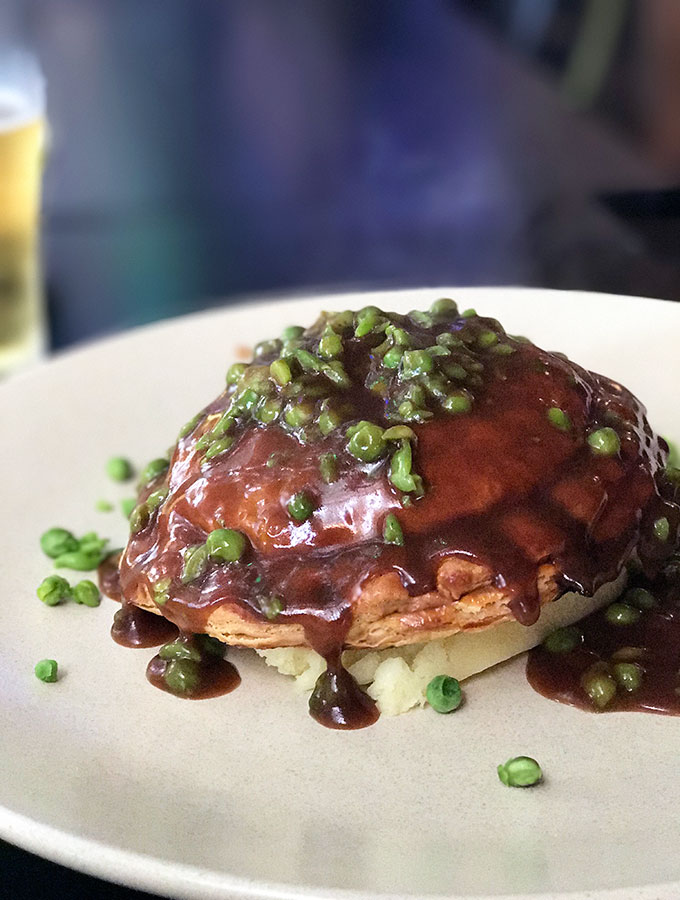 The Vic Pie, beef pie with mash, mushy peas & gravy ($22)
Mac decides on The Vic pie. The week we visit it is a beef, but it changes, when you visit it could be chicken. It's hearty, tasty and warming, but he feels a little cheated on the quantity mushy peas.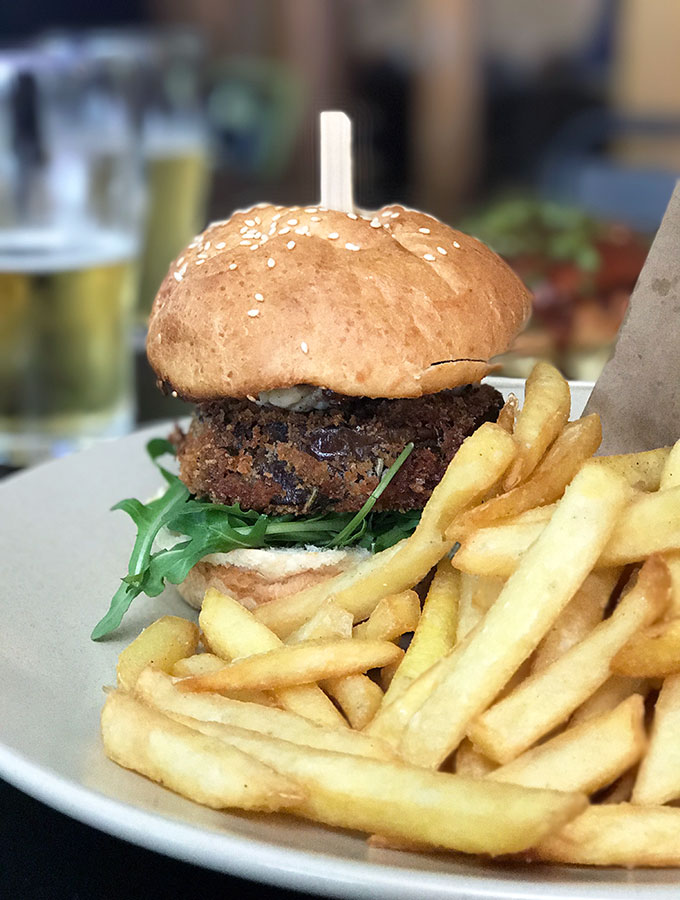 Crumbed eggplant burger with halloumi, garlic & mint yoghurt, relish & hot chips ($19)
I decide to do something a little out of the ordinary for my lunch choice, a vegetarian option. By the way, The Vic has a few of those, plus gluten free on their menu. The eggplant burger isn't bad, considering I am envious of Josh's choice. I often suffer from the grass is greener syndrome when it comes to dining out. I love the halloumi, it was just a shame the generous piece of eggplant became texturally sogsville towards the end. The chips were the same sensational ones that Josh had.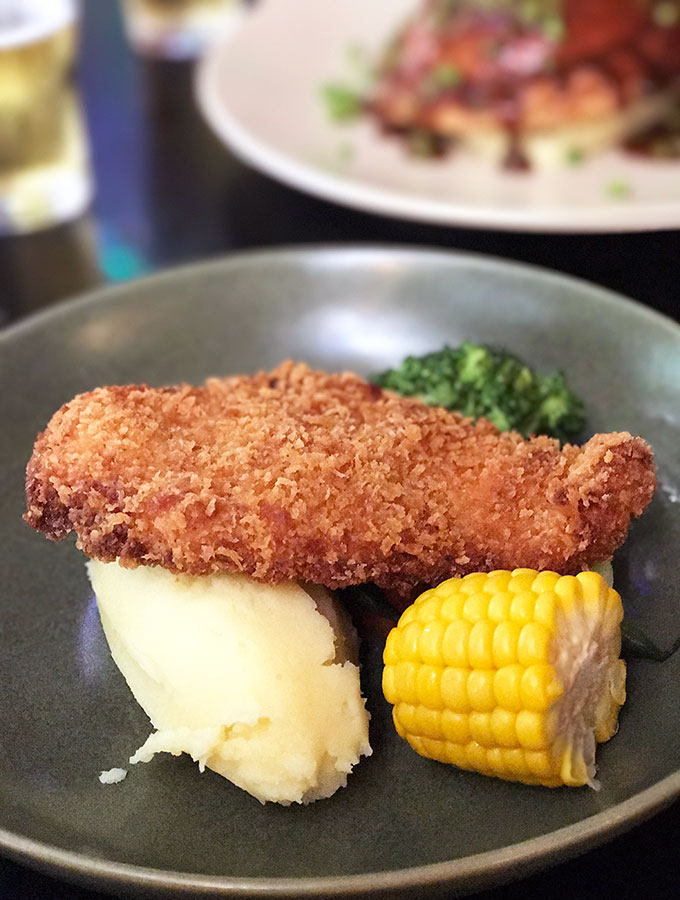 Chicken schnitzel with chips & salad or mash & veg ($10)
But what about Harley? Well, naturally I ordered her a kids' meal. Shhh, keep that one amongst us. I felt nachos might not be quite her jam, so it was chicken schnitzel to the rescue. If she was watching her puppy waistline I could have ordered it grilled not fried.
When we head out I always carry a bowl with me. Actually, I have a whole Harley bag of tricks, very much like going out with a toddler. So it was quite easy to chop some lunch up for her to enjoy. Harley's schnitty was really good. I know as I helped myself to a few pieces as I carved it up. It has a delicious crunchy crumb and the breast fillet juicy. Happily I can confirm the mashed potato was creamy and light. She was quite impressed and like a good toddler ate her broccoli, but giving the beans a miss. Josh helped her out by eating the corn.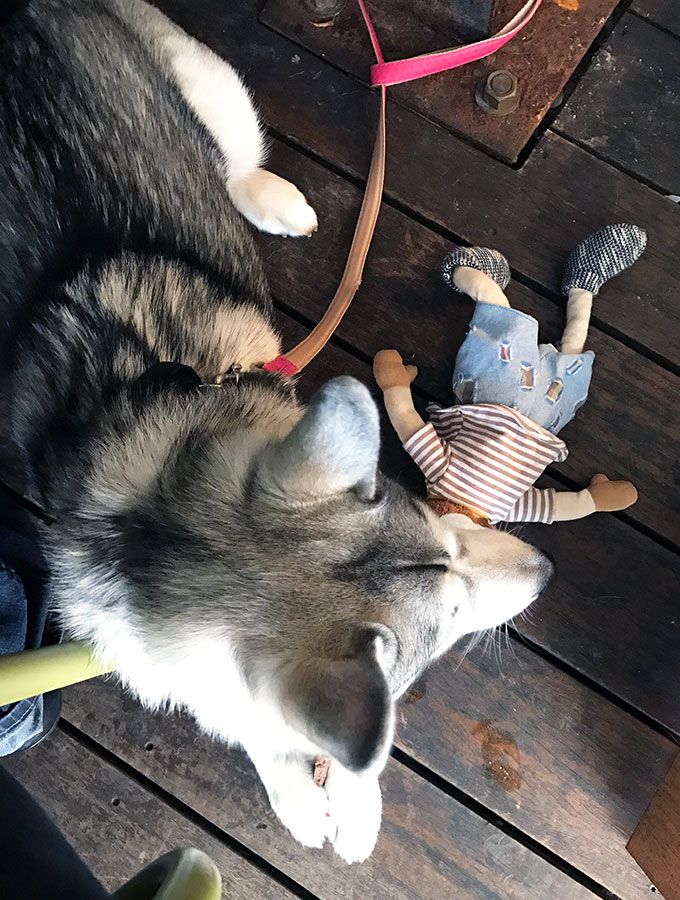 As The Vic is dog friendly everyone there for lunch seemed to love dogs. Harley received lots of pats and hellos, which she was very happy about. She even met another husky! If you are looking for a dog friendly Sydney pub, then The Vic on the Park may just well be the place for you and your pooch.
Also, thanks to reader Lisa, I now know that Santa is at The Vic around Christmas time so you can have your fur baby's photo taken with him. Do check their website closer to Christmas for more information!
Sara xxx
Must try dish: Buttermilk fried chicken burger
Who should dine here: Dog lovers and families
Who shouldn't dine here: Those of the non K9 persuasion
What else you should know: Make sure your fur baby is happy with attention from people and other dogs
Price: $12 - $34
BYO: No (it is a pub)
Bookings: No
Opening hours: Mon to Fri 11.30am -2.30pm & 5.30 - 10pm, Sat 11.30am -10pm, Sun 11.30am - 9pm
Contact details: 2 Addison Rd, Marrickville (Sydney) Tel +61 2 9557 1448
www.viconthepark.com.au
Become a subscriber and don't miss a single delicious recipe, restaurant review or travel adventure.