Berlei have just launched their new Dig Free legwear and to help celebrate I have a indulgent prize up for grabs on Belly Rumbles.
I have to admit that I am a bit of a Berlei bra girl.  Okay that was probably sharing to much information, but they are one of two brands of bras that are my favourite for the curvy girl with larger assets.
I also have to admit that I didn't realise Berlei extended their range to legwear.  Berlei's new Dig Free range (RRP $15.95) is specially designed to hide those natural lumps and bumps that most of us get.  A cleverly engineered waistband and the unique garment control technology, smoothes away those bumps and muffin tops for a sleeker shape which gives you a confidence boost.  Available in a range of colours and denier, which are perfect for the coming Winter.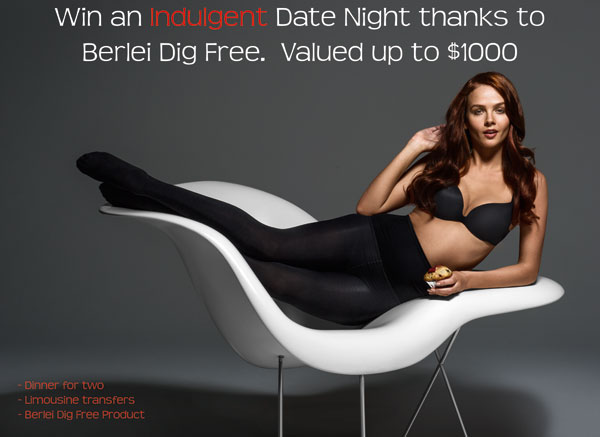 I have been pretty strict of late with my diet.  I am basically attempting to get in to shape and shift a few kilos before August.  What's happening in August you ask?  It's a secret for now, but all will be revealed later this year.
Really watching what goes past my lips makes me think more about cheating on the diet more than ever before.  I am sure this is quite normal and we all feel this way when denying ourselves.  I have been ever so good, but unfortunately I totally fell off the rails on our recent holiday.  Seriously, who wants to diet when on holidays?  For a solid 10 days, while in the Northern Territory, I didn't really worry about what I ate.
As mentioned I have a very generous prize to give away, thanks to Berlei and their Dig Free Range, but let me first tell you about one of the best meals I had in Darwin.  In cases like this, some Dig Free bump smoothing is very appreciated!
Darwin is known for its oversized meals, and Tim's Surf & Turf  is no exception.  Located out of the way in a side alley off Cavenagh St, you have to be looking for Tim's to find it.  There are a few inside tables, but I suggest, if weather permits, that you grab one outside amongst the lanterns and palm trees.  There is even a pond in the courtyard where the resident crocodile resides.
Tim's is very popular with locals and very busy.  Reservations are only available for large groups.  I suggest getting there early to ensure a table, and avoid the mad rush around 7pm when the place will become packed.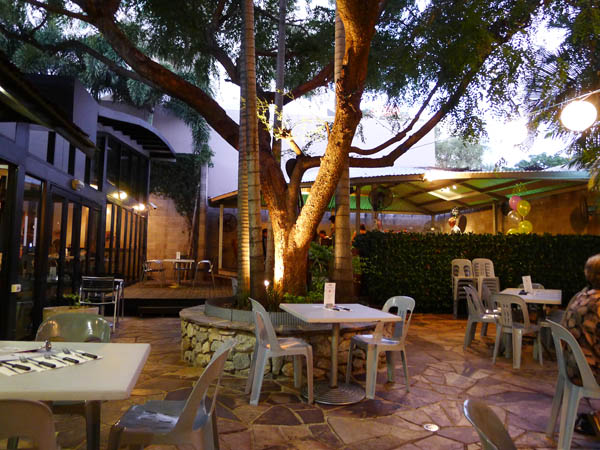 It was actually Tim himself that showed us to a table and then decided to sit down with us and personally explain how the system works at the restaurant.  Full of personality , very friendly, a great introduction to the restaurant.
So how does the system work at Tim's?  Once seated you will notice a docket style order form and pencil on the table.  This also acts as the menu with dish descriptions on the back.  Fill the form in, take it up to the counter, pay for your meal and you will be given a number for the table.  You can also order your drinks while ordering your meal.  For drinks after that head straight to the bar.
The menu reminds me of an extensive pub menu.  Entrees of breads & dips, various styles of oysters, prawn and squid dishes, an Asian influence via spring rolls and chicken satay.  There is a touch of the Northern Territory with crocodile.  Quite a large main selection, seafood platters, schnitzels, pasta, salads, steaks, various other seafood offerings, and of course barramundi and crocodile.  A small selection of reasonably priced wine, beer and spirits are also available.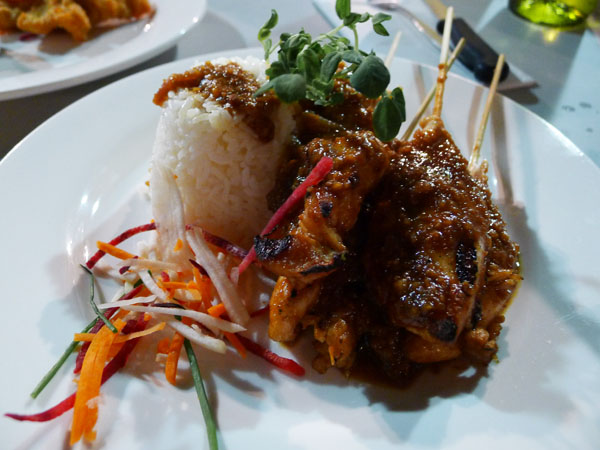 A decision of a couple of entrees to share was made as we had spied some of the mains, and they were massive.  Chicken Satay ($12), four tender chicken skewers served with rice and salad.  A kicking peanut sauce to accompany it, nice deep flavour, none of this peanut butter tasting stuff that can be found in many a restaurant.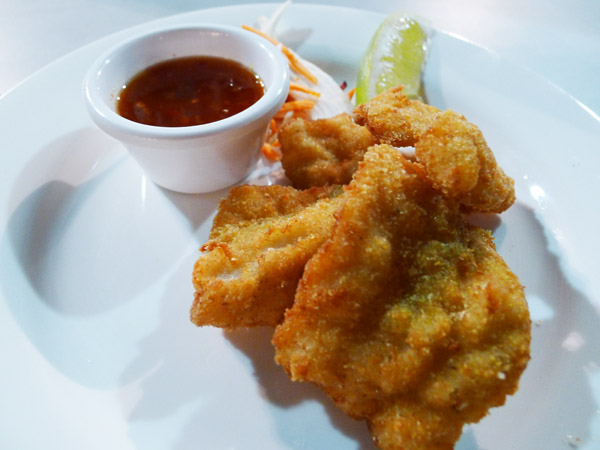 Crocodile Taste ($12), four pieces of crocodile schnitzel, salad and a sweet chilli dipping sauce.  The  crocodile pieces are thin and covered in a crunchy coating.  If you haven't tried crocodile before it's a safe introduction.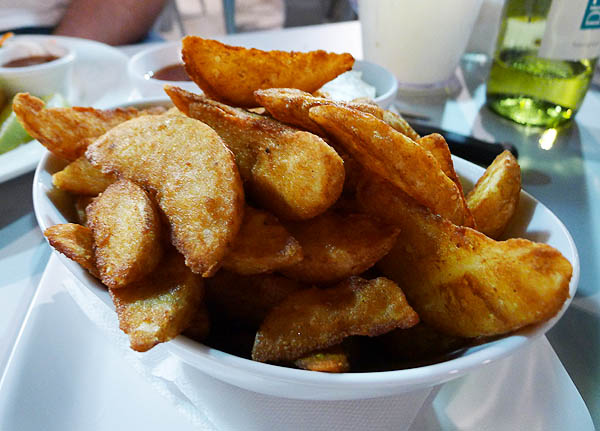 Mains arrive and they are even bigger up close.  We could have survived without the side of potato wedges with sour cream & chilli sauce ($10).  Sadly due to the amount of food they were hardly touched.  All mains come with creamy potatoes, and a choice of salad or vegetables.  The potatoes are creamy, tender and can be found hiding under some grated carrot and daikon.  I didn't expect much from the potatoes and surprisingly found myself polishing off every mouthful.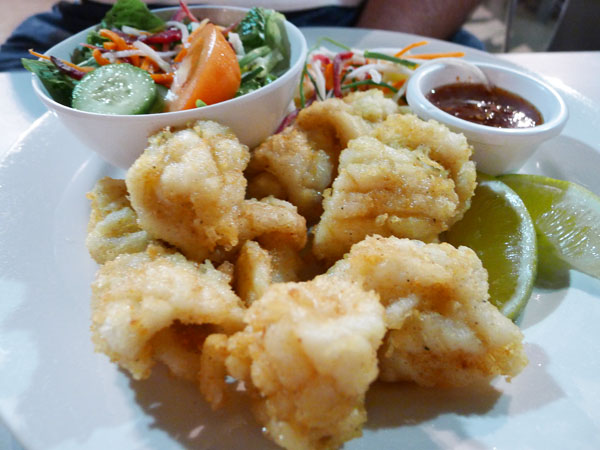 Salt & Pepper squid with salad ($22).  Large tender pieces of squid within a deep fried seasoned coating.  Accompanied with sweet chilli sauce, lime and a Greek style salad.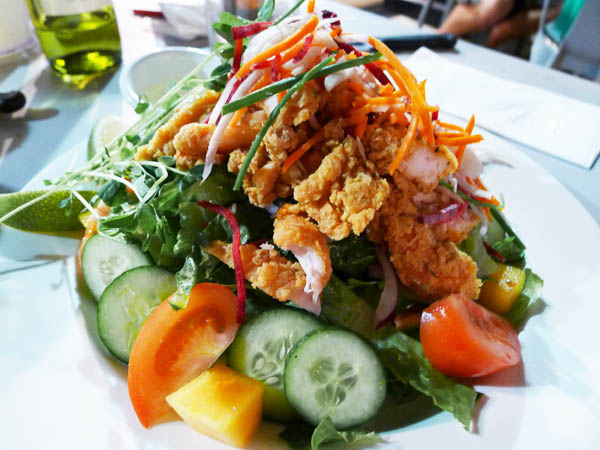 The special of the day was Cajun Fried Chicken Salad ($17.50).  A mountain of salad which included lettuce, cucumber, snowpea sprouts, carrot, tomato, chives, beetroot, daikon and rockmelon.  The salad topped with a generous serve of tender chicken encased by a crunchy Cajun coating.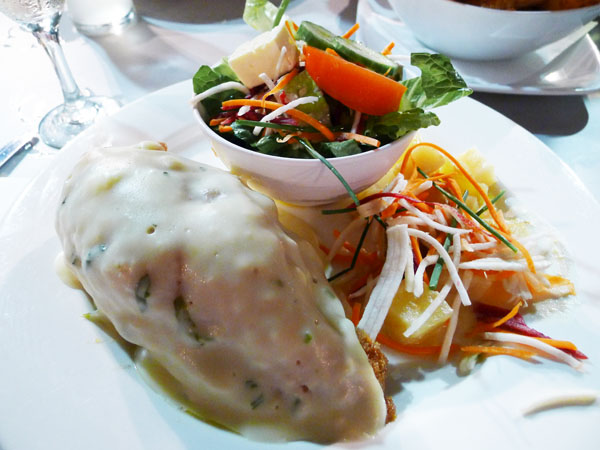 I ordered the Chicken Kiev ($22), which ended up being the biggest dish of the evening!  A humongous chicken fillet filled with garlic butter and then topped with more garlic goodness in the form of a cream sauce.  I made a valiant attempt, but no matter how much I tried or wanted to I couldn't get through it all.
Dessert?  I am not actually sure if Tim's even do dessert.  Was not something that we even contemplated we were so full.
Enough about my holiday indulgences.  I am sure you're anxious to know how you can participate in a little indulging yourself.
How would you like to win the ultimate Date Night?  Dinner for two and also be totally spoilt with limousine transfers to and from the restaurant!  Plus you will get to try Berlei Dig Free for yourself.
To be in the running to win this great prize it is as simple as leaving a comment below.  Just share your favourite 'cheat' treat (and recipe if it's short and sweet).  Competition is only open to Australian residents and closes Friday 24th May at 5pm.  Full T&C's here.  Feel free to enter as many times as you like.
Do tell dear Belly Rumble's reader, what is your favourite 'cheat' treat?
Sara xxx
This post has been sponsored by Berlei
Tim's Surf & Turf
10 Litchfield St, Darwin City
Tel: +61 8 8981 1024
www.timssurfandturf.com.au