Have you ever eaten Kamameshi? I haven't seen it on a Japanese menu or seen a restaurant that specialises in this dish in Sydney.
Kamameshi literally translates as 'kettle rice', a very popular Japanese dish which is prepared and served in a small pot. The closest dish it reminds me of is Korean bibimbap.
It is a rice dish topped with selected ingredients that are cooked and served in a pot called 'kama' and in this circumstance 'meshi' means rice. The ingredients are cooked in stock, in the pot, which creates taste congruity between rice and toppings. It is my understanding that this dish originated during the big Kanto earthquake in 1923. Apparently a restaurant owner cooked up a dish of mixed rice for those affected by the earthquake.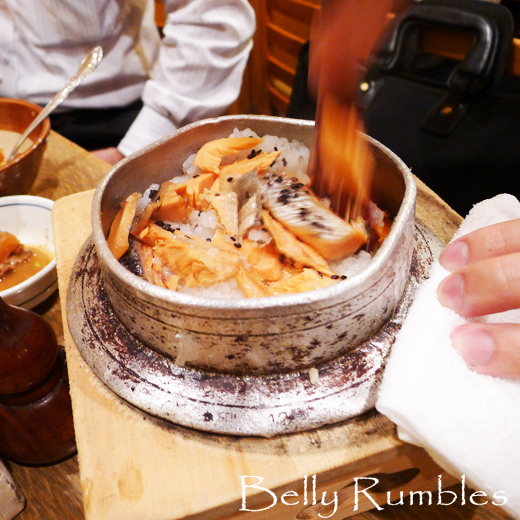 Popular toppings used in Kamameshi are cod roe, vegetables, mushrooms, salmon, bamboo, chicken mince and crab to name a few. Once your Kamameshi has arrived at your table you use the provided paddle to mix it all up before serving.
As Kamameshi takes between 15 - 20 minutes to cook, people generally start off with a few appetizers, which is exactly what we did.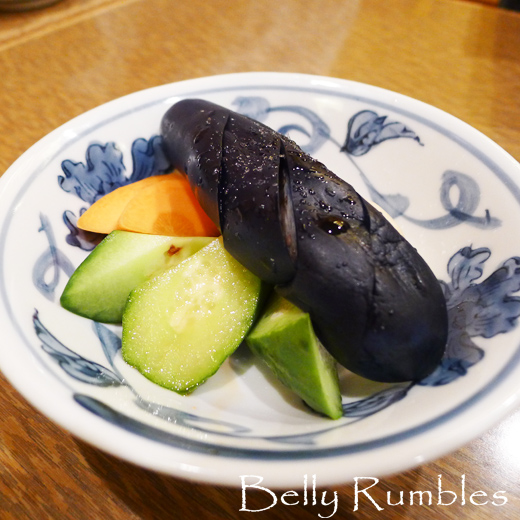 Jo-shinko (pickled eggplant, turnip, cucumber & carrot)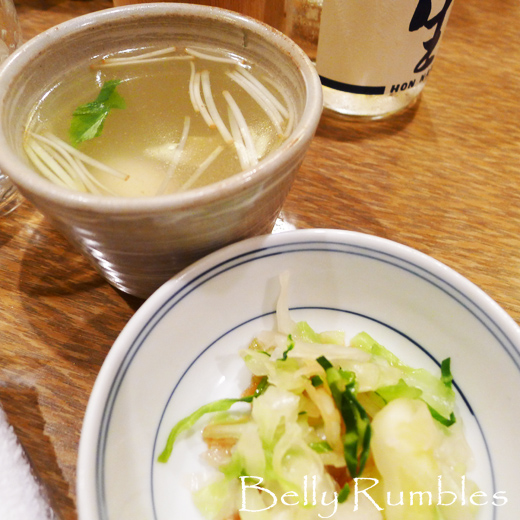 Pickled vegetables and chicken broth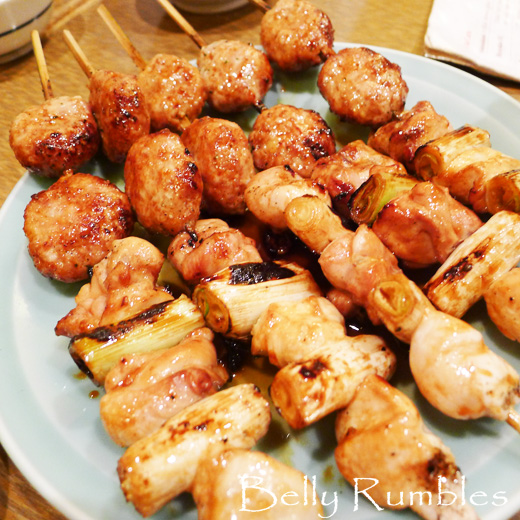 Negima-yaki (chicken pieces & Japanese leek) & Tsukune-yaki (chicken meatballs)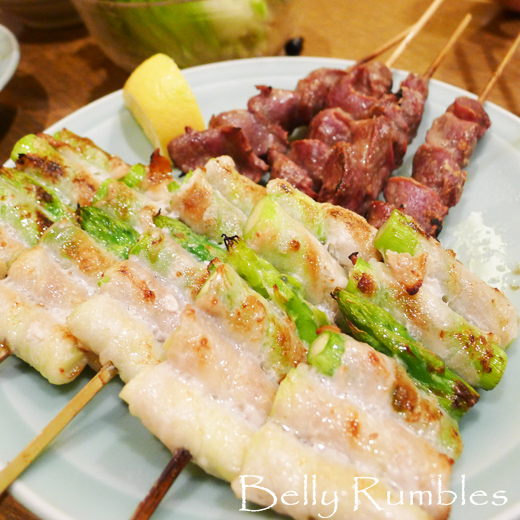 Sunagimo-yaki (grilled chicken gizzards) & Aspara-bacon-yaki (grilled bacon rolled asparagus)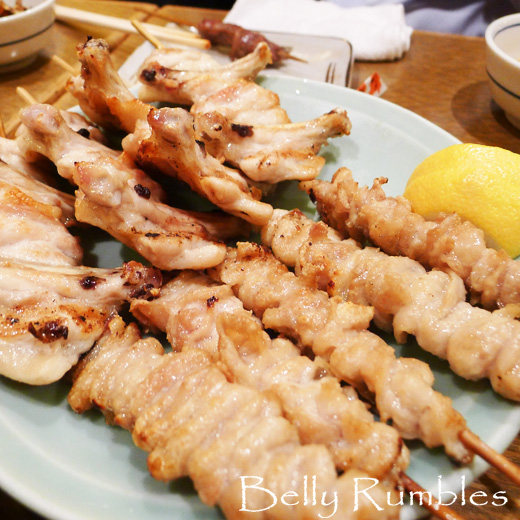 Yakitori (chicken pieces) & Tebasaki-yaki (grilled chicken wings)
Our hosts were extremely generous, there were five of us for all of the above food. Mum was full already and we were yet to eat the Kamameshi. Dad and I were getting there, but enjoying the food so much we were happy to keep stuffing our faces.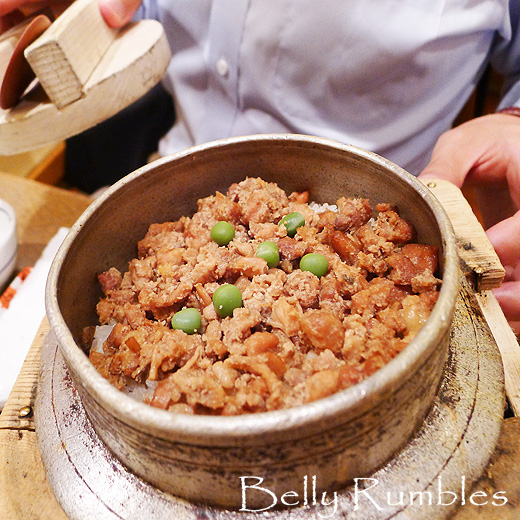 Tori Kamameshi (rice & chicken mince)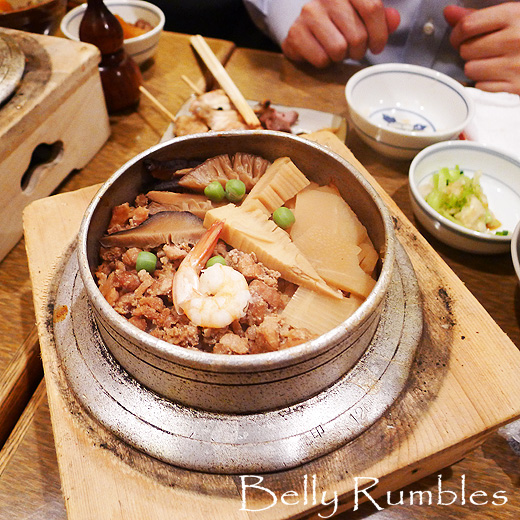 Gomoku-kamameshi (rice, chicken mince, bamboo shoot, shiitake & prawns)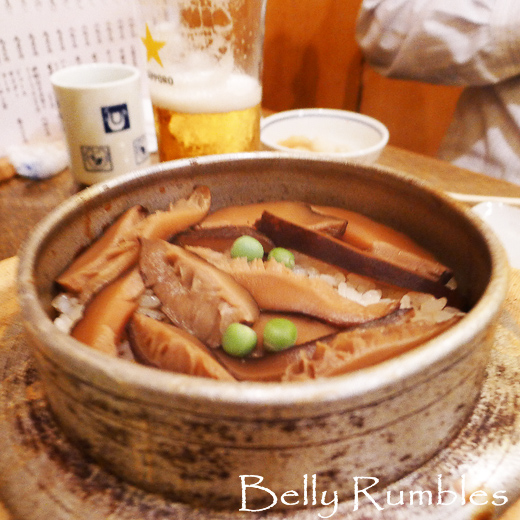 Shiitake-kamameshi (rice & shiitake)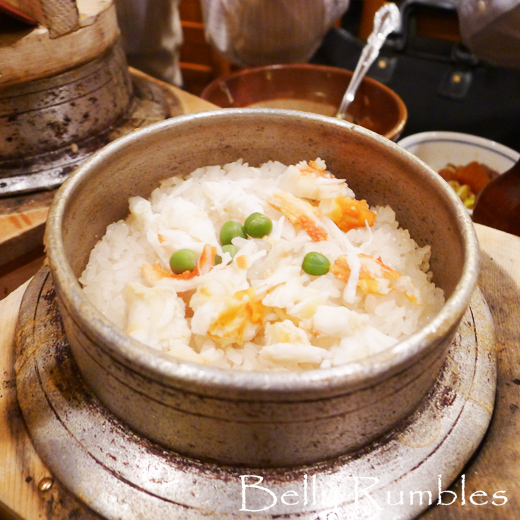 Kani-kamameshi (rice and crab)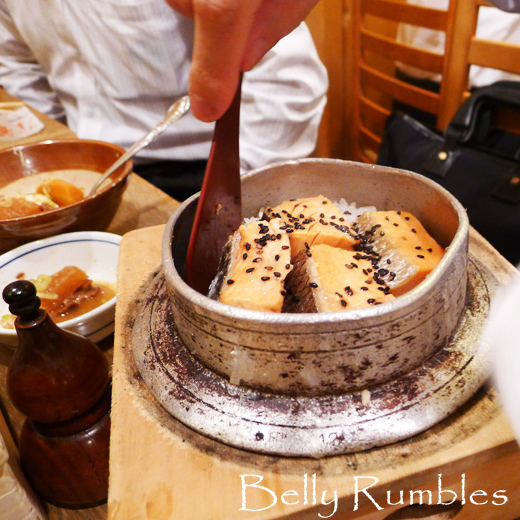 Shake-kamameshi (rice & salmon)
As you can imagine we waddled away from dinner. Luckily we were staying in Ginza and the walk back to the hotel helped digest yet another awesome Japanese meal.
Do tell dear Belly Rumbles' reader, have you tried Kamameshi or anything similar?
Sara xxx
Torigin - Ginza Branch
5-7, 5-chome
Ginza, Chuo-ku
Tokyo, Japan
www.torigin-ginza.co.jp