The Magical Island of Wine sounds like the fairy tail destination for any vino loving adult. Yes Virginia there is a magical island of wine and you can discover it doing a Waiheke Island Wine Tour.
There is far more to Waiheke Island than wine. There are beautiful beaches, stunning hiking trails, local produce, brilliant seafood, outdoor activities and a thriving art scene.
But I didn't visit for those things. No my visit was all about the wine! Well, okay I did eat some stellar local oysters.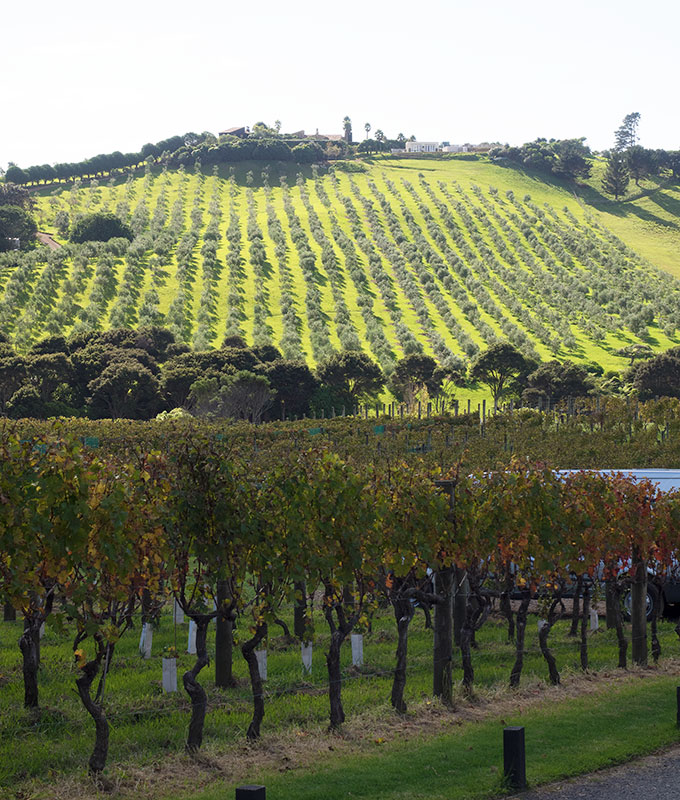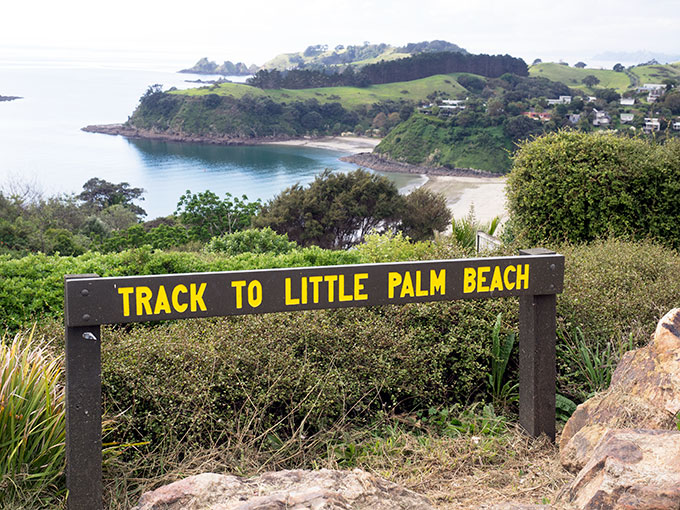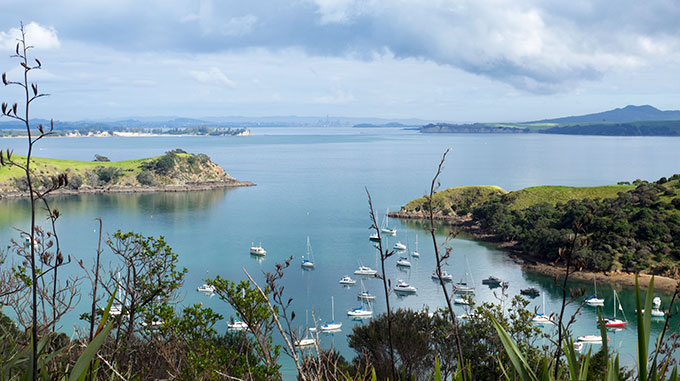 Waiheke Island is an easy 40 minute ferry ride from downtown Auckland. Fullers have around 25 departures daily. If you want to take your car, Sealink provides a car/passenger service from Half Moon Bay.
If you catch the Fullers' ferry there is ample car hire (make sure to pre book), busses and taxi options at Waiheke's ferry terminal on arrival. I was taking the easy option with a pre booked winery tour with Waiheke Island Wine Tours.
In fact my morning had been very easy. As I was staying at the Hilton Hotel it was a five minute walk to the ferry, and within an hour I was happily in Waiheke Island Wine Tour bus with fellow wine fans.
Christine was our guide for the day and there to greet me on arrival. Once in the bus we start with scenic drive on windy narrow roads to the first winery.
On the way Christine explains that 2000 people commute daily from Waiheke Island to Auckland. But it wasn't always this way.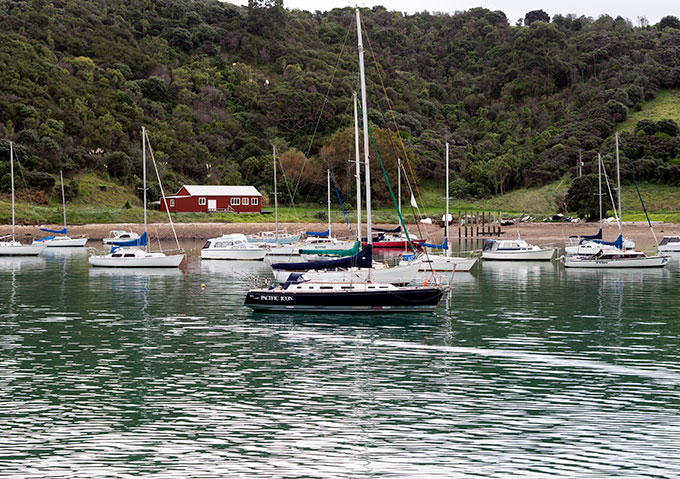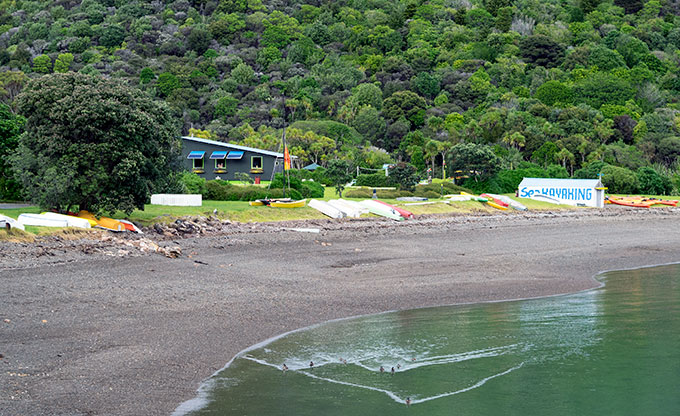 Island life changed when Fullers started the ferry service to the island. There was always a ferry servicing the island but not as frequently. This meant that not many people lived permanently on the island, sure there were permanent residents, but it was mainly a holiday destination.
All of a sudden it was an easy daily commute to Auckland for work/studies and the house prices skyrocketed into the millions.
Waiheke is the Mori word meaning water. It is the second largest and most populated island in the Haurkai Gulf. The island is quite striking with its rugged terrain, which entices natural waterfalls and cascades.
The island was original cleared by the British for pastoral land. Now you will find a committed regeneration program in process.
Our first stop on our wine tour is Kennedy Point Vineyard. Kennedy Point is a certified organic vineyard and known for their Bordeaux blends. Heike offers us a tasting of a few of the wines to start. Then tells us to bring our glasses as we head for a little tour of the vineyard. She has been working at Kennedy Point for around 20 years. First arriving when the vineyard started as a backpacker, loving it so much she stayed.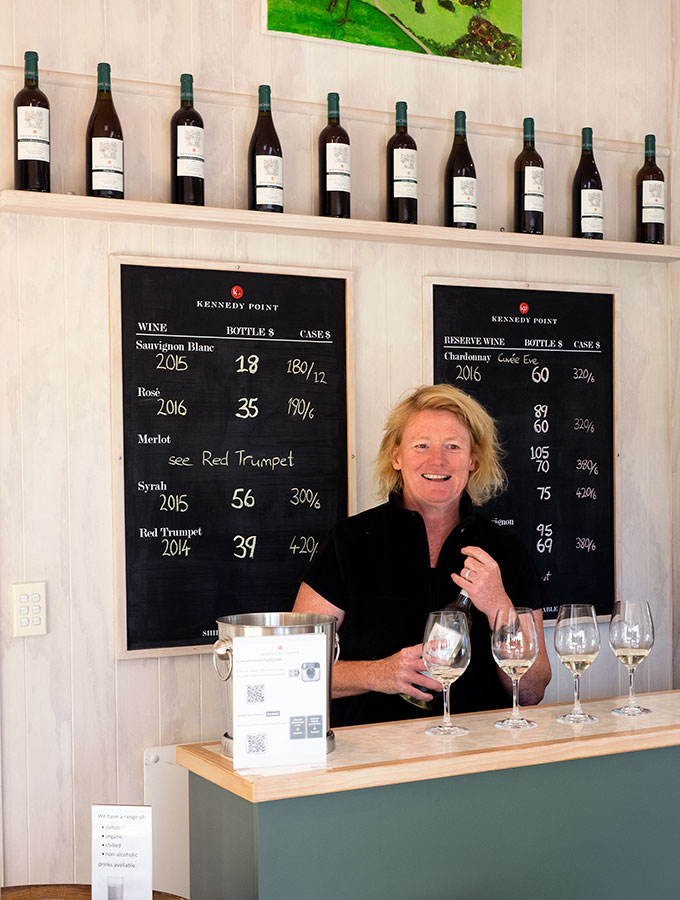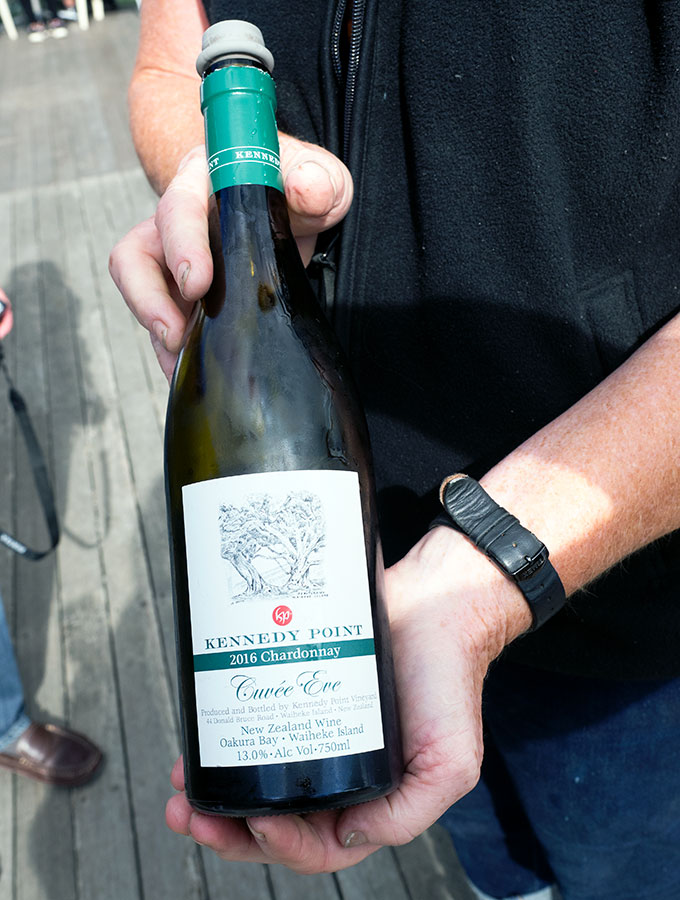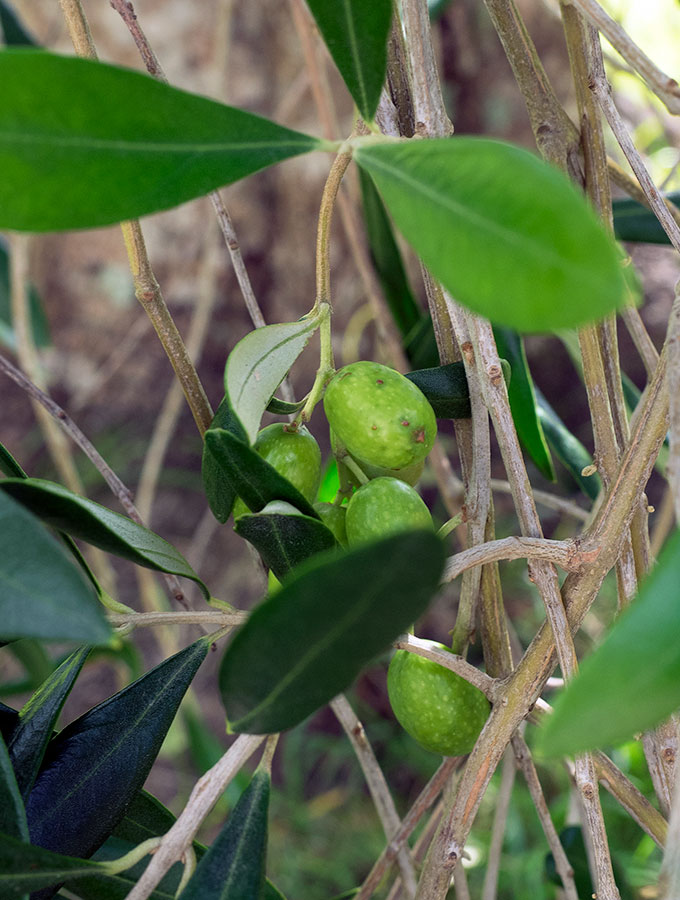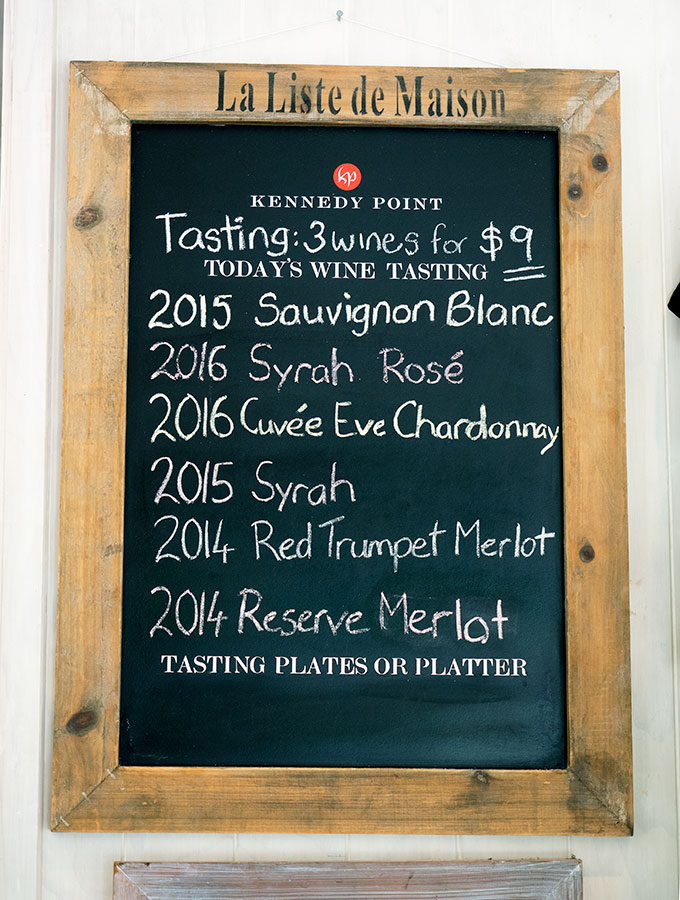 Heike explains about the organic procedures of the vineyard and how they use natural yeast to make their wines. We also discover that they produce olive oil and honey.
Kennedy Point offers accommodation and there is also café where you can enjoy some local fare with an amazing view over the island.
Miro Vineyard is an experience and home to the award winning Casita Miro restaurant. Why an experience, well you need to walk through the restaurant and out the back to find out.
Out the back is where Orlando meets us for our Miro tasting flight. A selection of five wines with a specially selected accompanying canapés.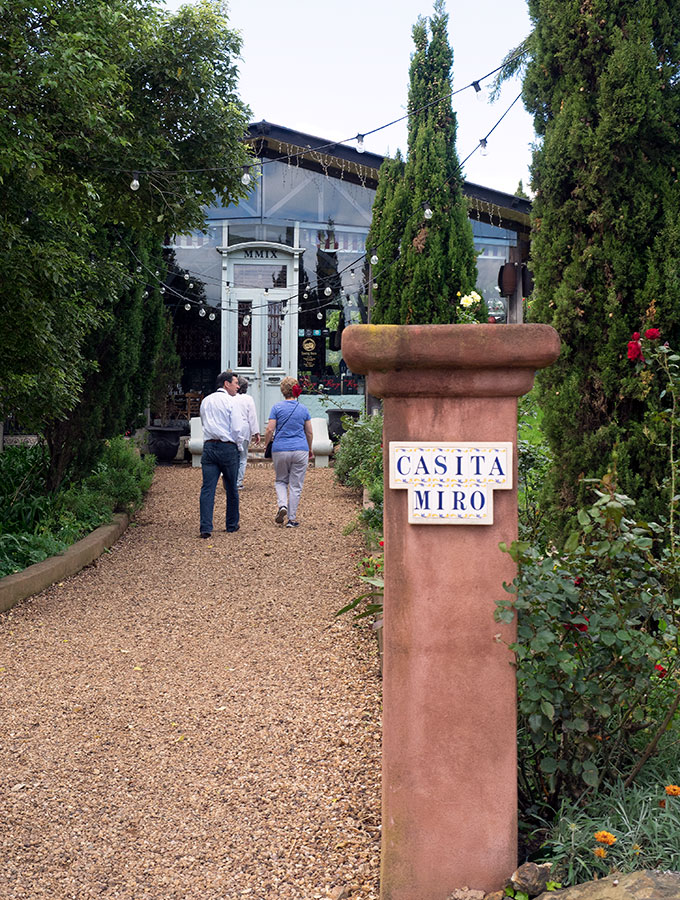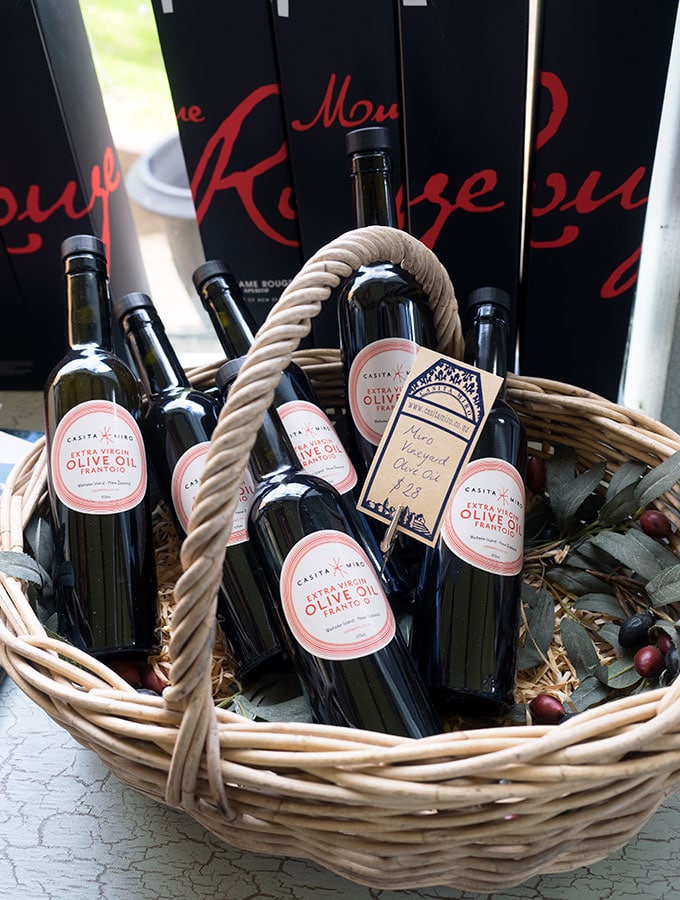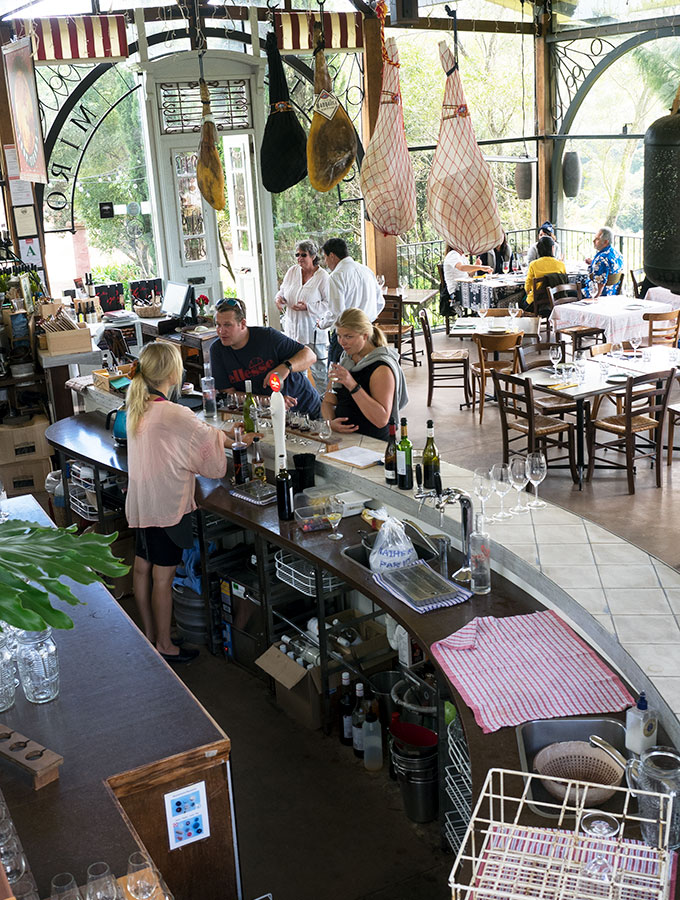 As amazing as the wine flight and canapés look, I find it hard to drag my eyes away from the mosaics. They are everywhere. It is a quirky sight to behold.
The mosaics around Miro Vineyard are a labour of love by Barnett for his wife Cat, the owners of Mira. The community gets in on the act by donating broken ceramics for the ongoing mosaic project. Along with any broken crockery from the Casita Miro's restaurant. The more you look the more you see. Keep an eye out for the odd cup handle.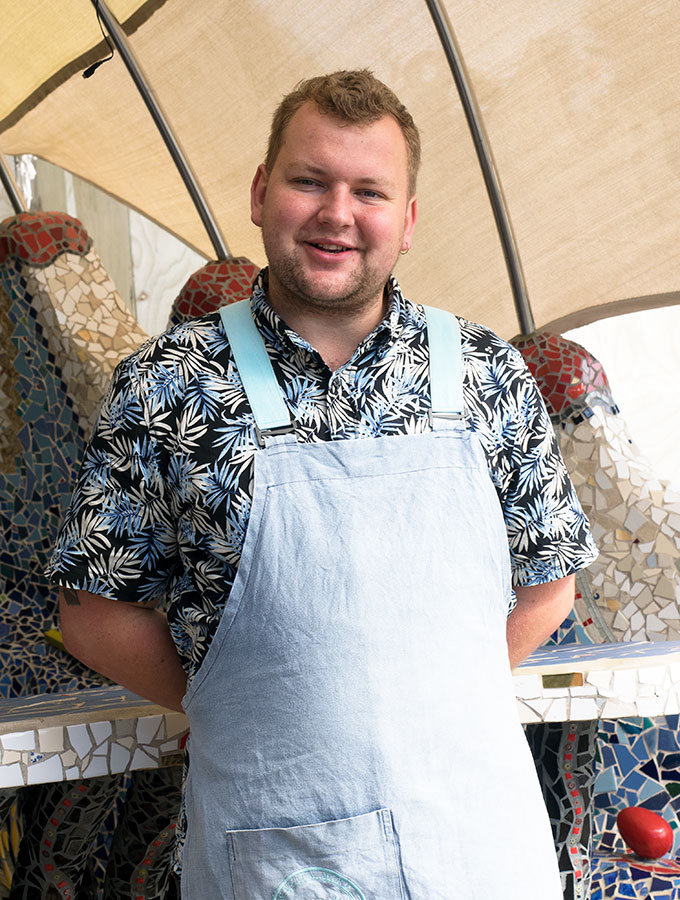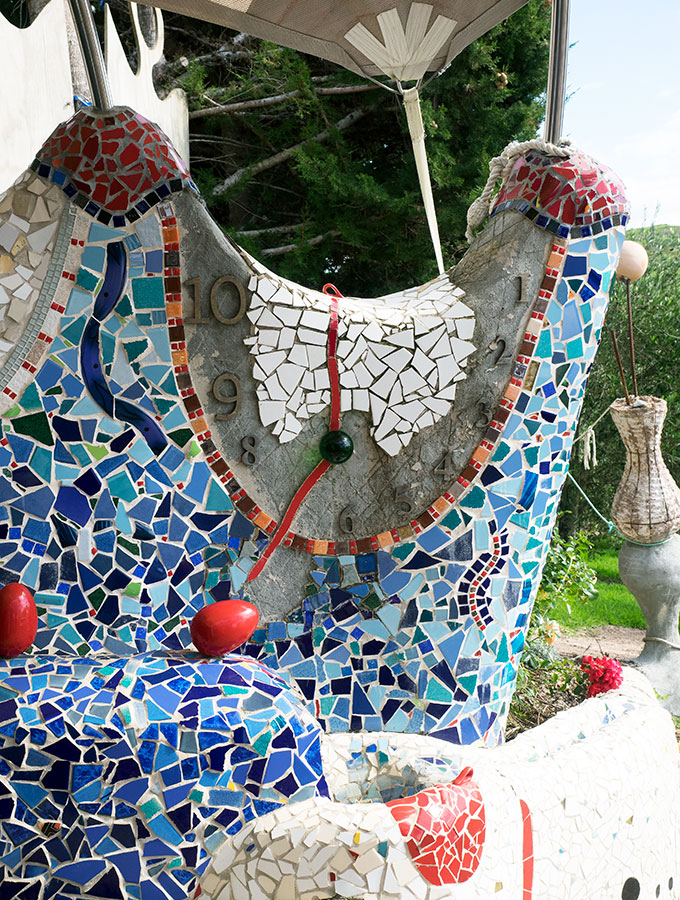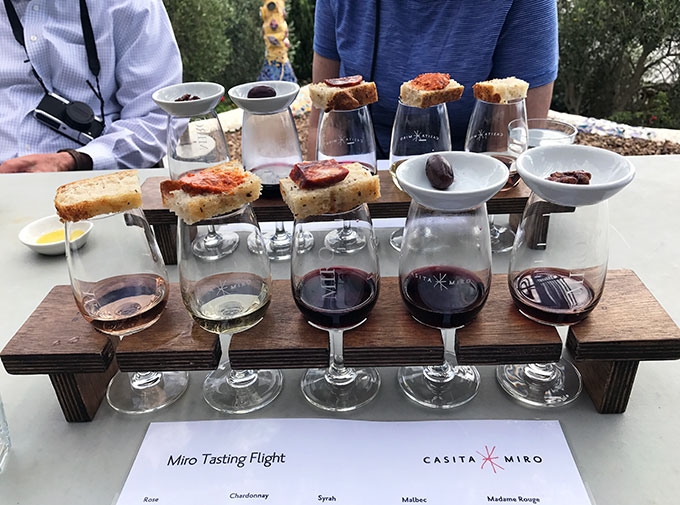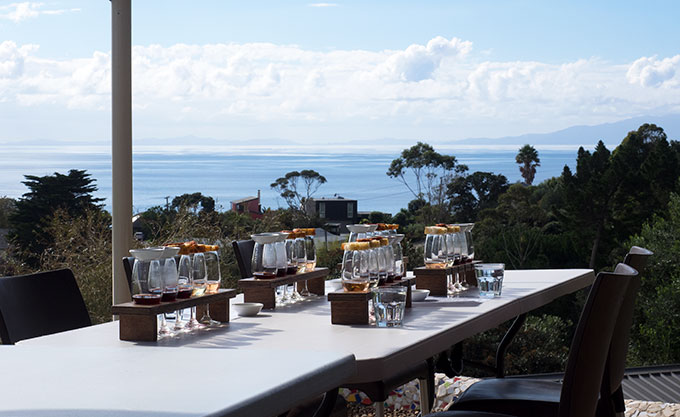 The five wines selected for us on the day are Rose, Chardonnay, Syrah, Malbec and Madame Rouge. The selected canapés come from Casita Miro's kitchen, the award winning Spanish restaurant of the vineyard. My favourite is the Rouge roasted walnuts, which have been soaked in fortified wine Madame Rouge and roasted.
Our last vineyard is Te Motu and we sit in the outdoor tasting room as Marius runs through the wines with us. Reds are their strong suit and we try the Dunleavy Cabernet Merlot. As I sip away it is explained that they don't use any egg in their wine purification process. But unlike Kennedy Point they do use commercial yeast.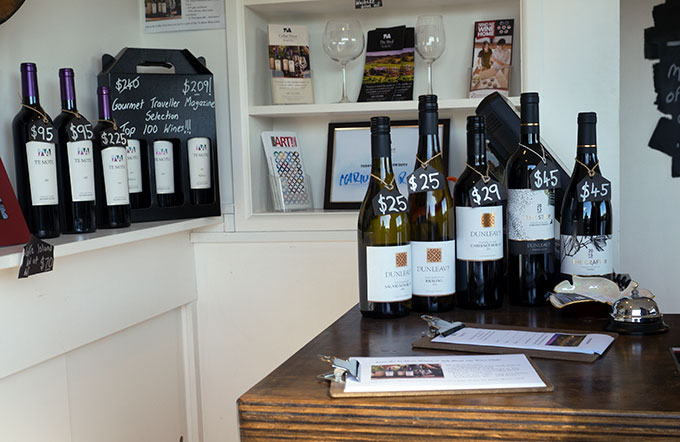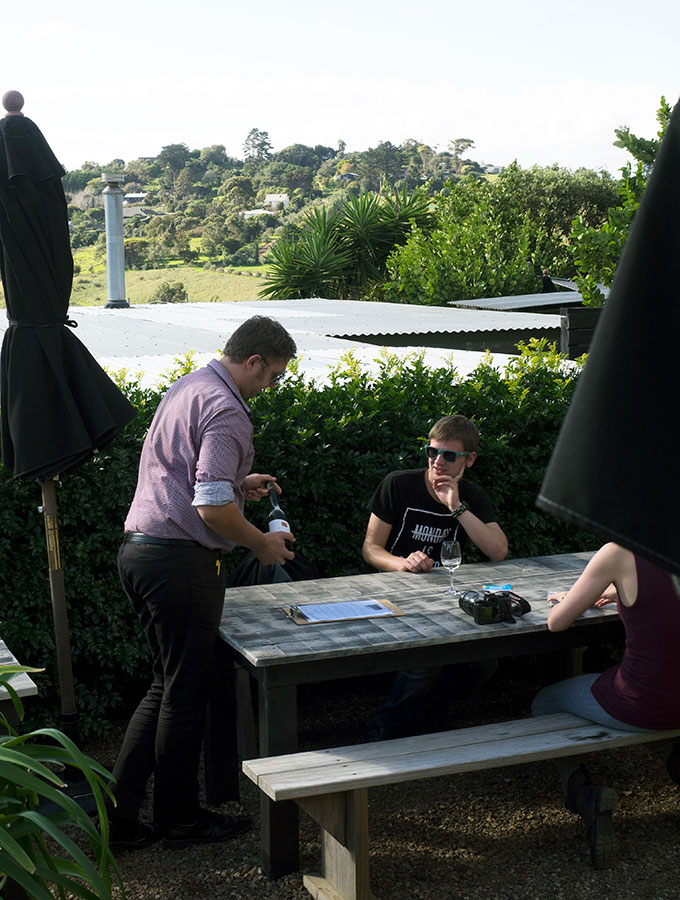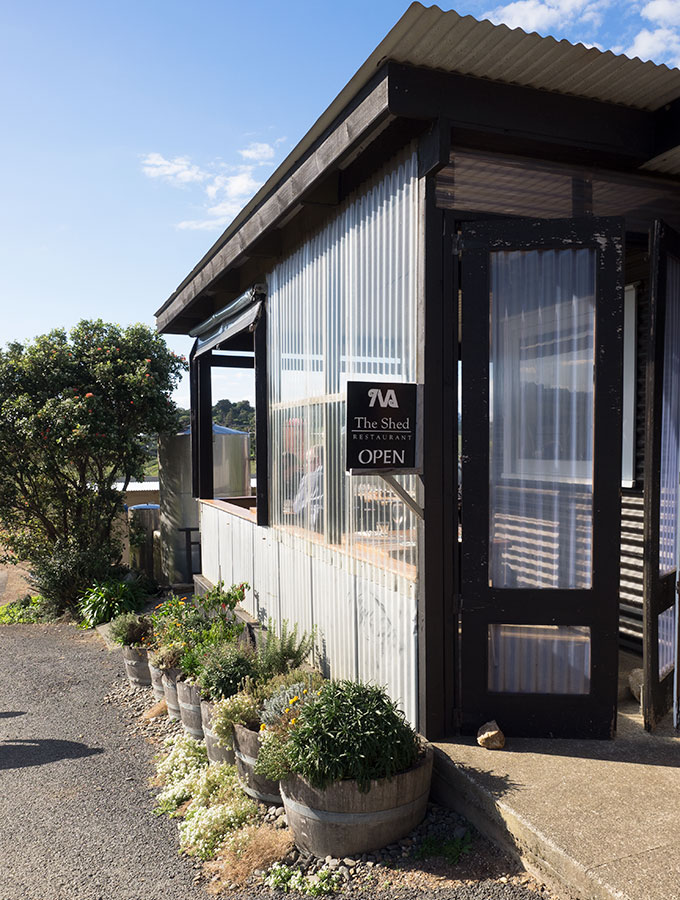 After the visit to the three vineyards on our tour it is then on to lunch. Lunch isn't included in the tour price and you are given two hours to occupy yourself before being transferred back to the ferry. The choice was to either go back to one of the vineyards or have lunch in the main town of Oneora.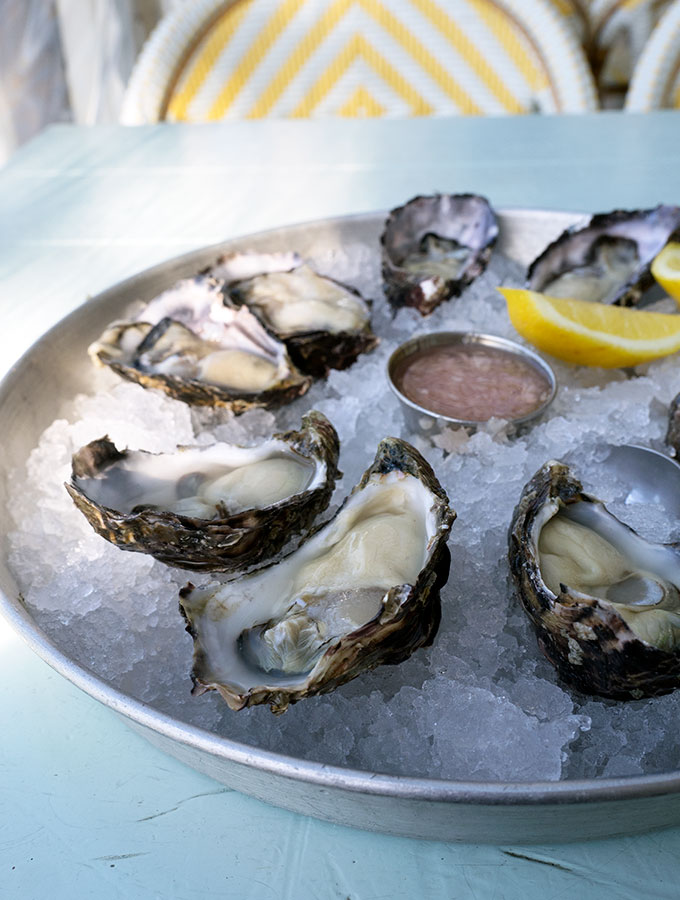 I decided on spending my time at The Oyster Inn in Oneora. Starting with some local oysters with dressing and Coromandel oysters with lemon. Both shucked to order. Along with some kingfish sashimi and deep fried squid.
After lunch I have a few minutes to have a look around town before it is on to the ferry and back to Auckland.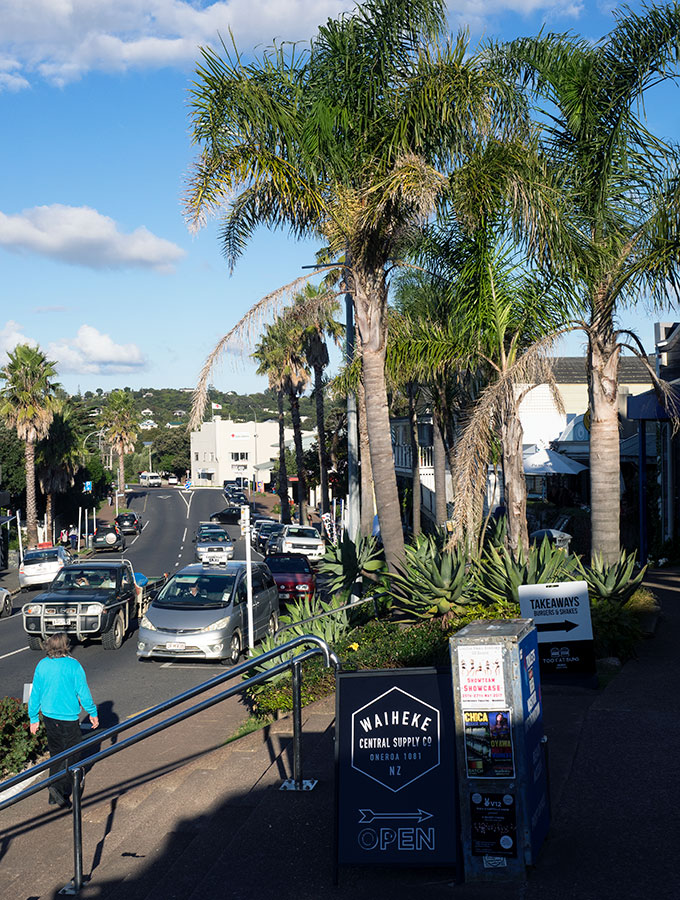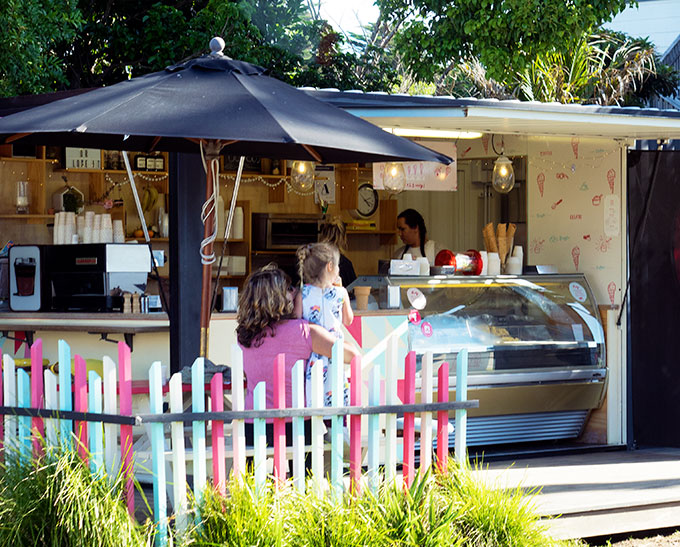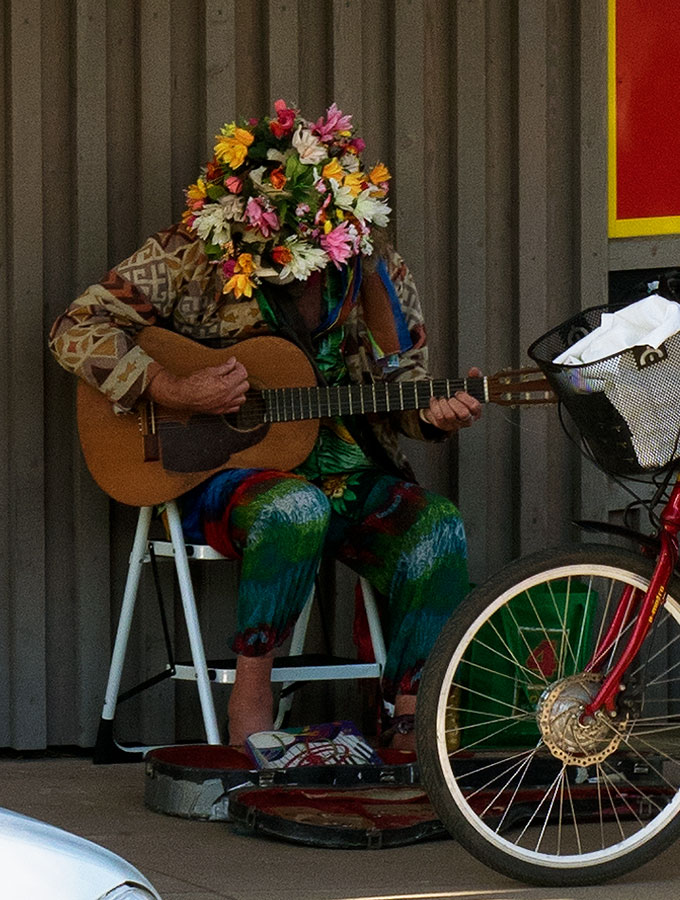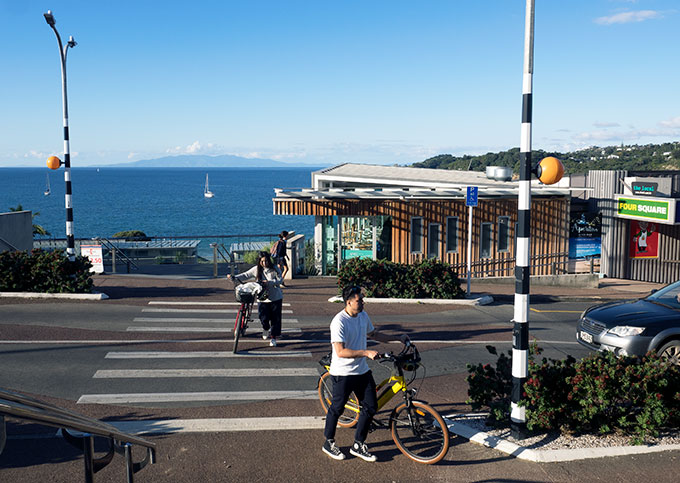 Waiheke Island Wine Tour Verdict
The wine tour was an easy introduction to Waiheke Island, though I felt we could have fitted in another winery or some other related establishment. Especially as lunch wasn't included and you were exploring yourself for 2 hours out of the 5 hour experience.
They did state that I should eat a hearty breakfast as by 2pm I would have tasted at least 14 wines. Unfortunately the wine tasting experience at Te Motu was on the lean side, which meant we didn't get close to 14 wines tasted.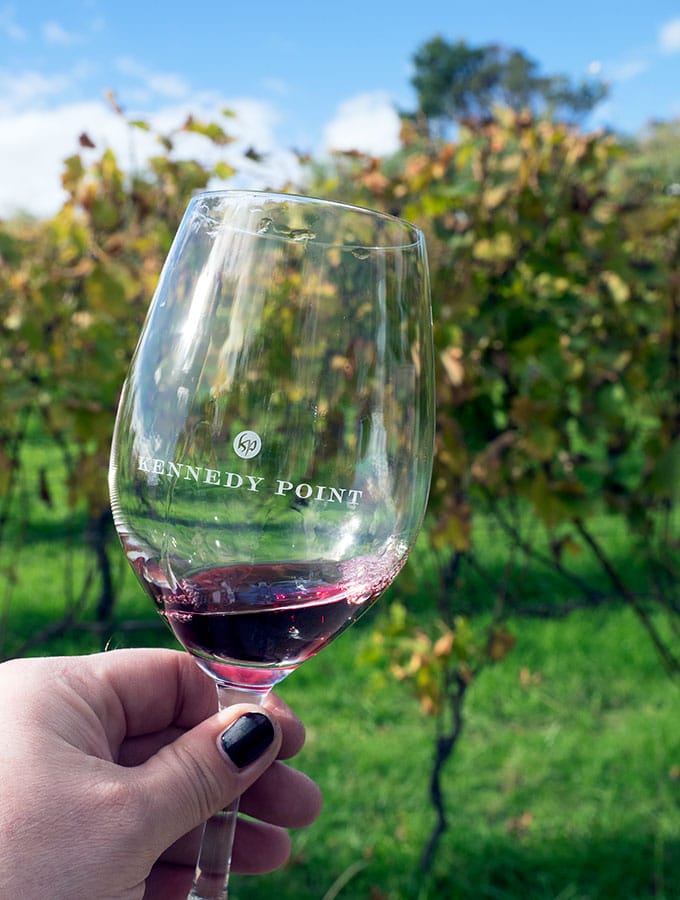 The highlight of the tour was visiting Miro Vineyard who really looked after us. A place I would love to return to and enjoy some tapas at Casita Miro. Plus I can't fault Christine who looked after us well and was a fountain of information during the tour.
The other highlight of the day was enjoying a few lazy glasses of wine on the balcony during my self funded lunch at The Oyster Inn.
Waiheke Island Wine Tour Snapshot
Tour Cost NZ$125
Tour Duration 10.45 to 2pm, 3 hours 15 minutes
Includes a visit to three vineyards with tastings
Pick up from ferry or local accommodation
Lunch is for 2 hours 2-4pm at your own cost
Return travel by ferry from Auckland is not included
All in all the tour was a nice introduction to Waiheke Island. It gave me a small taste of what is on offer and definitely has enticed me to want to return to discover more. I only wish they had packed a little more in and maybe less time for lunch.
Sara xxx
Become a subscriber and don't miss a single delicious recipe, restaurant review or travel adventure.