This was "the" restaurant on my eat list for New York and when bookings opened 1 month prior to my arrival I booked.
I was surprised when I mentioned to foodie friends of my excitement of visiting WD-50, that a few of them had not heard of the restaurant nor it's chef Wylie Dufresne. I first caught wind of Wylie on Top chef where he introduced contestants to molecular gastronomy. To me he is the American version of Heston Blumenthal, he is part scientist, part artist and pushes the boundaries to create incredible food.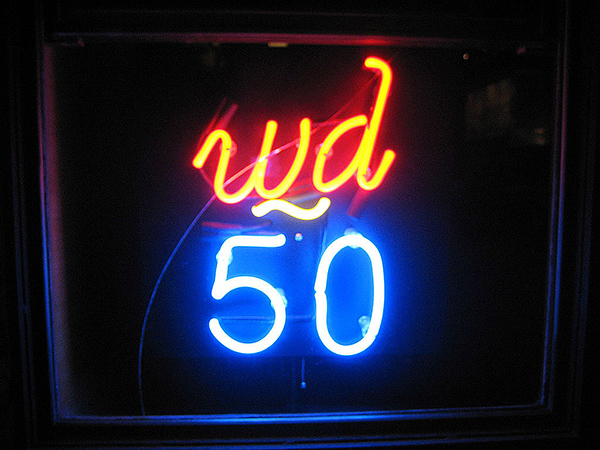 Since then I have seen him appear on many programs including Anthony Bourdain's No Reservations, where Anthony commented he was quite surprised that Wylie was working in the kitchen still as he could quite easily have his own tv show, book deals etc. He is a hands on chef and is generally at the pass of his restaurant most nights. He loves what he does and that is reflected in his food.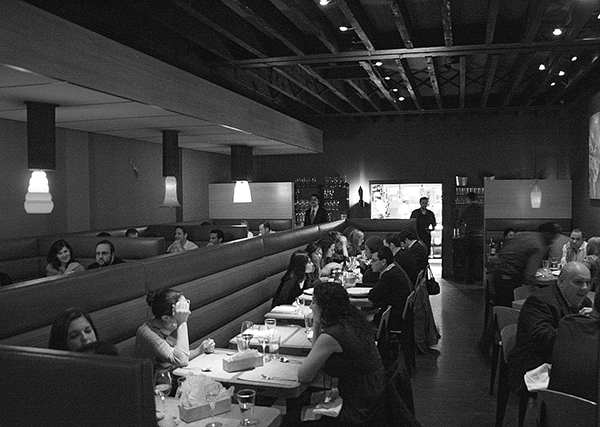 WD-50 was awarded a Michelin star in 2006 and has retained that through to the present day and has many other accolades.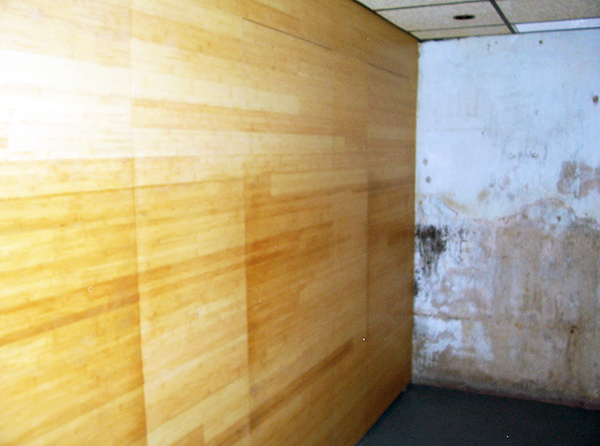 hidden toilets, they are there, trust me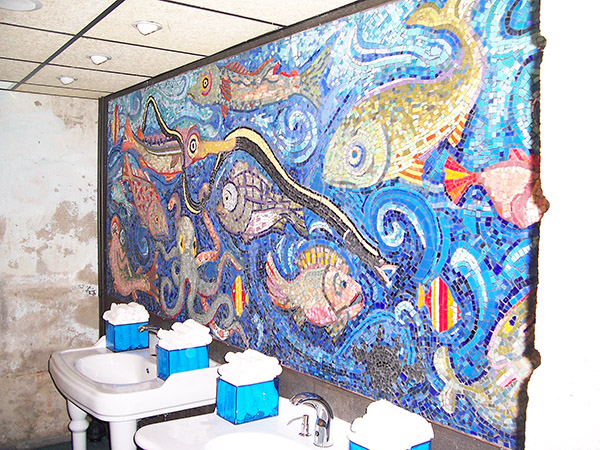 I was early for my reservation, you put it down to being eager and getting a cab no problems or my need for a drink after nearly not arriving in NYC (that story to come in another post – let's say Sara was a little stressed). My table was ready but I decided to have a cocktail at the bar to start. WD-50 are just as well known for their incredible cocktails as well as food. Now for the embarrassing bit, for the life of me I can't remember the name of what I had, but it was delicious and included sake, coconut water and other various ingredients.
While at the bar Wylie came up and started to taste and discuss new editions for the cocktail list with his maitre d' and mixologist, do they have it with the egg white or not, do they infuse this etc etc, was fun to listen to. It was like watching a bunch of mad scientists which were giggling over their experiments, most enjoyable.
WD-50 offers either a la carte or a degustation menu. I opted for the 11 course degustation as I wanted to try a variety of his dishes. I chose to have the wine pairing as well. The other wonderful thing about WD-50 and the degustation menu, is that it is explained to you that if there is something on the menu that you don't want they will substitute it for you, they are flexible, nice.
This was brought at the start of the meal. I am not sure what they officially call this, but wow it tastes sensational. Paper thin, crisp sesame bread that is just so moreish. You can't help but continuously break pieces off to nibble on knowing you have lots of courses coming. Hey, lets face it I have no self control either if something delicious is sitting in front of me.
Coated and fried veal sweetbread with pickled turnip, ginger dipping sauce, dusted with carob and olive powder. A lovely and light start to the degustation menu.

This dish totally blew me away. You are presented with a mini bagel which is actually made out of ice cream, it has poppy seeds on top, coloured for looks and it tastes like a bagel. It LOOKS like a bagel, incredible!!! This is accompanied with smoked salmon threads, crispy cream cheese and pickled red onion. When you put the combination of the above in your mouth you are eating a smoked salmon and cream cheese bagel. The textures are amazing. The method of making the bagel is the inspiration for my hot cross bun ice cream.

This was actually the first time I have ever eaten foie gras, and I have to say it wont be my last. The foie gras is served with a centre of passionfruit sauce on a bed of Chinese celery (both fresh and freeze dried) and topped with shredded green onion. When you cut in to the foie gras the passionfruit centre just oozes out. The foie gras was so smooth and tasty. The passionfruit sauce was a very interesting pairing with it, I enjoyed it, it was sweet, but I can see how some would not be too thrilled with it paired with the foie gras. Again the textures of the freeze dried celery danced in your mouth, that crunch, wow.

The square ravioli is served with charred avocado, kindai kampachi and teeny weenie crispy fried potatoes (may not have been fried, most probably another scientific technique). It is not only Wylie's paring of foods but the textures he creates, amazing. Ok I will stop raving on about the textures, promise.

The chicken is cooked sous vide, made into a terrine and then cold fried, this makes it incredibly tender and tasty. Served cold with with warm buttermilk ricotta, hasselback caviar, fried chicken skin and honey tabasco sauce. Again a lovely taste and texture combination, crispy chicken skin with soft buttermilk ricotta, oh yes please! Then add the saltiness of the caviar…… Homer drool.
This was accompanied by red bell pepper threads, shiso puree, sourdough breadcrumbs, black vinegar sauce and red pepper with black sesame seeds. The red bell pepper threads were so fine and candied, amazing.
I must admit when this dish was set down in front of me I must of looked a bit confused as it was not what I was expecting from the description. It was in fact large béarnaise gnocchi in a beef broth, this was accompanied with crisp snow peas, micro herbs and soft caramelised onion. The gnocchi was so soft and tasty, the beef broth beautifully rich and clear.

This was not actually part of the degustation, I asked for a substitute for the lamb loin, black garlic romesco. soybean and pickled garlic chive. I am not fond of lamb. Saying that I did see the lamb dish and asked the person next to me what they thought, lamb tender and beautifully cooked to perfection with amazing tastes.
What I ended up having was wagyu skirt steak, long bean, tamarind and peanut butter "pasta". The wagyu was rare, tender and flavoursome, the noodles and flavour combination worked well. I was very happy with the substitute.
Now on to pastry chef Alex Stupaks' dessert section of the degustation.
The ice cream is frozen using liquid nitrogen, it is then shattered and served with finely diced mango, spruce infused yogurt, yuzu foam. liquid nitrogen makes for an extremely smooth ice cream due to the quick freezing. At this stage I am full, the dessert beautiful, but I knew I had 2 more following and therefore did not finish it all. It was hard sending a unfinished plate of perfection back to the kitchen.

Hazelnut & chocolate cream on top of coconut cream, candied hazelnuts, chicory foam, coconut powder and hazelnut streusel, sprinkled with salt. This was so melt in the mouth and creamy, heaven on a plate.

The brioche had a centre of apricot puree and was served with a butter cream ribbon dotted with thyme, almond foam, almonds and lemon thyme sorbet. I think they should serve the hazelnut tart last as it is the star of the three desserts, for me anyway. The brioche, a lovely dessert, was just out shone by the tart.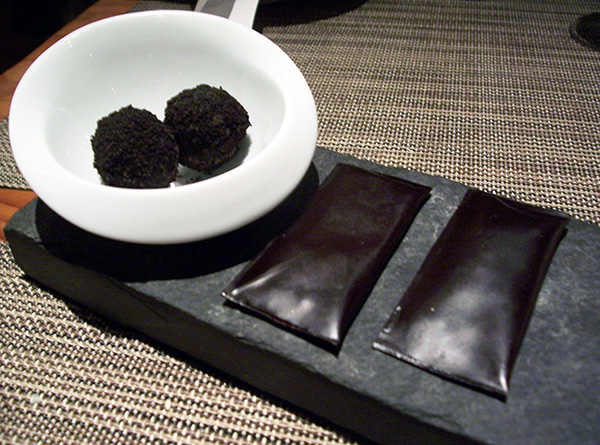 cocoa packets & chocolate shortbread, milk ice cream
This would have normally come with coffee but due to being extremely tired from travel and waddling full, in my case it was with the bill. Oh wow, oh wow, oh wow! Chocolate leather surrounding what I understand was chocolate feuilletine, loose crispy filling of yummness. I wish you could buy these by the packet. The milk ice cream was mint and rolled in the chocolate shortbread.
Overall I had an incredible first night in New York. At the end of the meal I asked my waitress if it would be okay for me to go and take a photo of Wylie at the pass. She went to talk to him and I ended up meeting him and having a small tour of the kitchen. He really is a nice down to earth guy that has incredible skill, imagination and pure passion for what he creates.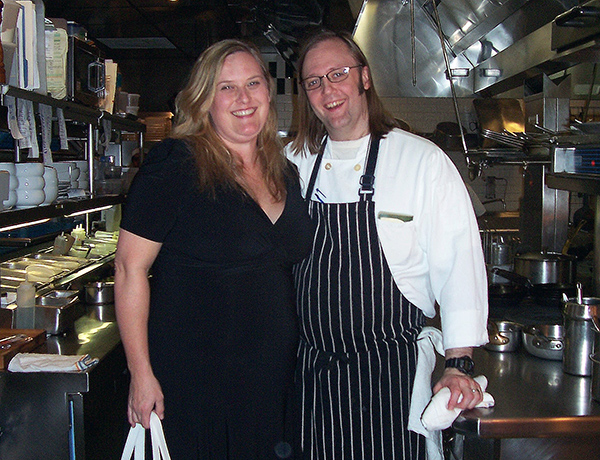 It must be a wonderful place to work as all the staff are just so friendly and delightful, you are made to feel right at home.
I wish I could share with you more on the techniques Wylie uses for each dish, because the textures and flavours are just amazing. Yes the textures………. I do suggest you have a look at the WD-50 website as there is a nice bit of food porn on there, and I know how us foodies love a bit of food porn 🙂
Sara xxx
WD-50, 50 Clinton St, Lower East Side, Manhattan, New York