It's been hot news since the beans were spilled that Yellow at Potts Point was turning vegetarian on the 17th February. It's a bold move for one of Australia's top restaurants to ditch meat and go down the herbivore path.
Though they haven't gone the complete vegetarian route. The weekend breakfast/brunch menu still offers dishes to satisfy hungry carnivores.
But if you turn up for dinner it is a different situation all together, strictly vegetarian. Sunday through to Friday you can choose from the a-la-carte menu with dishes designed to share, alternatively there is a five and seven course degustation. Vegans are also well catered for.
Dine on a Saturday and it is degustation all the way, that is your only option. There is a choice between the five or seven course vegetarian and vegan menus ($70/95 per person).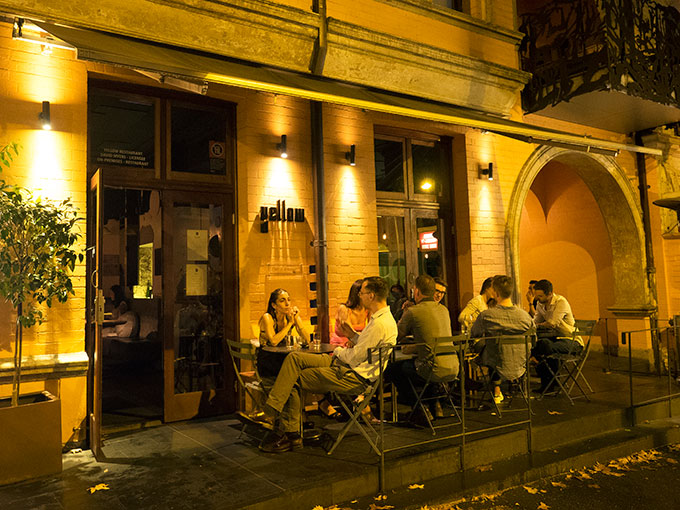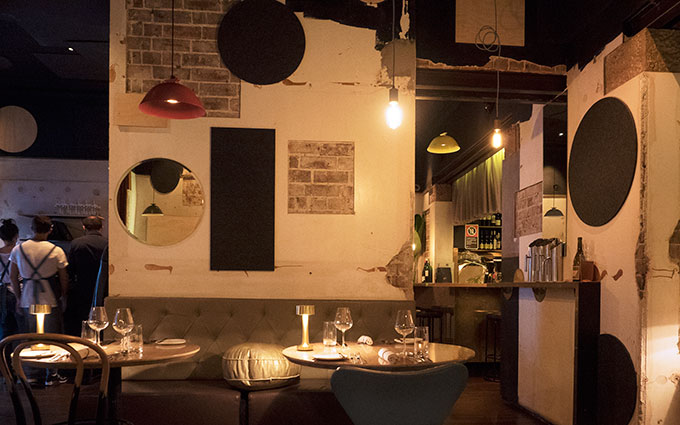 Even though I am not a vegetarian, I do try to serve meat free meals at home on the odd day during the week. So I took my two resident carnivores to Yellow (kicking and screaming) to try the seven course vegetarian degustation on the first Saturday of the change over. To prove to them that vegies are our friends and to hopefully inspire my mid week meat free meals.
As mentioned we dined last Saturday which was the first time the restaurant was serving the vegetarian and vegan degustation to all diners. It was a very busy dinner service for them and the restaurant was packed. I had booked an early sitting for 6pm. The traffic gods were against us and we ended up in a car park also known as the Eastern Distributor.
Josh arrived on time, Mac dropped me off at the door at 6.10 and then took a further 20 minutes to get back to us after a nightmare of trying to find somewhere to park the car in Potts Point. Staff were fantastic, even if they were cursing us under their breath they didn't show it. I on the other hand was continually apologising and feeling terrible that this had happened. I grew up in a very regimental household, lateness is not an option, and I was dying on the inside.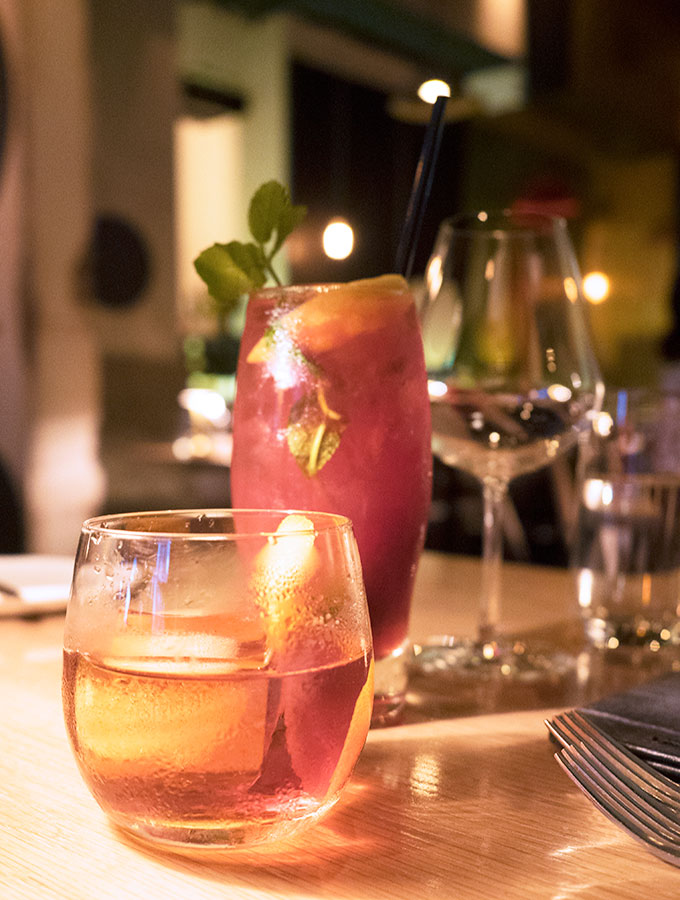 To ease the waiting pain Josh and I order a couple of cocktails while waiting for Mac. I decide on the Zacapa old fashioned made with 23 year old Zacapa rum, orange and bitters ($27). A smooth and mellow cocktail, served with a single large square piece of ice, perfect for calming my nerves. Josh had a Southern Ice Tea made with rum, house made ice tea and cinnamon ($18). It's a refreshing tall drink, perfect for Sydney's humid summer days.
Just after 6.30 we were all accounted for and ordered the seven course degustation (out table relinquish time was 8.15). Our server, who was amazing, assured me that if we can work with him then we would get through it in time. So I was prepared (quite happily so, you know, traffic gods and all) for a speedier than normal seven course degustation.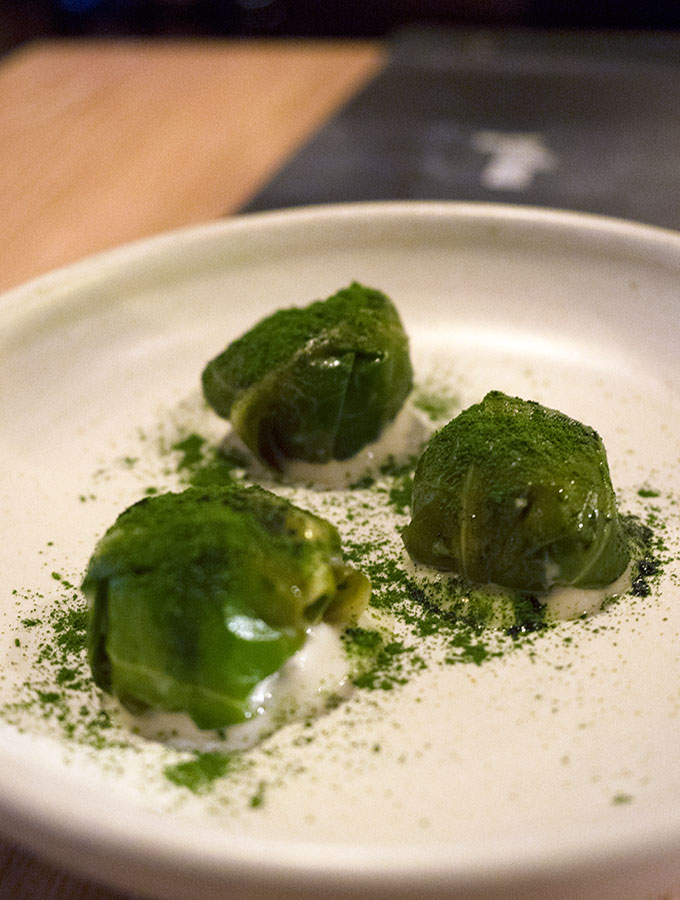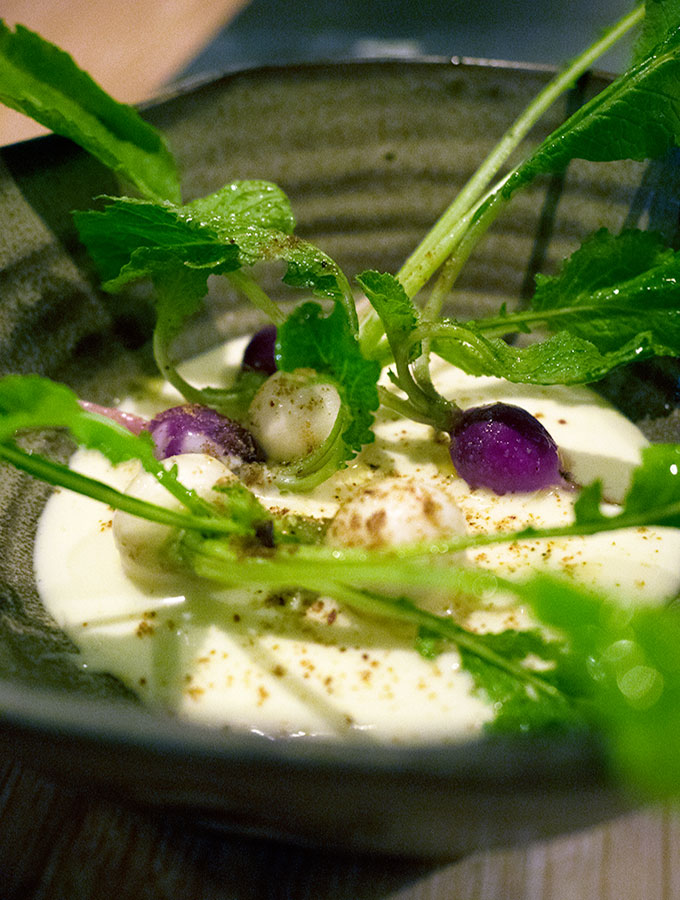 To start there are snacks. Both are a pleasant and light way to start a meal. There is a trio of green earthy leaves encasing a contrasting tang of yoghurt. It is the baby radishes that I find fun. We are instructed to eat everything, drag the radishes through the buttermilk sauce, eat the leaves, eat it all. It is at this point I wish that I had saved some of the complimentary sourdough to mop up the excess sauce.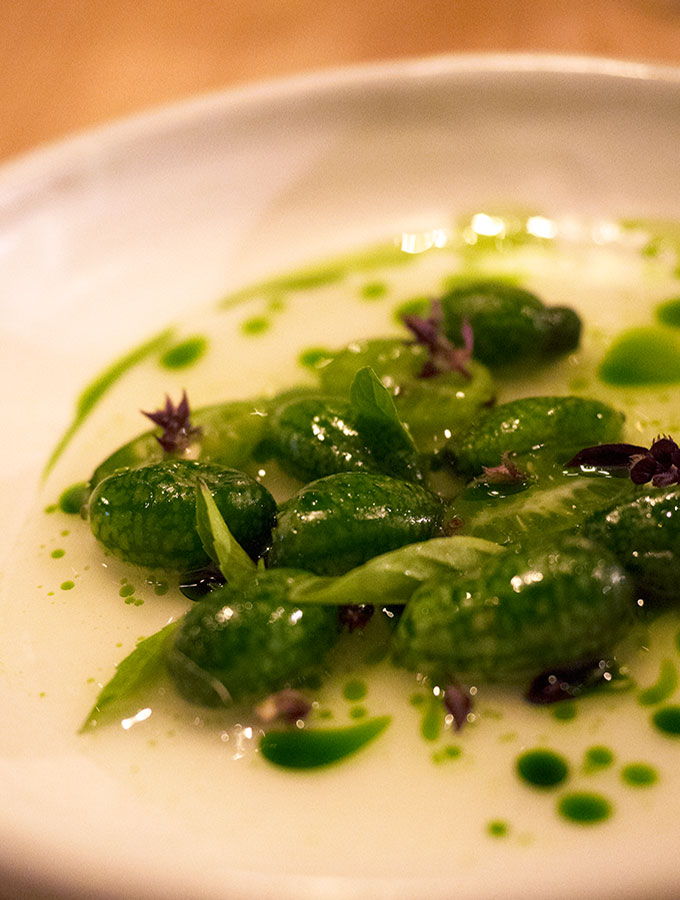 Salted Mexican Cucumbers + Greek Basil
I am a big fan of Mexican cucumbers, they remind me of teeny tiny little watermelons. Taste nothing like watermelon, nor do they look like it once they are cut open. The cucumbers are sourced from the Blue Mountains and are house pickled, turning them into gherkins. The dish is served with a little of the pickling liquor and the cucumbers have a crisp crunch when biting in to them. The larger ones have been cut in half, but the smaller ones are left whole and explode juicily in your mouth when bitten into. The Greek basil adds an earthy note, which rounds out the sweet and sour of the pickled cucumbers.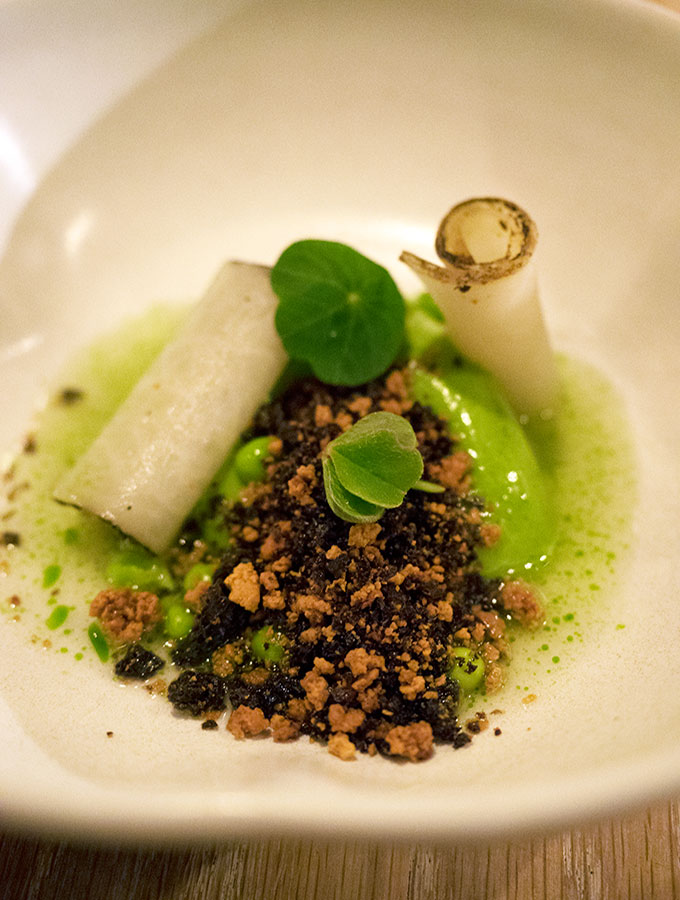 Pea Mousse + Pickled Daikon + Toasted Buttermilk
The silky smooth pea mousse is studded with whole tiny baby peas. The pickled daikon adds a slightly sour element to balance the sweetness of the mousse. Texture comes via deeply toasted crumbles of buttermilk.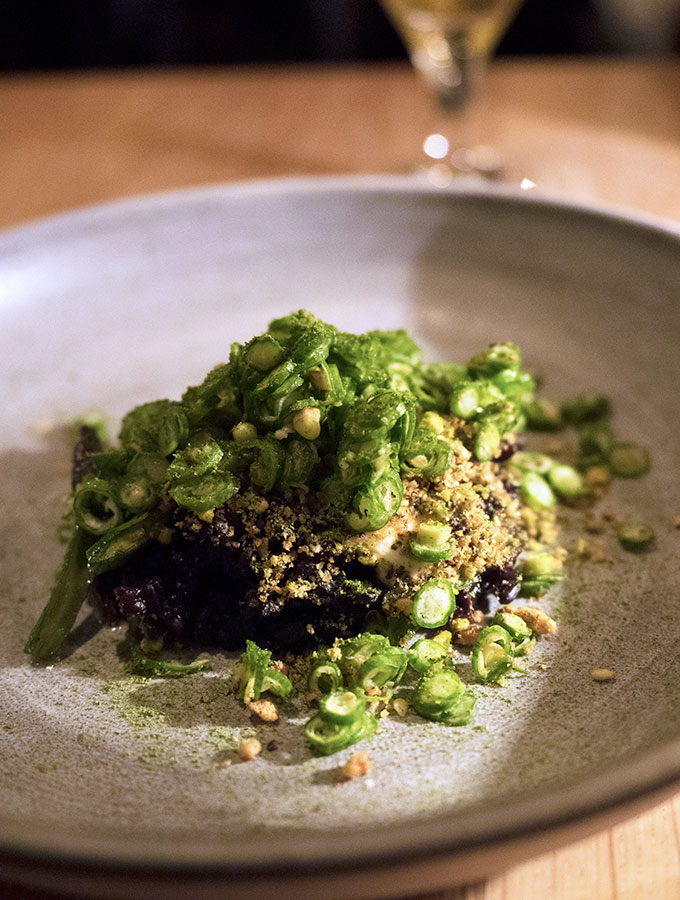 Black Rice + Snake Beans + Koji
Being a black rice fan this was one of my favourite dishes of the night. The rice has a lovely toastiness to it which pairs well with the crunchy snake beans. Most of the beans in the dish have been sliced in to thin discs, but some have been left in longer slices to add some alternative texture and interest. It's the toasted black rice and pistachio crumble that adds a final salty crunchy kick. I should also add that the Koji is also made in house.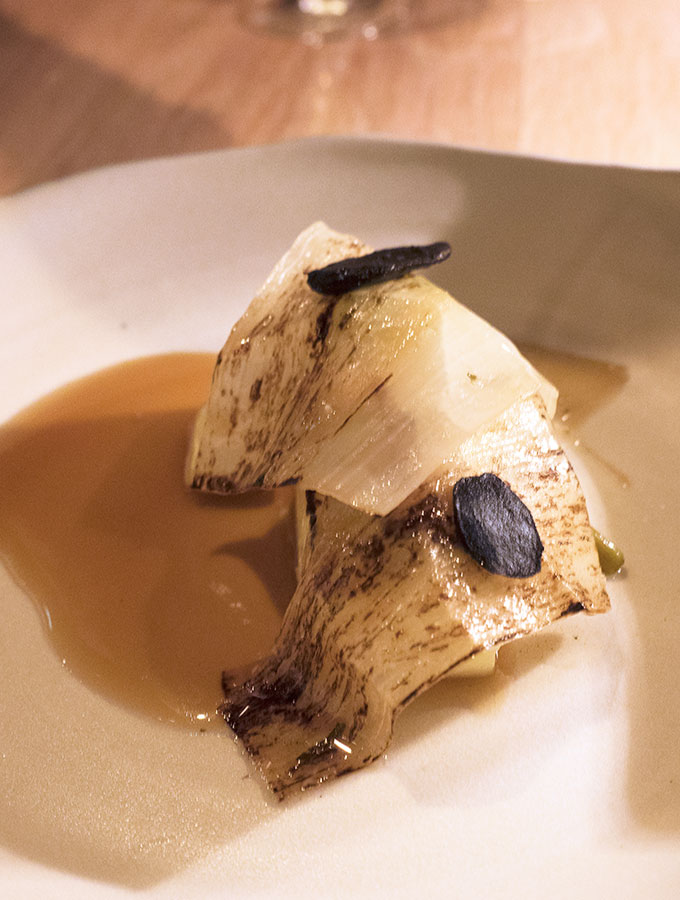 Charred Leek + Pressed Curd + Black Garlic
Two paper thin slices of charred leek are topped with a slice of black garlic. Hidden underneath this is a firm rectangle of slightly charred curd, which sits on a sauce made with black garlic. The curd is made in house with milk from the South Coast of NSW. This one is Josh's favourite dish of the night, I'm rather fond of it too.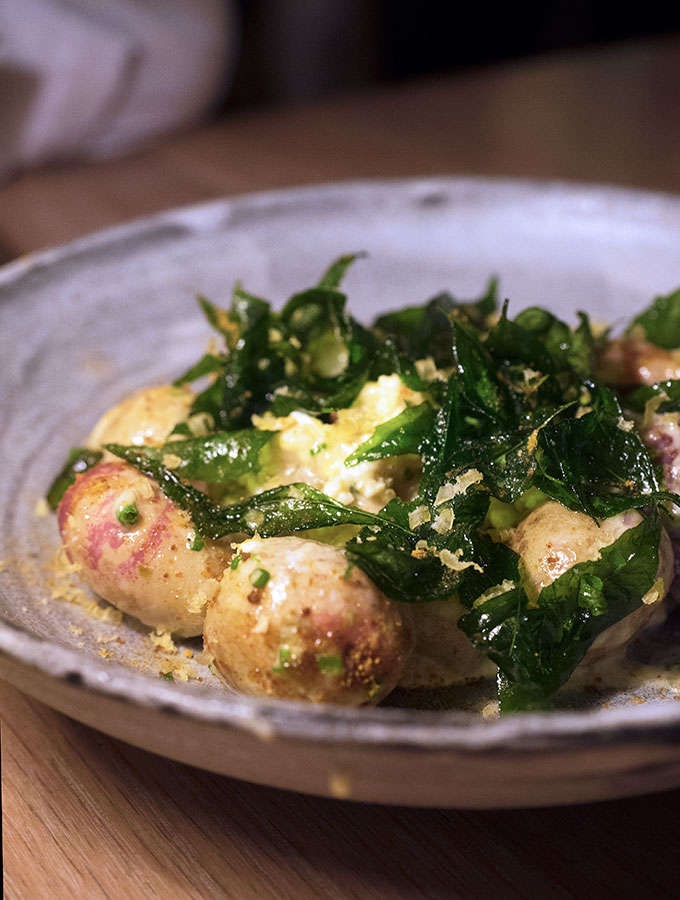 To accompany this dish we are served a potato salad. The potato is served with a tangy house made ricotta and fried curry leaves. It is at this point that I discover I LOVE fried curry leaves. They are incredibly moreish and addictive, don't say I didn't warn you!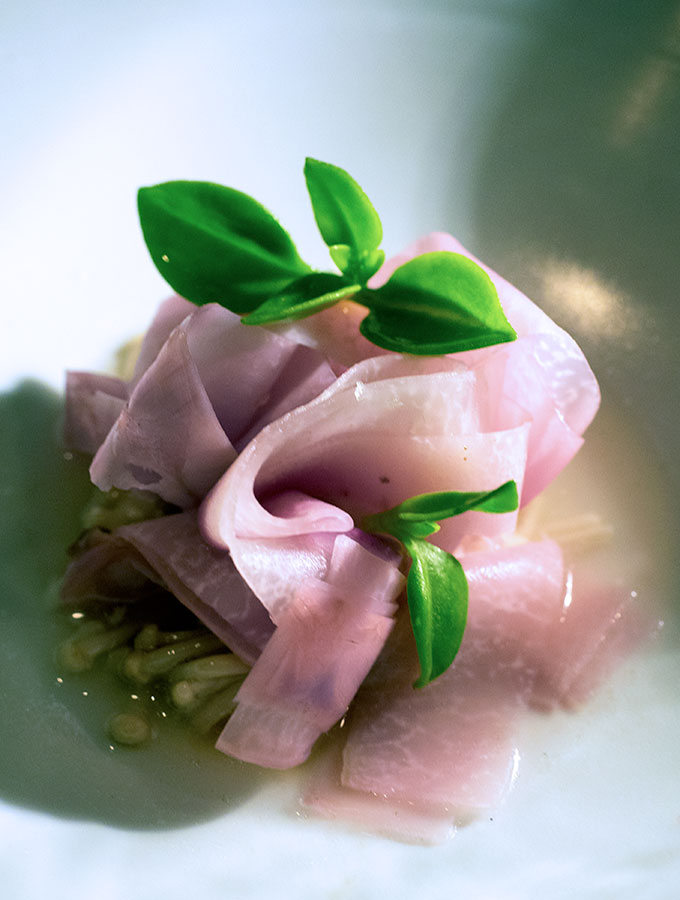 Kohlrabi + Enoki Mushrooms + Vegetable Broth
As our table is set for dessert, It's at this point in time that we realise we are a savoury dish down. A quick look at the menu reveals that we had in deed skipped a dish. Staff were extremely apologetic and before we know it our final savoury dish of the evening was served, along with a couple of extra samples of wine for me to try with it, this included a late harvest Chenin.
This dish is the one that has been gracing social media since Yellow announced they were going strictly vegetarian in the evenings. A pretty dish of pink kohlrabi ribbons hiding a nest of tender enoki mushrooms. A couple of sprigs of South African ice plant add a splash of green to complete the pretty dish. A dish full of earthy and umami flavours.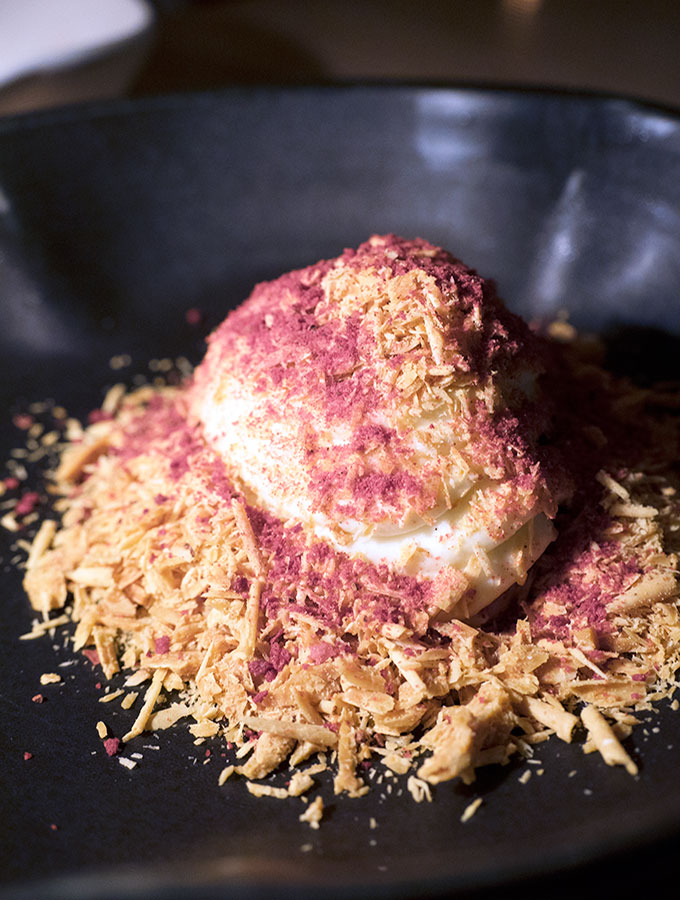 Raspberry Sorbet + Hazelnut + Buttermilk
As there was a little mishap with our courses the kitchen send out an extra dish for us. It was an unnecessary gesture, but a greatly accepted one. In the end it turned out to be our favourite dessert of the evening. Raspberry sorbet covered with a creamy buttermilk concoction, and then sprinkled liberally with copious amounts of white chocolate and hazelnut shavings. Each mouthful was a delightful combination of deep roasted crunch and tang.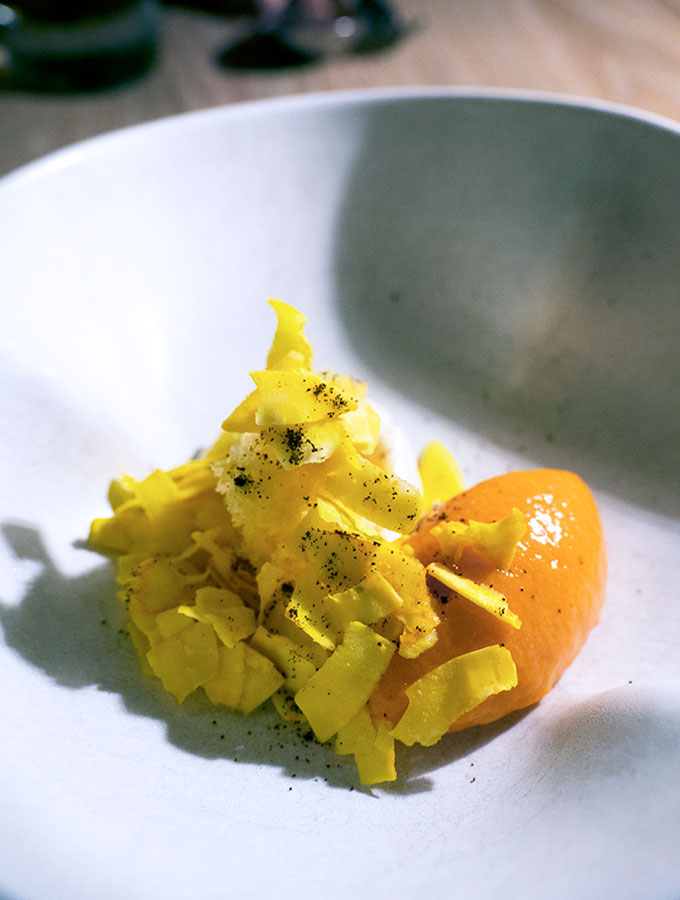 Whipped Coconut + Carrot Sorbet + Cake
A lovely combination of flavours and textures that result in what I regard as an "adult" dessert. Crunchy slithers of coconut add crunch to the smooth sorbet. To all of this an aniseed note is added via fennel pollen cake crumb, which gives this sunny looking dessert an unexpected dark twist.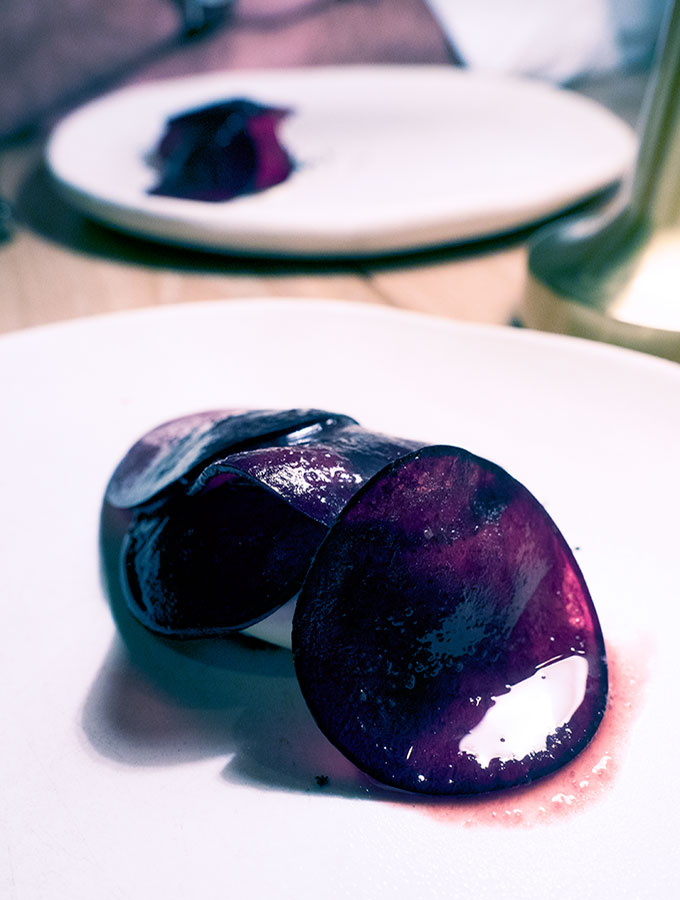 Fennel Pollen Ice Cream + Plum Broth
A smooth fennel pollen ice cream is topped with paper thin slices of blood red plum. The broth is more like a smudge of sauce, not as you would expect, but I think this dessert is best not floating in a see of sweet broth.
There is a wine matching option for the degustation menus, $60/person for the five course or $80 per person for the seven course. I did partake in the wine matching and had some really lovely drops of wine.
A couple that I tried, worth investigating further and taking note of are; Testalonga Baby Banditio's Keep on Punching, a 100% Chenin Blanc from 42 year old vines, and Royal Tokaji Late Harvest, which is a great dessert wine from Hungary.
I am pretty sure that vegetarians and vegans will be extremely happy with Yellow turning away from meat in the evenings. If you are Vegan I highly recommend you try Paperbark Restaurant in Sydney, it is sensational.
For those of my readers that aren't shy of meat, I say open your mind and give the degustation a go. I'm not a vegetarian but for me there was something quite satisfying about eating a well thought out and balanced degustation sans meat.
What did the boys think? The two major carnivores in my household that often chant, "you don't win friends with salad". Both really enjoyed it, were happily full and there was no need to do a drive by of a fast food meat offering establishment on the way home.
Sara xxx
Must try dish: Black Rice + Snake Beans + Koji
Who should dine here: Vegetarians & Vegans, Carnivores that want to give up meat for the evening
Who shouldn't dine here: Those who can't survive a meal without meat
What else you should know: Completely vegetarian except weekend breakfast/brunch
Price: Degustation $70/$95 or a-la-carte $6 - $30
BYO: No
Bookings: Essential
Opening hours: Breakfast/Brunch Sat & Sun 8.30am – 3pm/Dinner from 6pm
Contact details: 75 Macleay St, Potts Point, Sydney/+61 2 9332 2344/website
Become a subscriber and don't miss a single delicious recipe, restaurant review or travel adventure.