It's early on a Friday evening and I am finishing my working week at a quaint and cosy wine bar in Chippendale.  The entrance is in a small lane off Abercrombie Street. Not exactly a venue you would stumble across without knowing it is there but the Owner Zigi Ozeri has boosted his chances by covering the surrounding lanes with chalk messages to draw you in.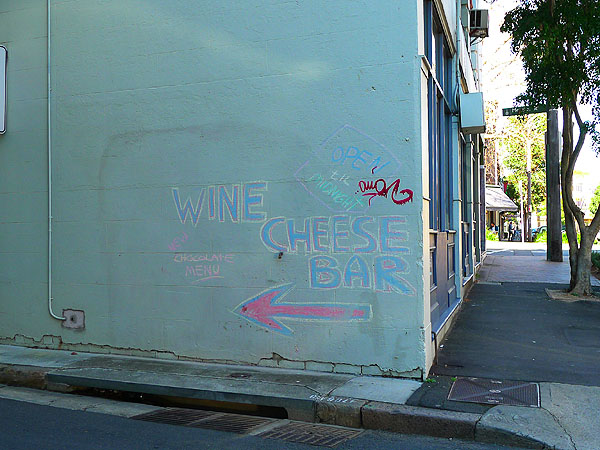 Wine and cheese are always calling me, but it is thoughts of two very special cheeses that have brought me here tonight.  I want to taste the cheeses I helped make the previous Sunday.  I will divulge more about Zigi's cheese class a little later.
It really is a cosy venue. About 15 can fit into the main bar room.  There are also rooms upstairs which are available for group hire.  And there is a possible expansion in the works, with a large section being opened so that more substantial meals can also be served.  At the moment, cheese, nibbles and wine are on the menu.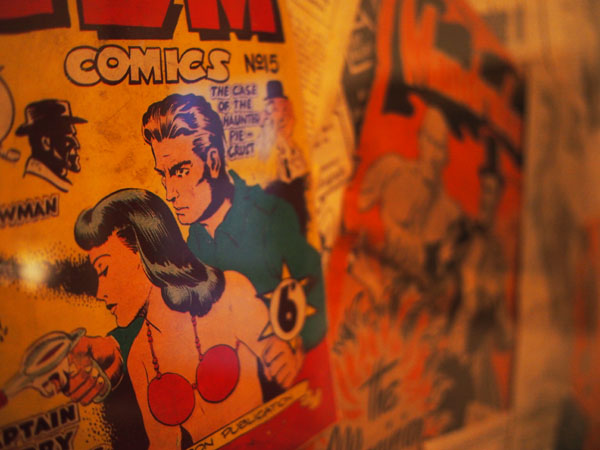 Love the framed Comics which were found while renovating
Zigi is very passionate and knowledgeable about the wines on offer.  They are sourced from boutique wineries in Australia and new Zealand.  Whites, reds, sparkling whites and even dessert wines.  Dessert wines are $16/bottle and the others range from $47 – $120, majority being around the $60/bottle mark.  If you are more a beer person, there are Mexican, Danish & French beers on offer.
Once wine has been decided on, something to eat to accompany your choice is an obvious decision.  The range is small, spicy nuts, marinated olives, pickled veg at $5/bowl.  You can purchase individual cheeses $10 or a platter for $30.
The current cheese list;  Beaufort, AOC Ete Meule, Brie, Grand Rustique, Cheddar, Dorset Drum Black Wax, Washed Rind, Munster Le Rustique, Blue, Milawa andChevre, Saint Maure Bougon.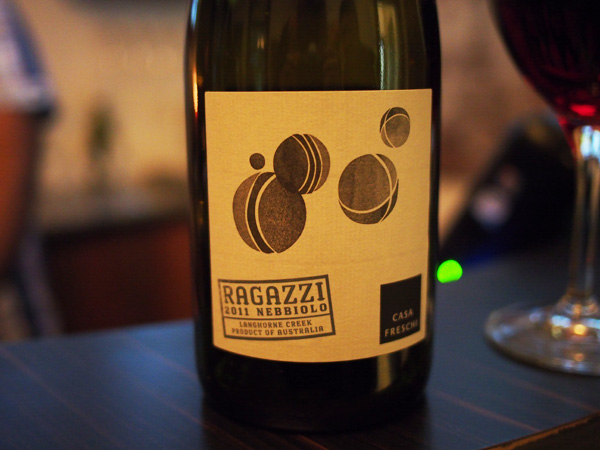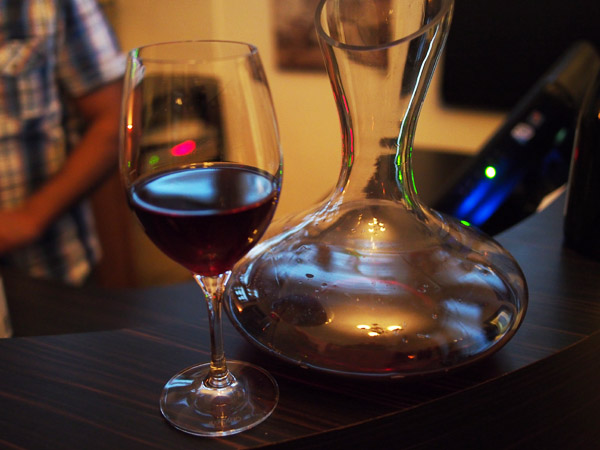 We chose a bottle of Ragzzi Nebbiolo, a very light and easy-to-quaff red.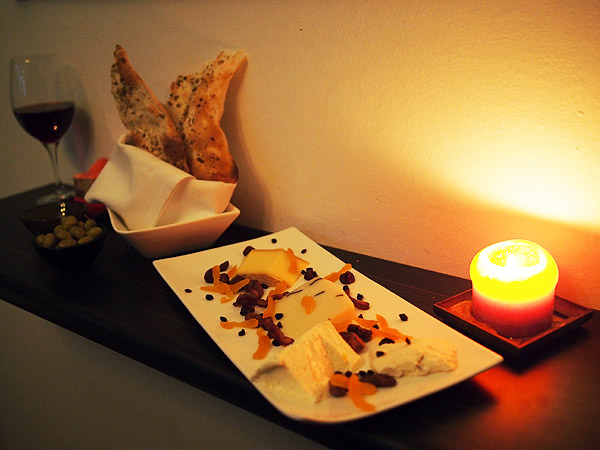 A cheese platter and olives were ordered.  The platter included the feta which was made at the cheese class the previous week, as well as an excellent truffled pecorino,  a beaufort and a chevre.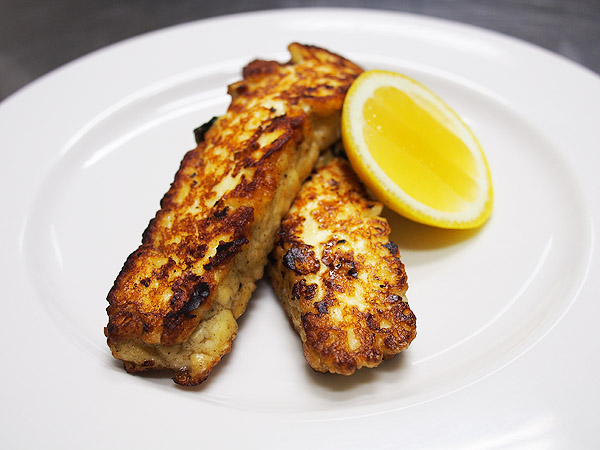 The highlight of the visit was Zigi frying up the haloumi which was also made during the cheese class.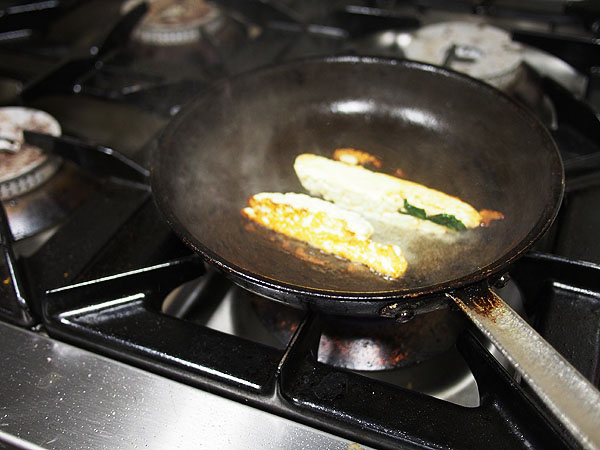 With the addition of some salt into the pan it was fried, squeaky goodness, splashed with fresh lemon.  I love haloumi, but it tastes even better when you were at its birth.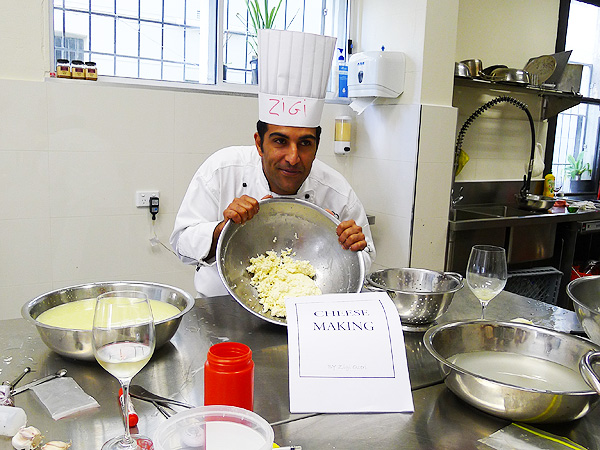 I am sure you are now wondering about the cheese classes I have been mentioning.
Zigi doesn't just own a wine bar.  In fact he runs a catering company with a commercial kitchen at the front of the building.  From here he runs all sorts of classes and I suggest you have a look at his website for the up-and-coming ones.
The cheese class was a lot of fun.
I was invited along with Simon (The Heart of Food), Tina (Food Booze & Shoes) and Mira (The Sydney Travel Food & Wine Social Group).  It was an excellent way to spend a Sunday afternoon.  We covered the art of fresh cheese making, mozzarella, feta, haloumi and ricotta.  We also made some labneh and pizza.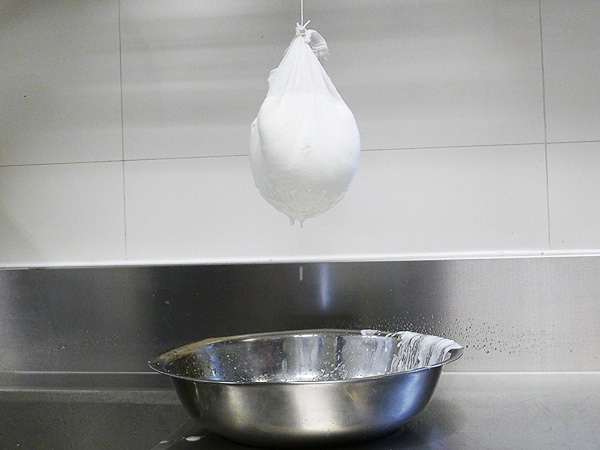 Yoghurt with some salt hanging in cheese cloth – soon to be labneh
We all had a go at making the mozzarella, and I can tell you, it is lots of fun.  Very easy too when you know the tricks.  Something I will be making again at home.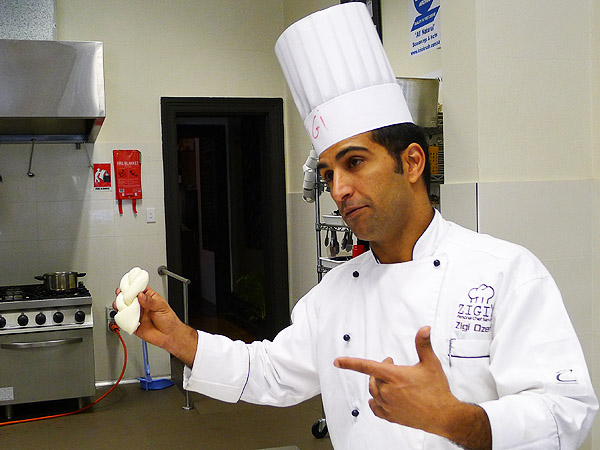 Zigi & his perfectly plaited mozzarella
After the joint mozzarella-making we were put in charge of separate tasks.
Simon was in charge of making a thin base pizza.  Tina made the feta which we tried on the Friday night of our return to Zigis.  Mira made the haloumi which was also enjoyed on the return visit.
I am amazed at how easy it is to make labneh and mozzarella.  We are lucky to enjoy both of our creations at the end of the class.  The labneh is eaten with some flat bread which Zigi had made and the mozzarella was used on Simon's pizza.
What did I make?  Well, I was put in charge of the ricotta.  There are no pictures, my great effort in to ricotta making gave me about two tablespoons, from the left over whey of the mozzarella making.  An epic fail on my behalf.
Zigi will be running future cheese classes. Go to his website and check out the dates.
Also worth mentioning  is his ABC of cooking class which starts on the 23rd of September.  Places are filling fast, but I believe there are a couple of spots left.
The class may be called  ABC, but it really is the A-Z of cooking.  There are eight classes in total, you can attend an individual class or all of them.The fin
Some of the dishes that will be covered during the course are: Hawaii Fish with Spiced carrot puree, Beetroot and goats cheese cigar, Lemon tart with Chantilly cream, Handmade gnocchi with sage butter sauce plus shaved grand padana and Shakshooka, baked eggs with slow cooked tomatoes.
Do tell dear Belly Rumbles reader, have you ever attempted to make your own cheese?
Sara xxx
Belly Rumbles paid their own way at Zigi's Wine & Cheese Bar, but attended the Cheese Making Class as a guest of Zigi's, with thanks to Michael Shafran