We had Josh's 18th at Zilver.  Like most times I am organising an event, even if just a dinner for two, I procrastinate over my choices.  Ultimately this time the choice was up to Josh and in the end Zilver won out.
Staff were fantastic leading up to the party, and the changes I wanted from one of their standard banquet menus was easily accommodated.
We had our own private room, which was great as it allowed mingling, carrying on and not having to sit at a table and be antisocial, it was nice to have our own space.  The other bonus was we had a karaoke machine, yes most of the songs were not in English, but there were a few and was great fun.  At the end of the night the Josh and his mates were singing away after sucking on the helium balloons that were around the room, hysterical.
The food was excellent and the service attentive.  The staff really were wonderful and even though we had our own room there seemed to be someone with us the whole time to help with anything that we needed.
Cucumber pickles & peanuts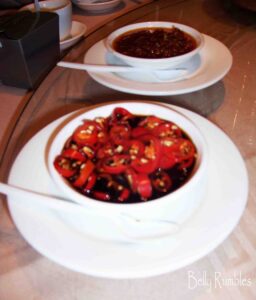 Chilli & soy sacue
On arrival there were nibbles of peanuts, a cucumber appetiser and chillies with soy sauce on the tables.  The cucumber was a massive winner as far as I was concerned.  Cucumber with chilli, soy and some other ingredients.  If anyone can help me with the name of this dish and a recipe I would be very very grateful.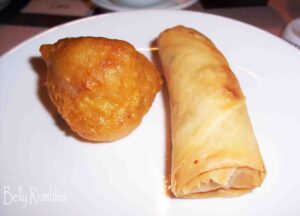 Deep fried spring roll & pork dumpling
To start off the main meal we had the Zilver entree tasting plate which had deep fried spring rolls and pork dumplings.  I wouldn't say there was anything outstanding about them, pretty run of the mill, but still very tasty.
Sweet corn soup with chicken
Josh is a big fan of sweet corn soup with chicken, so that had to be on the menu. Extremely moreish and for those who wanted it there were seconds to have.
There were seven main dishes, which were all delivered with superb timing.
Stir fried king prawns with seasonal vegetables
The stir fried king prawns were perfectly cooked and the vegetables lovely and crisp.
Deep fried salt & pepper calamari
Deep fried salt and pepper calamari is one of Josh's favourites and it was a must that it was on the menu.  Lovely tender calamari with a not too thick coating and just the right amount of spice.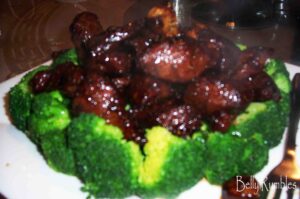 Wok seared diced beef fillet with black pepper sauce
I added the wok seared diced beef fillet with black pepper sauce to the banquet as I knew there were a few "I like my beef" eaters attending.  I was really glad I did as this dish was the one that everybody raved about.
Deep fried crispy skin chicken with garlic
The deep fried crispy skin chicken, even though very tasty, was  a little on the dry side.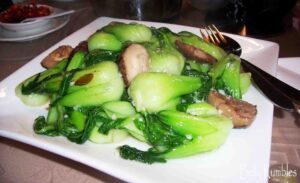 Stir fried Asian greens with carrots, mushrooms & garlic
Stir fried Asian greens with carrots, mushrooms and garlic, were a nice addition as the vegetable dish.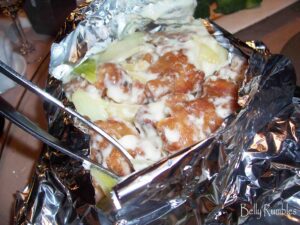 Flaming pork ribs with mayonnaise
The last dish to come out was the flaming pork ribs.  I found it quite interesting, but a lot of people did not really seem to want to eat it.  Not sure if it was due to people being full or the gloopy appearance of the dish.  This dish was one of my favourites of the evening.  It was even great the next day as it came home in a doggy bag with us.  Pork was so tender and ever so tasty, even though I was full, I couldn't help picking at it.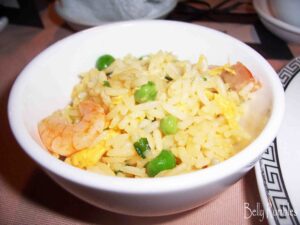 Zilver fried rice with BBQ pork, shrimp & peas
The fried rice again was quite moreish, it contained healthy sized prawns.  There was plenty to have seconds or thirds if you desired.
Fresh fruit platter
The meal was finished off with large fresh fruit platters, tea and of course the steampunk birthday cake.
Zilver is a great venue for group bookings.  They have a few private rooms of various sizes to choose from.  I certainly can't complain about the service and value for money regarding the food.
This is a bit of a belated post, Josh's birthday was in June (wanted to get it up before his 19th) and I have a few more belated ones to put up.  Taking some time over the next few weeks I have off from work to try and get up to date.
Sara xxx