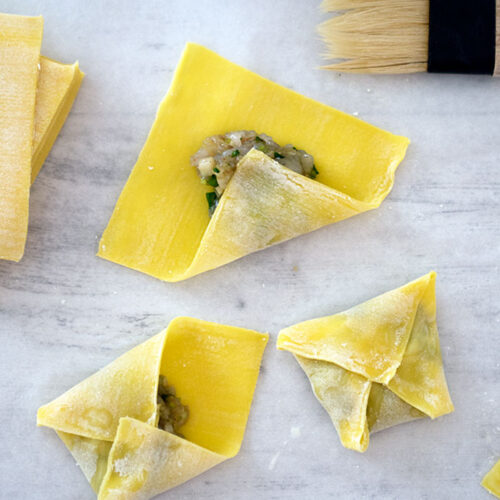 Fried Prawn Dumplings with Water Chestnut & Ginger
Homemade fried prawn dumplings with the crunch of water chestnuts and the kick of ginger and white pepper.
Print Recipe
300

g

green prawn meat

finely chopped

1

shallot

green onion white and green portion, finely chopped

1

tablespoon

grated ginger

80

g

water chestnuts

finely chopped

2

tablespoons

oyster sauce

½

teaspoon

ground white pepper

¼

teaspoon

salt

24

wonton wrappers

vegetable oil for deep frying

chilli or sweet chilli sauce for serving
Place prawn meat, shallot, ginger, water chestnuts, oyster sauce, pepper and salt into a medium bowl. Mix until well combined.

Work with six wonton wrappers at a time. Wrappers will have a "floury" side and a smooth side. Place the "floury" side down on the bench.

Place a heaped teaspoon of prawn mixture in the middle of each wonton wrapper.

Fold one corner of the wrapper over the filling, just past the middle. Brush floury edges of the triangle formed with water. The flour acts as a glue.

Fold the two closest sides over and on top of the water brushed triangle.

Then brush the edges of the open side with a little water, fold the remaining corner over and seal the wontons. They will look like envelopes.

Continue with the remaining wonton wrappers.

Heat vegetable oil in a wok over a high heat until it reaches 180°C (350°F).

Cook the wontons a few at a time, for around 3-4 minutes until they are golden brown and cooked through.

Once cooked remove dumplings from the wok and drain on kitchen paper towel. Serve immediately with chilli or sweet chilli sauce.