Agedashi Dofu or deep fried tofu, is my ultimate comfort dish. When I have a case of the miserables, am feeling sooky (and obviously hungry), Agedashi Dofu offers me a big culinary hug from the inside.
It is my equivalent of a bowl of soup or that one particular comforting home cooked meal that your mum makes for you. Except I make it myself, and my mum's not a tofu fan. Mum, please take note, I will keep trying to win you over to the soya bean side.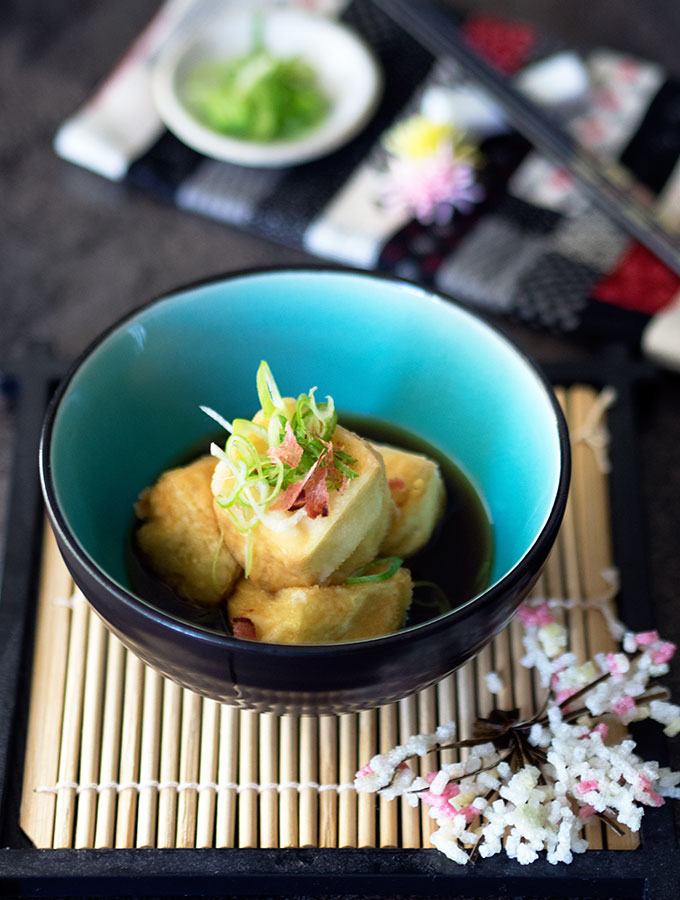 I wasn't a big tofu fan myself many moons ago, and it is this particular dish that turned me into a raving tofu lover. Agedashi Dofu won me over.
There is a combination of elements that make Agedashi Dofu a winning dish. The tofu used is silken tofu. Silken tofu has a beautiful texture in the mouth, similar to panacotta, or to be more accurate, junket. It is also a very mild tasting tofu, great for those still acquiring a taste.
The tofu is deep fried, and that alone wins big brownie points. It is the deep frying of the tofu that makes Agedashi Dofu shine. Crisp coating that encases warm soft silky tofu.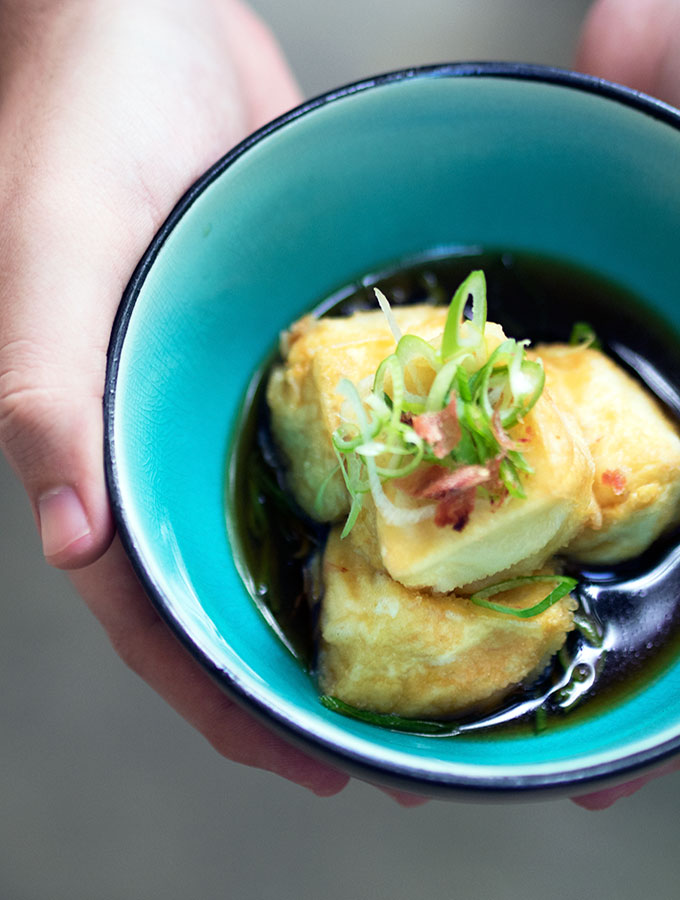 The deep fried tofu is then doused in a mild yet flavoursome warm dashi broth/sauce. Topped with finely sliced green onions, bonito flakes and finely grated ginger. These condiments add freshness and zing to the whole dish.
The recipe does call for potato starch. If you are having some problems finding it, don't stress. I have in the past very successfully used cornflour. The idea is to have a light coating to get that crunch. When desperate times call for desperate measures, I have even used plain flour, but it's not quite the same.
Pressing your tofu is an important step in this recipe as it removes excess water. Not only does this make the tofu easier to handle when cutting and coating with flour, it holds together when frying.
I could eat bowl full after bowl full of Agedashi Dofu. Do you have a favourite tofu dish? Or are you like my mum and would rather give it a miss?
Sara xxx
Printable Recipe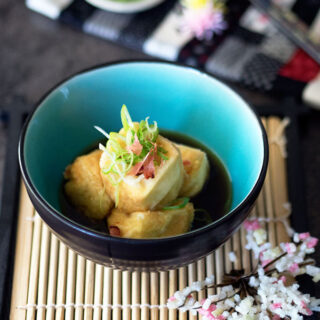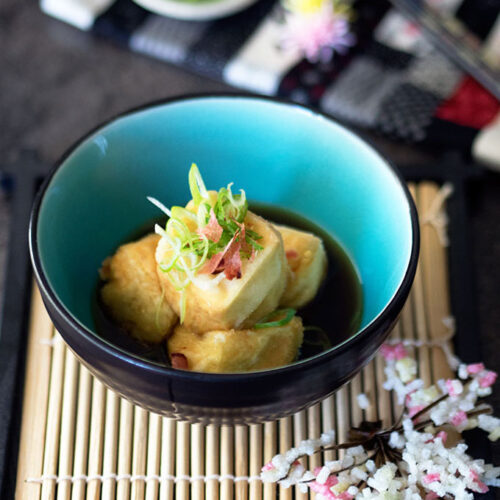 Agedashi Dofu (Tofu)
Agedashi Dofu or Agedashi Tofu is a comforting and delicious dish. For those that don't like tofu this is a dish that may win you over.
Ingredients
This recipe will feed 2 people as a main or 4 people as an entree

2

x 300g packets of silken firm tofu

katakuriko or potato startch for coating

3

g

¾ teaspoon instant dashi powder

180

ml

water

2

tablespoons

soy sauce

1

tablespoon

mirin

1

tablespoon

sake

thinly sliced green onion

scallion

finely grated ginger

finely shaved katsuobushi

bonito flakes
Instructions
Carefully remove tofu from packets and drain excess liquid.

Wrap tofu in a clean tea towel and place on a plate. Place two plates on top of the wrapped tofu in the fridge to weigh it down. This will extract extra moisture. Leave in the fridge for 30 minutes.

Just before you remove the tofu from the fridge make the sauce.

In a small saucepan place dashi powder, water, soy, mirin and sake. Mix well and bring to the boil over a high heat. Either keep sauce warm on a very low temperature or turn your stove top element off but leave the saucepan there to keep it warm. The aim is to not continue cooking the sauce but to keep it warm to serve with your tofu.

When ready to cook the tofu, remove tofu from the tea towel and cut each block into six pieces.

Use a deep fryer or fill a saucepan or wok on third full with oil (I use canola). Heat oil to 180°C (350°F), or until a cube of bread dropped in browns in 15 seconds.

Lightly coat tofu pieces in katakuriko (potato starch) and deep fry in batches until they turn a pale brown. Remove from oil and drain on paper towel. Repeat with remaining tofu.

Divide tofu into bowls and carefully pour over sauce. Garnish with katsuobushi flakes, grated ginger and green onion.

Serve immediately.

Note: Instead of using instant dashi powder and water, replace with 180ml of dashi
NUTRITIONAL INFORMATION
The recipe's nutritional information is an approximation based on an online calculator. It is meant solely for reference purposes. If you're looking for precise details, be sure to double-check with your own research.
Did You Make This Recipe?
I do a happy dance when people share how they went. Tag me on Instagram or Twitter @bellyrumbles & #bellyrumbles