I do love zucchini flowers. Not only are they a large beautiful flower, but also edible. My favourite way to eat these golden beauties is stuffed. They can be filled with all sorts of ingredients, but the most common, and probably most loved, is cheese.
Once they have been stuffed you can either deep fry or bake them. Deep frying always wins my vote. The stuffed zucchini flowers dipped in a light batter and fried until golden. You crunch through the crisp petals to be greeted with an explosion of warm cheese filling.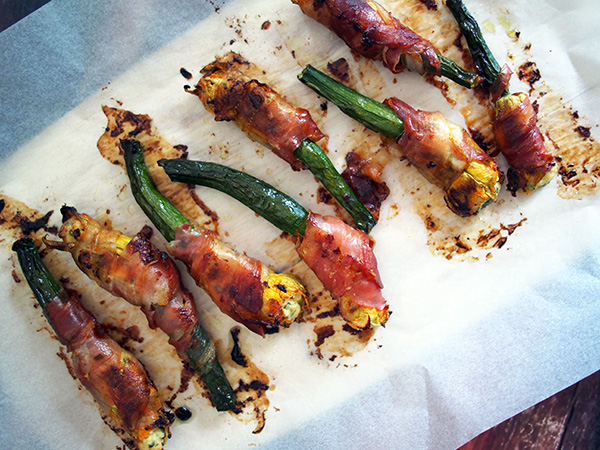 Deep fried food, as comforting and satisfying as it, isn't something you should be chowing down on regularly. I often crumb the flowers and then bake, this method works well with minimum use of oil. Sometimes I really couldn't be bothered dealing with the mess of egg, flower and crumbs, we can call it being lazy, I don't mind.
Take a case of my shear laziness, a few slices of prosciutto waving at me from the fridge, and bingo, a less messy way to bake them. This way of baking zucchini flowers has become a firm family favourite, the boys think they are might tasty due to the crisp prosciutto surrounding the flowers. Plus, they suffice my lazy bone.
You may be thinking that the act of stuffing a zucchini is a big pain in the backside, but it doesn't have to be. Once you get the hang of handling zucchini flowers, it really is quite simple.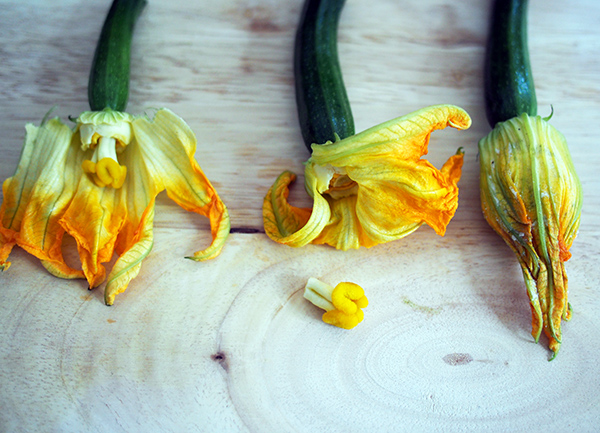 For beginners I suggest carefully tearing them down one side and pulling out the stamen. You can then place your filling inside the flower and wrap the petals back around the completely encasing the filling. This is also the better option if the flowers a starting to wilt slightly.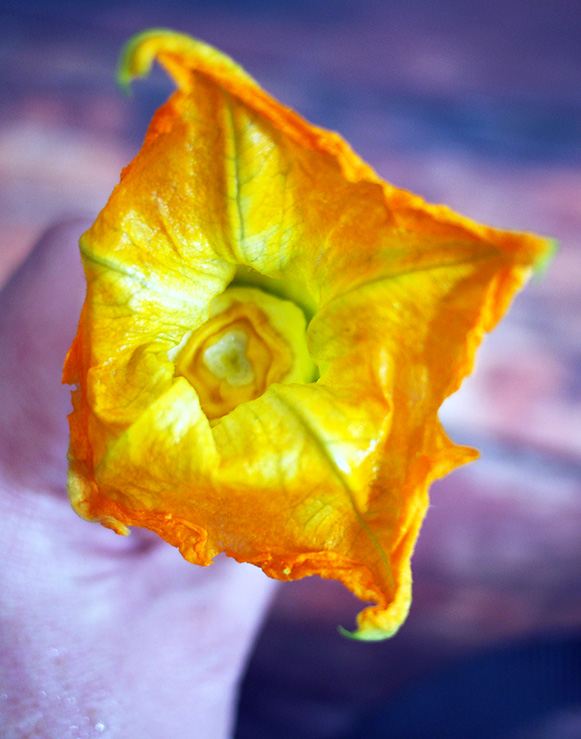 Once you have confidence handling the flowers, you can drawn the petals apart carefully and fold them back down on themselves. It is a little bit like peeling a banana, but keeping the flower intact. Then spoon your filling into the middle, fold the flower back up and twist the tip of the flower petals to seal.
It's important; no matter what method you use, to not overfill your flowers. They will explode if you are heavy handed with the filling.
Sara xxx
Printable Recipe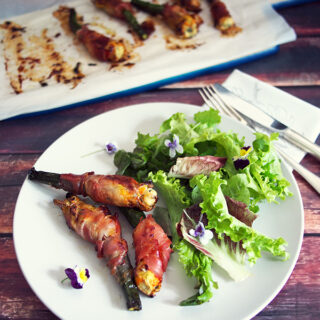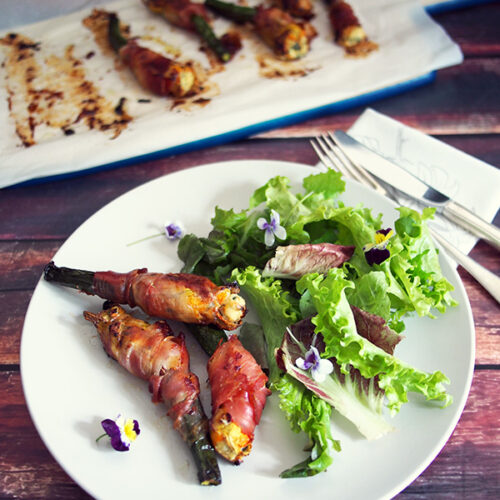 Baked Stuffed Zucchini Flowers
Zucchini flowers don't have to be difficult to prepare. Try this easy baked version to have with salad.
Ingredients
150

grams

firm ricotta

30

grams

Parmesan cheese

finely grated

¼

cup

basil

finely chopped

1

egg

8

zucchini flowers

stamens removed

4

thin slices of prosciutto

cut in half lengthwise
Instructions
Pre-heat oven 190 deg C (375 deg F) and prepare a baking tray with baking paper.

In a medium bowl mix ricotta, Parmesan, basil and egg until well combined.

Fill your zucchini flowers with the cheese mixture. Do no overfill and ensure to seal well with the flower.

Wrap half a slice of prosciutto around each flower.

Place you flowers on the prepared baking tray, spray with some olive oil and bake for 20-25 minutes until prosciutto is crisp.

Serve with garden salad.
Measurement Notes
All measurements are Australian metric standard. All measures are level, and cups are lightly packed unless specified. 1 teaspoon = 5ml / 1 tablespoon = 20mls / 1 cup = 250ml /4 teaspoons = 1 tablespoon.
NUTRITIONAL INFORMATION
The recipe's nutritional information is an approximation based on an online calculator. It is meant solely for reference purposes. If you're looking for precise details, be sure to double-check with your own research.
Calories:
226
kcal
Carbohydrates:
13
g
Protein:
19
g
Fat:
12
g
Saturated Fat:
6
g
Cholesterol:
70
mg
Sodium:
232
mg
Potassium:
1869
mg
Fiber:
4
g
Vitamin A:
2285
IU
Vitamin C:
134
mg
Calcium:
258
mg
Iron:
3.5
mg
Did You Make This Recipe?
I do a happy dance when people share how they went. Tag me on Instagram or Twitter @bellyrumbles & #bellyrumbles