Crunchy Filipino spring rolls burst with flavour on every bite. My lumpiang shanghai recipe is packed with a combination of ground pork, and seasonings. These delicious fried lumpia are also known as Filipino egg rolls.
My tastebuds were first tantalised by lumpiang shanghai when I went on a food tour in Manila's Chinatown. Just like re-creating Filipino empanadas when I got home, I had to do the same thing with Filipino lumpia.
Very similar to a spring rolls or egg rolls in look, but the filling is sweeter. Which is common with a lot of Filipino food. The Filipinos do love a touch of sweetness to their food.
As with my sui mai recipe more hands make light work. Get the kids, partner or friends involved. They will be ready to fry up in no time.
A bonus is that they freeze well pre and post frying. Want to use your air fryer? They cook up a treat in those too.
Sara xxx
What's in this post
What are Lumpiang Shanghai
Lumpiang Shanghai originates from The Philippines and are similar, but far superior, to spring rolls / egg rolls. The filling is generally a mixture of pork with vegetables, but can also be made with chicken or beef. The filling is wrapped in thin crêpes called lumpia wrappers.
There are many kinds of lumpia in The Phillipines, fried, fresh, and even dessert ones. But Lumpiang Shanghai is one of the most popular.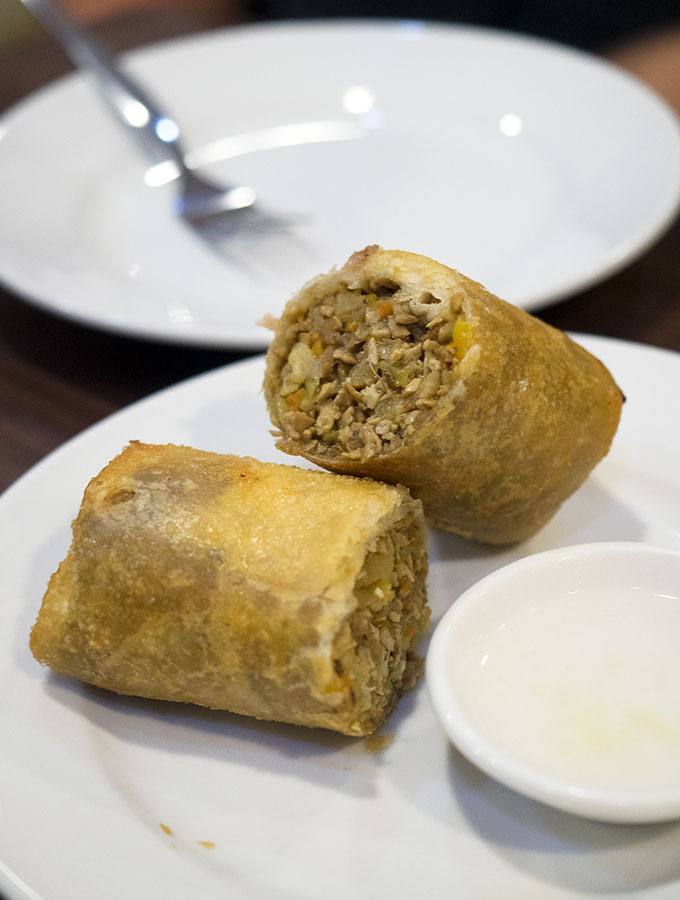 Manila's Chinatown
I explored Binodo (Manilla's Chinatown) by way of a food tour when I was in Manilla. Binodo is the oldest Chinatown in the World. Outside of China of course. It was a walking tour which meant I experienced all the smells and sounds of the area.
Filipinos love their food and it is no more evident than it is in Binodo. It is a hive of foodie activity from dumplings to fried frogs legs.
Ingredients
Pork Mince / Ground Pork
Unlike spring rolls where the vegetables are the shining stars, this particular lumpia is quite meaty. I used lean pork mince, you can substitute this for chicken or beef. I have seen some recipes out there that also do a combination of pork and prawn.
Vegetables
I use a combination of carrot and water chestnut. Both retain their crunch, but the water chestnut more so. This adds a lovely textural elemet to the filling.
Aromatics
Good old onion and garlic, the staples of flavour.
Seasonings
It is a rather simple trio of seasonings used. Simply dark soy sauce, brown sugar, and white pepper.
Lumpia Wrappers
These are very thin crêpse that do have a different texture when fried to spring roll or egg roll wrappers. I used spring roll wrappers for my Lumpiang Shanghai as I couldn't source lumpia wrappers in Sydney. If you want to try making them yourself try this lumpia wrapper recipe.
How to make Filipino Spring Rolls
In a large non stick frying pan sauté onions and garlic until onion is soft and translucent.
Add pork mince and cook until browned.
Once the pork mince/ground pork has browned add water chestnuts and carrot. Stir through thoroughly and then stir through soy sauce, brown sugar, and white pepper.
Continue to stir over medium heat until all the liquid has evaporated. Remove the pan from the heat and leave the mixture to cool.
Once cooled place ¼ cup of mixture on a lumpia wrapper (spring roll wrapper), and roll the lumpia up, tucking in the sides as you go. Seal the closed with a small amount of beaten egg on the final edge of the wrapper.
Head to Belly Rumbles' Instagram account to see how to roll Lumpiang Shanghai.
Continue with the remainder of the wrappers and filling.
To fry, place enough vegetable oil in a wok, high enough to cover the lumpia. Heat oil until it reaches 180°C (350°F). Cook lumpia a few at a time until they are golden brown.
Once golden, remove from wok and drain on a wire rack (not kitchen paper towel). Serve immediately with sauce of choice.
Air Fryer Instructions
You can easily cook lumpia in an air fryer. Less oil means less potential mess and cleaning up. Plus less oil means they are better for you.
Spray the lumpia with a little oil (optional) and place in the air fryer basket, leaving space around each one. Air fry at 190°C (374°F) for 8-10 minutes. Frying time will vary depending on the size and thickness of the rolls.
Sara's Top Tips
By cooking the Lumpiang Shanghai filling before rolling this means we can make them just like they do at Quick Snack in The Philippines. Big, plump, and awesome! There is no fear of the filling not cooking properly. Even if making them smaller (like I did), the filling will always be cooked.
If frying drain cooked rolls on a wire rack and not on paper towel. This will prevent them from going soggy.
Printable Recipe