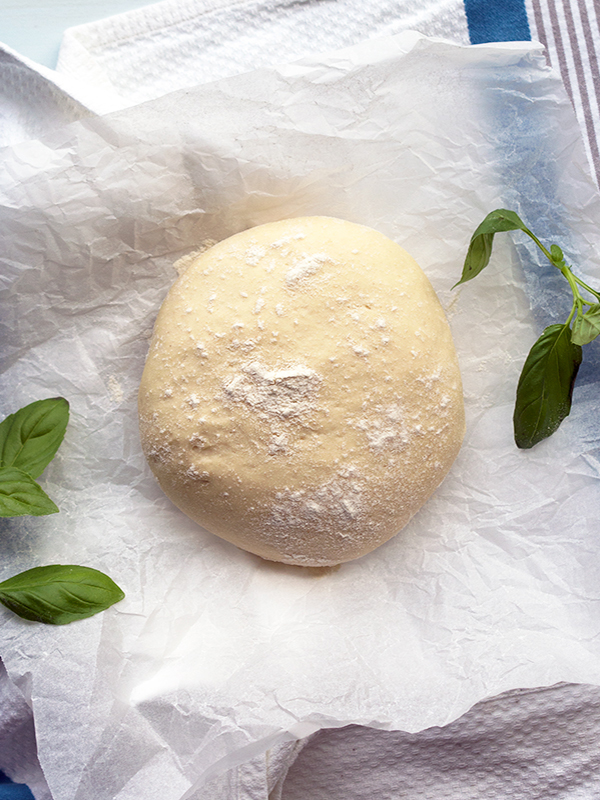 Recipe to Riches starts next week and I will be once again reviewing the weekly product on Belly Rumbles on Wednesdays. It will be back to last year's routine of buying, trying and eating the products on my own time and dime.
Did you follow my rants last year? If you did will know that my favourite product from the season was Chris' Golden Greek Pizza Base Kit.
I was a complete doubter and grumble bum about the product until I actually tried it. I instantly fell in love, as did many of my readers. I still get emails and comments about that particular product to this day. It was even a favourite at the 'judgement' party I held at the end of the season last year.
My recipe for freezable pizza dough was an accident. I stupidly added too much yeast to a tried and tested pizza dough recipe I have. As the dough was taking on a life form of its own on my kitchen counter, my memory was jogged to my initial observations of the Golden Greek product. I felt that there may have been more yeast added than normal to that particular product. I could be completely wrong and probably am, but it did get me to thinking.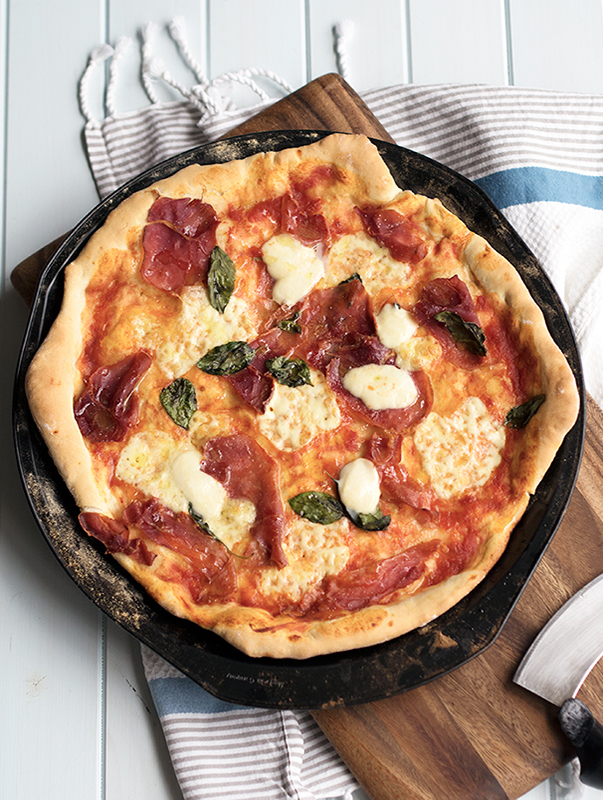 The ever expanding dough on my counter was portioned, wrapped in plastic wrap and frozen. I was thrilled when the defrosted dough worked brilliantly a few weeks later.
This recipe has been used many times and frozen just as many. We have had a couple of dough portions not rise as well as the others (from the same batch), but on a whole, it works. Even on the odd occasion they don't rise a little on cooking, they still taste great.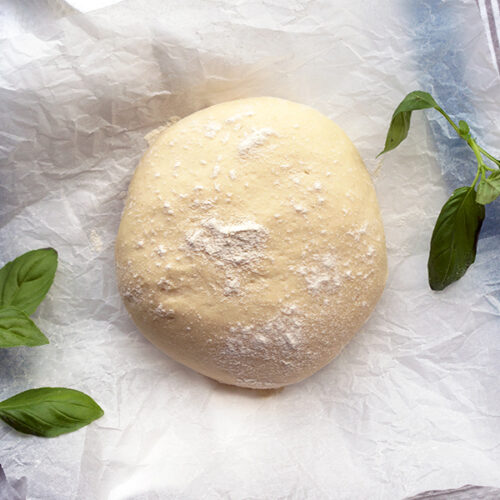 Prep Time:
2
hours
30
minutes
Total Time:
2
hours
45
minutes
Makes 6 bases.
A recipe for pizza dough that can be frozen and then used when needed.
Ingredients
1

kg

00 flour

32

grams

yeast

-

dried

pinch

salt

50

ml

olive oil

35

ml

maple syrup

-

the real stuff

500

ml

warm water
Instructions
In a large bowl mix flour, yeast, salt. Then add olive oil, maple syrup and three quarters of the water. Mix and add more water as needed. You want your dough to come together, but not be too wet.

Turn dough out on to a floured bench and kneed until the dough is smooth and elastic.

Wipe the inside of your bowl over with a little olive oil and return your ball of dough. Cover with some plastic wrap and leave to rise for 1 – 2 hours. It depends on the weather, but you want it to double in size.

Once dough has doubled in size give it a punch in the bowl. Technical term is knocking it back. Then scoop dough out on to your floured bench.

Divide dough into six equal portions and roll in to balls. Leave (covered) to rest for 30 minutes. Wrap in plastic wrap and place in your freezer.

Dough can be used at this point if you don't want to freeze it. I usually make a couple of pizzas and then freeze the rest of the dough.

When you are ready to make pizza from the frozen dough, defrost dough in the fridge (or if cool enough on your kitchen bench)

Roll or stretch the dough out to your desired size. I tend to stretch it, that's why my pizzas look less than perfect. Place on a lightly floured pizza tray and prick the pizza base with a fork.

Then it is up to you on how you want to top your pizza. Spread over some of your favourite pizza sauce, add cheese and toppings.

To cook, I turn my oven up as high as it will go and place the pizza on the bottom rack. I then keep an eye on it until the pizza is done. I find by cooking it this way I never end up with soggy pizza, and it turns out perfect every time.
Nutrition
Calories:
713
kcal
|
Carbohydrates:
133
g
|
Protein:
19
g
|
Fat:
10
g
|
Saturated Fat:
1
g
|
Sodium:
10
mg
|
Potassium:
242
mg
|
Fiber:
5
g
|
Sugar:
3
g
|
Calcium:
34
mg
|
Iron:
7.9
mg
DID YOU MAKE THIS RECIPE?
I do a happy dance when people let me know, tag me on Insgragram @bellyrumbles #bellyrumbles
The pizza in the photos has a simple (and my favourite) topping of prosciutto, mozzarella and basil on a tomato sauce. I then give it a sprinkle with truffle salt, which really is a brilliant combination. You have to try it.
I hope you guys enjoy my rants over the next few weeks on the upcoming Recipe to Riches products. If you are like me and wanted Chris' pizza dough to win last year, give mine a go and let me know what you think.
Sara xxx