Leaving Josh and Mac at home to fend for themselves when I travel can be both amusing and scary. But without their antics I wouldn't be brining you this rather moreish crunchy honey and almond baked chicken fingers recipe. You can thank them for the secret ingredient.
I leave home and something weird happens. Individually they both can cook to a degree, though I have to say that Josh is actually the better cook out of the duo. But put them together in the kitchen and they turn into two eight year olds who's' mother is away and the babysitter is MIA.
I have come home in the past to find out that they have had to Google "how to make rice". Or once while away I received text images of hot dogs inserted inside cinnamon doughnuts. Why? Because they didn't have hot dog buns. Let's just ignore the fact they had to buy the doughnuts shall we.
By the way hot dogs fit perfectly through the hole of a standard cinnamon doughnut. Just in case you ever find yourself in that situation, are faced with a very random trivia question, or just have some strange hotdog doughnut fetish.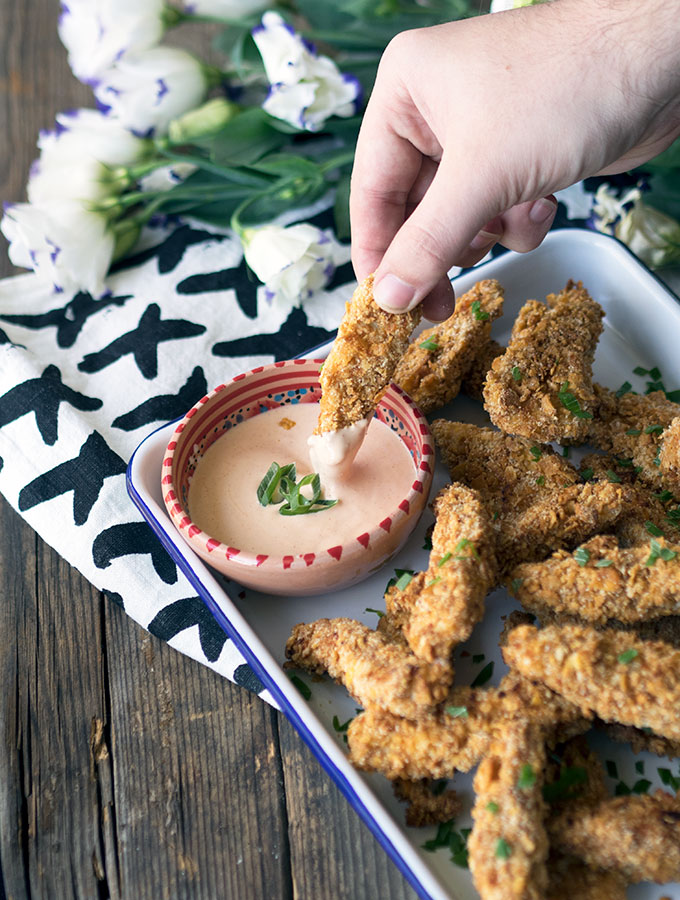 These baked chicken fingers are my interpretation of a recipe they "developed" while I was away. Apparently they had run out of breadcrumbs (I'm not sold on that fact) and they wanted to make chicken schnitzel.
Out of breadcrumbs, what do you do??? Most of us would probably blitz up a couple of pieces of bread and make fresh ones. But not Heckle and Jeckel, they decided to use Crunchy Nut Cornflakes, their secret ingredient.
They thought their experiment was a culinary breakthrough. For the next couple of years it was all I heard about. How amazing their schnitzel was, how brilliant they both were, and how I should make it for Belly Rumbles………….
As you can see I finally gave in and I'm sharing a version of their creation. Their recipe was rather raw and simple. "Take two chicken breast fillets, bash them out, smush cereal into them, and fry. Oh and be careful as they burn."
Needless to say I tweaked their original recipe.
I took into consideration general crumbing technique, played on the "nut" aspect of the cereal, and oven baked them. The breast was cut in to fingers, which in turn transformed the dish into one for sharing when entertaining or watching the game. Instead of an unhealthy, sugar laden, fried main meal.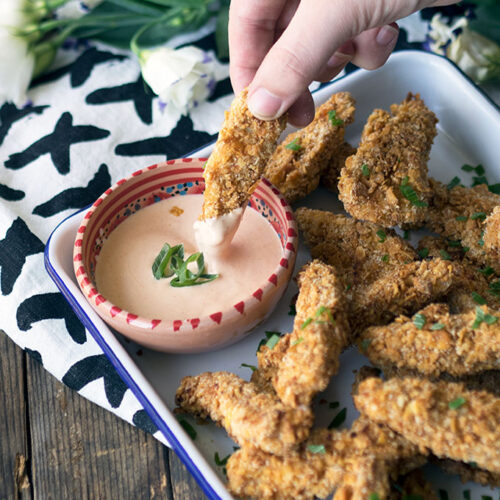 Crunchy Honey & Almond Baked Chicken Fingers, with a Secret Ingredient. Oven baked, not fried, golden and super crunchy. Served with a hot sauce mayo.
Ingredients
2

chicken breasts

-

cut into fingers

4

cups

Crunchy Nut Cornflakes

-

or similar cereal

2/3

cup

ground almonds

-

almond flour

2

eggs + 2 tablespoons water

Plain flour for dusting

½

cup

mayonnaise

hot sauce

1

spring onion

-

finely sliced for garnish
Instructions
Pre-heat oven 180°C (350°F) and line a baking tray with baking paper.

Place cereal in a large zip lock bag and crush to make finer crumbs.

In a large bowl place crumbs and ground almonds.

In a separate bowl place eggs and water, whisk.

Dust chicken breast fingers with flour and then coat with egg mixture. Coat well with almond crumb mix, and place on baking tray. Repeat with remaining chicken fingers.

Bake in the oven for 35 minutes, or until cooked through and golden.

Serve sprinkled with spring onion and mayonnaise, which has been mixed with a few dashes of your favourite hot sauce.
DID YOU MAKE THIS RECIPE?
I do a happy dance when people let me know, tag me on Insgragram @bellyrumbles #bellyrumbles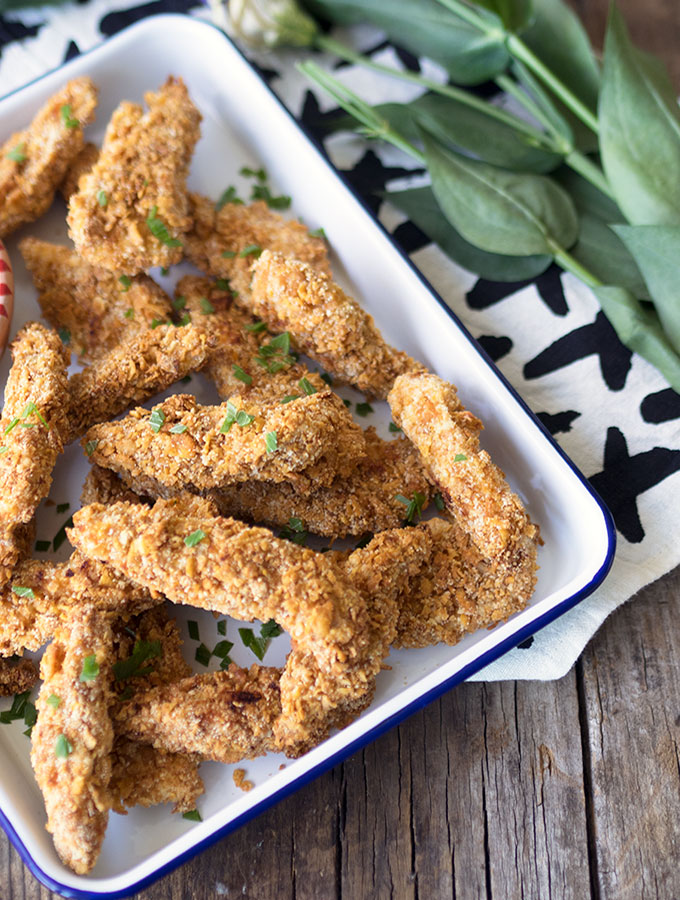 I have been a little vague with the hot sauce mayonnaise recipe intentionally. Not all hot sauces are created equal and I find that most people have a favourite. We also like different strengths of heat. My mouth numbing hot may be mild to you.
No matter what your favourite hot sauce is, or how hot you like it, it's a good match to these baked chicken fingers. The heat adds a wonderful balance to the slightly sweet baked chicken fingers.
I have no plans on recreating their hotdog doughnuts, I hope you don't mind.
Sara xxx
Become a subscriber and don't miss a single delicious recipe, restaurant review or travel adventure.