Korean Corn Dogs are comforting, delicious, Korean street food you can easily make at home. Hot dogs, mozzarella, or a combo of the two are impaled on a stick, battered, and deep-fried. The result is crunchy scrumptiousness with a cheese pull for days!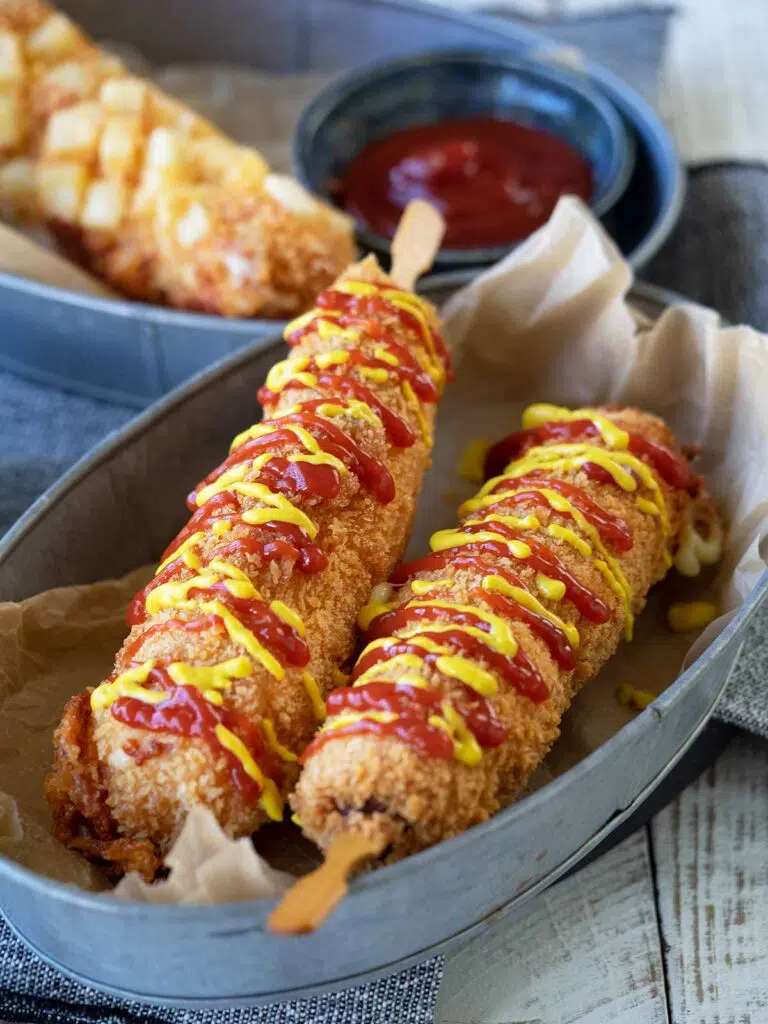 If you are a fan of cheese on a stick you are going to want to get your laughing gear around a Korean hot dog. Known as hot dogs, corn dogs, gamja hot dogs (with potato), they resemble an Aussie pluto pup, but are far more superior. Think of them as a pluto pup and cheese on a stick love child.
Unlike an American corn dog, there isn't any cornmeal used in the batter, and unlike an American hot dog, there is no bun. Instead batter coats a sausage (usually a frankfurt), mozzarella stick, or a combination of both. It is then rolled in panko crumbs for extra crunch and deep-fried.
For the ultimate treat, they can also be rolled in teeny pieces of potato before hitting the panko crumbs. Once fried they are sprinkled with sugar, drizzled with tomato sauce and mustard. Be warned they are seriously addictive.
Sara xxx
Ingredients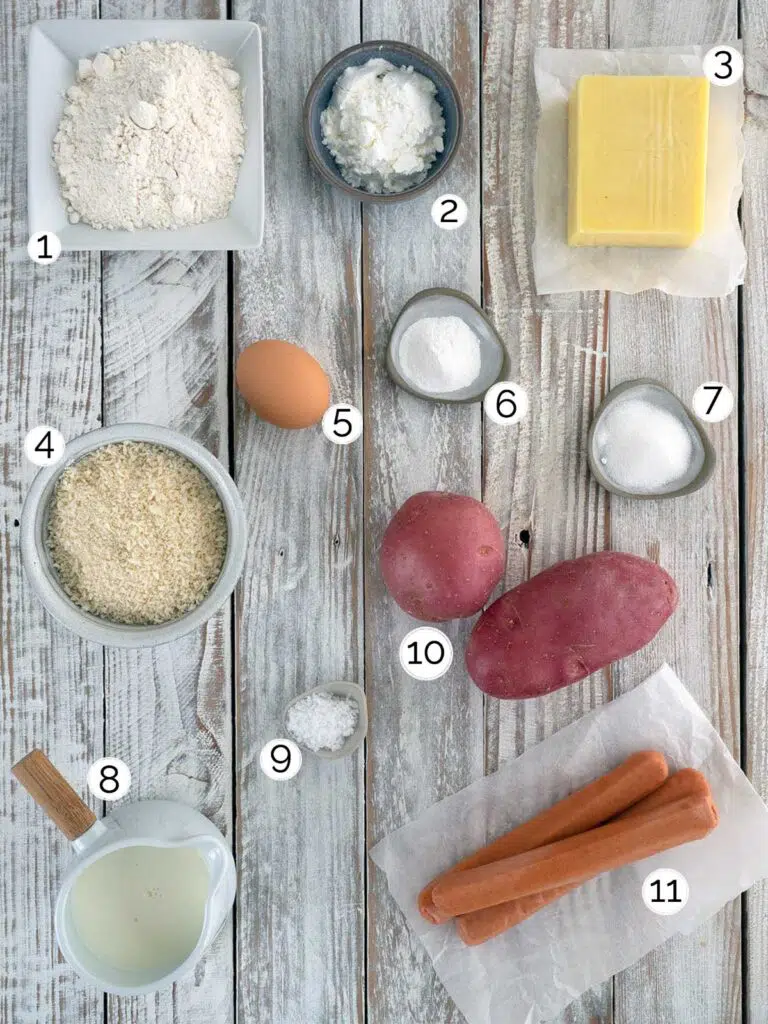 Flour: Plain/all purpose flour. You could use self raising flour, if you do then leave out the baking powder.
Cornflour: Also known as cornstarch is used to toss the potatoes in if making the potoato coating for the Korean corn dogs. Not used if not making the potato topping.
Mozzarella Cheese: Pick a harder low moisture content mozzarella cheese, the block kind. Don't use fresh, the ball type, as it will end up in a melting disaster. You can also use the mozzarella sticks that often make it into kids' lunchboxes, like original Stringers.
Panko Crumbs: Used for the coating along with the batter, it adds an extra crunch factor. If you can't find panko crumbs, use fresh breadcrumbs that have been dried out (not browned) in the oven.
Egg: Free-range is best, it is used in the batter.
Baking Powder: Gives a little puff to the batter. If using self raising flour omit.
Sugar: Adds a touch of sweetness to the corn dog batter.
Milk: Full fat if preferrable, but you can use whatever you have in the fridge. Most often I use light/low fat milk, which is quite hilarious considering I am frying them in copious amounts of oil!
Salt: Is used as seasoning in the batter. I use sea salt flakes or Kosher salt.
Potato: Peeled and cut into small cubes for the potato topping. Use whatever white flesh potato you have on hand.
Sausage: I use franfurts/hot dogs, any pre-cooked, uncured, hot dog style sausage will do. It doesn't have to be pork based, it could be beef, chicken, fish or vegetarian.
Yellow Mustard, Ketchup/Tomato Sauce & Sugar (not pictured): Are popular toppings for Korean Corn Dogs.
The Potato Coating
The Korean corn dog coated in small pieces of diced potato is known as a gamja hot dog. I have provided instructions on how to make the potato and plain panko crumb coating for these delicious deep-fried sticks of goodness. But which coating is better?
Honestly, it is all up to personal taste. Be warned that when you make them with the addition of potato it is a meal in itself.
You will see a few recipes out there where people have used frozen oven-ready fries chopped up for the potato coating. Don't do it.
It takes very little effort to peel, dice, and par-boil some potato. Frozen fries have extra oil added to them, plus other things. Using diced potato will give you a cleaner and more delicious flavour.
Alternative Coatings
There are a few other coating alternatives you can use too. Don't be restricted to panko crumbs or panko potato crumb combinations. Below are some other popular Korean Corn Dog coatings.
Instant ramen noodles (the curly kind), broken up into small pieces
Crispy rice
Cornflakes, crush them up and use instead of panko crumbs
Once they are cooked they are rolled in sugar and drizzled with mustard and ketchup (tomato sauce). They can also be covered with mayonnaise, chilli sauce, bbq sauce, or any other sauce you like.
Alternative Fillings
For this recipe I have made two alternative fillings. One is a straight frankfurt/sausage, the other is a combination of frankfurt and mozzarella.
I personally love the cheese and frankfurt combo. You start by attacking the molten stretchy cheese and finish with the sausage. But there are many other fillings to try.
Mozzarella cheese only
Spam
Rice Cake (Injeolmi)
Fish Sausage or Fish Cake
Squid
Cheddar Cheese
Beef hot dogs
Chicken hot dogs
Vegetarian sausage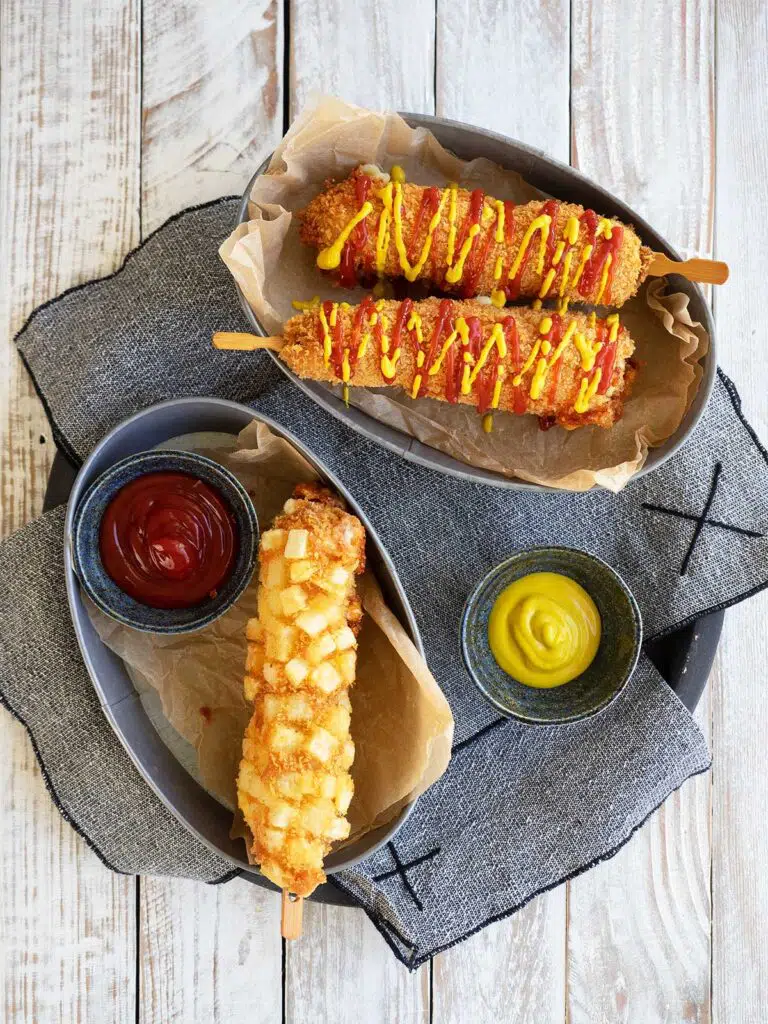 Recipe Instructions
Scroll to the bottom of the page for a printable version of this recipe.
If making the potato coating place diced potato in a small pot of cold water. Bring water to a boil and cook for two minutes.
Drain diced potato into a colander and rinse with cold water to stop the cooking process. Set aside to drain until needed.
For hot dog/mozzarella Korean corn dogs thread half a hot dog onto a disposable wooden chopstick (or thick wooden skewer). Then thread a piece of mozzarella onto the chopstick being careful not to split the cheese.
For hot dog only Korean corn dogs carefully skewer a whole hot dog onto a disposable wooden chopstick (or thick wooden skewer).
Place the assembled corn dogs on a plate and in the fridge until needed.
In a bowl place flour, sugar, salt, baking powder, and whisk together
Then mix in egg and milk until a thick smooth batter is achieved. Set batter aside until ready to cook the corn dogs.
If making the potato coating place cooked diced potato in a zip lock bag with cornstarch. Toss until potato is completely coated then place coated diced potato in a shallow bowl.
Place panko crumbs in a shallow bowl.
Important: Get your oil to temperature before coating your dogs. Place enough oil in a wok, deep fryer, or large wide pot that will be deep enough that the Korean corn dogs will not touch the bottom, and float in the oil. Heat oil over medium heat until it reaches 175°C/350°F.
Remove assembled skewers from the fridge.
Firstly coat the corn dogs completely in batter. Use damp hands to smooth the thick batter evenly over the corn dogs covering everything well.
Place battered corn dog in the diced potato. Using your hands press the potato pieces onto the batter. Then move the potato covered dog to the panko crumbs and coat.
For panko crumb only coating, place battered corn dog into the dish with panko crumbs and cover completely.
Place one or two coated Korean corn dogs into the pre-heated oil and cook for 5-7 minutes until golden, crispy, and cooked through. Make sure to turn the corn dogs as needed for even cooking and browning.
Once cooked remove from the oil and place on a wire rack while cooking the remaining Korean corn dogs.
When ready to serve sprinkle with sugar, drizzle with mustard and ketchup/tomato sauce.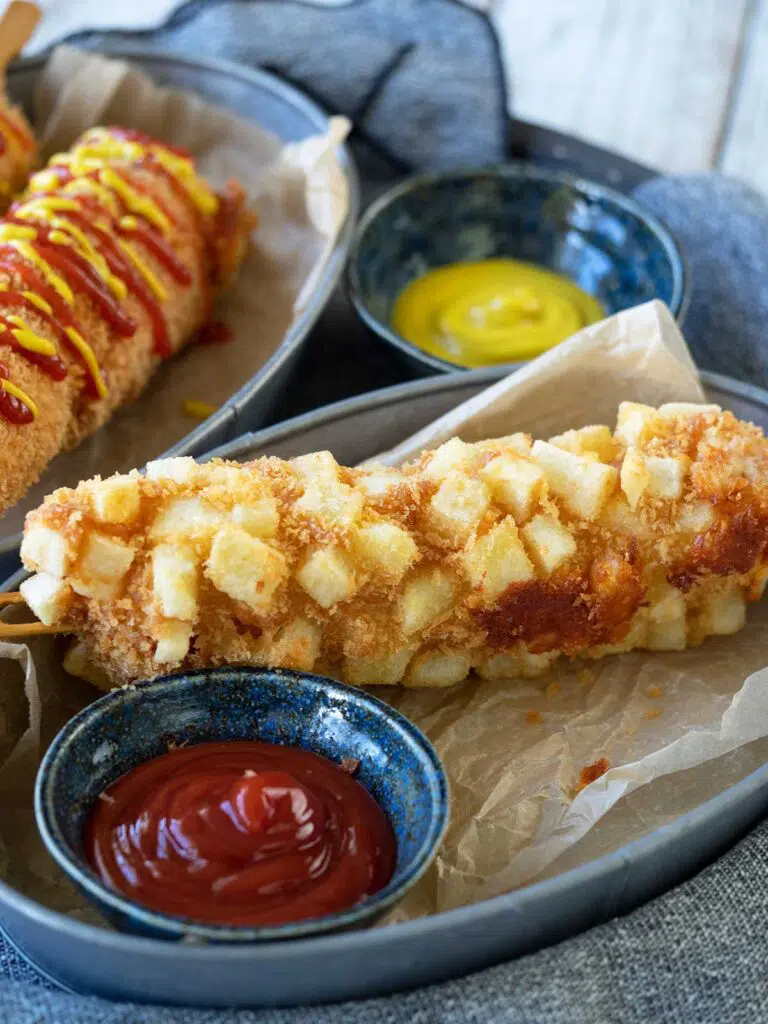 Sara's Top Tips
Printable Recipe