The Grove Auckland is one of the best restaurants in Auckland, if not the best. Conveniently located in Auckland's CBD, The Grove menu offers a tantalising degustation showcasing the best of New Zealand's produce.
Michael and Annette Dearth opened The Grove Restaurant in 2004 when this American couple decided to call New Zealand home. They are also the owners of The Grove's sister restaurant Baduzzi.
There is an interesting wine list, which is heavily influenced by Michael. Embracing natural and biodynamic wines.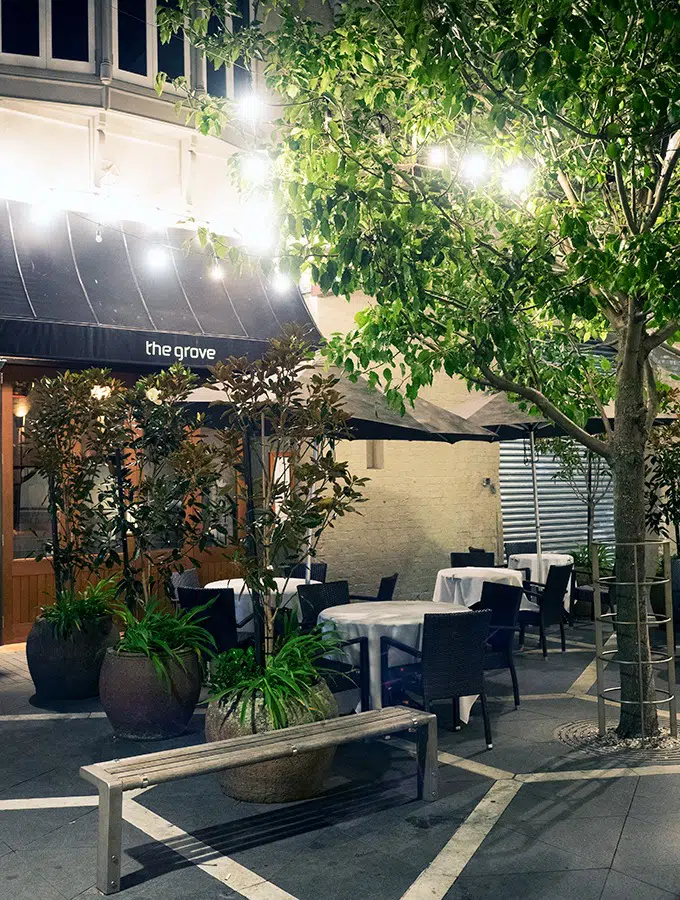 Unlike its steady ownership, The Grove has had a few head chefs in the kitchen over the years. Including Chef Michael Meredith, Chef Sid Sahrawat, Chef Josh Barlow and Chef Ben Bayly.
The current head chef is Kira Ghidoni. Chef Ghidoni joined the restaurant in 2017 under Chef Bayly, then progressed to head chef when he departed. She is a fierce pastry chef with her last port of call as Executive Pastry Chef at Vue de Monde in Melbourne.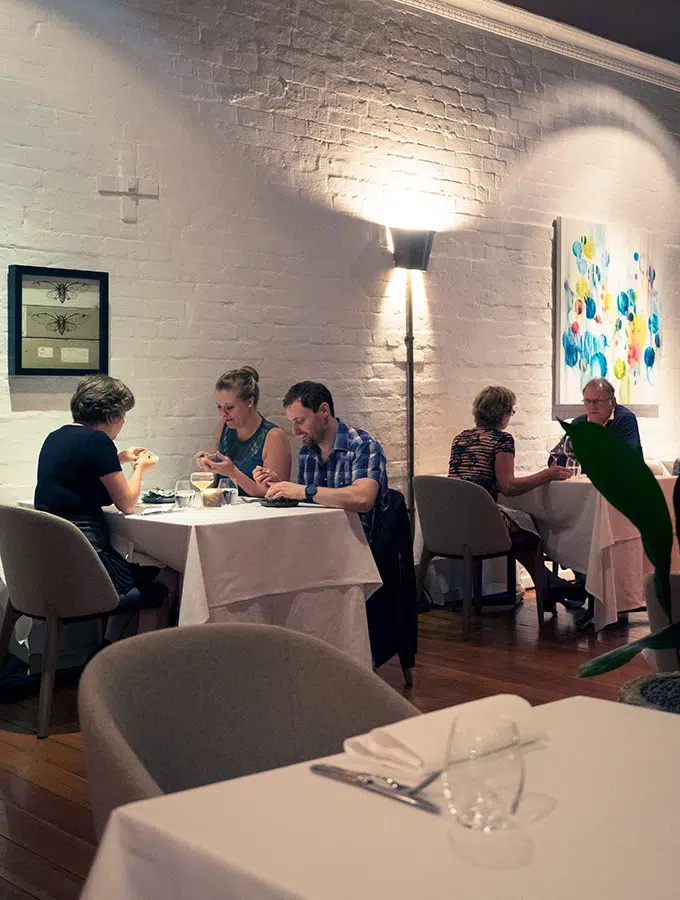 I had been craving a visit to Auckland's best restaurant for quite a while. The last time I flew over the ditch from Sydney, Clooney was my fine dining establishment of choice. I should add it was a mighty fine choice.
You won't find a Michelin star restaurant in Auckland. There aren't any. A Michelin New Zealand Guide does not exist. I doubt there ever will be. Just like Australia, New Zealanders probably don't buy enough tyres.
No Michelin star, but The Grove holds the place as the best restaurant in New Zealand. Plus voted 9th best restaurant in the World by TripAdvisor. The food is pretty damn awesome, but I will disagree with TripAdvisor's 2018 Travellers' Choice Restaurants Award in regard to the World ranking.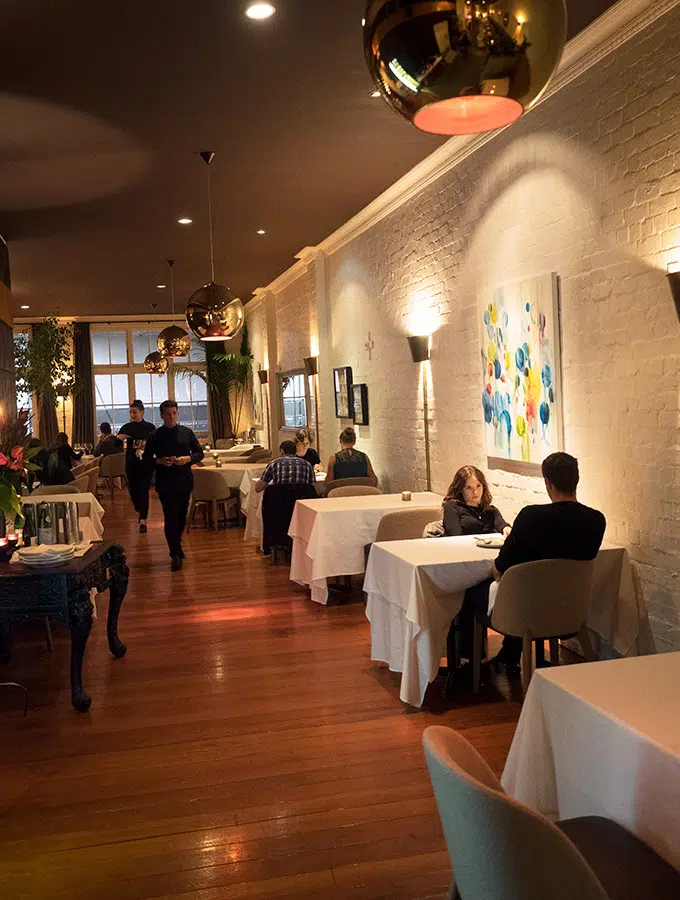 It is a welcoming restaurant. A narrow entrance that leads you through a small bar area, past the kitchen, then opening up to the main dining area. Clean painted brick interior with warm wooden floors.
Predominantly tables for two with white linen table cloths and a long padded bench seat running the length of one wall. Lager tables can be found down the back of the restaurant near the balcony. The balcony I assume is taken advantage of in warmer weather.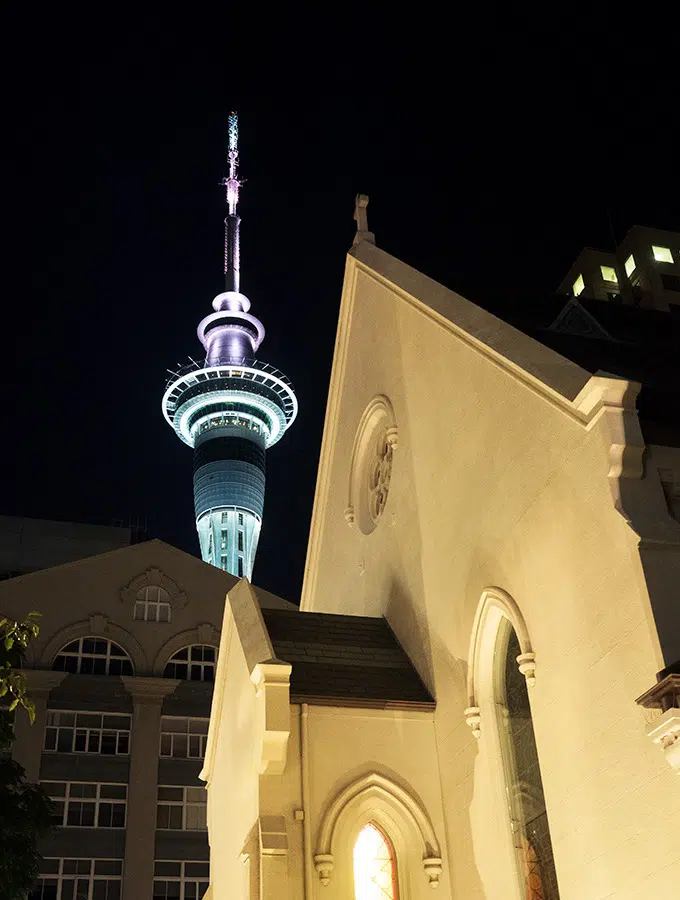 The Grove Menu
You have a choice of the Petit Degustation NZ$119 (4 courses) or Full Degustation NZ$165 (7 courses). For groups of eight or more, there is the option of ordering a la carte NZ$125 (3 courses).
One of the best things to do in Auckland is eat. Therefore, I say splurge on 7 courses. That's exactly what I did, with no regrets at all.
Like any good restaurant, The Grove's menu is seasonal. Making the most of the best New Zealand produce at its prime. What I scoffed below will not necessarily be what you savour when visiting. It does, however, give you a stellar example of the amazing dishes The Grove present to their diners.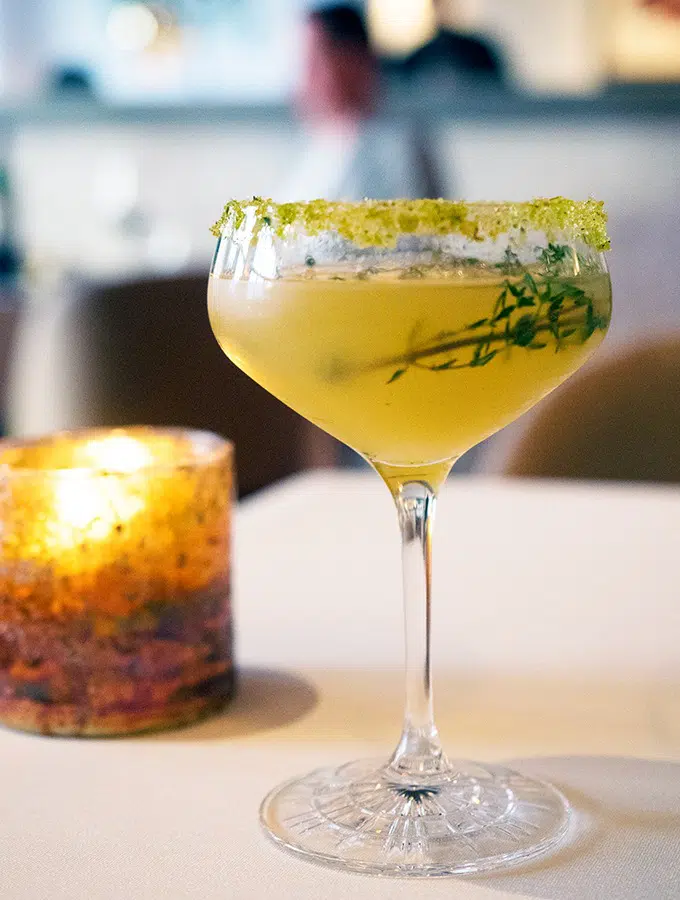 Once seated I am presented with a scented hot towel on a pretty Wedgewood plate to freshen up with. Asked if I will be having the seven or four course degustation, with or without wine pairing.
At this time I am asked if I would like a pre dinner drink. I order one of their signature cocktails. I can't remember what it was called as I am not presented with a menu, instead offered some cocktail suggestions. It is a sugar rimmed glass with an alcoholic concoction including gin and thyme.
It was a delightful cocktail. My only problem was it was served at the same time the snacks were, it wasn't pre dinner. Normally not a problem, but I had ordered wine pairing (NZ$120/person) for my degustation and a glass of champagne to kick it off. This, in turn, found me downing my cocktail rather quickly to move on to the next beverage.
I hadn't expected (nor advised) that the service of food would be so immediate. A small detail that dissolved into nothing with the last guzzle of my cocktail.
You won't receive a menu when you dine at The Grove. Instead, each course is intricately explained to you when it arrives at your table. We all have personal likes and dislikes, this is one of my dislikes. I do like to have a menu (along with a description from staff) to see what is coming and confirm what I am eating. Often you only half hear or don't totally digest the dish information.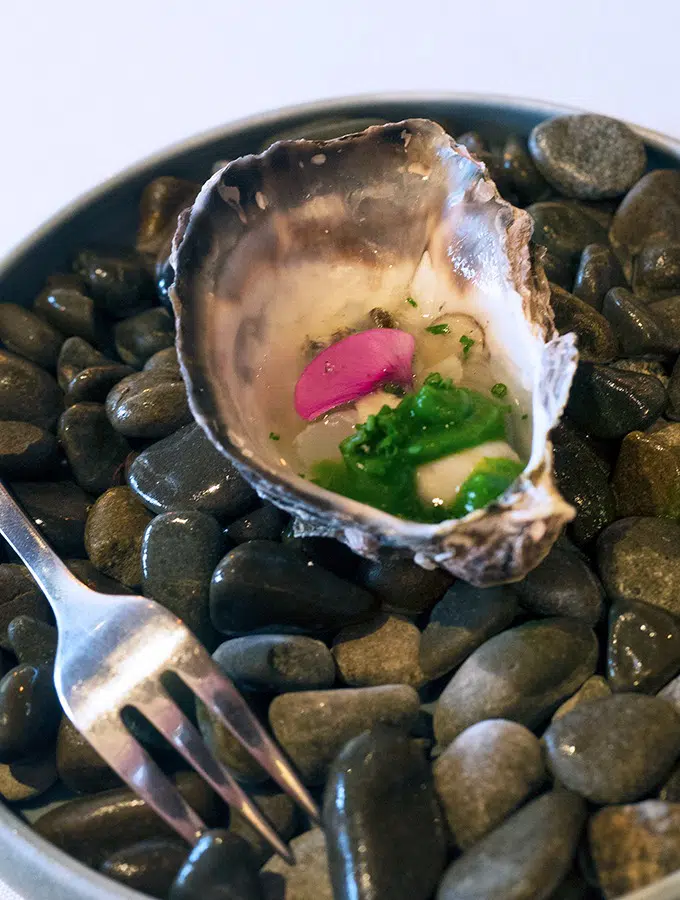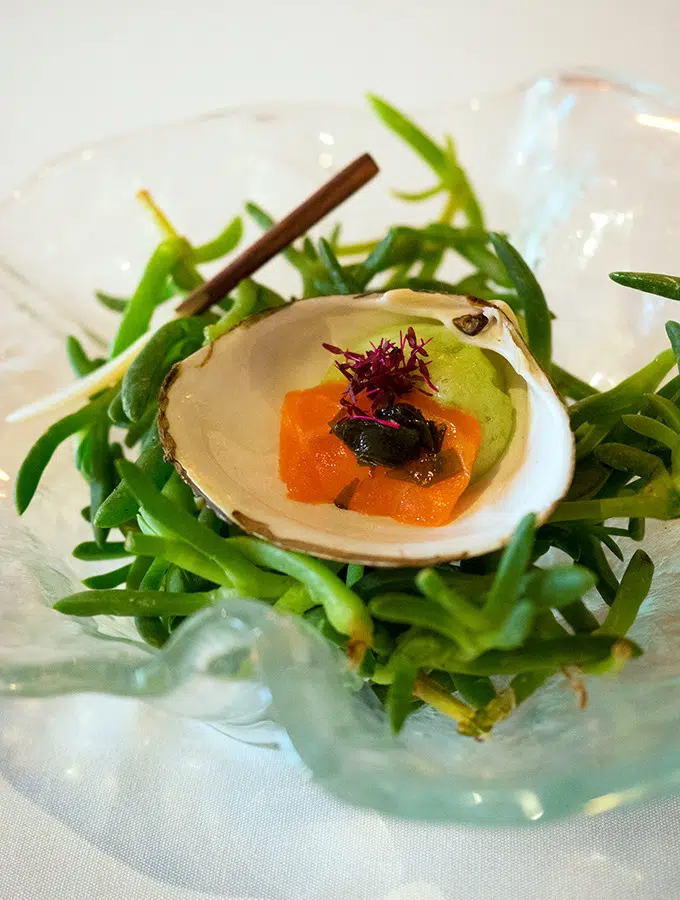 The meal starts with snacks from the kitchen. An oyster from Waiheke Island (45 minute ferry ride from Auckland) with leek puree and lime served in its shell. This is accompanied by salmon, cured seaweed and cucumber foam served in a small clam shell.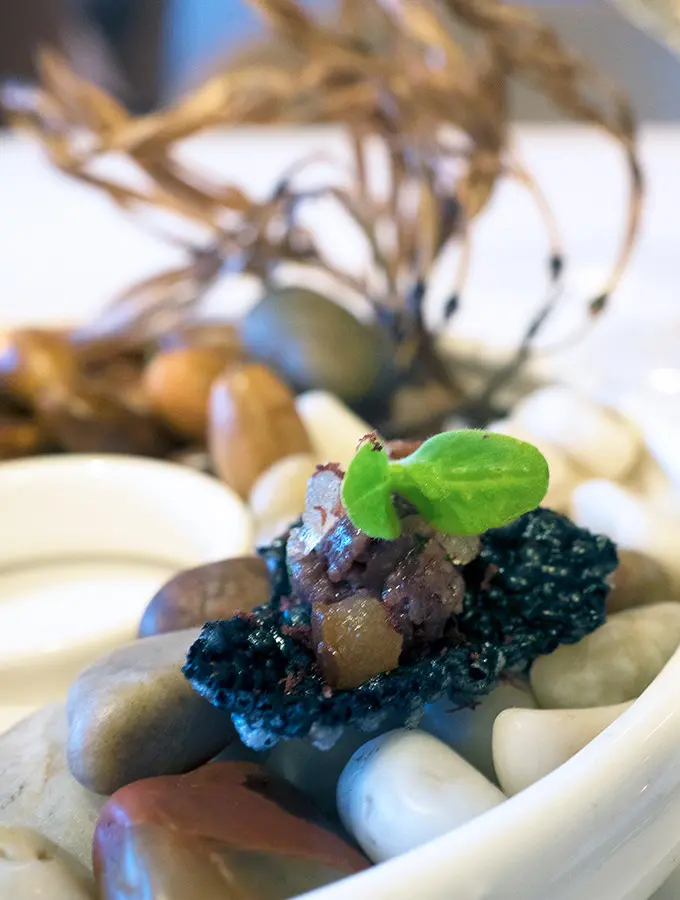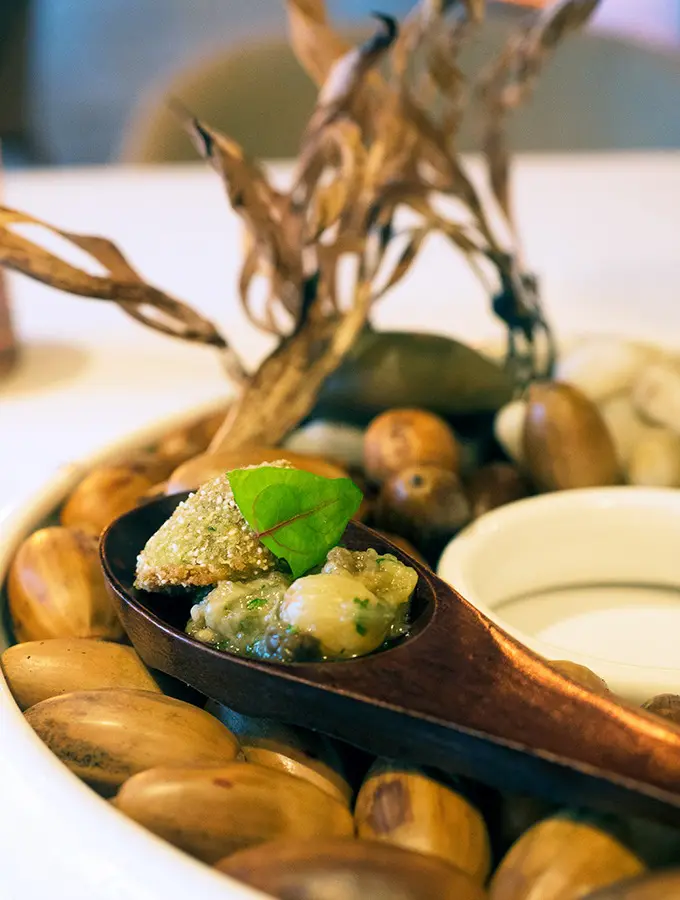 The next round of snacks appear from the kitchen. Served gorgeously in a white ceramic bowl filled with river stones and acorns. Venison tartare served on a black puffed crisp. The other is crumbed lambs tongue with aubergine caviar, which has a sweet accent in taste.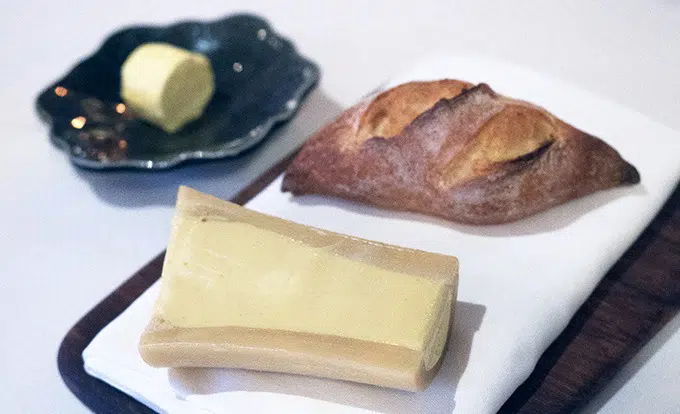 I do not shy away from carbs, especially when it is housemade bread and served with not one, but two kinds of butter. An eight day cultures butter served on a small plate, is creamy with a slight tang and simply divine.
The weak in the knees moment is digging into the smoked bone marrow butter served in the bone. They churn the marrow with a little salt. It's a wonderful taste, a little grainy, and melts gloriously on your tongue.
I almost cry when I see the table next to me decline the bread and butter offering, and ask staff to take it away. Ms minus size zero and partner obviously don't do carbs.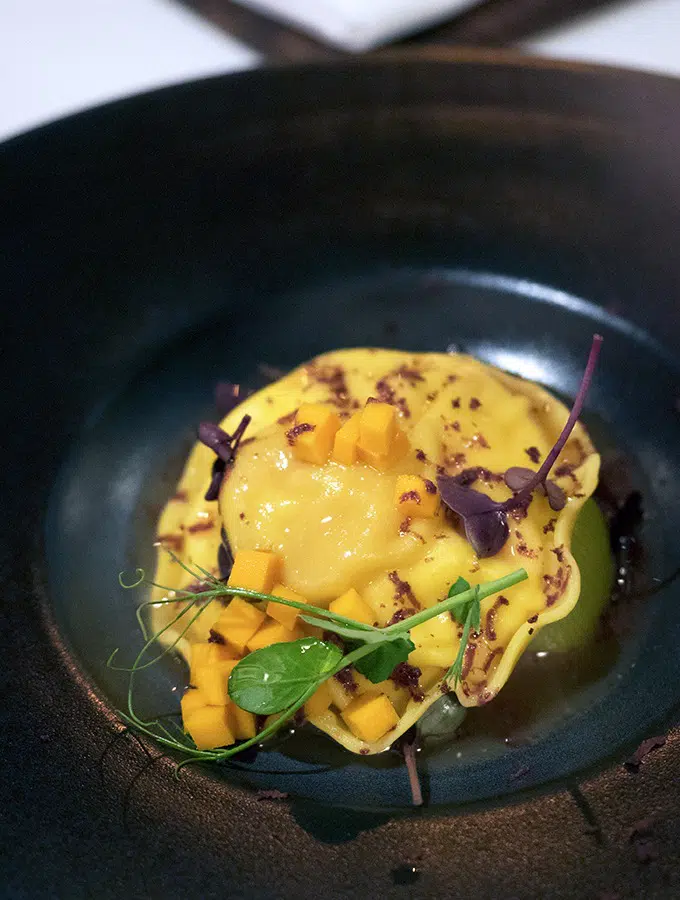 Scampi ravioli w house-made buffalo curd, wild fennel: After snacks and bread it is on to the main degustation menu. A plump ravioli filled with scampi, topped with diced picked pumpkin sitting on top of buffalo curd. Scampi glaze is poured over the top and finished with grated dried olive.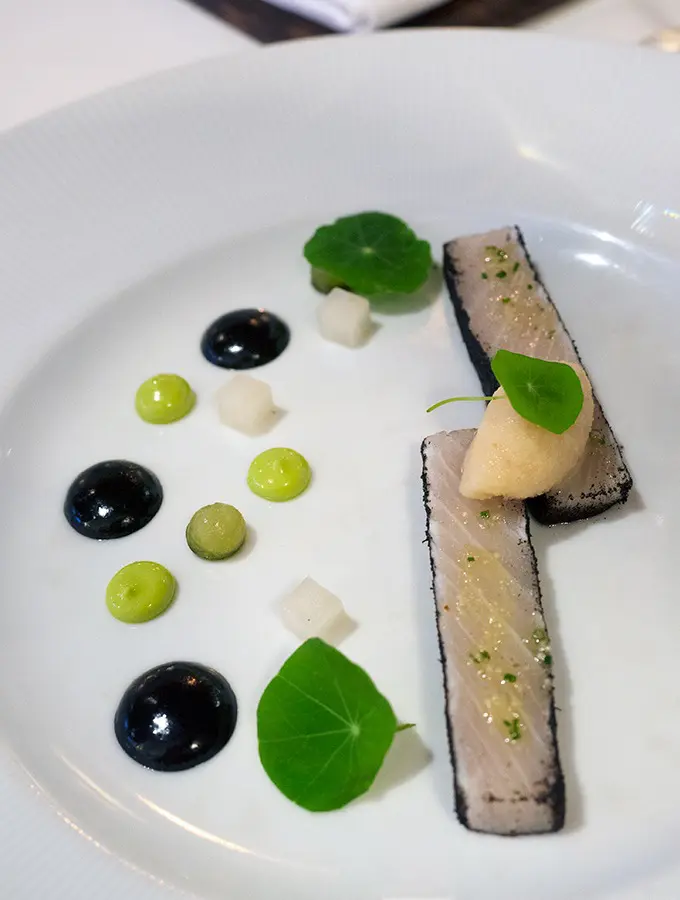 Yellowtail kingfish, apple & miso sorbet, oyster taramasalata, roe 'crumb': The delicate rectangles of yellowtail kingfish are rolled in leek ash and cut in half for presentation. The fish is caught on a long line an hour away from Auckland. Served with miso and apple sorbet, pickled vegetables and oyster cream.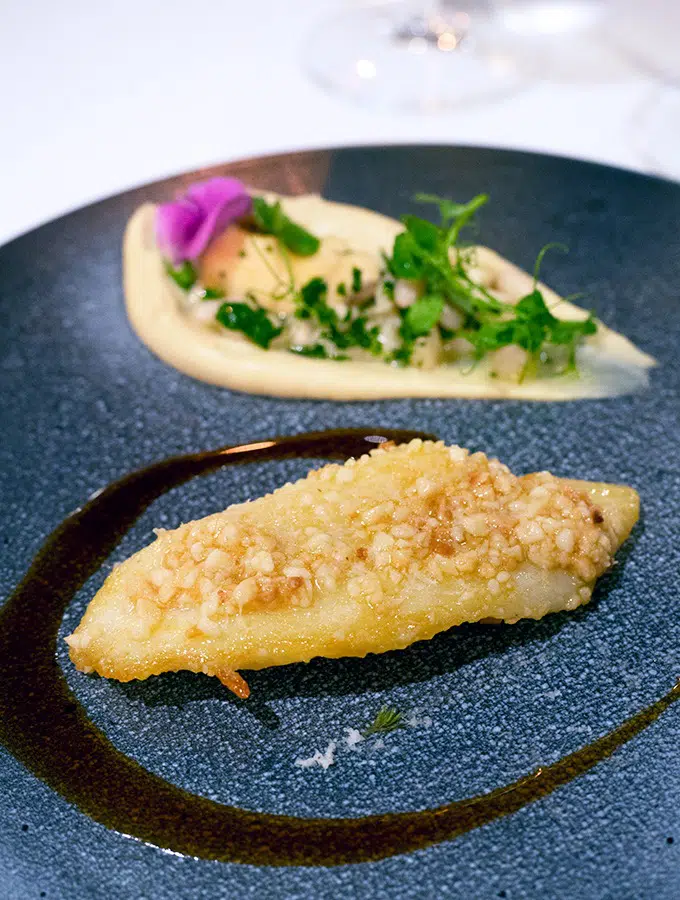 Hauraki Gulf John Dory, macadamia, cauliflower, tuatua fricassee: An unassuming but surprising dish. It looks simple but there is a lot happening on this plate.
A fillet of lightly coated John Dory is topped with macadamia. Served with cauliflower puree topped with mussels and local clams. The fish is incredibly buttery and delicious. It has to be one of the best John Dory dishes I have ever eaten. Firm flakes but ever so moist, tender and buttery.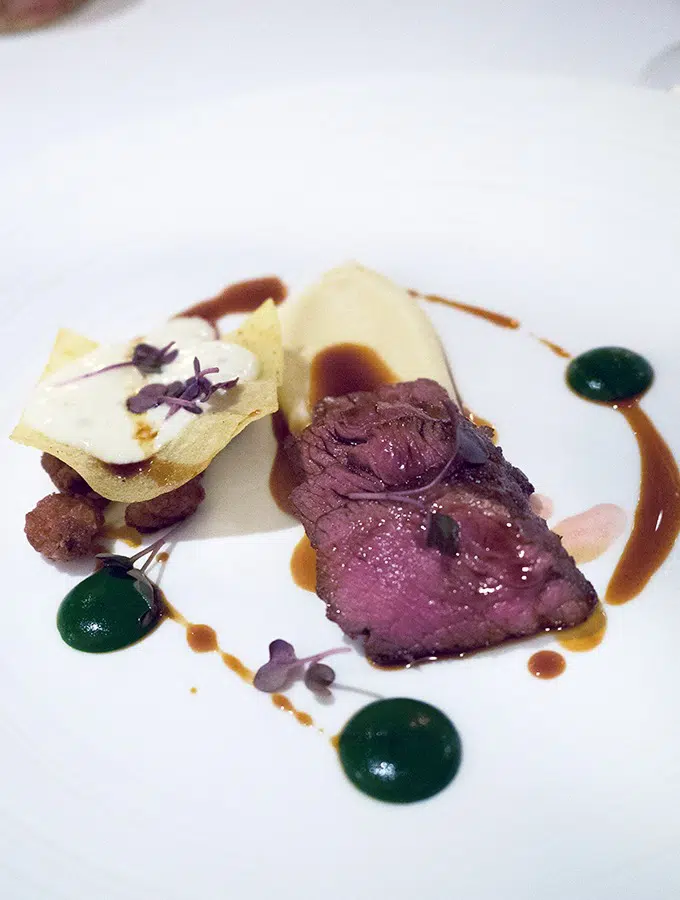 Grass-fed wagyu rump cap, sweetbreads, celeriac purée & Parmesan foam: Perfectly cooked rare Central Hawkes Bay beef rump with small crumbed lamb sweetbreads. Served with celeriac puree and parmesan cream.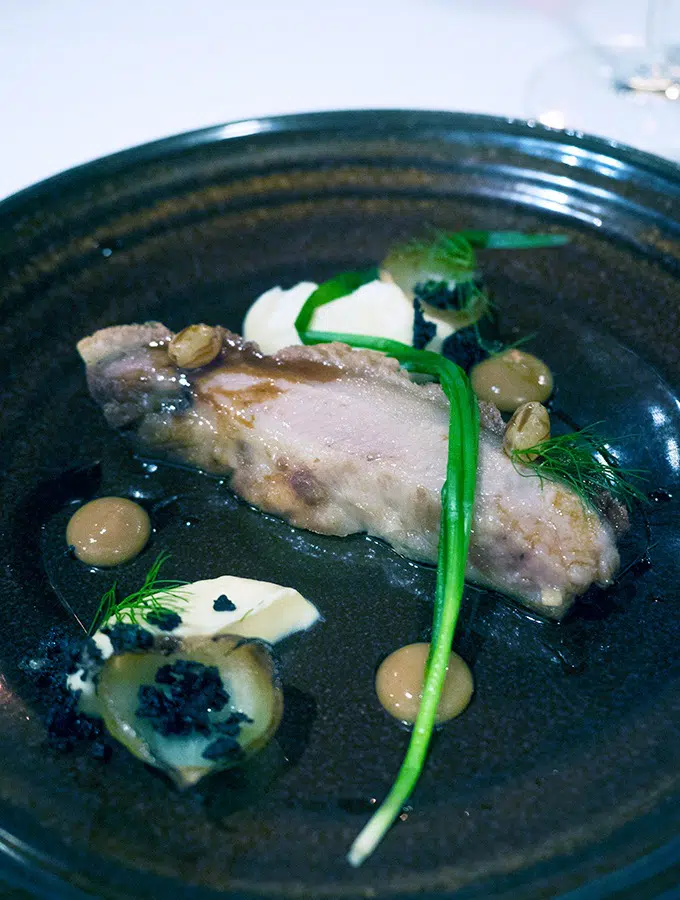 Northland pork, parsnip, golden raisins, black pudding: Pork jowl served wtih golden raisin gel and black pudding. The crunchy pickled onion leaves add a nice pickled punch to offset the fatty pork jowl. And yes, there is crispy skin too.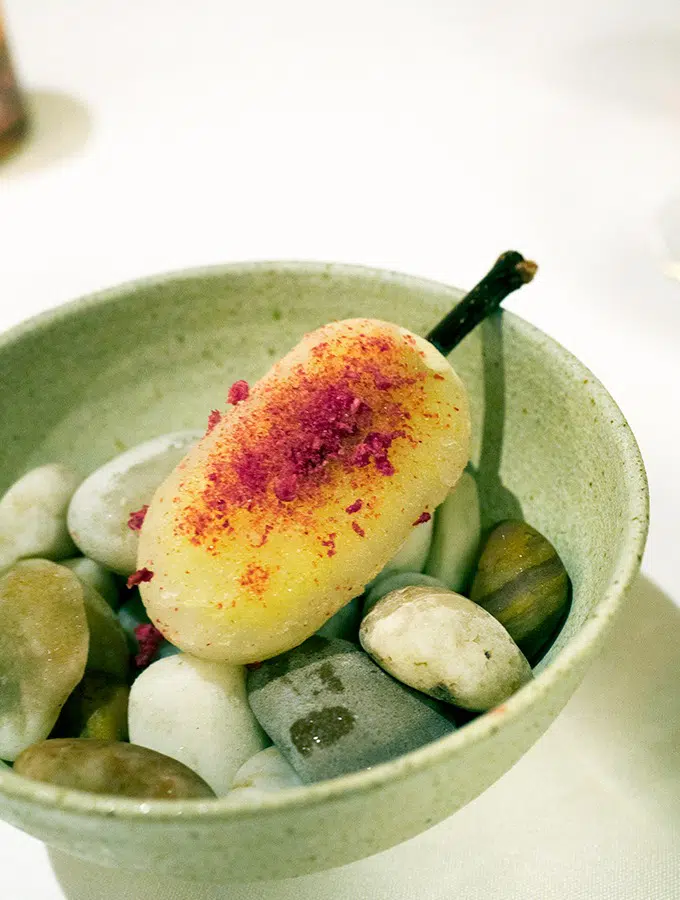 It is around this time that the smell of butter and toasted meringue fills the air. Most diners are now hitting the sweet part of the meal, moi included.
A mini limoncello and grapefruit popsicle dusted with freeze dried raspberry is served to clean my palette. Very refreshing and does the job in style.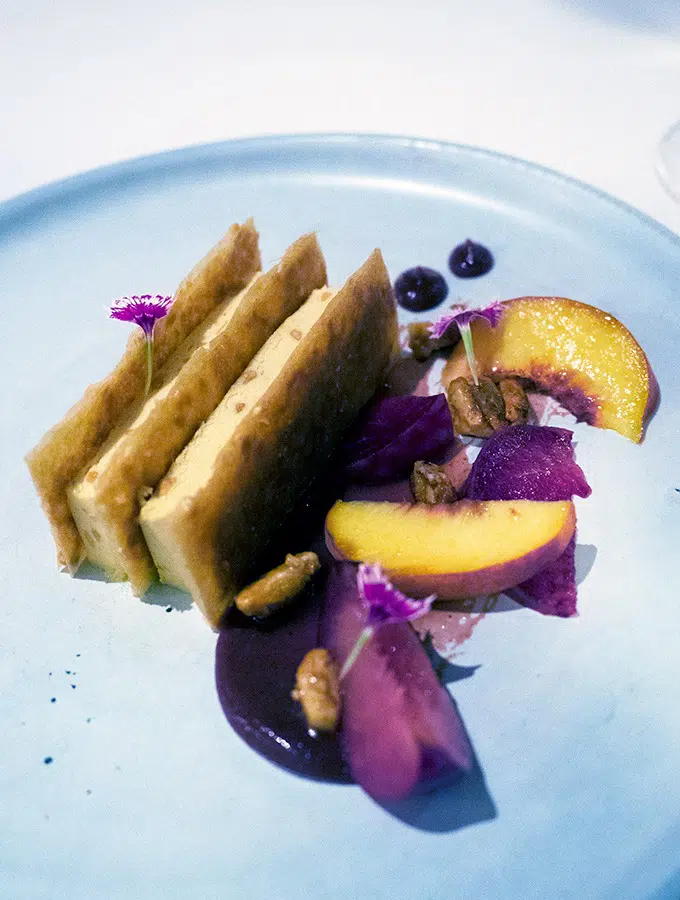 Peanut butter & Mirabelle parfait, dark plum gel, stone fruits: The first of the dessert courses. Peanut butter parfait sandwiched between sweet thin crisp sesame pastry. Accompanied with nectarines, Mirabelle plumb puree and toffee peanuts.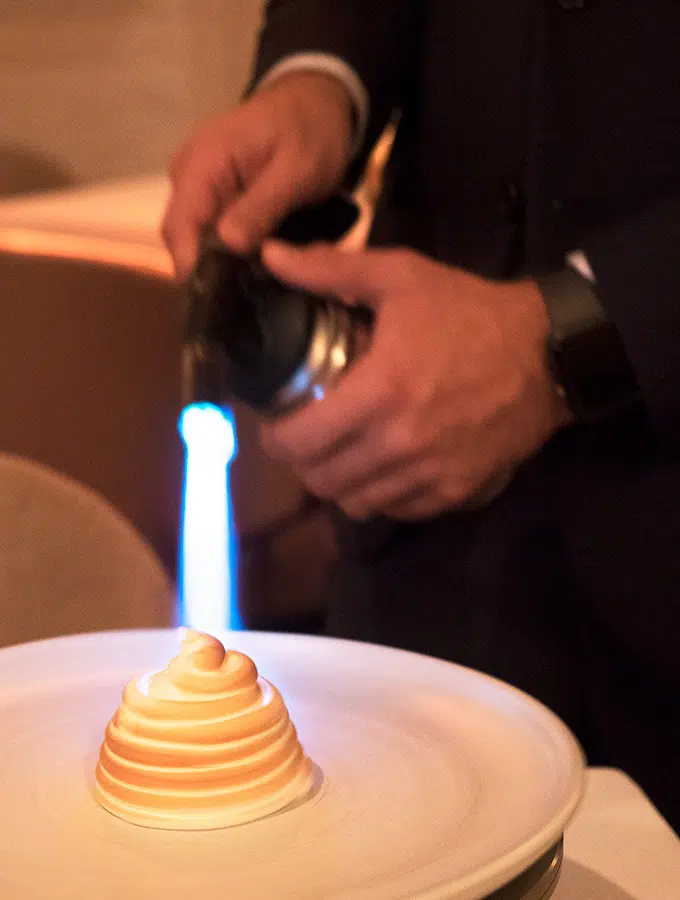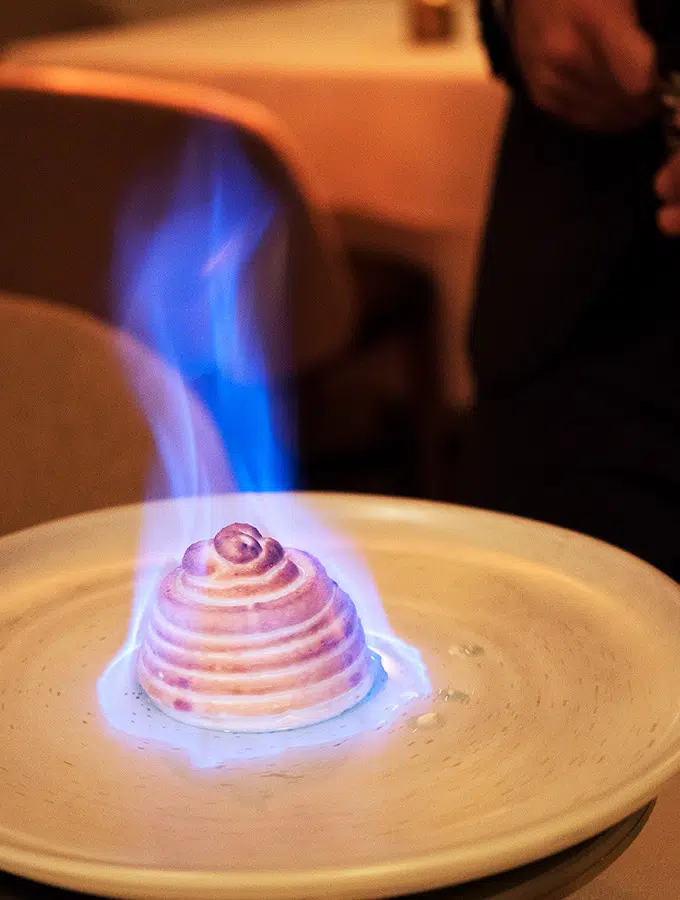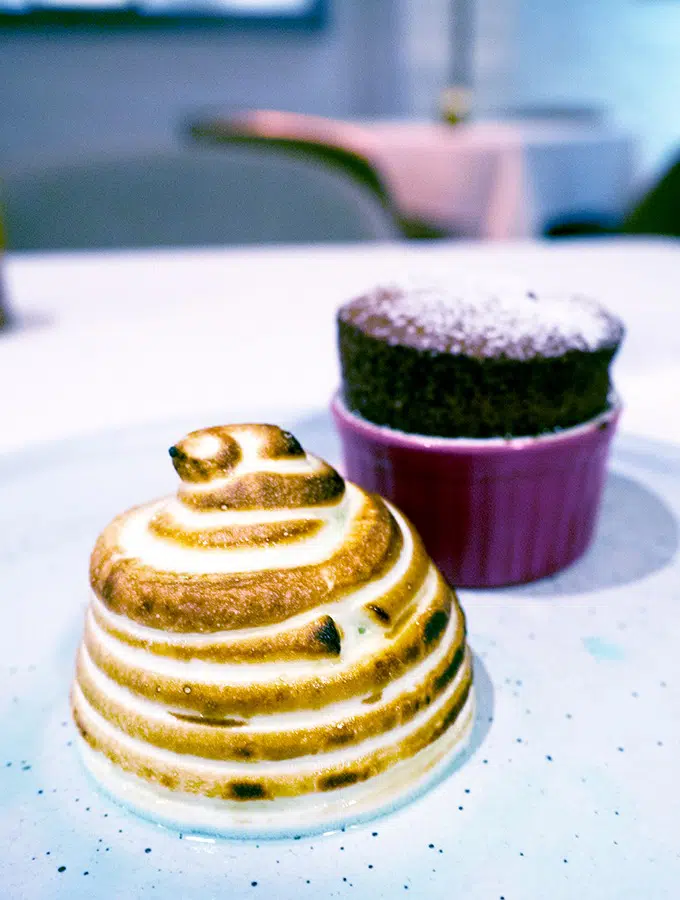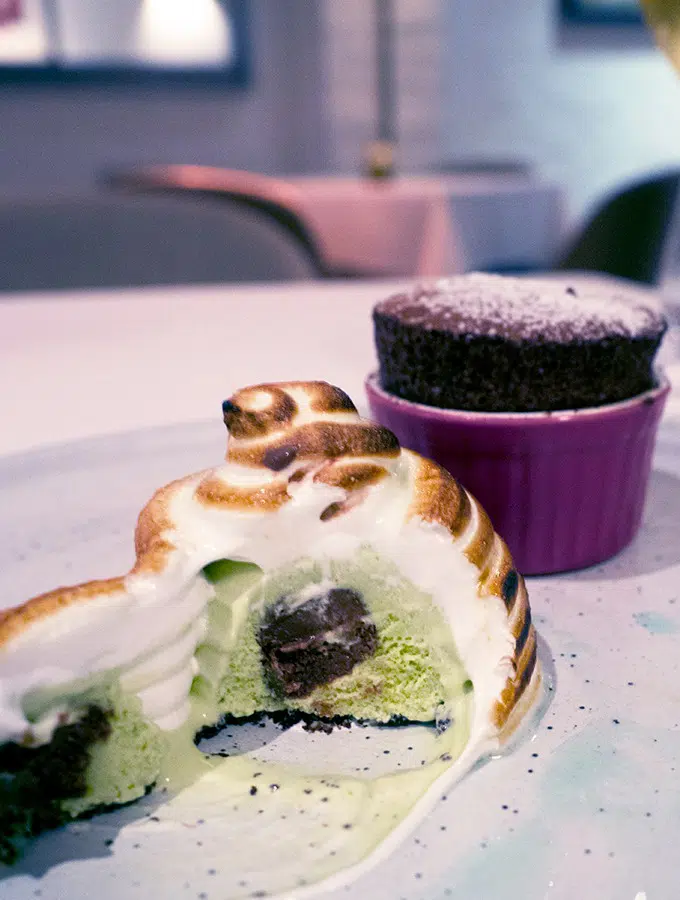 Chocolate soufflé, bombe Alaska of anise hyssop, chocolate sorbet: The final dessert course is a theatrical one and performance wise the star of the degustation. This is two desserts in one. A perfectly cooked chocolate souffle and a bombe Alaska.
The meringue of the bombe Alaska is piped perfectly at your table. It is then set alight with Absinthe. The centre is anise hyssop (licorice mint) with a chocolate core.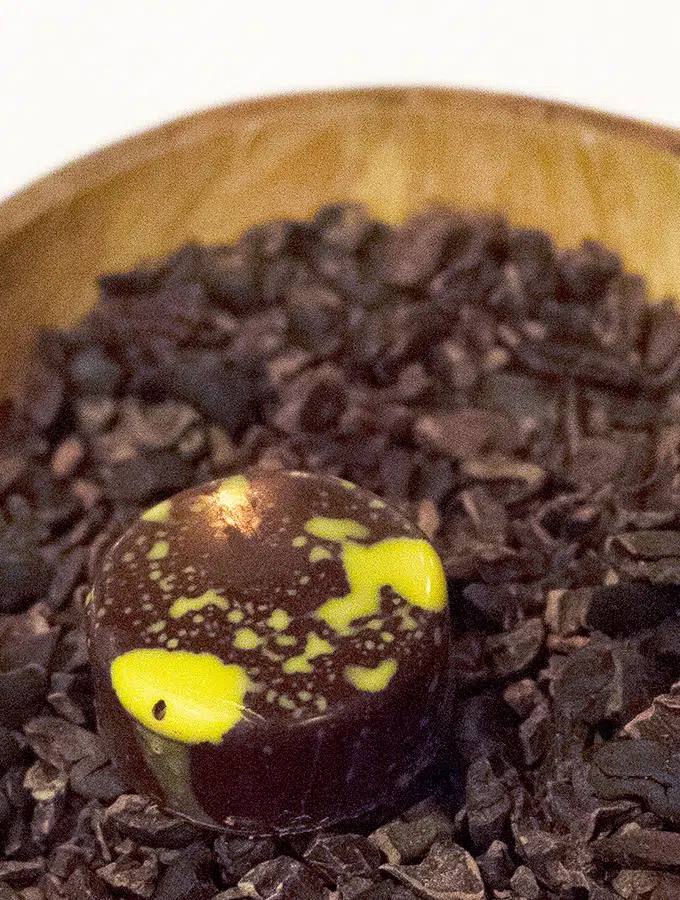 Just when you think you can't eat another thing a housemade passionfruit chocolate is served along with the bill.
If you are seeking fine dining in Auckland CBD, The Grove may just be the establishment you are looking for.
Sara xxx
The Grove
St Patricks Square, Wyndham St, Auckland
Tel +64 9 368 4129