We look at exactly what is ruby chocolate, how is it used, and most importantly, what does it taste like? A complete guide to this pretty pink chocolate that is all the rage.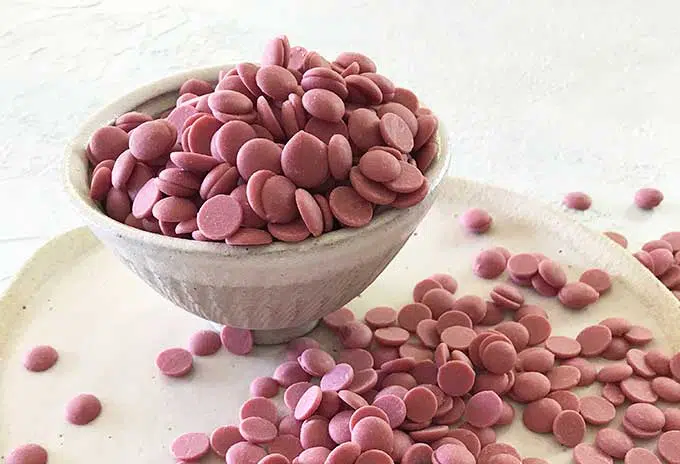 What's in this post
What is ruby chocolate?
Ruby chocolate, also known as ruby RBI, is the newest chocolate discovery in 80 years. It is the fourth chocolate type after white, milk and dark chocolate.
It was introduced to us by Barry Callebaut in 2017 and available to purchase from January 2018. Australia was one of the first countries for the rollout of the new chocolate variety, hitting Australian shores in September of that year.
According to Callebaut's website, the ruby beans' origin is from Brazil, Ecuador, and Ivory Coast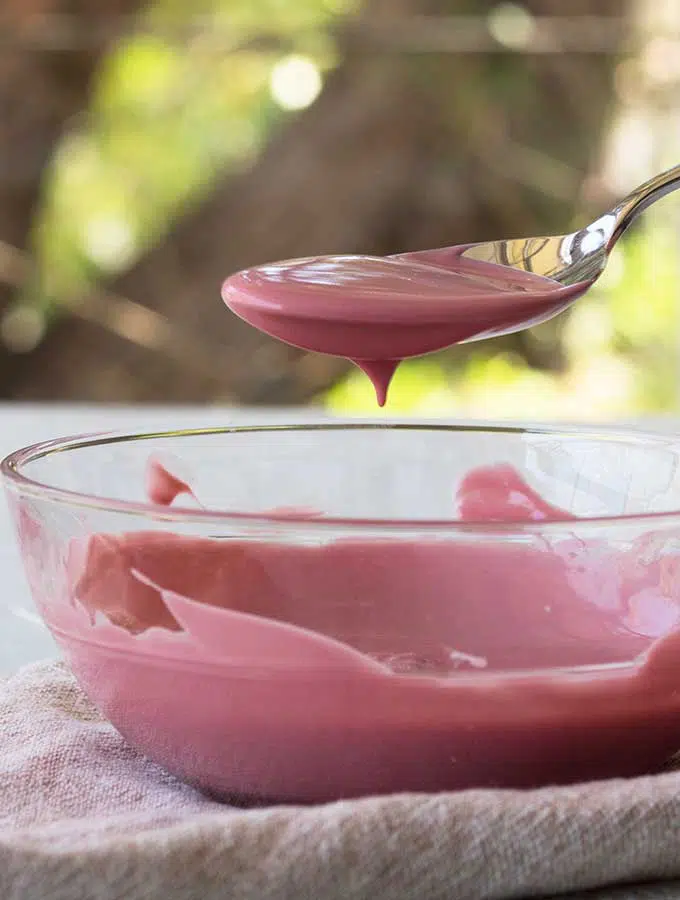 Is it naturally pink?
When Callebaut introduced ruby chocolate in September 2017, at a private event in Shanghai, confusion ran supreme. It simply looked like white chocolate with pink colouring.
How Callebaut make ruby chocolate is a trade secret. Genetic modification has been mentioned and denied by Barry Callebaut. There has been speculation in the industry that unfermented cocoa beans are used to make ruby chocolate. Unfermented cocoa beans can have a natural red/pink colour.
Callebaut registered a patent in 2009. The patent is for "cocoa-derived material" from unfermented cocoa beans (or beans fermented for no more than three days) that become red or purple after treating them with an acid and then defatting with petroleum ether.
"The beans are like mother nature gave them to us and are not GMO. Barry Callebaut is able to identify the ruby beans containing the right set of attributes. Secondly, we developed a unique processing that makes those special precursors come alive, creating ruby chocolate," Barry Callebaut.
Yes it is naturally pink. It seems it is all about the process and not necessarily the discovery of a new cocoa bean?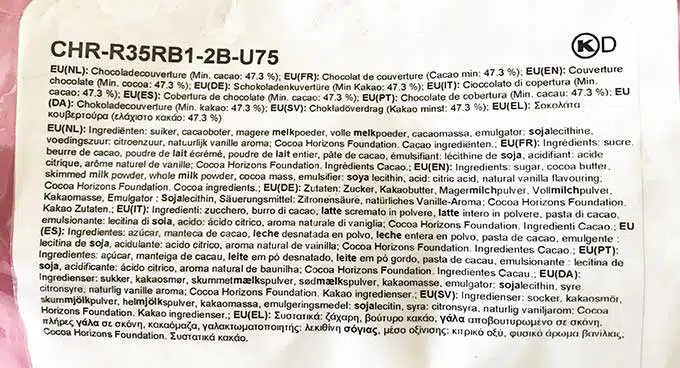 What are the ingredients of the chocolate?
According to the label on the back of my 2kg packet of Callebaut ruby chocolate, below are the ingredients;
Sugar, cocoa butter, skimmed milk powder, whole milk powder, cocoa mass, emulsifier (soya lecithin0, acid (citric acid), natural vanilla flavouring (Cocoa Horizons Foundation).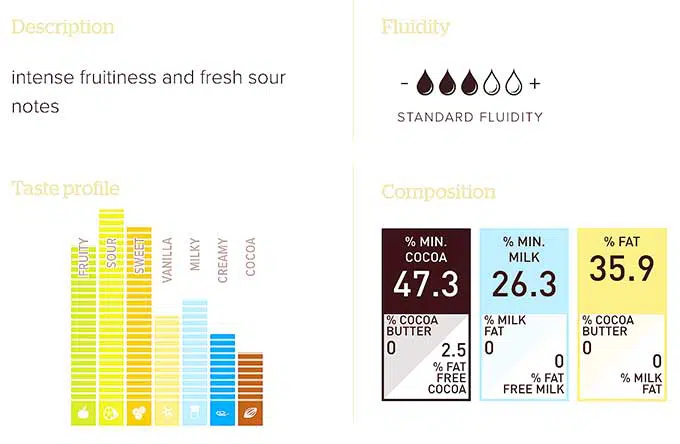 What does it taste like?
Taste is a very personal. Let's start with what ruby chocolate tastes like for me.
It tastes very fruity, with berry qualities to it. There are sour notes, and it is these that make me think of a mildly tart berry flavour. It is sweet, like I find white chocolate is sweet, and the texture is creamy in the mouth.
What does Callebaut say; "intense fruitiness and fresh, sour notes".
Callebaut state that there isn't any fruit flavouring added to the chocolate, and that the flavour is all natural due to the beans. It is interesting to note that vanilla flavouring is added.
Does it taste like other chocolate? Yes and no. It reminds me of a fruit flavoured and coloured white chocolate. It doesn't have a "pure" chocolate taste.
The distinct "chocolate" taste of chocolate develops during fermentation. If they are using unfermented cocoa beans this may be the reason why it taste more fruity than expected.
If you are craving a traditional chocolate hit, I doubt it will do it for you. Especially if you are a fan of dark chocolate like I am.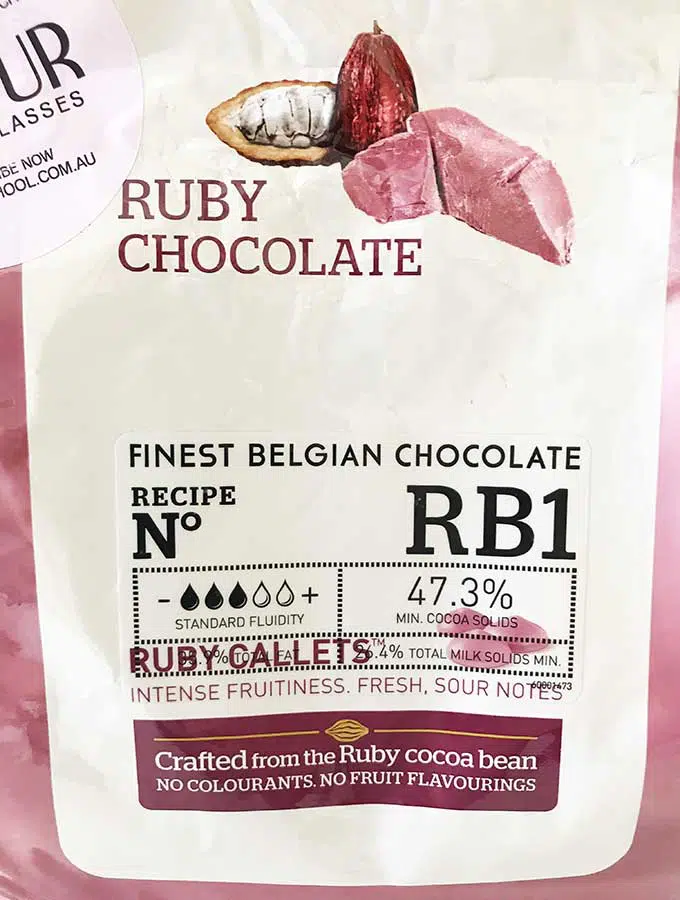 How can I use ruby chocolate?
Ruby chocolate can be used the same way that white, milk or dark chocolate is used. It does temper at a lower temperature, it should be tempered between 28.5 - 29.5°C (83.3 – 84.2°F).
You could use it to make mousse, cakes, ganache, cookies. It is totally up to your imagination and of course can also be used to make truffles and chocolates.
Callebaut have some wonderful chef tutorials on their website. This includes tempering and you can find them here.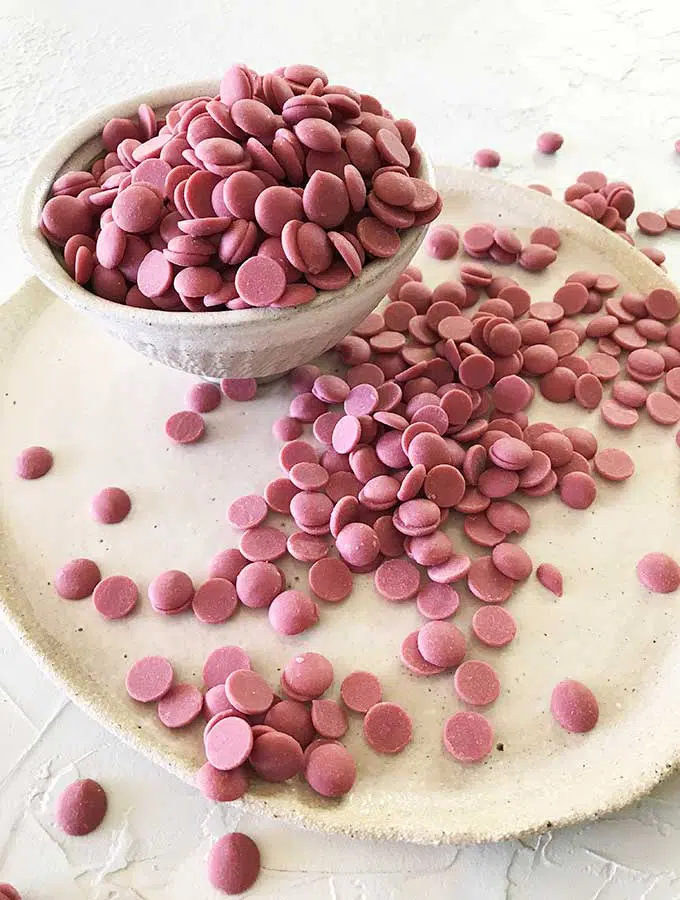 What flavours pair well with it?
pepper
curry
cinnamon
vanilla
ginger bread
mint
wasabi
basil
saffron
rosemary
passion fruit
lychee
apricot
algae (if anyone tries this combination please let us know!)
pineapple
coconut
citrus fruit
red fruits
mango
rose champagne
fruity beer
Gueuze beer
honey
cuberdon (Belgian specialty candy)
caramel
almonds
hazelnuts
sesame oil
camembert
roquefort
green tea
sake
coffee
vinegars
dark chocolate
gold chocolate
velvet chocolate
scallops (St Jacques shells)
How to store the chocolate.
Store the chocolate in an opaque airtight container in a dark cool area. It is sensitive to light, air and humidity (as is other chocolate). If not stored correctly it can discolour taking on a greyish appearance. Do not store in the fridge.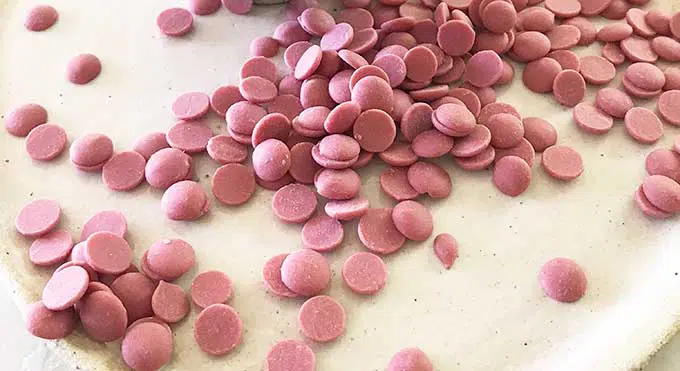 Where this chocolate falls short!
The pretty pink colour is not retained when used in cooking.
When added to liquids it turns a greyish pink colour.
Beetroot powder or other pink colouring needs to be added to have an intense pink colour to the final dish.
The colour of the chocolate will fade if affected by sunlight.
Ruby chocolate recipes
Ruby Chocolate Crackle Cookies - seriously pretty pink chocolate cookies
Ruby Chocolate Mud Cake - delicious mud cake topped with choc dipped cherries