I do love cooking with Australian native ingredients. We are pretty lucky to have amazing native culinary resources growing all around us. Sadly not many Australians embrace native ingredients.
It makes me smile when I walk into the local supermarket and see ground lemon myrtle in the spice section, and maybe some rubs made from native ingredients, but that's about all you will find. I smile because a few years ago you wouldn't even find that.
I spent a lot of time in the bush in my youth. Something I miss more and more as I get older. I would spend my childhood days tracking kangaroos, keeping an ear out for a rustling echidna and instinctively checking that something wasn't sunbaking on the other side of a log I was about to jump over. I was taught to be snake wise at a young age.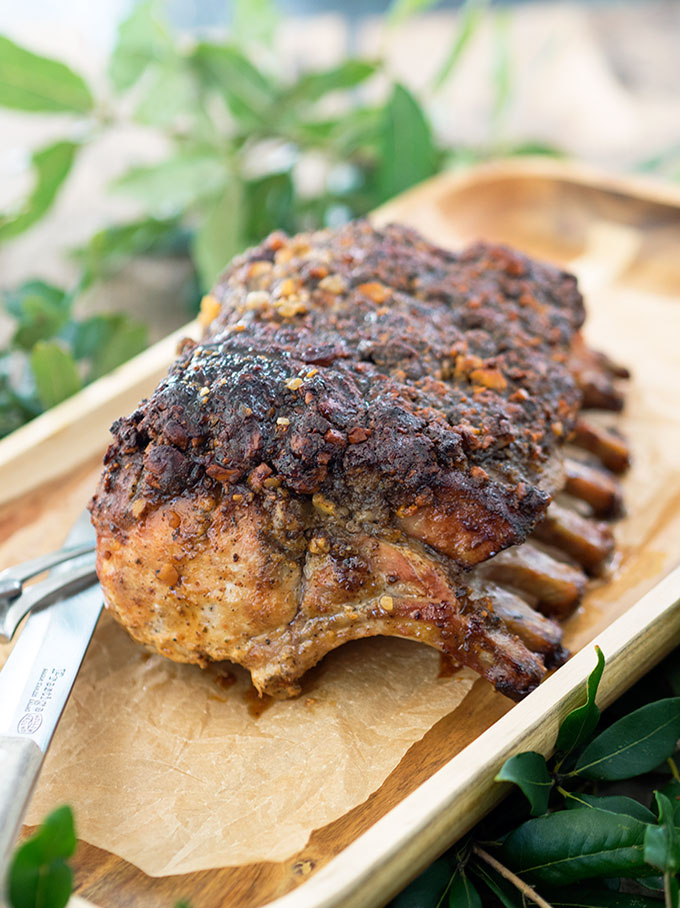 The sounds and the smells are what I miss, any hiker reading this will be nodding their head right now. Only one that has spent a vast amount of time quietly drinking in the soul of the bush can understand missing it.
I think it's my emotional connection to the Aussie bush that draws me to native ingredients. When I take a sniff of lemon myrtle whist standing in my kitchen, it isn't only the smell I experience. My mind moves my train of thought to a tree, the tree is in the bush, and I'm transported.
As you may know I am also a big supporter of Australian grown and Australian businesses. Aussie native ingredients can't get any more Aussie if they tried.
Which brings me to  Murray Valley Pork, great Aussie pork, and they gifted me this lovely rack which appears in this recipe. It was this gorgeous cut of Australian pork that gave me the inspiration to make this Aussie Pork Rack.
Every single ingredient used in this recipe is Australian. Either it is an Australian native like the macadamia nuts, lemon myrtle, saltbush and pepperberries. Or it was Australian made like the honey from hard working Aussie bees or the wine, which probably came from The Margaret River or The Hunter Valley.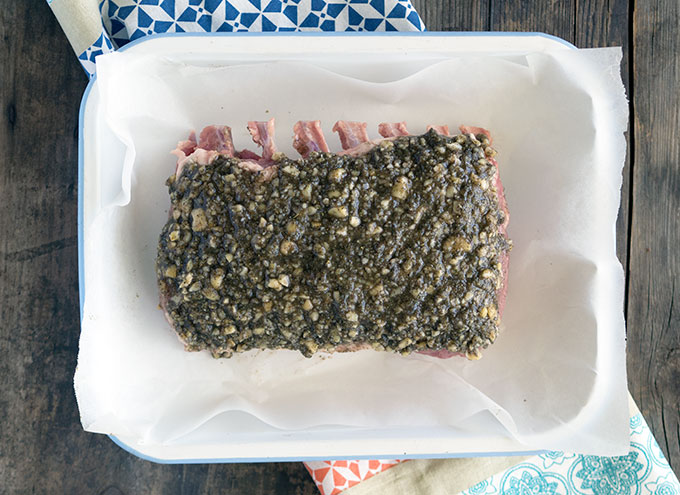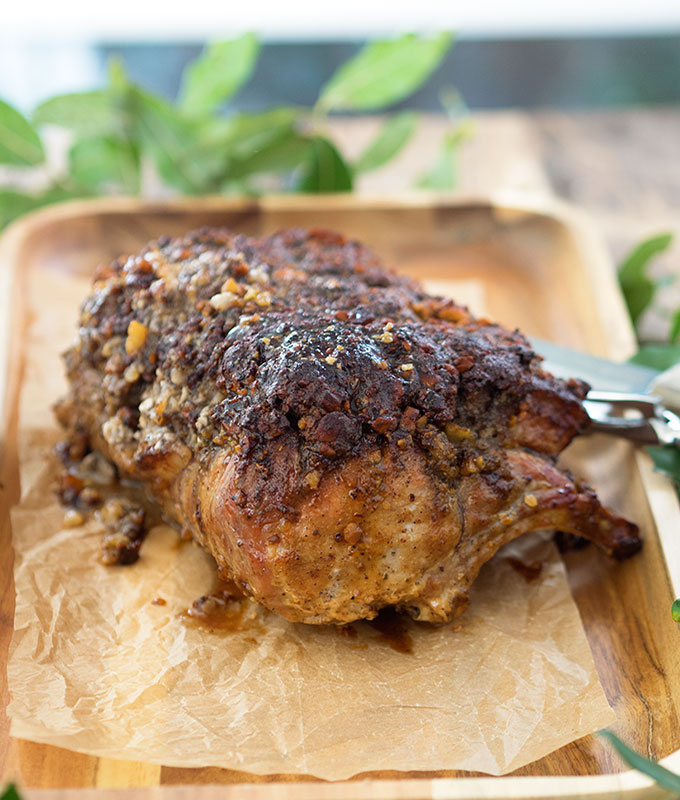 If you don't live in Australia (or do) and the native ingredients in this recipe are making you uncomfortable or basically freaking you out, don't. Lemon myrtle, saltbush and pepperberries are easily sourced on line. Do a search and you will find quite a few suppliers that ship. You could also substitute the native ingredients, but I'm not going to tell you with what, as I really would love you to have a go at cooking with Australian native ingredients.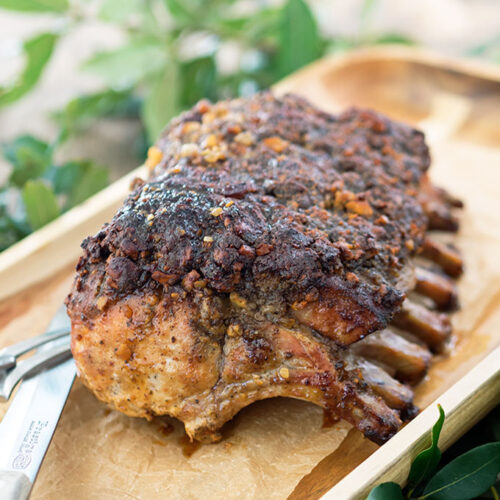 Aussie Pork Rack, Cooking with Australian Native Ingredients
Print Recipe
A juicy roast pork rack. Cooking with Australian native ingredients, macadamia nuts, lemon myrtle, pepperberries and salt bush. A splash of white wine and some honey to sweeten the deal. The ultimate Aussie feast.
Ingredients
1.5

kg

pork rack

180

grams

crushed macadamia nuts

1

tablespoon

ground lemon myrtle

1

teaspoon

ground saltbush

2

teaspoons

ground pepperberries

¼

cup

honey

¼

cup

dry white wine
Instructions
Preheat oven 200°C (390°F).

In a medium bowl mix macadamia nuts, lemon myrtle, saltbush, pepperberries, honey and wine.

Score fat on top of the rack in a diamond pattern and place loin fat side up in a baking dish. Cover the top of the rack with the Australian native ingredient mixture.

Bake rack at 200°C (390°F) for 20 minutes. Reduce heat to 175°C (350°F) and continue baking for around an hour.

Check temperature of rack by inserting meat thermometer in to the middle of the loin. The rack is cooked when the internal temperature reached is 80°C (175°F).

Remove rack from oven and baking pan and leave to rest on a carving board covered for 20 minutes before slicing. Serve with pan juices.
DID YOU MAKE THIS RECIPE?
I do a happy dance when people let me know, tag me on Insgragram @bellyrumbles #bellyrumbles
Resting of the pork rack is very important, as it is with any cut of meat. This lets the meat relax and you won't lose those tasty juices when you carve.
It's a great flavour combination. The macadamia nuts create a lovely butter crunch on the rack. The lemon myrtle gives an earthy citrus note, pepperberries add a peppery spice and the saltbush does, as you would imagine, adds a little salt. Do taste your mixture before topping the rack with it. Adjust if it needs a little more saltbush or pepperberry in contrast with the honey. But do note that the spices intensify slightly during cooking.
Any questions feel free to ask below. Do you love cooking with Australian native ingredients?
Sara xxx
Become a subscriber and don't miss a single delicious recipe, restaurant review or travel adventure. Plus you will also receive extra content and benefits.