Cheeselova (lova), hmmm, Cheeselova (lova), hmmm.
They say sharing is caring, so here is a little snippet of how my often whacky brain works. My inner Weird Al Yankovic is regularly allowed to run free, resulting in some interesting lyrics to popular artists' songs. Neither my Cheeselova nor Shaggy's Mr Bombastic were safe. The word Cheeselova fitted perfectly to the start of the song.
Come on….. You know you want to….. Sing with me……
Cheeselova (lova), hmmm, Cheeselova (lova), hmmm.
Cheeselova (lova), hmmm, cheeselova (lova)….
Cheesecake and pavlova antics
It's deliciously fantastic
Serve it up at Christmas and watch the peeps go woooah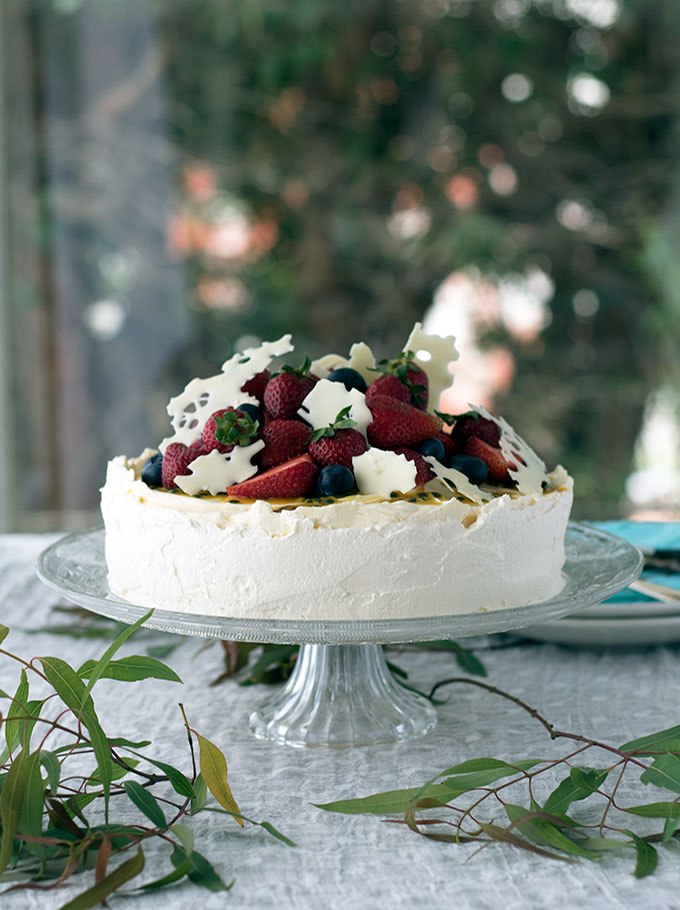 Now close your eyes and imagine me dancing around the kitchen with Cheeselova in hand, a delicious cheesecake pavlova hybrid, singing Cheeselova (lova) to Shaggy's Mr Bombastic.
Or maybe, for your mental health, skip that particular visual …..
To say I am excited about this dessert is an understatement. I knew it was going to be good, I just didn't realise how good.
When PHILADELIPHIA asked if I would like to come up with the perfect Christmas cheesecake, of course I said yes. I love working with ingredients and brands that are staples in my kitchen, and in the past I have had a lot of fun creating some interesting dishes using PHILADELPHIA all natural cream cheese.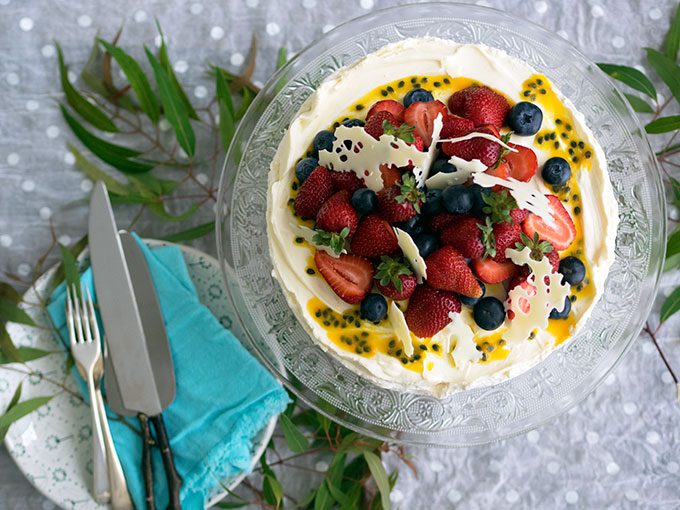 I've created chocolate cheesecake ice cream, strawberry cheesecake sponge cake, and have even thrown some Aussie native ingredients into the mix with lemon myrtle cheesecake.
Cheesecake and Pavlova would probably be two of the most popular desserts that Aussies entertain with. Along with trifle, I would hazard a guess that these three would be the holy trinity of staple Christmas desserts.
These desserts suit the Aussie Christmas feast far more than hot and heavy plum pudding. Not that there is anything wrong with a boozy plum pud. They can be a little bit much, after a large Christmas feast, when the weather is 35°C (95°F) outside and counting.
I thought morphing two of Australia's most loved desserts together would be a natural winning combination. What I hadn't considered was how good it was going to be. Cheeselova is now at the top of my "favourites" dessert list. I knew it was going to rank high, but I didn't expect it to go soaring up the charts to debut at number one.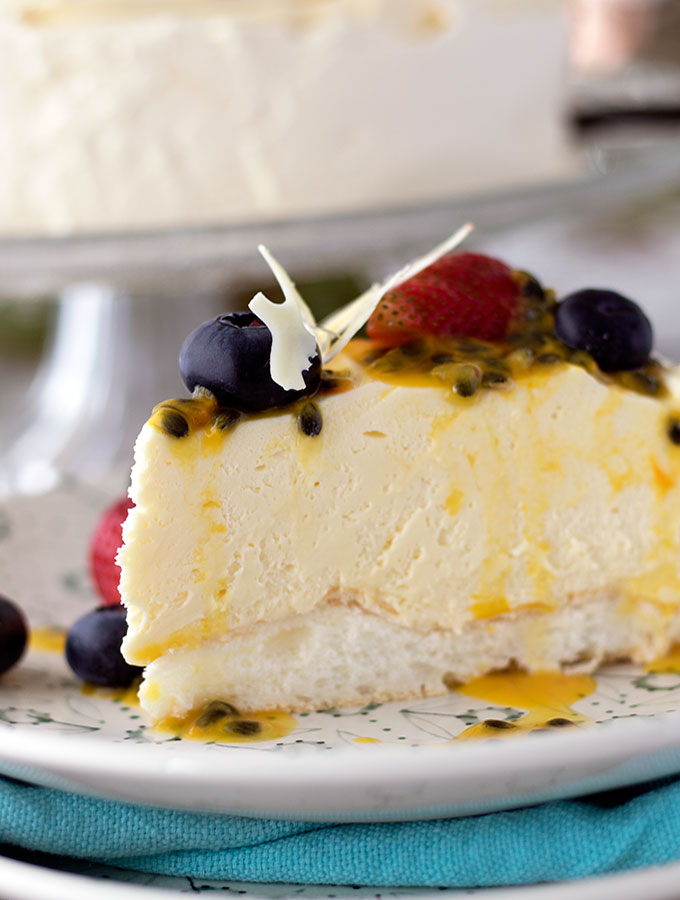 Nearly every Australian family serves a cheesecake or a pavlova as part of Christmas festivities. You now not only bring joy to your loved ones by serving both desserts in one, you have a "sweet" conversation starter as well. They are going to think you are one clever cookie serving this baby.
The Cheeselova has a crunchy pillowy pavlova meringue base instead of the traditional cheesecake biscuit base. Then the base is topped with white chocolate cheesecake. By decorating with classic pavlova flavours, such as passionfruit and fresh berries, the taste of these two classic Australian favourites is successfully melded.
The white chocolate cheesecake has a mild cream cheese flavour. The white chocolate and whipped cream not only lightens the taste, but texture as well. The cheesecake portion of the Cheeselova resembles a light as air mousse. The dessert as a whole is very light. The fresh berries lift it even more, and the passionfruit adds a lovely tang.
This is my favourite dish that I have created for PHILADELPHIA to date. Who would of thought swapping a traditional biscuit base, with meringue, would create something so brilliant?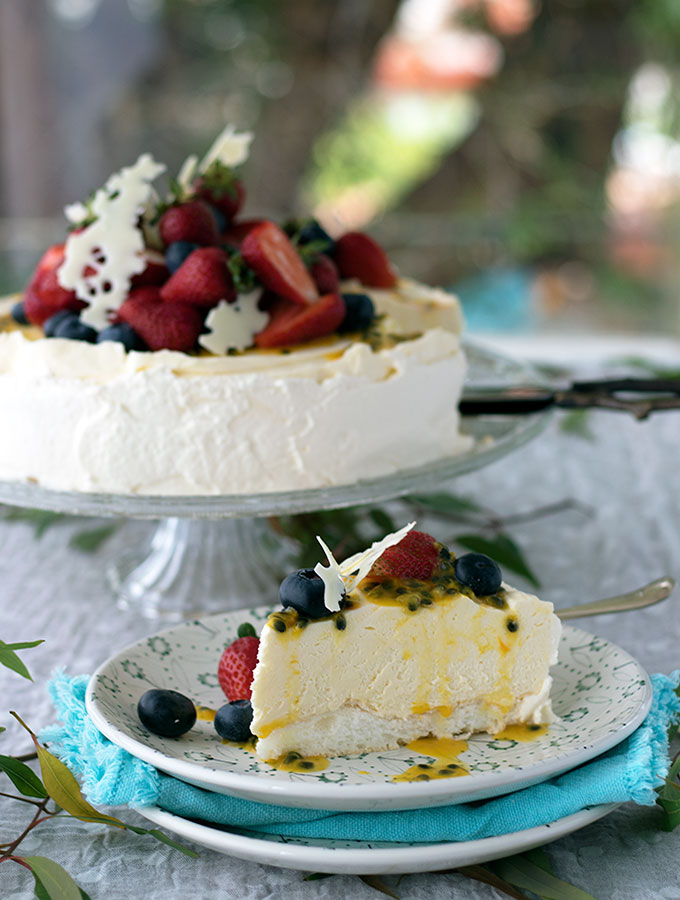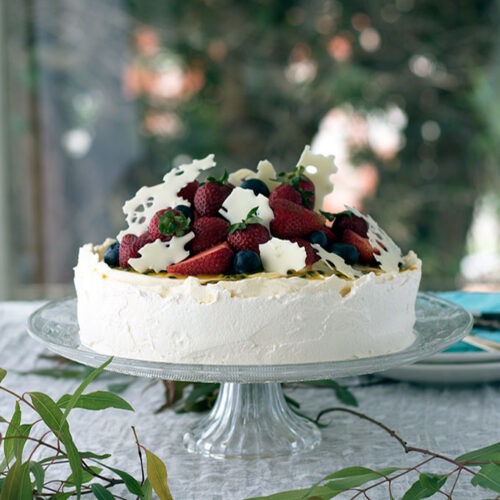 Ingredients
4

large eggs whites

115

grams

caster sugar

115

grams

icing sugar

250

grams

white chocolate

500

grams

PHILADELPHIA cream cheese

2/3

cup

caster sugar

2

teaspoons

gelatine dissolved in ¼ cup boiling water

300

ml

cream

-

whipped until stiff

4-6

passionfruit

-

fresh

1-2

punnets strawberries

1

punnet blueberries

extra white chocolate to decorate

extra passionfruit and whipped cream to serve
Instructions
Preheat oven 110°C (230°F).

Remove the base from a 24cm (9 inch) spring form pan. Put the base away as you wont need it for this recipe.

Line a biscuit tray with baking paper. Place the (baseless) spring form pan on top of the tray. Line the spring form pan with a circle of baking paper (see below).

Place egg whites in a large clean bowl (either for your stand mixer or to use with electric beaters). Using whisk attachment, whisk on high speed until the egg whites form stiff peaks. In other words the egg white stands up straight when the whisk is lifted from the bowl.

Add caster sugar to your egg whites, a tablespoon at a time, whisking well between each addition. Continue until all the caster sugar has been added. The meringue will be thick and glossy when ready.

Remove bowl from stand mixer (or place beaters to the side).

Sift half the icing sugar over the top of the mixture. With a spatula gently fold through. Repeat with the remaining icing sugar.

Spoon meringue into your prepared spring form pan that is resting on the lined baking tray. Smooth the mixture down so it creates and even top to the meringue.

Bake in the oven for 1 hour and 45 minutes. The meringue will be a pale coffee colour. Turn the oven off, and leave meringue to cool in the oven, with the door open, for an hour. Then remove to a cooling rack to continue cooling. Do not remove the meringue from the tray or spring form pan.

Once the meringue has completely cooled, you can continue to the next step. The meringue will take a couple of hours to cool completely.

Melt white chocolate via your preferred method. I melt mine in the microwave. Place melted chocolate to the side to cool while you continue on with the next step.

In ¼ cup of boiling water add 2 teaspoons of gelatine powder. Mix well and dissolve the gelatine completely, set aside.

Place PHILADELPHIA cream cheese and caster sugar in a large bowl (either for your stand mixer or to use with electric beaters). Using whisk attachment, whisk on medium speed until the mixture is smooth.

Continue whisking and add the melted white chocolate. Then whisk through the gelatine mixture.

Remove bowl from stand mixer (or place beaters to the side). Then fold through the whipped cream.

Pour the cream cheese mixture over the top of your meringue base. Note that the base is still in the spring form tin and sitting on top of the lined baking tray.

Smooth the cream cheese mixture with a spoon and place the Cheeselova in the fridge until set. This will take 3 – 4 hours. Or you can leave it overnight as I did.

Once set you are ready to decorate.

Without removing the Cheeselova from the spring form pan, gently remove the baking paper underneath. By keeping the Cheeselova in the tin it adds support to the dessert while you do this. Then gently place on your serving dish.

Once securely on your serving dish, remove the spring form pan and surrounding baking paper.

Smear extra whipped cream around the sides of the Cheeselova. Then top with passionfruit pulp, strawberries and blueberries.

Note: You don't need to be restricted to berries. You can add any fruit you desire or even forgo fruit and top with shards of chocolate, caramel and toffee. Your choice of toppings is only restricted by your imagination. Go wild!
DID YOU MAKE THIS RECIPE?
I do a happy dance when people let me know, tag me on Insgragram @bellyrumbles #bellyrumbles
As you can see it isn't that difficult to make, you just need time on your hands. I made Cheeselova the day before serving, but decorated on the day my guests were to eat it.
Decorating is simple, pile it high with berries, and add a few shards of white chocolate. That is all the decoration it needs.
You could leave your Cheeselova naked on the sides, but by smearing the sides with cream you can hide any little unfortunate mishaps. For example a little bit of meringue sticking to your baking paper and leaving a hole in the side of your dessert. A bit of cream patching and nobody will know the difference. How do you think I came up with the cream smearing idea?
I do hope you enjoy my Cheeselova as much as I do.
Sara xxx
Belly Rumbles would like to acknowledge its partnership PHILADELPHIA Australia for this post. This recipe was created, developed and photographed by Sara McCleary.
Other Cheesecake Recipes
Baked Matcha White Chocolate Cheesecake – green tea cheesecake topped with decadent dark chocolate ganache
Basque Burnt Cheesecake – four ingredient cheesecake sensation
Baked White Chocolate and Mango Cheesecake – creamy cheesecake topped with summery mangoes
Chocolate Cheesecake Crackle Pie – chocolate crackle shell with chocolate cheesecake filling
Strawberry Cheesecake Sponge Cake – when light and airy sponge and strawberry cheesecake collide
Lemon Myrtle Cheesecake – A creamy taste of Australia with a macadamia base
Baked Anzac Cheesecake – All the flavours of an Aussie ANZAC biscuit in cheesecake form
Become a subscriber and don't miss a single delicious recipe, restaurant review or travel adventure. Plus you will also receive extra content and benefits.