It's just over a month until Christmas, and the silly season is just about to throw itself upon us like a five year old with ADD wanting to see Santa. I don't know about you, but the six weeks leading up to Christmas are busy ones for me. I am being entertained, I am doing the entertaining and then there are the normal "oh crap, Christmas is descending on me like a freight train" preparations.
I've teamed up again with the lovely people at Wither Hills wines to bring you some inspirational canapé recipes. I don't tend to initially think of pairing Pinot Noir with canapés. As I had already used their Pinot Gris and Sauvignon Blanc with my two courses in under 20 minutes midweek entertaining menu, I thought why not.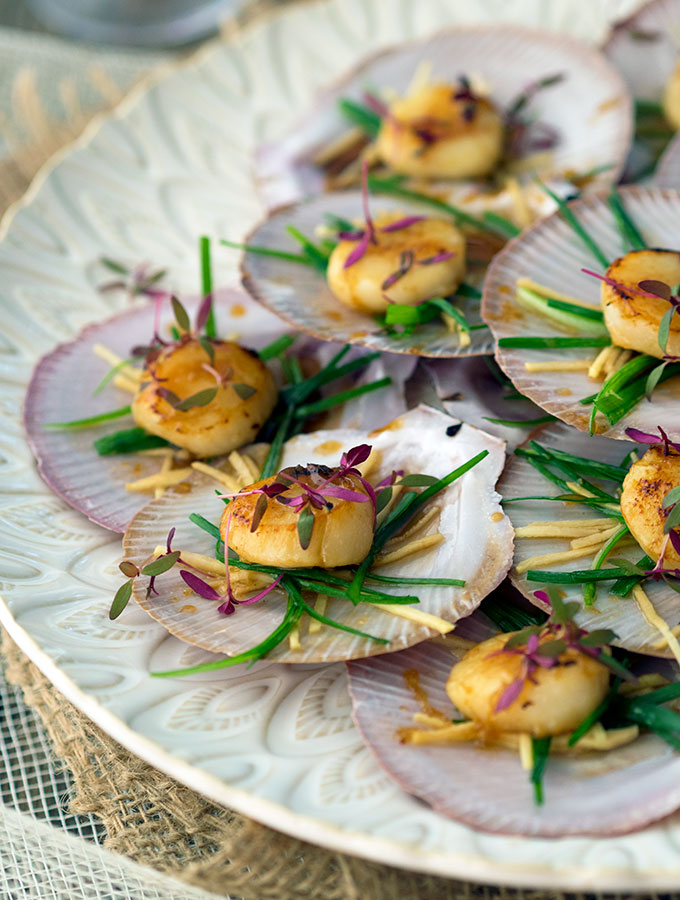 I am a bubbles girl when it comes to canapés, but many, including my partner, will reach for a red. This is where a Pinot Noir is perfect to start the evening. It is lighter red than some of the full bodied heavy hitters out there such as Shiraz or Cab Sauv. The Wither Hills Pinot Noir is still full of rich brooding aromatics of dark wild berry fruits, seductive bright morello cherry and fresh brambly wild berry compote. It has an alluring toasty spice with subtle earthy undertones. The key word there folks is subtle, it is a very easy and enjoyable wine to drink.
The challenge I set for myself was to create three canapés that would pair with this gorgeous wine. I do love a challenge!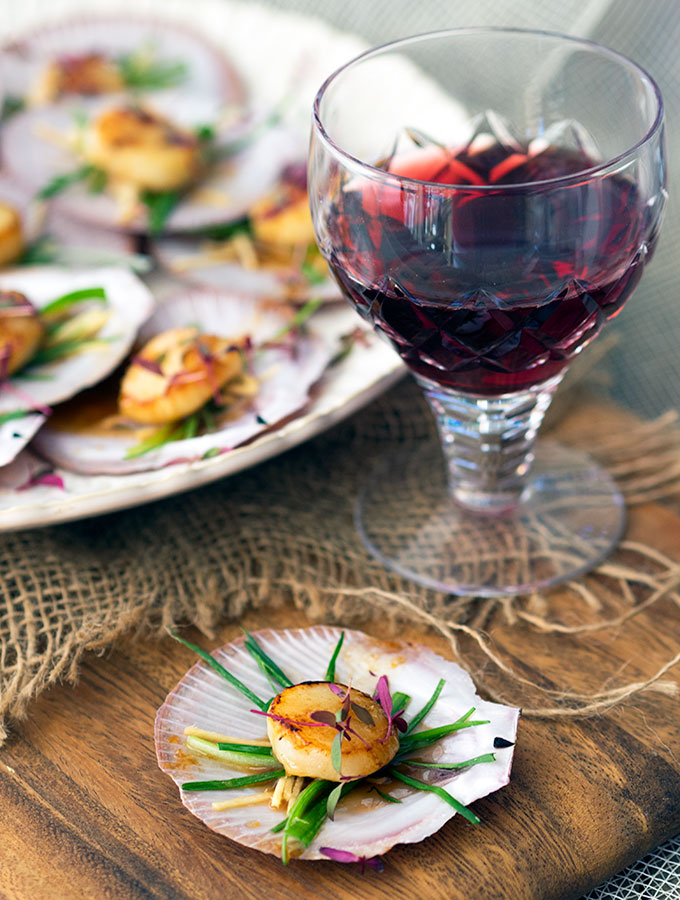 To be honest it was quite easy, Pinot Noir matches very well with Asian dishes. I also wanted to stay away from the most well known pairing of duck and game meats.
As I love Japanese food I wanted to play around with flavours traditionally found in that cuisine. Japanese flavours are quite subtle and well balanced, and would normally be a little lost with a red. By using the flavours I love so much and adding some zing from fresh ginger, a little punch from ground white pepper and the toasty flavours of sesame seeds, these canapés are able to stand their ground alongside a glass or two of Wither Hills Pinot Noir.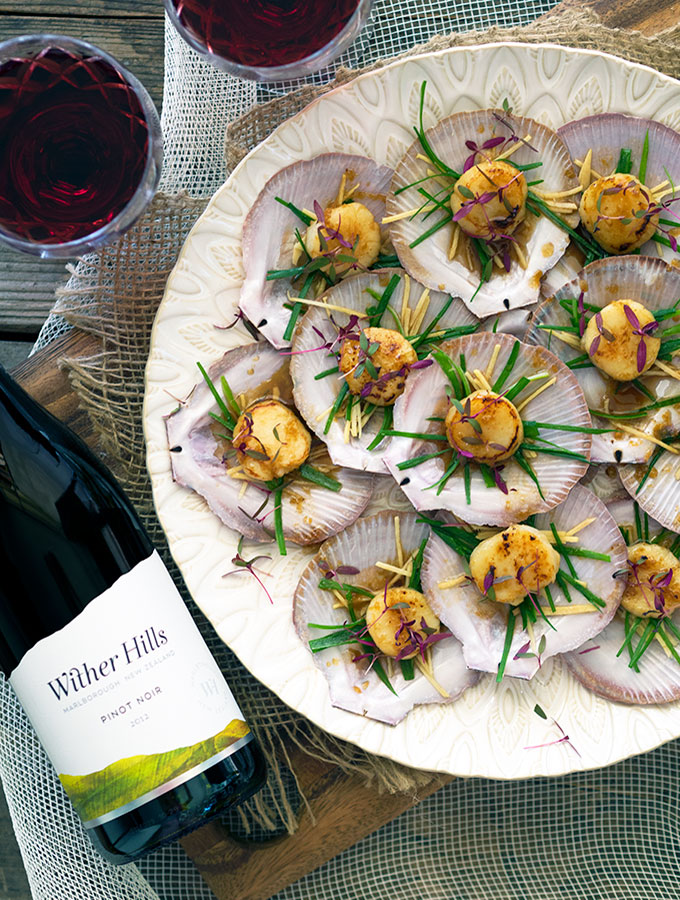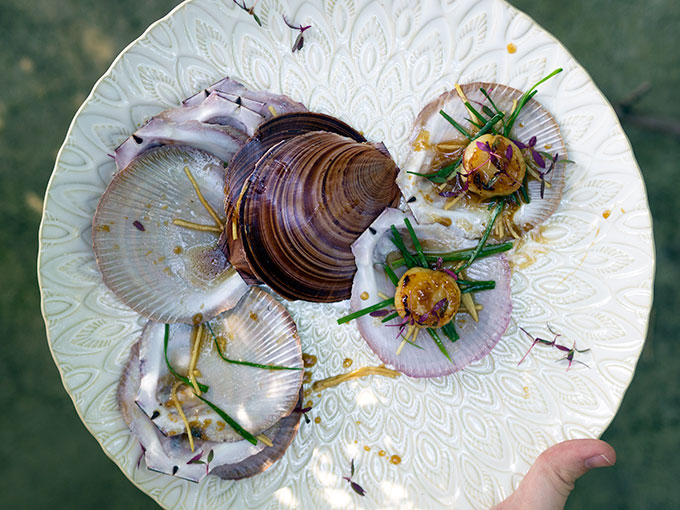 I'm a sucker for seared scallops on the half shell. Firstly they always present wonderfully to guests, secondly and most importantly, they taste great. These scallops are tossed in a buttery sake sauce and then placed on a bed of finely sliced fresh ginger and green onions. The ginger brings such a lovely bite to the dish and balances out the butter. Just make sure that you don't over cook your scallops or you will end up with something that resembles rubber. The last thing you want is guests playing ping pong with the hors d'oeuvres.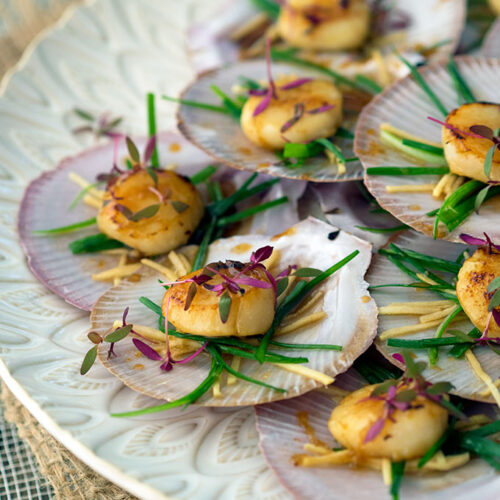 Ingredients
12

scallops on the half shell

½

tablespoon

vegetable oil

½

tablespoon

sesame oil

40

grams

unsalted butter

60

ml

sake

1 ½

tablespoons

soy sauce

1

tablespoon

mirin

2

teaspoons

caster sugar

super fine sugar

¼

teaspoon

grated ginger

ginger and spring onions

shallots, finely sliced to garnish
Instructions
Remove scallops from their shells and rinse gently to remove any grit or shell. Rinse scallop shells and dry in preparation for serving.

In a heavy base non stick pan heat vegetable and sesame oil. Get the pan as hot as you can and add six of the scallops. Sear one side until browned and then quickly turn them over and sear the other side. Remove immediately from pan and leave to rest on kitchen towel. Repeat with the remaining scallops.

Wipe any excess oil from the pan, and return to the stove on a low heat.

Place butter, sake, soy sauce, mirin, caster sugar and grated ginger in the pan. Cook over a low heat until butter has melted and sugar has dissolved.

Then increase the heat and reduce sauce until slightly thickened.

Add all the scallops back to the pan and toss them through until well coated.

Place some finely sliced ginger and spring onions on each scallop shell and then top with the glazed scallop. Drizzle more sauce over the scallops and serve immediately.
DID YOU MAKE THIS RECIPE?
I love knowing when readers make my recipes, tag me on Insgragram @bellyrumbles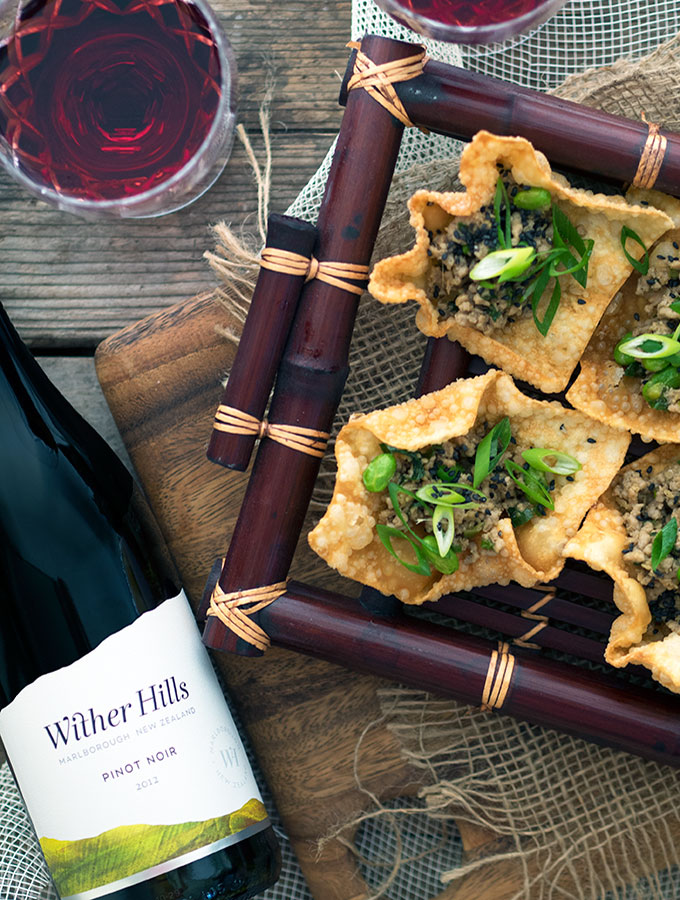 Why serve dumplings when you can serve inside out dumplings? These are a twist on the good old gyoza. Yes deep frying is involved, but it is worth it. All that is need is an inch or two of oil in the bottom of a wok if you don't have a fryer.
Traditionally gyoza are a mixture of cabbage and pork mince. I have omitted the cabbage and replaced the vegie component with shelled edamame (green soybeans). They add a little more texture and interest.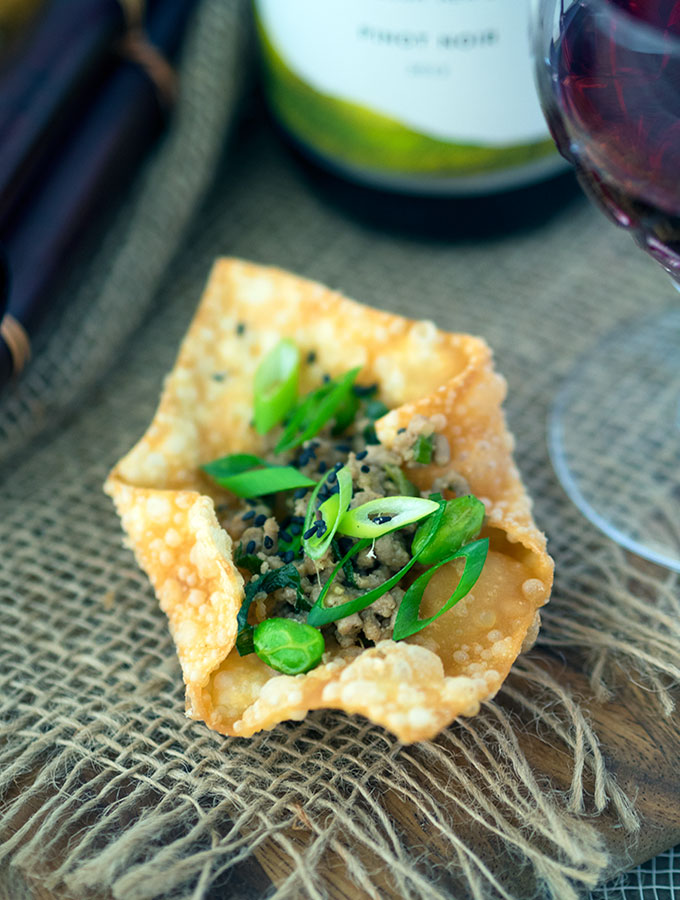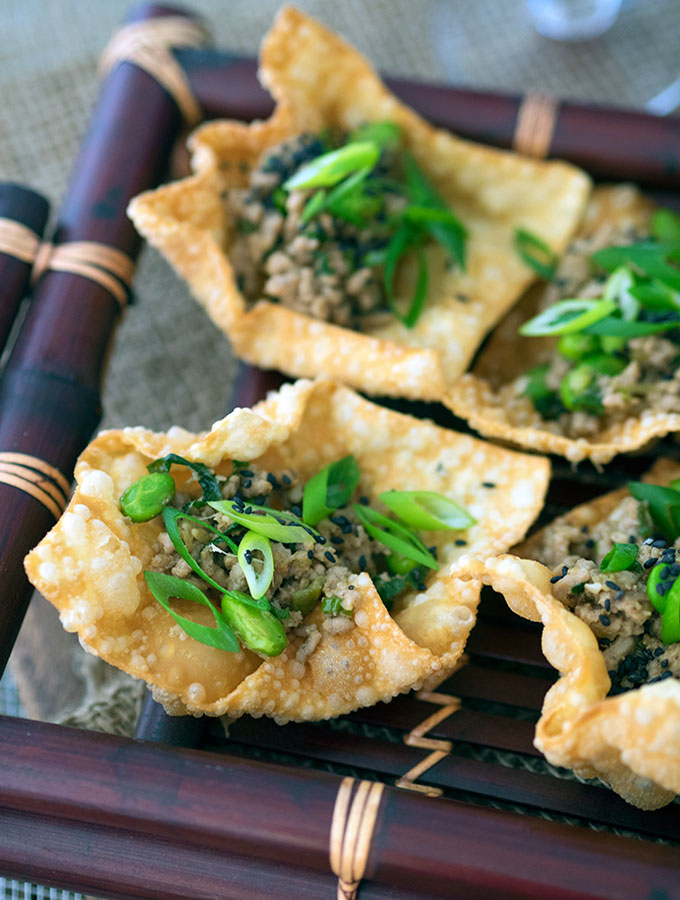 When fried wonton wrappers puff up to perfection. They become quite addictive actually. The filling, or in this case topping, has a lovely white pepper heat, which lingers a little, and matches wonderfully with a Pinot Noir.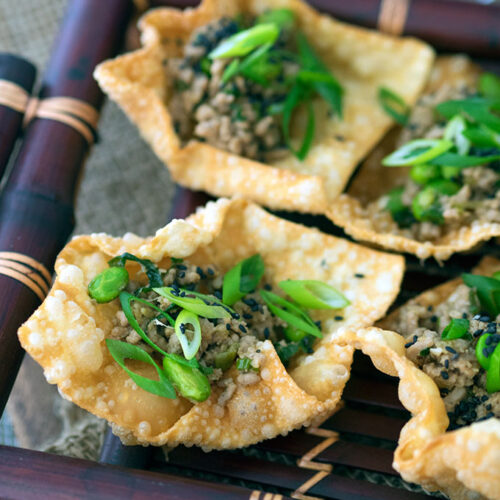 Ingredients
Wonton wrappers*

Vegetable oil for frying

300

grams

pork mince

2

teaspoons

grated ginger

2

garlic cloves

crushed

2

tablespoons

soy sauce

1

tablespoon

sake

1

tablespoon

mirin

½

teaspoon

white pepper

60

grams

shelled edamame

2

spring onions

shallots, finely sliced

Extra spring onions to garnish

Black sesame seeds to garnish
Instructions
Whatever method of frying you usually use, I suggest you use to fry the wonton wrappers. I place 10cm (4 inches) of oil in a wok.

Heat oil and test with a cube of bread, when bread sizzles on impact with the oil, you are ready to fry the wonton wrappers.

Fry wrappers one at a time. Using tongs to press down in the middle of the wrapper while it is frying, this creates a small indent to hold the topping. Once wrapper is golden remove from oil, drain well and place on kitchen towel. Repeat with the remainder of the wonton wrappers.

These can be made a day ahead and stored in an airtight container.

Using a clean wok and a tablespoon of vegetable oil brown pork mince. Add ginger, garlic and continue to cook for a couple of minutes. Add soy sauce, sake, mirin, white pepper, continue to cook for a few minutes and stirring to make sure ingredients are incorporated.

Then add edamame and spring onions. Continue to cook, stirring continuously until all liquid has evaporated. You are after a glossy mixture without any excess sauce, as sauce will make your fried wonton wrappers soggy.

To serve top each wonton wrapper with pork mixture and then garnish with spring onion and some black sesame seeds. Serve immediately.

Note: Wonton wrappers are available in all good supermarkets and usually come in a packet of 30.
DID YOU MAKE THIS RECIPE?
I love knowing when readers make my recipes, tag me on Insgragram @bellyrumbles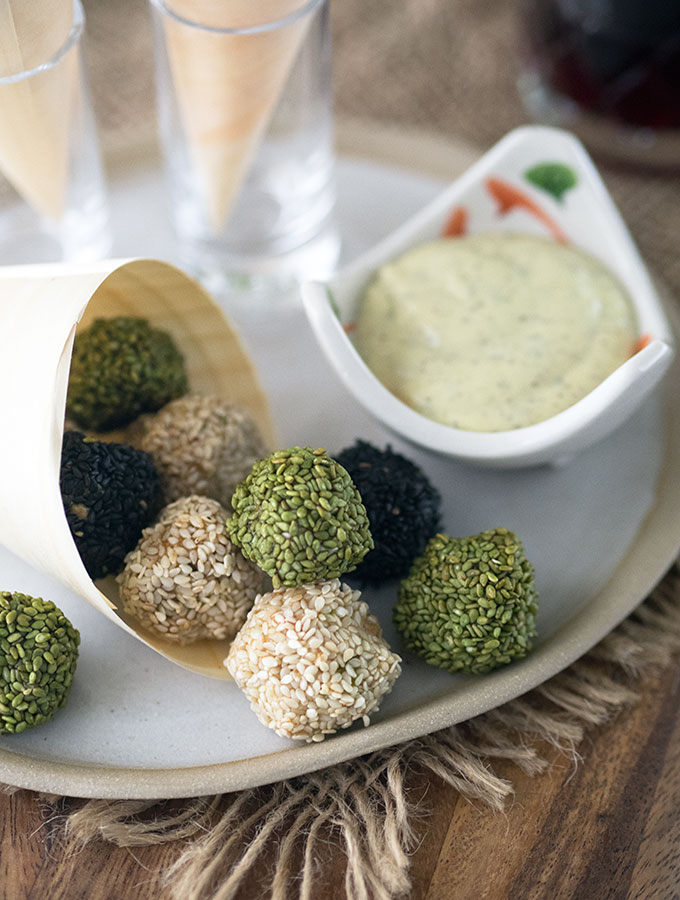 Mini meatballs are always popular with guests and these ones will get your guests talking. They are oven baked, making your life a lot easier and your hips a lot happier. Rolling them in sesame seeds, not only makes them look amazing, but also adds a lovely toasty flavour to the balls.
I have used a mixture of white sesame seeds, black sesame seeds and wasabi sesame seeds. Yes, wasabi sesame seeds are a thing! I discovered these guys at my local Asian supermarket recently, and love them. I feel that this canapé works wonderfully just with a mix of black and white sesame seed balls.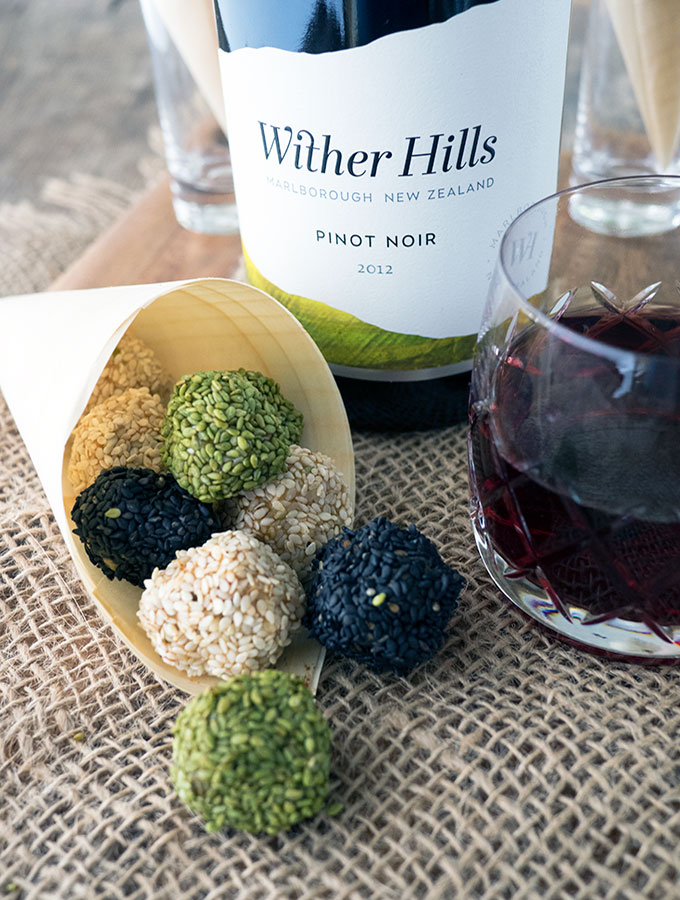 They are served with yuzu and wasabi mayonnaise. I have used a product called hawashabi sauce in my mayonnaise, but you can substitute plain wasabi paste if you wish.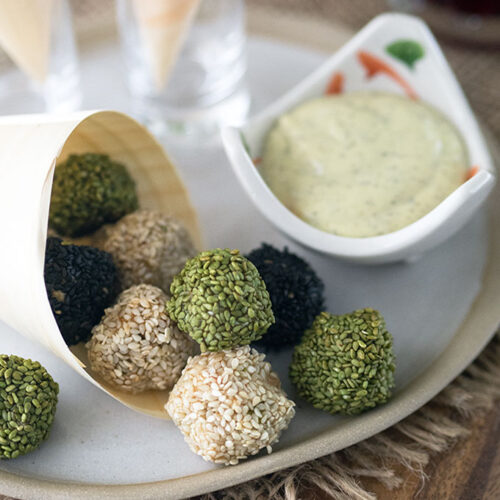 Ingredients
500

grams

chicken mince

1

garlic clove

crushed

2

spring onions

shallots, finely chopped

½

cup

fresh breadcrumbs

2

tablespoons

tonkatsu sauce*

½

tablespoon

soy sauce

½

cup

black sesame seeds

½

cup

sesame seeds

¾

cup

Japanese mayonnaise

1

teaspoon

hawashabi sauce*

or substituted ½ teaspoon wasabi paste

1

teaspoon

yuzu juice*

or substituted ½ teaspoon lemon juice
Instructions
Pre-heat oven 180°C (360°F) and line a baking tray with baking paper.

In a large bowl place chicken mince, garlic, spring onions, breadcrumbs, tonkatsu sauce and soy sauce. Mix ingredients very well and completely combined. I find mixing by hand the best method. As chicken mince can become sticky I use a disposable rubber glove.

Place black and white sesame seeds on separate plates.

With wet hands roll heaped teaspoons of chicken mixture into balls. Roll chicken balls in sesame seeds.

Place balls on lined baking tray and bake in the oven for 20 minutes. Serve with yuzu wasabi mayonnaise.

Yuzu wasabi mayonnaise: Place Japanese mayonnaise, hawashabi and yuzu in a small bowl. Mix until completely combined. Taste, and add addition yuzu or hawashabi if desired. Keep in fridge until sesame chicken balls are ready.

Note

Tonkatsu sauce: Is a Japanese vegetable and fruit sauce that is similar to a chutney that has had all the lumpy pieces removed (fruit etc). It is readily available in Asian supermarkets and quite a few standard supermarkets.

Hawashabi Sauce: Is a wasabi sauce, is similar in consistency to a pesto, made from chopped wasabi leaves, salt and oil. Can be purchased online from

Chefs Armoury

.

Yuzu Juice: Yuzu is a tart citrus and the juice can be purchased in bottles at Asian supermarkets.
Nutrition
Calories:
351
kcal
|
Carbohydrates:
12
g
|
Protein:
20
g
|
Fat:
25
g
|
Saturated Fat:
4
g
|
Cholesterol:
76
mg
|
Sodium:
382
mg
|
Potassium:
581
mg
|
Fiber:
3
g
|
Sugar:
1
g
|
Vitamin A:
60
IU
|
Vitamin C:
1.2
mg
|
Calcium:
262
mg
|
Iron:
4.7
mg
DID YOU MAKE THIS RECIPE?
I love knowing when readers make my recipes, tag me on Insgragram @bellyrumbles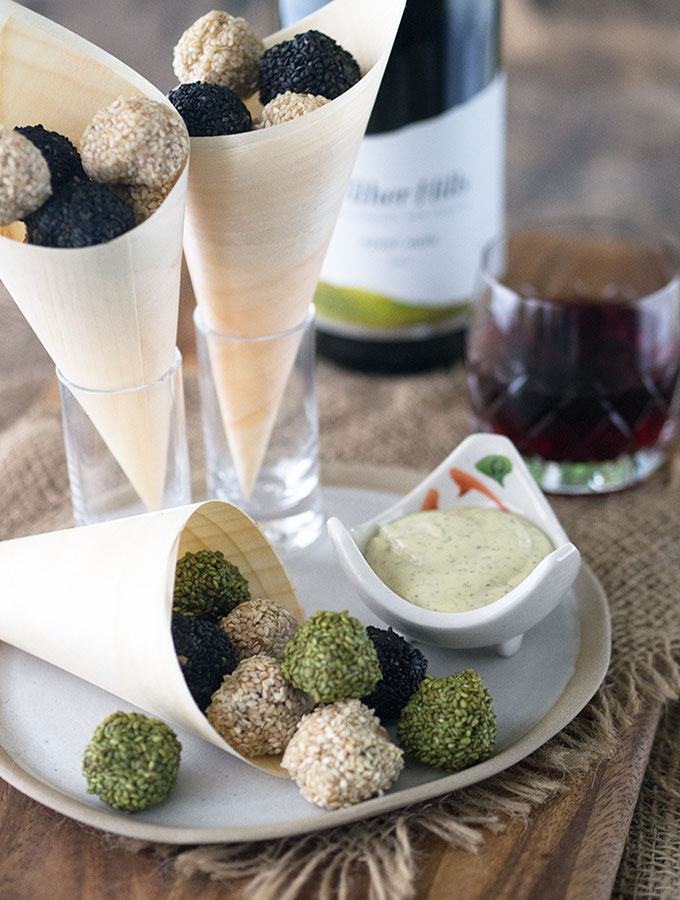 Three relatively easy canapés, all with a Japanese influence, to suit everyone. They all have their own little twist and can be enjoyed just as easily with a glass of bubbles or Pinot Noir.
Sara xxx
Belly Rumbles would like to acknowledge its partnership with Wither Hills in regard to this post.
Become a subscriber and don't miss a single delicious recipe, restaurant review or travel adventure. Plus you will also receive extra content and benefits.