Basque burnt cheesecake recipe. The Spanish cheesecake that has taken the internet by storm. This recipe is for those that aren't able to travel to San Sebastian in Spain to try the original at La Viña.
This cheesecake is gloriously caramelised with a smooth jiggly velvet centre. A complete taste sensation with only four ingredients. A simple crustless cheesecake you need to bake and try.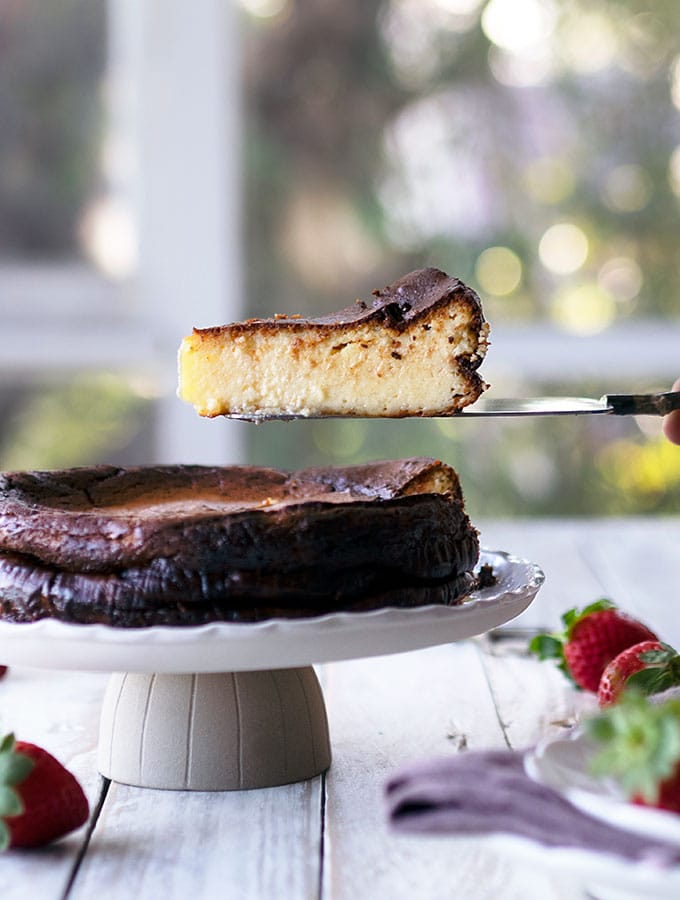 What makes this cheesecake so amazing? It's quite simple, it's all about the burn. The joy and uniqueness are all about burning, or technically caramelising, the sides, bottom, and top of this Spanish cheesecake.
Was the joy of smooth just set middle married with the dark caramelised extremities of the cheesecake initially a baking accident by La Viña?
I spend the majority of time trying not to burn things in the kitchen. Well at least that is my first thoughts. But when you take a hard close look at how we cook, we spend a vast amount of time making use of the 'burnt' bits. Caramelisation means flavour.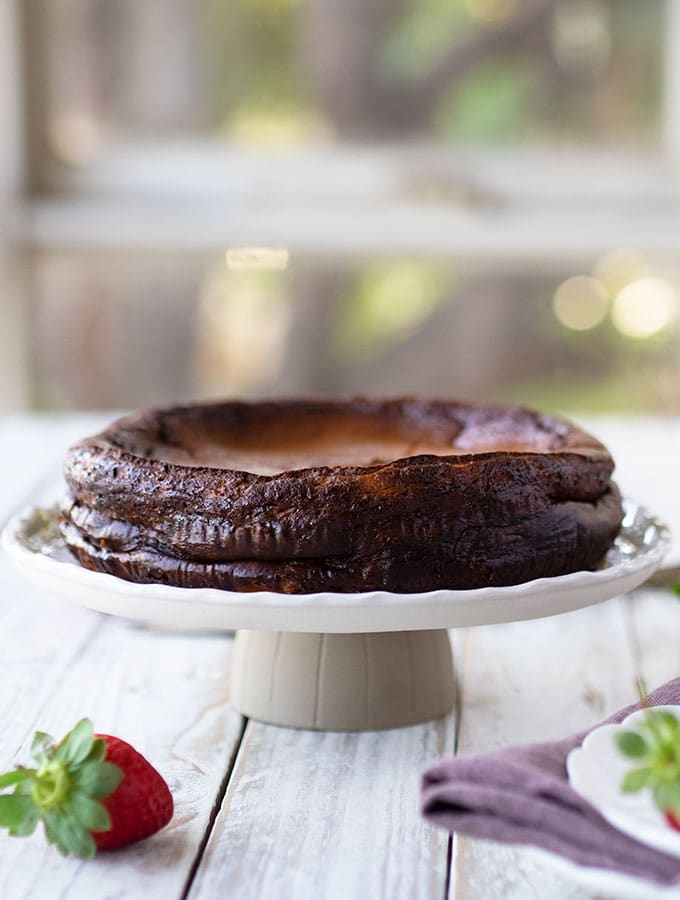 Browning (caramelising) meat is the first step in making a flavourful casserole. We deglaze and scrape up all the brown fond on the bottom of our pans when making gravy and sauces. When baking cookies, we generally want them to brown and caramelise. The point where butter and sugar react, giving cookies crunch and a toasty flavour.
This cheesecake no different, but it takes the caramelisation a little step further.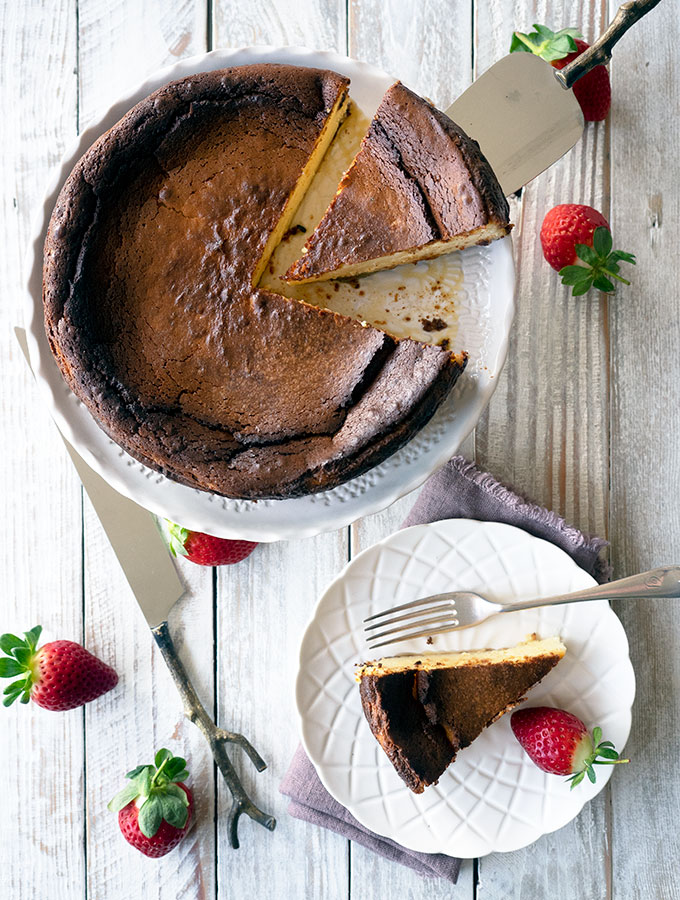 If you have ever made toffee you will understand. There is golden brown toffee, which is sweet, the sugar has reacted to take on those toffee notes. Then you have toffee taken to the next stage, it errs on the side of burnt, but not quite. It's darker, still sweet, but this is played off bitterness and is simply delightful.
There are numerous recipes around the internet for Basque burnt cheesecake. I researched and played. I read that Chef Dave Beran of Dialogue in Santa Monica left the flour out altogether from his version. He feels the quick cooking time for his version doesn't allow for the starch in the flour to cook through. Resulting in a grainy cheesecake.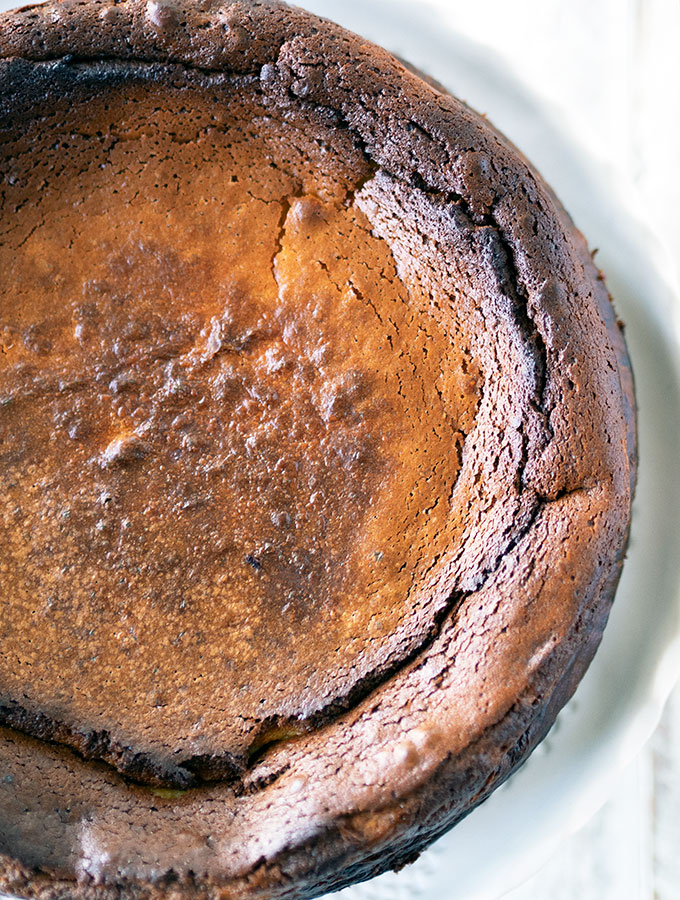 This made complete sense to me. On further investigation I discovered recipes that had various amounts of flour in them from one cup through to one tablespoon. These recipes had longer cooking times. I decided to take Chef Beran's advice and ditch the flour.
Recipe Hazard Zones



Overcooking can be an issue. If you find that you are getting close to the end of the cooking time, say the final 10 minutes, and the cheesecake isn't developing a dark caramelised top, turn your oven temperature up and keep an eye a constant eye on how it is baking.
Special equipment for this recipe
A springform cake tin is needed. This is a cake tin with a removable base and a clip on the side that will allow you to loosen the tin from around the cooled cheesecake. This makes removal of the cheesecake easy.
Special Ingredients for this Recipe
None at all. This recipe consists of only four ingredients, all of which are easy to purchase from your local supermarket.
What to do with any leftovers
The cheesecake is best eaten on the day of baking. But between you and I, it also stores very well in an airtight container in the fridge for a few days. It will be denser, but just as delicious.
I ended up with a gluten free Basque burnt cheesecake using only four ingredients. Do check that your cream cheese does not contain gluten, some do, if being GF free is a health issue for you.
You will be surprised by the taste, I was. It may look like an ugly duckling of a cheesecake but really is worth baking. Plus is an easy one to bake too.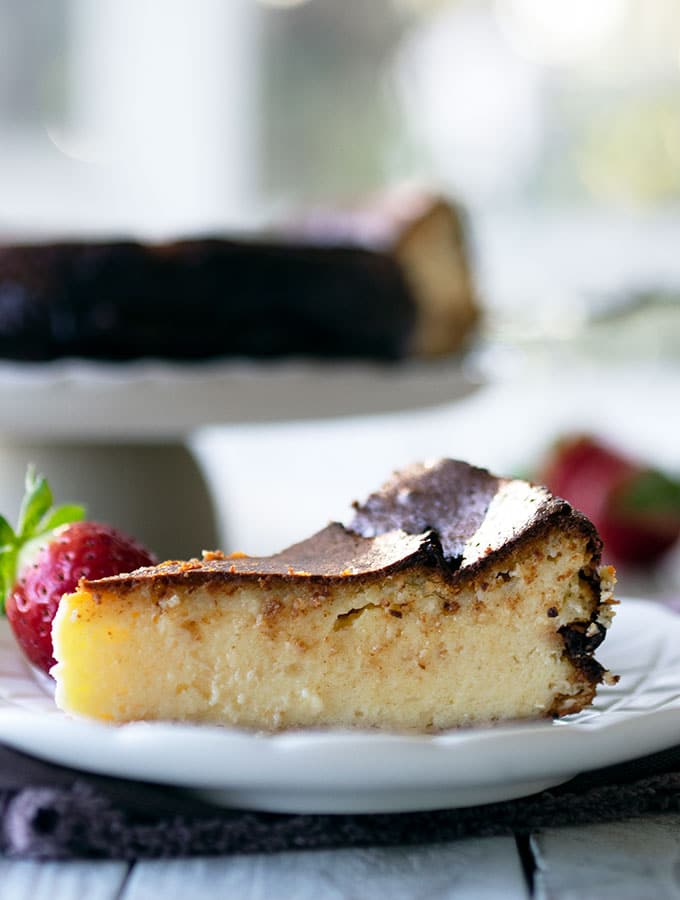 If you do end up giving this Basque burnt cheesecake a go, do share your results with me. I would love to see your creations
Sara xxx
Follow me on Instagram, Twitter and Pinterest. Tag @bellyrumbles #bellyrumbles so I can drool over your cheesecake pics.
Other Cheesecake Recipes
Baked Matcha White Chocolate Cheesecake - green tea cheesecake topped with decadent dark chocolate ganache
Cheeselova - the love child of cheesecake and pavlova
Baked White Chocolate and Mango Cheesecake - creamy cheesecake topped with summery mangoes
Chocolate Cheesecake Crackle Pie - chocolate crackle shell with chocolate cheesecake filling
Strawberry Cheesecake Sponge Cake - when light and airy sponge and strawberry cheesecake collide
Lemon Myrtle Cheesecake - A creamy taste of Australia with a macadamia base
Baked Anzac Cheesecake - All the flavours of an Aussie ANZAC biscuit in cheesecake form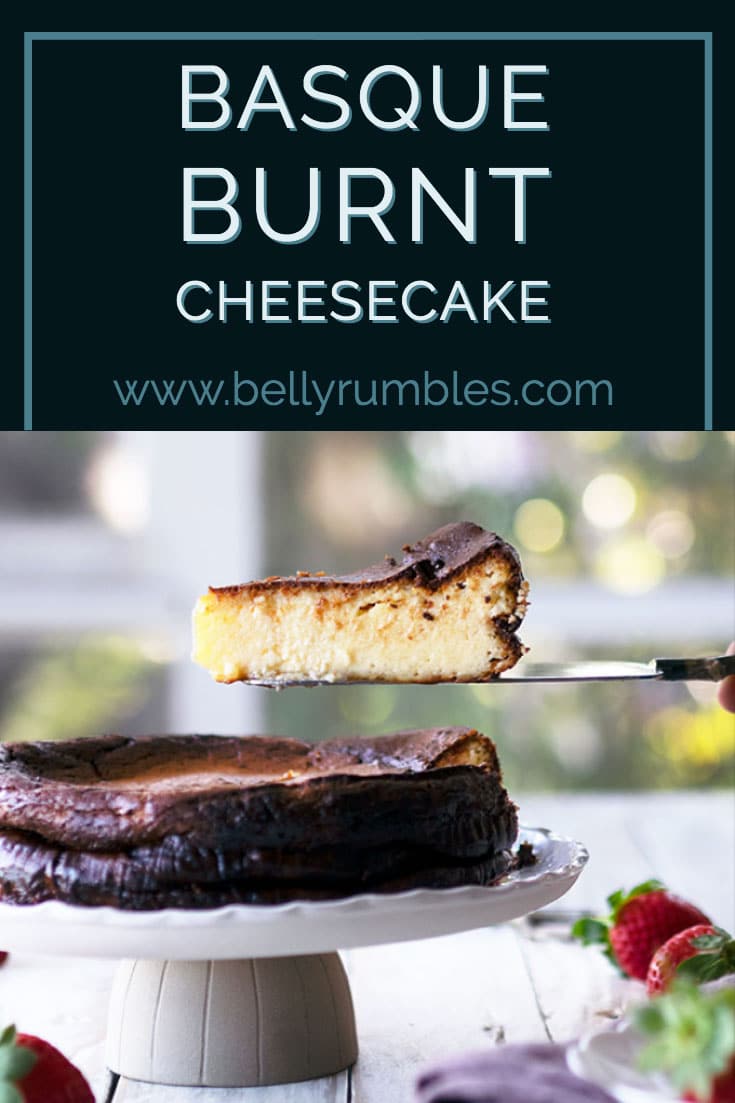 PIN THIS BASQUE BURNT CHEESECAKE RECIPE TO BAKE LATER