Chocolate Cheesecake Crackle Pie, luscious chocolate cheesecake, with a crunchy decadent chocolate crackle pie shell. Topped with fresh seasonal fruit and it makes for a stunning dessert for any occasion.
Baked White Chocolate & Mango Cheesecake Recipe
Matcha White Chocolate Cheesecake with Chocolate Ganache Recipe
Cheeselova Recipe (love child of a pavlova & cheesecake)
Lemon Myrtle Cheesecake Recipe
If this dessert looks familiar you may have seen my Caramel Chocolate Crackle Tart. That was the inspiration for my Chocolate Cheesecake Crackle Pie I am sharing with you now.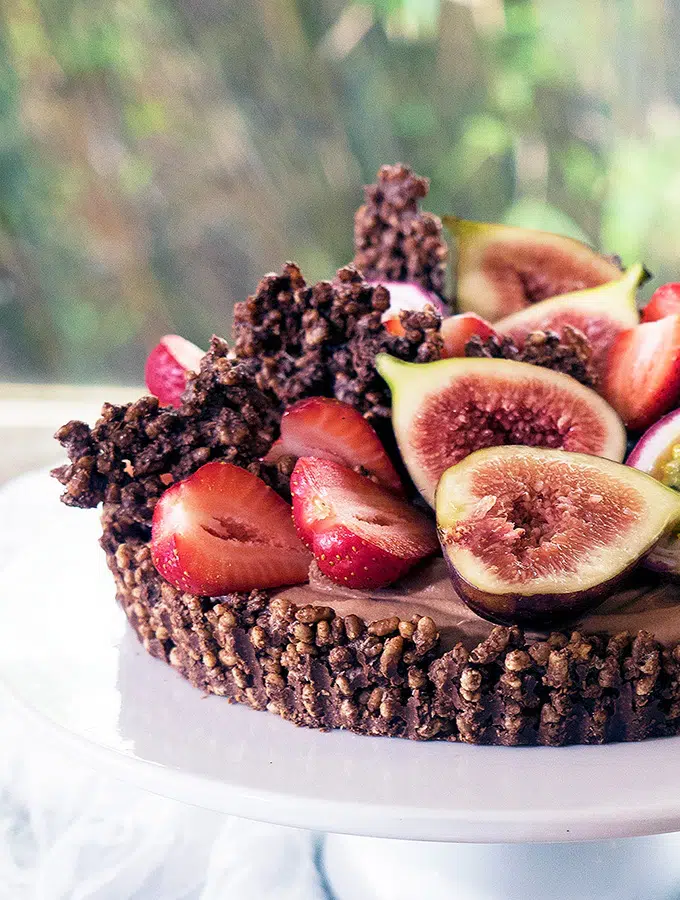 This crackle pie with a luscious chocolate cheesecake filling was another recipe I developed last year for a certain competition I was involved in. Now that's all behind me, Easter is the perfect time for me to share the recipe on Belly Rumbles.
It's a great dessert for any occasion, but a complete knock out for Easter. What makes this specifically great for Easter is that you have a decadent chocolate cheesecake element filling a fun crackle pie shell. This can then be topped off with luscious seasonal fruits and berries. A dessert to make both adults and children smile.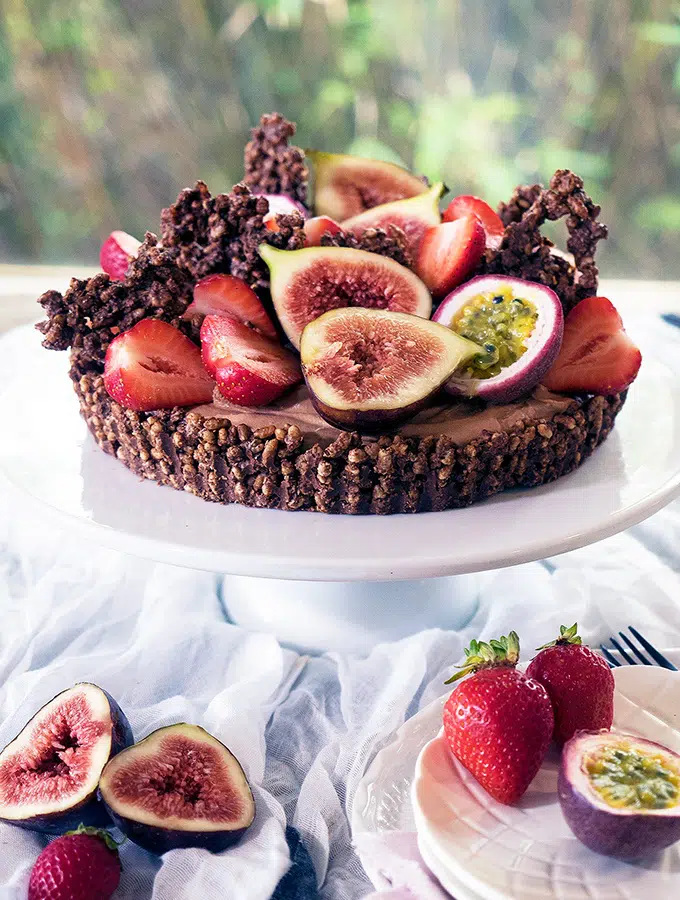 Not into fruit? That's okay because you can decorate the top of this chocolate cheesecake crackle pie any way you want to.
Decorate with flavours you love! Not into mixed berries and fruit, then why not chocolate shards and swirls, whipped cream and chocolate sprinkles, or simply dust it with cocoa.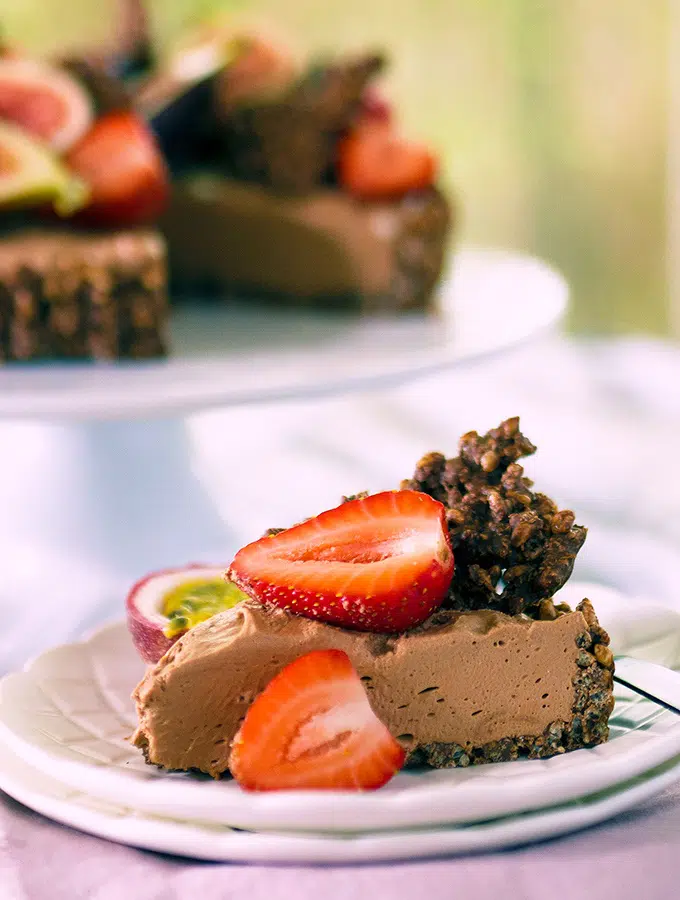 It's your pie, decorate and top it how your heart and taste buds desire.
So do tell, what would you top it with?
Sara xxx
Become a subscriber and don't miss a single delicious recipe, restaurant review or travel adventure.
Subscribe to our mailing list
Printable Recipe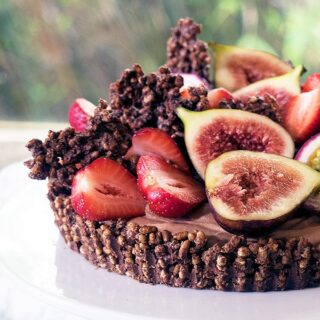 Chocolate Cheesecake Crackle Pie
Chocolate Cheesecake Crackle Pie, luscious chocolate cheesecake, in a crunchy decadent chocolate crackle pie shell. Topped with fresh seasonal fruit and it makes for a stunning dessert for any occasion.
Ingredients
Chocolate Crackle Base
150

grams

dark chocolate

broken into pieces

30

grams

copha

75

grams

(1 ½ cups) rice bubbles/rice crispies

55

grams

(¾cup) desiccated coconut
Chocolate Cheesecake Filling
250

grams

dark chocolate

500

grams

cream cheese

150

grams

(? cup) caster sugar (superfine sugar)

10

grams

(2 teaspoons) gelatine (dissolved in ¼ cup boiling water)

300

ml

(1 ? cups) cream

whipped

fresh strawberries to decorate
Instructions
Line the base of a 23cm round loose base pie tin with baking paper. Spray the sides and base lightly with coconut oil spray, melted coconut oil.

Melt chocolate and copha in a large microwave safe bowl. When melting chocolate in the microwave do so in gradual steps mixing well in between to prevent burning the chocolate

Add rice bubbles and coconut to the melted chocolate mixture. Mix until ingredients are well coated and combined.

Press chocolate crackle mixture into tart tin. Using a butter knife to press the sides in and up first and then press the base down.

You may have more mixture than is needed. Any excess mixture should be chilled in the fridge for chocolate crackle shards to either eat or add to your decorative topping (I suggest the latter).

Place the chocolate crackle pie shell in the fridge to set while making the chocolate cheesecake filling.


Melt dark chocolate as you did for the pie shell. Place melted chocolate to the side to cool while you continue on with the next step.

In ¼ cup of boiling water add 2 teaspoons of gelatine powder. Mix well and dissolve the gelatine completely, set aside.

Place cream cheese and caster sugar in a large bowl (either for your stand mixer or to use with electric beaters). Using whisk attachment, whisk on medium speed until the mixture is smooth.

Continue whisking and add the melted chocolate. Then whisk through the gelatine mixture.

Remove bowl from stand mixer (or place beaters to the side). Then fold through the whipped cream.

Spoon filling into chocolate crackle pie shell. Smooth the surface of the pie and place in the fridge to set.

The pie will be set after an hour or two.

Once set, decorate with fresh strawberries, figs, passionfruit and chocolate crackle shards.

Keep in the fridge until you are ready to serve.
Measurement Notes
All measurements are Australian metric standard. All measures are level, and cups are lightly packed unless specified. 1 teaspoon = 5ml / 1 tablespoon = 20mls / 1 cup = 250ml /4 teaspoons = 1 tablespoon.
Recipe Notes
The Dark Chocolate
Use a dark chocolate for this recipe that you enjoy eating! Not cooking chocolate. Chocolate designed for baking is perfect for that job, but with a recipe like this, where you have a non cooked chocolate pie shell. Chocolate is the main feature in the filling (which again isn't cooked), you need to go with a great dark eating chocolate.
Decorating Note
Decorate with flavours you love. Either mixed berries, fruit that pairs well with chocolate or chocolate shards and curls. You could even decorate this pie with some whipped cream and chocolate sprinkles or simply dusted with cocoa.
NUTRITIONAL INFORMATION
The recipe's nutritional information is an approximation based on an online calculator. It is meant solely for reference purposes. If you're looking for precise details, be sure to double-check with your own research.
Calories:
532
kcal
Carbohydrates:
33
g
Protein:
7
g
Fat:
42
g
Saturated Fat:
26
g
Cholesterol:
81
mg
Sodium:
164
mg
Potassium:
333
mg
Fiber:
4
g
Sugar:
22
g
Vitamin A:
935
IU
Vitamin C:
1
mg
Calcium:
112
mg
Iron:
3
mg
Did You Make This Recipe?
I do a happy dance when people share how they went. Tag me on Instagram or Twitter @bellyrumbles & #bellyrumbles