White Chocolate and Mango Cheesecake, with summery mangoes, the perfect dessert to entertain this summer. Baked to perfection, with a rich velvety vanilla white chocolate cheesecake, dark moreish Oreo crumb and refreshing Australian mangoes!
If you have made my Matcha White Chocolate Cheesecake you will notice that both these recipes are very similar. That's because I have come up with the perfect baked cheesecake recipe. It's so easy to tweak and change it up completely.
This dessert will bring a little Australian summer to your dining table. Something that is also on the decadent side.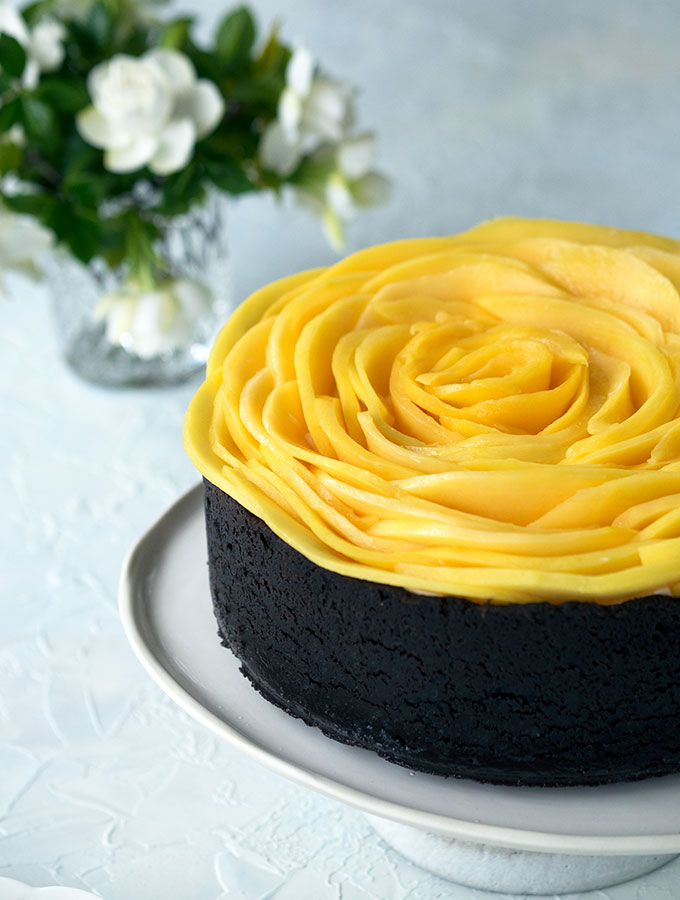 In general I'm not a big fan of Oreo biscuits. I won't reach for one to have with a cup of tea or any kind of biscuit fix. In fact they are a great biscuit to have in the house as I won't eat them.
But transform the humble Oreo cookie into a base and sides of a cheesecake, well folks that's a totally different scenario. When pulverised and extra butter added they become a rich moreish chocolate crumb, perfect for both baked and fridge set cheesecakes.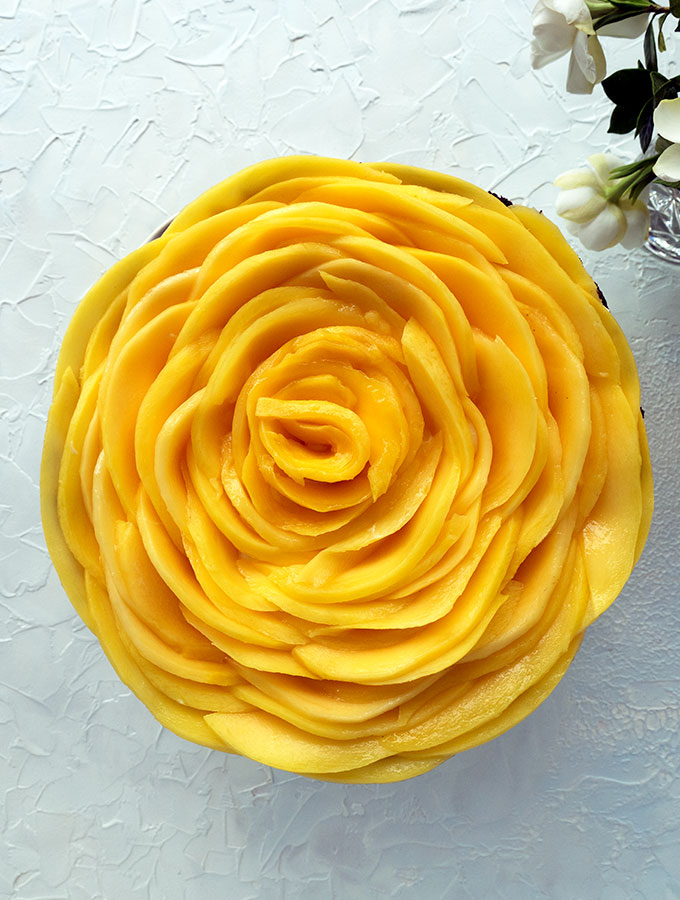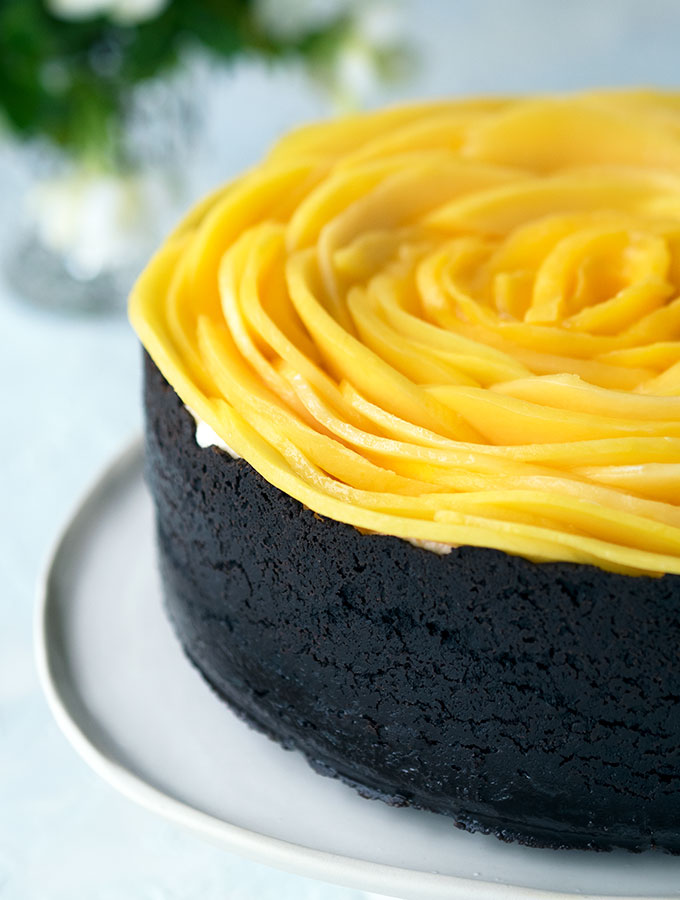 It's important to note that my 1 tablespoon of Vanilla Bean Paste in the White Chocolate and Mango Cheesecake recipe is not a typo. Yes, it is One Tablespoon. Not only does this amount let you see the tiny flecks of vanilla generously dotted through the cheesecake, it adds a lovely rich vanilla flavour to the white chocolate. No, it's not too much, it works brilliantly.
Spreading the cream spread over the top of the cheesecake is an option. As mention many other recipes of mine, cream hides a million sins in regard to desserts. Smear it here and there, and it covers all sorts of crimes.
In this case I wanted the mango slices to rise slightly above the top of the cheesecake sides. I could have placed the mango straight on top but wanted it to be a little more visually appealing. Plus mango and cream make the perfect couple.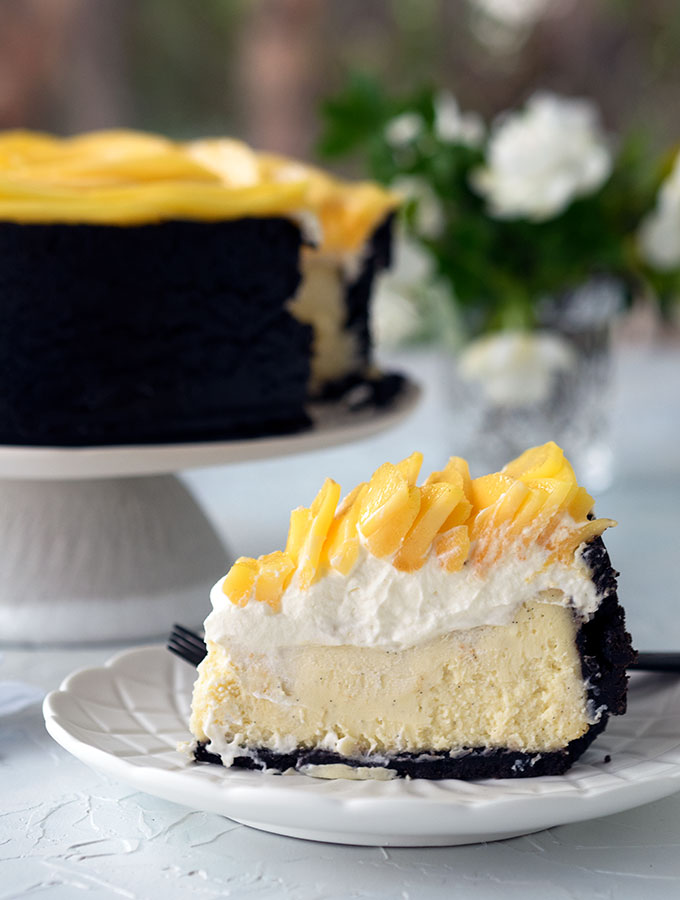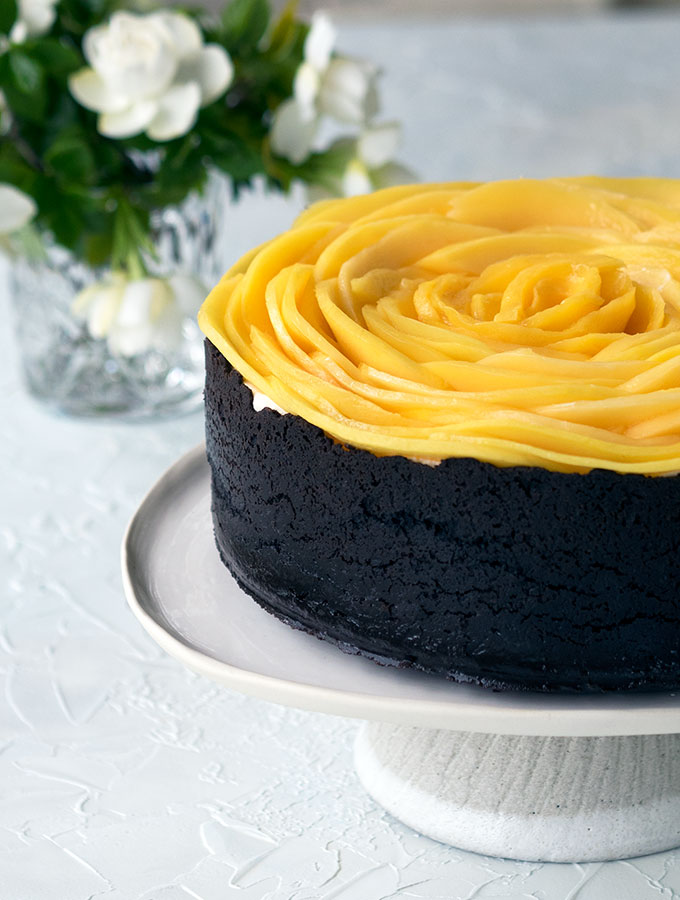 You don't have to be as fancy with the way you place your mango. Though the "flower" effect in the photos is an easy one to accomplish. Simply just layer the mangoes on top of each other starting from the outside and keep going around in a spiral formation to the centre. Or off centre as I have. I should say, "I created the off centre look for maximum visual presentation! " (cough cough bulls#@t). Proves I am only human and not perfect.
White Chocolate and Mango Cheesecake is the perfect dessert for entertaining this summer. Bake the day ahead, and decorate the morning of the event. Too easy, I do hope you love it.
Sara xxx
Other Cheesecake Recipes
Baked Matcha White Chocolate Cheesecake - green tea cheesecake topped with decadent dark chocolate ganache
Basque Burnt Cheesecake - four ingredient cheesecake sensation
Cheeselova - the love child of cheesecake and pavlova
Chocolate Cheesecake Crackle Pie - chocolate crackle shell with chocolate cheesecake filling
Strawberry Cheesecake Sponge Cake - when light and airy sponge and strawberry cheesecake collide
Lemon Myrtle Cheesecake - A creamy taste of Australia with a macadamia base
Baked Anzac Cheesecake - All the flavours of an Aussie ANZAC biscuit in cheesecake form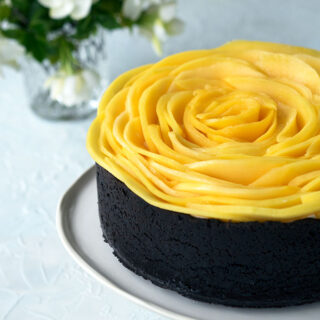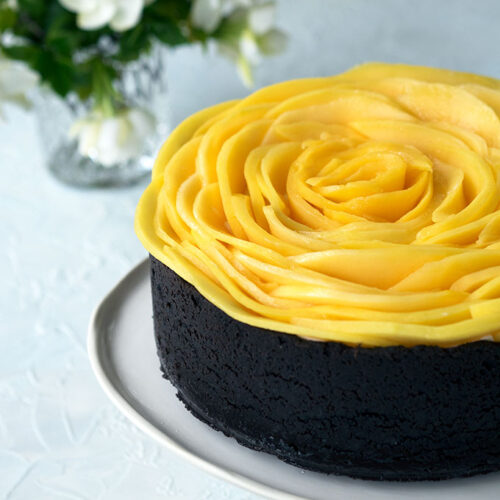 Baked White Chocolate and Mango Cheesecake
White Chocolate and Mango Cheesecake, with summery mangoes, the perfect dessert to entertain this summer. Baked to perfection, with a rich velvety vanilla white chocolate cheesecake, dark moreish Oreo crumb and refreshing Australian mangoes!
Ingredients
Oreo Base
400

grams

Oreo cookies

125

grams

butter
White Chocolate Cheesecake Filling
500

grams

cream cheese, room temperature

100

grams

(½ cup) caster sugar

4

teaspoon

(1 tablespoon) vanilla bean paste

3

eggs (large)

4

teaspoon

(1 tablespoon) cornflour

150

ml

cream

200

grams

white chocolate, melted
Topping
2

large

mangoes

300

ml

cream, whipped
Instructions
Preheat oven 160°C (320°F). Line the base of a 21cm (8 inch) springform cake tin with baking paper.


Blitz Oreos (with cream) in a food processor until they have formed a fine crumb.


Put Oreo crumbs in a medium size bowl, stir through the melted butter. When crumbs and butter and thoroughly combined place in the lined spring form tin.


Press crumb up the sides and along the base of the tin. I find using a flat bottomed thick glass perfect for smoothing out the surface and keeping it uniform in thickness. Once done place in fridge until required.


Using a stand mixer or hand beaters, beat cream cheese, sugar and vanilla bean paste together until smooth.


Add eggs one at a time, beating well between each addition until mixture is well combined.


In a small bowl mix cornflour with 2 tablespoons of cream.


Add cornflour slurry, remaining cream and melted white chocolate to the cream cheese mixture. Beat until well combined.


Pour cream cheese mixture into prepared Oreo biscuit base.


Place springform tin on a lined baking tray and place in oven. The baking tray will catch any butter that leaks from the tin.


Bake cheesecake for 50-60 minutes, until it is set in the centre.


Once cheesecake is cooked through turn the oven off, and leave the cheesecake in the oven, with the door ajar for a further 2 hours or until cooled.


Once cheesecake has cooled in the oven place in the refrigerator to chill. Cheesecake may be made the day before serving.


On the day of serving cover top of cheesecake with whipped cream and sliced mangoes.
Notes
For mango decoration on top of cheesecake
Peel mangoes and cut the cheeks away from the large centre seed. Place mango cheeks cut side down on a chopping board. Using a sharp knife cut mango cheeks in to thin strips length wise.
Using the longest slices of mango, strat from the outside edge of the cheesecake and layer your slices around the edge. Keep going with more mango slices, laying those next to already placed mango slices. Continue going with the rest of the mago working your way into the centre of the cheesecake. Using the smaller slices towards the centre.
Cheesecake can be made the day before serving undecorated. Decorate cheesecake with cream and mango the day of serving.
GENERAL COOK'S NOTES
All oven temperatures are fan-forced, increase the temperature by 20 Deg C (70 Deg F) for convection ovens.
All measurements are Australian tablespoons and cups. All measures are level, and cups are lightly packed unless specified.
1 teaspoon equals 5ml
1 tablespoon equals 20 ml (Nth America, NZ & UK use 15ml tablespoons)
1 cup equals 250ml (Nth America use 237ml)
4 teaspoons equal 1 tablespoon
I use the below unless specified in my recipes.
Herbs are fresh | Vegetables are of a medium size | Eggs are roughly 60 grams in weight (large)
NUTRITIONAL INFORMATION BELOW IS A GUIDE ONLY
Nutrition
Calories:
558
kcal
Carbohydrates:
36
g
Protein:
6
g
Fat:
44
g
Saturated Fat:
24
g
Cholesterol:
160
mg
Sodium:
391
mg
Potassium:
172
mg
Sugar:
24
g
Vitamin A:
1430
IU
Vitamin C:
0.2
mg
Calcium:
81
mg
Iron:
3.2
mg
Did You Make This Recipe?
I do a happy dance when people share how they went. Tag me on Instagram or Twitter @bellyrumbles & #bellyrumbles