Mitzo Restaurant and Bar Singapore is the perfect yum cha escape from hectic shopping on Orchard Road. They do a mean cocktail too!
Mitzo was the first restaurant that I booked before leaving Sydney on my recent trip to Singapore. It was all about the yum cha. Though I am lead to believe they have a creative and scrumptious a la carte menu, it was all about the yum cha for me.
When I was researching where to eat in Singapore Mitzo kept popping up in the good old Google search. I had read good things. Seen some pretty cool looking food photos on social media as well as a couple of blog posts. I could book online with Chope (it's a Singaporean thing). I was sold and booked a Saturday brunch yum cha session.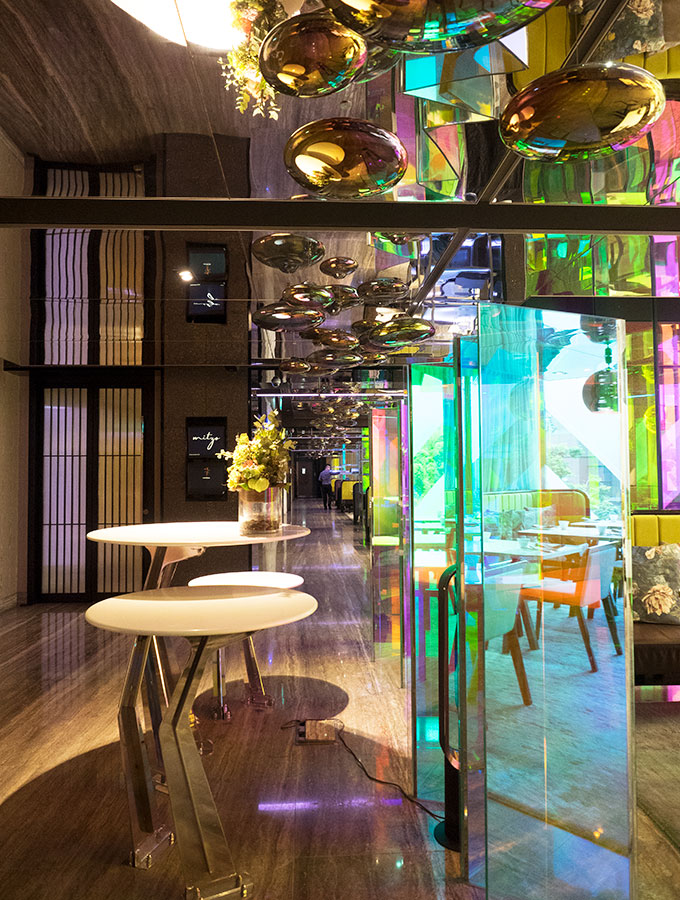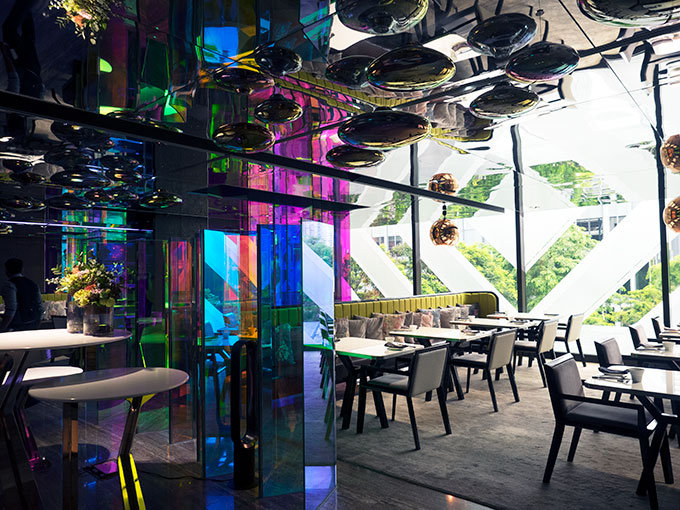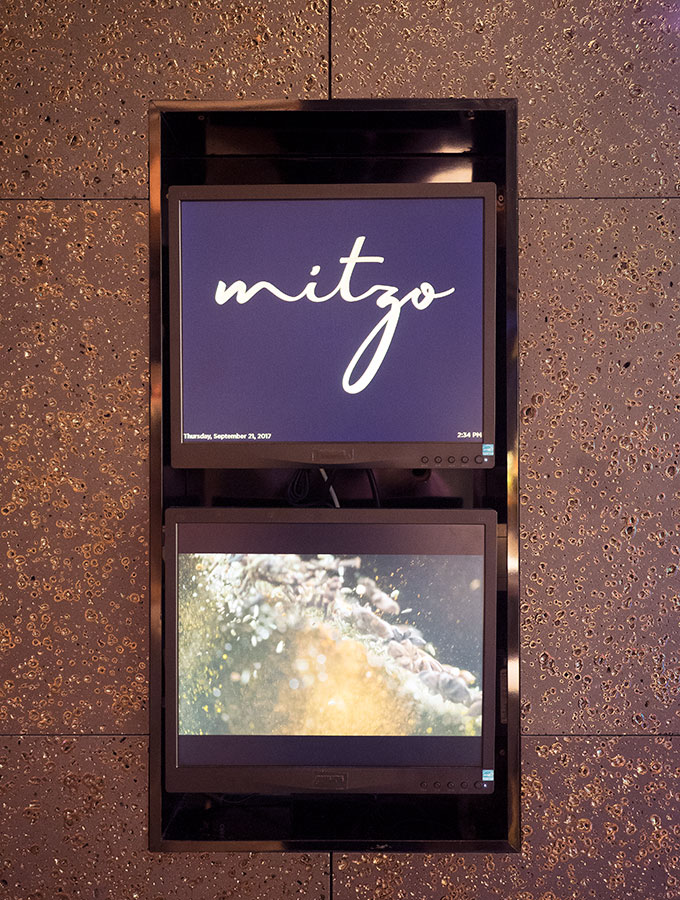 The bonus is that Mitzo Restaurant and Bar is located within the Grand Park Orchard Hotel on Orchard Road. A hop, skip and a jump from where we were staying.
Saturday brunch at Mitzo is a bit of a different pace to dinner. I was advised it was also a slower affair than the all you can eat yum cha fest they offer on Sundays, with free flowing sparkling wine. No, Saturday is a quiet and sedate affair.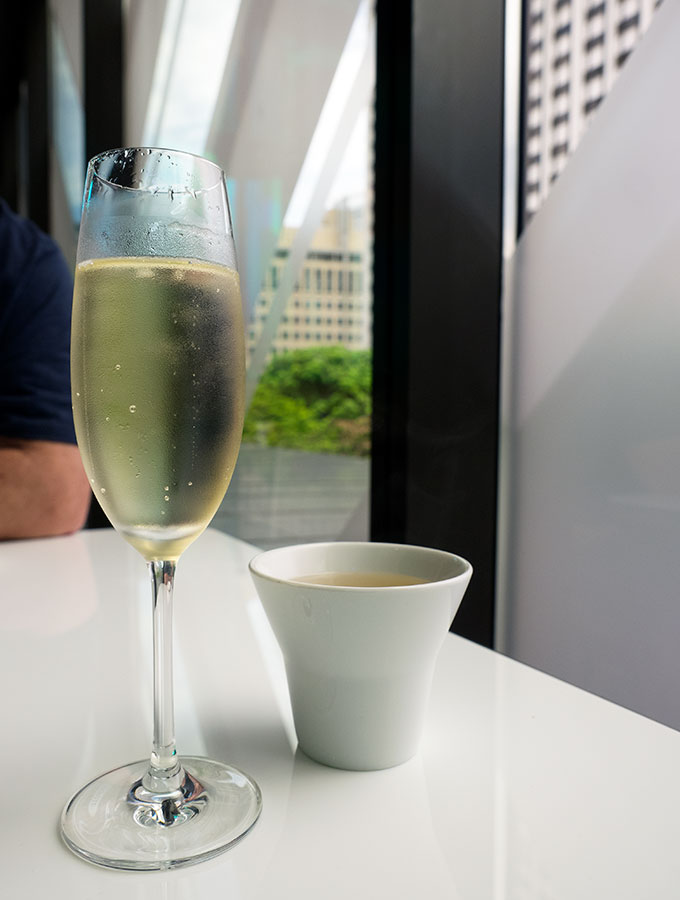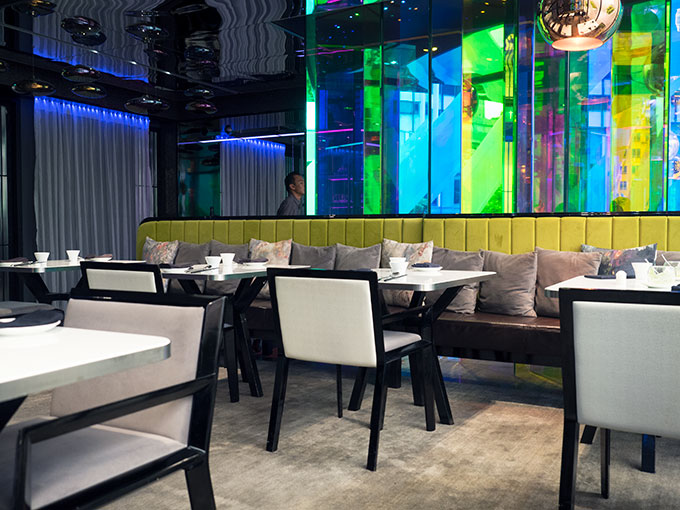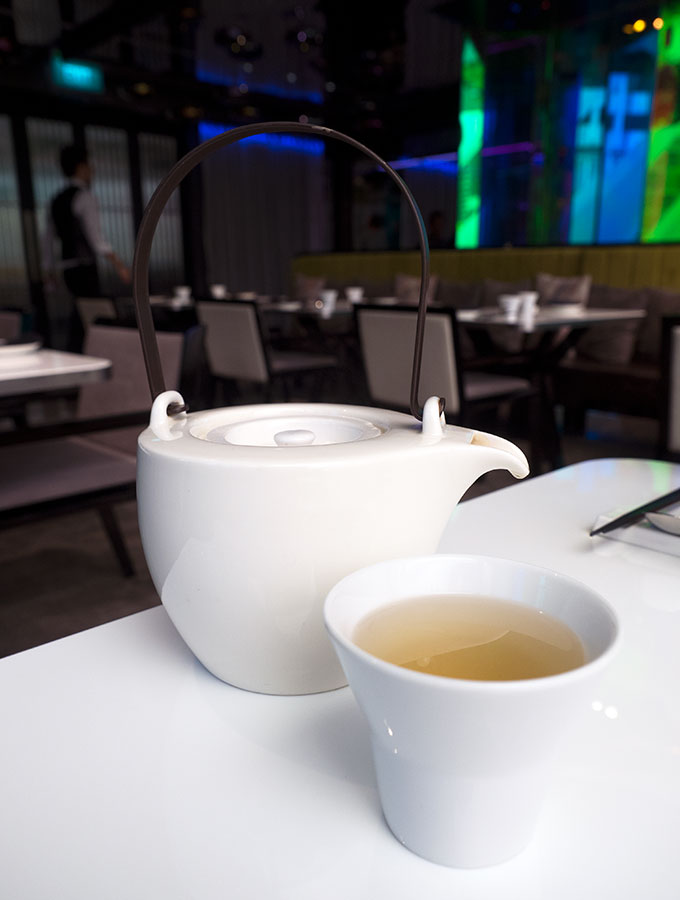 This completely worked in our favour, as I could add a very special Mitzo dish to our yum cha set menu. A dish that they only prepare a few serves of a day.
The Mitzo yum cha set menu is S$28/person. The set menu includes soup plus three choices from their yum cha menu (2 pcs per choice), and dessert of the day. There was an additional special dish we could have added to our set menu, lobster claw with prawn (+S$10), plus a small selection from their general menu.
There was also a special drinks offer when we visited, two for one cocktails. I order a glass of champagne not realising that it extends to this as well. It was a pleasant surprise that another came along half way through our meal.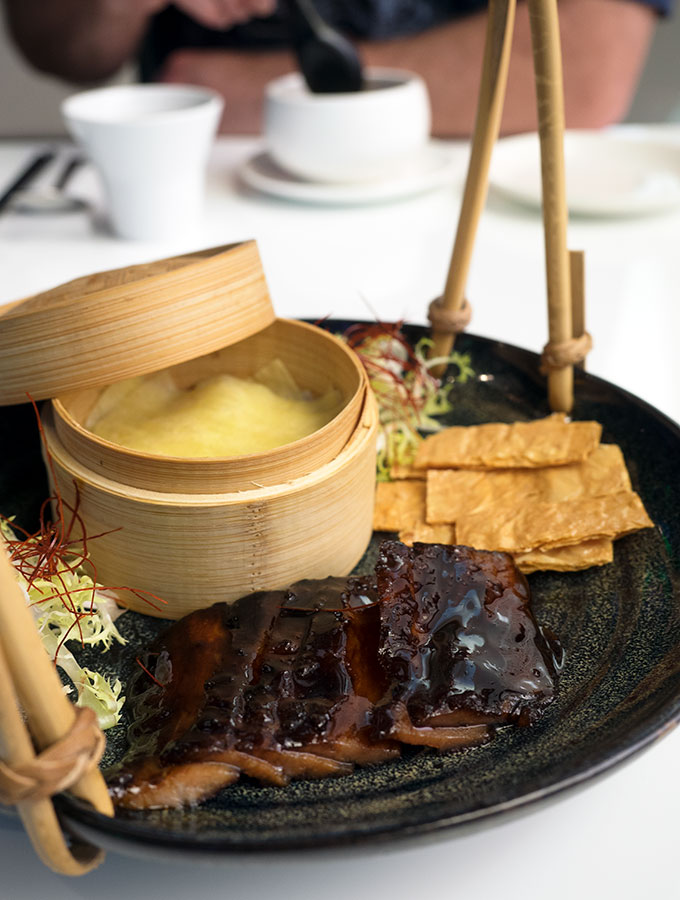 We start our yum cha feast with that special menu item I mentioned earlier, Mitzo Special Barbeque Pork (S$18). The BBQ pork is unlike any other, it is glazed in a coffee syrup. It's quite magical. I sat there dissecting every mouthful to work out the flavours of glaze/sauce. The waiter later confirmed my thoughts that it is a combination of coffee, maple, soy and a little oyster sauce in there too. Of course I am sure there is more to it than that.
The thin slices of sticky galzed pork are served with thin crunchy tofu tiles and pancakes. It's different combination to what I am use to with BBQ pork pancakes, but it goes so well. The tofu adds a lovely crunch against the tender and lip smacking pork. This is my favourite dish of our meal.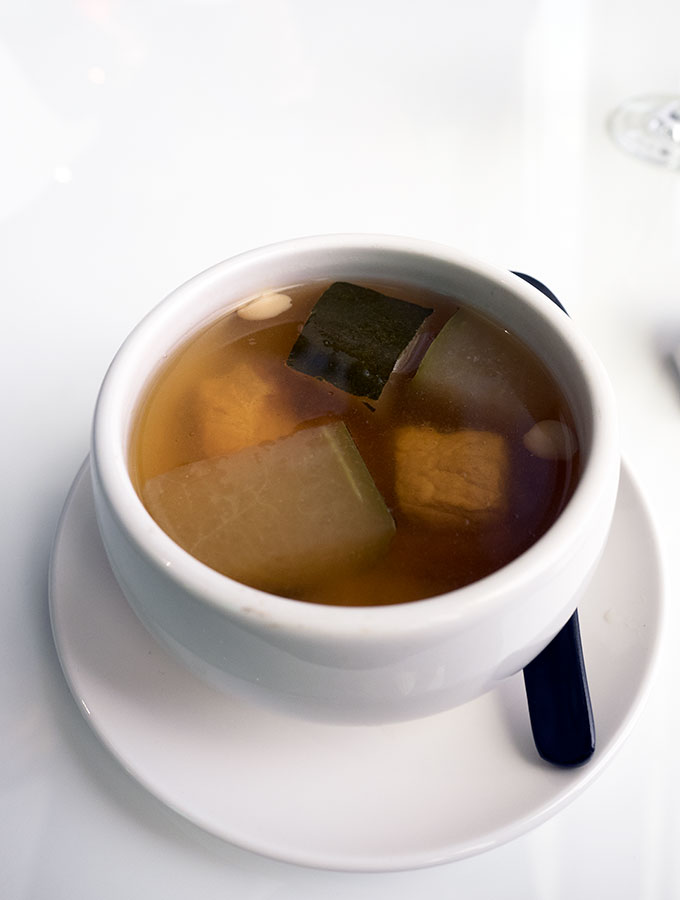 After our special order our set menu starts in earnest. First off is the double boiled winter melon soup.
Then the dumplings start to arrive. As there are two of us having the set menu we have a selection of six different dumplings between us.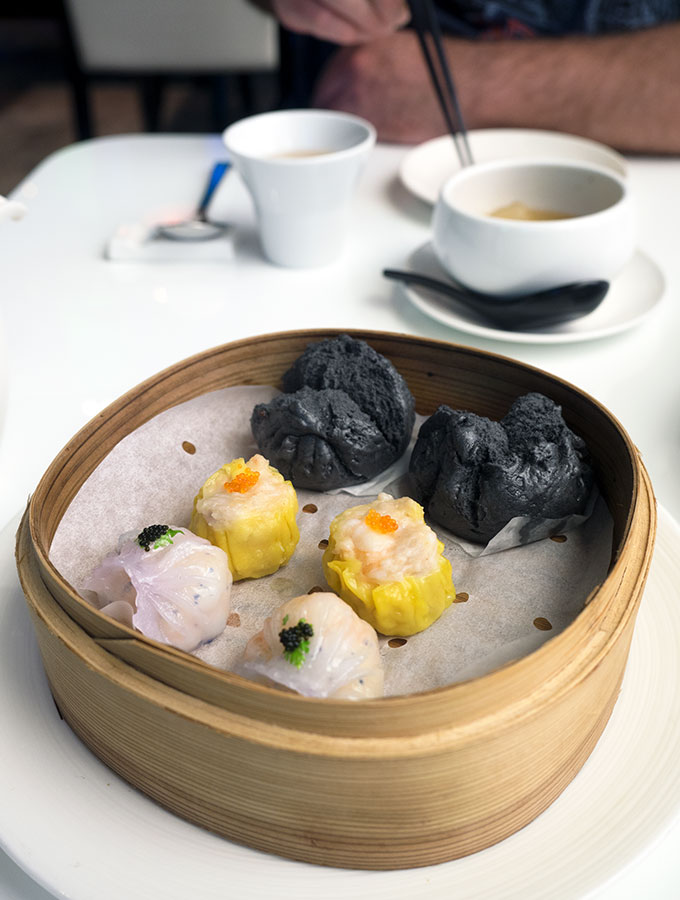 Our steamed selection turn up together in a large bamboo steamer basket. Royal Shrimp (prawn) Dumpings with Black Caviar, Steamed Shrimp (prawn) and Pork Dumplings and Charcoal Barbecued Pork Buns. Both the shrimp (prawn) dumplings are tender tasty mouthfuls, which are expertly formed. The charcoal barbeque pork buns are on the small side but are filled with a enticing sweet bbq pork filling. The charcoal of the buns really is for colour purposes only.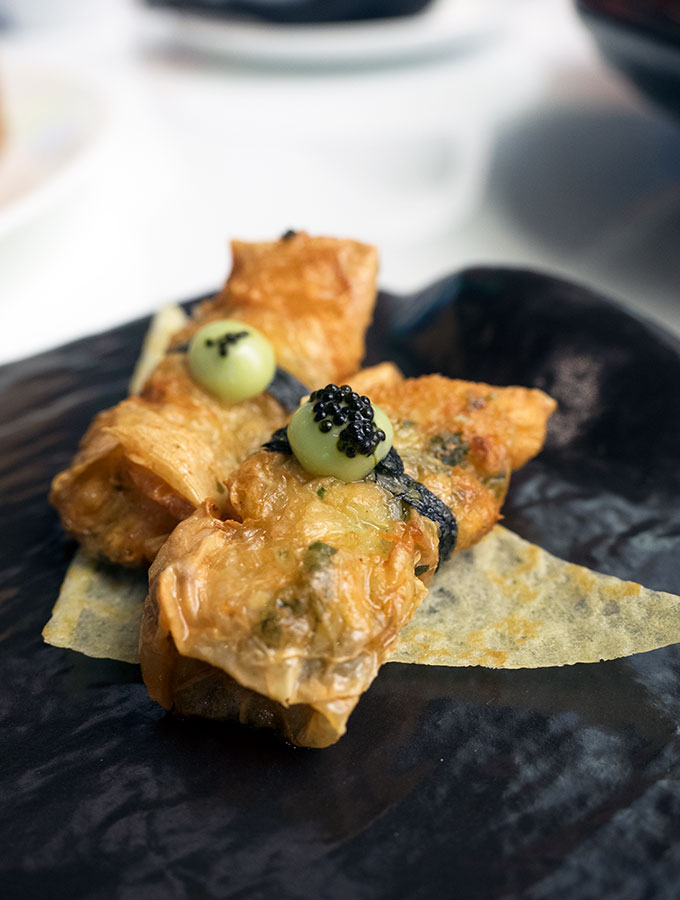 Deep fried Crispy Beancurd Prawn Rolls, are as they sound. Flavourful prawn filling is wrapped in paper thing beancurd sheets.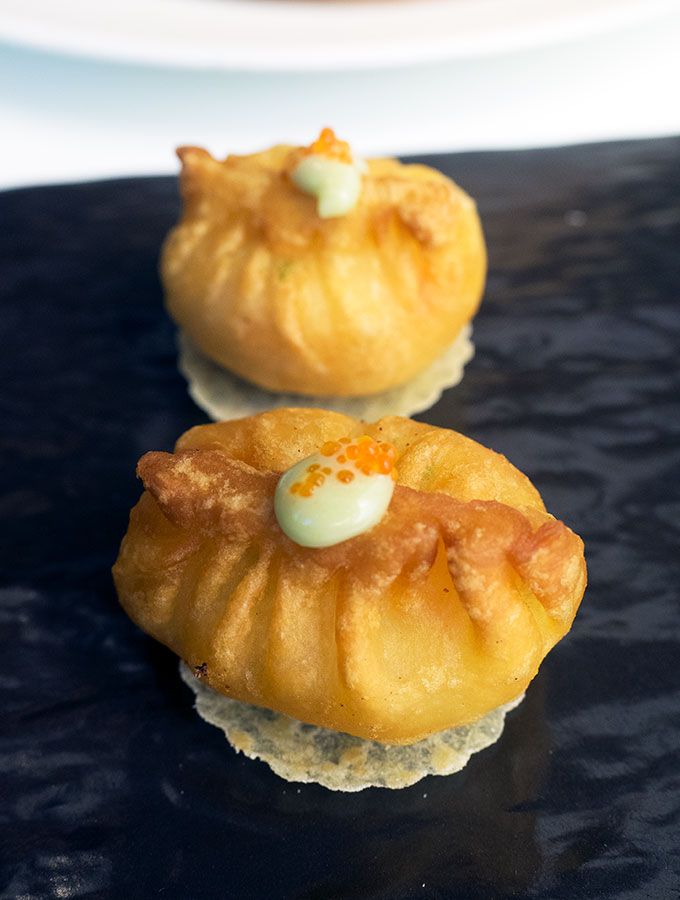 The fried Prawn Dumplings are topped with wasabi cream and orange roe. They are packed full of tender juicy prawn filling, the dumpling casing thin and crisp.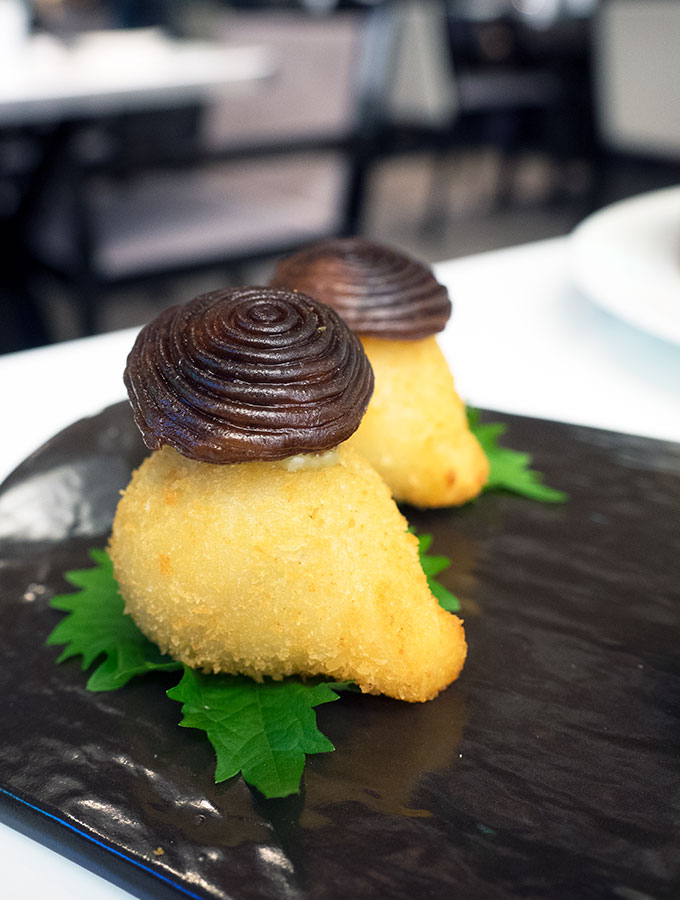 The Escargot Cheese Puffs win the award for the cutest dumplings of the day. Yes they do have snails and cheese inside the deep fried puffs, and they are delicious.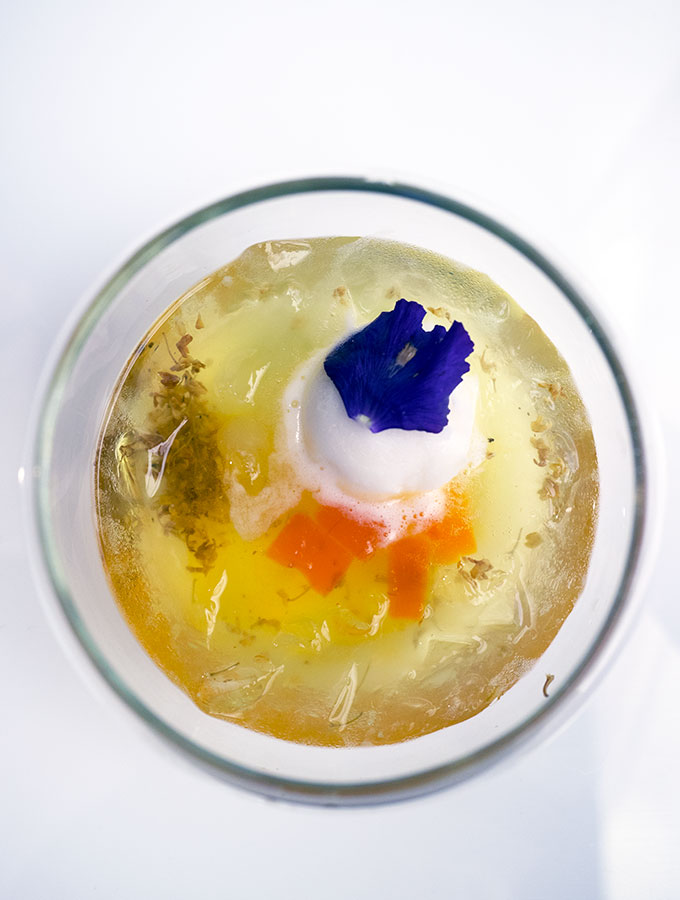 Dessert of the day when we visit is Lychee Sorbet with Chrysanthemum Jelly. The dessert has a sweet refreshing herbal taste. The lychee comes in the form of molecular gastronomy pearls along with the sorbet.
Dining on a Saturday lunch we had a very chilled and relaxed experience., with only a couple of other people dining at Mitzo at the time. Service was friendly and attentive, while giving us space to enjoy ourselves. It is definitely the spot to take a nourishment break while hitting the shops on Orchard Road.
Sara xxx
Must try dish: Mitzo special bbq pork
Who should dine here: It's great for groups, couples and family feasting
Who shouldn't dine here: Nobody really, perfect for all
What else you should know: Get there early for to order their special dishes with a limited number of servings
Price: Set yum cha lunch S$28, Sunday all you can eat S$68 + champagne
BYO: No
Bookings: Yes, highly recommended
Opening hours: lunch 12-2.30pm, dinner 6.30-10.30pm, supper 6.30pm-1am
Contact details: Level 4 Grand Park Orchard, 270 Orchard Road Singapore 238857, Tel +65 6603 8855
Other Dining Options for Singapore
Ce la vi - the best rooftop views in Singapore
Nami Restaurant & Bar - Teapot Soup with a View.
Best Buffet Breakfast in Singapore - Live stations and food galore, you will be waddling out.