Shangri-La Hotel Singapore is a tranquil oasis in the heart of the hustle and bustle of Singapore. A breath of fresh air, an escape after a hard day shopping or sightseeing
The main shopping area of Singapore, where many tourists decide to call "home" during their stay, is a bustling place. Your days are spent shopping and sightseeing, usually in hot humid weather. Sure you can stay at one of the hotels directly on the main strip, Orchard Road. But wouldn't it be nicer to retreat to your own oasis within walking distance from the hustle and bustle?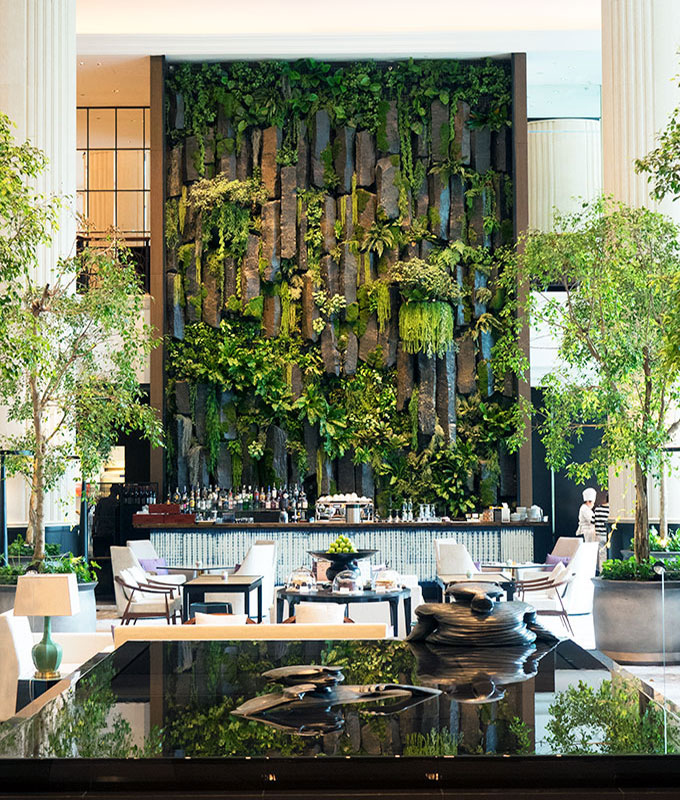 That's what we decided to do on our recent trip to Singapore. For Mac and my recent three night stay in Singapore, we called the tropical oasis of the Shangri-La Hotel home.
What makes the Shangri-La Singapore different from other hotels in the city are the sprawling grounds and gardens. There is plenty of room to find a quiet space to relax. It was so lovely to come back to after a day of walking and discovery.
I have so much to share with you. There will be a couple of focus articles in the next couple of weeks where we share our fabulous dinner at Nami restaurant, the delights of the newly renovated Horizon Club, and the extensive buffet breakfast at The Line restaurant.
As Belly Rumbles is a "Culinary Adventure" we do like to focus on the edible aspects of travel. It's a good thing, like all Singaporeans, that the Shangri-La Hotel Singapore takes its food very seriously.
Grab a coffee or a tea, and come for a virtual walk through of the tranquil five star Shangri-La Hotel Singapore with me.
Checking in at the Shangri-La Singapore
I think the best place to start our tour, is the first port of call for anybody who stays, the lobby. The Shangri-La Tower Wing Lobby has been newly renovated, and they have done a magnificent job with the matriarch of all the Shangri-la hotels. Did you know that Shangri-La's Singapore hotel is the original hotel in the chain? She opened in 1971, and even though still grand, it was time to freshen her up and bring her into the 21st Century.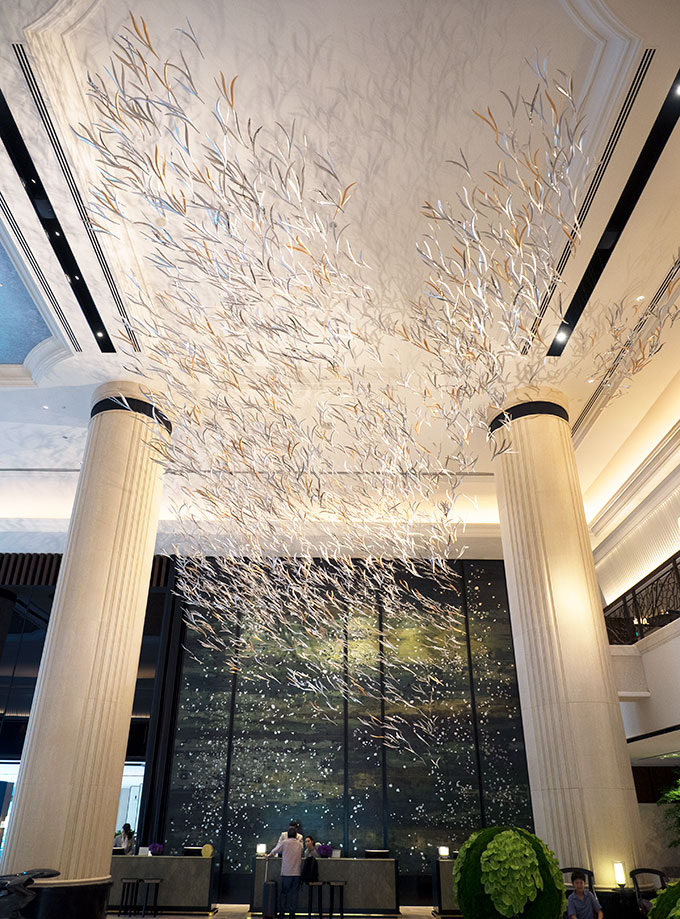 As you walk toward reception you can't miss the Tree Canopy ceiling art installation. A stunning piece of swirling metallic leaves seemingly floating and falling above the lobby floor. Created by husband and wife team Hirotoshi and Nami Sawada of Studio Sawada it adds elegance and movement to a vast space.
Be careful not to trip over one of the "squashed kids" while being captivated by the Tree Canopy. Around the lobby you will find six sculptures of flattened children by Korean artist Yi Hwan Kwon. They are such a talking point and add a sense of playfulness to the area.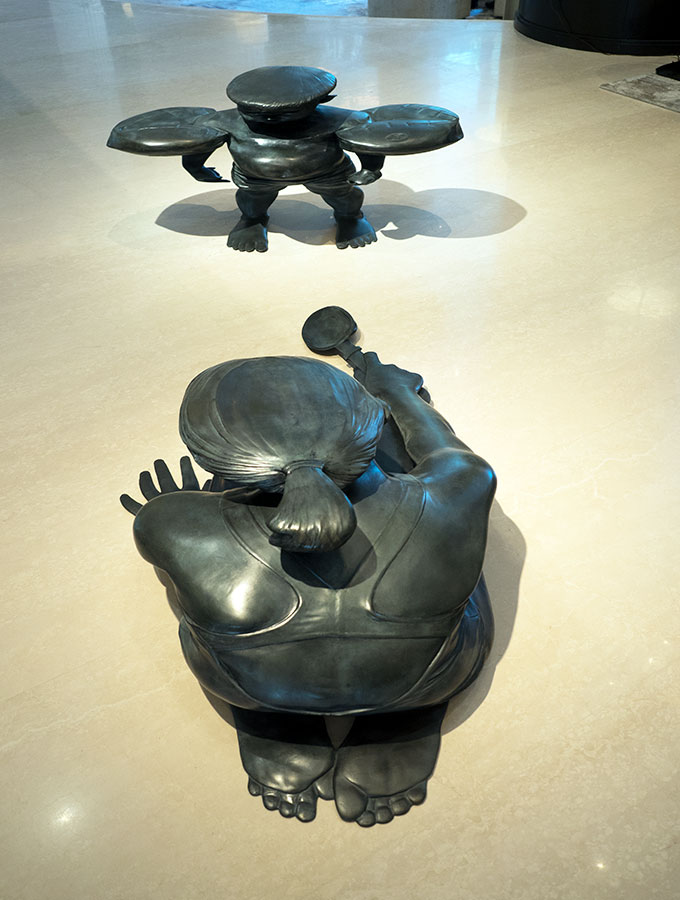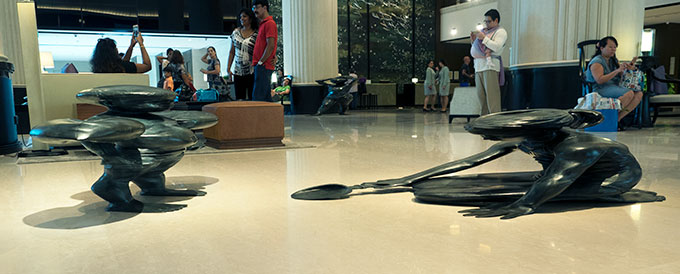 Most people check in at the lobby on the ground floor. If you are staying in one of the Horizon Club rooms make your way directly to the lifts and up to the Horizon Club on level 24 to check in.
Horizon Club Deluxe Room, The Tower Wing
We stayed in the newly renovated Tower Wing of the Shangri-La Hotel Singapore, in a Horizon Club Deluxe room. The room was bright and airy with views through the floor to ceiling windows overlooking the vast green lawns, the Orchid house, the hotel's pool and Singapore's extensive skyline. The succulent plants dotted around the room added such a lovely organic touch.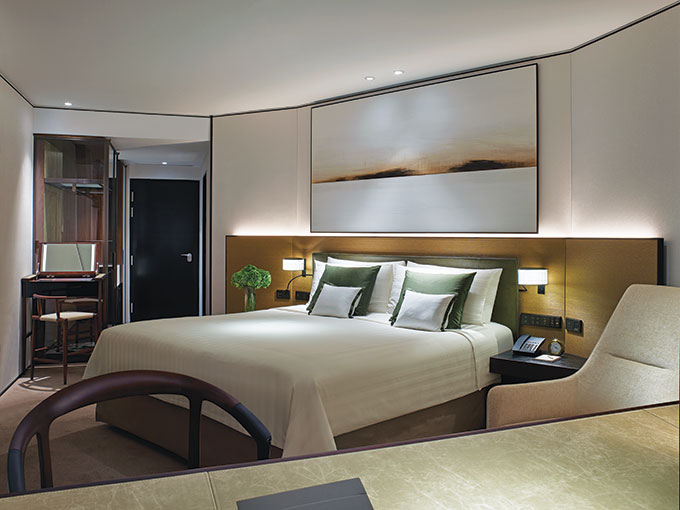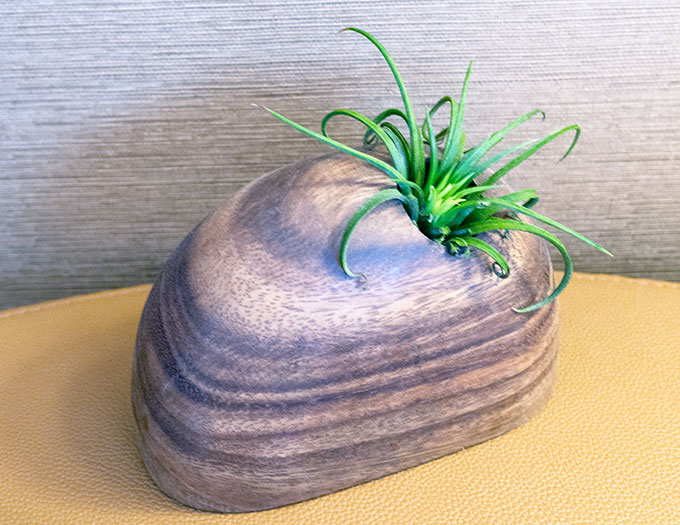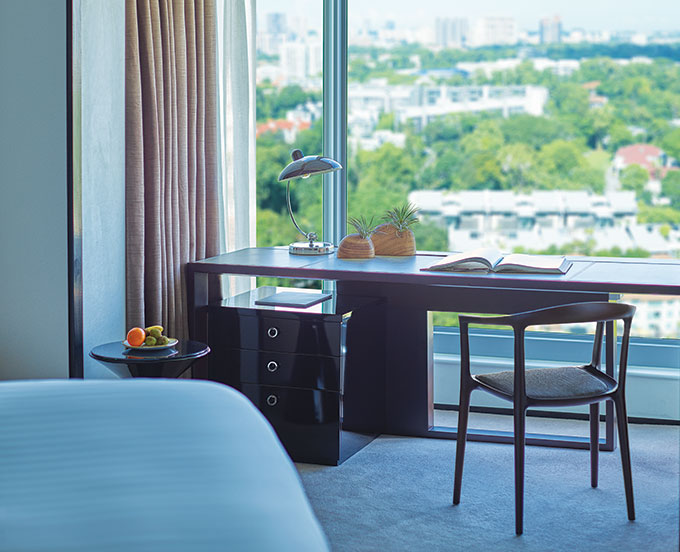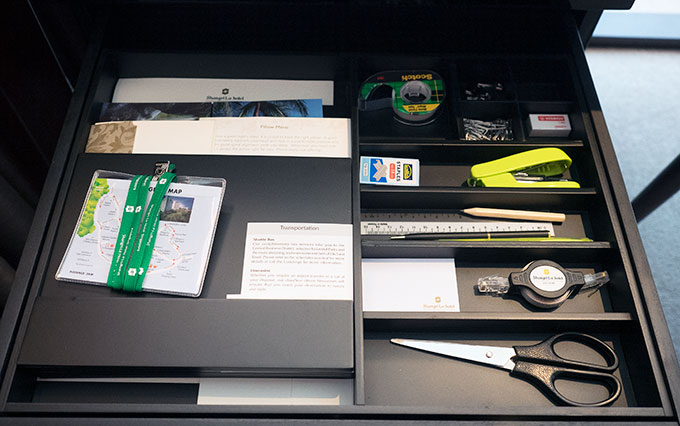 The room had all you would need for a stay, big comfy king size bed (with turn down service in the evening), work desk with stationery supplies, mini bar, large flat screen television, comfy armchair and footstool.
The mini bar fridge was well stocked with juice, soft drink, green tea, mineral water, white wine, champagne. There was also a draw of goodies if you were feeling peckish. As well an ample supply of complimentary bottled water.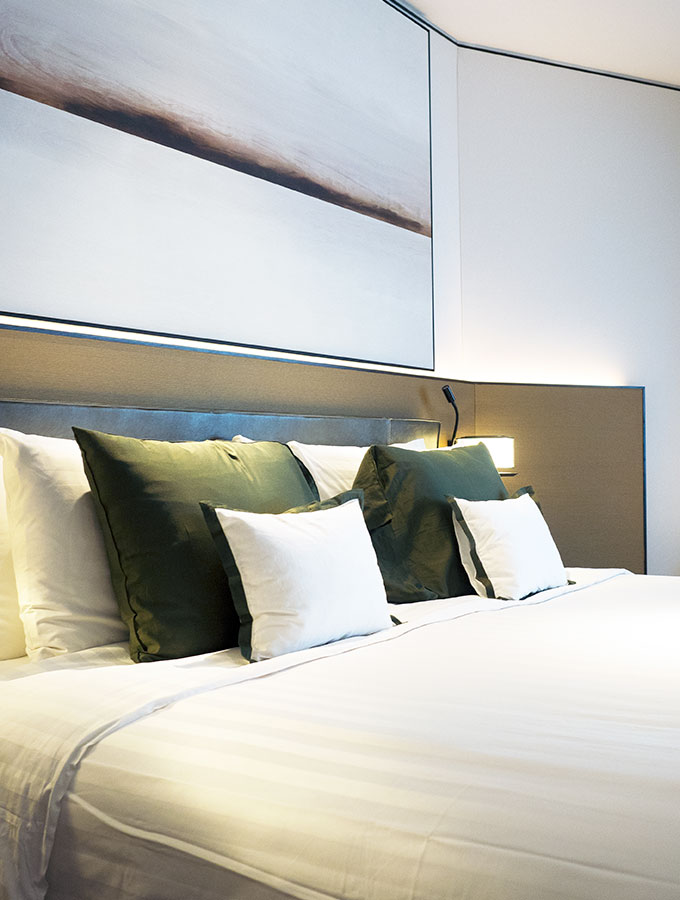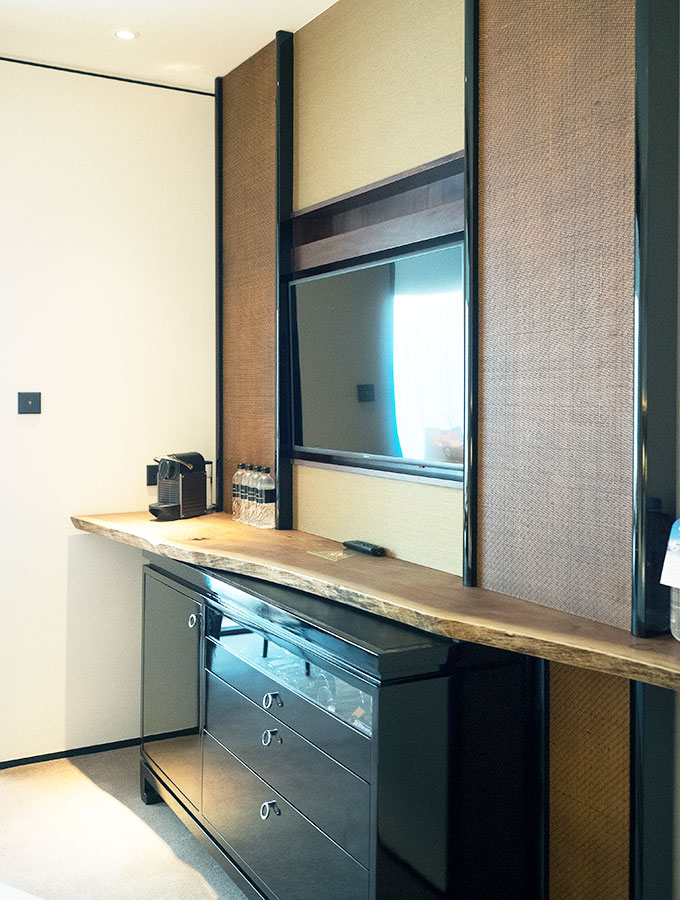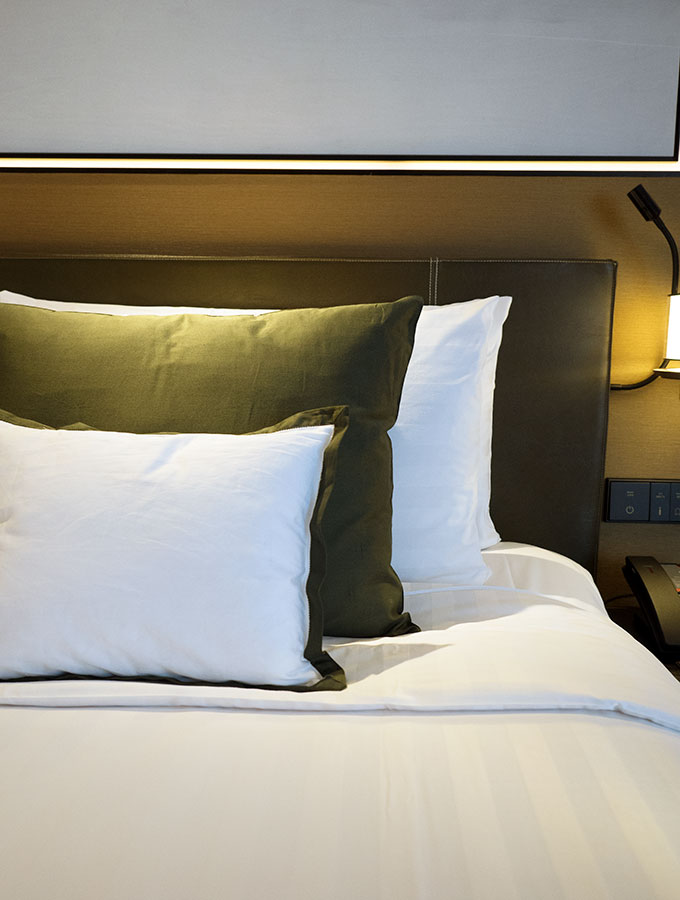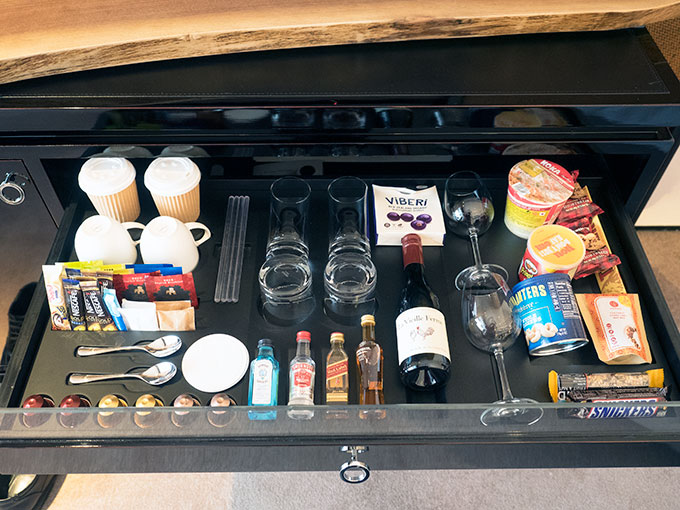 Lighting and curtains are all managed on a central control panel next to the bed. At a touch of a finger, you can draw the curtains with your head on your pillow.
The marble clad bathroom is very lux. There is a decent size separate bath and a large shower, which also has a rain shower. I could have stood under it for hours! Plus there is a retractable line over the bath, one of my favourite things to find in a five star hotel. So handy to hang something if needed, and in Singapore's weather, you may just need it.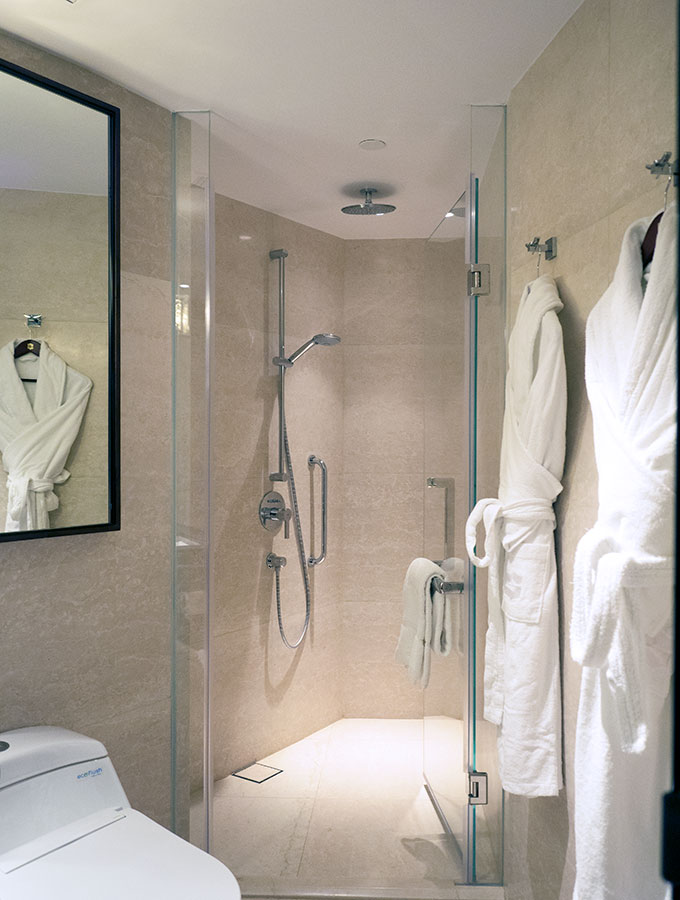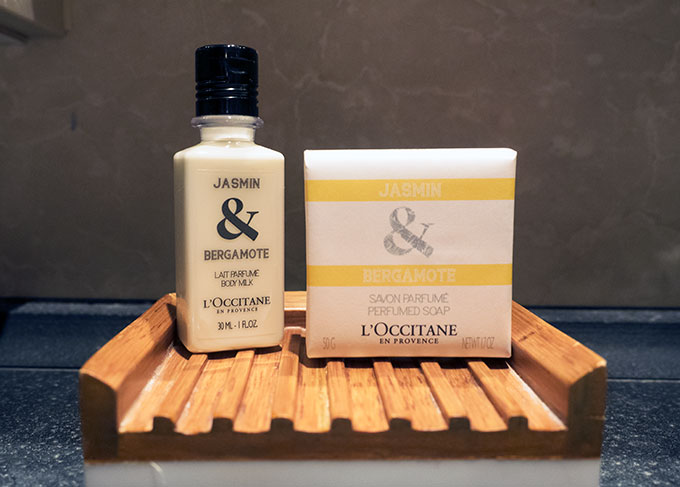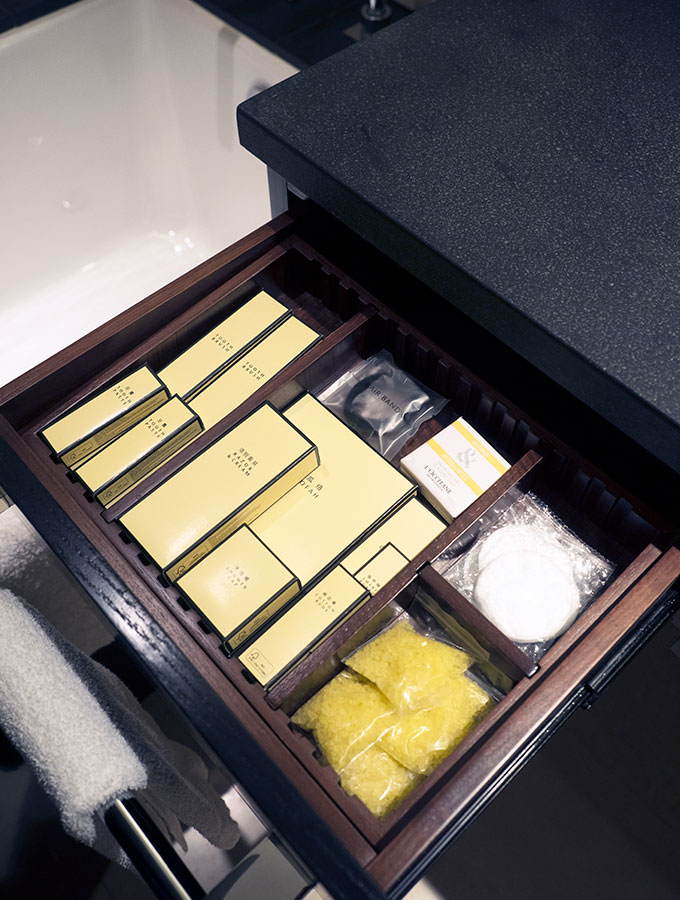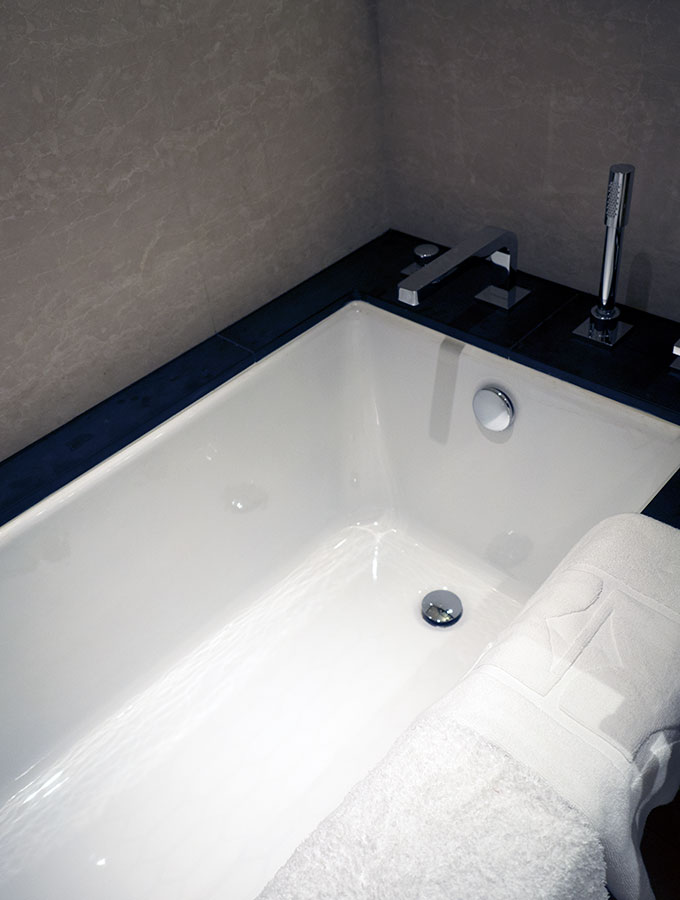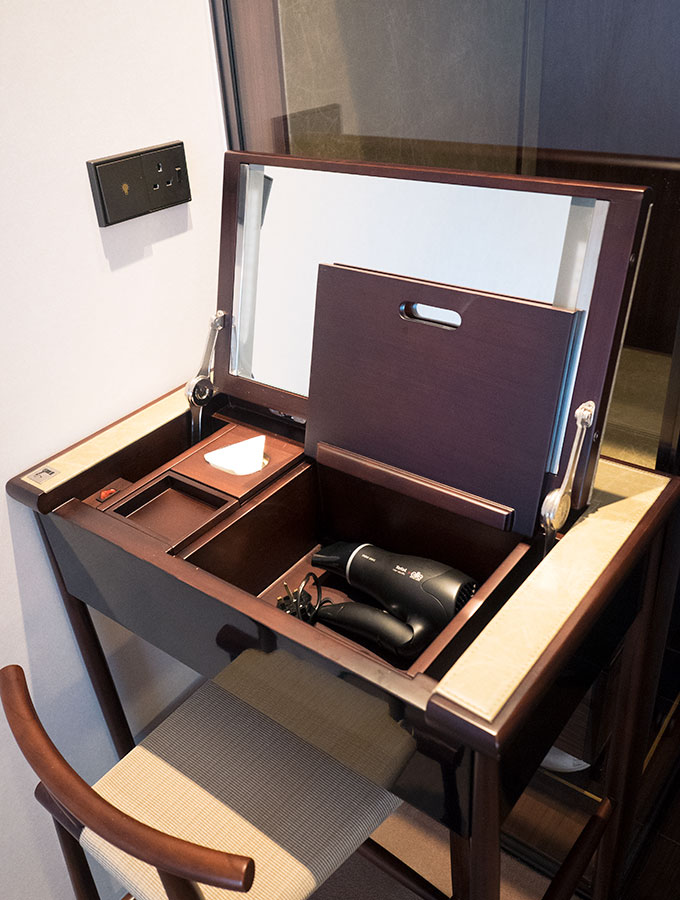 It did take me a while to find the hairdryer. Stupidly I didn't look before I hit the shower, which ended with me with shoulder length wet hair and in a panic. Insider tip, look for it in the desk near the glass wardrobe.
Horizon Club, Shangri-La Hotel Singapore
If you are staying in one of the Tower Wing's Horizon Club rooms, then you will have access to the Horizon Club. The Horizon Club is for those travellers that like a little bit extra with their hotel stay.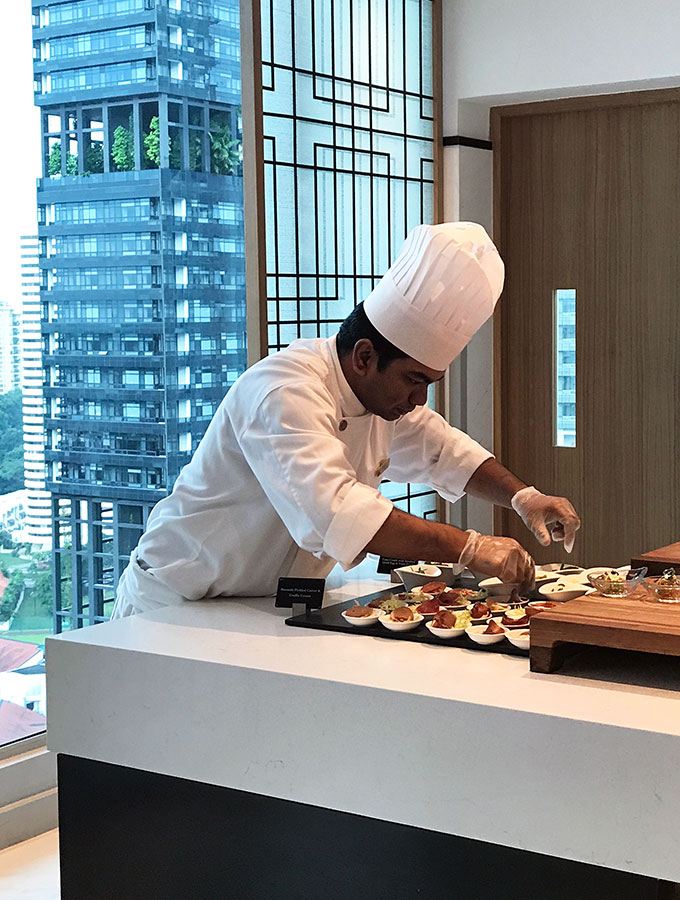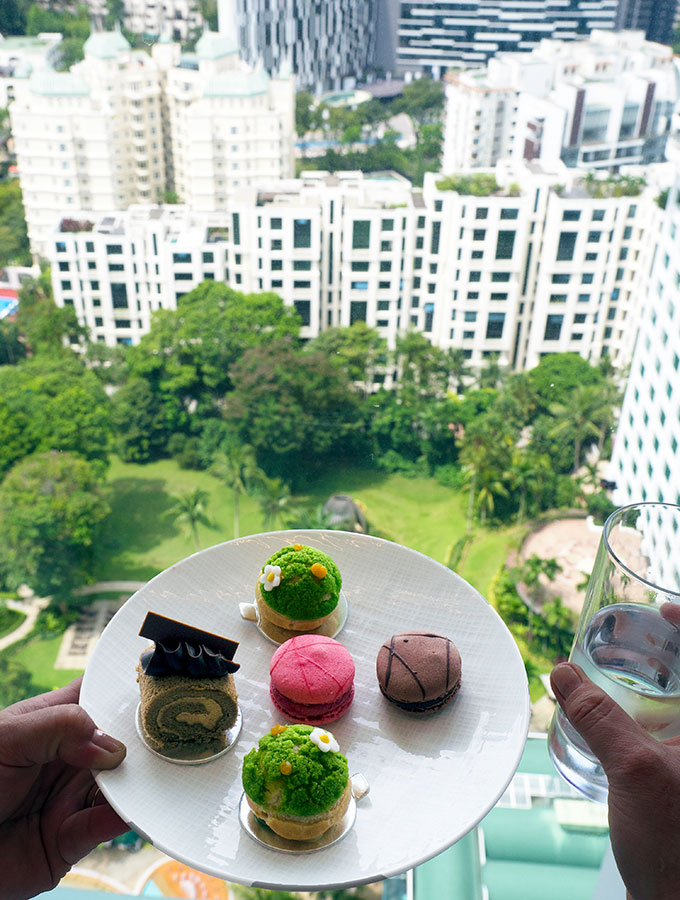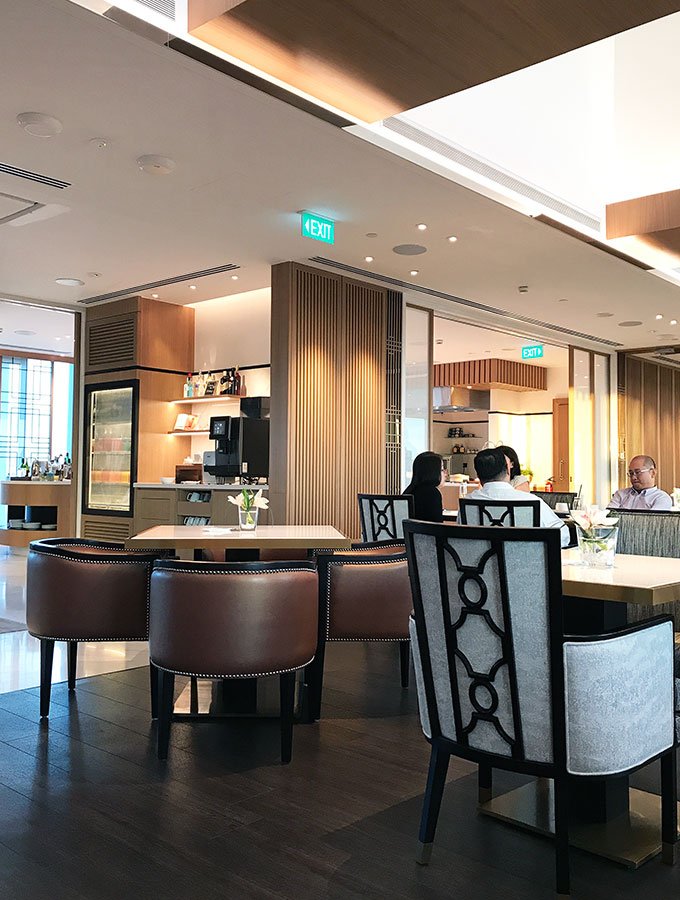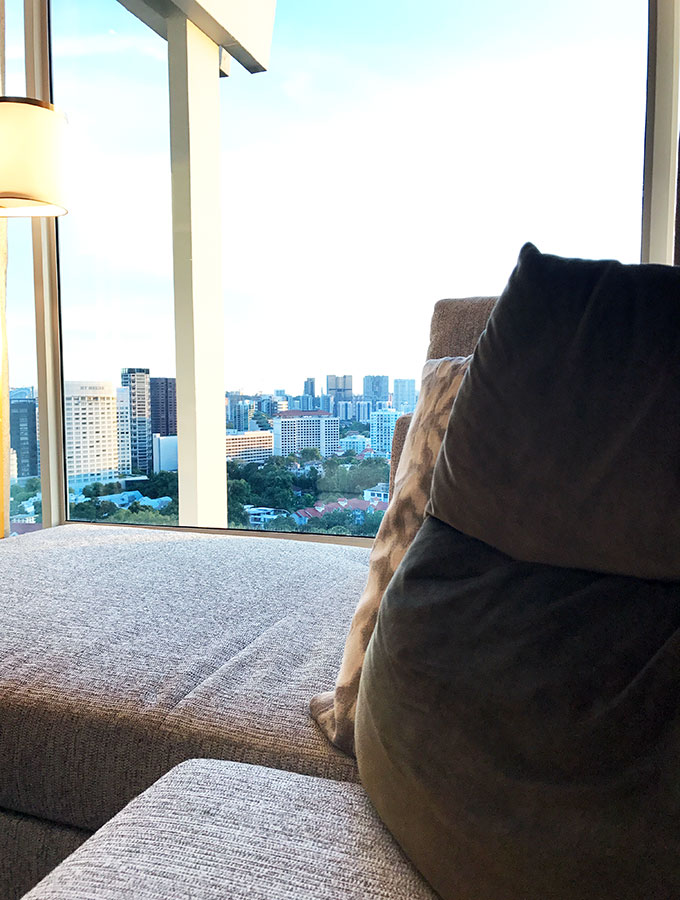 The lounge offers a private place to escape for those staying in Horizon Club rooms (or suites), with extensive views over Singapore. They also offer breakfast, afternoon tea, and evening drinks with canapés as part of your stay. I must admit we took advantage of the canapés a couple of evenings before heading out on the town. The Horizon Club is accessible 24 hours, and you are welcome to come in and grab a coffee, tea or cold drink at any time.
A full review of the Horizon Club coming soon, stay tuned!
The Lobby Lounge, Shangri-La Hotel Singapore
As the name suggests The Lobby Lounge can be found in the lobby of the Tower Wing. I admit I am usually not a big fan of the lounge found in most lobbies of hotels. Not bad for a drink now and again but usually they aren't that inviting and the food is pretty unexciting. It's usually the last resort for me when I can't grab a drink or something to eat elsewhere.
It was a pleasant surprise to find that Shangri-La's lobby lounge was everything but what I have come to expect.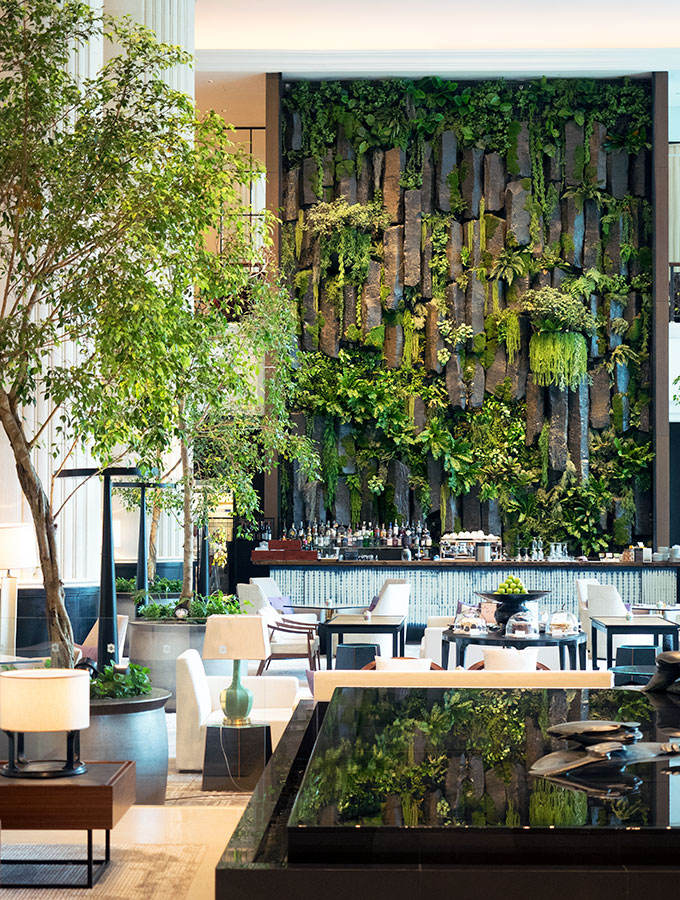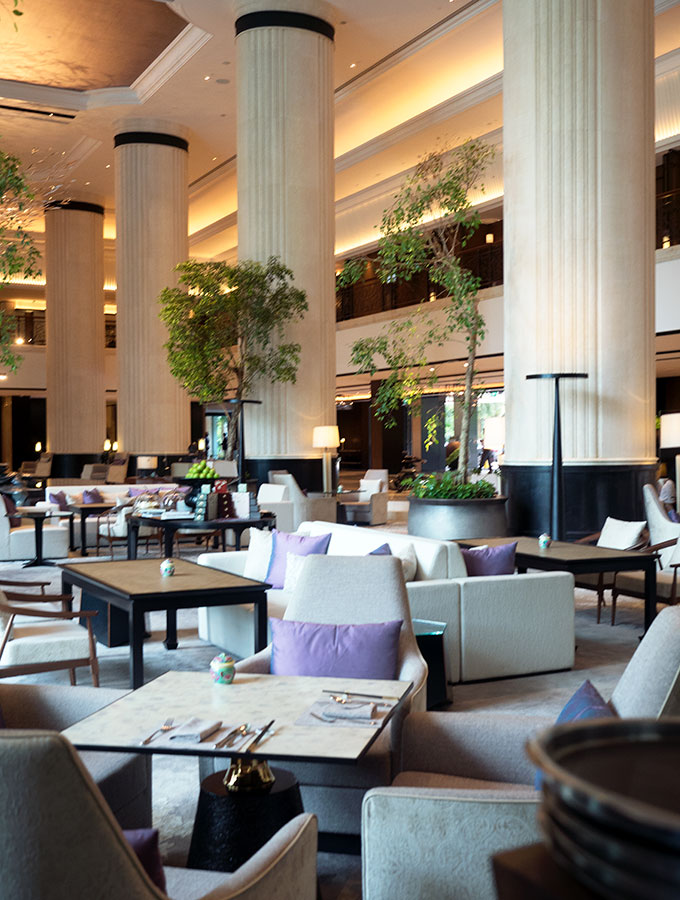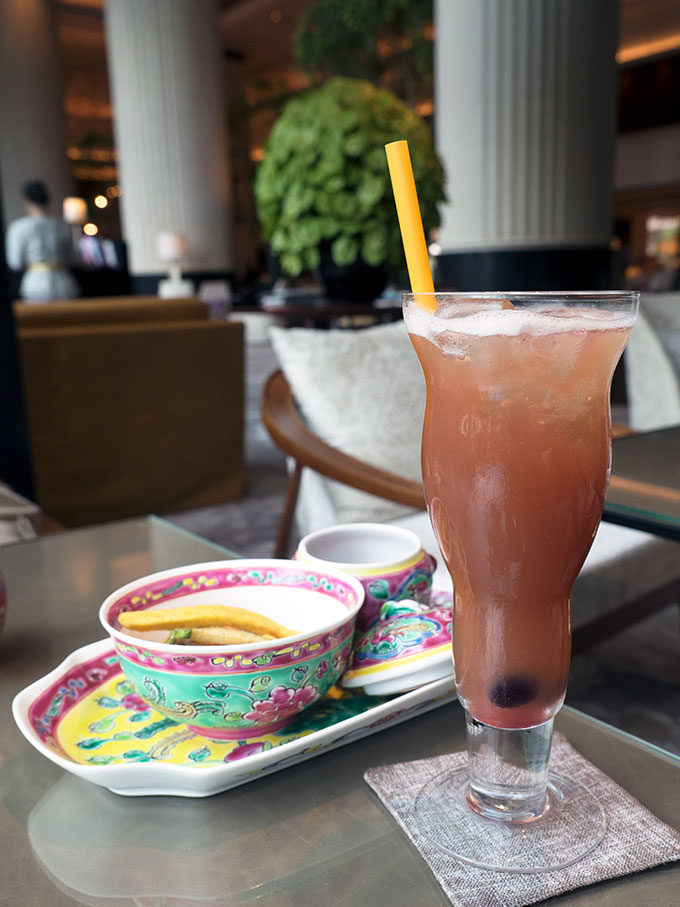 The first thing you will notice is the stunning wall feature behind the bar, a 9 x 6 metres of basalt rock planted with real and artificial plants. It is Southeast Asia's largest indoor natural feature wall created by fellow Aussie Charlie Albone. Charlie is one of Australia's leading landscape designers.
The basalt stones, all 350kg of them, were flown in from Australia. The plants used in the feature are tumbling rabbit's foot fern, jungle and staghorn ferns as well as purple Spanish mosses.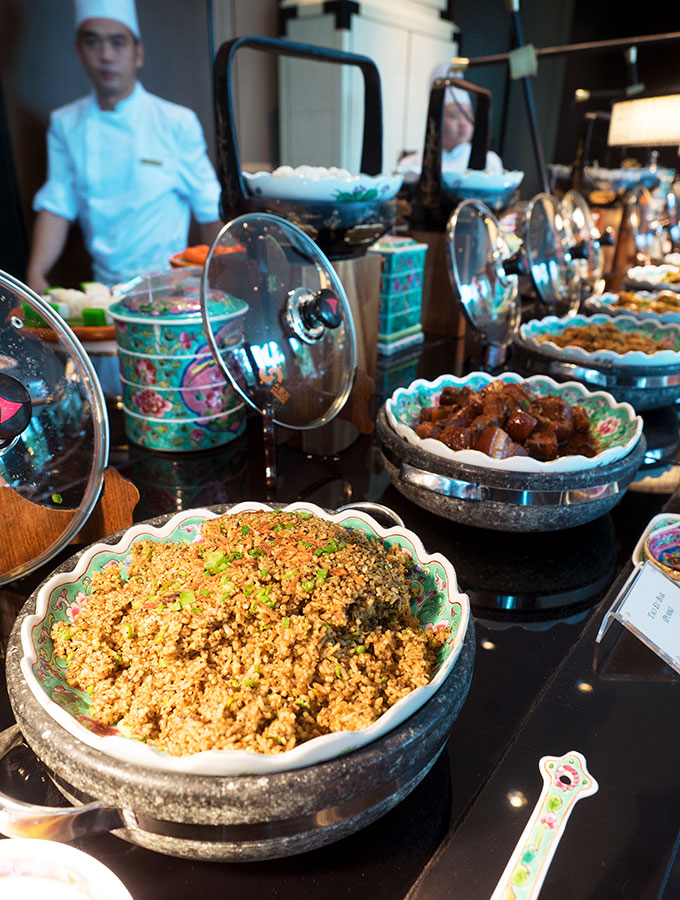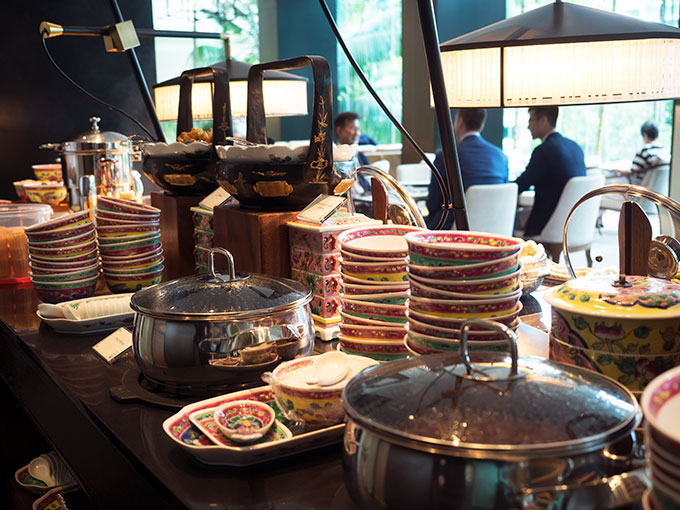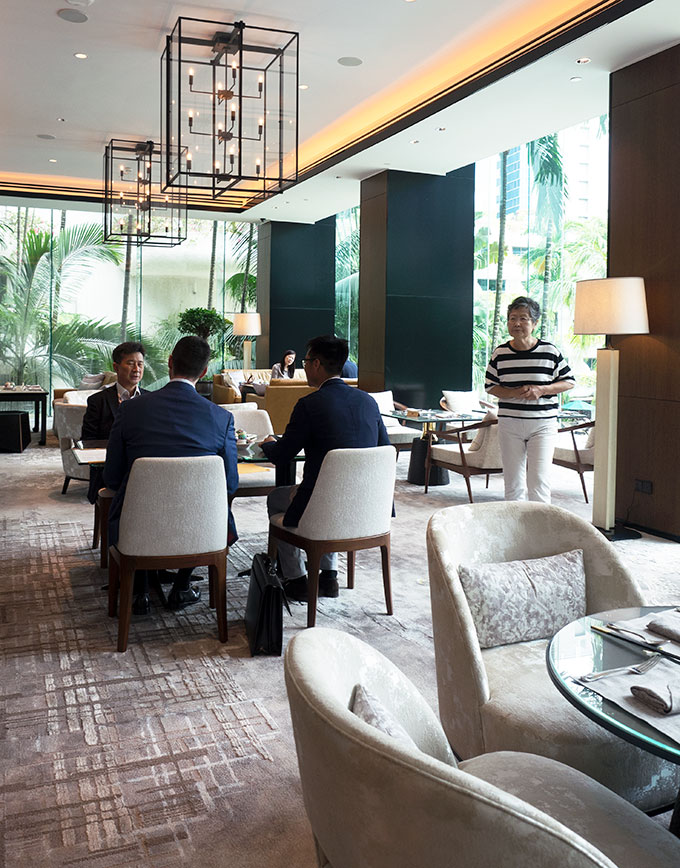 The food on offer in the lounge befits such a gorgeous space to spend time. There are signature dishes based on hawker stall favourites, a three tier signature afternoon tea set and a semi-buffet lunch showcasing local fare. Of course, they also offer a range of snacks like kaya toast, curry puffs and kueh pie tee.
A fun fact! The refined and authentic hawker menu at the Shangri-La Hotel Singapore was curated with the help of Singapore's leading food blogger, Dr Leslie Tay.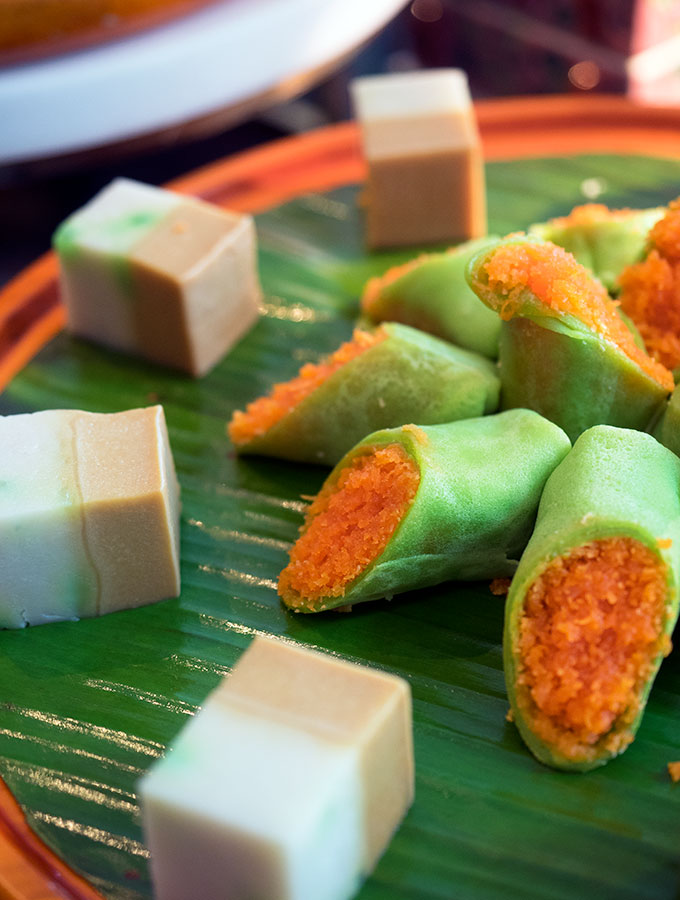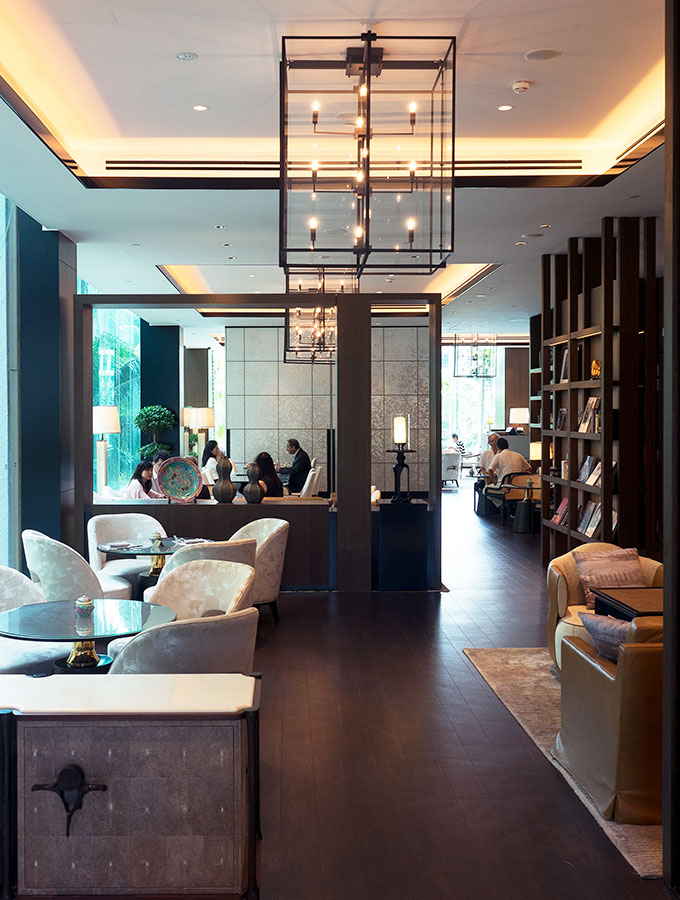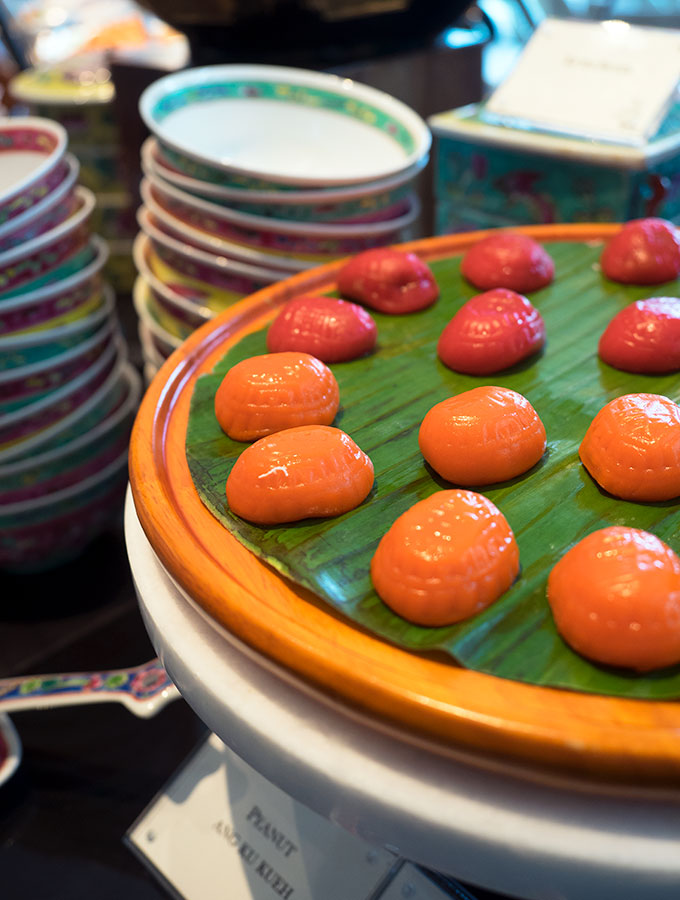 Shangri-La Hotel Singapore's Mooncakes
I did mention that the team at the Shangri-La Hotel Singapore take their food very seriously. This extends to their mooncakes. In passing it was mentioned that the mooncake battle is a fierce one in Singapore during the Mid Autumn Festival. Singapore hotels try to outdo each other with the best mooncakes around town, as well as the keepsake boxes they come in.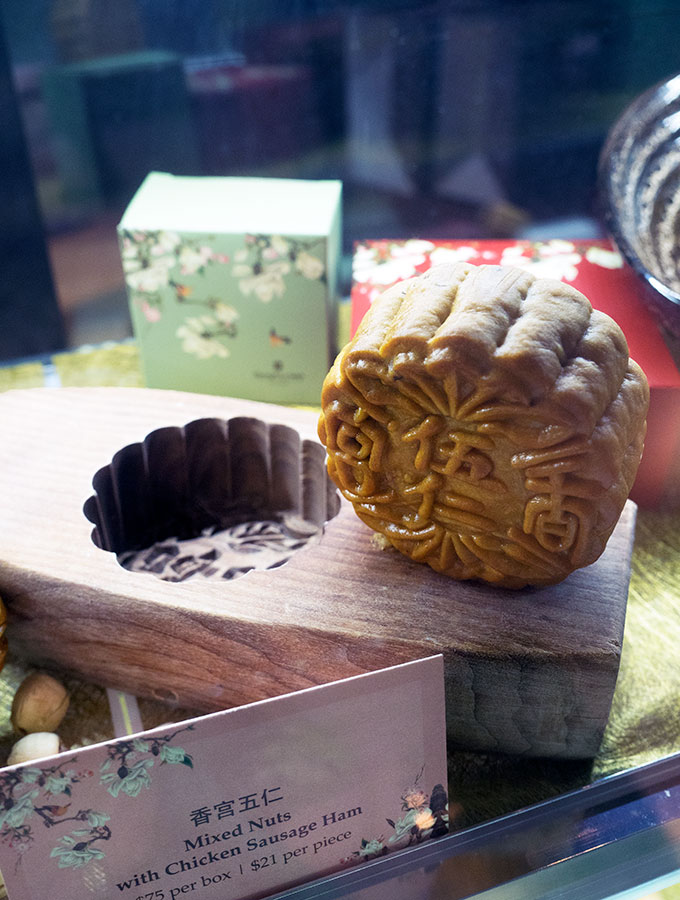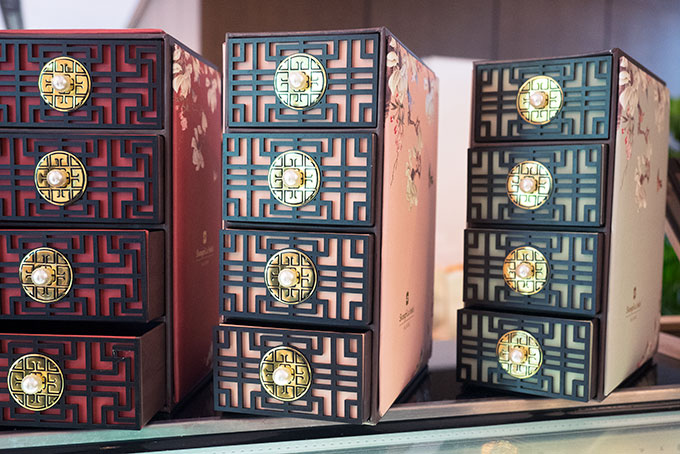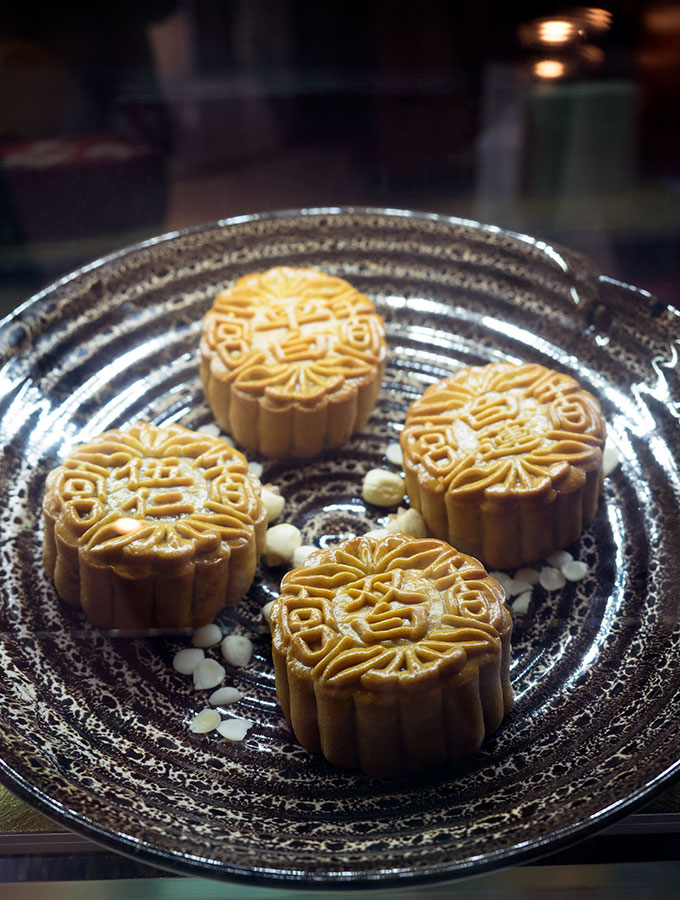 There are two types of mooncakes, baked and snow skin. It is the snow skin mooncakes that really grab my attention with their often creative fillings. This year the Shangri-La in Singapore offered quite a variety of flavours, my picks being chocolate salted toffee and yuzu bird's nest.
The Shophouse, Shangri-La Hotel Singapore
Whilst in the lobby, if you find that mooncakes or eating in The Lobby Lounge aren't for you, then why not check out The Shophouse. The Shophouse offers a "grab and go" selection of freshly baked breads and cakes, drinks and other delicious edible items. They also make cakes to offer.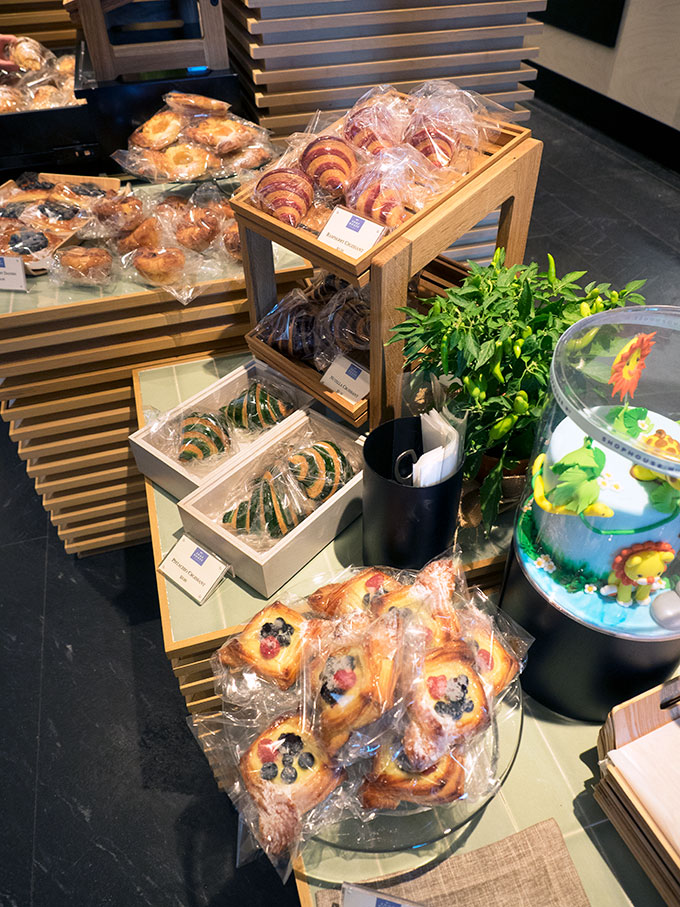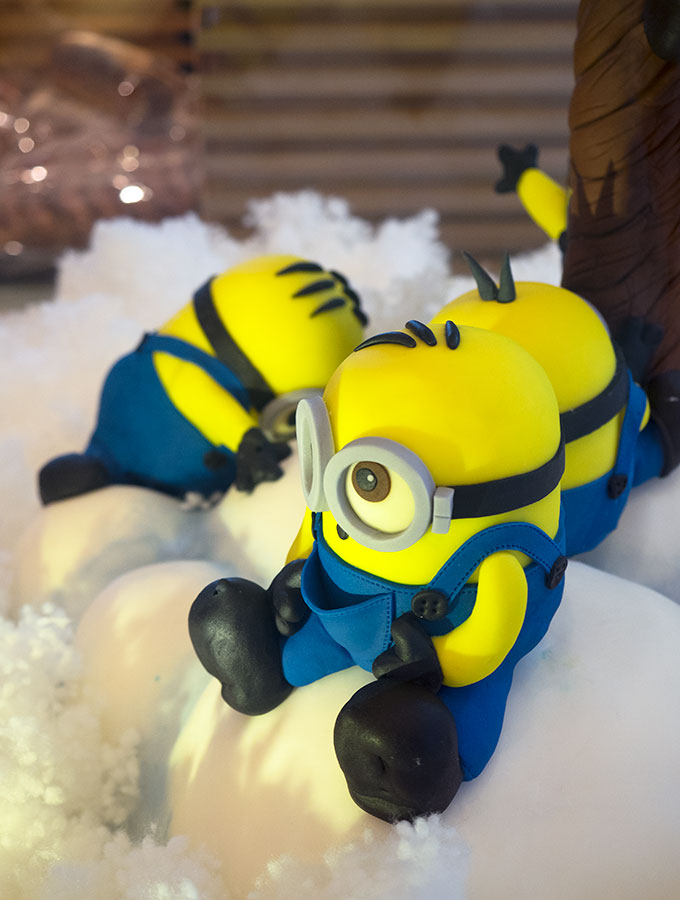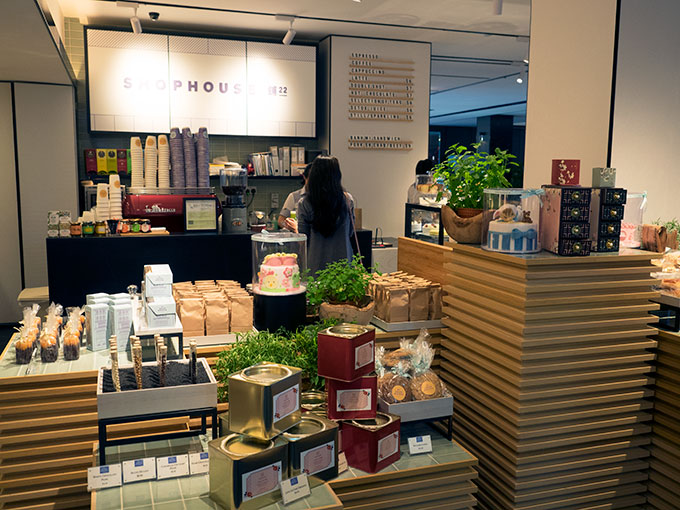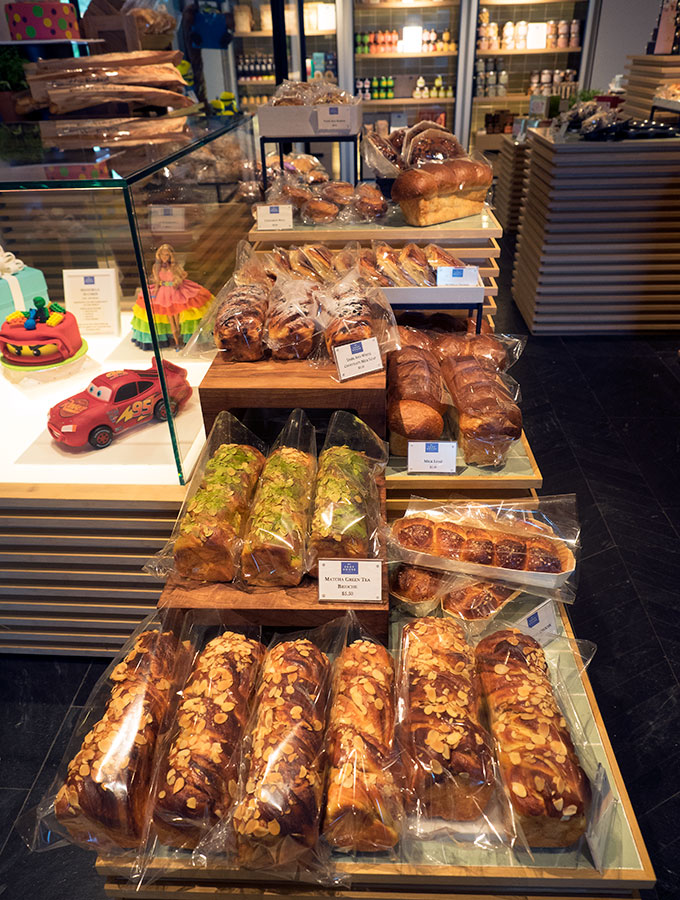 Located next to the main entrance of the hotel, you won't be able to miss it. Even if you aren't feeling hungry it is worth checking out the cakes they have on display. I was in Minion heaven!
More Restaurants, Shangri-La Hotel Singapore
I will be writing about some of these restaurants in more depth later on. But in the meantime, I thought I would give you a small taste of what's on offer at the Shangri-La Hotel Singapore.
A hotel's restaurants are like their children. Each one of them loved for their own uniqueness and individuality, never having favourites. But just like children, there is always a shining star amongst siblings.
The shining star, in this case, is Nami.
Nami is located on the 24th floor next to the Horizon Club. It offers unobstructed views of Singapore through the floor to ceiling windows. Offering authentic and traditional Japanese cuisine from Head Chef Shigeo Akiba.
Akiba uses a mix of locally sourced ingredients and produce flown in from Tsukiji Market in Tokyo. His belief with cuisine is to let the fresh seasonal product shine and not masking food with heavy sauces or seasoning.
Mac and I enjoyed a degustation at Nami and I will be sharing this with you over the coming weeks.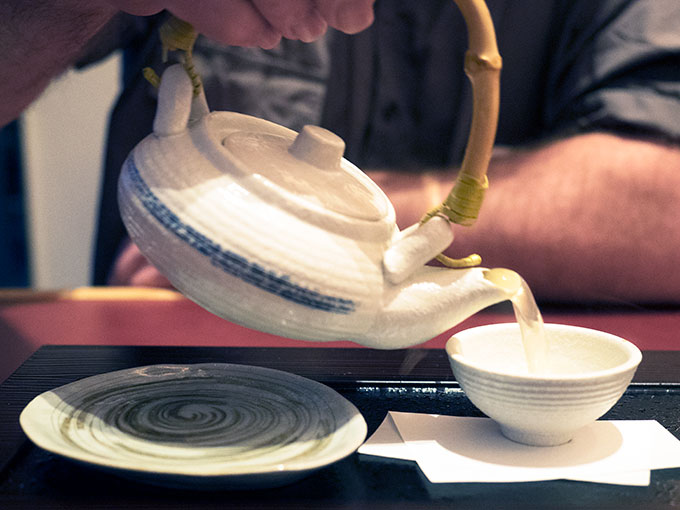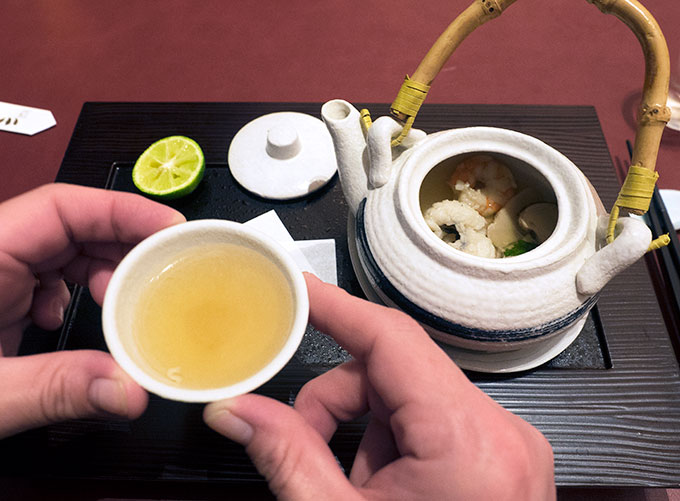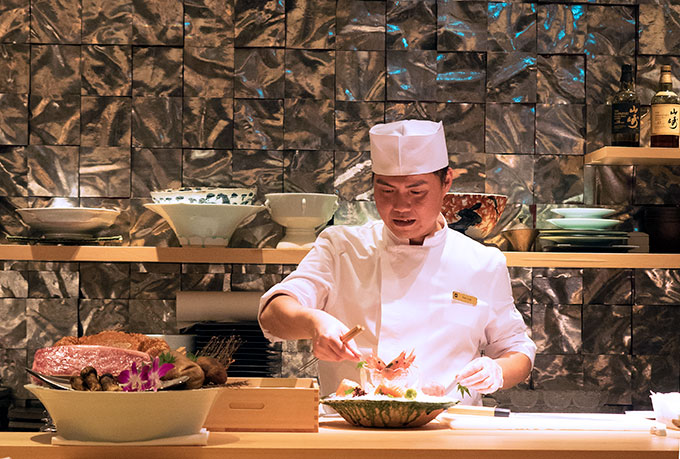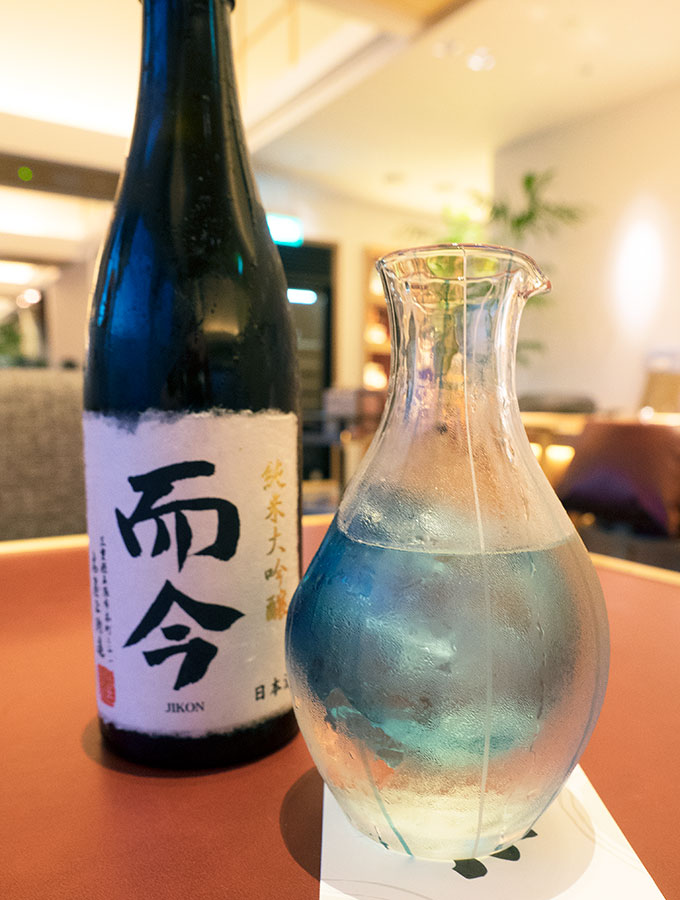 Shang Palace is the Shangri-La's Cantonese restaurant. Open daily offering yum cha for lunch and their a-la-carte menu for dinner. It is an opulent space with chandeliers, plush booths, rich wood accented tables and chairs, and private dining rooms.
We did eat here a couple of times during our stay, tyring out both yum cha (quite tasty) and an evening meal. I will be sharing this with you sometime soon.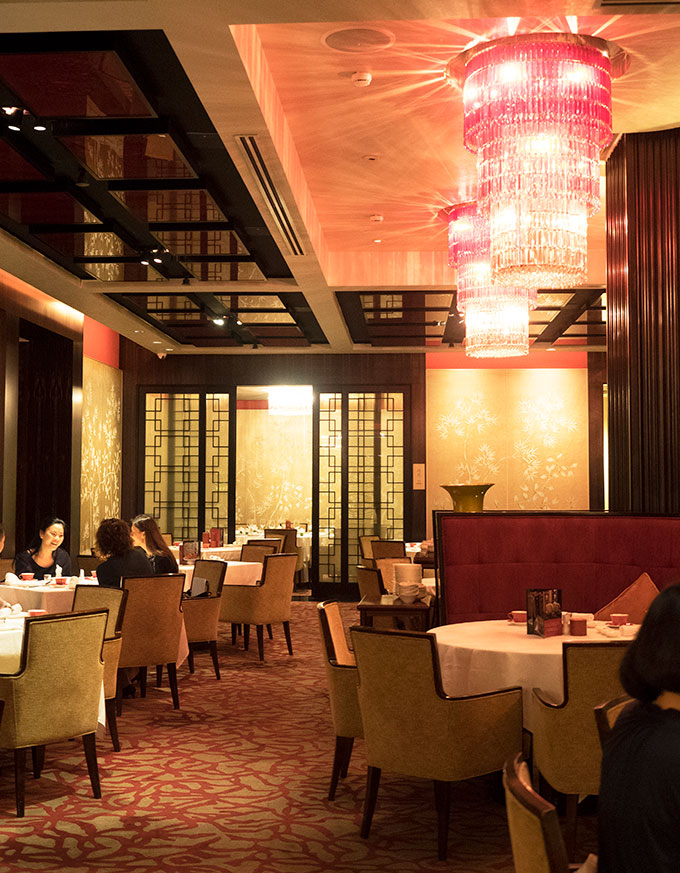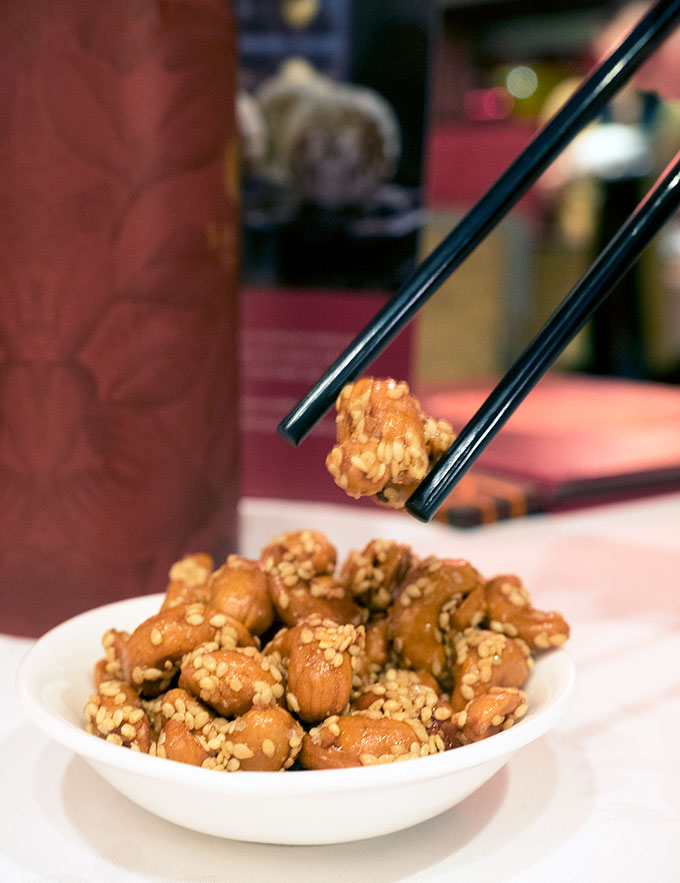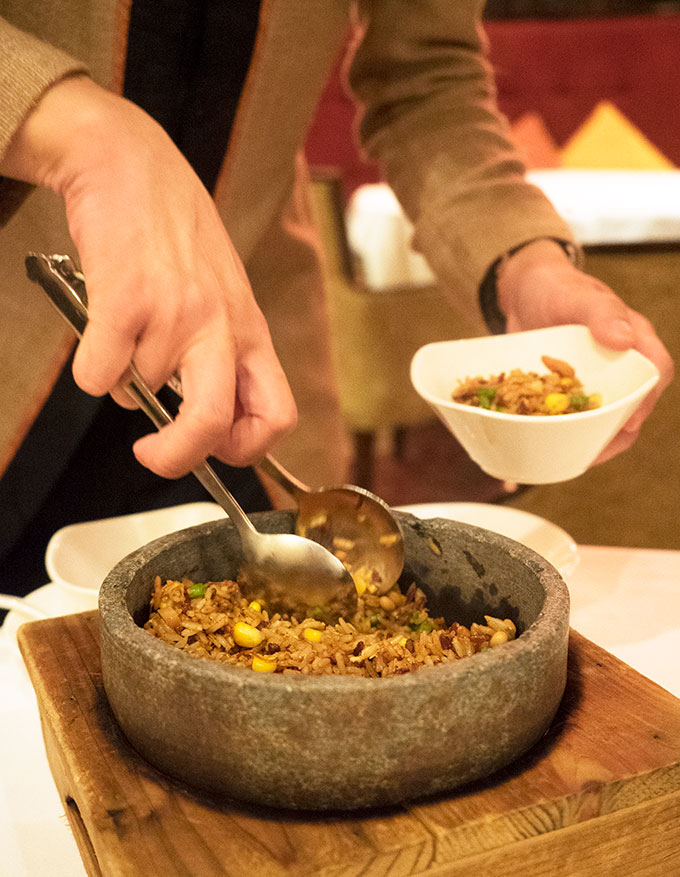 The Line is a huge, no it's enormous, international buffet restaurant, open for breakfast, lunch and dinner. There are 16 theatre kitchens where you can see food being prepared and cooked. It's is quite incredible the variety that is on offer.
We had breakfast here one morning (post coming soon) and I believe that it must be the biggest buffet in Singapore. That is saying something, as Singaporeans love their buffets.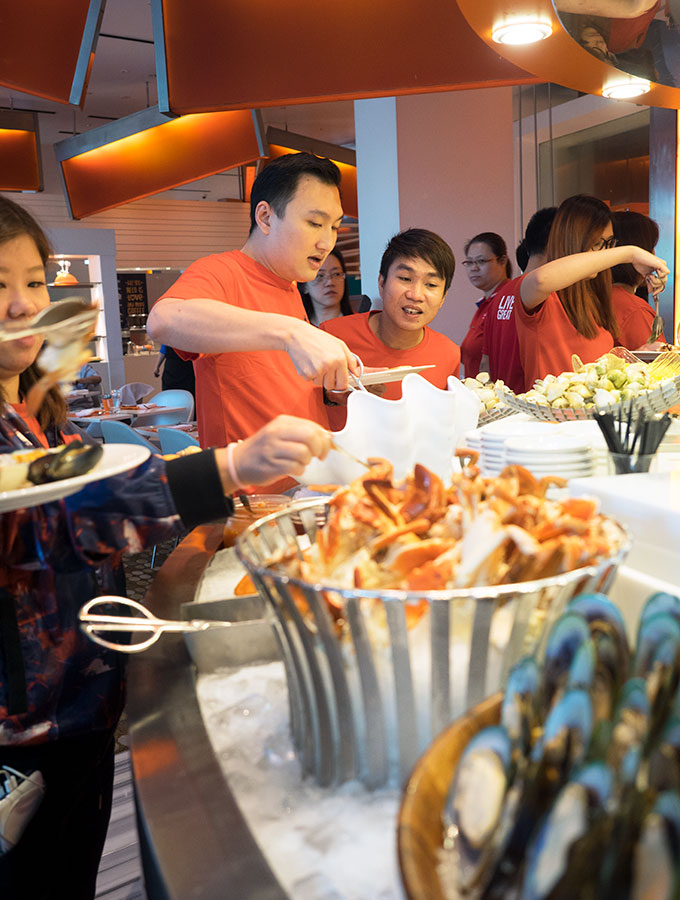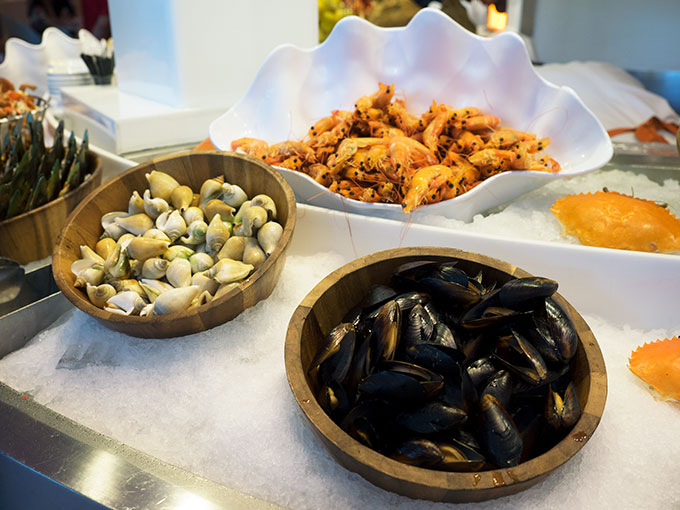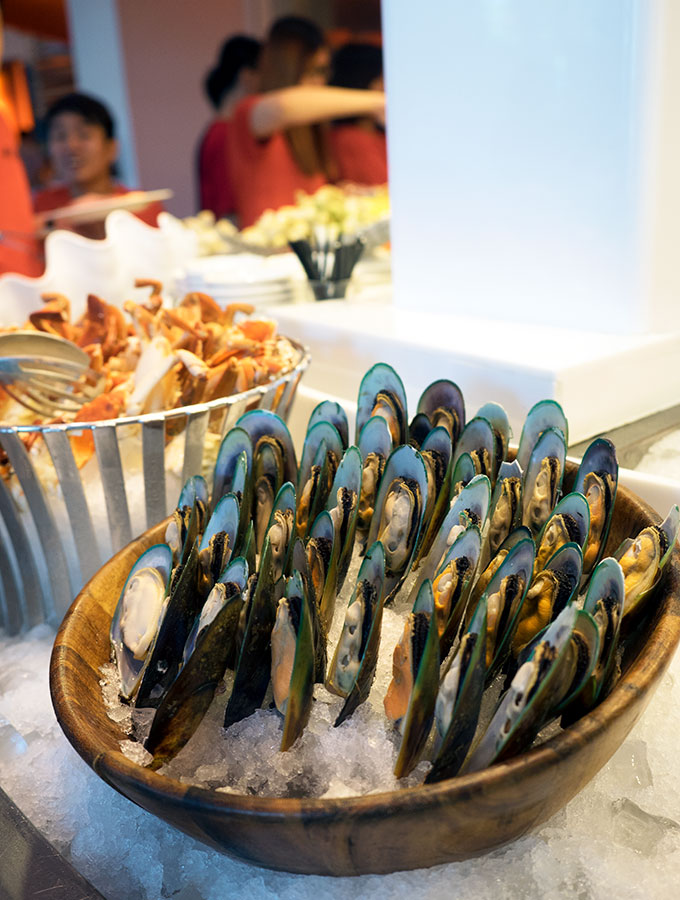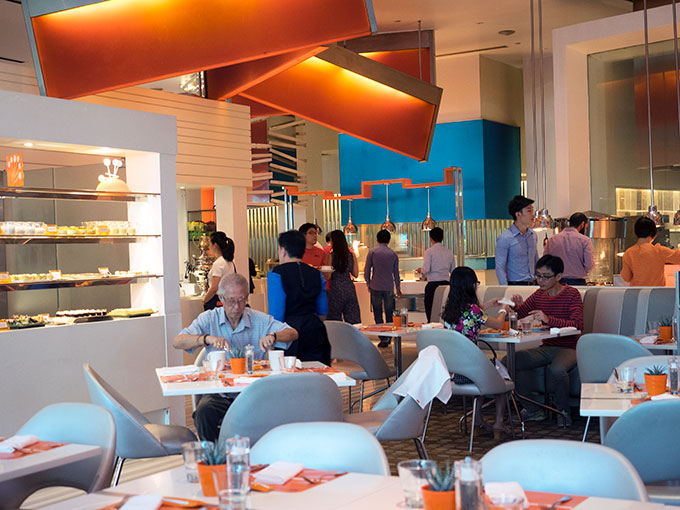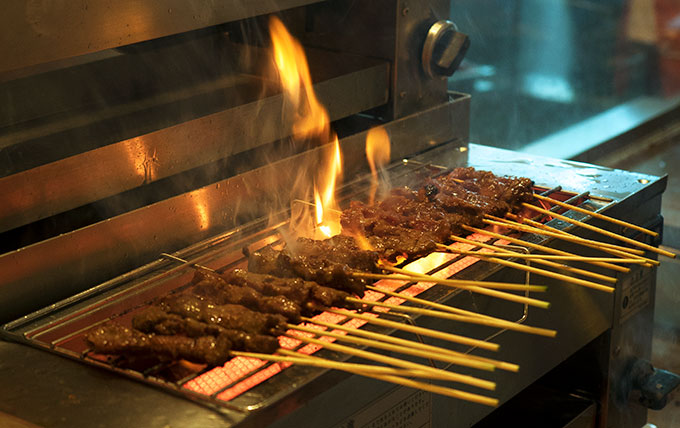 Waterfall Ristorante Italiano is located in the lush tropical gardens of the hotel. They offer authentic southern Italian cuisine making use of an abundance of fresh seasonal produce.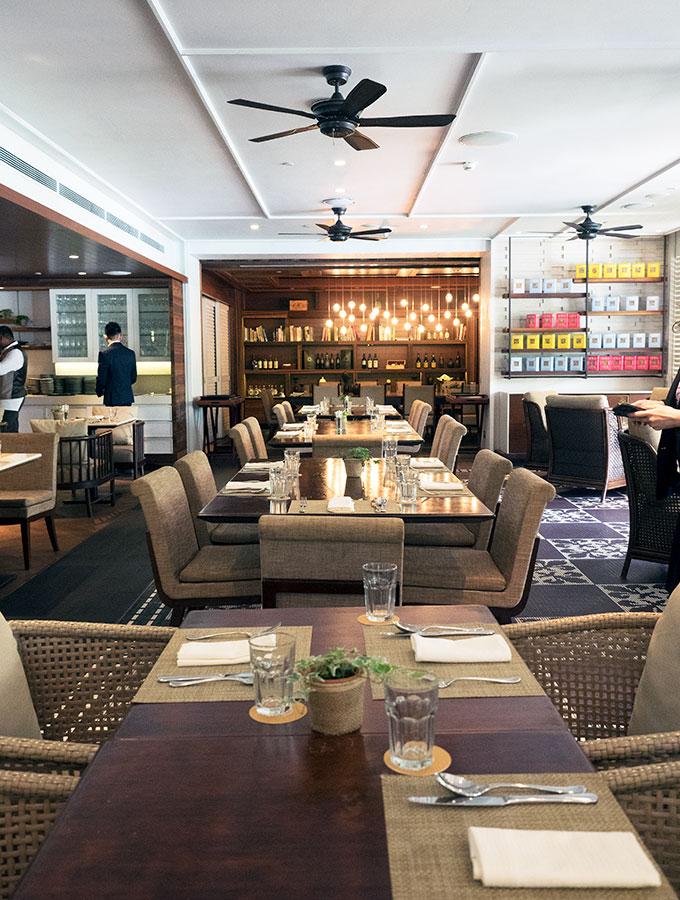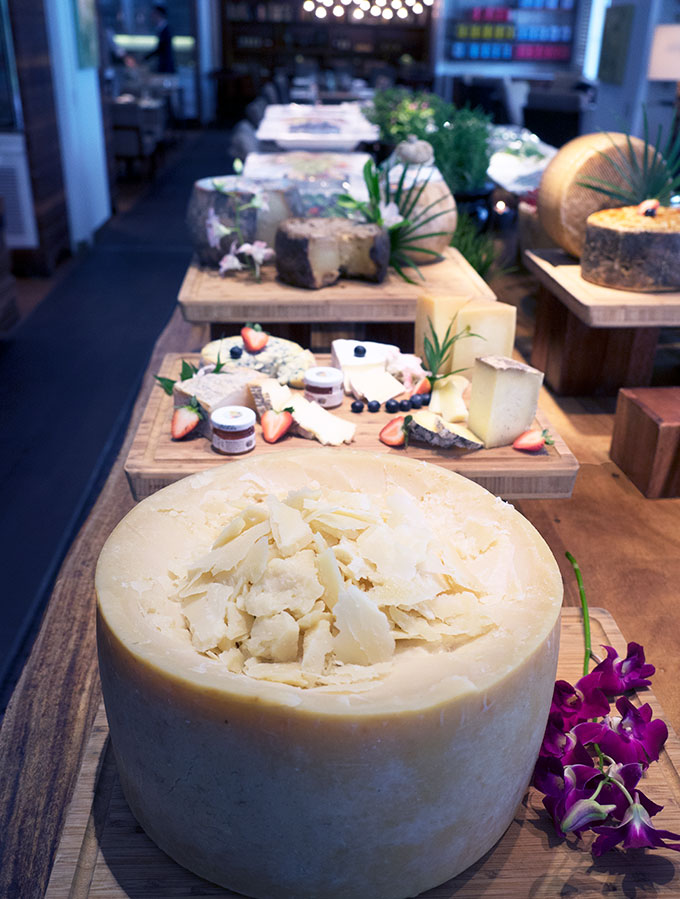 The Pool and Grounds, Shangri-La Hotel Singapore
I keep mentioning the lush gardens and grounds, so it's about time I give you a glimpse of what they are like.
The Garden Wing is another area of accommodation at the Shangri-la. A lush tropical outdoor "forest" is the centre point, the rooms surrounding it via open walkways. Rooms also have a balcony and are very popular with Australians and families with children.
A waterfall springs to life from all that greenery on the ground floor and flows into a large pond filled with koi and turtles.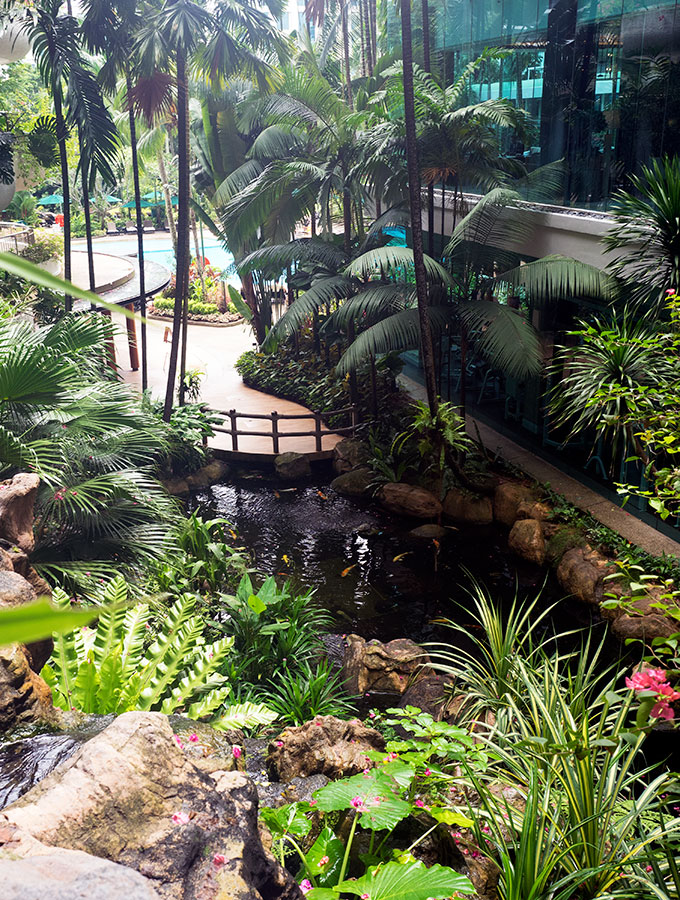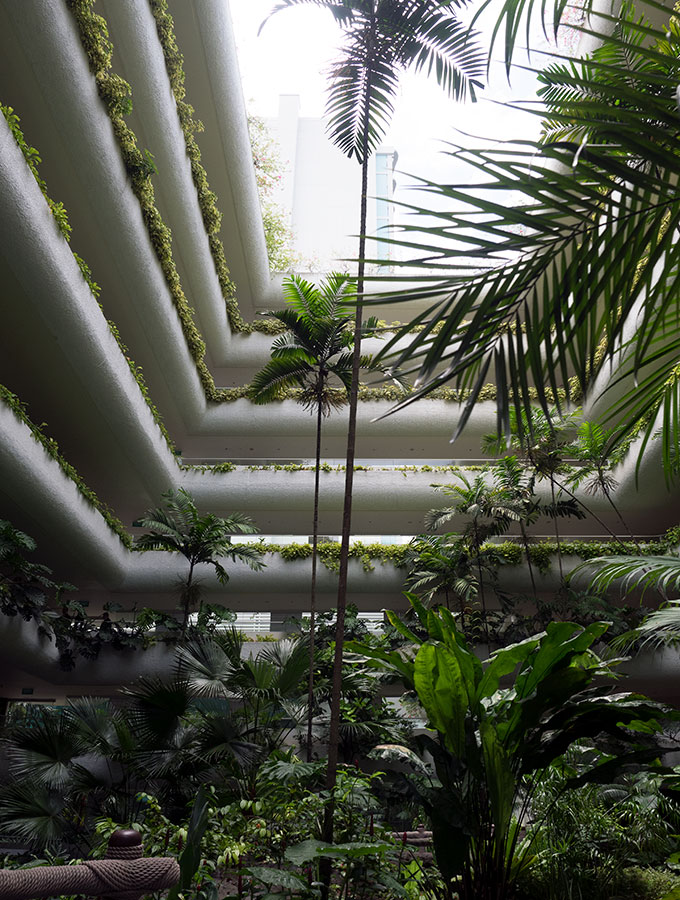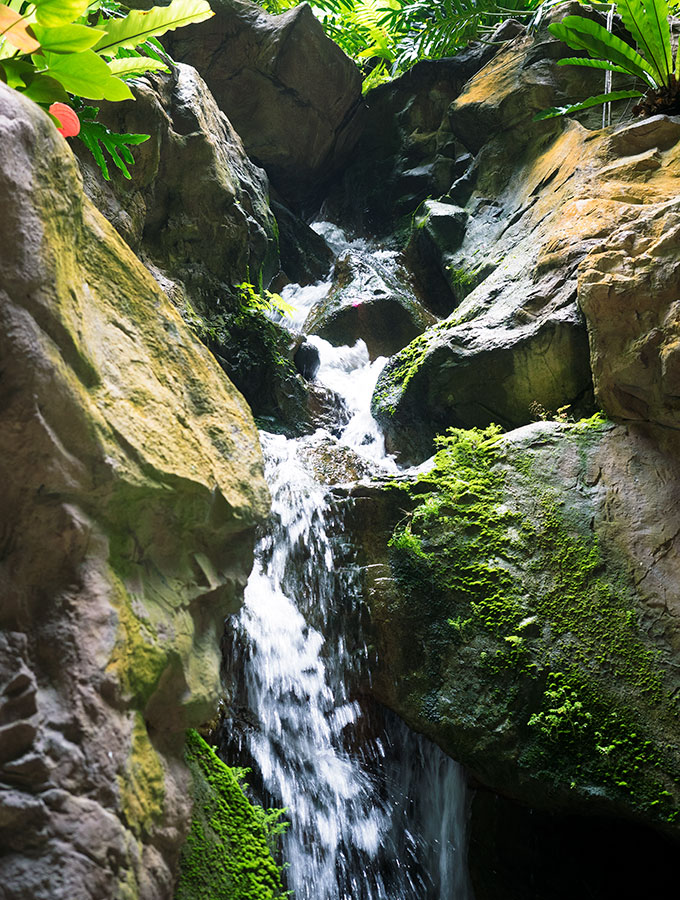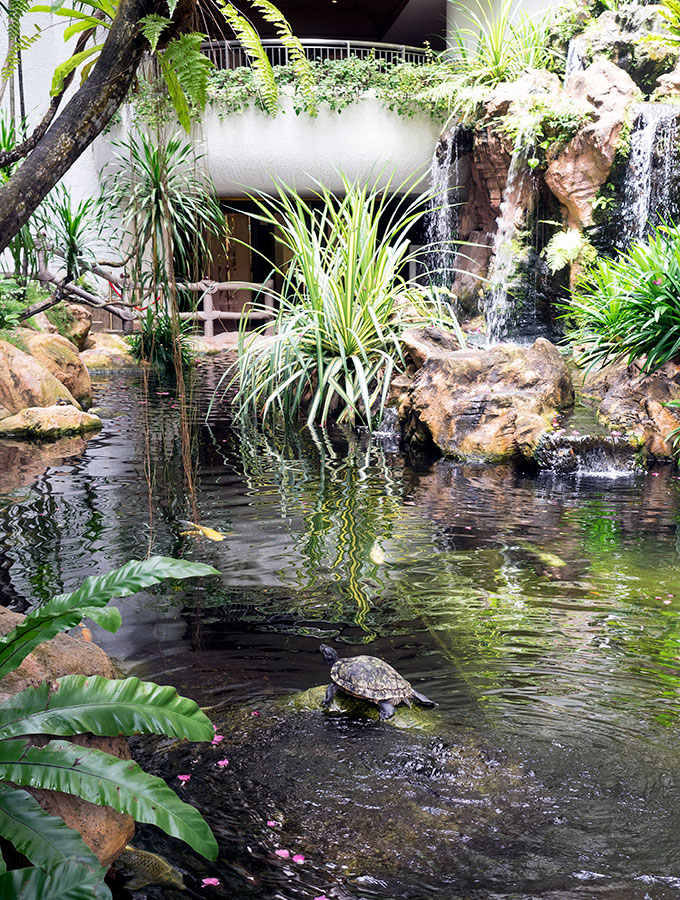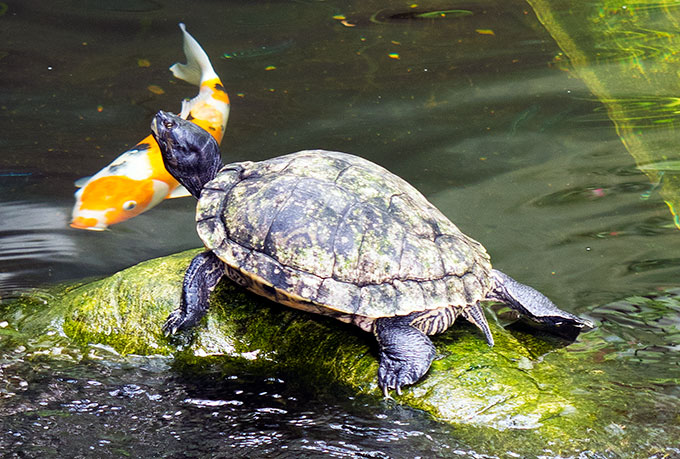 A walk around the corner from the pond you will find another bigger pond. Most would call it the hotel's swimming pool. It is huge, with lots of room for everyone to cool off in peace. Kids can go crazy in one area, adults can swim the other direction. There are lots of lounges to laze upon while enjoying a cocktail or two.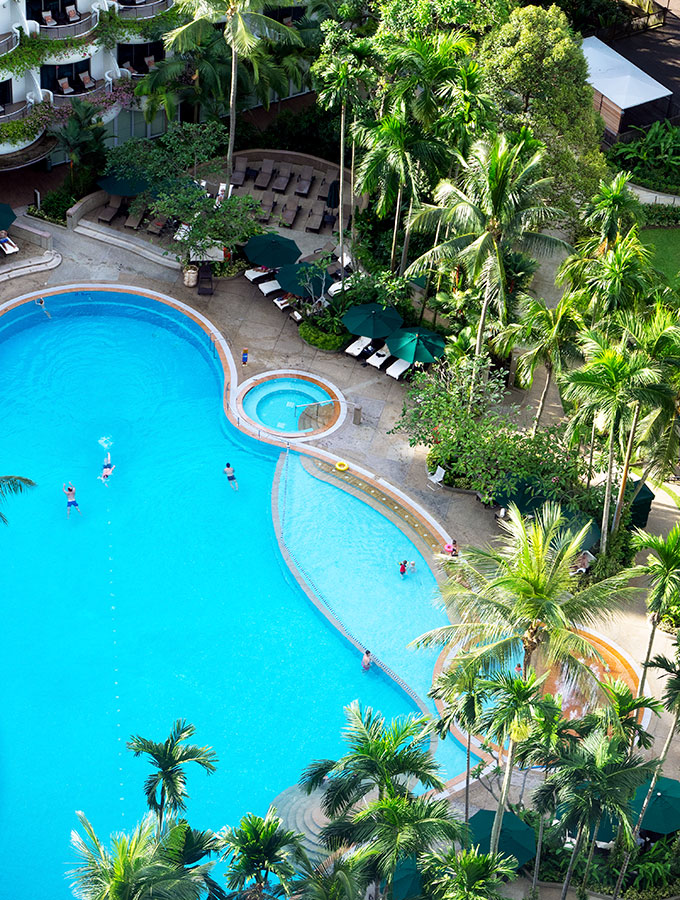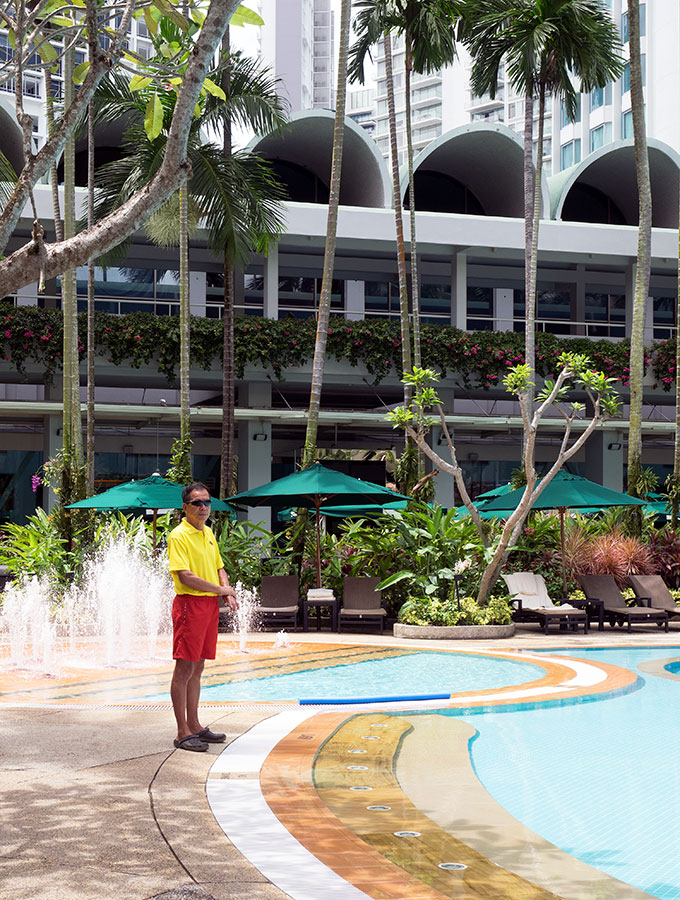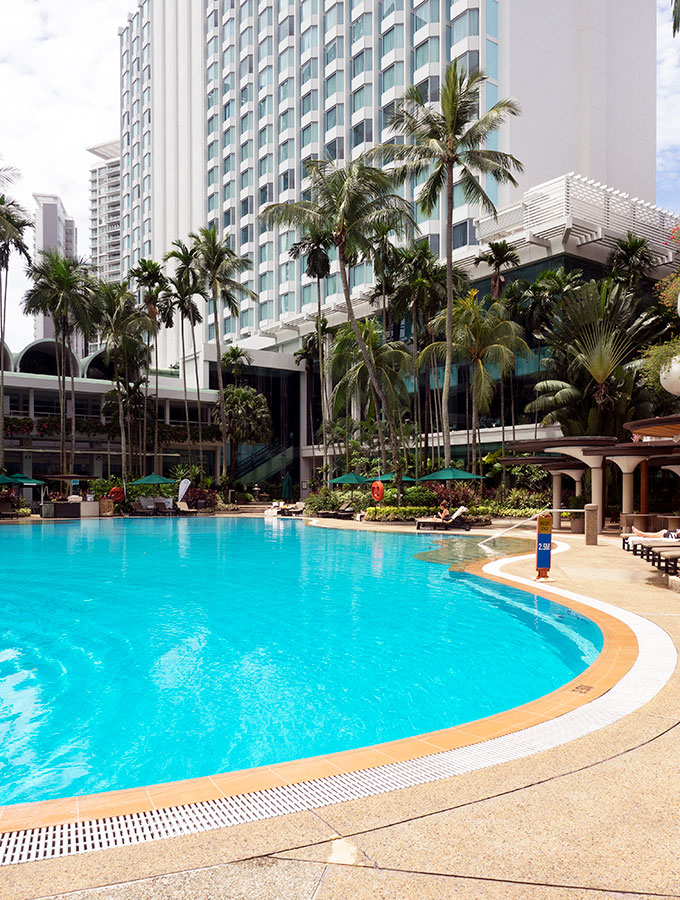 While walking around the grounds you may also stumble across The Dutch Pavilion. The building is the former Hollandse School at Orange Grove Road (1928-1982). The land upon which the pavilion sits was sold to the Shangri-La in 1982. The pavilion was lovingly restored and made part of the hotel. It is now used for functions.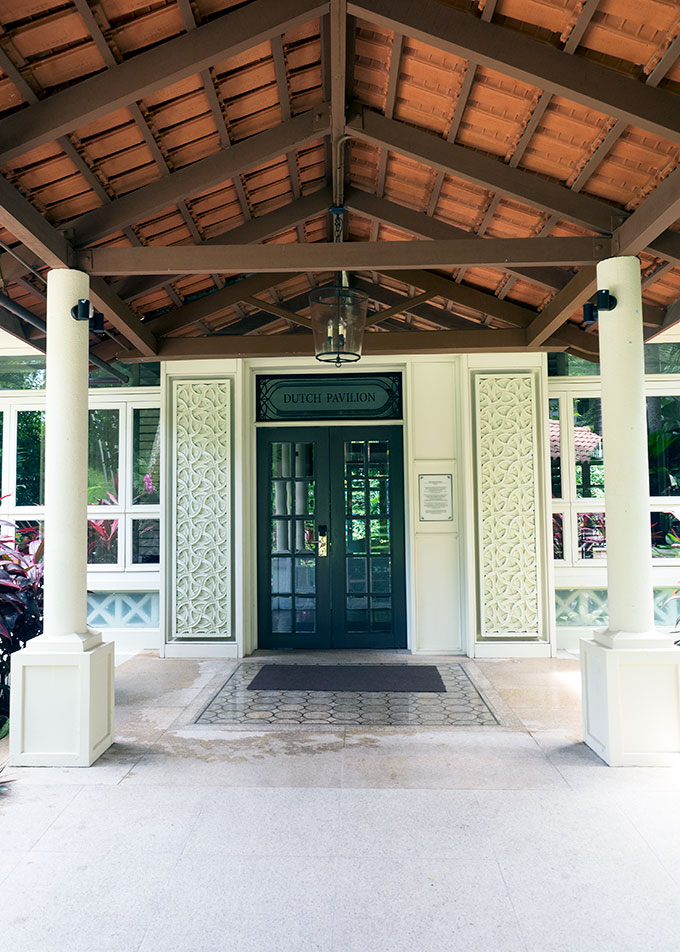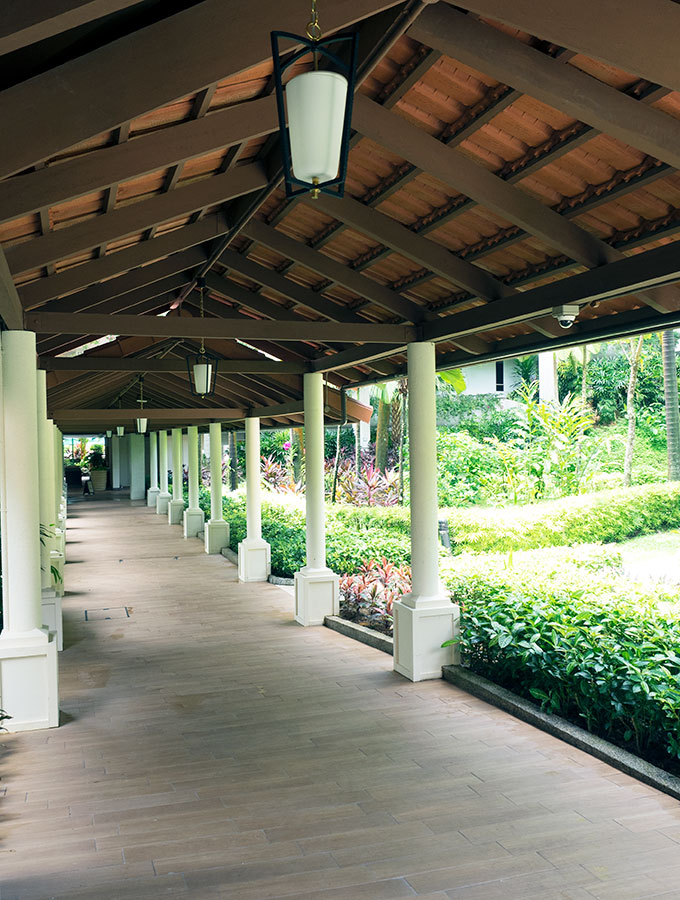 Singapore is known for its orchids, and the Shangri-La is dotted with them. If you are a flora lover why not take a self-guided walking tour around the grounds exploring their beauty.
One very notable structure in the grounds is The Orchid. A place to meditate or just enjoy. You can even enjoy a private dinner in their if you wish.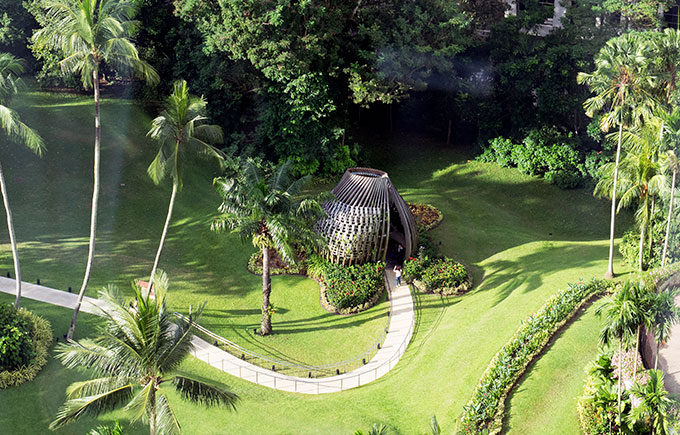 I've given you a quick tour of the Shangri-La Hotel Singapore, but what did I actually think of our stay there?
Even though it is a large hotel, you still feel quite at home. The staff are very attentive. I have to give a shout out to Peter who works in the lobby. He spotted me taking photos of the Shophouse and came over for a chat. Mainly to see if he could assist me with anything. Plus he was curious about why I was taking photos of minions and bread. Over the course of our stay I had chat with Peter each time I saw him, a fountain of information and so helpful.
Our room was very comfortable. The food and beverage offered (gratis) in the Horizon Club is some of the best I have experience in hotel club floor lounges.
All in all, it was a very tranquil spot to base ourselves when visiting the very vibrant and lively Singapore.
Sara xxx
Shangri-La Hotel Singapore
Orange Grove Road, Singapore, 258350
Tel + (65) 6737 3644
Belly Rumbles stayed as a guest of Shangri-la hotels with much thanks for 2 nights, the rest of the stay was personally paid for.
More Singapore Stories
Mooncake Moulds - where to buy them?
Qantas Singapore Lounge - have a peek inside
Mitzo Restaurant - bloody awesome coffee bbq pork!
Ce La Vi - dining on a high
Chilli Mud Crab Recipe - you'll feel like your in Singapore