Sensational chilli mud crab, this recipe will make you feel like you are in Singapore. Meaty mud crabs are coated in a fragrant and finger licking sauce. Make sure to have bread, roti, or mantou on hand to mop up the sauce.
A trip to Singapore is not complete without eating their famous chilli mud crab. Anyone that has visited Singapore knows how addictive this dish is. Luckily it is a dish that is easily recreated back home.
This is a tried and test recipe of mine. It was originally adapted from a chilli lobster recipe in Stephanie Alexander's "The Cook's Companion". Stephanie based her recipe on Singaporean Violet Oon's recipe.
Who knows if my adaptation is closer or further away from Violet's original recipe.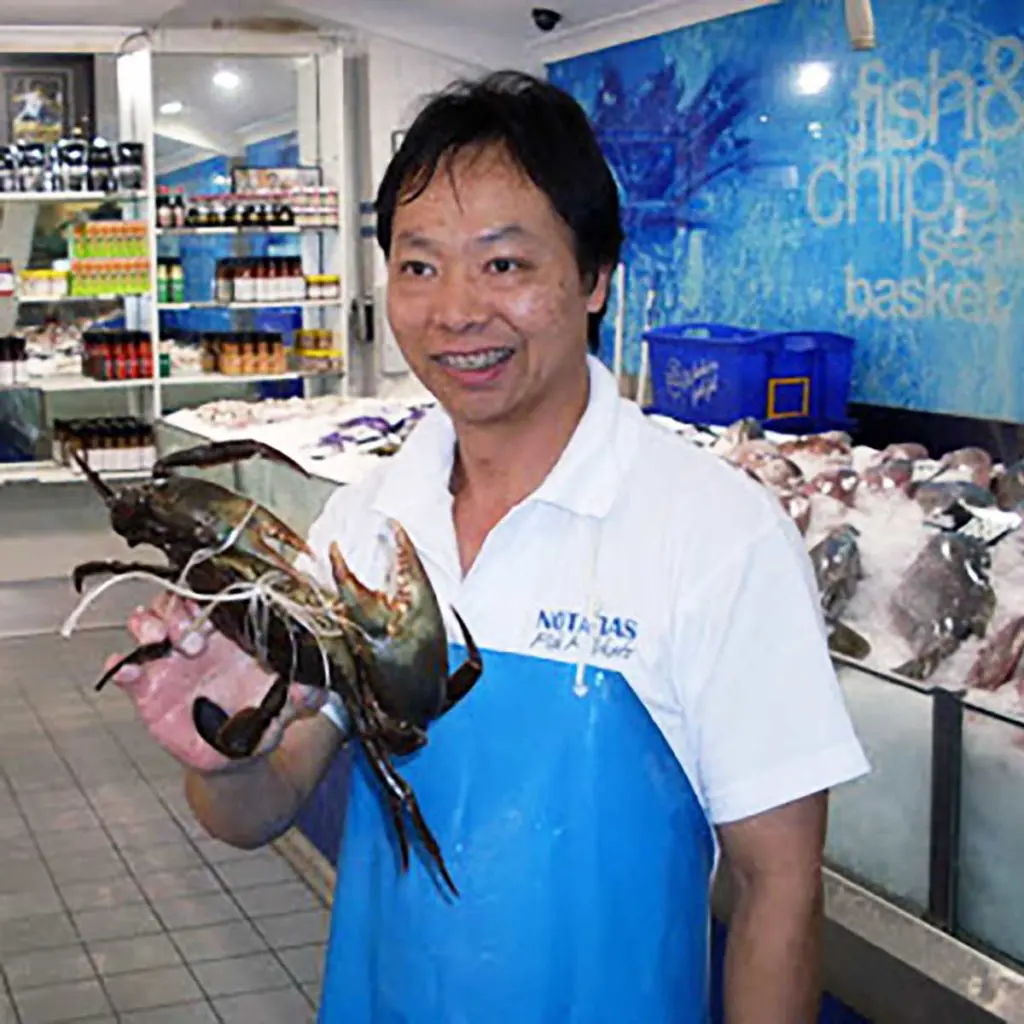 Importance of your fishmonger
Having a good local fishmonger is important. Why? Because you want to buy fresh live and still kicking crabs. A good fish shop will have fresh live crabs on hand.
They will assist you in picking the right sized crab and a female or male one for your needs. They will also give you instructions on how to handle it when you get back home. That is if you are taking it live and kicking with you.
The right crab for you
My preference is mud crab for this recipe. The reason is there is more meat to shell ratio, and I like the taste. Plus mud crabs look pretty impressive if making this dish for a dinner party.
Do you pick a female or male crab? I like male crabs, again because there is generally more meat on the crab. Female crabs can be filled with roe. Not that is a bad thing, it really is up to your preference.
You don't have to use mud crab. There are so many varieties of crabs that you can use a variety that you like. A larger crab is best as you get more reward for your hard work of picking the meat from the shell.
This recipe is also great with prawns/shrimp, lobster, crayfish, and Moreton Bay bugs (thenus).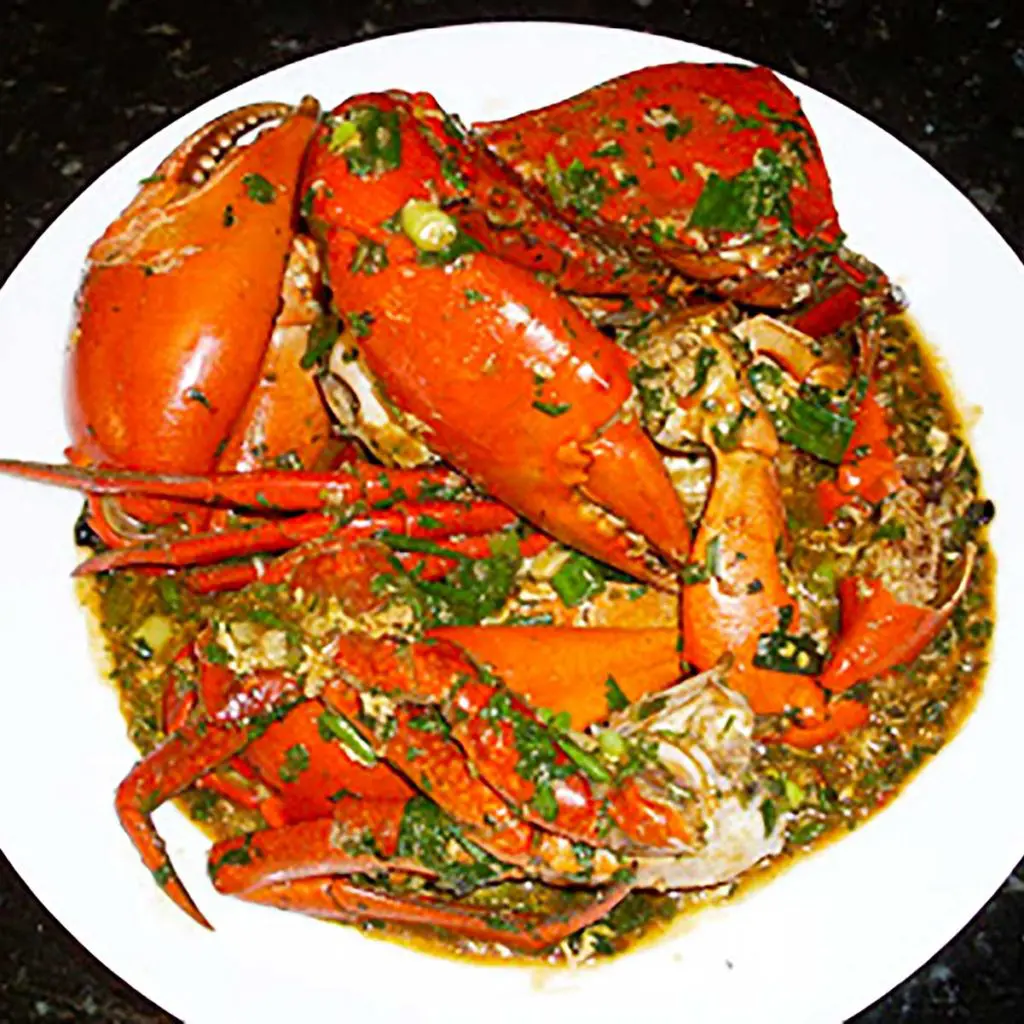 Dealing with live crabs
Unless you are a pro mud crab wrangler, then I suggest you ask your fishmonger for help. The fresher the crab the better. Once killed a crab starts to lose their sweetness.
You will want to pick up your crab the day you are cooking the chilli mud crab recipe. Ask your fishmonger to kill the crab for you. They will do this swiftly and as humanely as possible.
I also suggest you ask them to cut the crab up for you into portions.
Ingredients
The ingredients list is an easy one to navigate. No weird ingredients, everything is pretty straight forward.
The most obscure item on the list is fermented black beans (douchi). Fermented black beans are available at most Asian grocery stores. They are a salted fermented soy bean.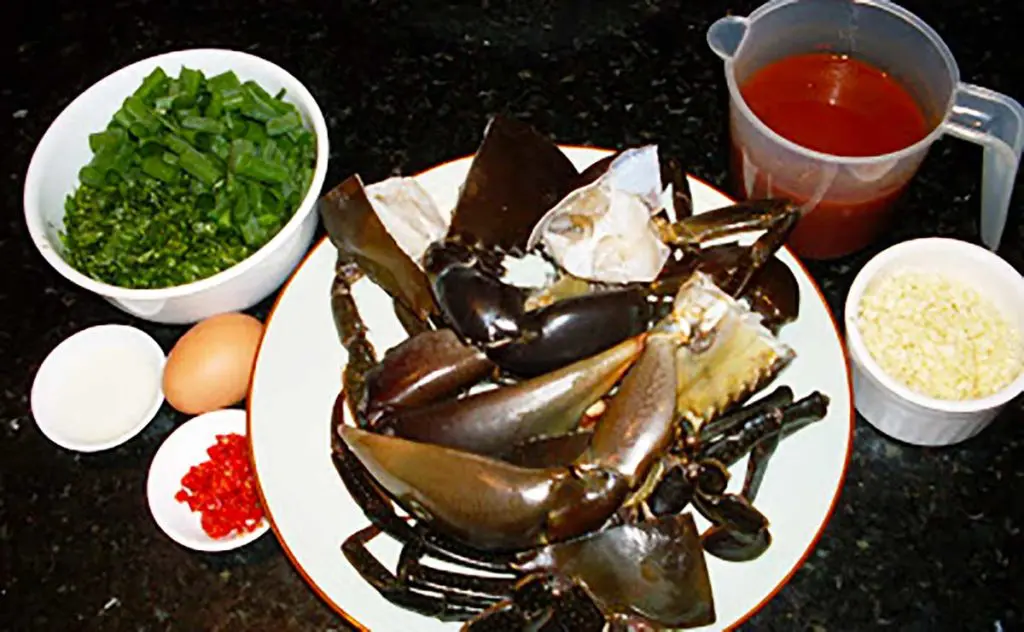 Rocking the wok
A large wok is ideal for cooking this recipe. If you don't have one, the chilli mud crab can be cooked in a large flat bottomed fry pan.
Large is the key word here. You wan't to easily toss and move your crab around so it cooks evenly and gets coated in the sauce.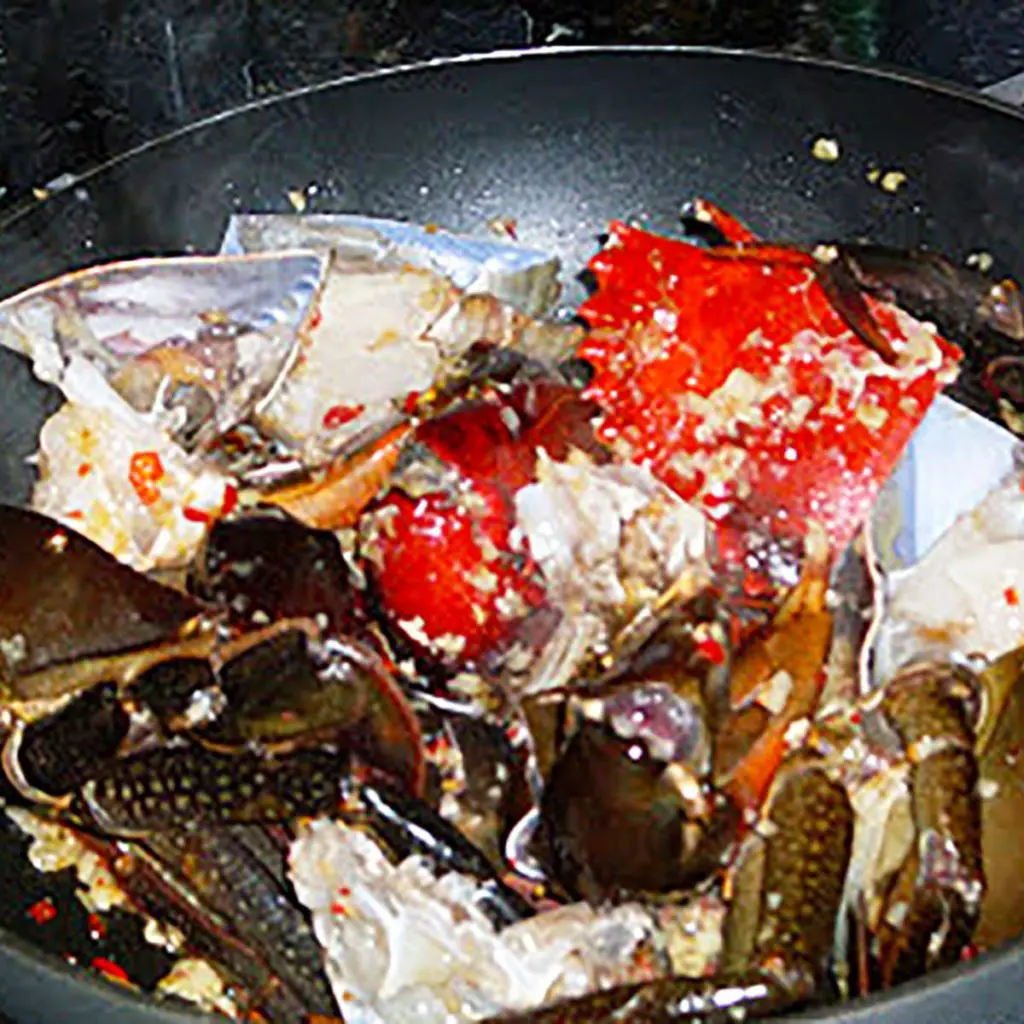 The final dish
You will end up with a vibrant orange chilli mud crab. A simple and delicious dish, where the sauce will need to be mopped up. Either with crusty bread, roti or Chinese style steamed buns.
Sara xxx
Other Singaporean Dishes
Quick Easy Prawn Toast - authentically Singaporean and delicious
Fried Prawn Dumplings - with ginger
Garlic Soy Sauce Cucumbers - totally addictive
Char Siu Bao - bbq pork to make at home
Printable Recipe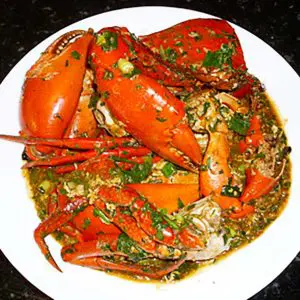 Chilli Mud Crab
Easy Singapore chill mud crab recipe that your family will love. Mop up all the tasty excess sauce with crusty fresh bread.
Ingredients
2

mud crab

clean and quartered

60

ml

(3 tablespoons) vegetable oil

10

cloves

garlic

10

red chillies

fresh

10

ml

(2 teaspoons) rice vinegar

1

egg

1

bunch

coriander

6

spring onions

250

ml

(1 cup) water

120

ml

(5 tablespoons) Tomato sauce

3

teaspoons

fermented black beans

2

Teaspoons

cornflour

20

ml

(1 tablespoon) soy sauce

8

grams

(2 tablespoons) sugar

½

Teaspoon

salt
Instructions
Mix all the sauce ingredients together in a jug ready for use.

Heat oil in a wok and add garlic and chilli and stir fry until fragrant (about 1 minute), then add the mud crab. Stir fry until the shells start to turn slight red and then stir in the sauce. Stir fry for a further 2 minutes and then cover with a lid and simmer for around 6 minutes or until the shells turn completely red.

Remove lid and stir in vinegar, add egg and stir to form shreds. Add coriander and spring onions, give it a stir and then serve immediately!!
Measurement Notes
All measurements are Australian metric standard. All measures are level, and cups are lightly packed unless specified. 1 teaspoon = 5ml / 1 tablespoon = 20mls / 1 cup = 250ml /4 teaspoons = 1 tablespoon.
NUTRITIONAL INFORMATION
The recipe's nutritional information is an approximation based on an online calculator. It is meant solely for reference purposes. If you're looking for precise details, be sure to double-check with your own research.
Calories:
368
kcal
Carbohydrates:
12
g
Protein:
48
g
Fat:
13
g
Saturated Fat:
9
g
Cholesterol:
145
mg
Sodium:
2753
mg
Potassium:
687
mg
Sugar:
7
g
Vitamin A:
395
IU
Vitamin C:
26
mg
Calcium:
151
mg
Iron:
2.5
mg
Did You Make This Recipe?
I do a happy dance when people share how they went. Tag me on Instagram or Twitter @bellyrumbles & #bellyrumbles