Chilled Chinese Garlic Soy Sauce Cucumbers are packed with flavour, moreishly delicious, refreshing and low in calories.
Is it wrong to feel a joyful satisfaction from wielding a large Chinese cleaver and smashing a poor cucumber senseless? It could almost be the opening scene to a horror movie. A mother in the kitchen, tension building music starts to play and escalate. There is a manic glean in her eye as one by one cucumbers meet their fate under the weight of a cleaver.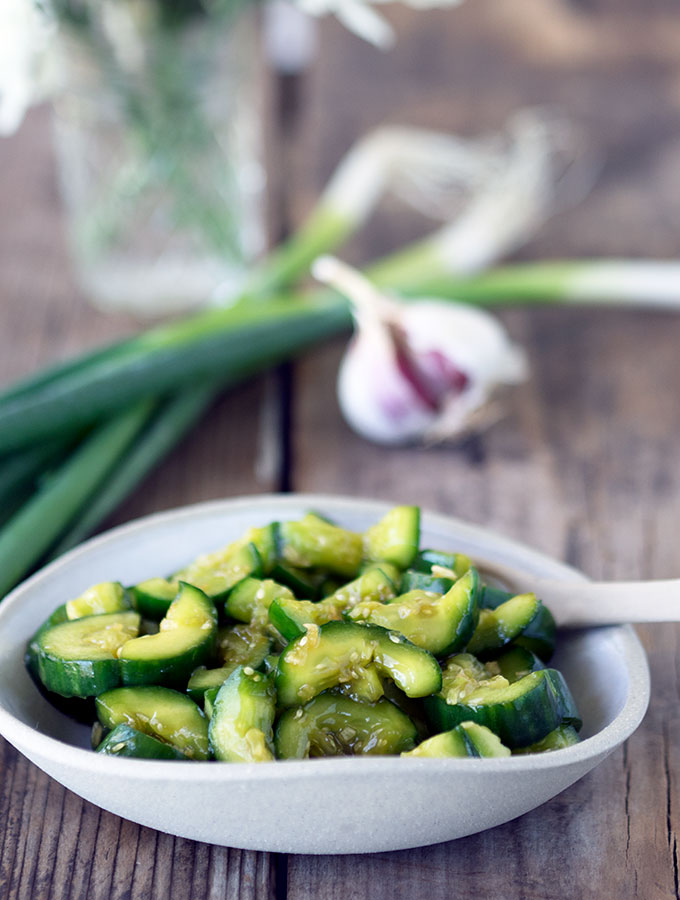 Swish, the cleaver rises high in to up in the air
Whoosh, it heavily makes its way down to the wooden chopping board
Close up of panicked cucumbers
Crack, green skin splits open, watery innards revealed
Chinese garlic soy sauce cucumbers are quite addictive. Not only in taste but the preparation can be quite therapeutic.
Not surprisingly people tend to keep a wide berth of the kitchen when I am smashing cucumbers. Even Harley looks on from a distance with a slightly disturbed quizzical eye.
Thank goodness bursts of satisfactory laughter don't unwittingly pass my lips while doing so. I could well end up being carted off in a padded truck and writing Belly Rumbles from a long medicated vacation.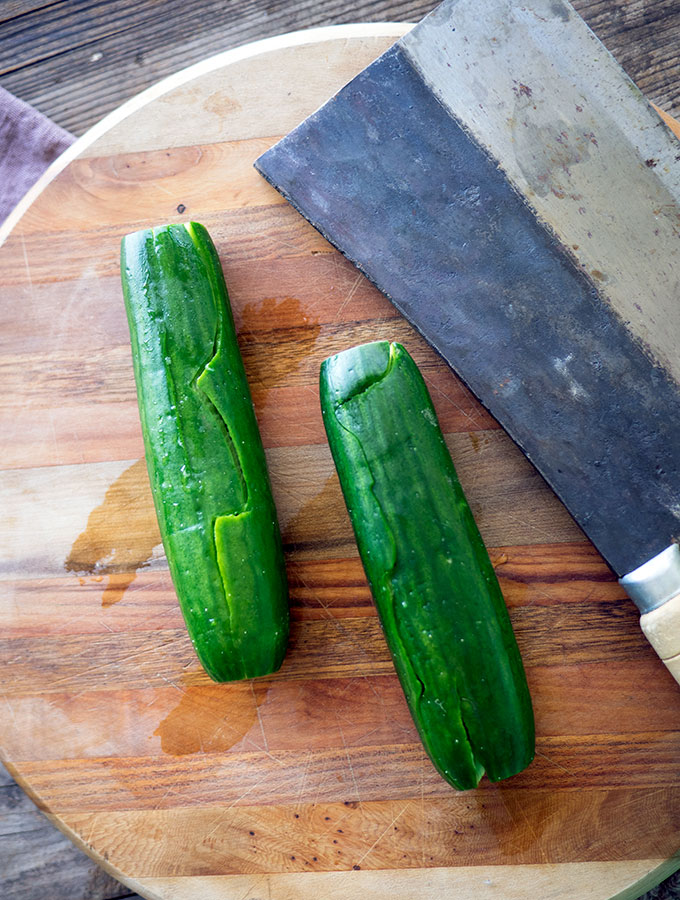 Besides being able to use my cleaver for this recipe. I love my cleaver, it was picked up in an Asian grocery store on the Gold Coast about 20 years ago. It gets used very rarely, mainly to crack unsuspecting cooked crab and lobster, and the occasional coconut. That again brings fear to my family's faces as I do that with coconut in one hand, and cleaver in the other.
Come to think of it I don't think I have ever used the blade of my cleaver, always the back or the side.
Why Smash Chinese Garlic Soy Sauce Cucumbers?
You're probably thinking, "Do I really need to smash my cucumbers?" Yes you do. Don't worry if you don't have a cleaver (but it is seriously satisfactory), you could whack them with a rolling pin, heavy pot or a meat mallet. Feeling very Mafia like yet whacking cucumbers?
Smashing the cucumbers for this dish is a must. The ragged, slightly bruised pieces of cucumber absorb the flavours far more efficiently than the straight cuts when using a knife.
Even though you have smashed them, the cucumbers will still retain a crunch in the finished dish.
These are Flavour Packed Pickles!
Chinese garlic soy sauce cucumbers are a type of pickle. They are a quick pickle, even quicker than my Carrot and Zucchini Pickles. Whereas those pickles are a sweet and sour style pickle, the Chinese garlic soy sauce cucumbers are completely different, more savoury due to the sesame seed oil and soy.
These always appear when I prepare a Chinese style banquet. I love eating them due to their taste, I find them quite addictive, but also as the main ingredient is low calorie good for you cucumbers.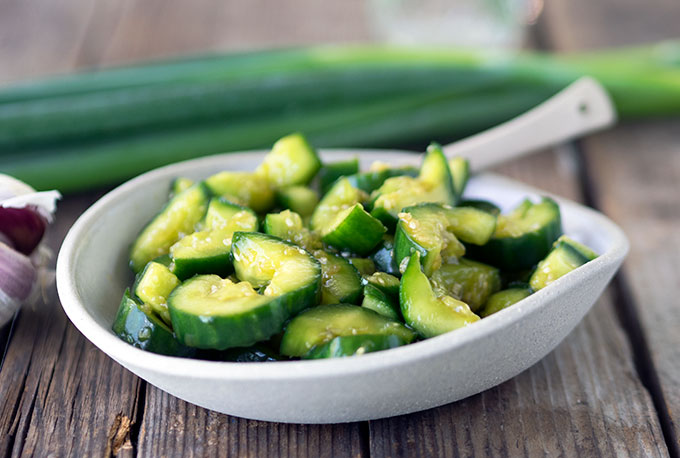 If you do happen to whack some cucumbers of your own, do share with me via social media!
Sara xxx
Printable Recipe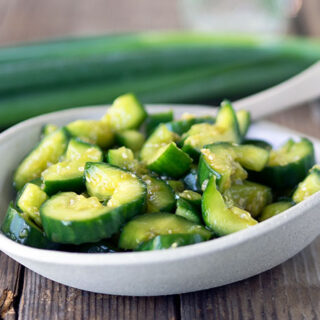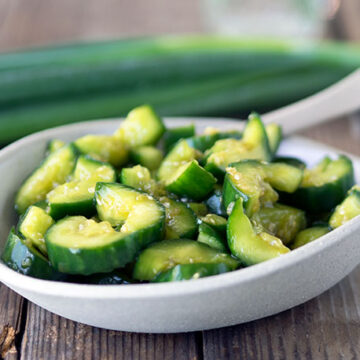 CHINESE GARLIC SOY SAUCE CUCUMBERS
Chilled Chinese Garlic Soy Sauce Cucumbers are packed with flavour, moreishly delicious, refreshing and low in calories. Easy smashed cucumber recipe.
Ingredients
2

Lebanese cucumbers (or English cucumbers) skin on & washed

½

teaspoon

salt

½

clove

garlic

crushed

1

tablespoon

soy sauce

1

tablespoon

rice wine vinegar

1

teaspoon

caster sugar

½

teaspoon

sesame oil

2

teaspoon

toasted sesame seeds
Instructions
Place cucumbers on a large heavy chopping board and cut the tips off each end.

With the flat side of a cleaver smash the cucumbers one by one until they split and flatten out slightly. Don't overdo it, as you don't want cucumbers too mashed.

If you don't own a cleaver use a rolling pin, skillet, heavy fry pan or a pot.

Chop the cucumbers in to bite size pieces and place in a colander.

Sprinkle cucumbers with a large pinch of salt.

Place the colander over a bowl and in the fridge for 20 minutes. The cucumbers will release water during this time.

Remove cucumbers from the fridge and give them a slight squeeze to remove more liquid.

Place in a bowl and mix through garlic, soy sauce, vinegar, sugar and sesame oil.

Put cucumbers back in the fridge for at least 30 minutes, giving them a couple of stirs during this time.

Cucumbers are at their best when completely chilled. The longer they are left to marinate the further the flavours develop.

Sprinkle with toasted sesame seeds before serving.

Serve as part of a Chinese banquette, or as a side to grilled fish or chicken.
Measurement Notes
All measurements are Australian metric standard. All measures are level, and cups are lightly packed unless specified. 1 teaspoon = 5ml / 1 tablespoon = 20mls / 1 cup = 250ml /4 teaspoons = 1 tablespoon.
NUTRITIONAL INFORMATION
The recipe's nutritional information is an approximation based on an online calculator. It is meant solely for reference purposes. If you're looking for precise details, be sure to double-check with your own research.
Did You Make This Recipe?
I do a happy dance when people share how they went. Tag me on Instagram or Twitter @bellyrumbles & #bellyrumbles