Coconut chocolate ganache cookie sandwiches are made from delicious buttery chewy coconut cookies, which are filled with decadent dark chocolate ganache.
Let me start by stating there isn't one thing healthy about these coconut chocolate ganache cookie sandwiches. If you are looking for "healthy" coconut cookies made with coconut flour, coconut sugar, coconut oil and coconut, walk away now.
Hmm actually that sounds like a cooking experiment I wouldn't mind taking on. Coconut cookies made entirely from coconut…. In theory it should be possible.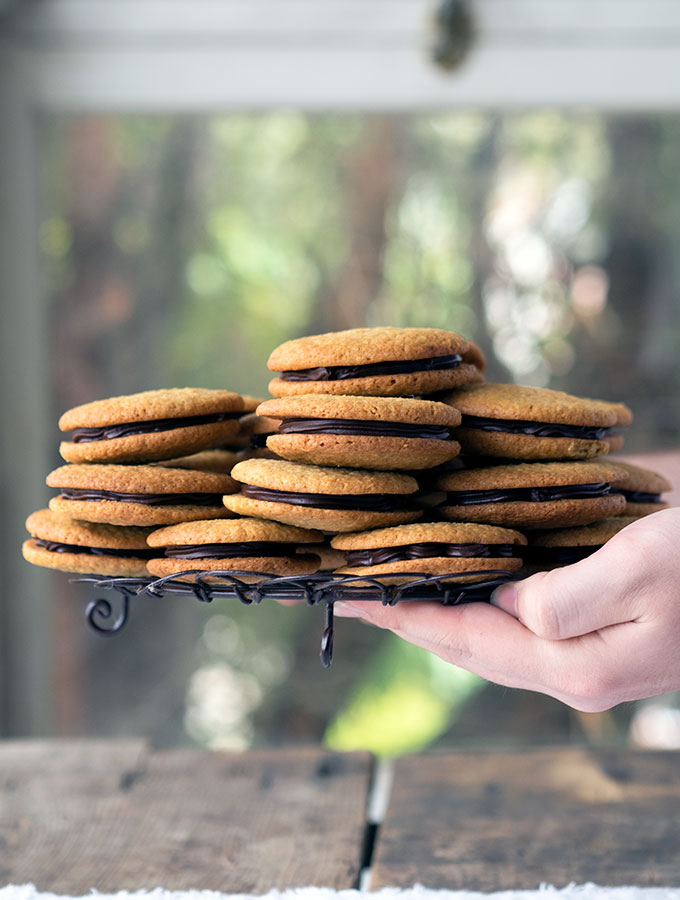 No, these cookies are made with good old fashioned butter and run of the mill sugars. The cookies are then joined together for the rest of their natural lives with a rich dark chocolate ganache. It is a very splendid and delicious union indeed.
If you are after a large batch recipe, then this recipe is for you. You will end up with 36-40 coconut chocolate ganache cookie sandwiches. Not into chocolate ganache? Firstly we can't be friends any more, but more importantly if you don't sandwich the little suckers together you will end up with around 80 coconut cookies. Making this the perfect big batch recipe for school fetes, entertaining or making them as gifts.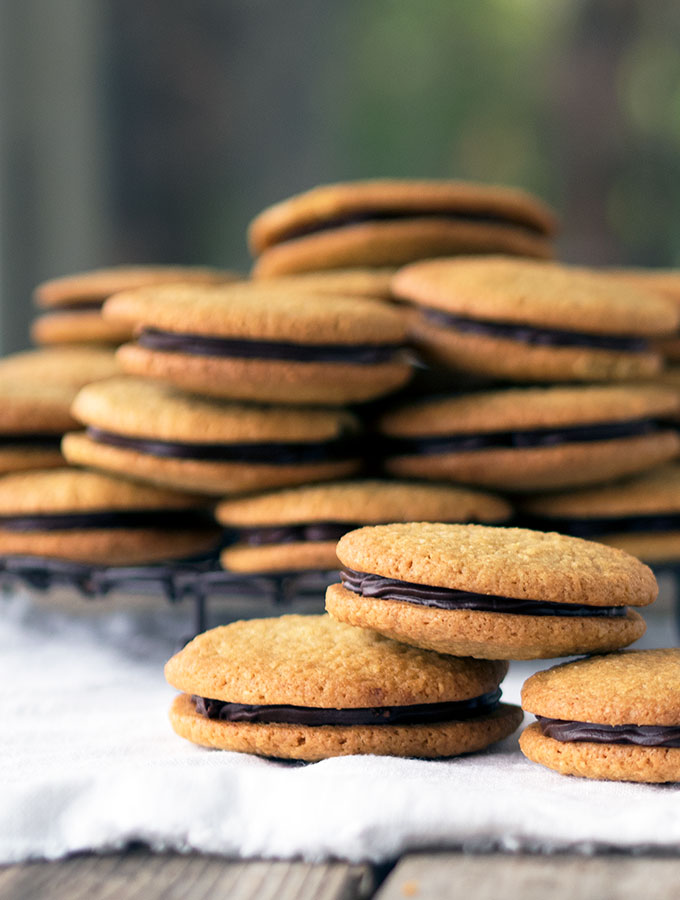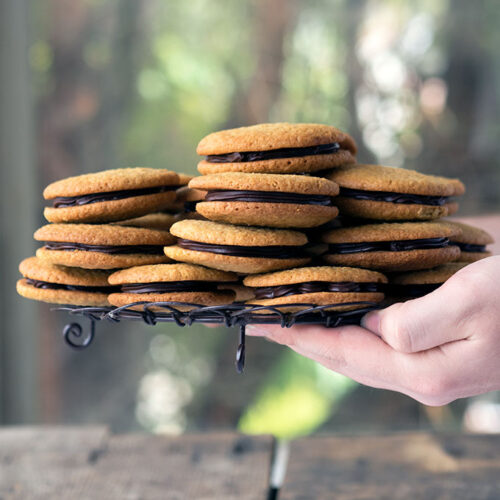 Coconut Chocolate Ganache Cookie Sandwiches
Coconut chocolate ganache cookie sandwiches are made from delicious buttery chewy coconut cookies, which are filled with decadent dark chocolate ganache.
Print
Pin
Rate
Total Time:
2
hours
20
minutes
Ingredients
340

grams

(1 ½ cups) unsalted butter

softened

180

grams

(1 cup) brown sugar

packed

240

grams

(1 cup) caster sugar

3

large eggs

2

teaspoons

vanilla bean paste

185

grams

(2 cups) desiccated coconut

375

grams

(2 ½ cups) plain flour

2

teaspoons

bicarb soda/baking soda

1

teaspoon

salt
Instructions
In a large mixing bowl for your stand mixer place butter, brown sugar and caster sugar.

Mix ingredients on a medium speed until creamy.

On a low speed add eggs one at a time. Mixing well between each addition of egg.

Once eggs have been incorporated add vanilla and coconut.

Mix until ingredients are fully combined.

Sift flour and bicarb soda/baking soda into a medium size bowl.

With mixer on a low speed add flour/bicarb mixture to the coconut mixture a third at a time.

Once combined cover mixture with plastic wrap and chill in the fridge for a least an hour.

Pre-heat oven 175°C/345°F.

Line two baking trays with baking paper.

Roll teaspoon size balls of dough and place on lined baking trays. Place balls 5cms/2 inches apart to leave room for spreading.

Place trays in the oven on middle shelves and bake for 12 – 15 minutes until cookies are golden.

Allow cookies to cool on trays for 5 minutes and then transfer to cooling racks to finish cooling.

Repeat with the remaining dough until all cookies are cooked.

Once cookies have completely cooled make them into sandwiches with the chocolate ganache.

If you made the chocolate ganache the day ahead, remove from the fridge and leave to come to room temperature while cookies are cooling. You may want to place the ganache in the microwave for short 10 second bursts, stirring in between to make the ganache easier to pipe or spread.

Alternatively you can make the ganache while cookies are cooling. Ganache recipe is below.

Make pairs of cookies, which are the same size and shape.

Spread or pipe chocolate ganache on to the underside of one of the cookies. Then place its matching cookie on top to make a cookie sandwich.

Repeat with remaining cookies.

Store cookies in an airtight container. Depending on the weather either you may wish to store your cookies in the fridge.
Notes
I use an electric stand mixer for this recipe, but you can also use electric hand beaters. The chocolate ganache can be made the day ahead, or while your cookies are cooling.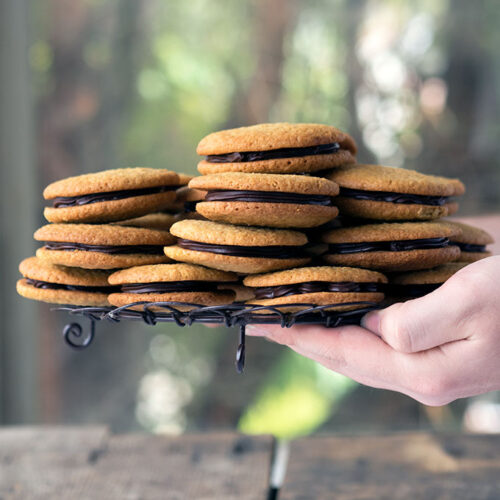 Chocolate Ganache
Chocolate ganache for filling and spreading.
Print
Pin
Rate
Ingredients
300

ml

(1 ¼ cups) cream

single/pouring cream

28

grams

(2 Tablespoons) butter

400

grams

(14.1 oz) dark chocolate

finely chopped
Instructions
In a heavy based saucepan heat cream and butter on a low heat until butter has melted and the cream has warmed.

Remove saucepan from the heat and add chocolate.

Stir until the chocolate has completely melted and combined with the cream mixture to make a smooth ganache.
Notes
Ganache can be stored in a clean container in the fridge until required.
A couple of baking tips
Due to the amount of butter in these cookies they will spread while baking. Make sure you leave plenty of room between each dough ball when placing them on your trays.
I suggest leave more room than you think on your first batch in the oven. Then adjust dough placement with your second batch if there was more than ample room for spreading.
If you do end up with a couple of conjoined twin cookies, it's not the end of the world. Simply use a knife to cleanly cut them apart before putting them on your cooling rack.
The cookies bake relatively quickly, 12 -15 minutes per batch. But due to the number of cookies you are making, you will be in and out of the kitchen baking for well over an hour. I used two trays at a time and ended up cooking four batches of cookies.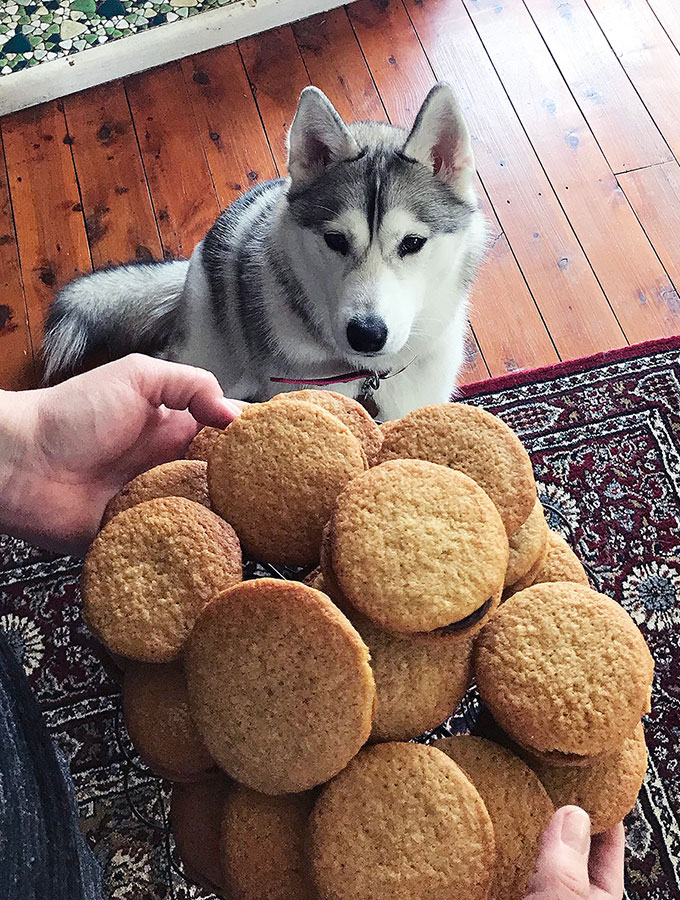 It is also important to note that you need to chill your dough for at least an hour in the fridge before baking. You could make the dough and chill the day before baking, along with the ganache.
Don't forget if you are making any of the recipes found on Belly Rumbles, tag us in on your creations on social media! I love seeing what you make. You can find us on Instagram, Twitter and Facebook.
Happy baking and I do hope you love this recipe as much as Harley did. Don't worry she only taste tested the unfilled biscuits. As you know chocolate isn't good for dogs.
Sara xxx