Brown butter chocolate chunk cookies, oh yes these cookies taste as good as they sound. Very moreish, fudgy, chocolate packed cookies.
When I make cookies I normally pull out the stand mixer and cream my butter and sugar. During the day the loud whirr of my elderly Kenwood isn't an issue. But when cookie cravings hit at 1am, and there aren't any cookies in the house, pulling the Kenwood out to play would be just plain rude.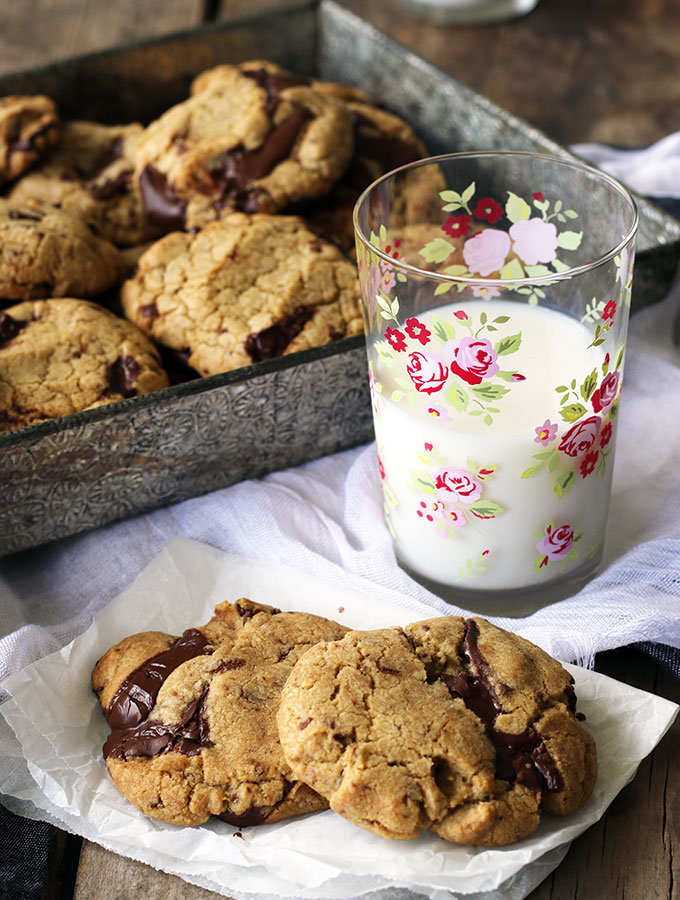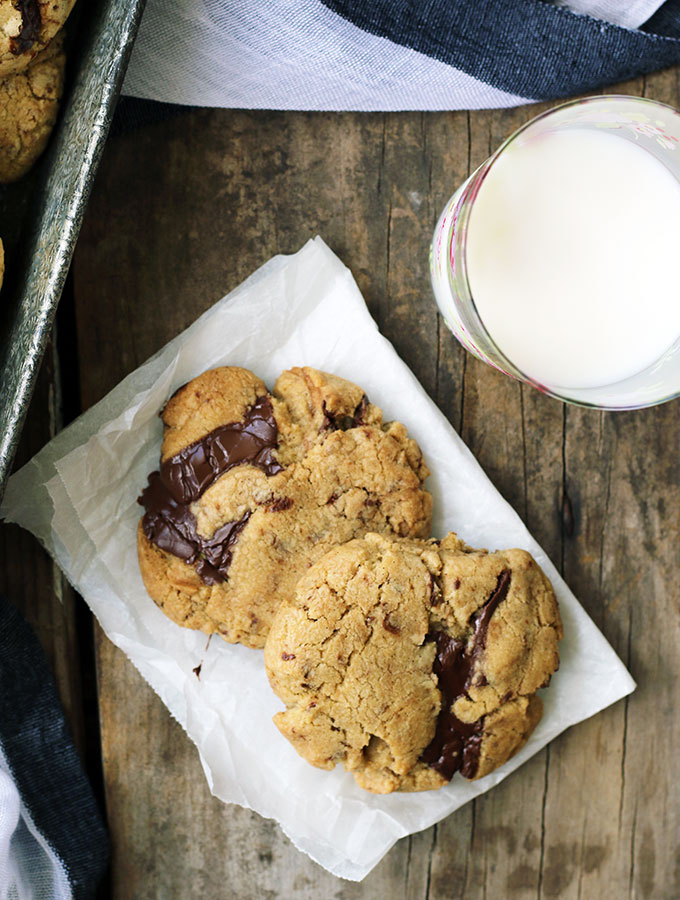 It was this particular situation that made me think, "why not use melted butter?"
Why not indeed. On researching I discovered that many a fabulous cookie is made with melted instead of creamed butter. After an hour or so of researching my desire to make cookies disappeared, and instead I decided to hit the pillow.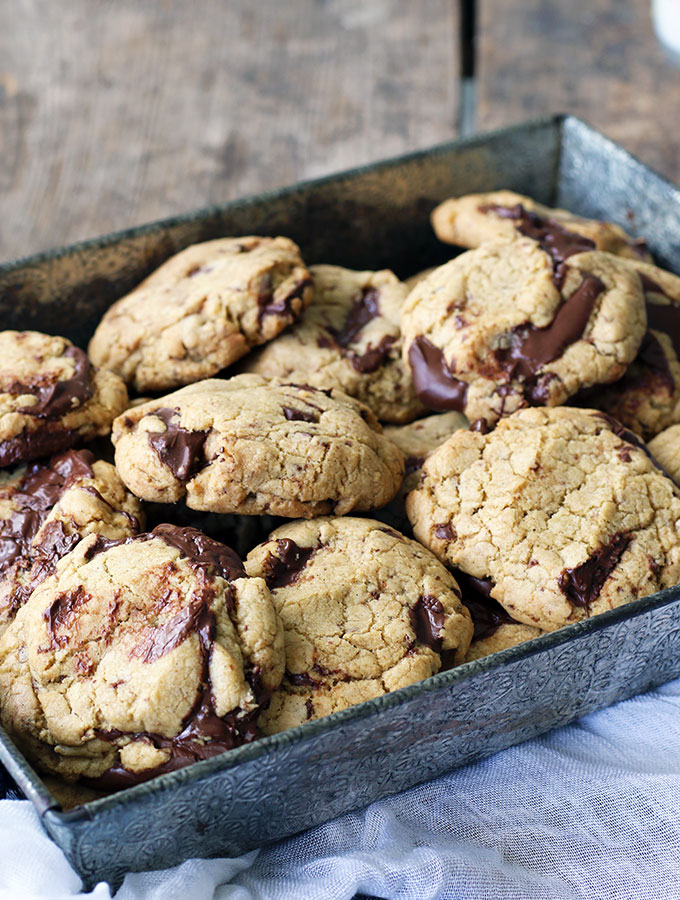 The idea of making cookies using melted butter stayed with me. So I researched, read up, played around in the kitchen and ended up with these brown butter chocolate chunk cookies.
By melting the butter you will end up with a denser, fudgier result. By browning the butter and using brown sugar you increase the fudge factor.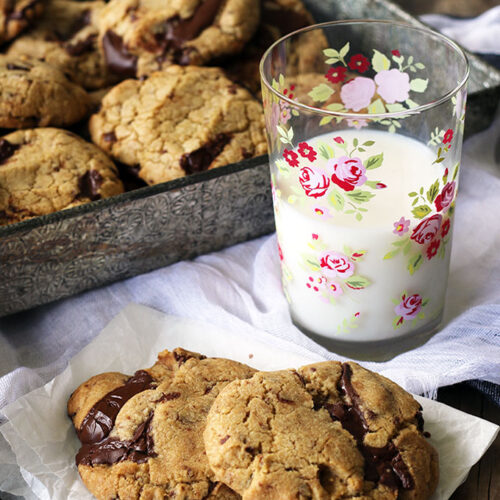 Ingredients
150

grams

butter

unsalted

125

grams

light brown sugar

100

grams

raw caster sugar

15

ml

(1 tablespoon) vanilla bean paste

1

egg

1

egg yolk

330

grams

plain flour

½

teaspoon

salt

½

teaspoon

bicarb soda

300

grams

dark chocolate

chopped
Instructions
Pre-heat oven 170°C (325°F). Line two cookie baking trays with baking paper.

In a medium saucepan melt butter and bring to a strong simmer. The butter will start to form large bubbles, which will then turn into foam. Once this happens your butter has browned. Be careful not to burn your butter. Remove from stove.

In a large bowl place sugars, then pour in butter and mix well.

Add egg and egg yolk to butter and sugar mixture, mix until completely combined.

Sift in flour, add salt, bicarb and chocolate, mix well.

Roll dough into walnut sized balls, around ¼ cup of mixture. Place dough balls in fridge for 10 minutes before baking.

To bake, place balls on lined baking trays, around 6cm between then, and press down on top of the dough balls slightly.

Bake in oven for 15 minutes. Once cooked remove from oven and leave to cool on trays.

Makes approximately 20 cookies.
DID YOU MAKE THIS RECIPE?
I love knowing when readers make my recipes, tag me on Insgragram @bellyrumbles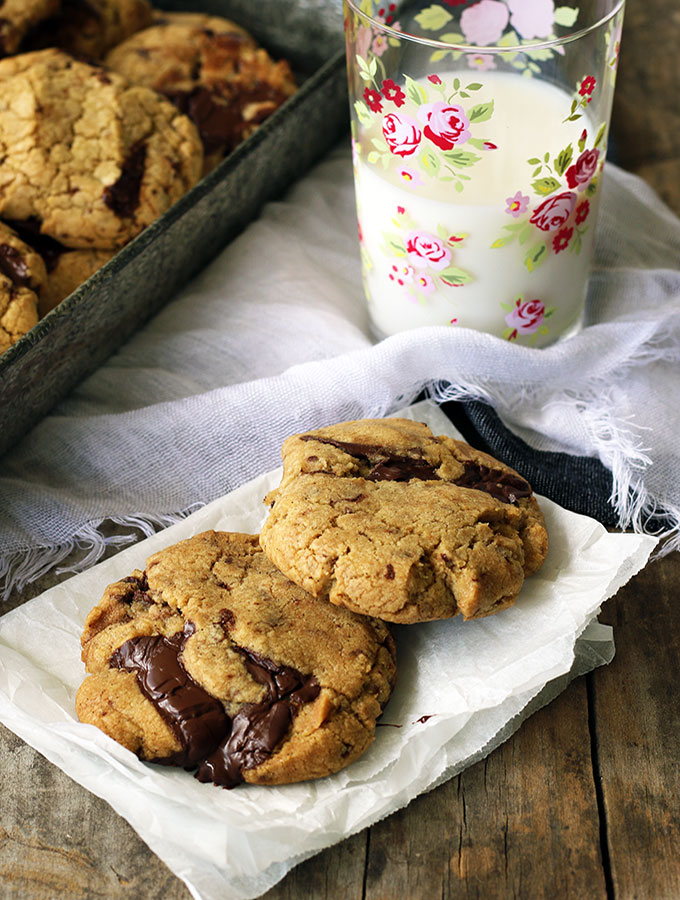 The other obvious bonus of using melted butter, you can be as quiet as a church mouse while making them. The only thing that will give the game away is the delightful smell of freshly baking cookies escaping your oven.
How do I like them compared to cookies using my normal method? I like them. They definitely will be kept in cookie making rotation. Especially when those late night cookie cravings hit.
Sara xxx
Become a subscriber and don't miss a single delicious recipe, restaurant review or travel adventure.