White Chocolate and Macadamia Cookies with oats. Delicious chewy cookies inspired by Australian ANZAC cookies.
If I had been on top of things, I would have shared this recipe with guys back in April (when it was due to be). In April I would have called these cookies, macadamia and white chocolate Anzac biscuits. Instead, Anzac Day rolled up, said hello, we played a game of two up together, and it left again. All without this recipe being shared.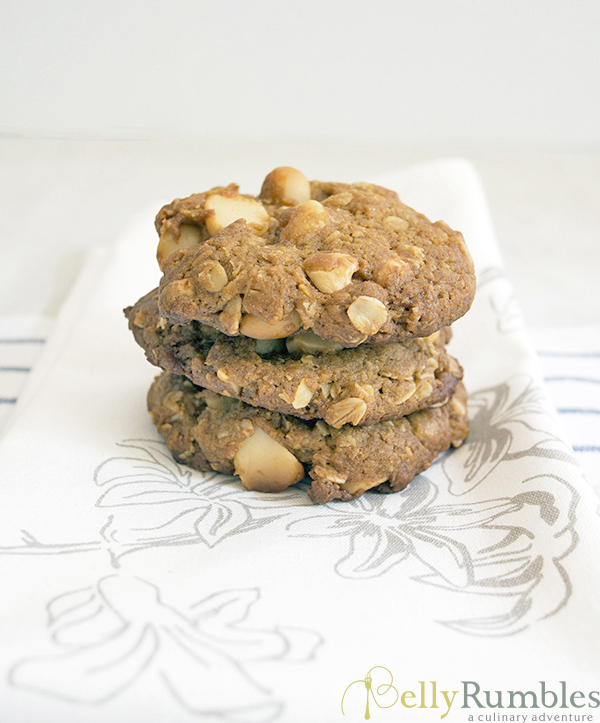 With the addition of white chocolate chips and macadamia nuts, they hardly resemble Anzac biscuits at all. They do hint at it with the oats, coconut and golden syrup, but it is the white chocolate and macadamias that are the heroes.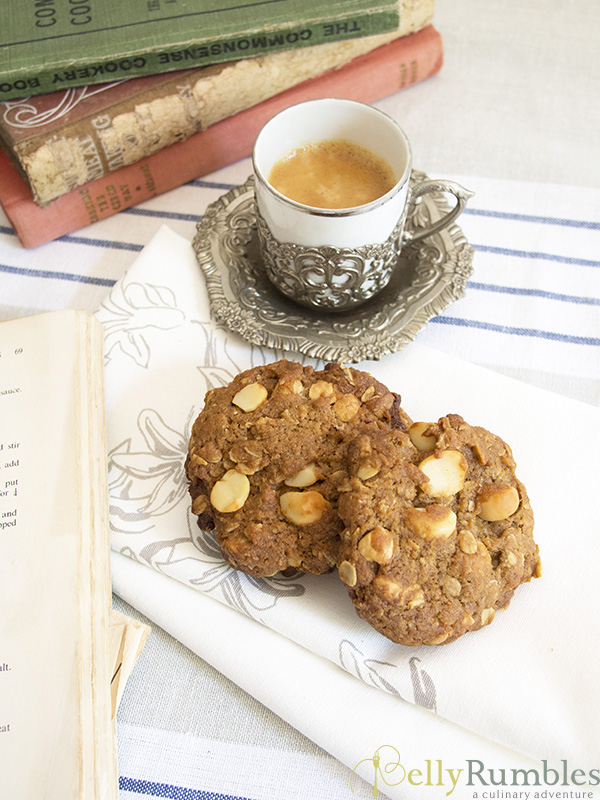 The recipe is quick, easy and very generous. You will make around 40 cookies from one batch. If you don't want to make all the cookies at once the dough can be frozen. Bake half on the day of making and freeze the remaining dough (in 1 tablespoon balls) for later baking.
Sara xxx
More Chocolate Cookie Recipes
Two Tone Chocolate Chip Cookies - a delicious big batch recipe
Chocolate Coconut Ganache Cookie Sandwiches - O M G!
Chocolate Sour Cherry Amond Cookies - sweet and sour triumph
Violet Crumble Cookies - an Aussie fave in a cookie
Brown Butter Chocolate Chunk Cookies - choc with butter nuttiness
PIN ME TO EAT ME LATER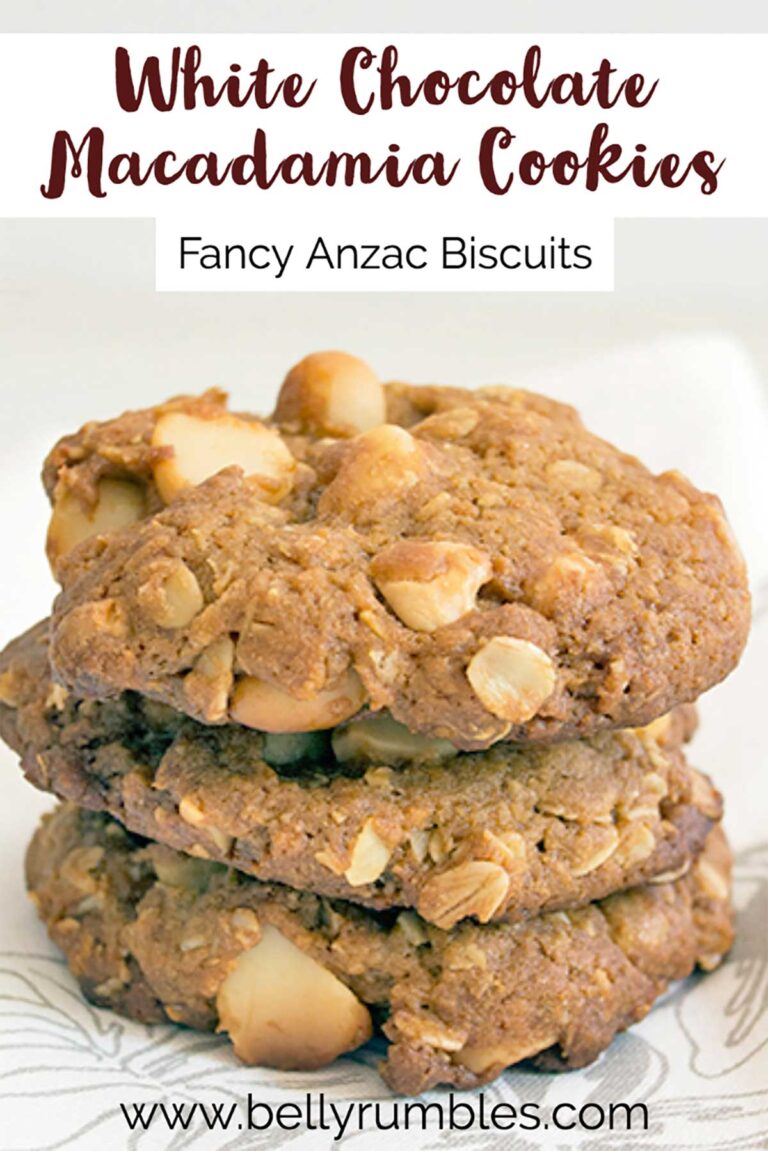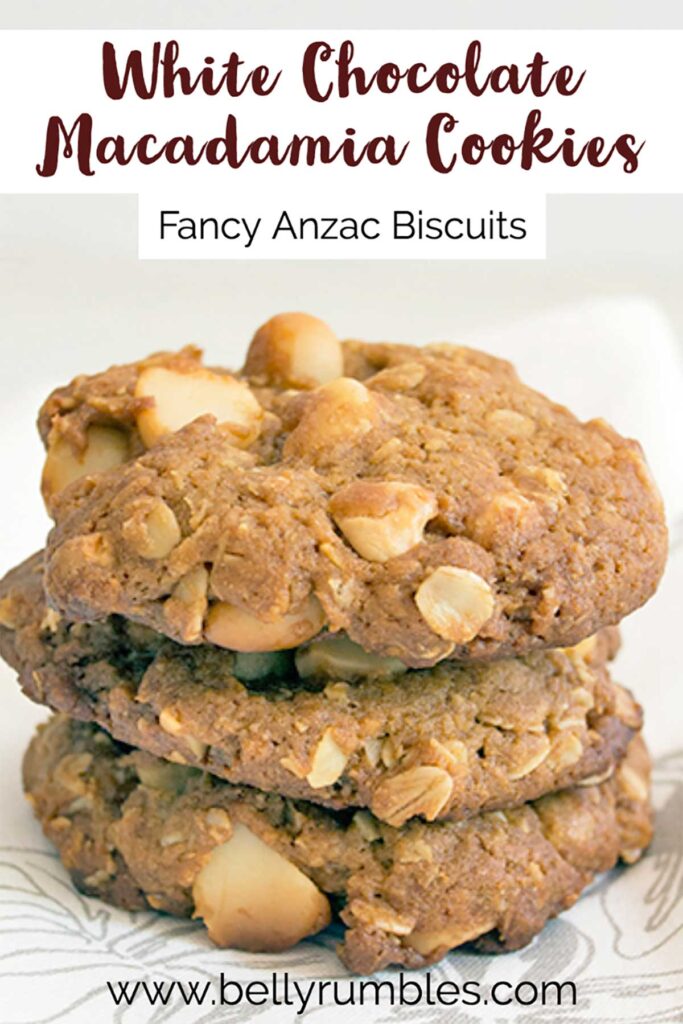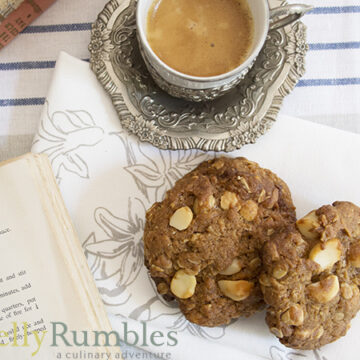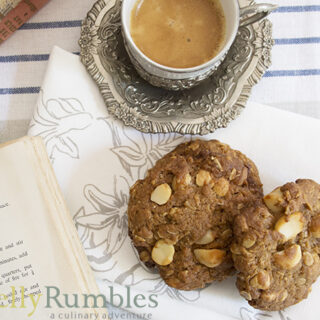 Macadamia, White Chocolate & Oat Cookies
The recipe is quick, easy and very generous.
Ingredients
2

cups

plain flour

1

cup

desiccated coconut

2

cups

rolled oats

1

cup

macadamia nuts

roughly chopped

1

cup

brown sugar

200

grams

butter

⅓

cup

golden syrup

1

teaspoon

bicarbonate of soda

1

cup

white chocolate chips
Instructions
In a large bowl combine flour, coconut, rolled oats, macadamia nuts.

In a medium saucepan melt butter with brown sugar, golden syrup and ⅓ cup water, stirring occasionally. Once butter mixture has reached simmer point, remove from heat and add bicarbonate of soda. Leave the mixture to stand for a couple of minutes.

Pour butter mixture over your dry ingredients and start to mix. Add white chocolate chips and continue mixing until all ingredients have completely combined.

Take one tablespoon of the mixture and roll it into a ball. Place the ball on your lined baking tray and continue with the rest of the mixture. Place balls around 4cm apart from each other, and squash slightly down with the back of a fork or your fingertips.

Bake cookies for around 12 minutes or until they are golden brown. They should be just firm to the touch. Cool on trays for 10 minutes before moving to a wire rack to continue to cool. Store any uneaten cookies in an airtight container.
Nutrition
Serving:
1
grams
Calories:
166
kcal
Carbohydrates:
18
g
Protein:
1
g
Fat:
9
g
Saturated Fat:
5
g
Cholesterol:
11
mg
Sodium:
69
mg
Fiber:
1
g
Sugar:
10
g
Did You Make This Recipe?
I do a happy dance when people share how they went. Tag me on Instagram or Twitter @bellyrumbles & #bellyrumbles