Authentic Mandarin Pancakes that are easy to make at home. Perfect to wrap up slices of Peking duck or BBQ Pork with green onions, cucumber and hoisin sauce, or use with your favourite moo shu recipe.
One of my favourite dishes to order when eating out at a Chinese restaurant is Peking duck pancakes. Soft warm floury pancakes served with slices of (hopefully) crisp skinned duck, green onions, cucumber and hoisin sauce. Three delicious bites and I have easily devoured one and I'm on to my next.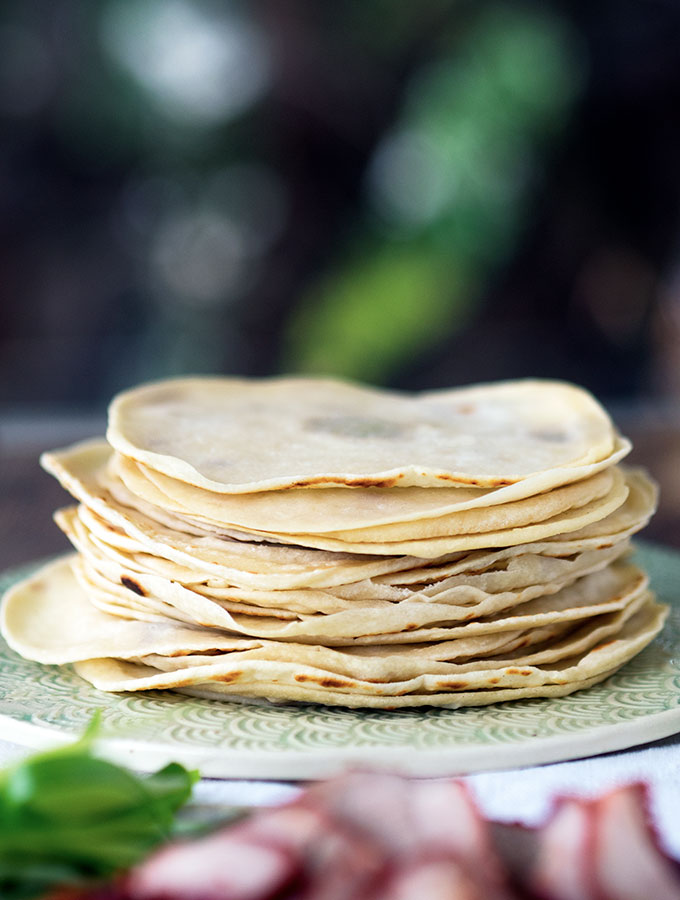 The pancakes served are called Mandarin Pancakes, or Moo Shu Pancakes. They differ greatly from the pancakes we generally eat for breakfast. No egg or milk is used, and they are made from dough, not a wet mixture poured into a pan.
I love that Mandarin Pancakes are made from pantry staples, or I should say staple. They are basically plain flour and boiling water, with a pinch of salt added in. Really couldn't get any simpler on the ingredient side of things.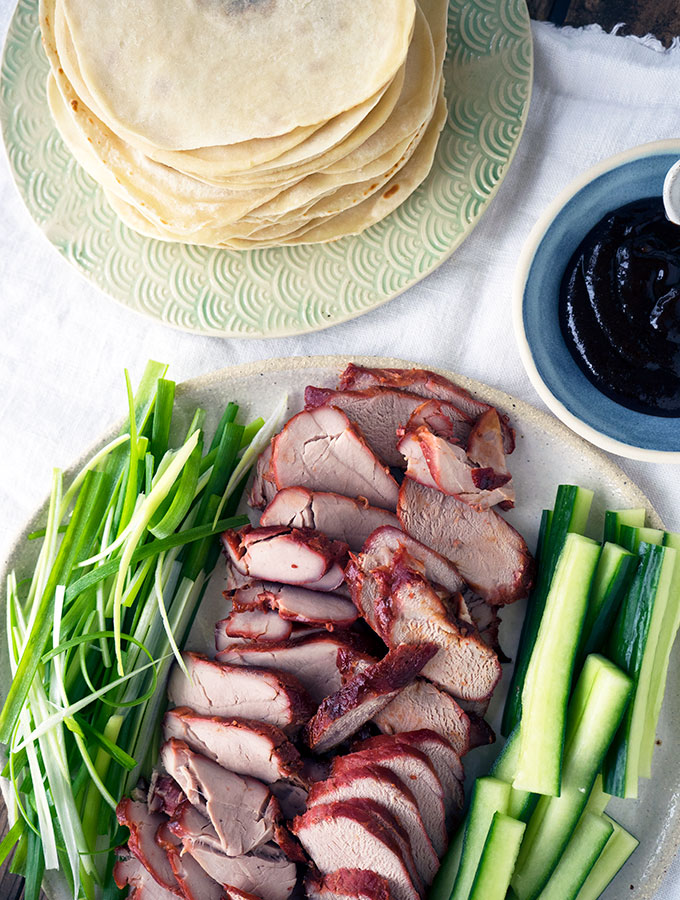 As mentioned above they are a staple with Peking duck, but at home I make these most of the time to eat with BBQ Pork. Served in the same fashion, but BBQ pork is much easier to make at home than Peking duck.
I have a great Chinese BBQ pork recipe on Belly Rumbles, where we looked at all the different ways you can make it. Is a delicious one to check out if you want to make your own BBQ pork. These pancakes can also be used with my Moo Shu Pork recipe.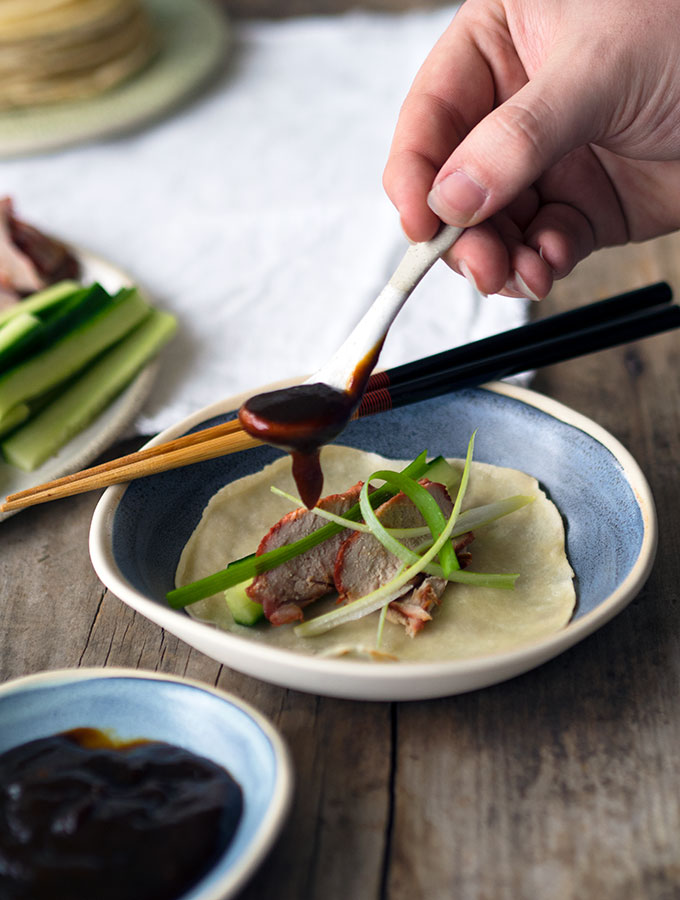 When not making my own BBQ pork, for an easy meal at home I simply pick up a Peking duck or some BBQ pork from my local Chinese chop shop. Chop shop? Okay they are more correctly called a BBQ meat shop. But hey, when there is a guy with a big ass cleaver chopping up all kinds of BBQ meats on a large wooden chopping board, what else am I going to call it!
Just between us, I'm always looked at strangely when I ask for them not to chop my duck or pork. I too have a large cleaver I like to use. I shared my cleaver fetish over on my Chinese cucumber recipe a couple of weeks back.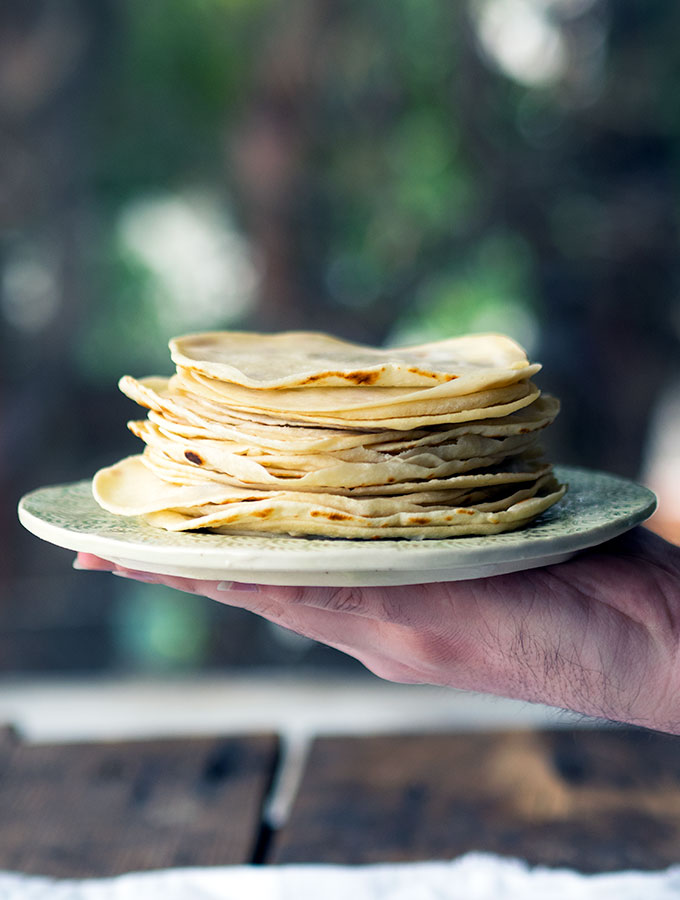 We have established that they are made with basic ingredients, but are they easy to make? Pretty much so, just be careful with the dough after adding the boiling water as it is still hot once mixed in and you start to knead your dough. The other tricky bit, or should I say trick, is when you roll two of the pancakes together to cook.
You make Mandarin Pancakes by oiling the top of one dough ball liberally, then pressing another dough ball down on top of the oiled one. Once rolled out they are cooked on both sides in a pan. When cool enough to handle you pull the two pancakes apart from each other. Leaving you with a pancake soft on one side and pan cooked on the other.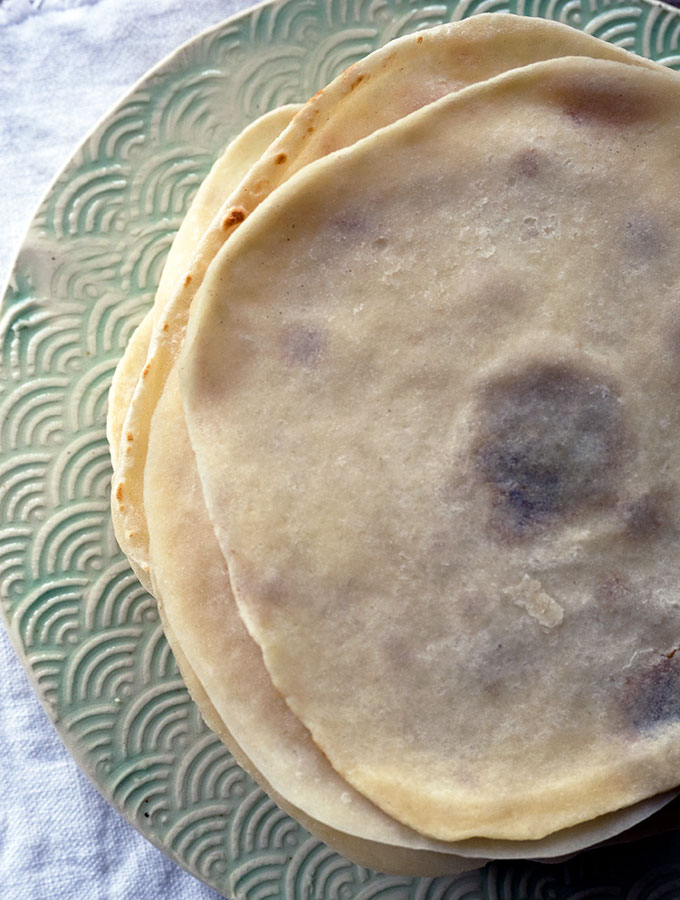 This recipe makes quite a few pancakes, but don't worry as you can freeze any leftovers. Wrap them well in plastic wrap and then place in a zip lock bag and remove as much air as you can. I do this to aid the prevention of freezer burn.
I do hope you enjoy these authentic Mandarin Pancakes, be it with pork or duck.
Sara xxx
Printable Recipe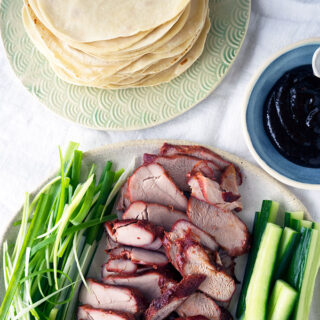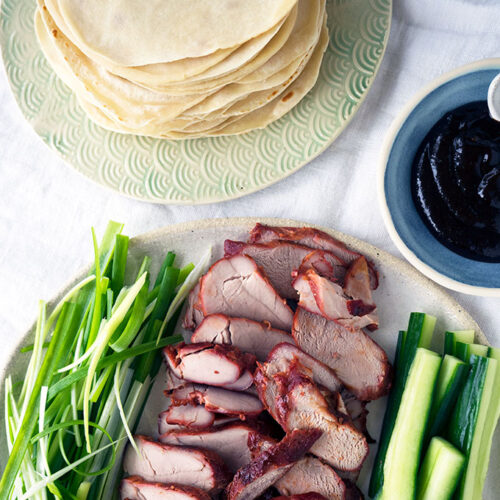 Mandarin Pancakes for Peking Duck or BBQ Pork
Authentic Mandarin Pancakes that are easy to make at home. Perfect to wrap up slices of Peking duck or BBQ Pork with green onions, cucumber and hoisin sauce.
Ingredients
3

cups

plain flour

pinch

salt

1 ⅓

cups

boiling water

1

tablespoon

vegetable oil
Instructions
Place flour in a large bowl.

Pour boiling water on to of flour and mix well with a fork.

Tip dough out on to a flour surface. Knead until dough is a consistent texture and is slightly sticky (but does not stick to your hands). You may need to add flour.

Form dough in to a ball, dust with flour and cover with plastic wrap. Leave to rest for 30 minutes.

Once rested place dough on a floured surface. Knead a few more times until the dough is smooth.

Shape dough in to a log and divide it in to two pieces. Wrap one piece in plastic wrap while you work on the other.

Roll dough in to a 3.5cm (1.3 inches) thick log. Cut log in to 2cm (1 inch) pieces.

Work with two pieces of dough at a time. Make sure to cover the rest of the dogh with plastic wrap to stop them drying out.

Place vegetable oil in a small bowl. You will also need a pastry brush.

Roll two pieces of dough into balls. Flatten each dough ball out so they make two round discs.

Brush the top of one of the dough discs completely with vegetable oil. Place the other dough disc on top of the oiled suface.

Press the top disc down on top of the oiled disc. Then roll them out with a rolling pin to make a 13-15cm (5-6 inch) double stacked pancake.

Brush each side of this double pancake with a little flour and cover with plastic wrap. Continue with the rest of the dough discs.

Once you have rolled out all the pancakes place a heavy based non stick frying pan on a medium heat.

Place one pancake in the pan and cook for around 30 seconds until light brown spots appear on pancake side being cooked. Once this happens flip pancake and continue cooking on the other side. Each pancake should take around 1 minute to cook.

Remove pancake from the heat and leave to cool slghtly. Once cooled pull the double pancake apart to make two pancakes.

Place on a plate, cover and continue with the rest of the pancakes.

Once all pancakes are cooked repeat the whole process with the reserved dough.
Measurement Notes
All measurements are Australian metric standard. All measures are level, and cups are lightly packed unless specified. 1 teaspoon = 5ml / 1 tablespoon = 20mls / 1 cup = 250ml /4 teaspoons = 1 tablespoon.
Recipe Notes
Pancakes can be made ahead of time.
If making them a few hours or a day ahead store them covered in the fridge. To reheat to serve place them covered in the microwave for a few seconds until warmed through or place in a bamboo steamer for 3-5 minutes. Serve immediately.
Pancakes can be stored in the freezer for up to 1 month. To reheat, place in a bamboo steamer once thawed for 3-5 minutes.
NUTRITIONAL INFORMATION
The recipe's nutritional information is an approximation based on an online calculator. It is meant solely for reference purposes. If you're looking for precise details, be sure to double-check with your own research.
Calories:
49
kcal
Carbohydrates:
9
g
Protein:
1
g
Potassium:
13
mg
Calcium:
2
mg
Iron:
0.6
mg
Did You Make This Recipe?
I do a happy dance when people share how they went. Tag me on Instagram or Twitter @bellyrumbles & #bellyrumbles