"The October Daring Cooks' Challenge was hosted by Shelley of C Mom Cook and her sister Ruth of The Crafts of Mommyhood. They challenged us to bring a taste of the East into our home kitchens by making our own Moo Shu, including thin pancakes, stir fry and sauce."
Thank you Shelley and Ruth for giving us such a great challenge.  I must admit I am not a stranger to Moo Shu pork, it is something I have made before.  We eat a fair bit of Asian food in our household,  I enjoy the flavours and find it quick and satisfying on a weeknight.  Sure there are many dishes from around Asia that require hours of preparation, and I enjoy making those too, but nothing beats a stir fry or noodles mid week.
Moo shu pork (moo shi/mu shu or mu xu pork) originates from Northern China, possibly originally from Shandong.  It is served with warm moo shu pancakes (mandarin pancakes) similar to what is served with Peking Duck.  Actually the recipe that was provided is nearly the same as the one I use to make my pancakes to accompany Peking Duck.  Sauce is also served, usually hoisin sauce.
I decided to attempt this challenge on a week night after work.  Yes, there is nothing like a challenge on a busy week night, especially when you are making pancakes from scratch!  Surprisingly it didn't take as long as I thought and dinner wasn't too late.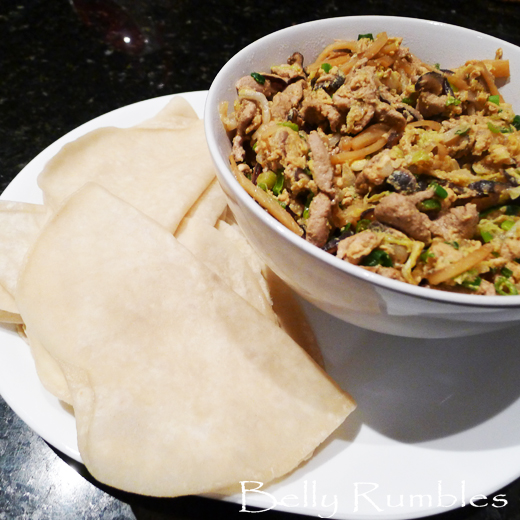 Moo Shu Pancakes
Shelley and Ruth had tried three different methods of making the pancakes. I chose to use her third method as that was the way I am use to making them and I find it very successful. The recipe made about 30 pancakes, any excess pancakes freeze very well for later use.
Print
Ingredients
4

cups

all-purpose flour

1½

cup

boiling water

1

teaspoon

vegetable oil

Dry flour for dusting
Instructions
Sift the flour into a mixing bowl. Gently pour in the water, stirring as you pour, then stir in the oil. Knead the mixture into a soft but firm dough. If your dough is dry, add more water, one tablespoon at a time, to reach the right consistency. Cover with a damp towel and let stand for about 30 minutes.

Lightly dust the surface of a worktop with dry flour. Knead the dough for 6-8 minutes or until smooth, then divide into 3 equal portions. Roll out each portion into a long sausage and cut each sausage into 8-10 pieces. Keep the dough that you are not actively working with covered with a lightly damp dish cloth to keep it from drying out.

Working two pieces of dough at a time, roll each piece into a three inch pancake. Using a pastry brush, brush sesame oil onto the top of one of the pancakes, and top it with the other pancake. Further roll the doubled pancake into a 6 to 8 inch circle.

Place an un-greased frying pan over high heat. Once the pan is hot, lower the heat to low and place the pancakes, one at a time, in the pan. Remove when little light-brown spots appear on the underside. Just be careful separating the pancakes after cooking them on both sides –heat (steam) does get caught between them, so don't burn your fingers! Cover with a damp cloth until ready to serve.
Nutrition Facts
Moo Shu Pancakes
Amount Per Serving
Calories 61
% Daily Value*
Potassium 17mg 0%
Total Carbohydrates 12g 4%
Protein 1g 2%
* Percent Daily Values are based on a 2000 calorie diet.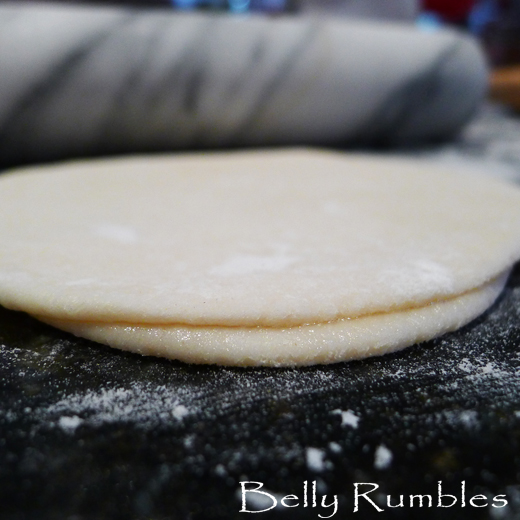 Pancakes sandwiched together ready to be rolled thin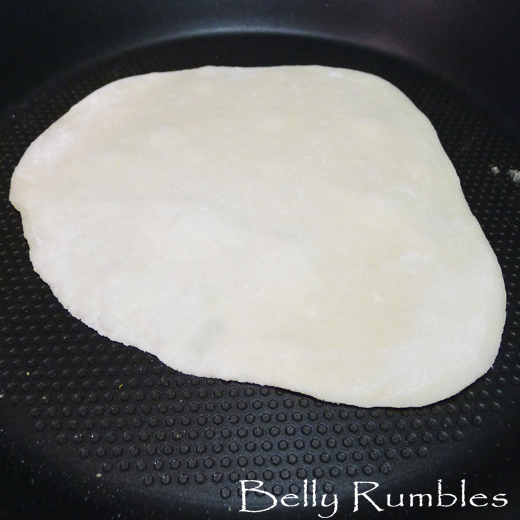 Pancakes cooking (okay they aren't perfect)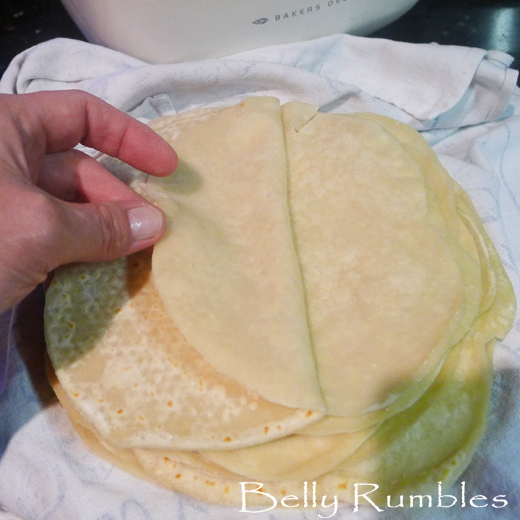 Separating the pancakes once out of the pan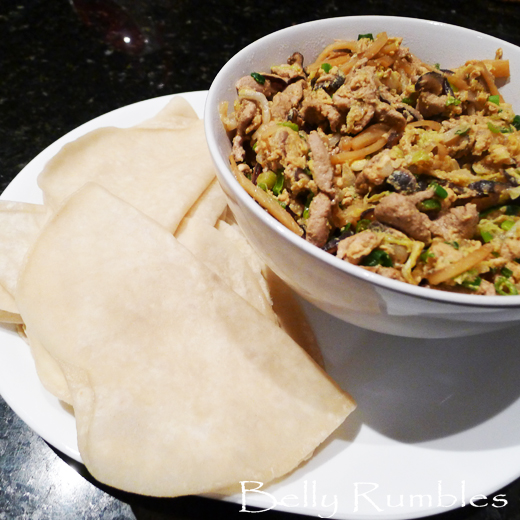 Moo Shu Pork
The pork mixture was extremely quick and easy to make. The recipe called for wood ear mushrooms, but I substituted dried shitake.
Print
Ingredients
2/3

cup

Dried black fungus ('wood ears')

450

grams

pork loin or butt

¾

cup

bamboo shoots, thinly cut

3

cups

Chinese cabbage (wombok), thinly cut

3

large eggs

1

teaspoon

salt

4

tablespoons

vegetable oil

2

scallions

1

tablespoon

light soy sauce

2

teaspoons

rice wine

A few drops sesame oil

12

thin pancakes to serve
Instructions
Soak the fungus in warm water for 10-15 minutes, rinse and drain. Discard any hard stalks, then thinly shred.

Thinly cut the pork, bamboo shoots and Chinese cabbage into matchstick-sized shreds.

Lightly beat the eggs with a pinch of salt.

Heat about 1 tablespoon (15 ml) oil in a preheated wok and scramble the eggs until set, but not too hard. Remove and keep to one side.

Heat the remaining oil. Stir-fry the shredded pork for about 1 minute or until the colour changes. Add the fungus, bamboo shoots, Chinese cabbage and scallions. Stir-fry for about 2-3 minutes, then add the remaining salt, soy sauce and wine. Blend well and continue stirring for another 2 minutes. Add the scrambled eggs, stirring to break them into small bits. Add the sesame oil and blend well.

To serve: place about 2 tablespoons (30 ml) of hot Moo Shu in the centre of a warm pancake, rolling it into a parcel with the bottom end turned up to prevent the contents from falling out. Eat with your fingers.
Nutrition Facts
Moo Shu Pork
Amount Per Serving
Calories 115
Calories from Fat 63
% Daily Value*
Total Fat 7g 11%
Cholesterol 64mg 21%
Sodium 318mg 13%
Potassium 215mg 6%
Total Carbohydrates 1g 0%
Protein 10g 20%
* Percent Daily Values are based on a 2000 calorie diet.
I made two versions of hoisin sauce to accompany our pancakes.  The Challenge recipe below and my own that I tend to make to go with a variety of things.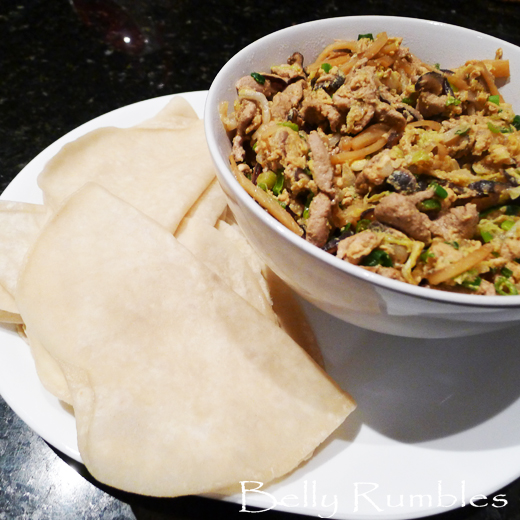 Hoisin sauce
Print
Ingredients
4

tablespoons

soy sauce

2

tablespoons

peanut butter OR black bean paste

1

tablespoon

honey OR molasses

2

teaspoons

white vinegar

1/8

teaspoon

garlic powder

2

teaspoons

sesame seed oil

20

drops

Chinese style hot sauce (optional, depending on how hot you want your hoisin sauce)

1/8

teaspoon

black pepper
Instructions
Simply mix all of the ingredients together by hand using a sturdy spoon. At first it does not appear like it will mix, but keep at it just a bit longer and your sauce will come together.
Nutrition Facts
Hoisin sauce
Amount Per Serving
Calories 12
% Daily Value*
Sodium 156mg 7%
Potassium 12mg 0%
* Percent Daily Values are based on a 2000 calorie diet.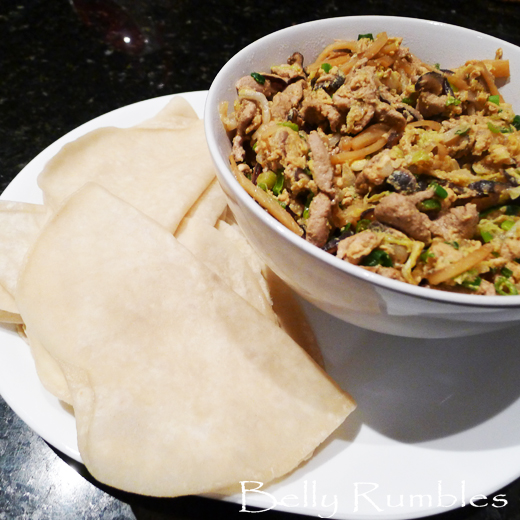 My Hoisin Sauce
Sadly I don't have a recipe as such, it is something I have made for years now and just tend to throw it in and give it a taste to make sure it is right. These are rough measurements
Print
Ingredients
4

Tablespoons

hoisin

1 1/2

Tablespoons

peanut butter

2

Tablespoons

soy sauce
Instructions
Mix all of the above together in a small sauce pan and heat through. I sometimes add a splash of water if needed to make it slightly runnier.
Nutrition Facts
My Hoisin Sauce
Amount Per Serving
Calories 25
Calories from Fat 9
% Daily Value*
Total Fat 1g 2%
Sodium 262mg 11%
Potassium 25mg 1%
Total Carbohydrates 2g 1%
* Percent Daily Values are based on a 2000 calorie diet.
Josh actually preferred the challenge recipe with the moo shu.  I liked mine as it is slightly thicker and didn't drip out of the pancakes.  Both were great sauces to accompany and I am glad I made the challenge one.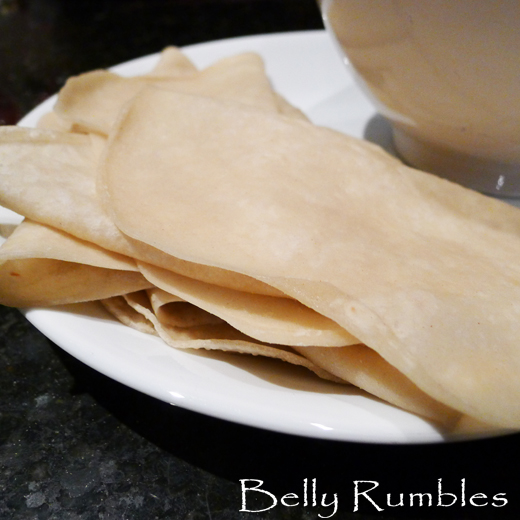 To Serve
Serve pork, pancakes and sauce separately and let your diners assemble the pancakes themselves.  Spread some sauce on to a pancake and then top with the pork mixture, roll and eat.
Sara xxx