I am a dumpling addict, there should be dumplings anonymous meetings for my kind of addiction. Yum cha is one of my favourite Sunday morning breakfasts. I love dumplings from China, Taiwan, Japan; I even love dumplings closer to my heritage, like pierogi.
This will come as no surprise to those of you that follow me on Instagram. A dumpling picture will make its way into my feed at least once a week. Normally they are steamed, my preference, but I do adore fried prawn dumplings. No, actually I crave fried prawn dumplings regularly, and my prawn toast recipes that appear on Belly Rumbles would support this.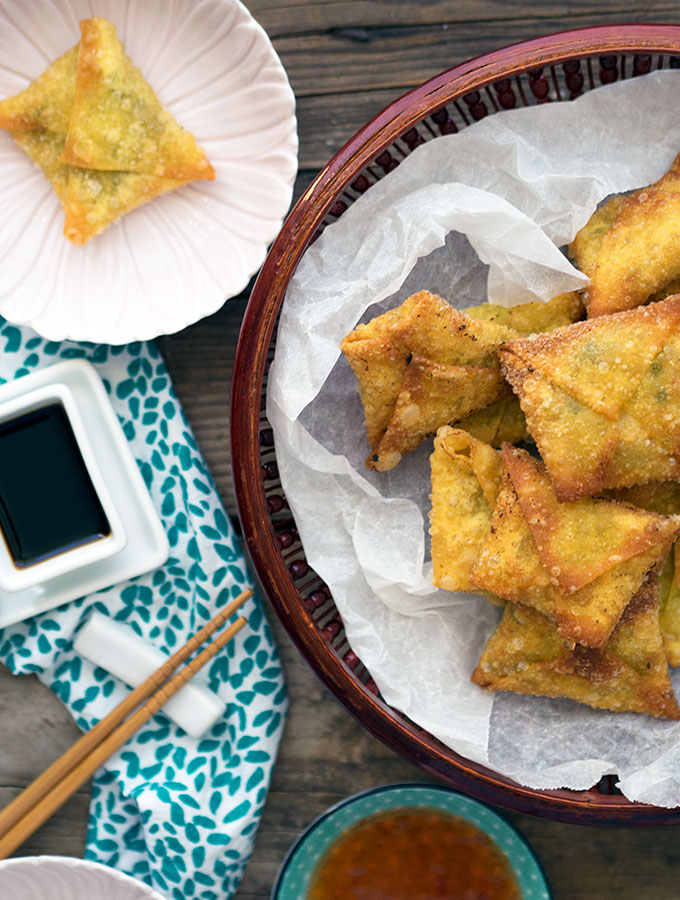 How does prawn toast support a fried prawn dumplings addiction? Quite easily, they are the lazy person's fried prawn dumplings. Just slather mushed up prawn and bits on to bread and fry. Crunch, prawn, chilli sauce, all equals instant satisfaction.
Prawn toast really does show how lazy I can be. With pre-made dumpling wrappers readily available at most supermarkets, whipping up fried prawn dumplings at home isn't much harder.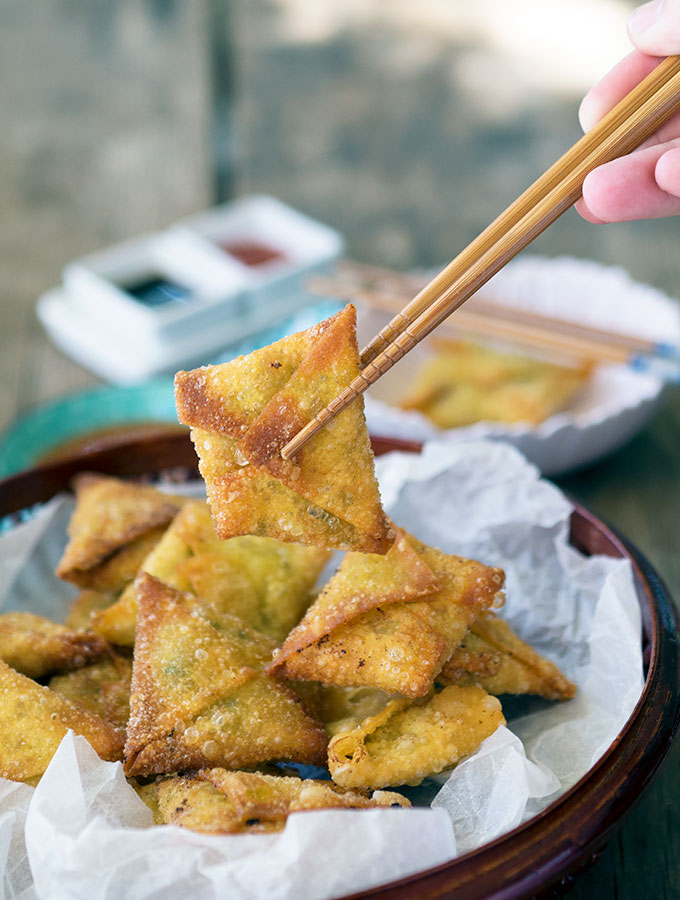 Of course if you too love prawn toast you will enjoy these recipes; Quick & Easy Prawn Toast, Prawn Toast with Corn & Black Sesame Seeds and Prawn Balls (inside out prawn toast).
As you can clearly see I haven't aimed for fancy pants folding. Let's leave the perfect looking dumplings to the professionals. I take an easy folding approach for these delicious morsels, it's called the envelope technique.
Simply place your filling in the middle of a square wrapper and fold your corners in. The fried prawn dumplings will be eaten so quickly that nobody will have time to critique your folding.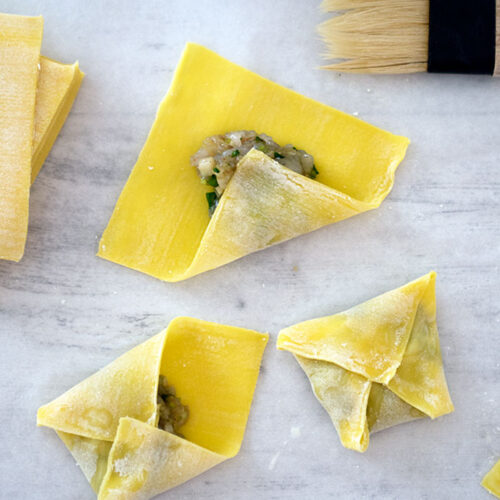 Fried Prawn Dumplings with Water Chestnut & Ginger
Print Recipe
Homemade fried prawn dumplings with the crunch of water chestnuts and the kick of ginger and white pepper.
Ingredients
300

g

green prawn meat

-

finely chopped

1

shallot

-

green onion white and green portion, finely chopped

1

tablespoon

grated ginger

80

g

water chestnuts

-

finely chopped

2

tablespoons

oyster sauce

½

teaspoon

ground white pepper

¼

teaspoon

salt

24

wonton wrappers

vegetable oil for deep frying

chilli or sweet chilli sauce for serving
Instructions
Place prawn meat, shallot, ginger, water chestnuts, oyster sauce, pepper and salt into a medium bowl. Mix until well combined.

Work with six wonton wrappers at a time. Wrappers will have a "floury" side and a smooth side. Place the "floury" side down on the bench.

Place a heaped teaspoon of prawn mixture in the middle of each wonton wrapper.

Fold one corner of the wrapper over the filling, just past the middle. Brush floury edges of the triangle formed with water. The flour acts as a glue.

Fold the two closest sides over and on top of the water brushed triangle.

Then brush the edges of the open side with a little water, fold the remaining corner over and seal the wontons. They will look like envelopes.

Continue with the remaining wonton wrappers.

Heat vegetable oil in a wok over a high heat until it reaches 180°C (350°F).

Cook the wontons a few at a time, for around 3-4 minutes until they are golden brown and cooked through.

Once cooked remove dumplings from the wok and drain on kitchen paper towel. Serve immediately with chilli or sweet chilli sauce.
DID YOU MAKE THIS RECIPE?
I do a happy dance when people let me know, tag me on Insgragram @bellyrumbles #bellyrumbles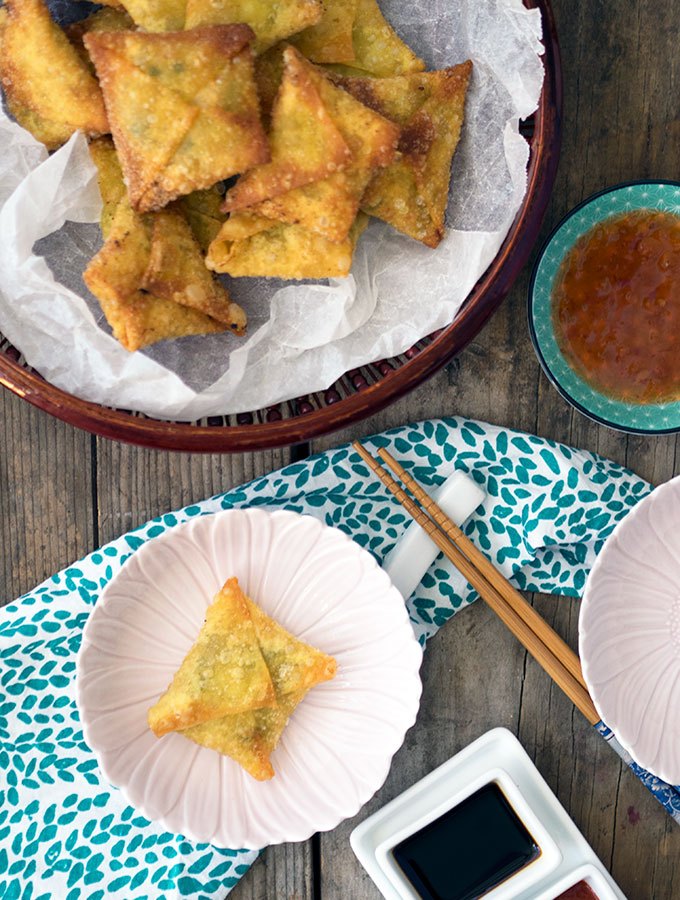 The addition of water chestnut to these fried prawn dumplings give them a bonus crunch factor. The ginger and white pepper add a fragrant kick. If you can get your hands on garlic chives, they would be a tasty substitute for the shallot (add around 2 chopped tablespoons).
A big plus of making dumplings at home, they can be frozen once folded. When your dumpling mojo is strong, make a few extra batches to freeze for another day. Lay them out on a flat surface with baking paper to freeze. Once frozen then can then be put in a zip lock bag for easier storage.
How strong is your dumpling game?
Sara xxx
Become a subscriber and don't miss a single delicious recipe, restaurant review or travel adventure.