Prawn toast is a favourite of mine. The crunch of biting through the crisply fried bread base and savouring the juicy prawn topping, truly scrumptious. Usually eaten just out of the wok, steam escaping from the prawn topping, usually up my nose as I take that first bite.
As much as I adore prawn toast, it really isn't an everyday food, is it?. Being fried in oil, the bread does do its fair share of soaking a bit of that oil up, no matter how well you drain it. Healthy for you, this dish is not.
On the weekend once in a while, I will make this as a treat for the boys, and of course as a treat for myself. Simple finger food served with some sweet chilli sauce on the side.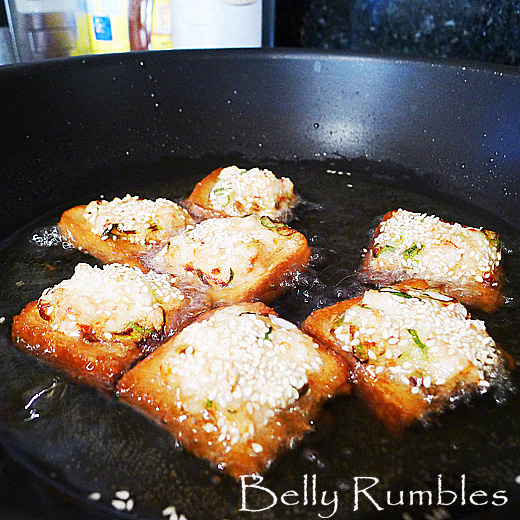 I never order them these days when we eat out at Chinese restaurants. I have often wondered if they are of those 'Anglo' dishes that are just there for those of us from non Chinese backgrounds. They were a staple item I would always want to order as a child, but these days I always tend to order items a lot more interesting and unusual. I most certainly would never order it as a home delivery item for a lazy non cooking night in. Sadly yes, I have done that once. I was trying to appease some major prawn toast cravings. What I received, which is, of course, is to be expected, was a limp triangle of soggy, cold, oily toast with a thin layer of prawn paste on top. Guess what, haven't done that again. I learned to live with any cravings I may have and satisfy them at a later date.
The recipe I use is actually my Mum's. She shared it with me after returning back to Australia from living in Singapore with Dad for a while. It is a simple, quick and honest recipe.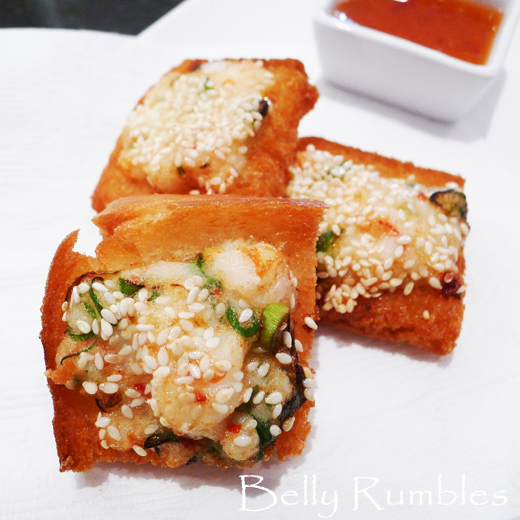 I tend to be generous with the prawn topping, by doing so I feel it counteracts the fried toast it rests on. What has always amazed me about this recipe is how the prawn topping just sticks to the bread. The first time I made it I really did expect the prawn to float away in the bubbling oil as its bread base buddy floated the other direction. I think the trick is frying it prawn side down first. Plus the egg white helps.
Childhood food cravings appeased with a quick, easy and very satisfying recipe. Thank you Mum.
Sara xxx
Printable Recipe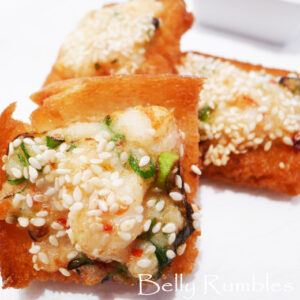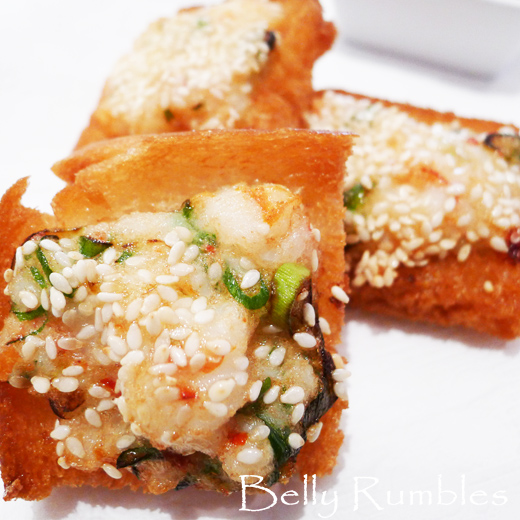 Prawn Toast
Ingredients
12

medium green prawns

shelled and de-veined, finely chopped

1

green onion

thinly sliced

1

red chilli

finely chopped

1

egg white

whisked

4

slices

of white bread

toast thickness, cut into quarters

oil for frying

Options: white sesame seeds and chopped coriander

cilantro
Instructions
Place finely chopped prawns, green onion, chilli and whisked egg white in a bowl. Combine all the ingredients well.

Place a generous heaped spoonful of prawn mixture on each bread quarter.

In a wok heat a generous amount of oil to fry your prawn toast. You don't want your toast to touch the bottom of your wok. Test the oil with a bread crumb. When the crumb comes to the surface and sizzles away the oil is ready to use.

Place six or seven pieces of prawn toast, prawn side down in the oil.

Fry until golden and then flip over and continue cooking until the other side is also golden.

Lift prawn toast from the oil, shake any excess oil off and drain well on kitchen paper.

Continue to cook the remainder of your toast as above.

Serve with sweet chilli sauce on the side.

Option: Add some chopped coriander (cilantro) to your prawn mix before you place on your bread. You can also sprinkle the top of the prawn mixture with white sesame seeds before frying.
Measurement Notes
All measurements are Australian metric standard. All measures are level, and cups are lightly packed unless specified. 1 teaspoon = 5ml / 1 tablespoon = 20mls / 1 cup = 250ml /4 teaspoons = 1 tablespoon.
NUTRITIONAL INFORMATION
The recipe's nutritional information is an approximation based on an online calculator. It is meant solely for reference purposes. If you're looking for precise details, be sure to double-check with your own research.
Calories:
30
kcal
Carbohydrates:
4
g
Protein:
2
g
Cholesterol:
8
mg
Sodium:
85
mg
Potassium:
33
mg
Vitamin A:
60
IU
Vitamin C:
5.6
mg
Calcium:
25
mg
Iron:
0.3
mg
Did You Make This Recipe?
I do a happy dance when people share how they went. Tag me on Instagram or Twitter @bellyrumbles & #bellyrumbles