White Christmas is not part of my normal Christmas cooking repertoire. Friday I was in the 12 items of less lane at Coles after work on my way home and picked up a bucked of Coles brand White Christmas as temptation was staring me in the face. Mental note to self, ask Mum if I was one of those horrible screaming kids at the checkout that wanted that purposely placed choc bar.
Anyway, now an adult I can just succumb to product placement every once and while and on Friday I did. Good thing and a bad thing that I did. Bad thing, paid $6 for a bucked of not so great White Christmas, good thing as I thought "hey I recon I could do a lot better myself". Sadly the Coles option lacked what I feel is an important part of White Christmas, cherries.
So after googling White Christmas recipes and going out to buy the most necessary Copha, I had come up with something I felt would put the Coles product to shame.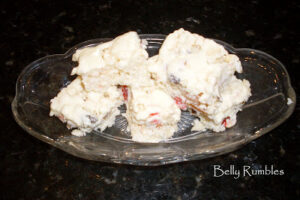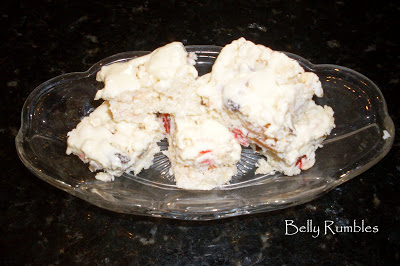 Print
WHITE CHRISTMAS
Yield 12
Ingredients
250g Copha
3 cups Rice Bubbles
1 cup desiccated coconut
3/4 of a cup icing sugar
1 cup powdered milk
100g (around 3/4 of a cup) glace cherries
1/2 a cup sultanas
2/3 of a cup dried apricots
Instructions
Melt copha. Place all dry ingredients in a bowl. Mix melted copha into dry ingredients. Put mixture in a lamington tray lined with baking paper. Press down and even out the top.
Option: Melt 180g of white cooking chocolate and drizzle over the top of the mixture.
Put in the fridge to set. Cut into desired sized pieces once it has set. Don't be like me and be impatient or it will fall apart on cutting!
Nutrition Facts
Amount Per Serving

Calories 377

% Daily Value

Total Fat 24.1 g

37%

Saturated Fat 20.7 g

104%

Cholesterol 2 mg

1%

Sodium 61 mg

3%

Total Carbohydrates 36.9 g

12%

Dietary Fiber 4.7 g

19%

Sugars 30.4 g

Protein 4.9 g

10%
* Percent Daily Values are based on a 2,000 calorie diet. Your daily values may be higher or lower depending on your calorie needs.

What is great about White Christmas is it is so easy to make, is an rich and sweet Christmas treat and kids just seem to love it.  The White Christmas went down a treat with tribe.
Sara xxx