Traditional Christmas fruit mince recipe without citrus peel. Extremely easy to make and 100% than store bought. Use it to make tarts, Christmas pudding, or Christmas fruit cake.
Why is the mixture inhabiting a mince pie called fruit mince? The ingredients that make up fruit mince don't include minced meat. The fruit itself is finely chopped, not put through a mincer. Why is it not called mixed spiced fruit or similar?
Our modern day fruit mince may not include meat, but traditionally it did. Mince pies, as we know them in Australia, are British in origins. They can be traced back to the 13th Century when European crusaders returned from the Holy Land and brought back with them middle Eastern cooking methods. Originally mince pies had a mixture of minced meat, suet, various dried fruits and spices. The use of mutton was common, but also veal, goose or even beef tongue.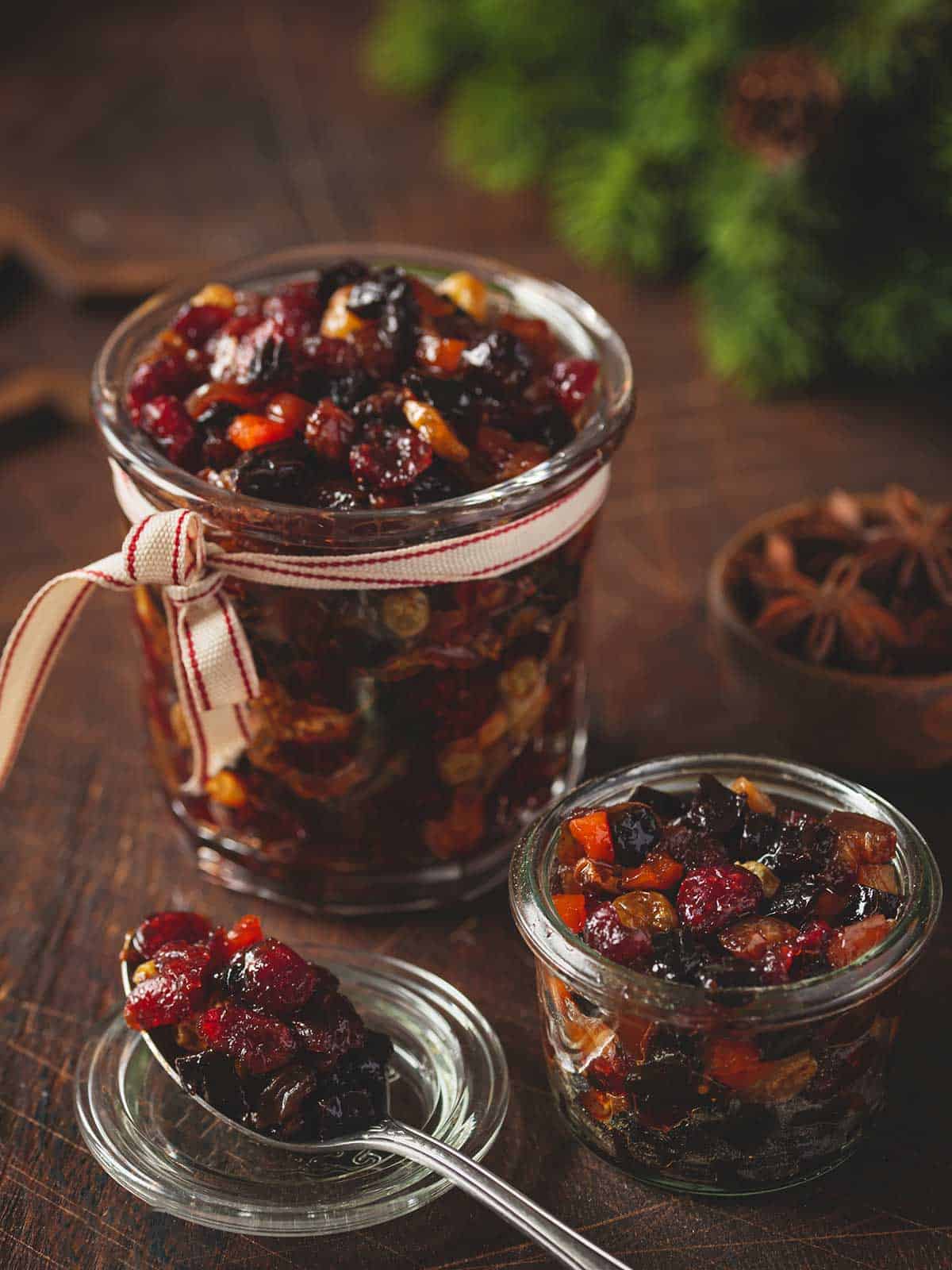 In modern times the meat aspect of the pie has been dropped. You won't find any meat in my fruit mince, or other pies you can purchase around town.
Fruit mince is very easy to prepare and far surpasses what can be purchased at your local supermarket. I find the further in advance you prepare your fruit mince the better it tastes.
One year I made an excessive amount and was left with one jar unused. I had read somewhere that fruit mince could be kept in the fridge for a year. Words of wisdom from one of Australia cooking icons, Margaret Fulton, Maggie Beer or Stephanie Alexander. Whom it was, for the life of me I can't remember. I held over that jar of mince for another year and ended up using it the following Christmas. It ended up being unrivalled by my early fruit mince efforts.
You don't have to leave your fruit mince for 12 months. A week will be okay, a month will be better, but if you are really wanting a quality result, make if a couple of months in advance. It is worth nothing that even leaving the mince to rest and flavours develop for a week, will provide a satisfying result.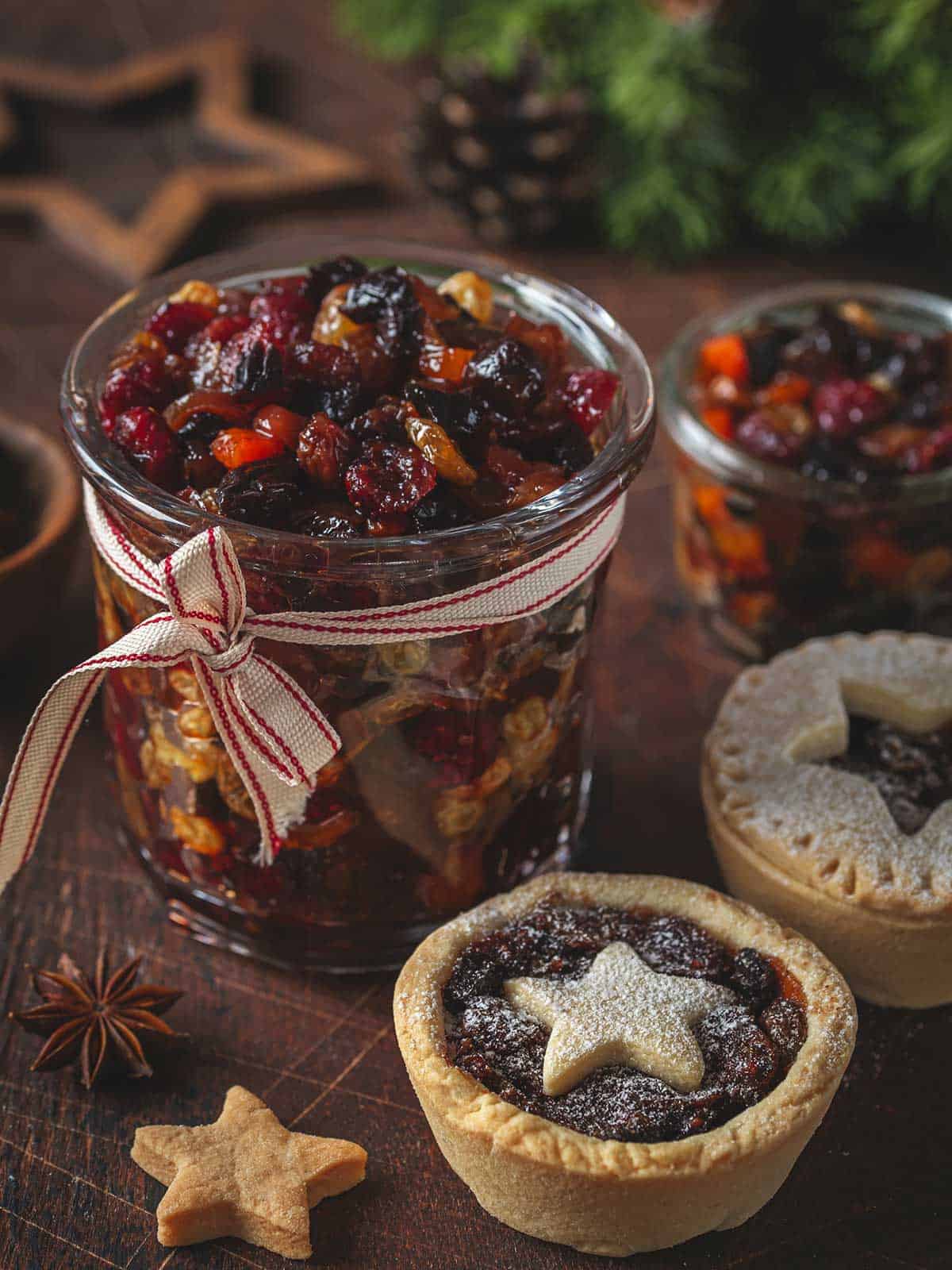 Quite apart from being very easy to make at home, there are other advantages. There is the joy of being able to use fruit that you like. I detest mixed peel, therefore it doesn't make its way into my fruit mince.
If going to the effort of making fruit mince from scratch, use the best ingredients you can afford. There is one ingredient that I do not skimp on, and that is the rum I use. Buy a good quality rum, I can't stress this enough. It will make all the difference and you can enjoy a glass straight up over the Christmas period. If you prefer, brandy can be substituted for the rum. Again, use good quality brandy, or better still cognac.
Sara xxx
Printable Recipe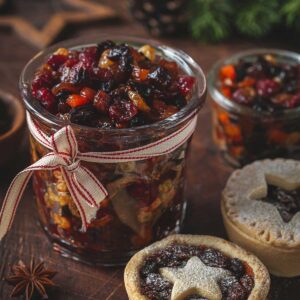 Christmas Fruit Mince (Peel Free)
Peel-free fruit mince that is quick and easy to make. The trick is making it as far in advance as you can.
Ingredients
375

grams

raisins

375

grams

sultanas

200

grams

dried cranberries

120

grams

dried pear

100

grams

glace cherries

red

125

grams

glace ginger

120

grams

slivered almonds

2

granny smith apples

peeled and finely grated

400

grams

brown sugar

130

grams

butter

salted, melted

¾

cup

rum

1

teaspoon

nutmeg

1

teaspoon

cinnamon

½

teaspoon

allspice

1

orange

juice & zest
Instructions
Chop all your dried and glace fruits finely and place in a large mixing bowl. Add the rest of your ingredients and mix well.

Place your mince in a container and stir every few days until you are ready to use it.

Tip: If you are planning to keep you mince for a few months before use, I suggest using jars. Then you can just give your mince a shake to keep it mixing to develop flavours. I also taste my mince after a month and if needed add a dash more rum.
Measurement Notes
All measurements are Australian metric standard. All measures are level, and cups are lightly packed unless specified. 1 teaspoon = 5ml / 1 tablespoon = 20mls / 1 cup = 250ml /4 teaspoons = 1 tablespoon.
NUTRITIONAL INFORMATION
The recipe's nutritional information is an approximation based on an online calculator. It is meant solely for reference purposes. If you're looking for precise details, be sure to double-check with your own research.
Calories:
963
kcal
Carbohydrates:
187
g
Protein:
6
g
Fat:
21
g
Saturated Fat:
9
g
Cholesterol:
34
mg
Sodium:
153
mg
Potassium:
1076
mg
Fiber:
11
g
Sugar:
126
g
Vitamin A:
470
IU
Vitamin C:
15.9
mg
Calcium:
142
mg
Iron:
3.5
mg
Did You Make This Recipe?
I do a happy dance when people share how they went. Tag me on Instagram or Twitter @bellyrumbles & #bellyrumbles