I will admit I am not into the commercialism of Valentine's Day.  If you want to buy me roses, then please do any other day of the year, don't waste your money on the 14th February.  Even though I don't celebrate in a commercial way, in other words, paying big bucks for flowers, chocolates etc, I do like to play with the 'Valentine' concept in the kitchen.
Last year I made Robots bearing hearts biscuits.  So cute and quirky, who doesn't love a robot with a love heart, all together now, aawwwwe.
This year I wanted to play with my new small love hearts cake tin.  Very cute and picked up at a steal.  With a nice supply of green tea powder from a recent visit to Tokyo Mart, left over almond meal from Christmas baking, financiers (or friands) seemed a logical baking move on my part.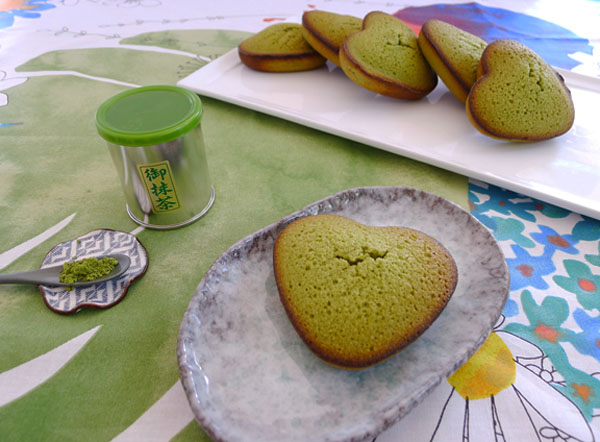 The recipe is inspired by one of my favourite cook books, Okashi by Keiko Ishida.  This is a sweet treat recipe book, but for all you pet owners, Keiko even has a section of pet treat recipes.  Keiko is a dog lover and owns a gorgeous Golden Retriever called Cookie, how appropriate is the name!

Recipe: Green Tea Financier Hearts
Gorgeous green tea friands/financiers for Valentine's Day. Very easy to make.
Ingredients
50g plain flour
5g cornflour
10g green tea powder
4 egg whites
130g caster sugar
50g ground almonds
Pinch of salt
130g unsalted butter
Instructions
Preheat oven to 220 degrees C. Lightly grease your desired cake/friand tin.
Place butter in a small saucepan, stir constantly until it browns and is nutty in fragrance. Set aside to cool.
Into a medium bowl sift flour, cornflour, green tea powder and almond meal. Add caster sugar and salt.
In another medium blow beat egg whites until soft peaks form.
Gently mix egg whites in to your dry ingredients. Mix until just combined. The stir through the browned butter.
Fill your tins and cook for around 10 - 15 minutes until just golden. Remove from tins and cool on racks.
Financiers will keep for 5 days in an air-tight container, they can also be frozen.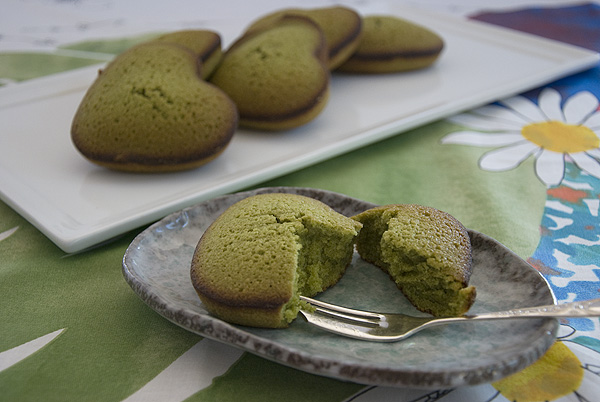 Don't forget the fantastic
GLAD giveaway
on at the moment, if you haven't entered there is still time.  A year's supply of product!
Do tell dear Belly Rumbles reader, are you 'yay' or 'nay' for Valentine's Day?
Sara xxx