Green tea financier hearts are an easy matcha cake recipe. Moist and buttery with a lovely almond taste.
I will admit I am not into the commercialism of Valentine's Day. If you want to buy me roses, then please do any other day of the year, don't waste your money on the 14th February. Even though I don't celebrate in a commercial way, in other words, paying big bucks for flowers, chocolates etc, I do like to play with the 'Valentine' concept in the kitchen.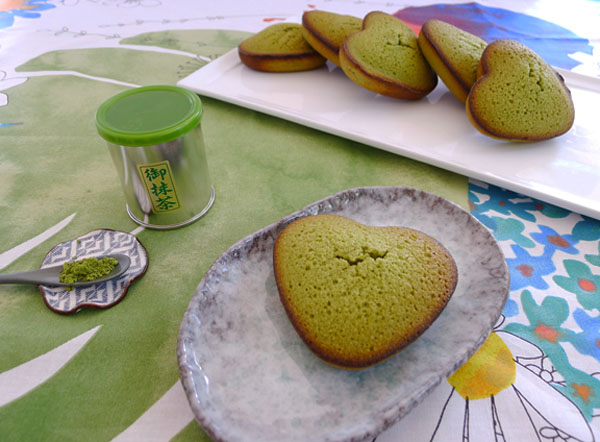 Last year I made Robots bearing hearts biscuits. So cute and quirky, who doesn't love a robot with a love heart, all together now, aawwwwe.
This year I wanted to play with my new small love hearts cake tin. Very cute and picked up at a steal. With a nice supply of green tea powder from a recent visit to Tokyo Mart, leftover almond meal from Christmas baking, financiers (or friands) seemed a logical baking move on my part.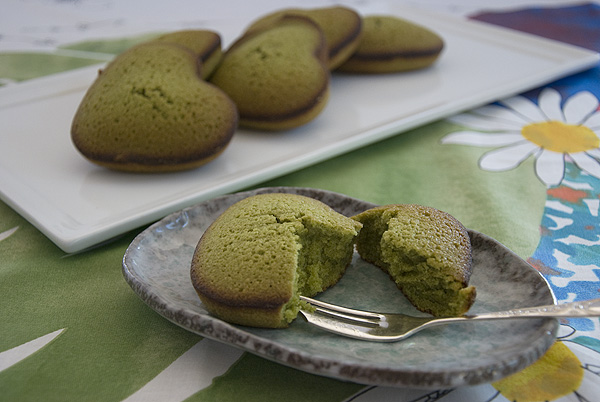 These Green tea financier hearts are inspired by one of my favourite cook books, Okashi by Keiko Ishida. A sweet treat recipe book, but for all you pet owners, as Keiko has a section of pet treat recipes. Keiko is a dog lover and owns a gorgeous Golden Retriever called Cookie, how appropriate is the name!
If you are after a chocolate Valentine dessert, do check out my Chocolate Valentine Heart Tarts!
Sara xxx