I don't think my love for Japan, it's people and especially the food is a secret. Many years ago when I started to pursue my love of Japanese food, by learning how to prepare it for myself at home, it was a struggle to find the appropriate ingredients. Luckily, there are now many Japanese grocery shops around Sydney and many basic staples are available in your local supermarket. How far we have come.
Many years ago when I would originally see the word 'sake' in the ingredient list of recipes, I would run out and try and source a bottle of drinking sake (Nihonshu). Then one day, in my lounge room, Tetsuya Wakuda shared something with me. "This is cooking sake, you don't use the sake you drink when cooking'. Maeve O'Meara then turned to him, nodded her head, and said she didn't realise there was a difference. I do love Food Safari. Like Maeve, I had no idea there was a difference until that moment either.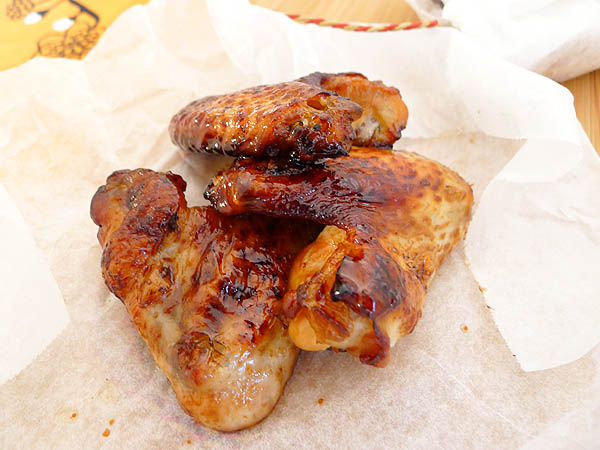 Ryorishu is the Japanese word for cooking sake and literally means 'cuisine alcohol'. You generally don't drink ryorishu straight, it isn't enjoyable as a drink. It is milled differently to drinking sake, there is a lower milling rate of around 80-90%. Milling removes fats, proteins and amino acids that lead to unwanted flavours and aromas in the brewing process.
A lower milling rate means it isn't as refined in taste as a drinking sake, but the bolder flavour lends itself much better to cooking. It doesn't get lost amongst other ingredients like soy sauce, sugar etc.
Ryorishu does have an alcohol content, the one in my cupboard is rated at 14-15% alcohol. Therefore salt is added to the ryorishu (usually about 2% to render it just undrinkable), which allows supermarkets to sell it.
I think that most people have heard of mirin. I actually always thought that mirin was a sweet cooking sake, but I was wrong. It is technically not sake. I am very thankful to Leigh from Chef's Armoury for educating me in regard to mirin.
Leigh explained 'Like sake, mirin is basically made from rice that has the starches turned into sugars via the action of koji. Where it differs is there is no fermentation. Shochu is added to the mash to extract flavour and it is then pressed after a period of time. Also mirin is made from mochi rice, not sake rice. In Japan sake has a pretty tight legal definition'.
There are three main grades that range in alcohol content. Back in the Edo period mirin was actually drunk as a sweet alcoholic beverage before becoming a popular Japanese cooking ingredient. The Mirin you use to cook with is a lot thicker and sweeter than what was drunk back in the Edo times. Today it is still used as a ceremonial drink at the beginning of the New Year or other ceremonial occasions.
Chef's Armoury has a great range of Japanese cooking products, cookware, tableware, accessories, as well as an amazing range of knives. You can also purchase what you need from Chef's Armoury online and have it delivered, makes life a lot easier if you aren't local. If you are new to Japanese cooking, do call in and pay them a visit as they are incredibly helpful an full of great advice.
Both ryorishu and mirin are used in marinades and sauces. Mirin is also used as a glaze for grilled dishes.
I do use quite a bit of both ryorishu and mirin in my kitchen. So much so that I buy 1L bottles of both. Well actually my mirin comes in a 1.5L bottle. I know that may sound a lot, but it gets used and means less frequent trips across two bridges to Tokyo Mart in Northbridge. I love Tokyo Mart due to its vast range and variety.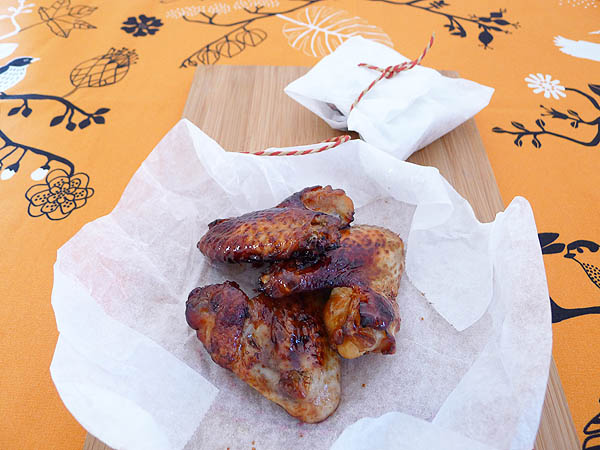 When I was coming up for easy lunch ideas I was thinking about how to incorporate a Japanese style dish. Something that would taste just as good cold as it does hot. Something easy to eat by itself or could be accompanied by some rice or salad. And so my Teriyaki Chicken Wings were born. Okay I am sure I am not the only person in the world to have ever cooked these, but I still want to share this super easy recipe with you.
Either eat them while they are still warm from the oven or let them cool down to be taken to work or school for lunch.
These wings really are finger-licking good. Yes, you will be licking your fingers if you are using them to eat with, as they are a little on the sticky side. Cook up a batch, don't be scared to get in and get a little messy, they are well worth it.
Do tell dear Belly Rumbles' reader, is your pantry stocked with Japanese cooking ingredients like me, or do you prefer to enjoy Japanese cuisine at a restaurant?
Sara xxx
Printable Recipe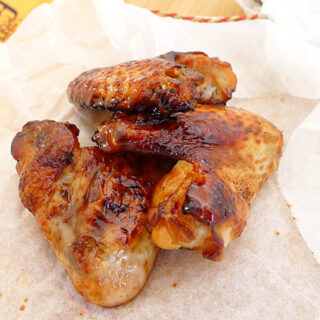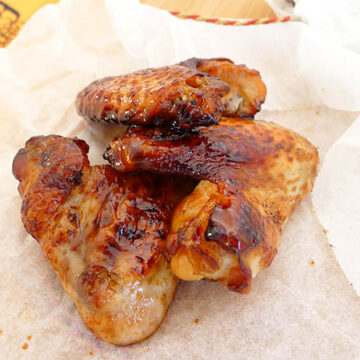 Teriyaki Chicken Wings
Super easy recipe for teriyaki chicken wings. Oven baked and finger licking amazing with the sticky sauce.
Ingredients
120

ml

Japanese soy sauce

60

ml

mirin

60

ml

sake

| cooking sake

3

tablespoons

caster sugar (superfine sugar)

4

teaspoon

vegetable oil

10

chicken wings

wing tips removed
Instructions
In a large bowl or container, combine soy sauce, mirin, ryorishu, sugar and oil. Add chicken wings and make sure they are coated well with the mixture. Cover with plastic wrap or lid and place in fridge for a couple of hours to marinade. Overnight is preferable, but if you don't have the time at least 2 hours.

Pre-heat oven at 180 degrees C. Remove your chicken wings from the bowl/container, reserving the marinade and place them on a baking tray which has been lined with baking paper.

While wings are cooking, brush a couple of times with marinade. I do this when I am turning the wings over to ensure a nice even colouring. Cook chicken wings in oven for approximately 45 minutes until cooked through and are deep golden brown in colour.
Measurement Notes
All measurements are Australian metric standard. All measures are level, and cups are lightly packed unless specified. 1 teaspoon = 5ml / 1 tablespoon = 20mls / 1 cup = 250ml /4 teaspoons = 1 tablespoon.
Recipe Notes
GENERAL COOK'S NOTES
All oven temperatures are fan-forced, increase the temperature by 20°C (70°F) for convection ovens.
All measurements are Australian tablespoons and cups. All measures are level, and cups are lightly packed unless specified.
1 teaspoon equals 5ml
1 tablespoon equals 20 ml (Nth America, NZ & UK use 15ml tablespoons)
1 cup equals 250ml (Nth America use 237ml)
4 teaspoons equal 1 tablespoon
I use the below unless specified in my recipes.
Herbs are fresh | Vegetables are of a medium size | Eggs are roughly 60 grams in weight (large).
NUTRITIONAL INFORMATION BELOW IS A GUIDE ONLY
NUTRITIONAL INFORMATION
The recipe's nutritional information is an approximation based on an online calculator. It is meant solely for reference purposes. If you're looking for precise details, be sure to double-check with your own research.
Serving:
1
grams
Calories:
375
kcal
Carbohydrates:
21
g
Protein:
22
g
Fat:
22
g
Saturated Fat:
8
g
Cholesterol:
92
mg
Sodium:
317
mg
Sugar:
16
g
Did You Make This Recipe?
I do a happy dance when people share how they went. Tag me on Instagram or Twitter @bellyrumbles & #bellyrumbles