If you have been watching MasterChef Professionals, you may have seen the Italian challenge earlier this week.  There was a restaurant challenge and the challengers had to ensure one of their dishes included Barilla pasta.
The lovely people at Barilla decided to challenge me as well.  I received the recipes under embargo before the episode aired, and was challenged to choose one to cook, but add my own twist.
I couldn't help myself and ended up playing around with both recipes, Orecchiette Vongole and Casarecce with Rabbit, Cavolo Nero, Almonds and olives.  I hate to blow my own horn, but I love my twists on both recipes.  My version of the rabbit rocked, and I will share it with you guys shortly, but today I share the Orecchiette recipe.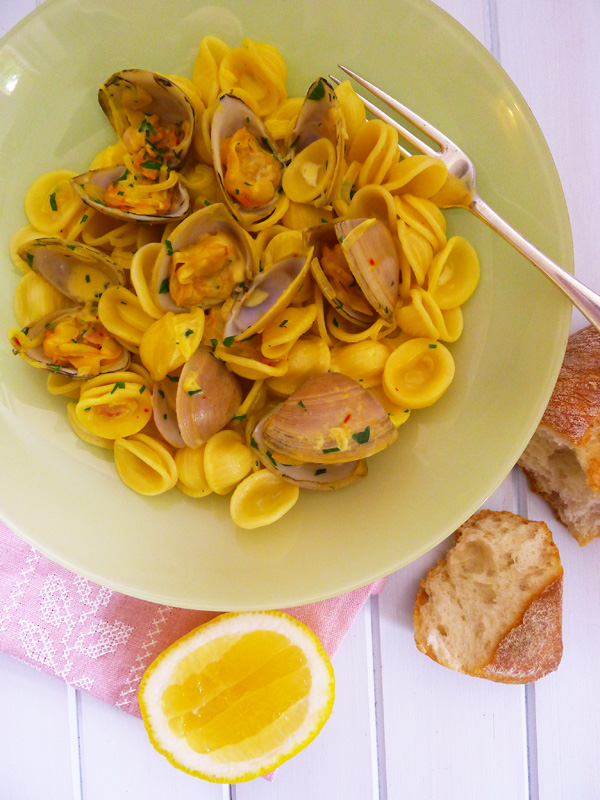 To be honest, I found the MasterChef recipe a little on the boring side.  It just lacked a little zing, and  that little something to make it sing.  I have a favourite mussel recipe, mussels with saffron, white wine and bacon.  It was this recipe that inspired my twist on the original MasterChef orecchiette recipe.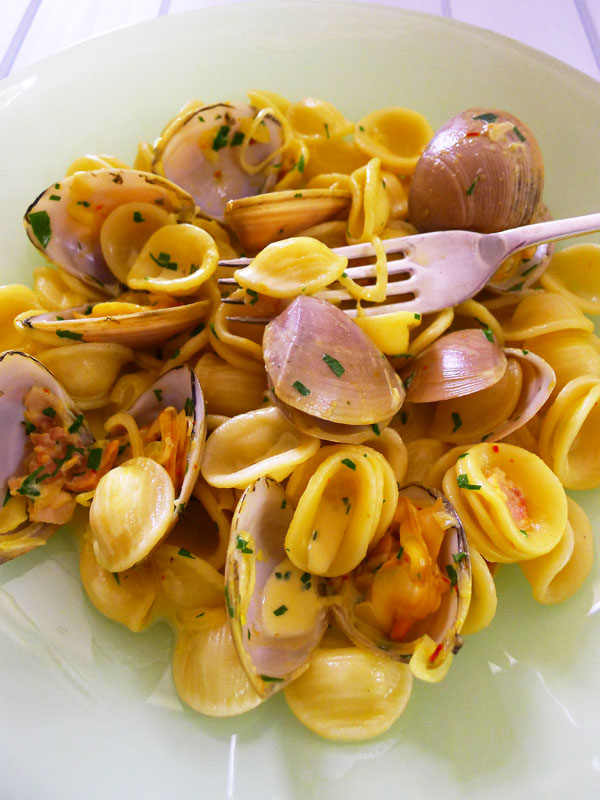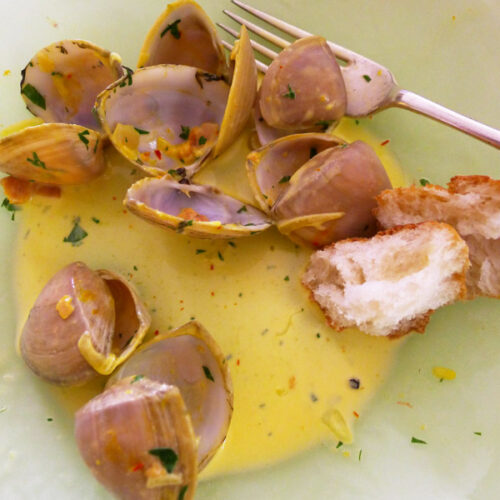 Ingredients
400

grams

Barilla Orecchiette

1

teaspoon

olive oil

50

grams

speck

finely sliced

2

shallots

finely sliced

60

ml

dry white wine

1

kg

vongole

good pinch of saffron threads

2

teaspoons

dijon mustard

1 1/2

Tablespoons

lemon juice

150

ml

thickened cream

3/4

cup

reserved vongole stock

1

Tablespoon

finely chopped parsley

Salt & pepper to season
Instructions
You will need a large frying pan or pot with a fitted lid for this recipe

Bring a saucepan of boiling water to the boil and cook orecchiette until al dente. Drain, cover and set aside. Have another pot of water boiling ready to plunge pasta into before serving to reheat if required.

Place frying pan/pot over medium heat. Toast saffron for approximately one minute, it will be crisp and fragrant, be careful not to burn. Remove saffron from pan, place in medium size bowl and crush with the back of a spoon.

Add dijon and lemon juice to the bowl and mix with saffron. Add the thickened cream, mix well and place to the side.

Heat oil in you pan/pot and gently sauté shallots and speck gently until the onion is soft and the mixture is fragrant. Add your vongole and white wine, give it a good stir and then cover with lid. Cook, giving your pan/pot the odd shake, until vongole have all popped open. Remove from heat and strain vongole over a bowl to reserve the stock.

Take 3/4c of the reserved vongole stock and add it to your saffron cream mixture, add parsley and season to taste. Place vongole back into the pan/pot, add saffron cream mixture and warm. Stir through orecchiette and serve immediately.
Nutrition
Calories:
625
kcal
|
Carbohydrates:
80
g
|
Protein:
22
g
|
Fat:
22
g
|
Saturated Fat:
10
g
|
Cholesterol:
70
mg
|
Sodium:
505
mg
|
Potassium:
384
mg
|
Fiber:
3
g
|
Sugar:
4
g
|
Vitamin A:
15
%
|
Vitamin C:
5.7
%
|
Calcium:
7.8
%
|
Iron:
12.6
%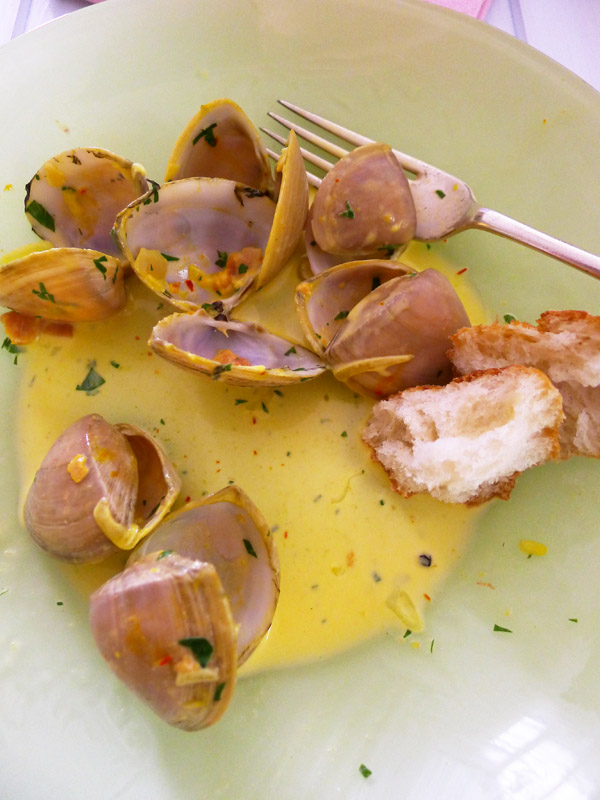 I highly recommend serving this dish with crusty bread rolls.  The sauce is addictive and you will want to soak up any remaining on the bottom of your plate, trust me.  Alternatively, there is always the good old lick the plate method if you wish to forgo the extra carbs.
Do tell dear Belly Rumbles' reader, do you follow recipes spot on, or do you like to add your own twist?
Sara xxx
Belly Rumbles was provided some of the ingredients by Barilla to create the above recipe.