Piragi are traditional Latvian bacon buns. Filled with sautéed onion and bacon. Made by my grandmother, myself, and now my son. This recipe is a family tradition.
I thought it only appropriate that my 200th post on Belly Rumbles is one about a food that is close to my heart. Close due to happy memories, the deliciousness and the fact it is a family recipe.
A recipe that is passed down the generations in all households of Latvian descent. Even today Josh whipped up two batches of piragi to share amongst his friends tomorrow as they partake in their gaming marathon.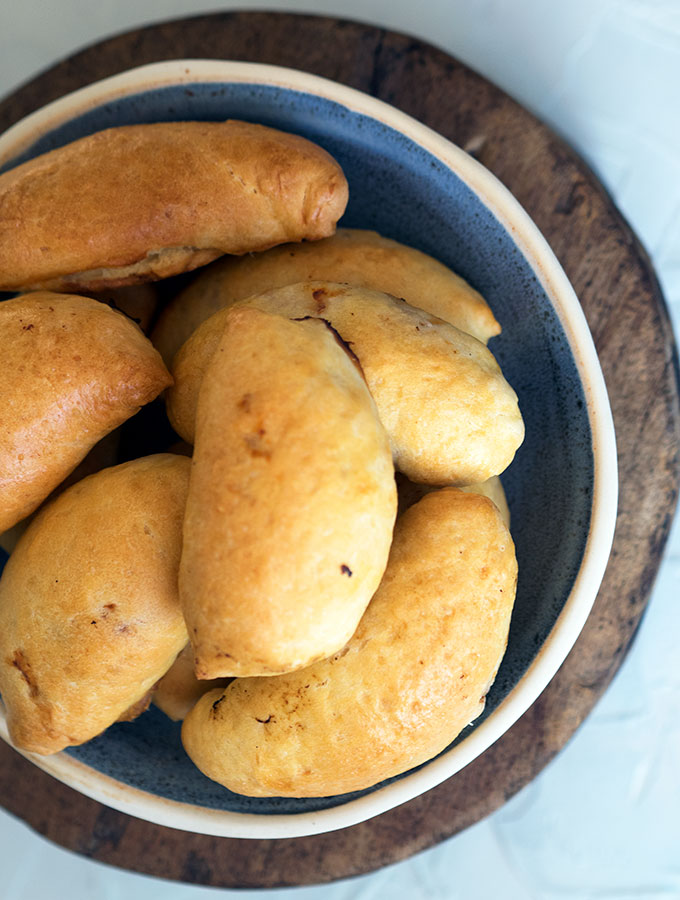 It does make this mother proud that he does an amazing job and that his rolling of these little buns has almost reached my standard.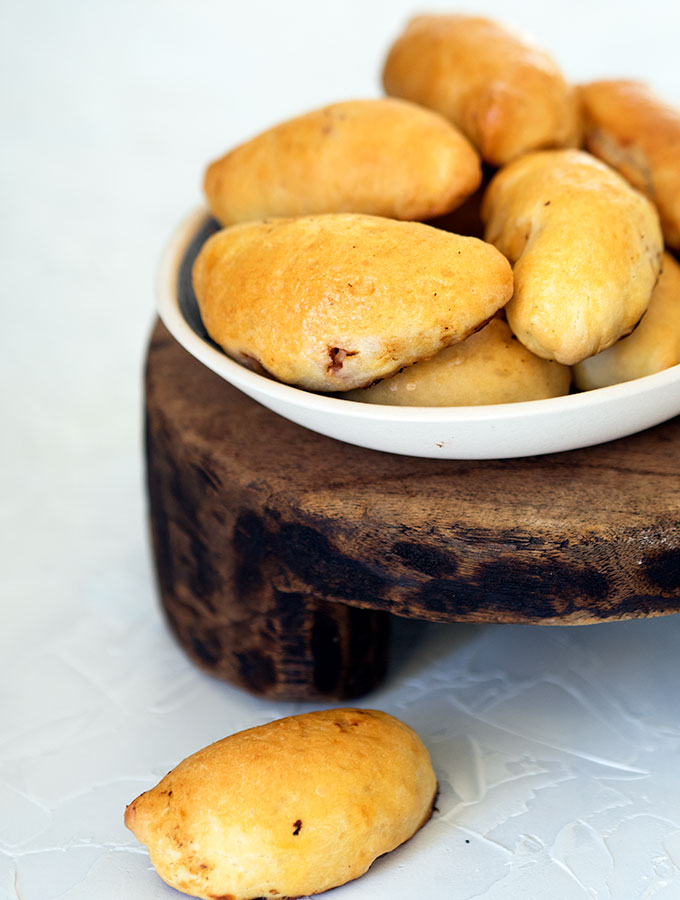 One of my earliest food memories was standing in my great grandmother's kitchen in Merrylands, Sydney. My grandmother and great aunt would also be present. It would have been school holidays, a day or two before Christmas Eve. grandma would have been babysitting me while Mum and Dad were at work.
The kitchen would be full of glorious cooking smells, traditional delights being prepared for the family's Christmas Eve feast. The table that dominated the tiny kitchen, would be covered with flour and piles of dough. Nimble fingers shaped buns filled with bacon and onion perfectly. I was witnessing a piragis production line, to which I was welcomed to join with open arms.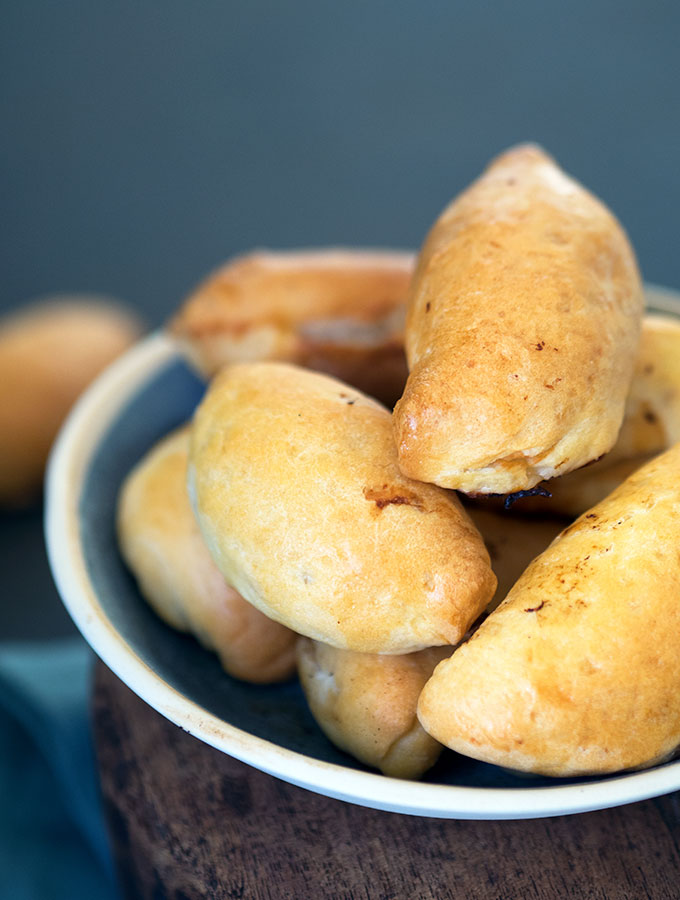 Piragi are a Latvian tradition. Probably the most well know traditional Latvian food. Small torpedo shaped buns filled with a bacon mixture. Simple, but ever so delicious and smell incredible when baking. What seemed like hundreds would be made from that kitchen in the lead up to Christmas Eve.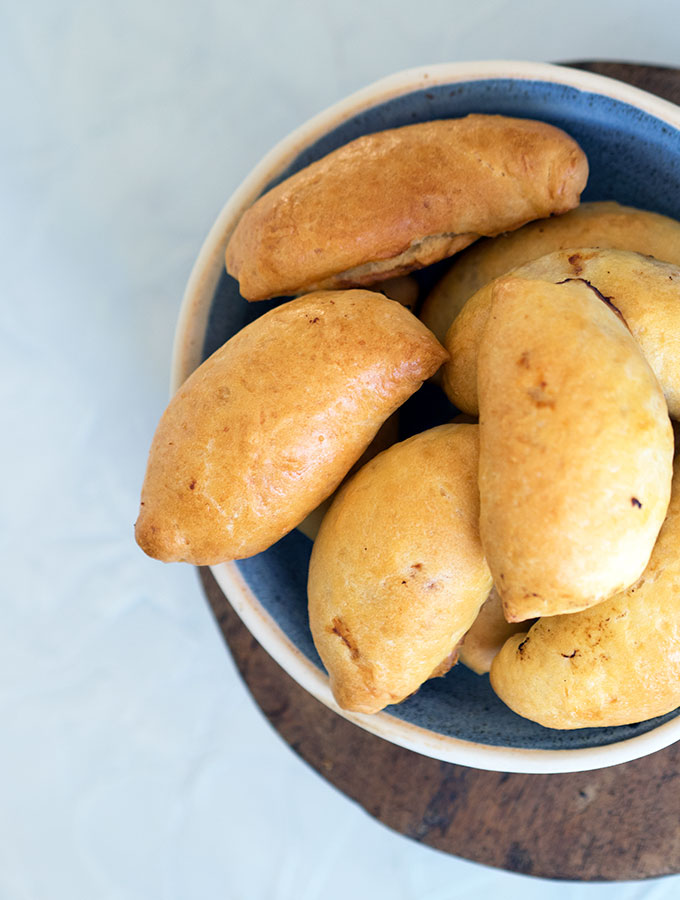 When the extended family was all together on Christmas eve, the piragi would disappear quicker than could be passed around. Hungrily devoured by all. There would be bags frozen to be given to family members to take home with them. After a late night of celebrations the take home piragi then became an easy and traditional Christmas Day breakfast.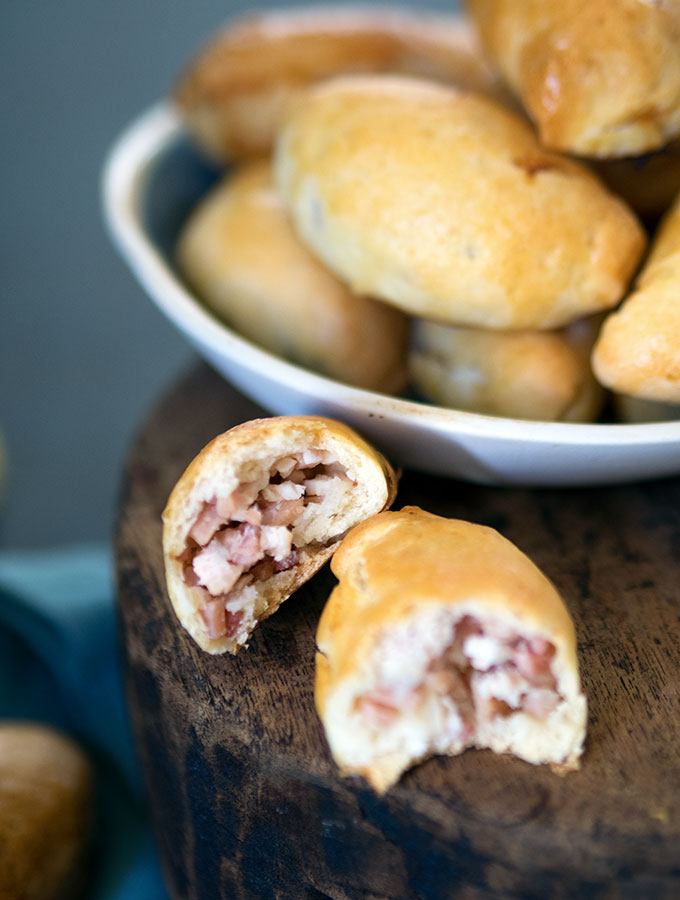 When my grandmother passed away, there wasn't a recipe in her handwritten cookbook for these. Like a good Latvian girl I was supposed to have paid attention, and instinctively have known how to make these addictive buns. Of course I didn't, and as Dad was a male he was never taught and no help.
Through memory, trial and error, I eventually recreated my family's recipe. Even though Josh is now a master at making and shaping piragi, the recipe is written down for future generations.
Really hope you enjoy these tasty little buns of bacon as much as my family do. Is there a traditional recipe that has been passed down through the generations in your family? If there is I would love to hear about it.
Sara xxx
Printable Recipe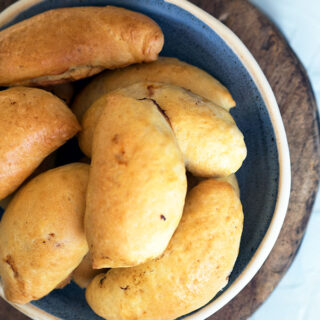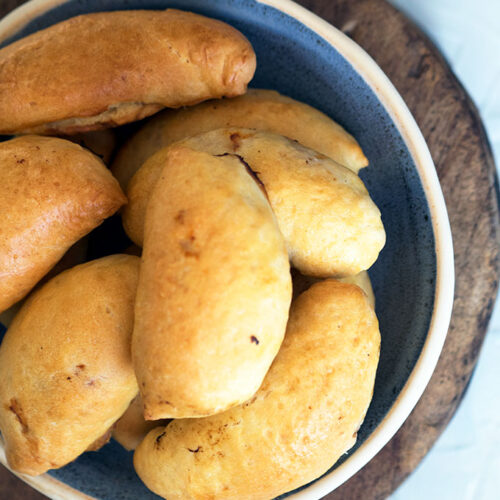 Piragi - Latvian Bacon Buns
Piragi are traditional Latvian bacon buns. Made by my grandmother, myself and now my son. This recipe is a family tradition.
Ingredients
350

grams

bacon rashes diced finely

2

brown onions finely diced

Ground pepper to taste

7

grams

dry instant yeast

60

ml

warm water

60

grams

unsalted butter

190

ml

milk

8

teaspoons

caster sugar, superfine sugar

1

egg beaten

440

grams

(3 ½ cups) plain flour

2

teaspoons

salt

1

egg, beaten

40

ml

water
Instructions
In a heavy non stick pan sauté onions and bacon until the onions are translucent and most of the bacon fat has rendered.

Add ground pepper to taste.

Leave this mixture to cool completely while you are making the dough. I usually make the bacon/onion mix the day before and leave it in my fridge until I am ready to use it. The bacon mixture is easier to work with when cold.

Place yeast and water in a small bowl, put aside for the yeast to activate. It will froth up.

In a small saucepan add butter, milk and sugar. Warm over a low heat until butter has melted and sugar has dissolved into the milk.

When milk mixture has cooled to lukewarm stir through beaten egg, yeast and water.

Place two cups of the plain flour and salt in a large bowl, pour liquid over and stir to combine.

Once combined add the remaining flour. Mix until all ingredients have come together, then leave to rest in the bowl for 10 minutes.

Once rested turn dough out on to a lightly floured surface and knead until dough is smooth and elastic, about 5 - 10 minutes.

Place dough back in to a lightly oiled bowl and cover. Leave dough to raise, around 1½ hours or until doubled in size.

Preheat oven 180 deg C (360 deg F)

Once dough is ready, start pulling off a walnut size pieces of dough. Work them in to a ball in your hand then tease them out to a circle. Place a tablespoon of the bacon mixture, and bring the edges of the dough together. Seal the bun in a torpedo shape.

Place formed buns on a baking tray that has been lined with baking paper.

Mix the beaten egg and water together to make an egg wash. Brush egg wash mixture on buns. Place buns in oven and bake until golden, 12-15 minutes.

Repeat with the remainder of the mixture and dough.

Once out of the oven they are ready to eat.

Piragi can also be frozen once cooled.
Nutrition
Calories:
57
kcal
Carbohydrates:
1
g
Protein:
1
g
Fat:
5
g
Saturated Fat:
2
g
Cholesterol:
17
mg
Sodium:
179
mg
Potassium:
36
mg
Sugar:
1
g
Vitamin A:
60
IU
Vitamin C:
0.4
mg
Calcium:
8
mg
Iron:
0.1
mg
Did You Make This Recipe?
I do a happy dance when people share how they went. Tag me on Instagram or Twitter @bellyrumbles & #bellyrumbles
Latvian Apple Pancake Recipe (Abolu Pankakas)
Latvian Farmers' Breakfast Recipe (Zemnieku Brokastis)
Easy Creamy Mushrooms on Toast Recipe
Ham & Egg Hash Brown Nests Recipe