Piragi are traditional Latvian bacon buns. Filled with sautéed onion and bacon. Made by my grandmother, myself, and now my son. This recipe is a family tradition.
I thought it only appropriate that my 200th post on Belly Rumbles is one about a food that is close to my heart. Close due to happy memories, the deliciousness and the fact it is a family recipe.
A recipe that is passed down the generations in all households of Latvian descent. Even today Josh whipped up two batches of piragi to share amongst his friends tomorrow as they partake in their gaming marathon.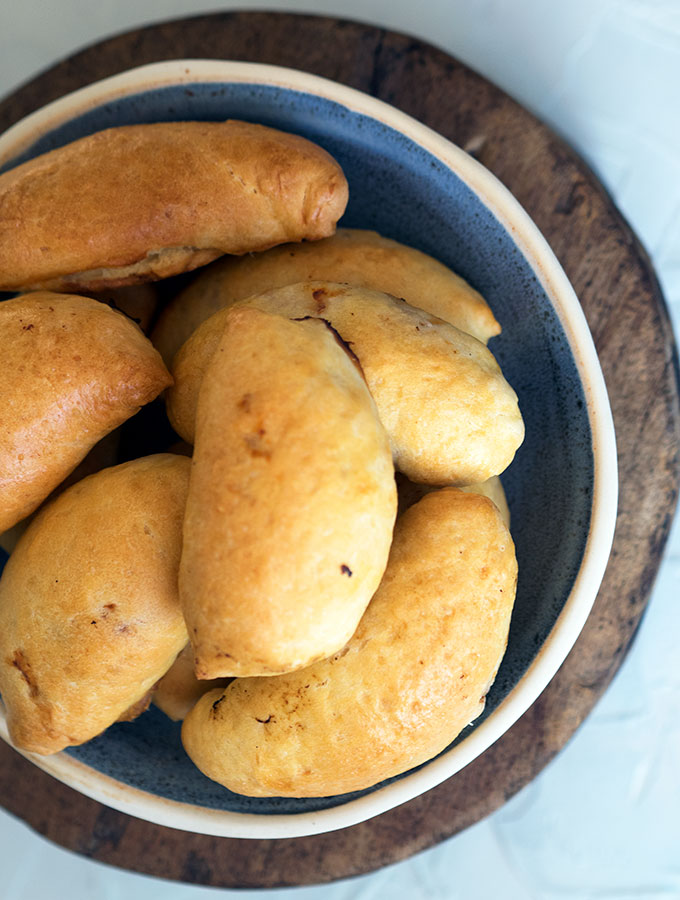 It does make this mother proud that he does an amazing job and that his rolling of these little buns has almost reached my standard.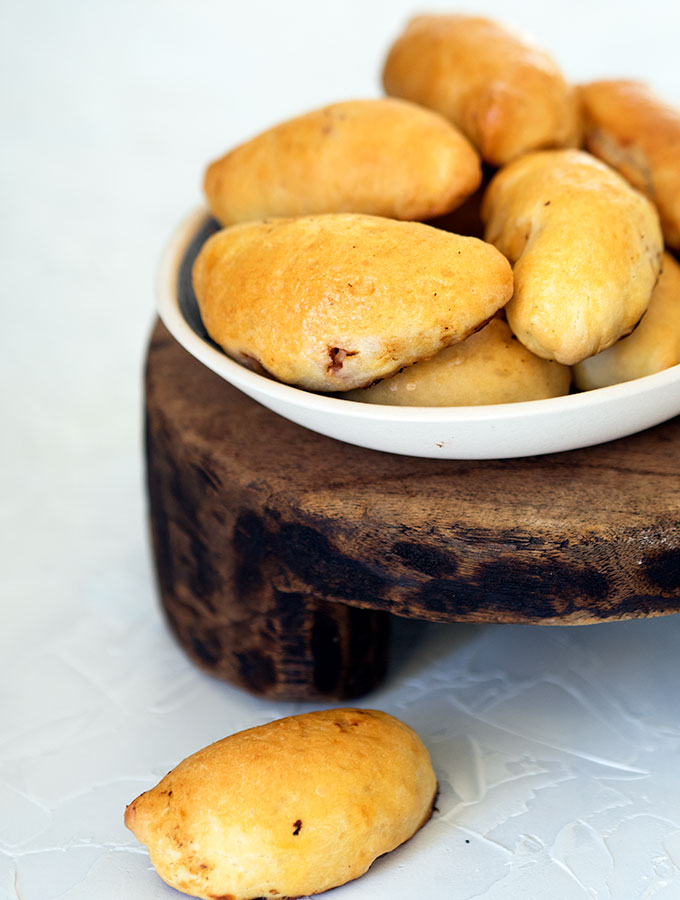 One of my earliest food memories was standing in my great grandmother's kitchen in Merrylands, Sydney. My grandmother and great aunt would also be present. It would have been school holidays, a day or two before Christmas Eve. grandma would have been babysitting me while Mum and Dad were at work.
The kitchen would be full of glorious cooking smells, traditional delights being prepared for the family's Christmas Eve feast. The table that dominated the tiny kitchen, would be covered with flour and piles of dough. Nimble fingers shaped buns filled with bacon and onion perfectly. I was witnessing a piragis production line, to which I was welcomed to join with open arms.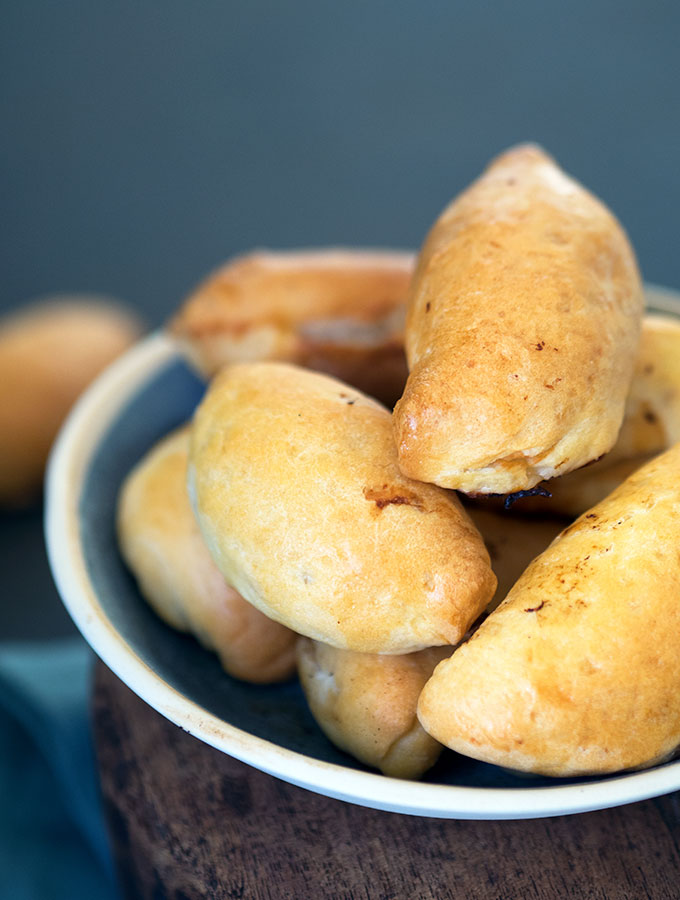 Piragi are a Latvian tradition. Probably the most well know traditional Latvian food. Small torpedo shaped buns filled with a bacon mixture. Simple, but ever so delicious and smell incredible when baking. What seemed like hundreds would be made from that kitchen in the lead up to Christmas Eve.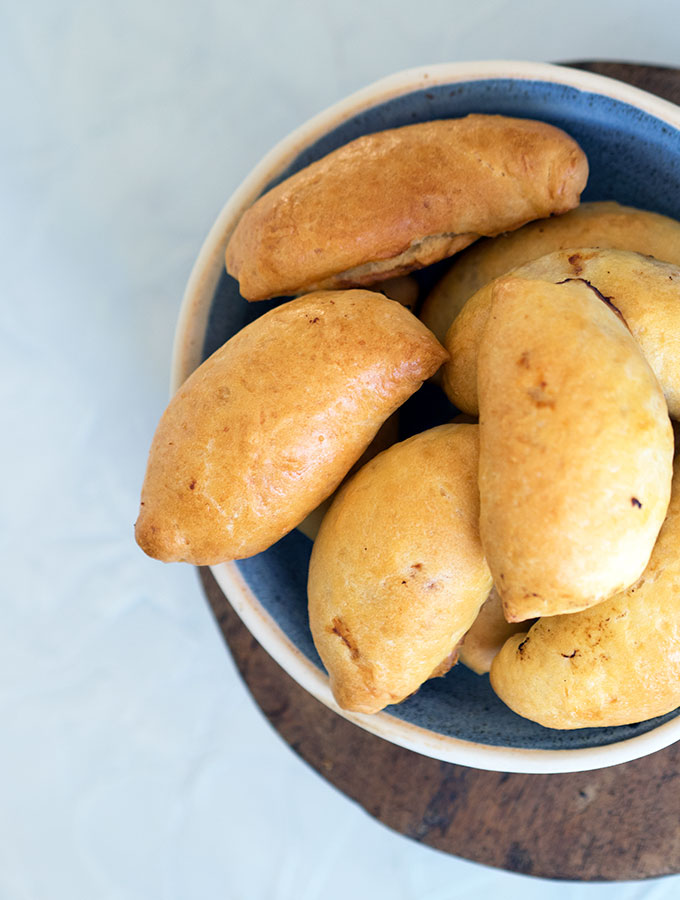 When the extended family was all together on Christmas eve, the piragi would disappear quicker than could be passed around. Hungrily devoured by all. There would be bags frozen to be given to family members to take home with them. After a late night of celebrations the take home piragi then became an easy and traditional Christmas Day breakfast.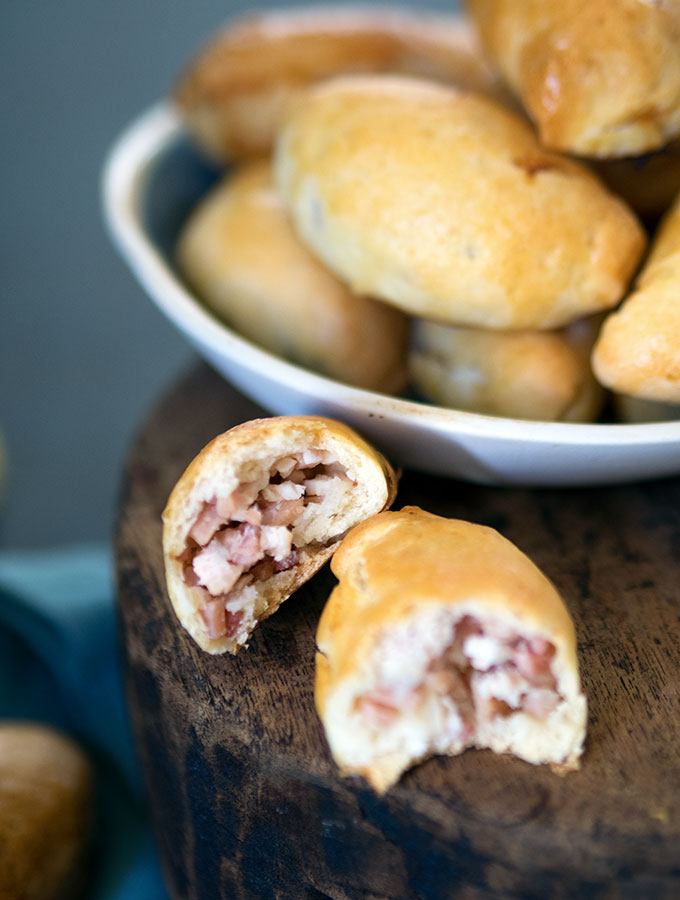 When my grandmother passed away, there wasn't a recipe in her handwritten cookbook for these. Like a good Latvian girl I was supposed to have paid attention, and instinctively have known how to make these addictive buns. Of course I didn't, and as Dad was a male he was never taught and no help.
Through memory, trial and error, I eventually recreated my family's recipe. Even though Josh is now a master at making and shaping piragi, the recipe is written down for future generations.
Really hope you enjoy these tasty little buns of bacon as much as my family do. Is there a traditional recipe that has been passed down through the generations in your family? If there is I would love to hear about it.
Sara xxx
Printable Recipe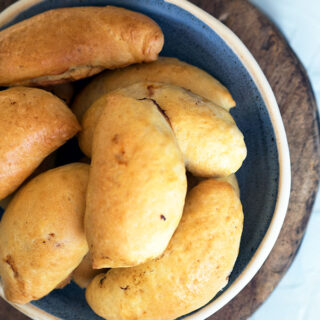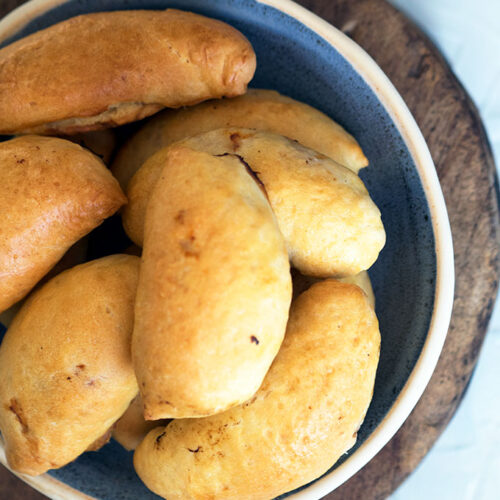 Piragi - Latvian Bacon Buns
Piragi are traditional Latvian bacon buns. They smell and taste incredible, there is a reason why they are so popular.
Original Recipe makes 40 buns
Big Batch filling and Sour Cream Dough Recipe makes 75 buns
Ingredients
Original Recipe Filling
350

grams

(12.35oz) bacon rashes

| finely diced

2

brown onions

| finely diced

Ground pepper to taste

pinch of salt

| if needed
Original Recipe Dough
60

ml

water

190

ml

milk

60

grams

unsalted butter

1

tablespoons

caster sugar, superfine sugar

1

egg

| beaten

2

teaspoons

dry instant yeast

| 1 x 7g sachet

440

grams

(3 ½ cups) plain flour

2

teaspoons

salt
Big Batch Filling
1.5

Kg

(3.3lb) bacon rashers

| finely diced

5

onions

| finely diced

ground pepper to taste

pinch of salt

| if needed
Rich Sour Cream Dough (halve recipe if making original recipe filling)
500

ml

(2 cups) milk

125

grams

butter

125

grams

(½ cup) sour cream

2

tablespoons

sugar

1

egg

| beaten

1

Kg

(6 ¾ cups) plain flour

| plus extra if dough is too sticky

4

teaspoons

dry instant yeast

| 2 x 7g sachets

2

teaspoons

salt
Egg Wash
1-2

egg yolks

|1 for small batch, 2 for large batch

20

ml

(1 tablespoon) olive oil

| reduce oil to ½ tablespoon for small batch
Instructions
Bacon Onion Filling (original & big batch)
Place bacon in a heavy non stick pan and sauté over medium low heat until the bacon fat starts to render (melt). Add onions and continue to cook until the onions are translucent, and the liquid released from the bacon has evaporated.

There shouldn't be any noticeable liquid when you move your spoon/spatula through the bacon mixture (there will be a little)

Once the bacon and onion mixture has finished cooking, taste it and season with pepper and salt as necessary.

You may not need to add salt if the bacon is rather salty. Alwasy check when cooking has finished.

Leave this mixture to cool completely while you are making the dough.

I make the bacon onion mix the day before and leave it in the fridge until I am ready to use it. The bacon mixture is easier to work with when cold.
Original & Rich Sour Cream Dough
In a small saucepan add milk, water, butter, and sugar. Warm over low heat until the butter has melted and the sugar has dissolved into the milk. Do not bring to the boil.

Rich Sour Cream Dough: Same as above, but omit the water and add the sour cream. Sour cream and butter should both melt and combine with the milk.

When the milk mixture has cooled to lukewarm whisk through a beaten egg.

Place flour, yeast, and salt in a large bowl. Add milk mixture, and stir to bring the ingredients together.

KNEADING BY HAND: Turn the dough out on to a lightly floured surface and knead until dough is smooth and elastic, around 5 - 10 minutes.KNEADING BY ELECTRIC MIXER: Using a dough hook knead dough until it becomes smooth and elastic. Use the kneading setting on your mixer, or slow speed.

If the dough is too sticky add a little more flour. The dough should not stick to your hands or bowl.

Place dough into a clean lightly oiled bowl and cover. Leave the dough to rise, around 1½ hours or until doubled in size.
To Fill & Shape Piragi
Once the dough is ready, preheat the oven 180? (360?). Line 2 baking trays.

Pull off a walnut size piece of dough from the dough. Work the dough piece into a ball in your hand then tease it out to a circle.

Place a teaspoon of the bacon mixture in the middle of the dough circle, and bring the edges of the dough together.

Pinch the edges together with your fingers sealing the bun well. Shape into a torpedo or more traditional crescent shape and place on a prepared baking tray.

Repeat with the remainder of the dough and bacon mixture.

Leave 3cm / ¾ inch between each piragi.

Mix egg yolks and olive oil together to make an egg wash. Brush the egg wash mixture over the top of the buns.

Place buns in the oven and bake until golden, 12-15 minutes. Rotate trays halfway through baking for even browning.

If making a big batch of piragi only bake two trays at a time.

Once out of the oven place on a cooling rack.

STORE IN FRIDGE: Store piragi in an air-tight container in the fridge for a few days. Reheat in the oven before serving (160?/320?)STORE IN FREEZER: Piragi can be frozen for up to three months in the freezer. Place cold piragi in an air-tight freezer container or zip lock bags. Reheat in the oven before serving (160?/320?)
Measurement Notes
All measurements are Australian metric standard. All measures are level, and cups are lightly packed unless specified. 1 teaspoon = 5ml / 1 tablespoon = 20mls / 1 cup = 250ml /4 teaspoons = 1 tablespoon.
Recipe Notes
All measurements are Australian tablespoons and cups. All measures are level, and cups are lightly packed unless specified.
1 teaspoon equals 5ml
1 tablespoon equals 20 ml (Nth America, NZ & UK use 15ml tablespoons)
1 cup equals 250ml (Nth America use 237ml)
4 teaspoons equal 1 tablespoon
NUTRITIONAL INFORMATION DISCLAIMER
Please note that the nutritional information for the piragi is based on the original recipe.
NUTRITIONAL INFORMATION
The recipe's nutritional information is an approximation based on an online calculator. It is meant solely for reference purposes. If you're looking for precise details, be sure to double-check with your own research.
Calories:
57
kcal
Carbohydrates:
1
g
Protein:
1
g
Fat:
5
g
Saturated Fat:
2
g
Cholesterol:
17
mg
Sodium:
179
mg
Potassium:
36
mg
Sugar:
1
g
Vitamin A:
60
IU
Vitamin C:
0.4
mg
Calcium:
8
mg
Iron:
0.1
mg
Did You Make This Recipe?
I do a happy dance when people share how they went. Tag me on Instagram or Twitter @bellyrumbles & #bellyrumbles
Latvian Apple Pancake Recipe (Abolu Pankakas)
Latvian Farmers' Breakfast Recipe (Zemnieku Brokastis)
Easy Creamy Mushrooms on Toast Recipe
Ham & Egg Hash Brown Nests Recipe