When I make chicken stock I do it army style, en mass, I use a large 16L pot.  My stock recipe is a very simple one.  One whole chicken, quartered, 8 chicken legs, 8 chicken wings, 3 carrots and stalks of celery (chunkily chopped) and one onion peeled and cut in halves.  I then add around 10L of water, the elephant sized pot left to simmer, simmer and simmer some more.
I end up with about 9L of stock.  Which is then frozen in 1L and 1cup (250ml) portions .  The chicken gets divided two ways.  Prime bits for us for sandwiches, frozen to be added to soup at a later date or turned in to all sorts of goodies.  The rest of the chicken is shredded up with the veggies and becomes meals for Sally.  Sally loves stock making days.  She doesn't leave my side in the kitchen while I divvy up the chicken.  Eagerly awaiting a tasty morsel to be gently tossed for her to delicately catch in that soft labrador mouth.  She knows that dinner that night will be one of her favourites.  Sally also has a penchant for Peking duck and BBQ chicken.
It was this very large batch of chicken stock that enticed me to making these pies.  I had never made individual pies before, even though they have been on my 'to do' list for quite a while.  I admit, I wanted to have a go at making chunky beef pies, but with all my excess chicken meat from stock making, it seemed the perfect time to whip up some chicken pies.  It was also a miserable cold day in Sydney, perfect pie weather.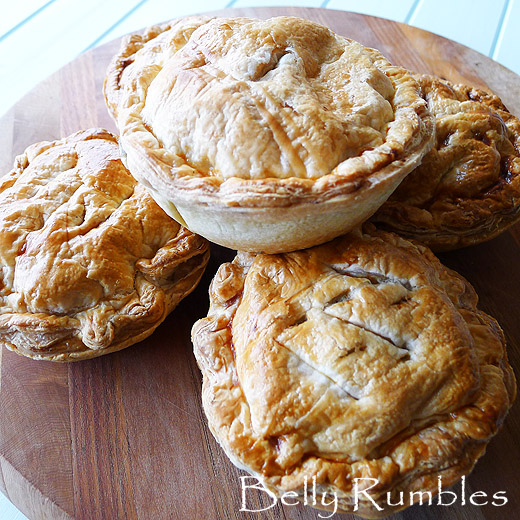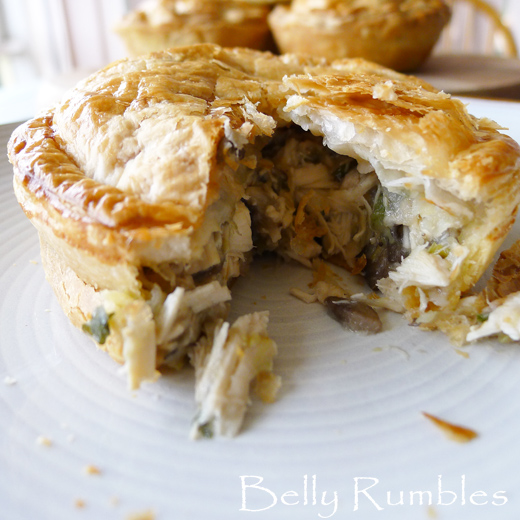 Chicken, Leek & Mushroom Pie
Makes approx 15 pies
Print
Ingredients
50

ml

olive oil

2

leeks

finely sliced

1

brown onion

finely diced

3

cloves

garlic

finely chopped

75

grams

butter

4

flat mushrooms

medium size, finely diced

2

zucchini

finely diced

Salt & pepper

50

grams

plain flour

500

ml

hot chicken stock

1/2

cup

thick cream

1/2

cup

frozen peas

500

grams

cooked chicken meat

chopped

1

handful of flat leaf parsley

chopped

1/2

cup

of fresh thyme leaves

generous

1

packet short crust pastry*

1

packet puff pastry *

1

egg whisked with 1 tablespoon of water for egg wash
Instructions
Heat oil in a non stick pan over a low heat. Add leeks and onion and cook until they caramelise and soften, this will take around 20 minutes. Add 25g of the butter to the onion and leek, then add the garlic, mushroom and zucchini. Cook for a further 10 minutes until mushroom and zucchini have softened. Season with salt and pepper, then set aside to cool.

Melt remaining butter in a medium pot over a medium heat until it starts to slightly sizzle. Add flour, and whisk constantly for 1 minute until well combined and starts to cook. Add hot stock a bit at a time, whisking continuously. Cook for 2-3 minutes over low heat until mixture thickens. Remove from heat and allow to cool. Once cool whisk in the cream.

In a large bowl place vegetable mixture, peas, chicken, parsley and thyme. Then stir through your white sauce.

Preheat oven to 190 deg C/375 deg F/gas mark 5 (170C/335F/ gas mark 3, if fan forced).

Lightly grease pie tins. I used 3.5cm deep x 11cm round tins, and made my pies in batches of 6, as I only have 6 tins.

Cut circles out of your shortcrust pastry to fit your pie tins. Line tins with your pastry, with a fork lightly prick the bases of your pastry cases. Place filling in each case, leaving 1cm from the top. Cut circles from the puff pastry for your lids. Brush around the circumference of the underside of your lid with egg wash, then place on top of pie. Pinch your puff pastry lid and shortcrust pastry case edges together. Make a slit or two in the lid to release steam when cooking. Brush lids with egg wash and bake for 25 minutes until golden brown.
Nutrition Facts
Chicken, Leek & Mushroom Pie
Amount Per Serving
Calories 1189
Calories from Fat 702
% Daily Value*
Total Fat 78g 120%
Cholesterol 164mg 55%
Sodium 815mg 34%
Potassium 1200mg 34%
Total Carbohydrates 79g 26%
Protein 42g 84%
* Percent Daily Values are based on a 2000 calorie diet.
*Regular readers will know I am a massive fan of Caréme Pastry, I just don't have the time to make pastry.  Plus who has the time to make puff pastry!  In this case I didn't use Caréme and picked up some Borg's shortcrust and puff pastry sheets, which worked a treat.  Of course you can make your own pastry if you wish, you will need enough pastry for approximately 15 pies.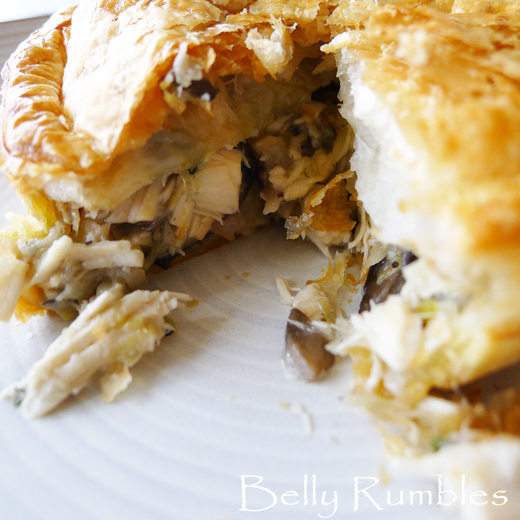 The warming aromas that filled the house while baking lingered well after the first pies were eaten.  The pies are a big hit with the guys.  The filling is moist, pastry crisp, the lids beautifully flaky.  A simple standard chicken pie recipe.  Don't panic in regard to the amount of pies this recipe makes, they freeze really well.
Next chicken pies I make will be curry, I think, spice things up a little.  Before then I will have to have a go at some beef pies.
Do tell dear Belly Rumble's reader, what's your favourite pie filling?
Sara xxx