Both the boys asked what possessed me to make these piggie rolls. Josh asked as I was meticulously egg washing ears and snouts on to the pork bacon and cheese sausage rolls. Mac asked as he looked longingly at the finished baked product.
What I had neglected to take into consideration when I was making these sausage rolls, is that Mac was suffering from a severe case of tonsillitis. Eating any of these piggies on the day was not going to happen, as it involved swallowing. The word torture came up in conversation at least thrice that afternoon.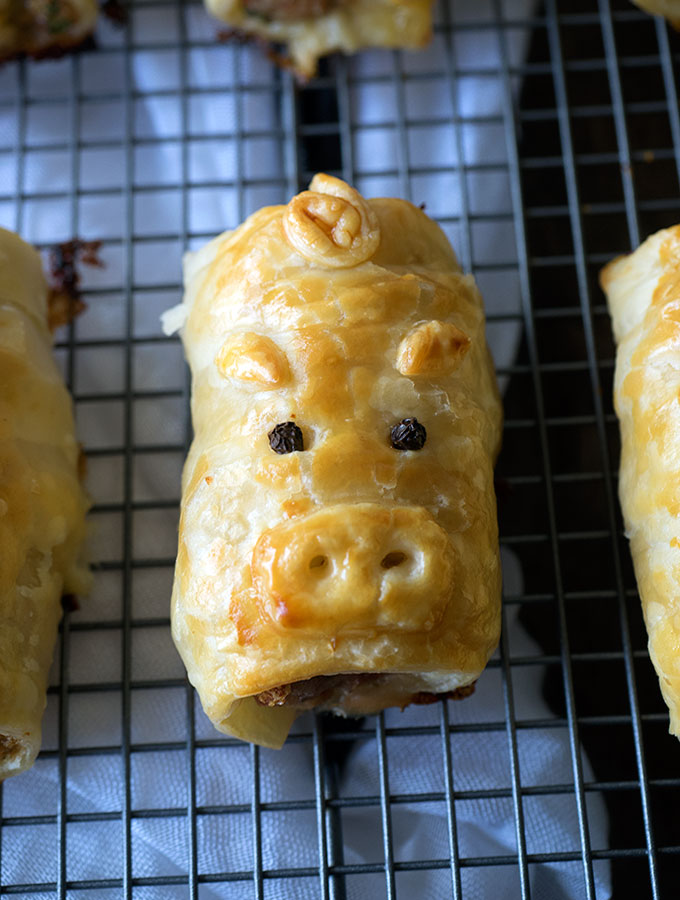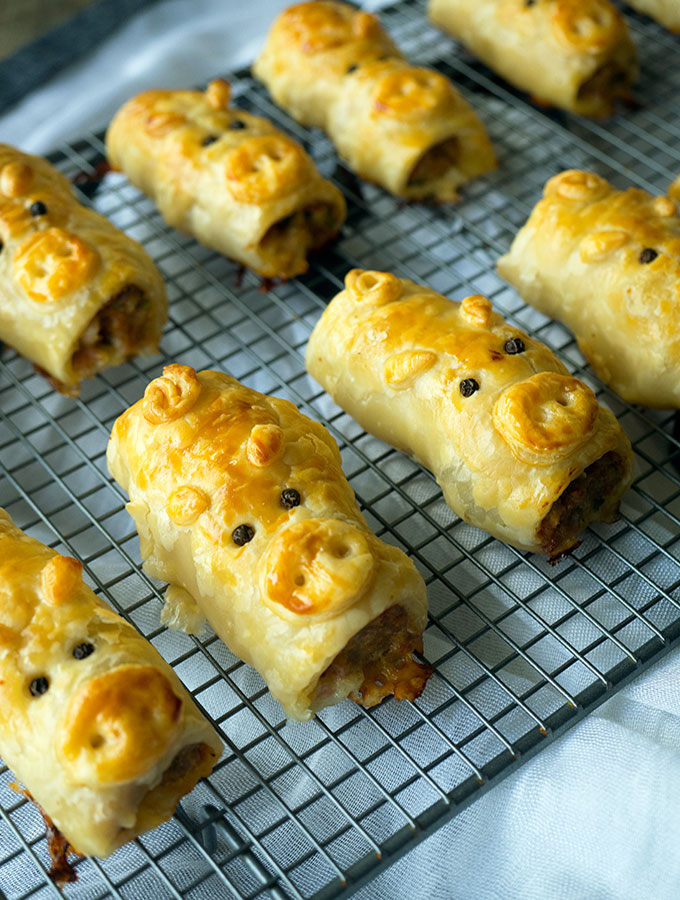 The sunny side to Mac's tonsillitis is that I can tell you these pork bacon and cheese sausage rolls freeze and reheat from frozen very well. I froze half of them for when he could swallow again. See, I can be considerate and have compassion, don't let anyone tell you differently.
So what did possess me to make these piggie rolls? Cuteness, plain and simply, cuteness. I had the pure desire to make something fun and cute. Can't a girl have cute occasionally in her life?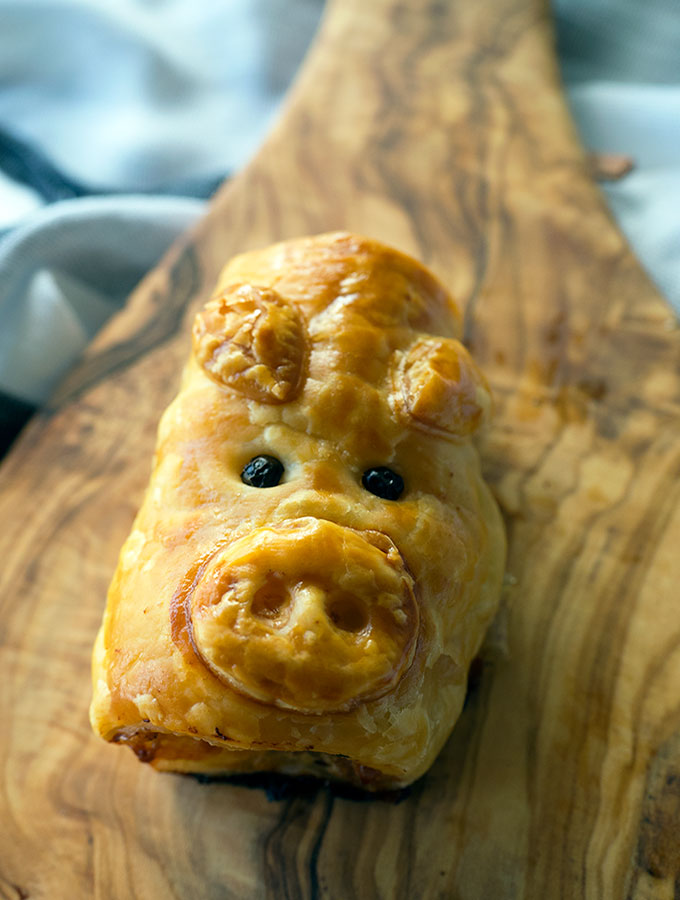 I used peppercorns for the eyes. Although peppercorns are edible, you will get a full peppercorn kick if you do happen to crunch one in half. I suggest using small pieces of black olive for the eyes if making these for kids, or adults, if you don't want them choking on a peppercorn. Of course, if you don't particularly like the adults you are making the piggies for, use peppercorns and don't warn them before they pig out on the piggies. I did warn the boys, though I was tempted not to for shits and giggles.
Two versions of these piggies were made. One with tails and smaller ears, giving the impression of a full piggie. The other had larger ears and no tail. Making them look like piggie faces. They remind me a little of the pigs from Angry Birds.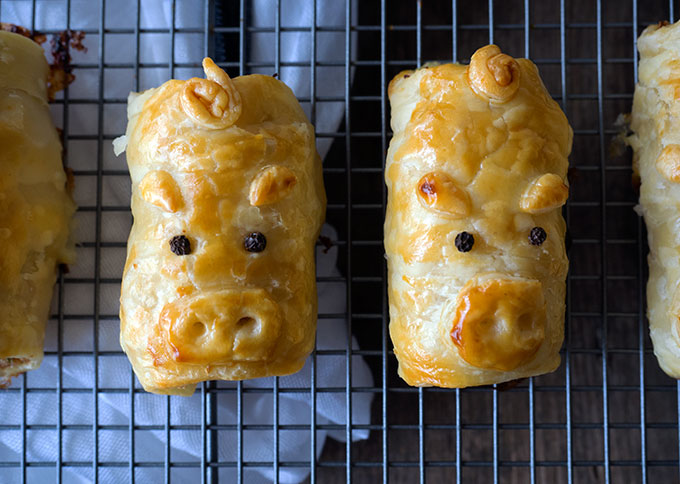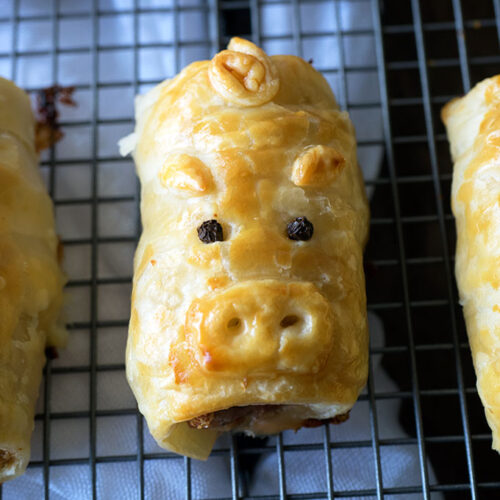 Piggie Rolls, Pork Bacon and Cheese Sausage Rolls
Print Recipe
The cutest pork bacon and cheese sausage rolls you will ever see and eat. Easy to make and delicious to eat.
Ingredients
500

grams

pork mince

1

small red onion

-

finely chopped

3

rashes bacon

-

finely chopped

125

grams

Colby cheese

-

cut into small cubes

2

tablespoons

continental

-

flat leaf/Italian parsley, chopped

1

tablespoon

tomato sauce

2

teaspoons

Worcestershire sauce

2

eggs

-

1 for filling & 1 for glaze

Salt and pepper to season

4

sheets puff pastry
Instructions
Preheat oven 200 deg C (390 deg F). Line a baking tray with baking paper.

In a medium bowl place pork mince, onion, bacon, cheese, parsley, tomato sauce, Worcestershire sauce, 1 egg, salt and pepper. Using clean hands, mix well until completely incorporated.

Cut your puff pastry sheets in half to create two same sized pieces, square or rectangle, depending on the shape of the original piece.

Divide mince mixture into seven equal quantities.

Working with one piece of puff pastry at a time, place mince mixture down one side of the pastry, making a large sausage shape. Roll the mince up in the pastry, sealing the edges with beaten egg.

Cut the roll into three smaller rolls. Repeat this with six remaining half sheets of puff pastry and six remaining portions of mince mixture.

You need the remaining half sheet of puff pastry to make your piggy facial features.

Using small cutters* or a sharp knife cut an oval for the snout, tear drops or triangles for the ears, and thin long strips for the tails. Cut enough for each of your little piggy rolls.

Use the pointy end of a chopstick to make nostril holes in the oval that will be used for the snout.

Beat the remaining egg with a little water.

Brush the sausage roll with a little of the beaten egg and stick your piggy facial features down. Use peppercorns or pieces of black olive for the eyes. Give the piggy role one final brush with beaten egg. Repeat with all of the sausage rolls to create your piggy roles.

Place rolls on baking tray and bake in the oven for 20 minutes, then turn your oven down to 180 deg C (360 deg F) for a further 20 minutes or until golden and cooked through.

Freeze excess rolls if desired.

*Small cutters can be sourced from Japanese grocery stores. They resemble tiny cookie cutters, but are used for cutting shapes out of nori and other ingredients for bento boxes.
DID YOU MAKE THIS RECIPE?
I do a happy dance when people let me know, tag me on Insgragram @bellyrumbles #bellyrumbles
These sausage rolls have a fantastic flavour combination. The bacon adds a lovely smoky flavour and the tiny chunks of cheese add lovely pools of creaminess in every bite.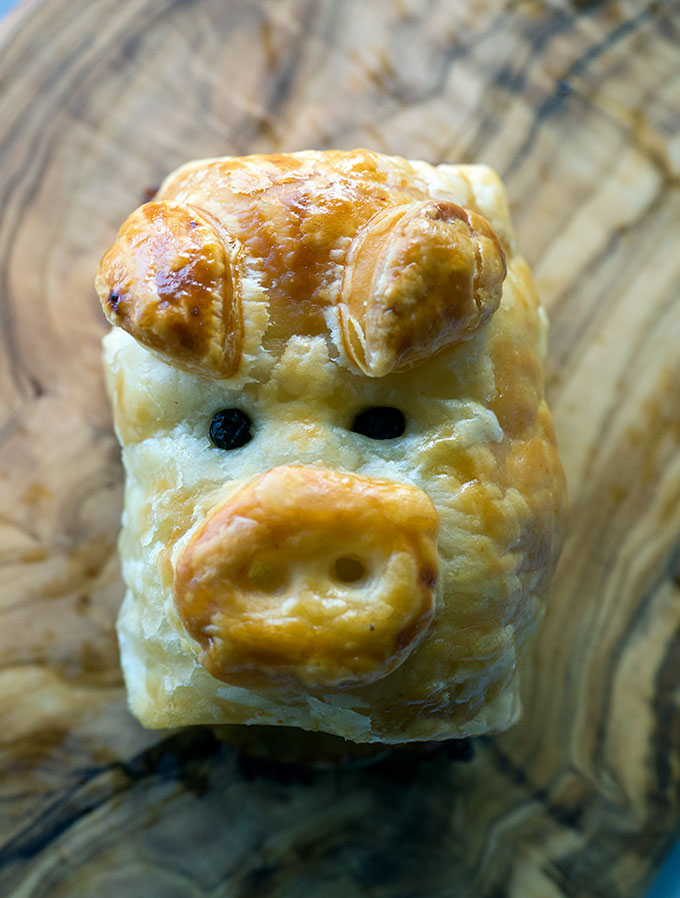 By using small cubes of cheese versus grated cheese, there is a distinctive cheese hit. If you use grated cheese the cheese will meld though the mixture more evenly and not be as noticeable. Feel free to use grated cheese if you prefer. I personally like coming across molten blobs of cheese as I eat. It's a nice surprise.
I do have one warning for these piggie rolls. Each roll will have their own little personalities, as you can see from my photos. Oh my gawd, aren't they cute!
Sara xxx
Become a subscriber and don't miss a single delicious recipe, restaurant review or travel adventure. Plus you will also receive extra content and benefits.