This luxury sausage roll recipe takes the humble Aussie sausage roll to the next level. Pork sausage rolls with fresh black truffle, and chicken & champagne pate.
I don't generally pair the words sausage roll and gourmet together. But there really isn't a reason why we can't elevate an Australian favourite to a new level. As alternative sausage roll fillings go, this is one you would pull out for special occasions.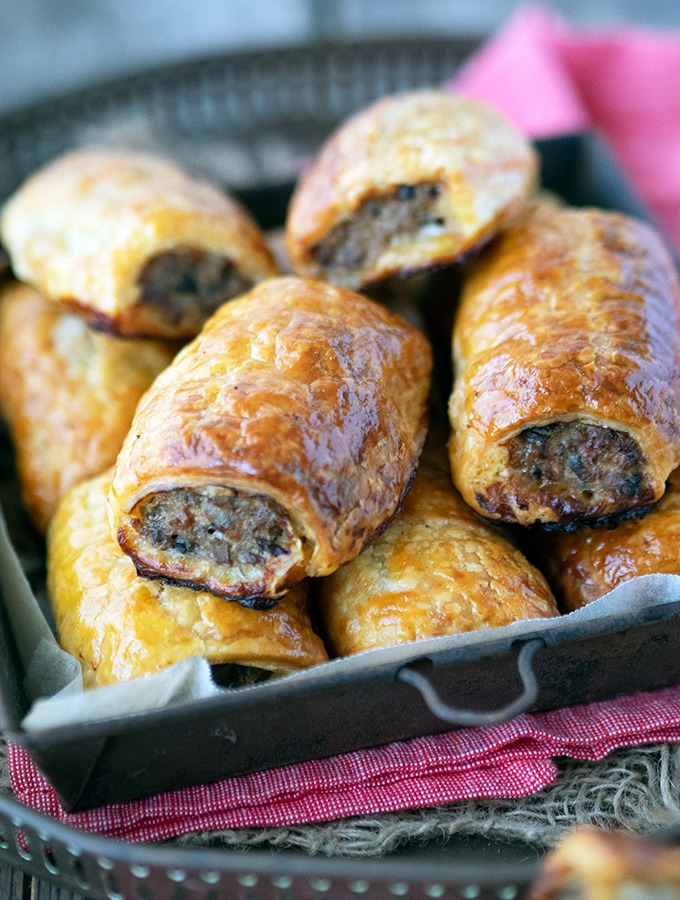 The sausage rolls are filled with premium ground pork, mixed with good quality chicken and champagne pate and a decent grating of fresh black truffle. This is all wrapped in a good quality puff pastry.
Pate makes the filling a little lighter in texture but adds a richness to the taste. Black truffle adds an intoxicating aroma and tantalises the taste buds.
Size wise mine are around two to three mouthfuls per piece. I do think that they would be perfect made even smaller. One mouthful in size would make this luxury sausage roll recipe the perfect hors d'eouvre for a cocktail party.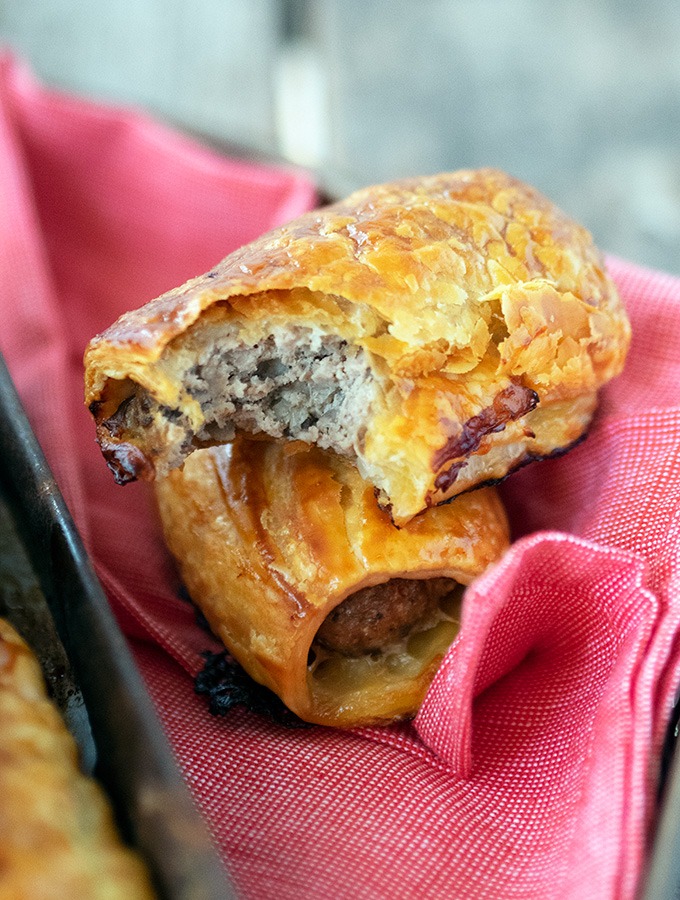 Recipe pressure points
Careful when sautéing your onion, make sure to do it slowly. The onion needs to be soft and translucent, not caramelised.
When rolling the filling inside the puff pastry and then sealing, I find using a fork to help fuse the two pastry edges together a help. I then pinch along the edge with my fingers to really make sure those edges stay together.
Make sure when placing the sausage rolls on your lined baking tray that the pastry join is underneath the roll in the middle. This also helps them from coming apart.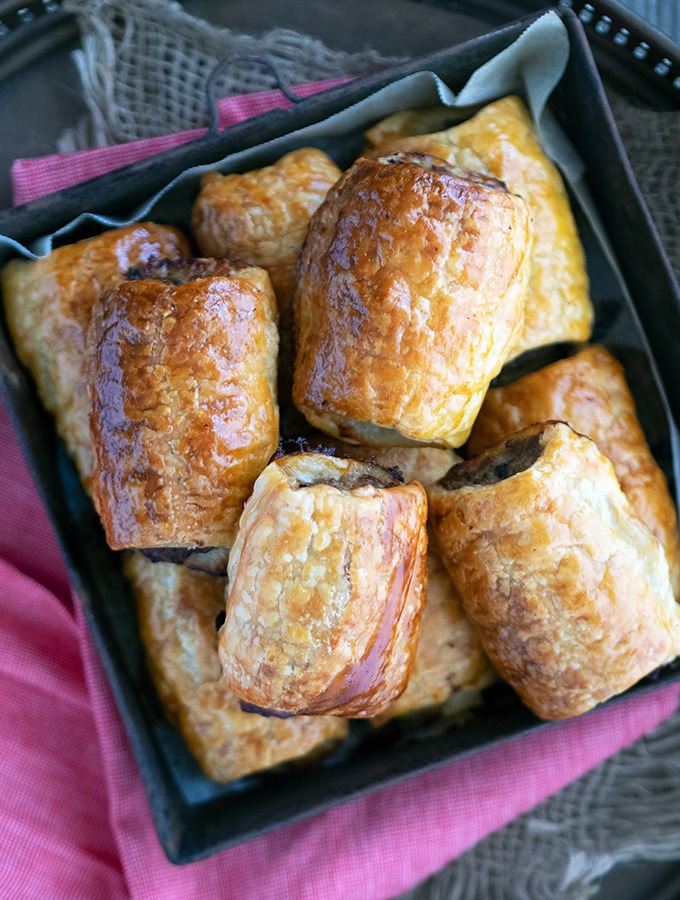 Special equipment for this recipe
This may be a luxury sausage roll recipe, but it is a super easy one to make with basic equipment.
Special Ingredients for this Recipe
Black truffle: Fresh black truffle is seasonal and can be found at farmer's markets or good providores. Did you know in Australia that they hold a blessing of the truffle dogs at the start of each season?
Black truffle is also available in jars and available at all good quality ingredient stores.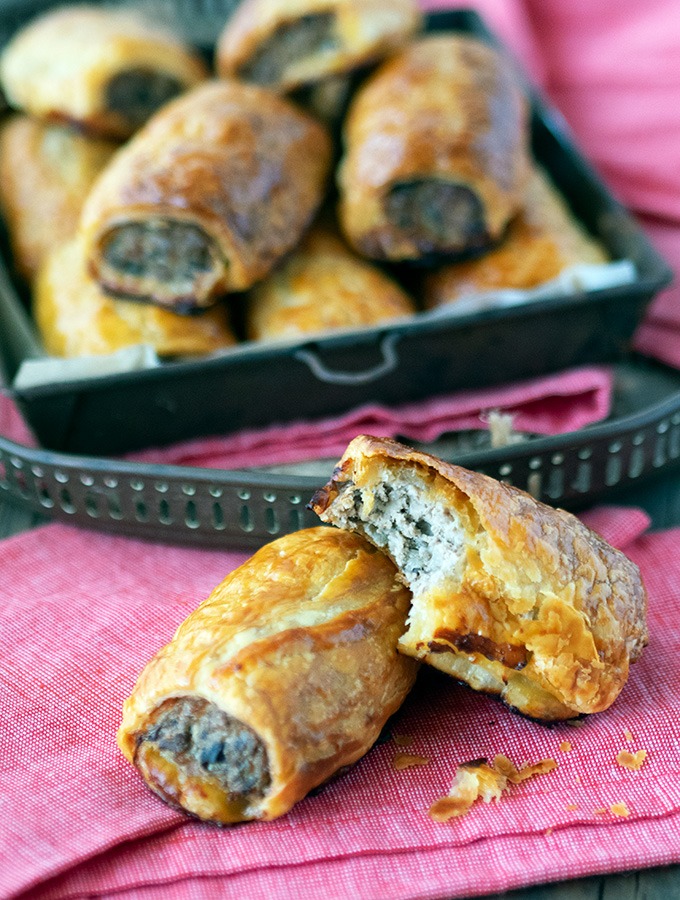 What to do with any leftovers
Sausage rolls can be kept in the fridge in an airtight container for a couple of days. Alternatively, place in a zip lock bag and freeze.
When reheating from fridge or freezer place directly on a lined baking tray in the oven. Place in oven at 160°C (320°F) until warmed through. Frozen sausage rolls will take longer than those from the fridge to reheat.
Sara xxx
Other black truffle recipes
Black truffle and parmesan souffles – an elegant starter for a dinner party
Baked brie with black truffles – just add crusty bread for a decadent dip
Black truffle chicken breast baked in milk – so moist, so juicy and ever so delicious
How to make fresh black truffles stretch further – you have laid out the expense now make the most of that truffle
Cheesy asparagus frittata with black truffle – easy and quick to make with a touch of special
Poulet en demi deuil – chicken in half mourning
Other sausage roll recipes
Pork, apple and fennel sausage rolls – classic sausage roll recipe you will keep on making
Aussie sausage rolls – the Aussie sausage roll recipe that is truly Australian with macadamia and native herbs
Piggie rolls – pork, bacon and cheese sausage rolls that look like little pigs
Festive sausage rolls – perfect for the silly season or just being silly
Become a subscriber and don't miss a single delicious recipe, restaurant review or travel adventure.