Bangalay Dining is located on Seven Mile Beach in Shoalhaven Heads. A country meets beach holiday destination on the South Coast of NSW. Showcasing local, sustainable produce with a strong Australian native ingredient focus.
Shoalhaven Heads' locals and holiday makers alike, now have a destination restaurant on their doorstep. I wouldn't say that Bangalay Dining is a hidden gem. If you frequent Seven Mile Beach there is no missing it. But for non beach goers, you may not know there is a classy little restaurant right next to the beach entrance.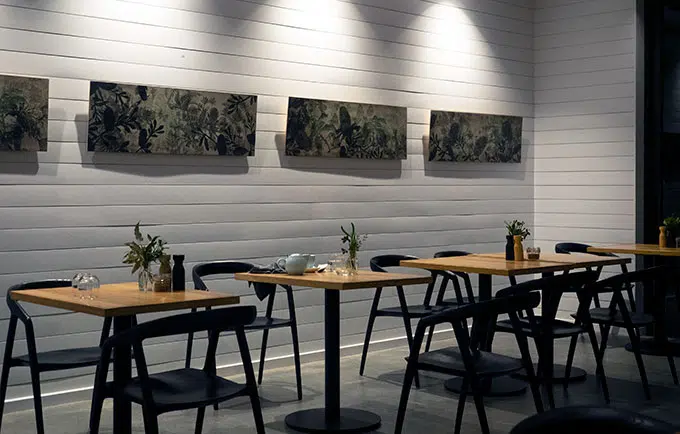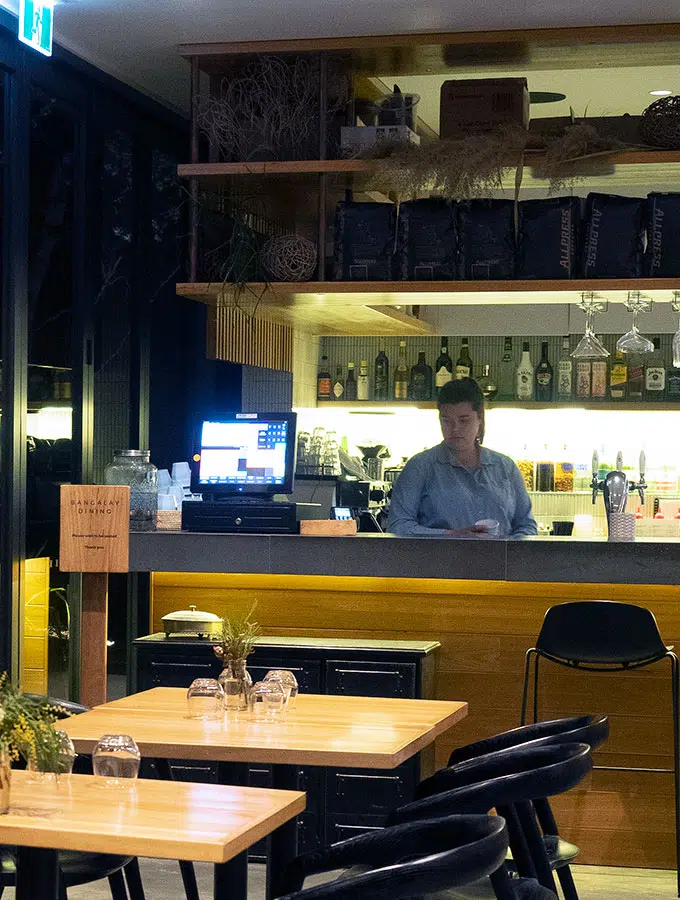 The restaurant is attached to the very swish Bangalay Luxury Villas and is open to the public. With a generous outdoor seating area, it has to be the prime dog friendly restaurant in Shoalhaven Heads.
I'm visiting for dinner, but Bangalay is also open 7 days a week for breakfast. Making Bangalay Dining the perfect spot to grab a post surf breakfast. Or a morning coffee while walking the dog.
On this occasion I'm not visiting with my fur baby Harley. Though I do start dreaming of a few post beach lunches in our future, Seven Mile Beach is also dog friendly. Instead I am here to try Chef Brent Strong's 6 course tasting menu ($85/person).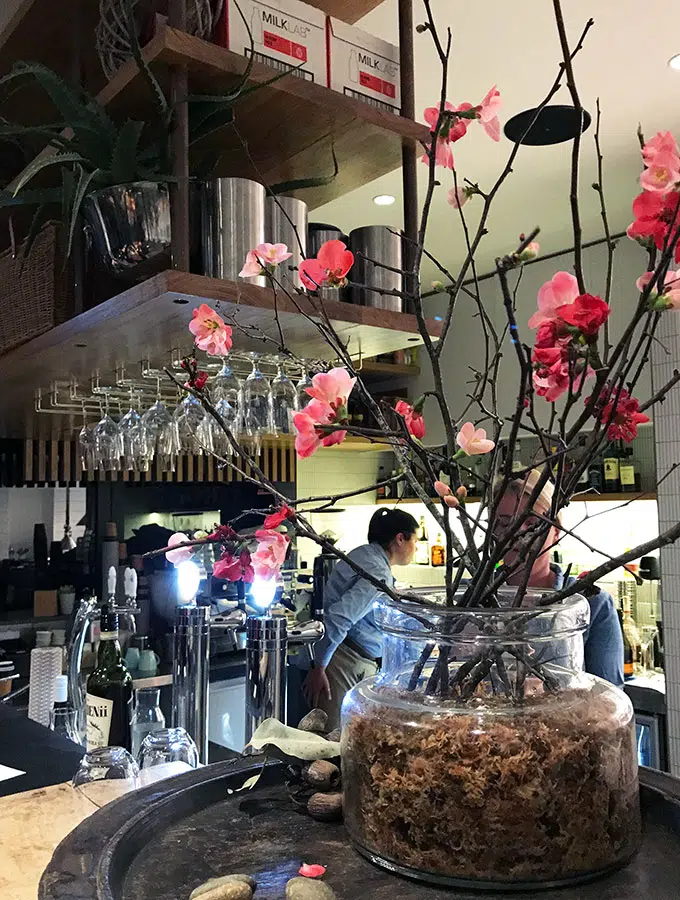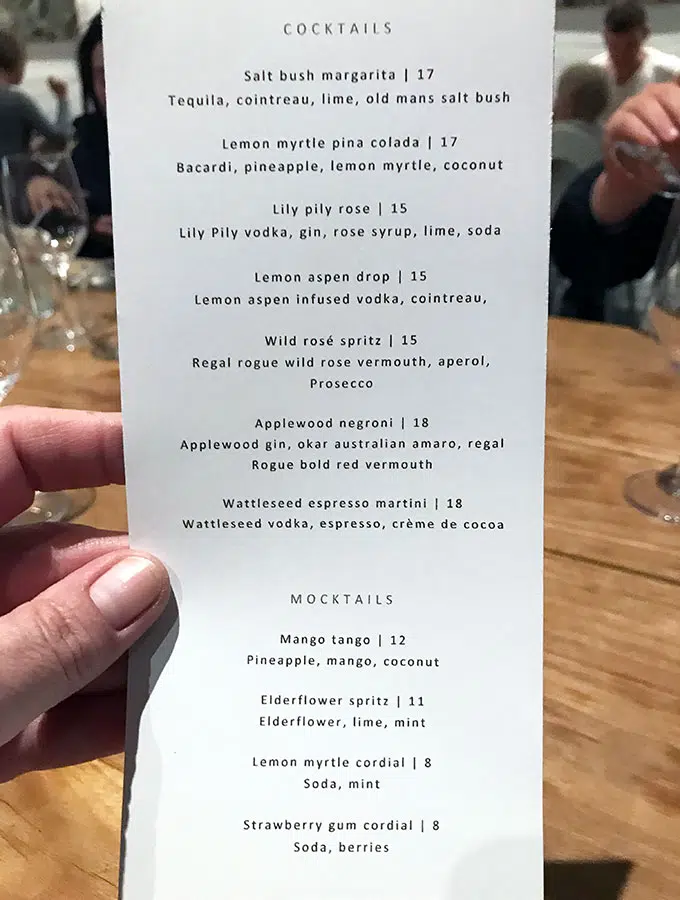 I start with a cocktail at the bar. To my delight there is a strong presence of Australian native ingredients in their signature cocktails. Quite a few grab my attention, Salt Bush Margarita, Lemon Myrtle Pina Colada, Lily Pily Rose, and the Wattleseed Espresso Martini sounds like it would be the perfect end to any meal.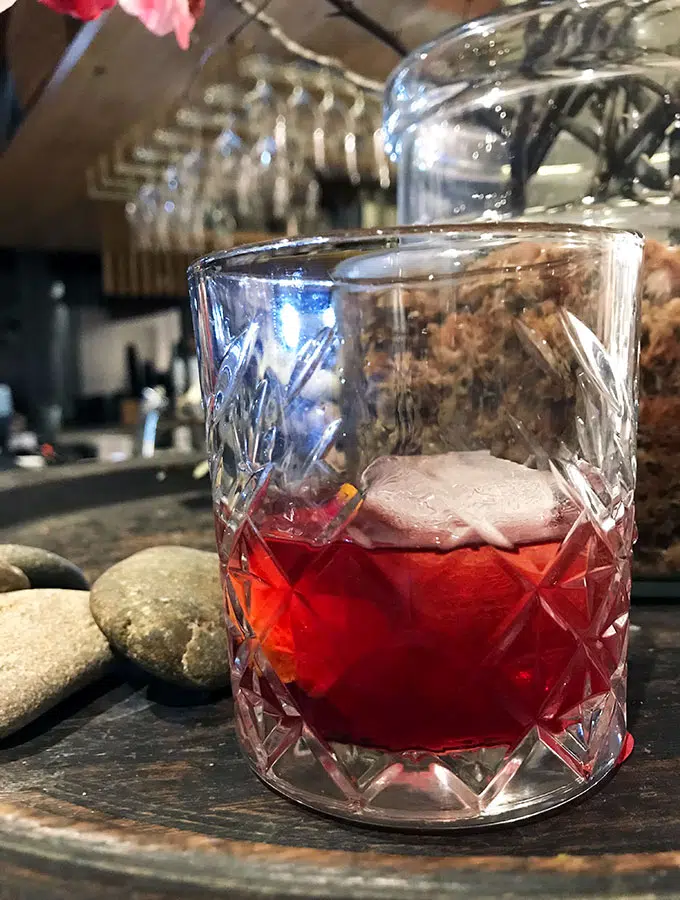 I bypass all those temptations and settle on an Applewood Negroni ($18). It is actually the Økar Australian Amaro that sways my decision. This Australian Amaro is crafted from Australian rainforest botanicals, Davidson Plum, Strawberry Gum Leaf, and others. To me it smells like the Australian bush, wallabies and all.
I have a bottle of Økar at home and have been wondering how to use it. Thus the decision on the Negroni. How was it? There is no missing that it is a Negroni, but with a marvellous Australian twist. A must try for Negroni lovers.
After some banter around the bar it's time to sit down for Chef Strong's tasting menu. For a Friday night, in an area that's trade is very seasonal, it's great to see quite a few people in the restaurant. There seems to be locals and holiday makers, from couples to families.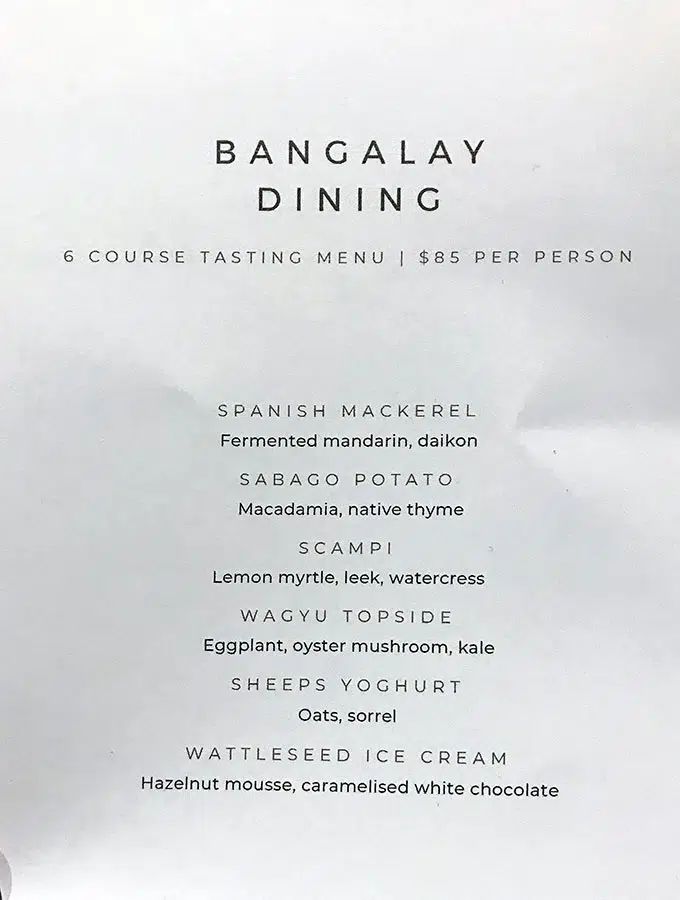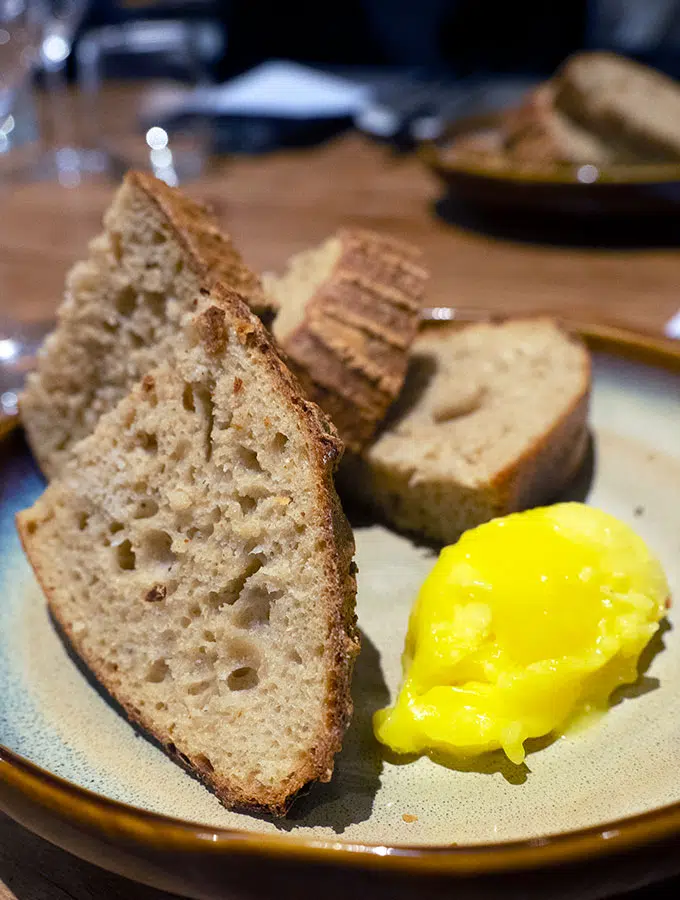 Bread and Butter: To start there is a generous serving of house made sourdough. It's thick and dense with a marvellous crust. It goes perfectly with the vibrant house made butter, made from local dairy.
The decision is made to have Bangalay's owner Michelle Bishop arrange wine pairing for us of wines from local vineyards. After visiting Coolangatta Estate earlier that day and also trying some of Cupitt's wines at the South Coast Food & Wine festival lunch, I'm more than happy to stick with local wines.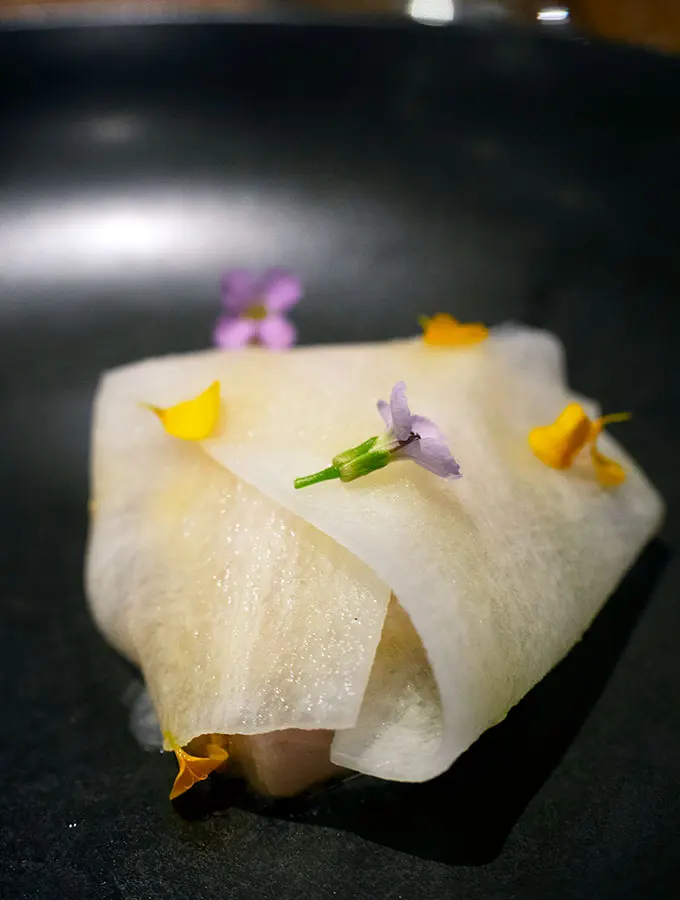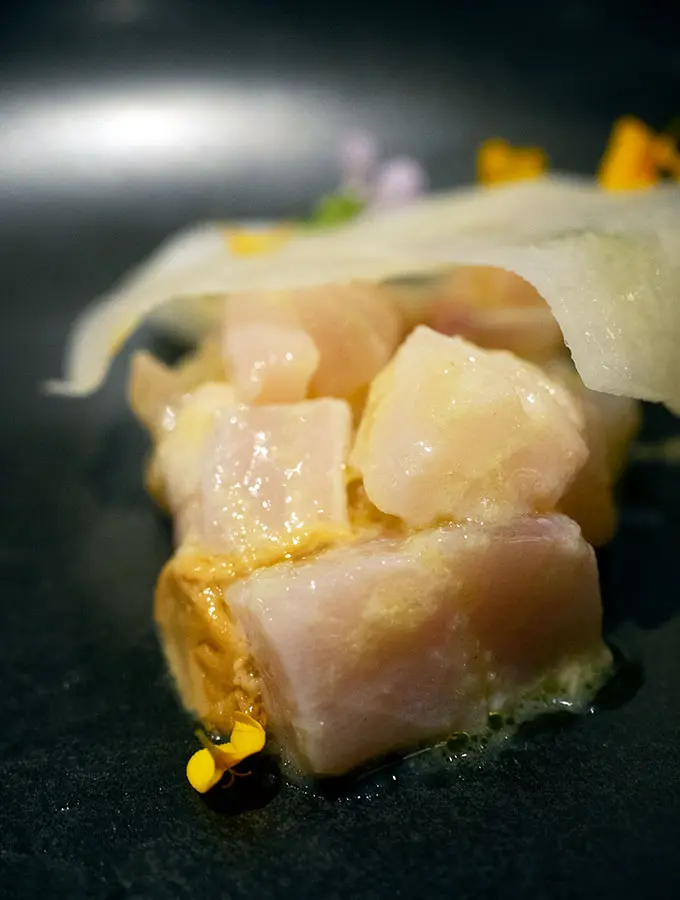 Spanish Mackerel: Served as a dainty surprise package adorned with edible flowers. The "package" is wrapped in paper thin ribbons of daikon, a large mild white radish. Inside are delicate dices of mackerel. The mackerel is mild in taste and tossed with fermented mandarin.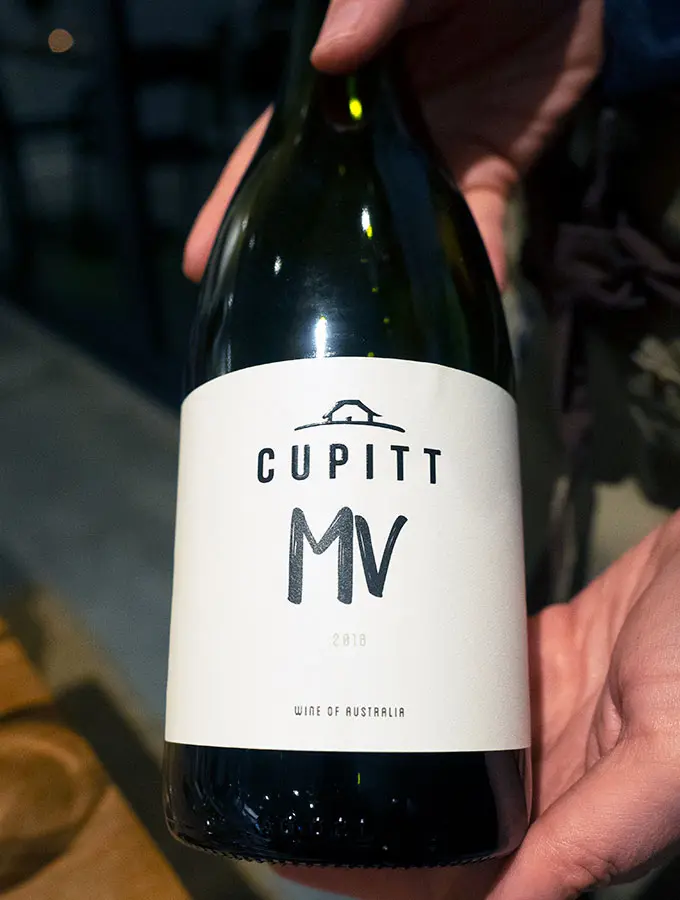 The wine paired with the mackerel is Cupitt's 2018 "MV" Marsanne Viognier. With its aromatics of jasmine and orange blossom, and citrus notes, this fresh white is the perfect match to the delicate mackerel.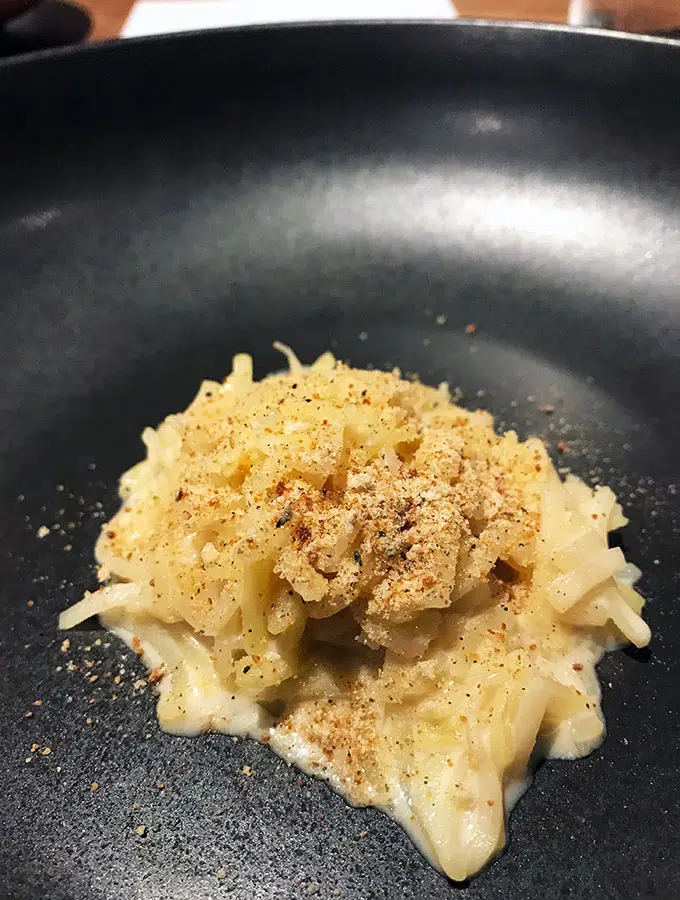 Sebago Potato: Julienned potato in a creamy sauce of macadamia with native thyme. The potato retains texture and a subtle crunch. Even though the dish is delicate it is comforting. There is just something about creamy potatoes that will do this.
It is an unusual dish but surprisingly not the first time I have been presented with potatoes in this style. I enjoyed a similar dish earlier this year at the Jade Orchid in Macao. Similar in style and umami kick, but so different in the ingredients used with the potato. I really enjoyed Chef Strong's Australian version. The fact that I was enjoying a similar dish to one I really enjoyed in Macao, brought a big smile to my face.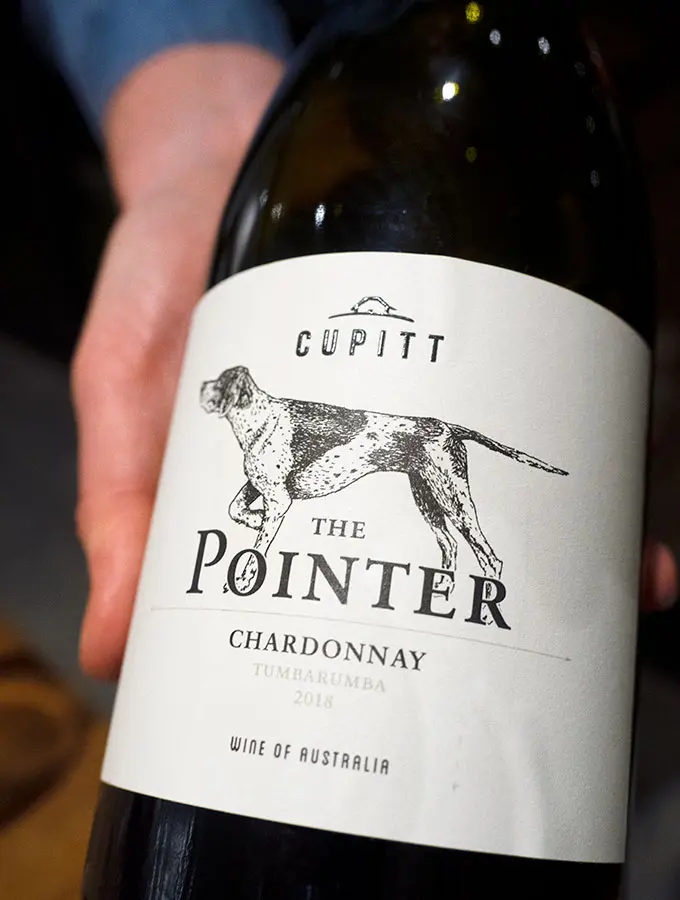 Cupitt's The Pointer Chardonnay was the perfect match for the creamy potatoes. A white wine with a little grunt to match the rich dish, but delicate enough to not overpower the dish's intricacies.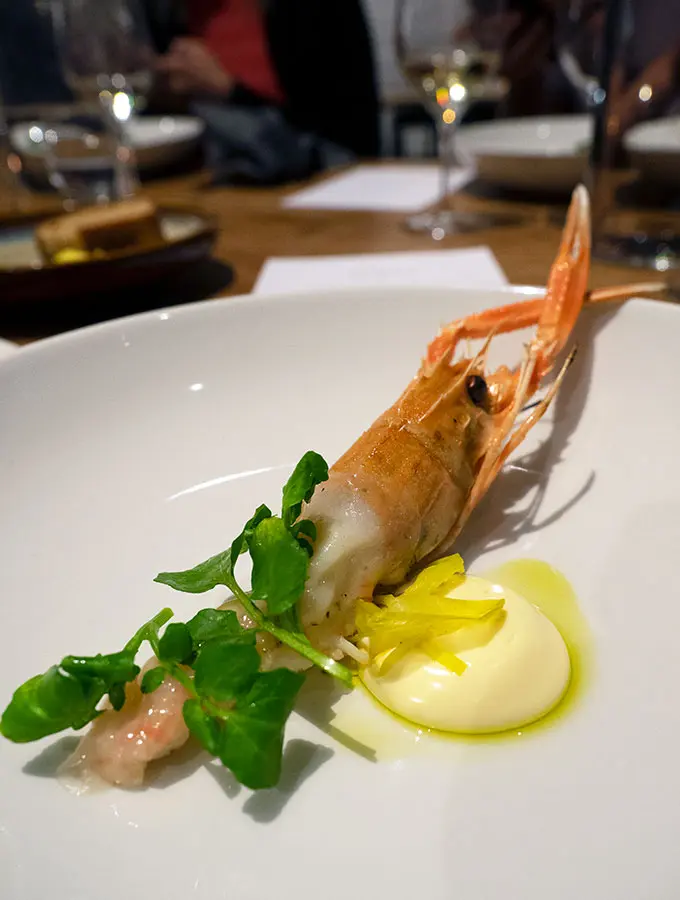 Scampi: A beautifully presented scampi adorned with watercress. Lemon myrtle is one of my favourite Australian native ingredients and it is the perfect match for shellfish. It's present in the aioli sitting by the scampi and topped with tender leek. My only complaint about this dish, I could have easily eaten another scampi. Only because I am a guts and the tender scampi was mouthwatering.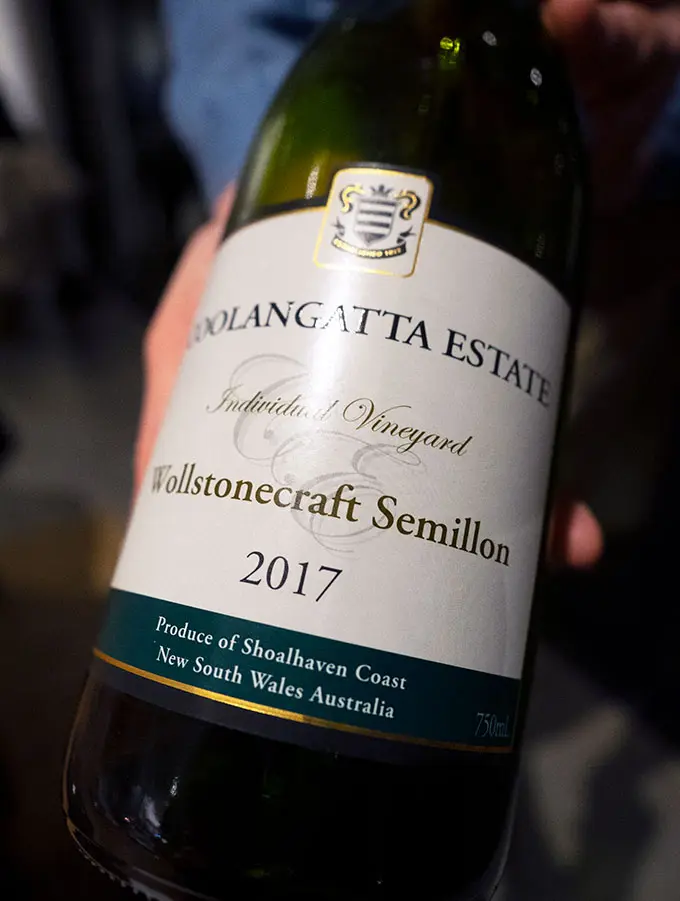 The last thing you would want is a strong wine overpowering the delicate flavours of the scampi. The choice for this dish was Coolangatta Estate's Wollstoncraft Semillon. Semillon is a speciality for Coolangatta Estate, they do them very well. Having tried their 2012 and 2018 earlier that day I was happy to try the 2017. Even though it is a full bodied Semillon it was refreshing with delicate citrus notes that worked well.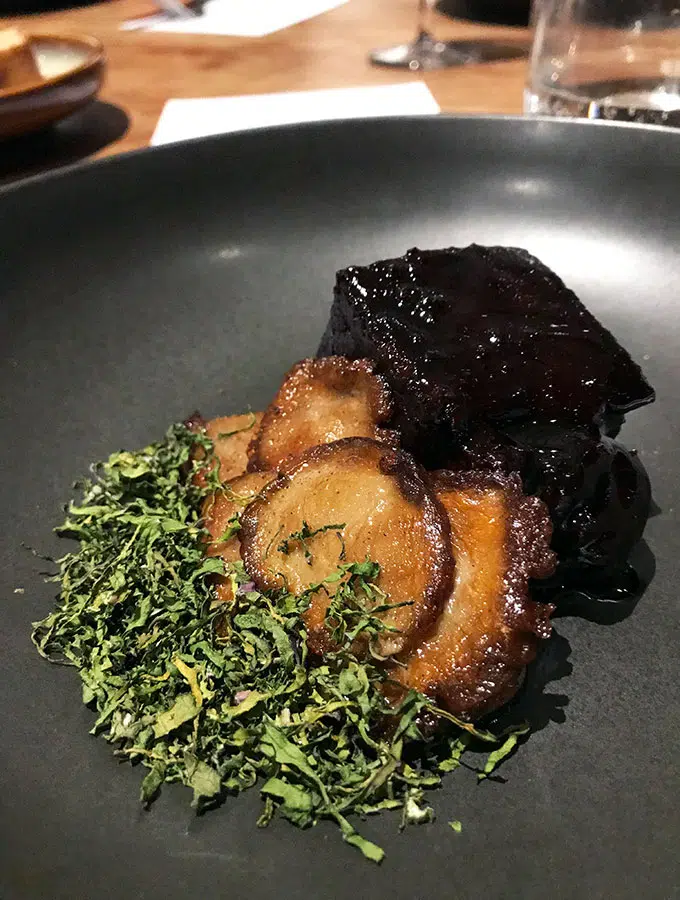 Wagyu Topside: A slow cooked piece of wagyu topside served with eggplant, oyster mushroom, and crisp kale. When dining on multiple courses there will always be your least favourite dish, this was mine. My dining companions were all raving about the wagyu topside, so it may just be me. Unfortunately, my piece of topside, even though tender, was on the dry side. Other than that the dish packed a punch of flavour with the crisp kale adding an interesting texture.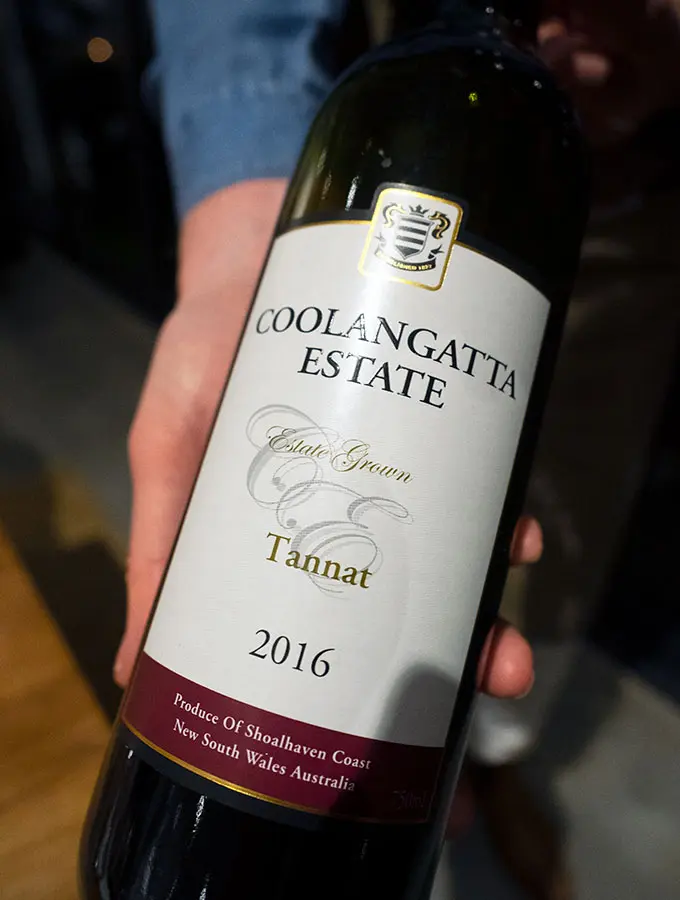 Paired with another fine wine from Coolangatta Estate. Their 2016 Tannat is a deep and dark red, perfect for the rich wagyu topside.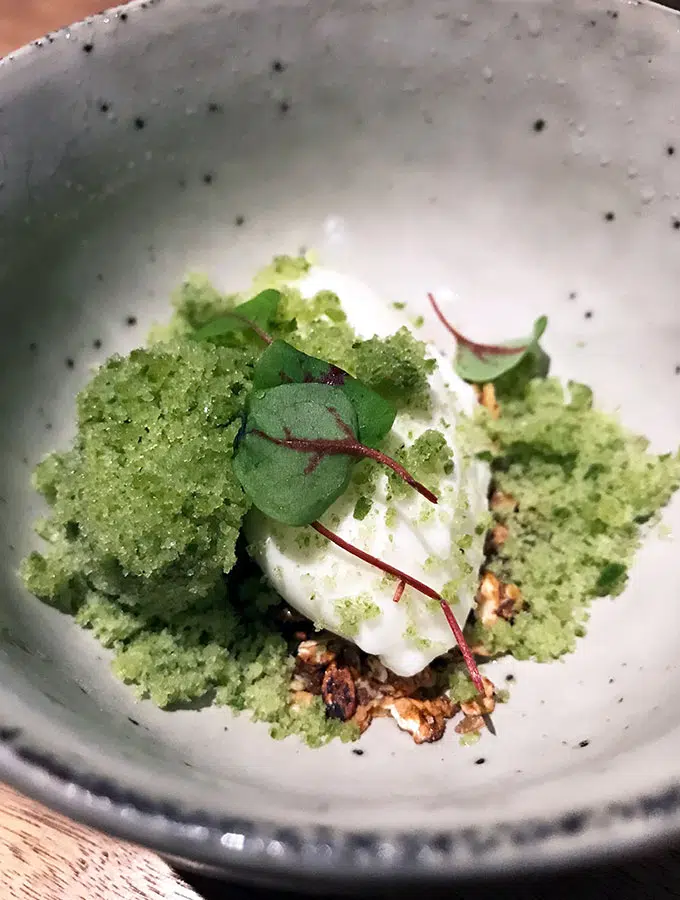 Sheeps Yoghurt: The first of the dessert courses is light and refreshing with a touch of tang. A quenelle of sheeps yoghurt gelato sits on top of oat granola. Topped with refreshing sorrel granita. The perfect palate cleanser.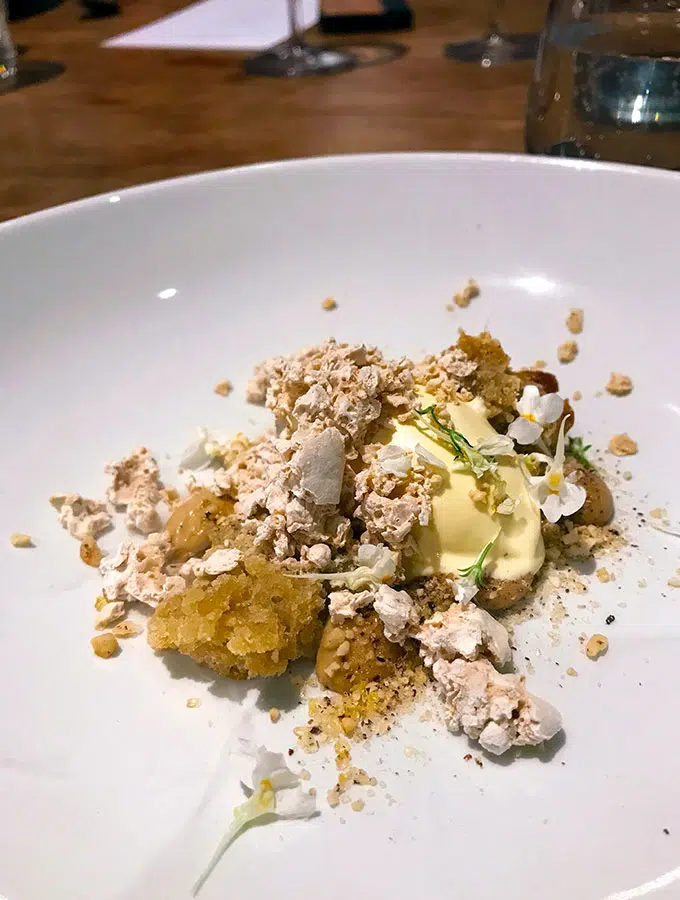 Wattleseed Ice Cream: The star dessert is wattleseed ice cream with hazelnut mousse and caramelised white chocolate. So many delicious elements on one plate. The delicate creamy ice cream, dense white chocolate mud cake, the nitrogen blitzed hazelnut mousse and decadent caramelised white chocolate. When it was set down in front of you wisps of "smoke" from the nitrogen frozen hazelnut mousse dance on the plate. So much fun.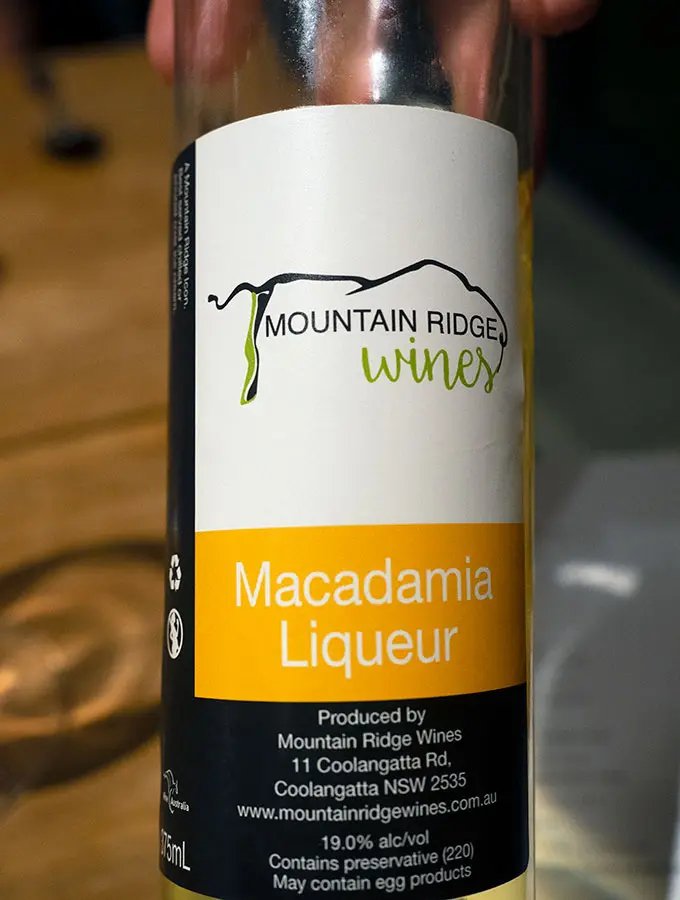 To pair with the dessert courses is Mountain Ridge's Macadamia Liqueur. A big crowd pleaser with it's sweet nutty notes. Would also be perfect served with affogato.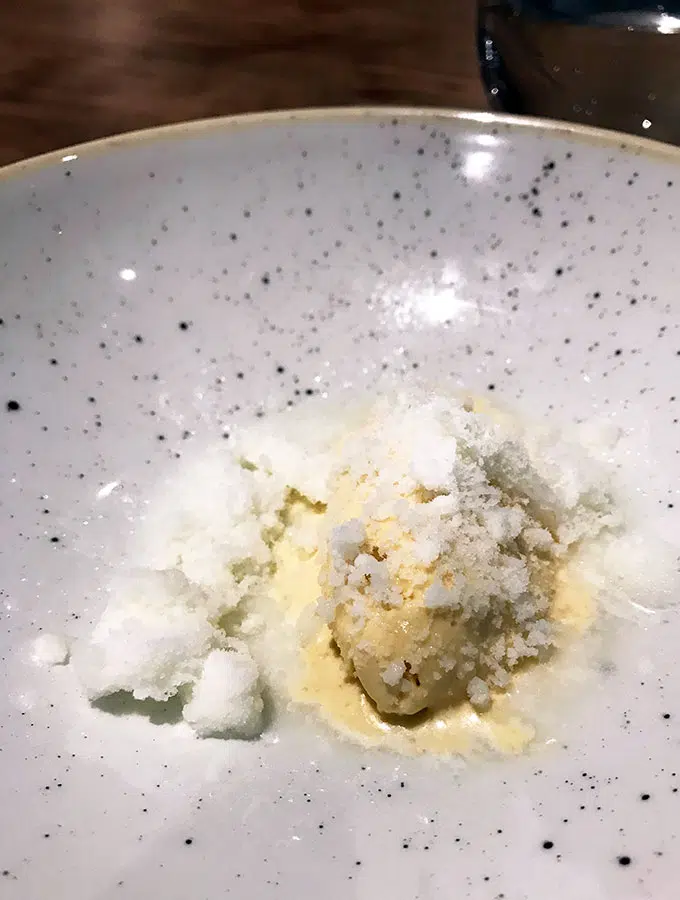 Bread and Butter: We have a surprise ending. Chef Strong ends our meal as we started with bread and butter. In this case, it is the sweet version. Sourdough ice cream served with buttermilk granita. The ice cream is sweet and toasty, the granita light with a slight tang. The granita is made from the buttermilk leftover from the making the house made butter.
It was a truly delightful dinner. Quite an unexpected establishment in the quiet and relaxed Shoalhaven Heads. The menu embraces produce from local farmers and producers. This, along with their strong emphasis on Australian native ingredients, makes Bangalay Dining an integral part of the Shoalhaven dining scene.
Sara xxx
Bangalay Dining
30 Staples Street, Shoalhaven Heads NSW 2535
Tel: +61 2 4448 7729
www.bangalayvillas.com.au/restaurant
Bookings are well advised.
Belly Rumbles dined at Bangalay Dining with thanks to Destination NSW, but all opinions remain her own.

PIN ME TO YOUR TRAVEL BOARD