Bangalay Luxury Villas offer self catering accommodation in Shoalhaven Heads. This tranquil accommodation is located right on Seven Mile Beach and Shoalhaven Heads Golf Course.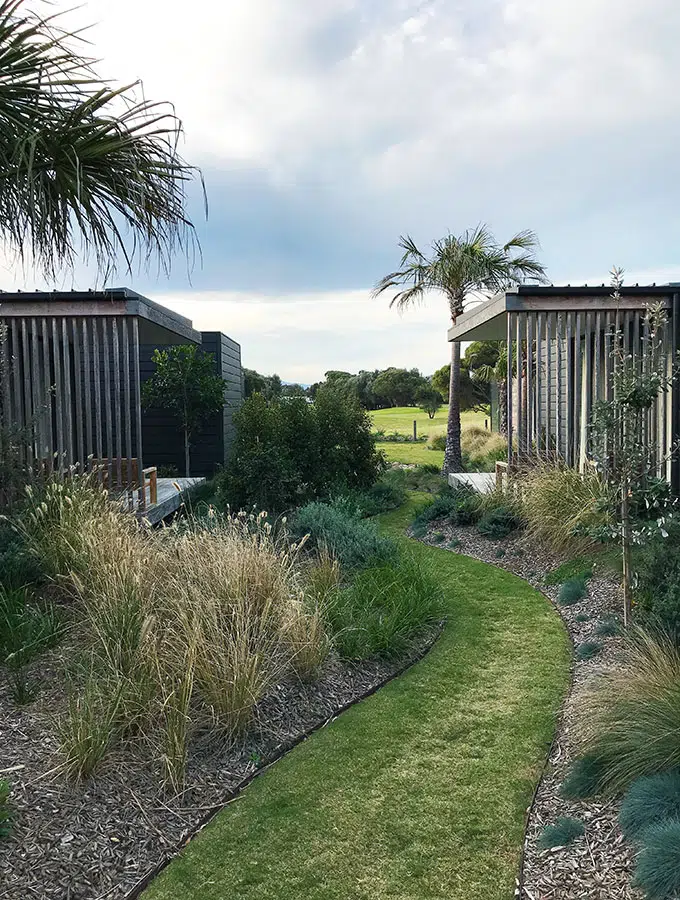 If you are a golfer, surfer, enjoy horse riding, or simply want to curl up with a good book, this may just be the place for you.
The location of Bangalay Luxury Villas is spot on. The deck from your villa overlooks the Shoalhaven Heads Golf Course. In the distance you can hear the crashing waves from Seven Mile Beach, which is accessible from the property.
Michelle Bishop opened her luxury accommodation offering 12 months ago on New South Wales' South Coast. An ode to those summer holidays most Aussies remember as kids. A few weeks at the beach staying in holiday accommodation and caravan parks.
Except Michelle's vision was to take those fond memories we had as kids and incorporate them into a luxury package. A combination that as adults we could reminisce our youth and appreciate the finer things adulthood brings.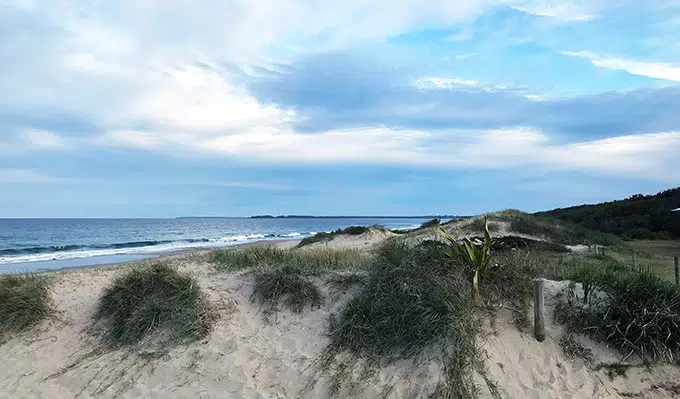 I should call Michelle Super Woman. She is one impressive lady, a bit of a powerhouse. The planning, in earnest, for Bangalay started at the end of 2016. Already a mum of three, she had a pleasant surprise finding out number four was on the way. This saw Michelle project managing the final stages of her dream with a newborn in tow.
All her blood, sweat, and I'm sure there probably were a few tears, has totally paid off. Bangalay Luxury Villas is a testament to her overseeing everything. She tells me to this day, whenever she looks at the microwave cabinets in the villas she cringes. They just aren't the right size. After Michelle mentions this to me, I take a good hard look and have no idea what on earth she is talking about. They look alright to me!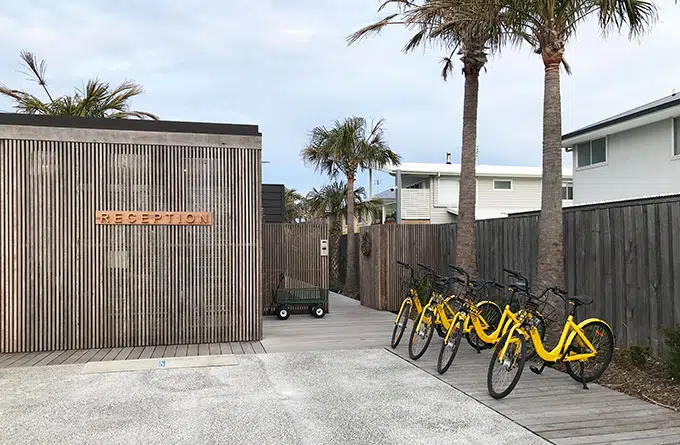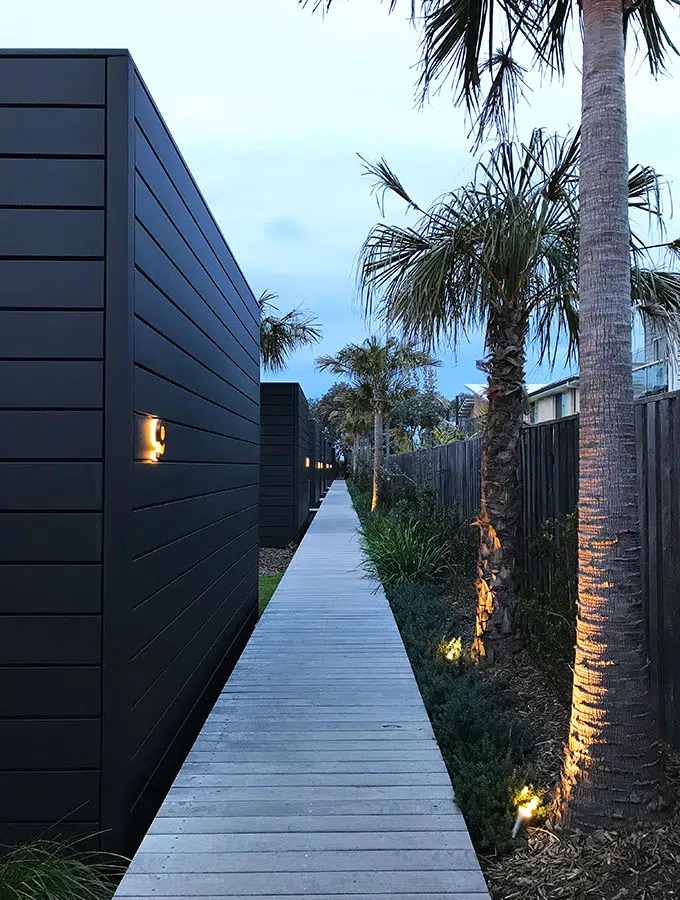 As the villas are all self contained, originally Michelle felt she would be more hands off. But it didn't work out that way. Of course guests are left to the privacy of their villas, when service is needed it's very discrete. There is always somebody around if you do need something. To make the beds, clean the apartment and take out the trash. Which is where Bangalay Luxury Villas stand apart from most other self catering accommodation.
Bangalay Luxury Villas Lounge & Dining
Each villa is equipped with a small kitchen, which is the perfect size when on vacation. It is surprising how much has been included in the space. There is a full size fridge, oven, double hot plate, microwave, small dishwasher and coffee machine.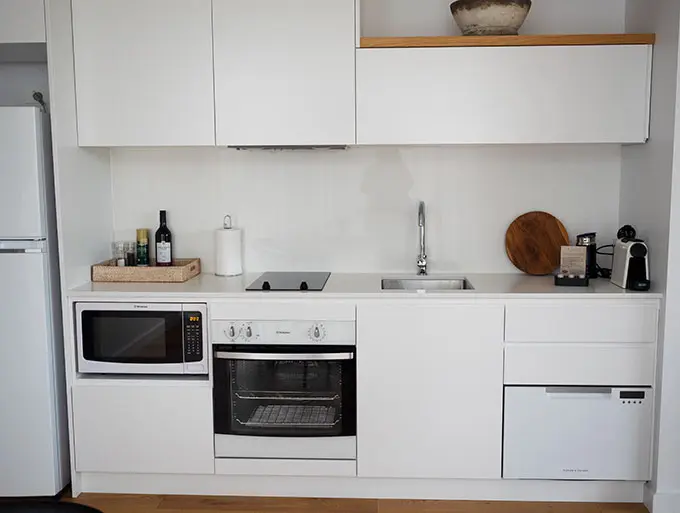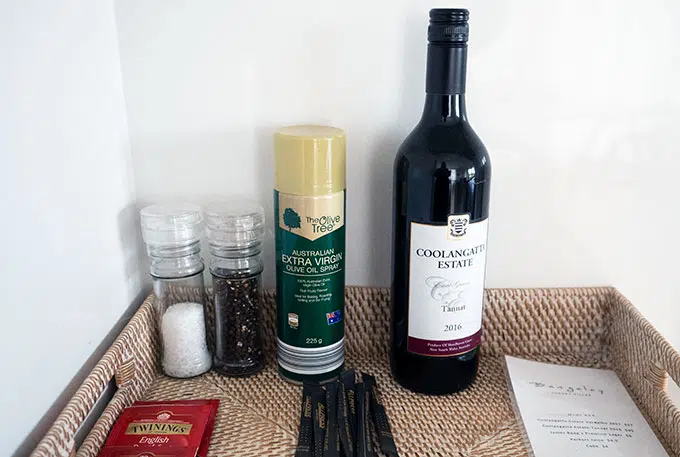 There are a few supplies like spray oil, salt and pepper, which is more than adequate. Yes, it may be a lot less than other self contained abodes, but I love that there is spray oil and not an open bottle of oil. I'm not sure about you, but I never use the large bottles of oils, sauces etc that have been used by previous guests. I'm weird that way. I appreciate the spray oil, which is a hygienic oil offering.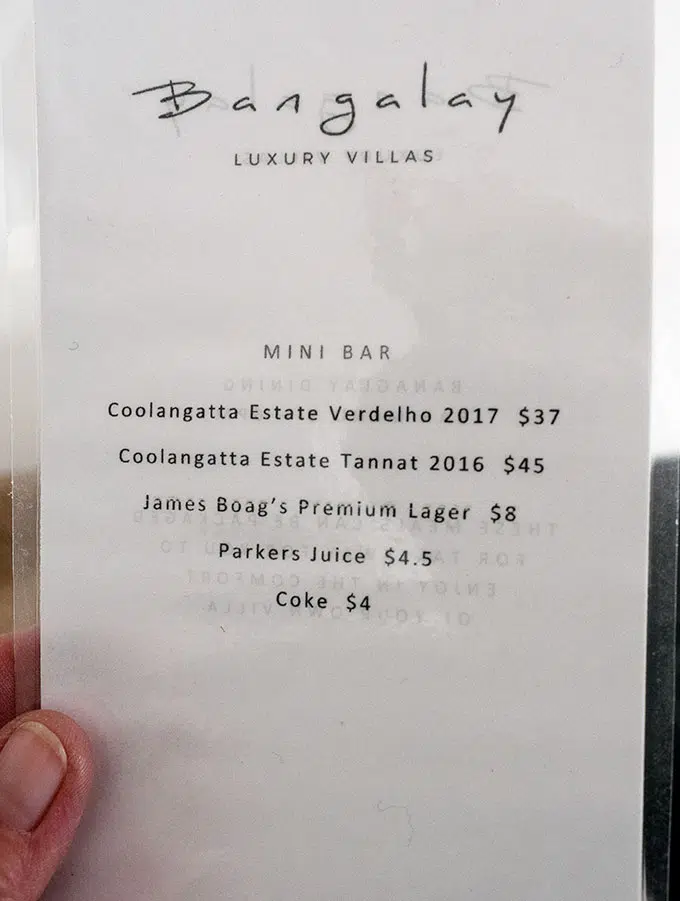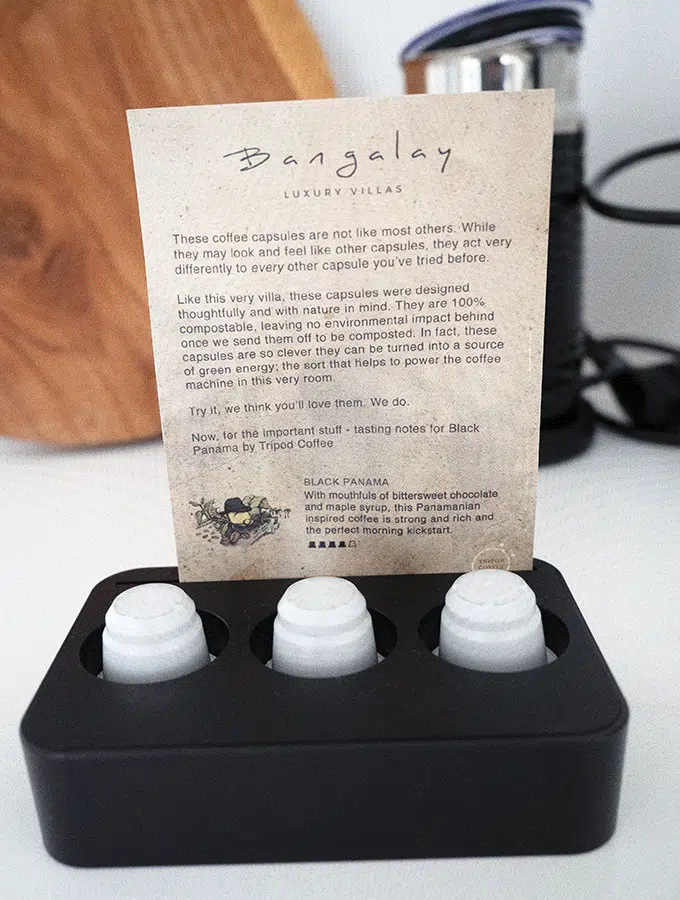 There is a minibar to get you out of trouble if you haven't had the chance to source supplies. You will find all you need at the Shoalhaven Heads shops a five minute walk away.
A fully equipped laundry hides behind two doors. Combo washer/dryer, iron, ironing board and a full size laundry tub.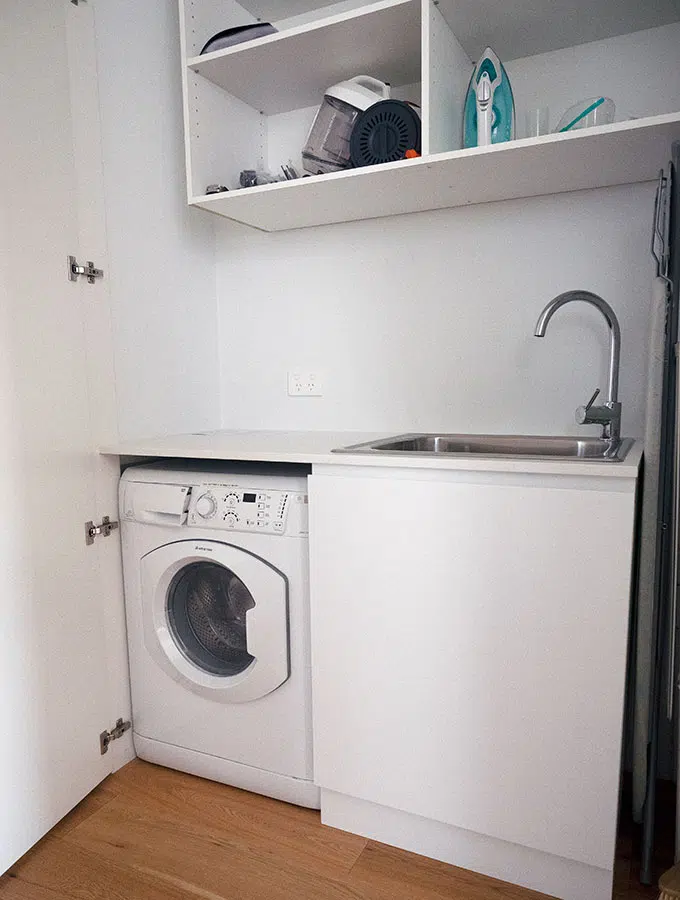 It's a light and airy space with large floor to ceiling windows near the dining area. Floor to ceiling sliding doors take up the width of the back of the villa and lead out on to the deck. A dining table to fit four, comfy lounge, television, Wi-Fi and a gas log fireplace. A click of the remote and flames spring to life.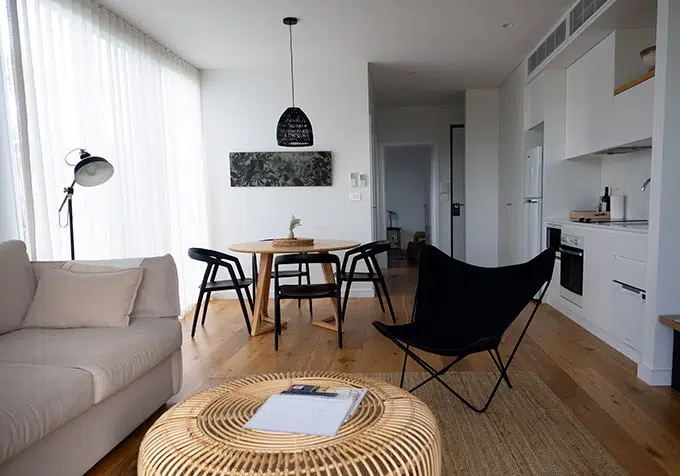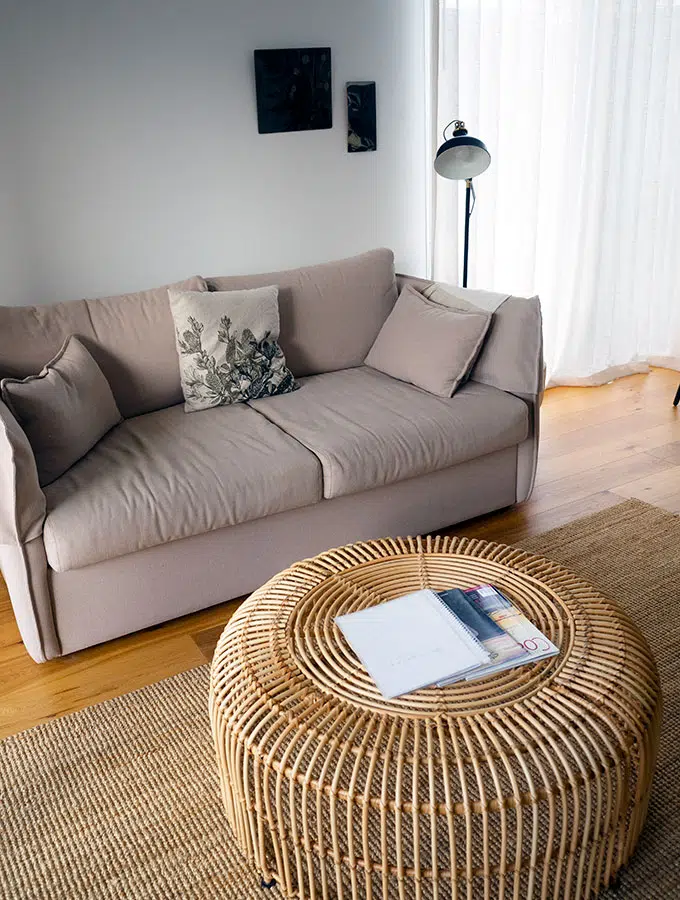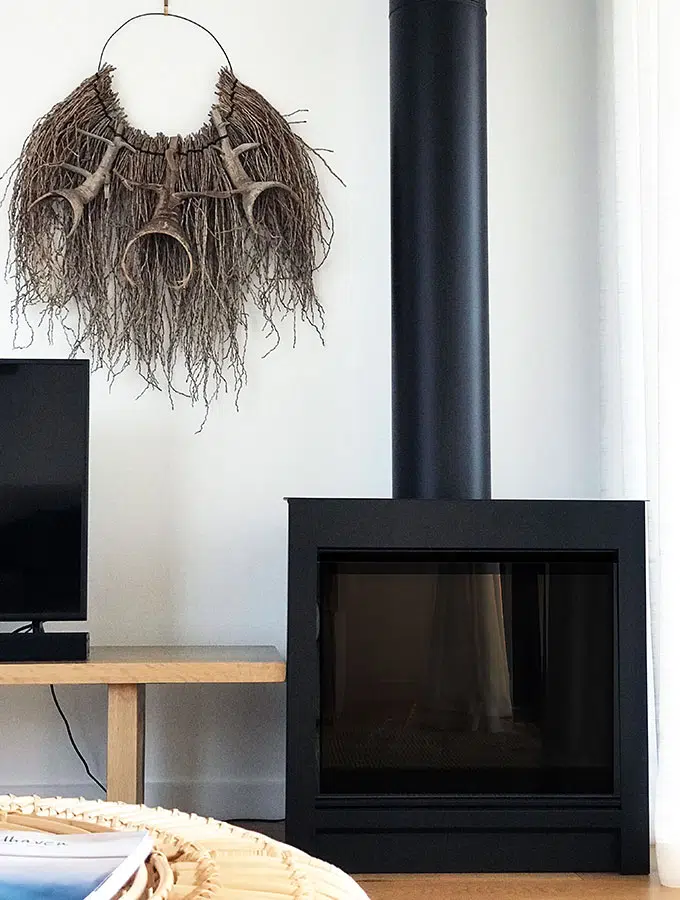 On the back deck you will find a couple of cushioned chairs, table and lantern. The perfect place to relax with a glass of local wine as you look out onto the golf course.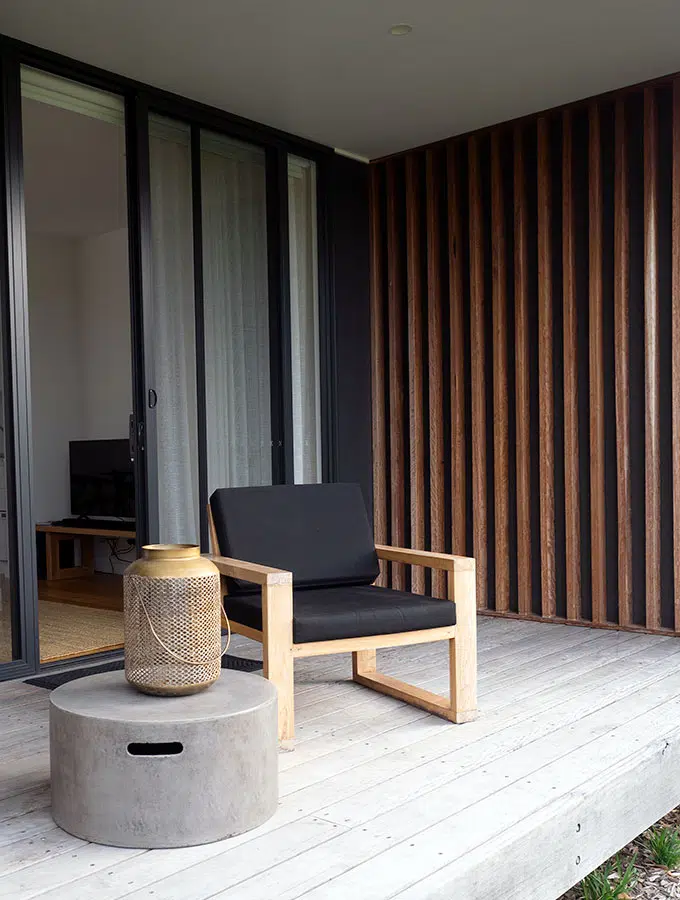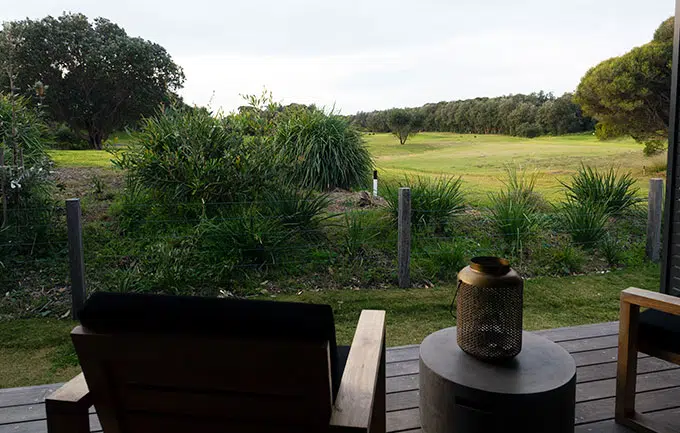 Bangalay Luxury Villas Bed & Bath
The one bedroom villa has a comfy queen size bed, wall mounted television and wardrobe with bathrobes and a safe. It fills with natural light from the floor to ceiling window that overlooks the golf course.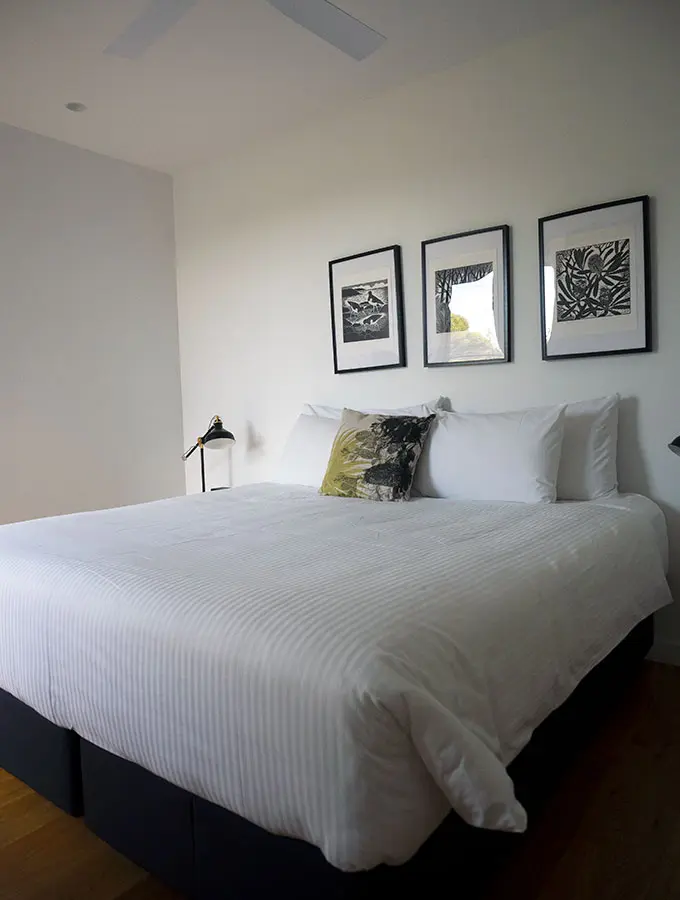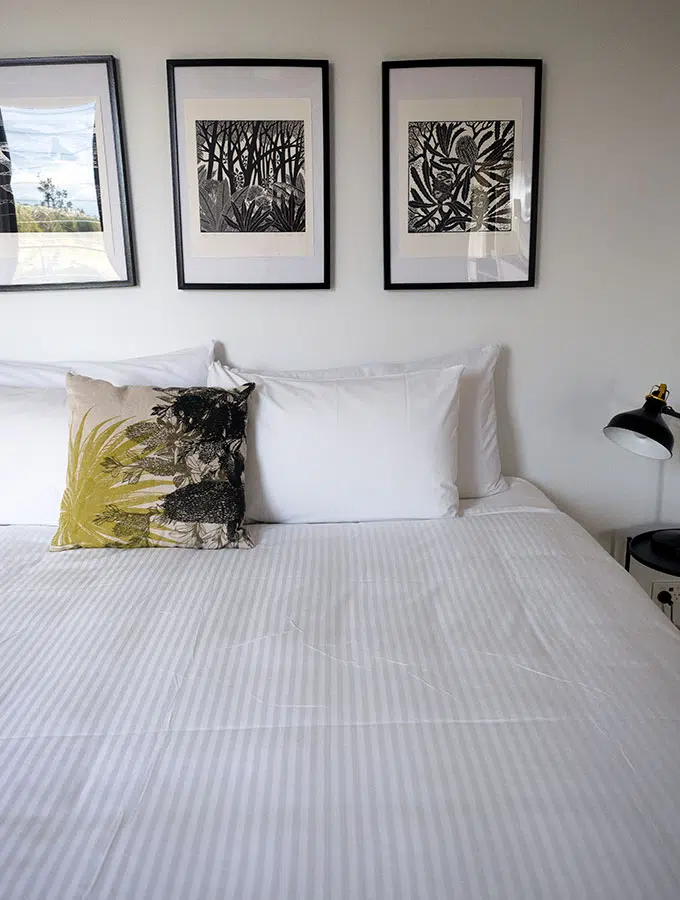 The bathroom is kitted out with heated floors, a blessing on a cold winter's morning. Get all sudsy in the large walk in rain shower that is big enough for two. Aspar toiletries are on hand to pamper yourself with.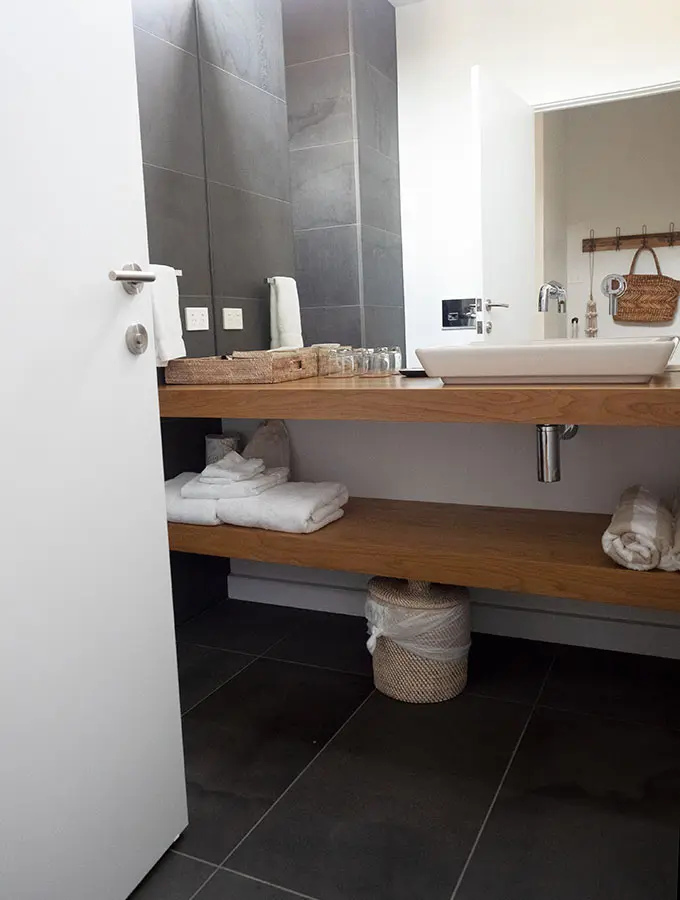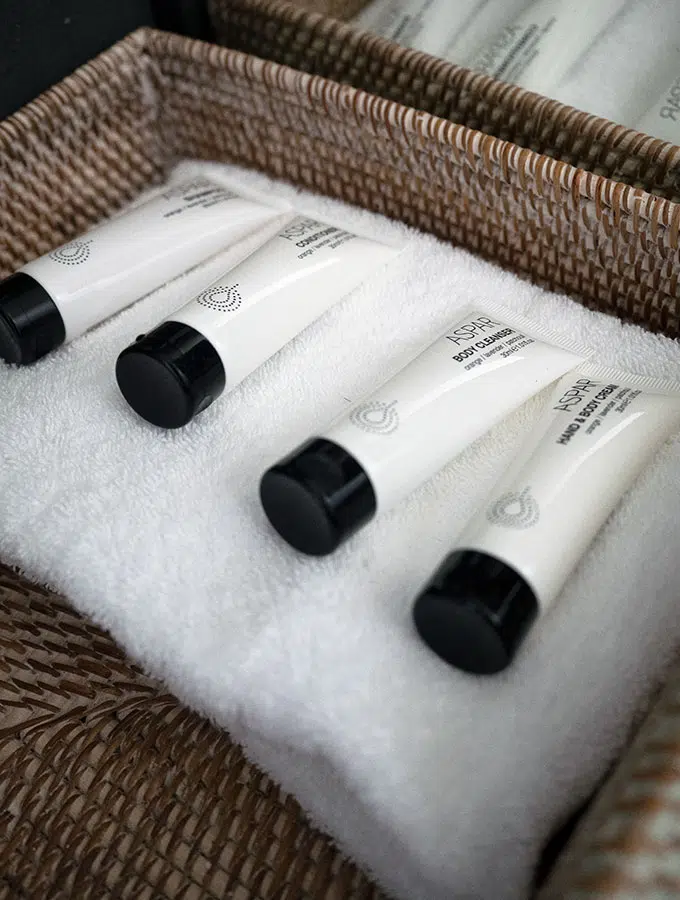 The Pool
Even though Seven Mile Beach is a 30 second walk away, Bangalay Luxury Villas have a luxurious pool to relax by. Perfect for those that don't want to get sand where the sun doesn't shine.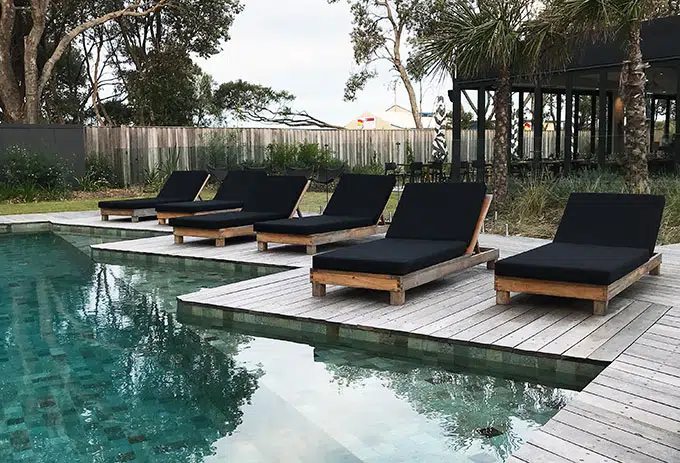 Bangalay Dining & Breakfast
You are able to dine on site at Bangalay Dining. Offering breakfast, lunch and dinner (check times). The locals have also embraced the restaurant run by Chef Brent Strong.
I had the chance to experience Brent's six course tasting menu one evening during my stay. This Chef is doing some great stuff with local and Australian native produce.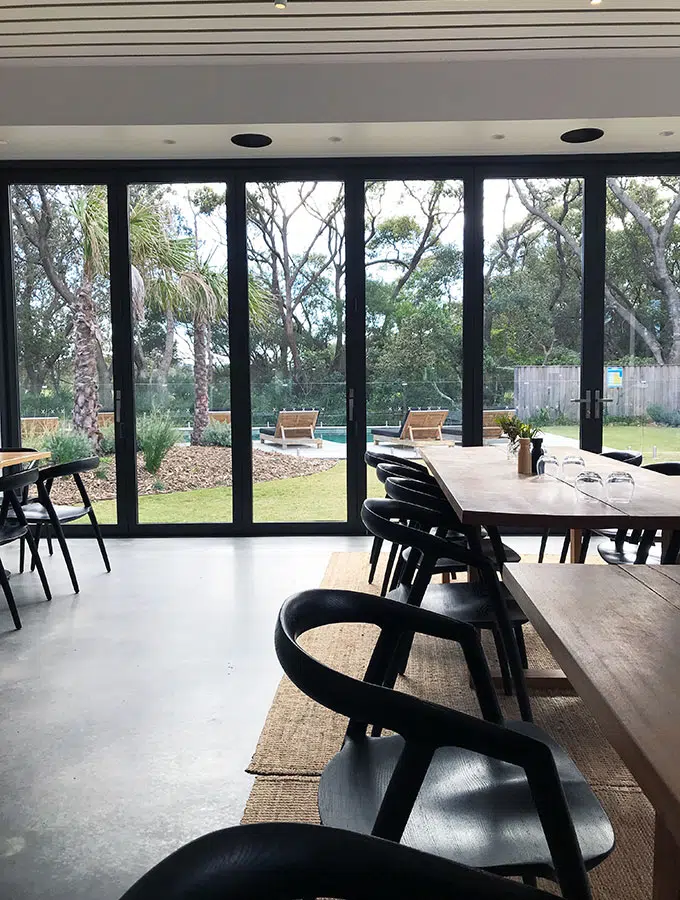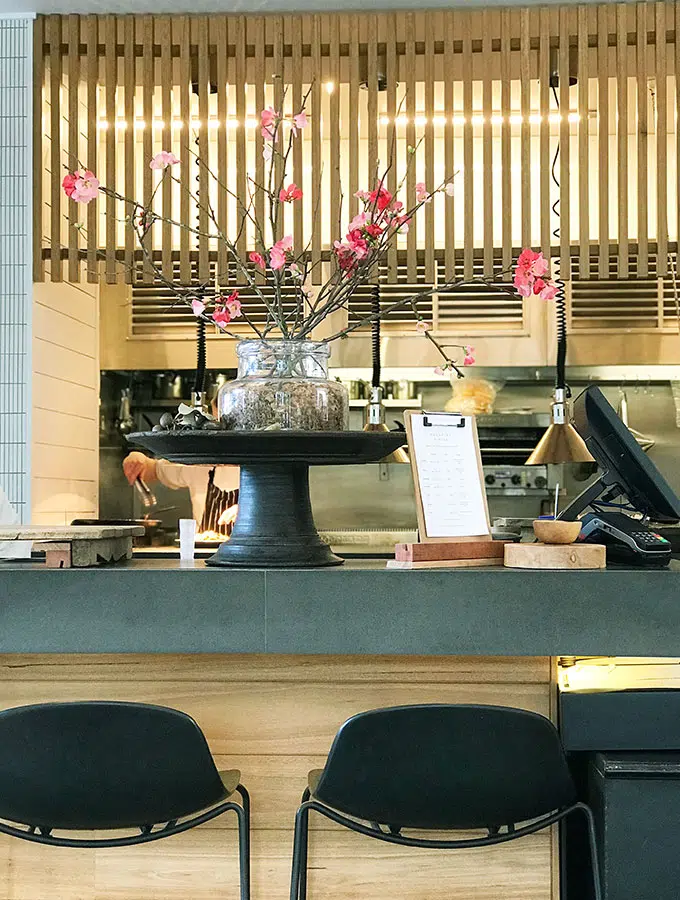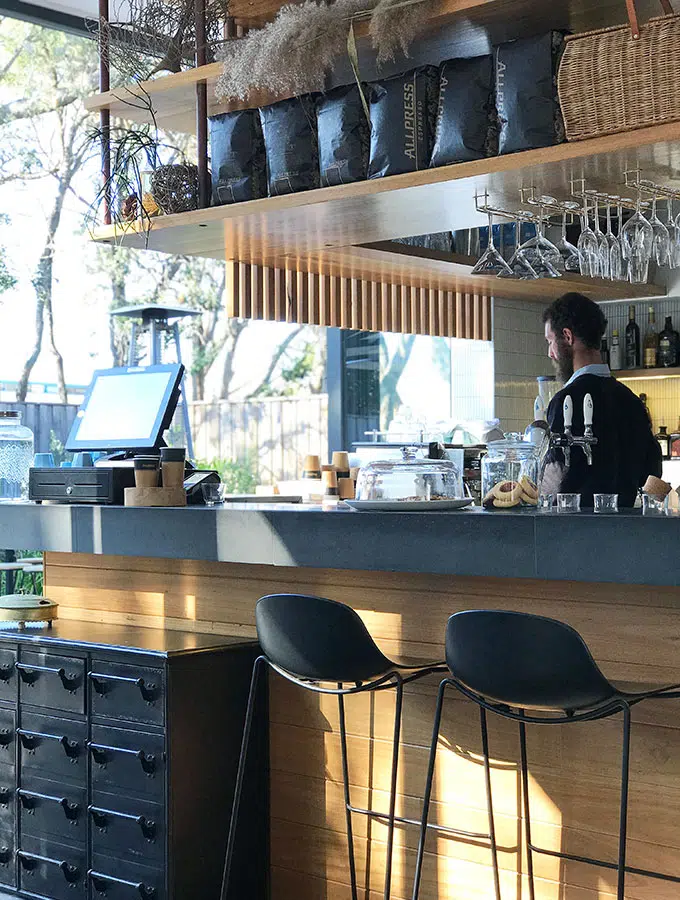 Guests staying at the villas can choose what they would like from the menu. This will also include a serve of seasonal fruit salad, pastry and housemade jam of the day. The coffee is good and I can understand why they do a solid coffee takeaway trade with the locals heading to and from the beach.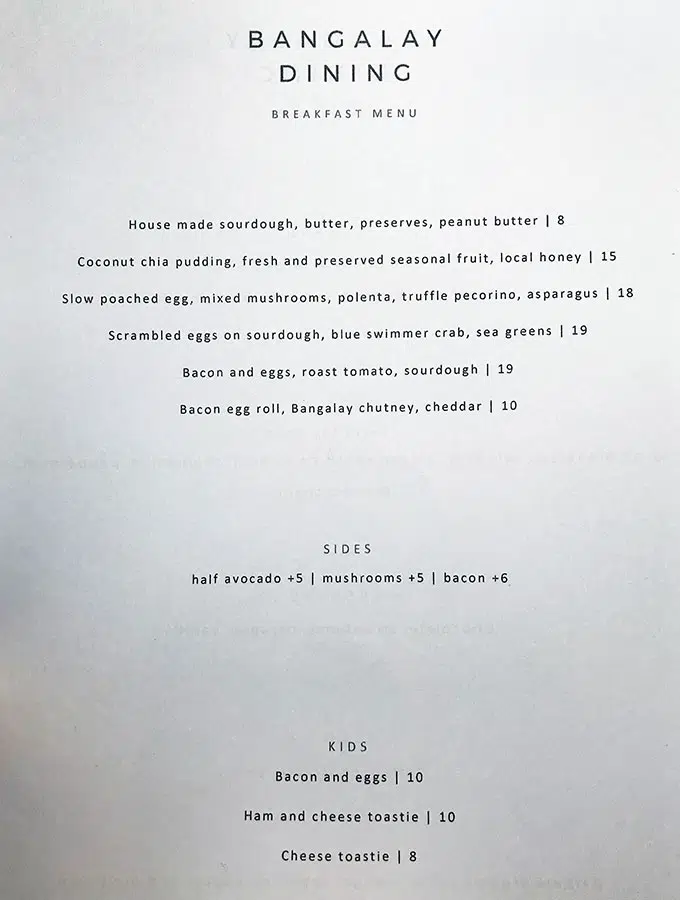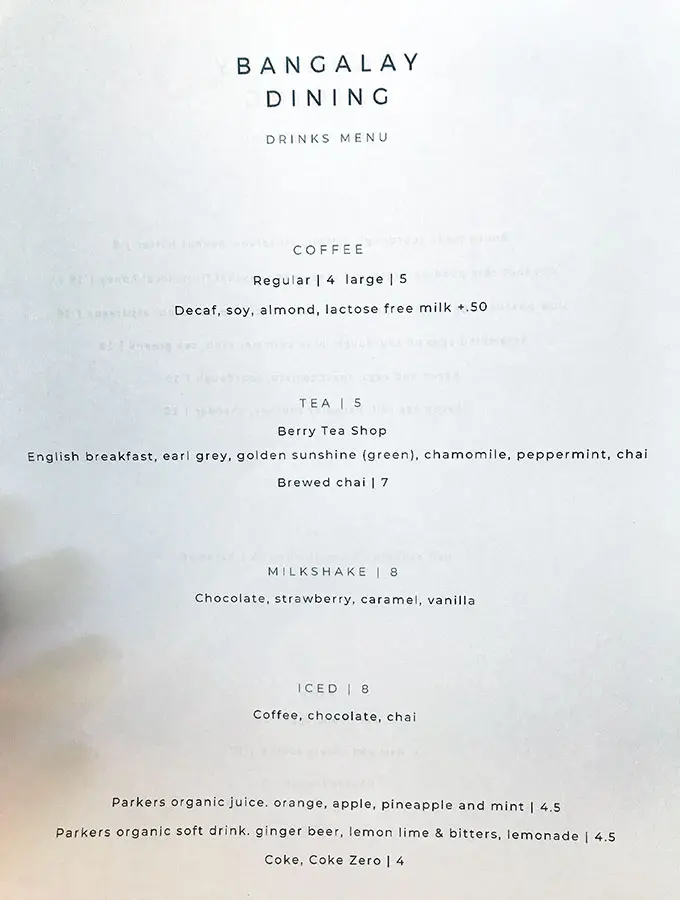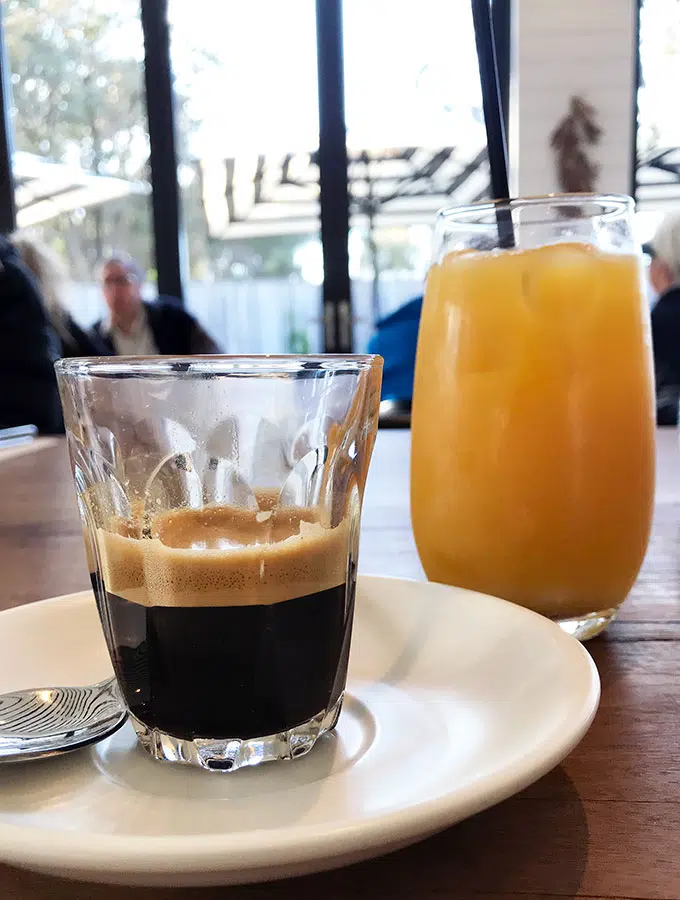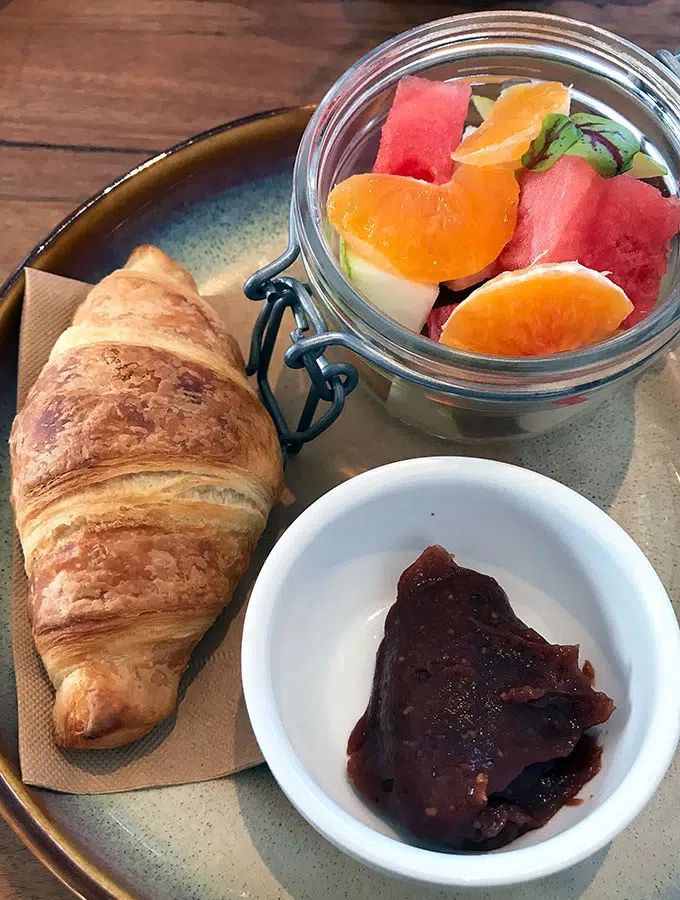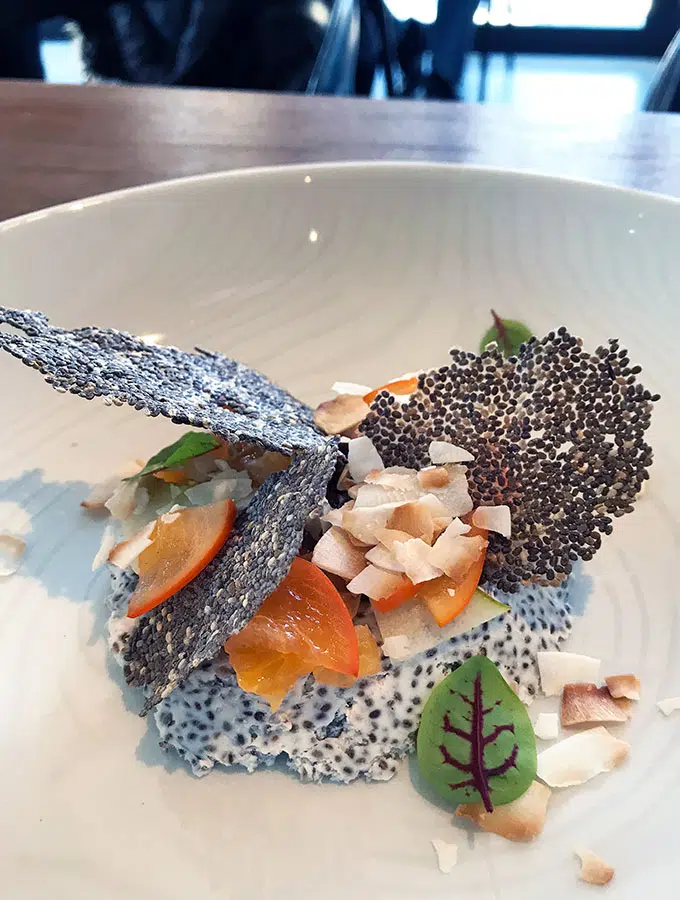 Bangalay Luxury Villas is an easy two hour drive from Sydney or Canberra. The perfect place for a weekend getaway or a longer break. They offer the perfect combination of self catering and making the most of the region's seafood, produce and wines, plus the option of dining at some amazing restaurants during your stay.
Sara xxx
Bangalay Luxury Villas
30 Staples Street, Shoalhaven Heads, NSW, Australia Tel +61 2 4448 7729
www.bangalayvillas.com.au
Belly Rumbles stayed at Bangalay Luxury Villas with thanks to Bangalay and Destination NSW, but all opinions remain her own.
What else is in the area
Bangalay Dining - creative dishes using local and Aussie native produce
Queen Street Eatery - A touch of Paris in Berry