I love a casual picnic with friends.  Long and lazy, protected by the cool shade of a tree on a warm summers' day.  Sitting on a mismatched collection of picnic rugs.  An afternoon of friendly chatter, eating more than you should, and drinking a wine, or two, or even three.
A few weekends ago I did just that with a group of friends and our partners.  We headed to Sydney Park, which I have never actually been to before.  Knew where it was as I have driven past the old brick chimneystacks more times than I care to remember.  It is a fantastic alternative to Centennial Park.
Sydney Park is dog friendly, which is a fantastic bonus for us dog owners.  We decided to take Sally with us, as she loves a picnic as much as anyone.  For readers that may not be aware, Sally is my 12-year-old, 32kg, black, cross Labrador/Mastiff.  A beautiful gentle lump of a girl.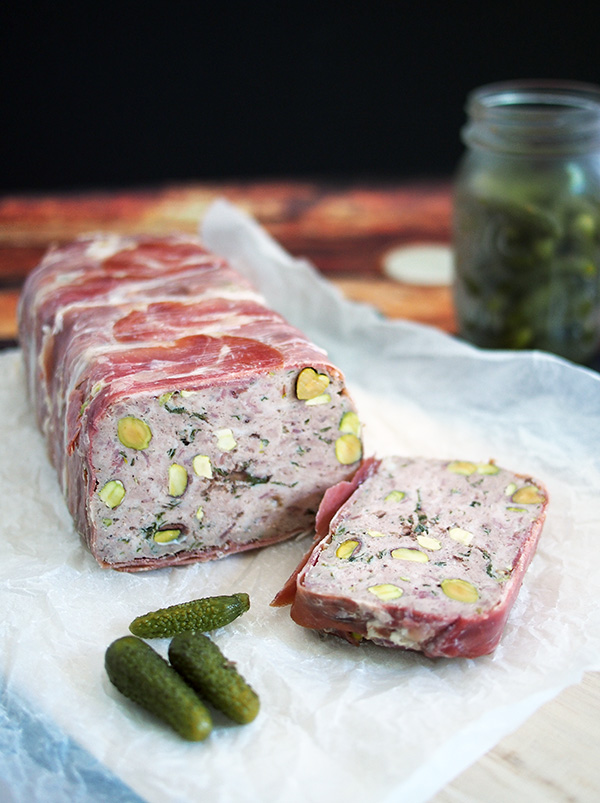 Sally had a wonderful day, as we all did.  She was happy to just chill under the trees with our group.  Spending time with everyone.  Spending time with everyone translates as sitting her big bum on various people's feet, knees and legs, thinking she was a third of her actual size.  She was even quite content to share the humans present with another pup, Honey, who was getting her picnic mojo on too.
We all brought a dish along to share.  The fuss free, stress less approach to picnicking.  I decided to bring along this terrine, a recipe I have been making for years.  It really is such a simple terrine to make.  You could say it's a bit of a cheat's terrine in a way.  This is due to the use of minced meat, instead of lightly processing or finely chopping the meat.  The only thing that really distances it from being a glorified meatloaf is the pressing process with some large cans overnight in the fridge.
You will need to start this recipe a day ahead.  The terrine is best served with crusty bread, salad and cornichons.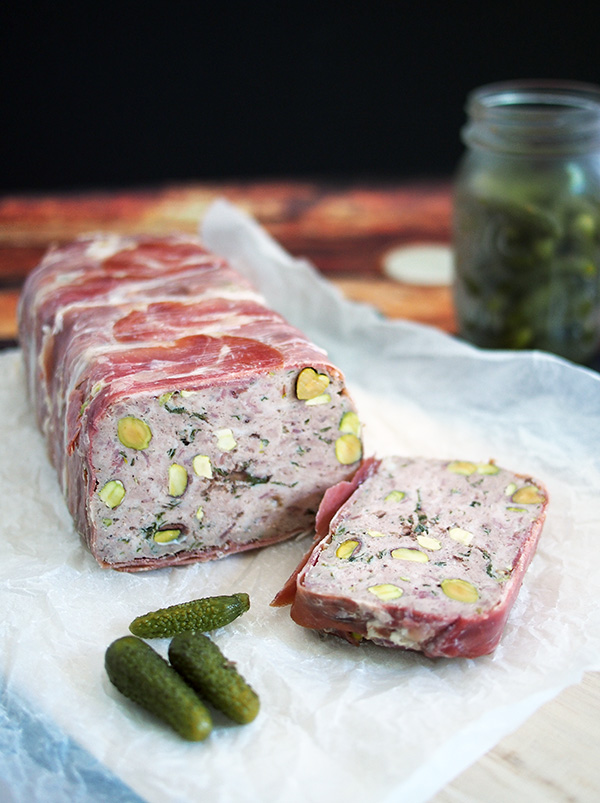 Easy Pork & Veal Terrine Recipe
Print
Ingredients
500

grams

fatty pork mince

500

grams

veal mince

250

grams

approximately 20 thin long slices prosciutto

1

large garlic clove

finely chopped

2

teaspoons

fresh lemon thyme

chopped

¼

cup

fresh basil

finely chopped

85

grams

shelled pistachios

coarsely chopped
Instructions
Preheat your oven to 180 degrees C or 160 degrees C fan forced.

Line a 10 x 22cm (or close to) loaf tin with baking paper. Make sure you the piece of baking paper is large enough that you can fold it back over the terrine. Then layer with prosciutto slices as shown in the photos below. You will only use around 12-14 slices to line your tin with. Once you have lined your tin and you are happy with coverage, chop up the remainder of the prosciutto to go in the terrine.

In a large bowl place all of your ingredients plus the leftover prosciutto. Mix well with your hands and season with salt and pepper. To taste for seasoning, fry a small patty (size of a 20c piece) of the mixture in a pan and taste. Adjust seasoning if needed.

Place your mixture in to your lined loaf tin. Press the mixture in firmly to make sure you get an even and flat result. Fold the prosciutto that has been left overhanging over the top of the mixture. Be sure to fold your end pieces in first.

Fold excess baking paper over the terrine. If you haven't left a long enough piece, just use a little more. Then cover with a double thickness of foil. Securing it well around the edges.

Place terrine in a baking dish. Fill the baking dish with hot water, coming halfway up the sides of the loaf tin. Bake for 90 minutes.

Once finished baking, remove terrine from the oven and baking dish. Leave foil on and then place a heavy weight on top your terrine (eg tomato cans). Once terrine has cooled to room temperature place in the refrigerator over night.

When ready to serve, remove from tin and plate.
Nutrition Facts
Easy Pork & Veal Terrine Recipe
Amount Per Serving
Calories 297
Calories from Fat 207
% Daily Value*
Total Fat 23g 35%
Cholesterol 77mg 26%
Sodium 195mg 8%
Potassium 363mg 10%
Total Carbohydrates 2g 1%
Protein 19g 38%
* Percent Daily Values are based on a 2000 calorie diet.
Do tell dear Belly Rumbles' reader, what is your favourite dish to take to a picnic?
Sara xxx