This was meant to be a super healthy potato rosti recipe. Air fried mini rosti with smoked trout and a healthy yoghurt dollop instead of crème friache.
After seeing numerous photos of me looking like the side of a house at the Belly Rumbles readers' lunch on the weekend, I decided I was never going to eat again. I then took time out to actually think about my drastic thoughts. Made some quick mental calculations, and worked out that not eating ever again probably wasn't the best solution to the issue at hand. Besides the lack of content creation for the blog, odds were it would all end up in a messy death.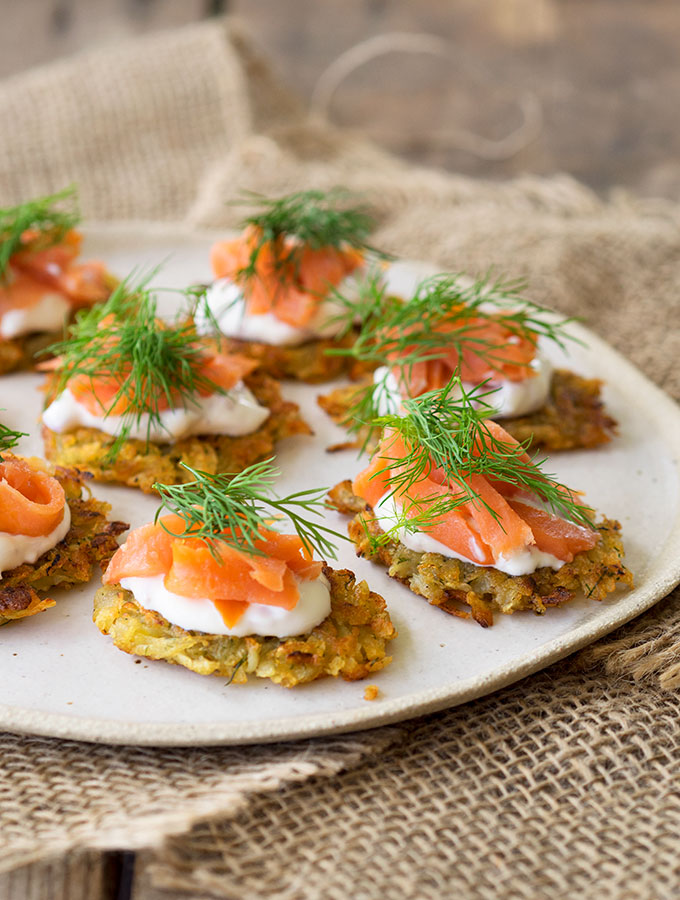 Next best thing was to really watch what I ate. What better way than start making a few healthy recipes to share with you guys. If I was going to have to suffer with healthy crap, that we all pretend tastes amazing, so were you. All right that was a bit harsh, all healthy food is delicious, fresh and tasty. (If I say that mantra often enough, I may brain wash myself)
But guess what, all my good intentions, for both you and I, went by the wayside. POTATO ROSTI DON'T AIR FRY! In fact they turn into bitter bites of shite. They just don't work, they don't look burnt, but they have a horrid burnt bitter raw taste, even though they were cooked through. You just don't want to go there, seriously you don't. Even Sally wouldn't eat them, and I still feel guilty that I actually offered her one.
It then occurred to me to oven bake the bastards. You may think my calling them bastards is a bit harsh and an over reaction. But my frustration and growling was due to the potato rosti fail happening directly after an epic caramel fail the previous Friday night.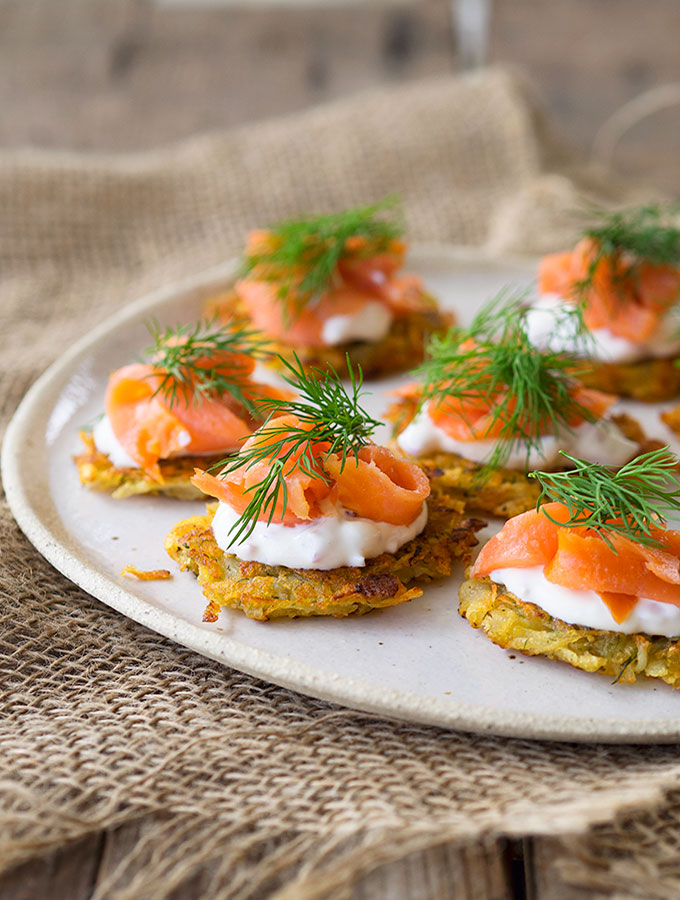 I had decided to make French caramels for my readers' lunch on Saturday. Of course attempting a style of caramel I had never tried before, at the last moment, with no alternative avenue. The short version, I finally ended up with something that resembled caramels 2.30am on Saturday morning.
I decided against oven baking the rosti to try and retain some of my sanity.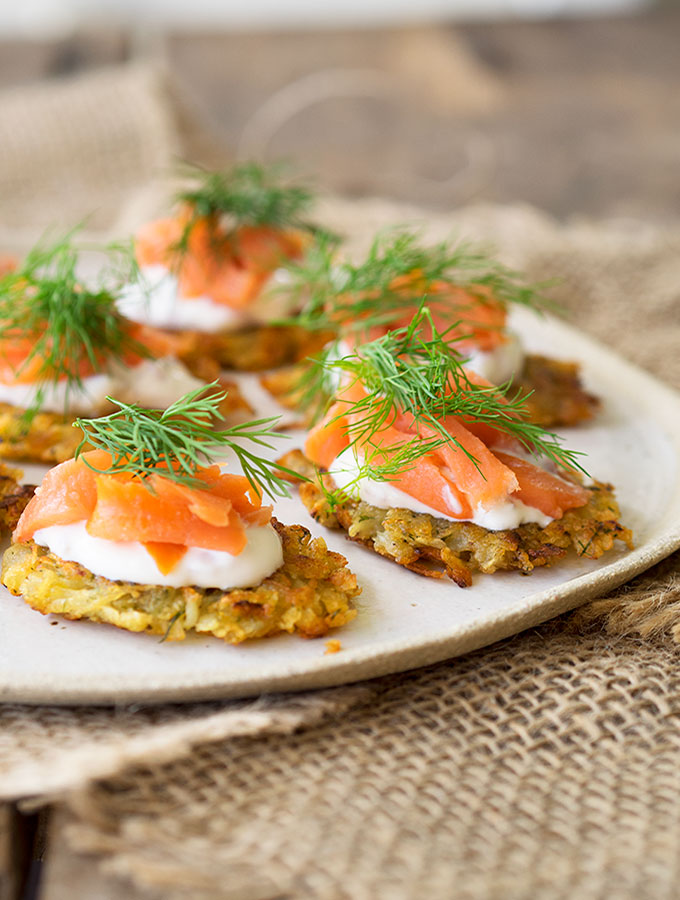 With the rosti air fry fail and the thought of them failing in the oven, a non stick fry pan was pulled from the cupboard. With a splodge of olive oil and a dollop of butter, the rosti turned out quite delicious indeed.
The yoghurt was still used as a healthier crème fraiche alternative, with much success. The yoghurt added a lovely tang, which contrasted the rich smooth smoked trout. Red onion was added for a bit of texture and bite. Topped with a sprig of fresh dill to finish them off.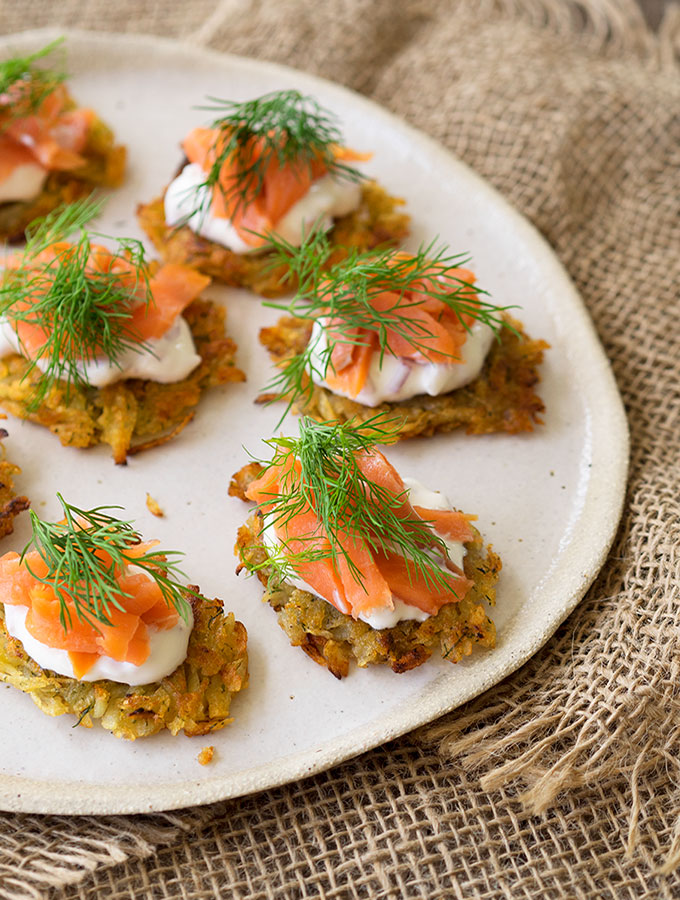 A little tip if you are grating your potatoes by hand, put them in a bowl of water as you grate. It stops the grated potato browning. I know I can never hand grate fast enough to prevent it happening with out some water aid. If you are grating via a food processor or the likes, it is a rather speedy process and not necessary. Either way you do it, make sure you squeeze out as much liquid as possible from your potatoes before making the rosti.
They are the perfect canapé mouthful for entertaining. Originally this recipe was in homage to St Patrick's Day, but really these are the perfect canapé for any occasion.
Sara xxx
Other Seafood Hors d'oeuvres
Chilled cucumber soup shots with spicy crab - perfect summer entertaining
Seared Scallops with Sake Butter Sauce - a Japanese twist on a classic
Chilled corn soup with crab and gin pickled tomatoes - a little sassy and one for gin lovers
Seared scallops, blood limes & hazelnut brown butter - another tasty seared scallop recipe
Fried prawn dumplings, water chestnuts & Ginger - one for the dumpling addicts out there
Prawn toast with corn & black sesame - twisted prawn toast at its best
Spiced prawn pappadams - mini pappadams filled with spicy prawn
Printable Recipe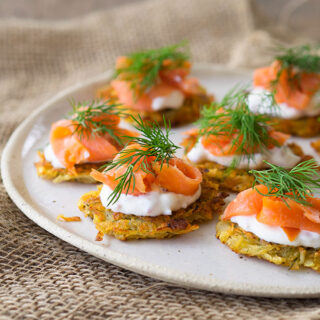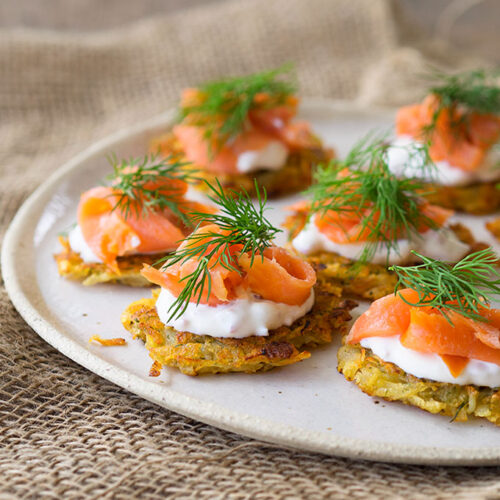 Smoked Trout & Potato Rosti Canapés
They are the perfect canapé mouthful for entertaining. Originally this recipe was in homage to St Patrick's Day, but really these are the perfect canapé for any occasion.
Ingredients
700

grams

grated potato

zest of 1 lemon

Salt & Pepper to taste

olive oil & butter for cooking

5

grams

dill

finely chopped

100

grams

smoked ocean trout

125

ml

Greek yoghurt

½

small red onion

finely chopped

extra dill for garnishing
Instructions
Mix potato, lemon zest, dill and a pinch of salt and pepper in a medium sized bowl until completely combined.

Heat a non stick fry pan over a medium heat with a little olive oil and butter. Place heaped tablespoons of potato mixture into the pan and flatten down with the back of a spatula.

Cook until rosti are browned on one side and then flip with a spatula and cook until brown and cooked through on the other side.

Remove from pan and place on kitchen towel to absorb any excess oils.

Place yoghurt and finely diced onion in a bowl and mix.

To assemble place a dollop of yoghurt mixture on top of a rosti and top with trout and a sprig of dill.
Measurement Notes
All measurements are Australian metric standard. All measures are level, and cups are lightly packed unless specified. 1 teaspoon = 5ml / 1 tablespoon = 20mls / 1 cup = 250ml /4 teaspoons = 1 tablespoon.
Recipe Notes
GENERAL COOK'S NOTES
All oven temperatures are for a conventional oven, if using fan forced lower the temperature by 20 Deg C (70 Deg F).
All measurements are Australian tablespoons and cups. All measures are level, and cups are lightly packed unless specified;
1 teaspoon equals 5ml
1 tablespoon equals 20 ml (Nth America, NZ & UK use 15ml tablespoons)
1 cup equals 250ml (Nth America use 237ml)
4 teaspoons equals 1 tablespoon
I use the below unless specified in my recipes;
Herbs are fresh | Vegetables are of a medium size | Eggs are roughly 60 grams in weight (large)
NUTRITIONAL INFORMATION BELOW IS A GUIDE ONLY
NUTRITIONAL INFORMATION
The recipe's nutritional information is an approximation based on an online calculator. It is meant solely for reference purposes. If you're looking for precise details, be sure to double-check with your own research.
Serving:
1
grams
Calories:
21
kcal
Carbohydrates:
3
g
Protein:
1
g
Sodium:
5
mg
Did You Make This Recipe?
I do a happy dance when people share how they went. Tag me on Instagram or Twitter @bellyrumbles & #bellyrumbles