Seared Sea Scallops with blood limes and hazelnuts toasted in butter until the hazelnuts have acquired a buttery crunch, morphing the butter into heavenly toasted brown elixir for your taste buds. Doesn't that sound just divine? Trust me they taste just as delicious as they sound, with the added bonus of being a rather simple recipe.
This recipe is the product of being gifted a big bag of Australian blood limes from gal pal, Amanda. Foodie friends are the best friends, and when you are close friends this wonderful friendship often results in the exchange of gorgeous product. In this case I was the very happy recipient.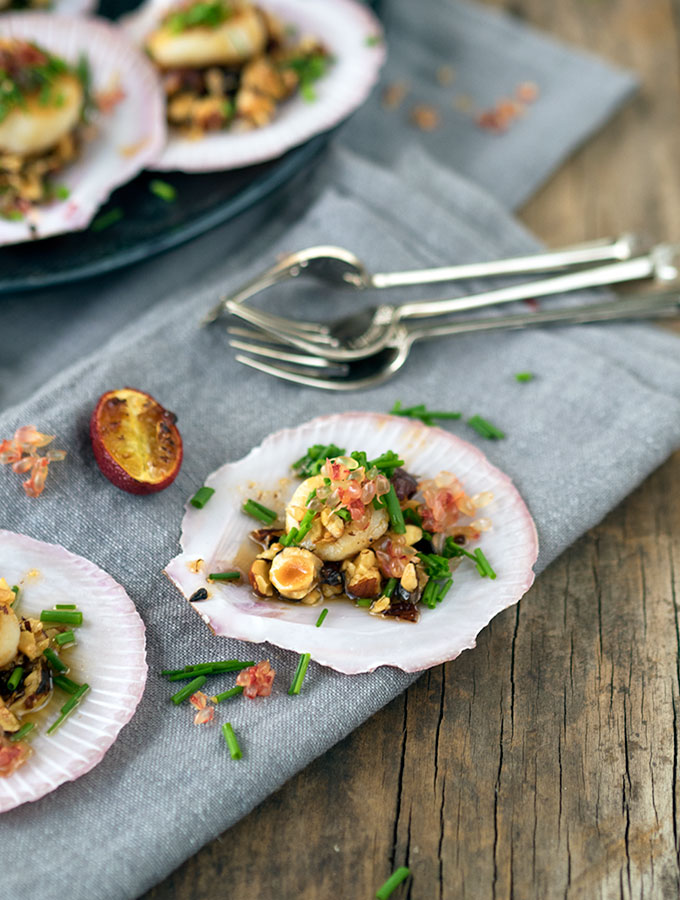 Blood limes are an Australian citrus fruit, but not one created by nature. A relatively new hybrid created in the laboratories of the CSIRO. Blood limes are a hybrid between an Australian native red finger lime and an acid mandarin. They are the result of the CSIRO's study into salt resistant crops, arriving on the commercial market back in 2004. I personally thank the CSIRO for their hard work, go science and research!
Blood limes are in season now, and if you are an Aussie, go forth and seek! If you live in the USA I believe we may be exporting some of these ruby skinned fruits your direction, keep those eyes peeled.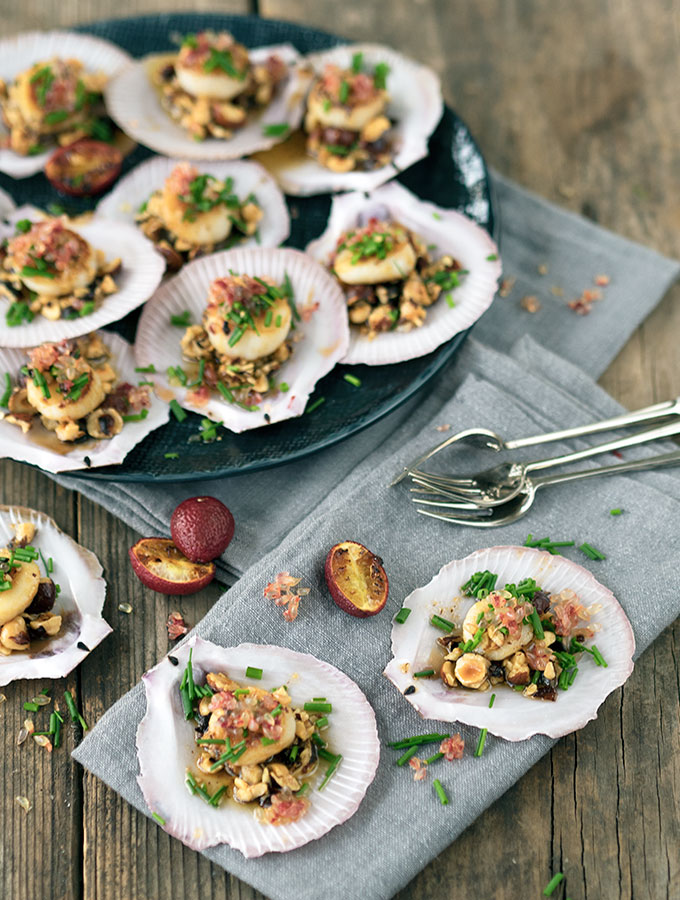 Blood limes are a tart tasting lime, quite different to a Tahitian lime. I've read on many sites that they are meant to be sweeter than a traditional lime, but I will agree with the CSIRO when they say they are quite acidic like a lemon and I think that is why I pick up the tartness.
What I really love is that the juice vesicles can be removed similarly to the finger lime. Not quite as easily, but with a little effort you end up with blood lime "caviar".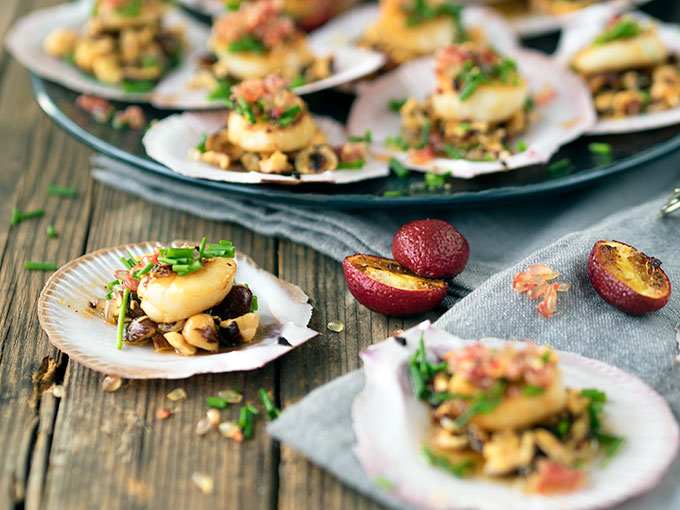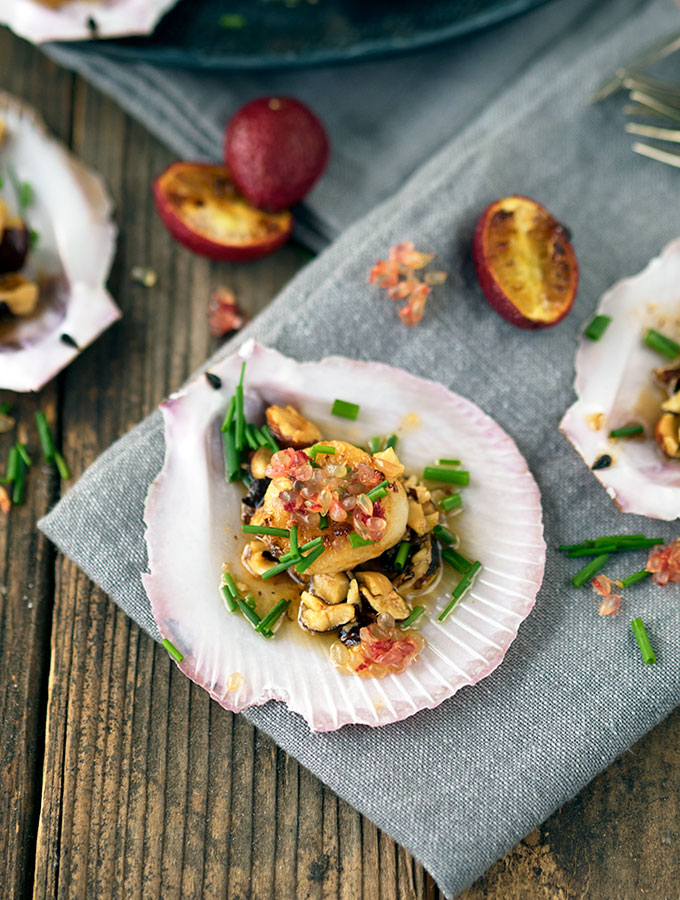 These scallops are a lovely canapé to serve to guests. They look very pretty and the blood lime is a wonderful talking point. Plus they are damn delicious too. The tang of the blood lime marries so well with the deep toasty flavour of the butter and hazelnuts, which add a textural crunch to the tender sea scallop.
Can't get your hands on blood limes? Don't panic you can quite easily replace them with traditional limes. I suggest adding a couple of slithers of lime flesh on top of each scallop, as you won't be able to achieve the "caviar" look.
And back to Amanda, if you do happen to get your hands on some blood limes, head over to Chew Town for some additional recipes. She has been cooking up a storm and there are some amazing recipes on their way, like this Blood Lime Crème Brulee.
Sara xxx
Other Seafood Hors d'oeuvres
Chilled cucumber soup shots with spicy crab – perfect summer entertaining
Seared Scallops with Sake Butter Sauce – a Japanese twist on a classic
Chilled corn soup with crab and gin pickled tomatoes – a little sassy and one for gin lovers
Fried prawn dumplings, water chestnuts & Ginger – one for the dumpling addicts out there
Smoked trout on potato rosti – a mouthful of amazing
Prawn toast with corn & black sesame – twisted prawn toast at its best
Spiced prawn pappadams – mini pappadams filled with spicy prawn
Please also check out our complete selection of hors d'oeuvres recipes
Become a subscriber and don't miss a single delicious recipe, restaurant review or travel adventure.