I'll cut straight to the chase. You go to Hello Kitty Kitchen and Dining because you are a Hello Kitty freak, not for the food. The place is packed to the rafters with hello kitty sugary sweet cuteness, but sadly this place is a bit of a culinary fail in a city that is an oasis of good food. You visit Hello Kitty Kitchen and Dining for the experience as a whole, plus the kids will love it.
You can't visit Taiwan without paying homage to a theme café, and best place to do so is the capital of Taipei. They have quirky cafes of all sorts, hospital themed, you can eat ice cream out of a mini toilet while sitting on one, get a complete Barbie fix, and there is even a restaurant where everything inside is made from cardboard. As tempting as all that sounded, my partner in crime Nicole and I decided to get all cutsie with Ms Kitty.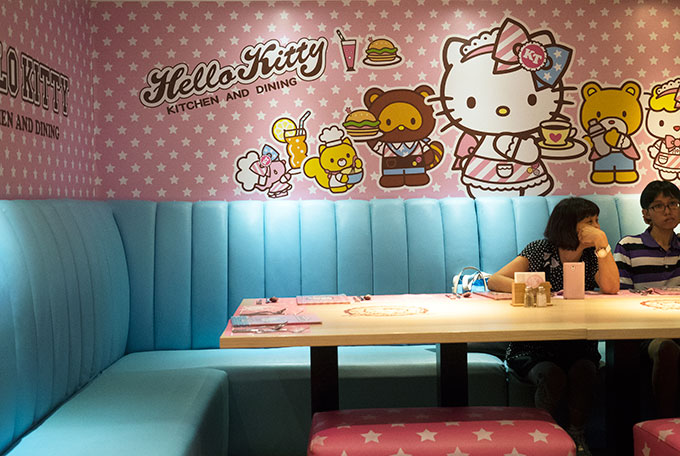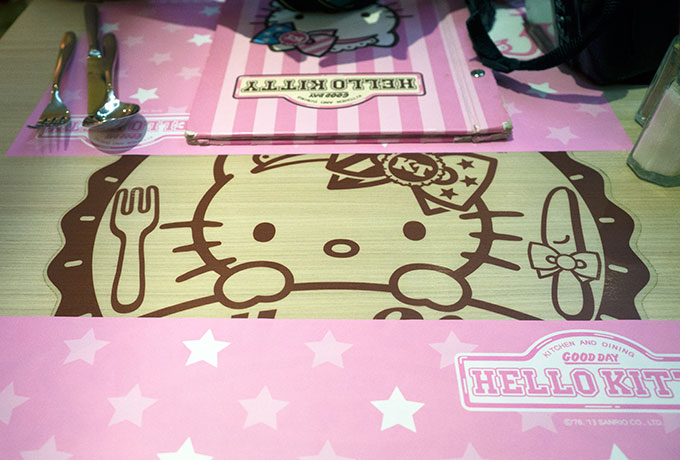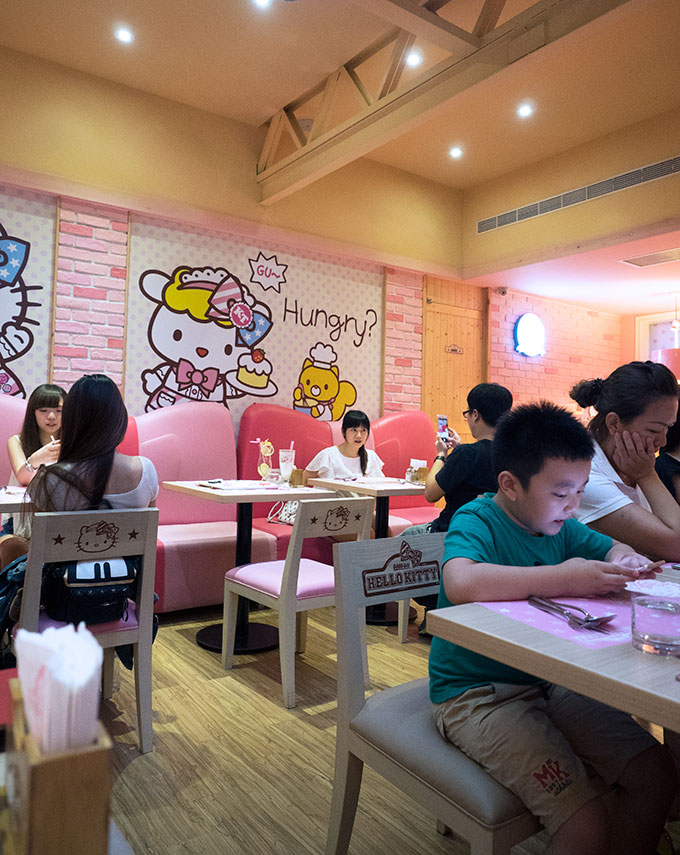 Hello Kitty Kitchen and Dining is extremely popular with the locals and booking is highly recommended. With no reservation we decide to rock on by for a very early dinner. Actually it was dinner number one as we then headed to Raohe Night Markets for dinner number two, the result of too little time and too much to see and do.
On arrival the downstairs section of the café was packed and we were escorted up a flight of stairs to the upper dining level. This section was basically empty with only a few groups dining. No waiting time to dine, we were in for our cutsie kitty experience. I should add it filled up pretty quickly while we were dining.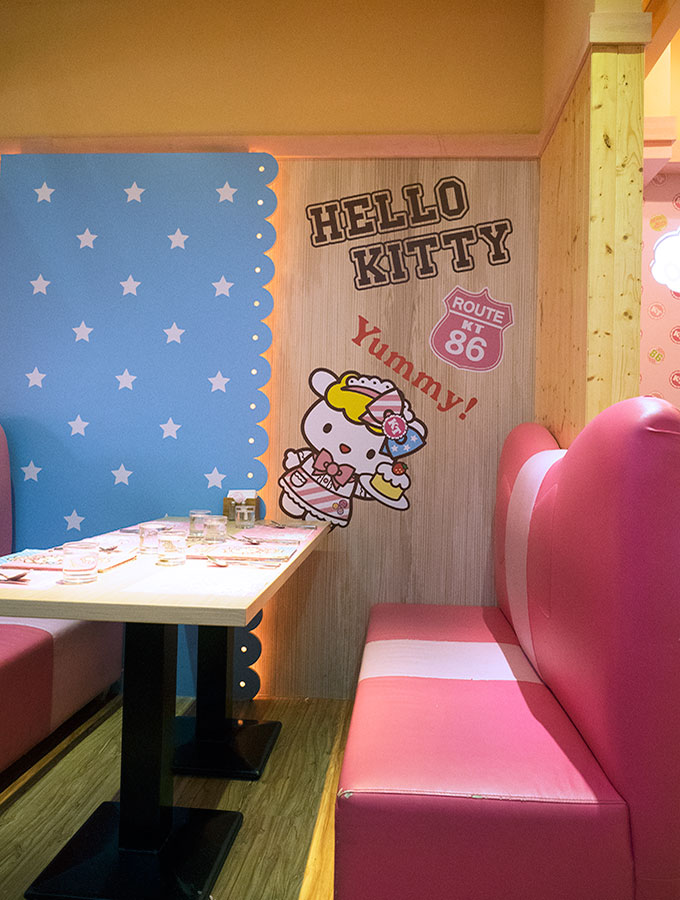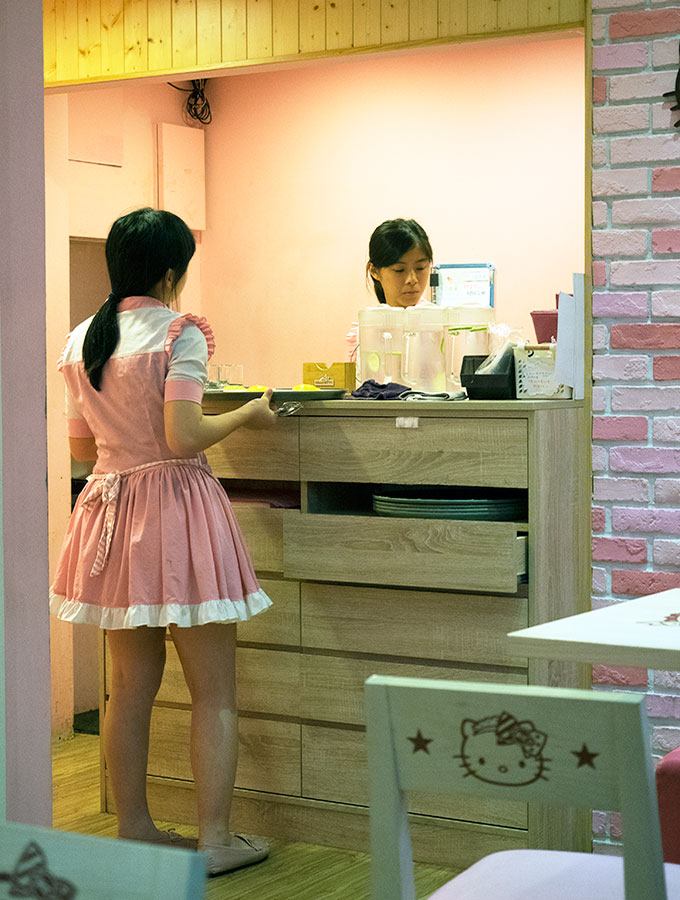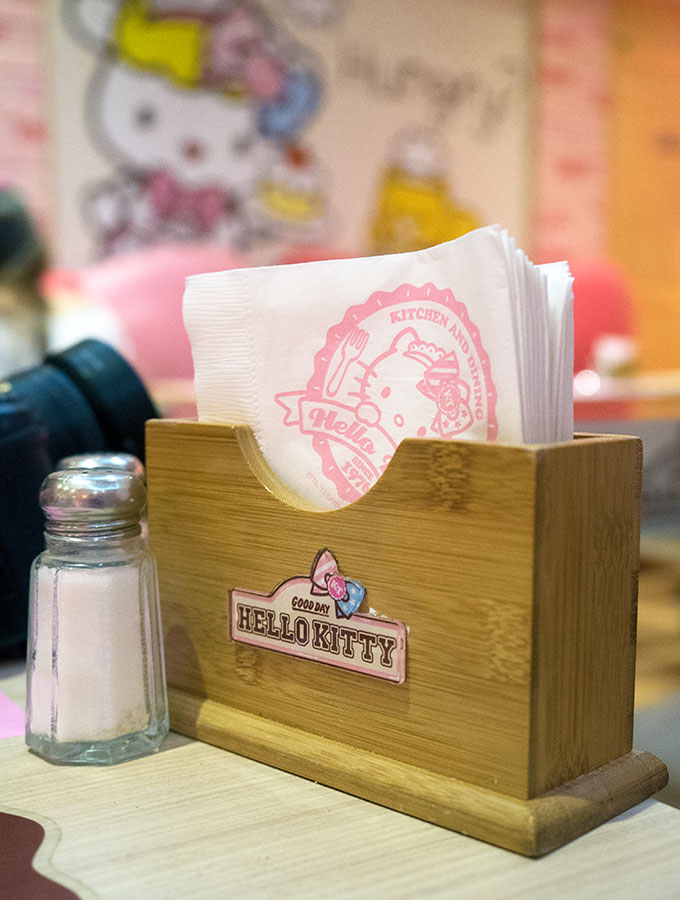 Hello Kitty Kitchen and Dining is complete Hello Kitty overload. She is on the walls, she is on the floors, she is on the ceiling, tables, chairs, plates, glasses, bowls, she joins you in the bathroom, Kitty is everywhere. There is no escaping the Kitty cat and no doubt as to where you are dining.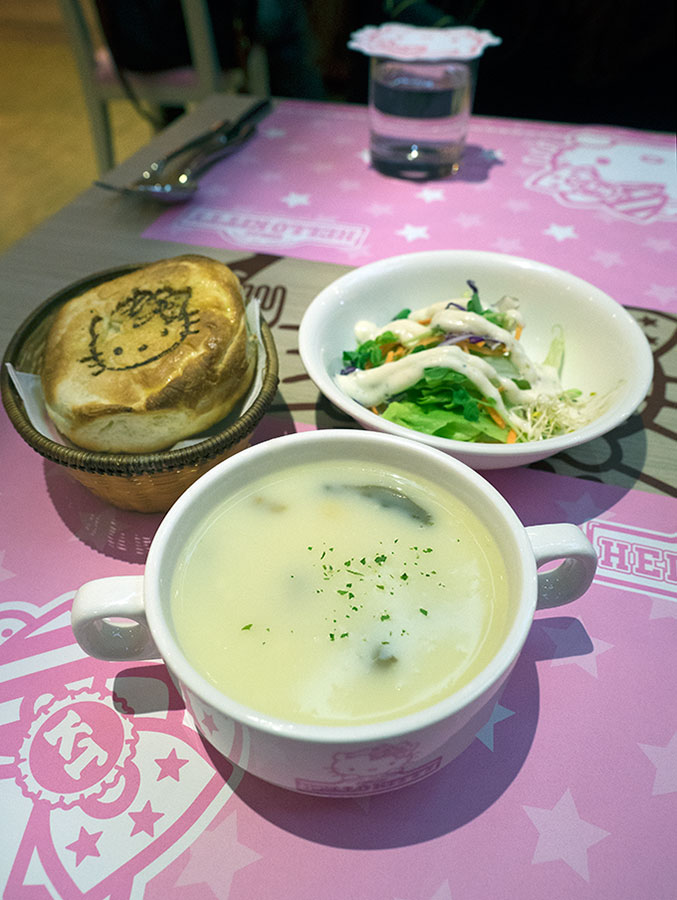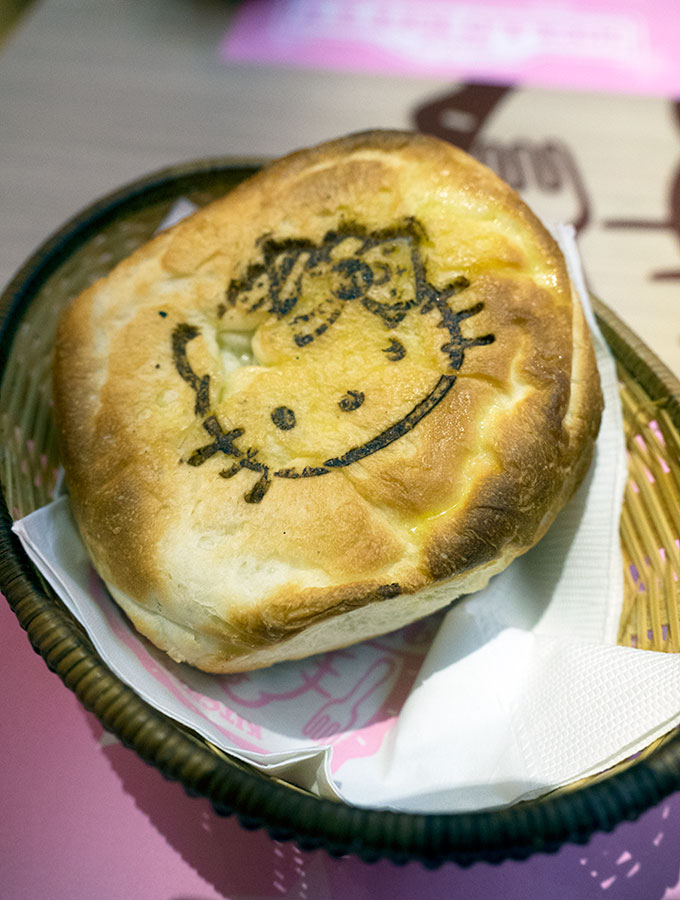 We order a couple of dishes to share and start with the soup and salad, which is part of a set meal. It's a creamy chicken soup with corn and slices of mushroom. The soup is fine, nothing outstanding, but lets all be honest, it's the branded bun that makes this dish. Served warm and branded like a Texas ranch steer with Hello Kitty. Light, buttery and slightly sweet as you would expect around this part of the world.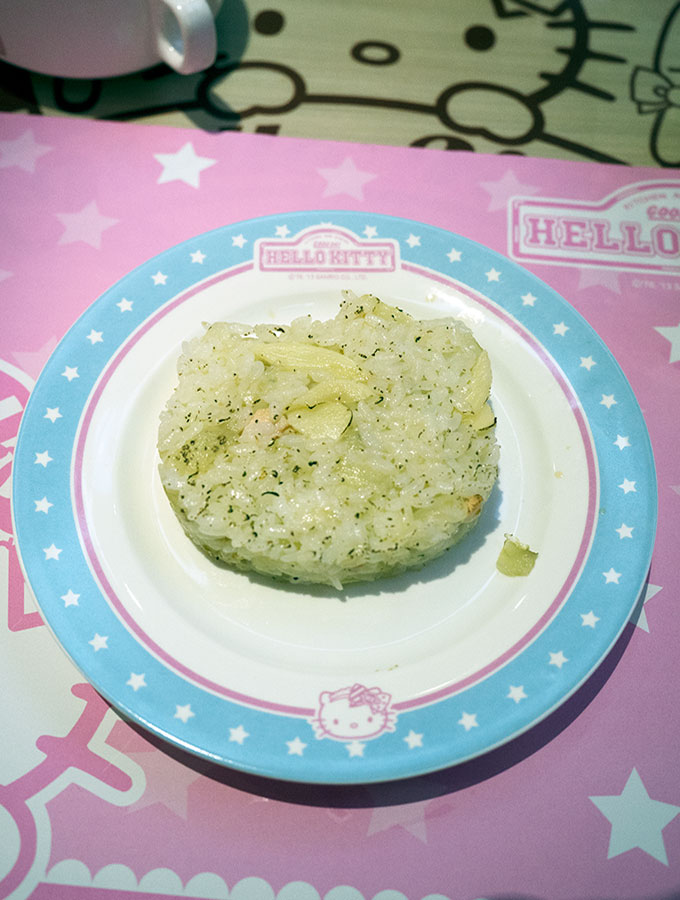 Kitty roasted rice (part of the set meal) is packed with onion, large sautéed slithers of garlic and salmon pieces. A difficult dish to "kittyize" but Hello Kitty Kitchen and Dining pull through on the task by shaping the rice into Hello Kitty's head. Thank goodness for Kitty's bow, otherwise it would have just been a round plate of rice.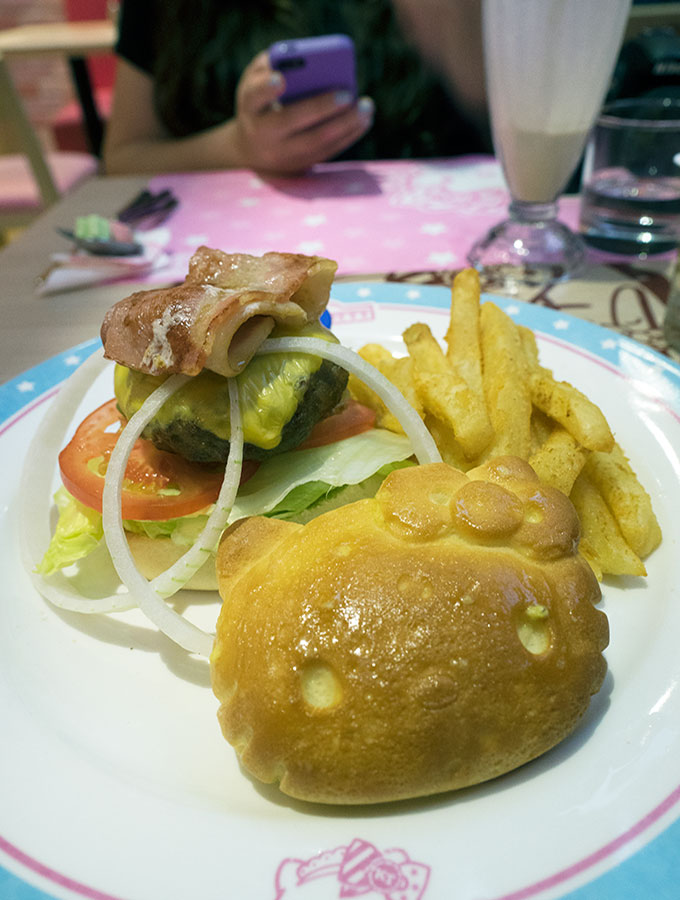 Ordering a burger is a must. The buns are just the cutest and we go for a classic combination, the Kitty cheese bacon and beef burger. It's a knife and fork job as the well done hockey puck of a patty is fat and small sitting high on the bun. This is then topped with a generous slice of bacon. It's not the best burger I have ever eaten, and I am sure there are better burgers to be had in Taiwan. Again it's all about the buns hun!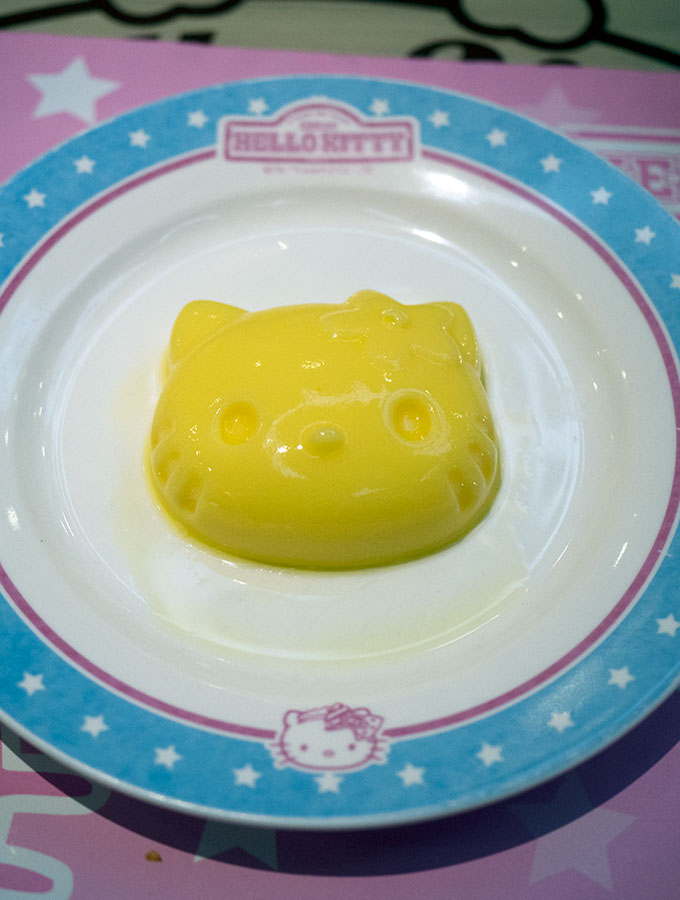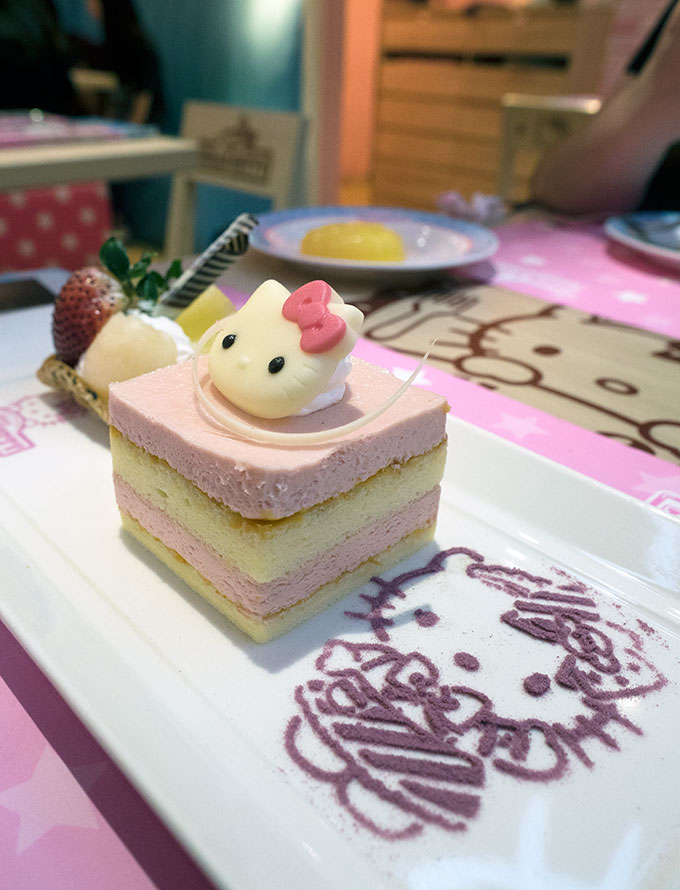 Vanilla pudding is the dessert with the set meal. It's a yellow wobbling hello kitty head on a plate and taste like packet pudding. The other dessert ordered is much more fancier, Hello Kitty strawberry sponge, and mini fruit tart, jazzed up with a sherbet stencilled Kitty on the plate.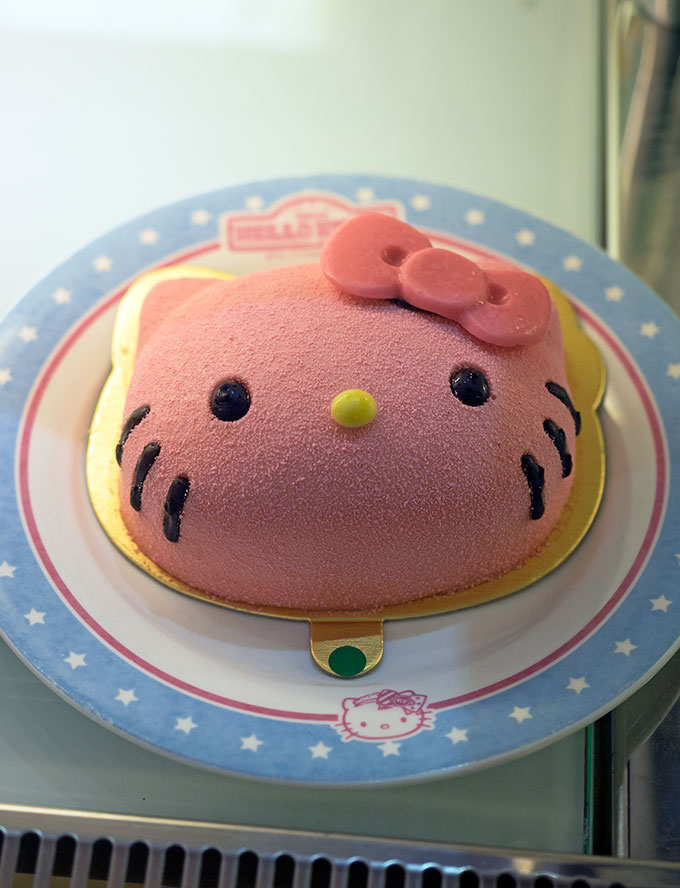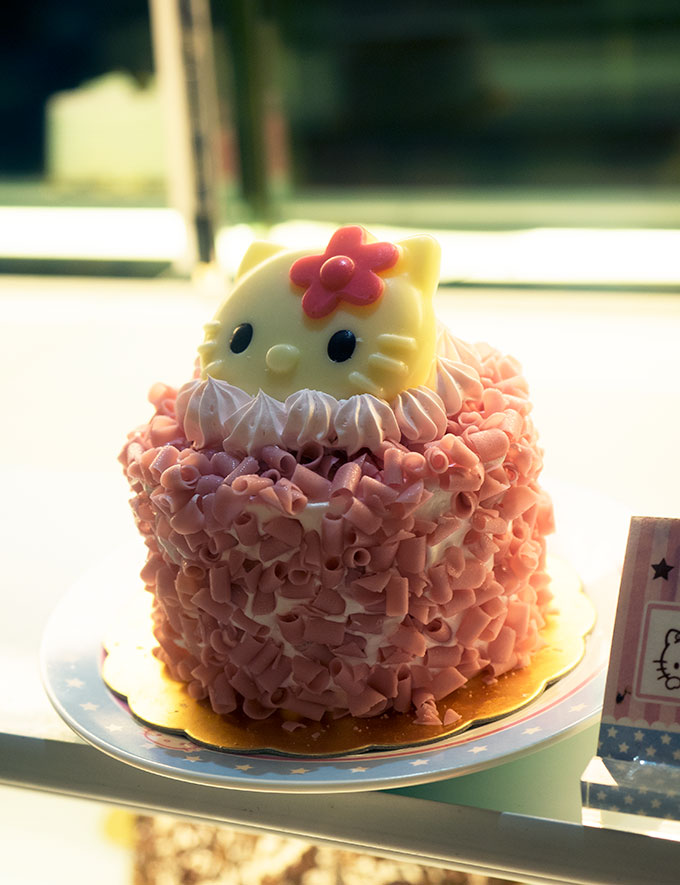 It's the desserts and drinks at Hello Kitty Kitchen and Dining that are the winners in my book. The shakes, cold lattes and milks are decorated in all their Hello Kitty finery. The desserts are also Kitty to the max.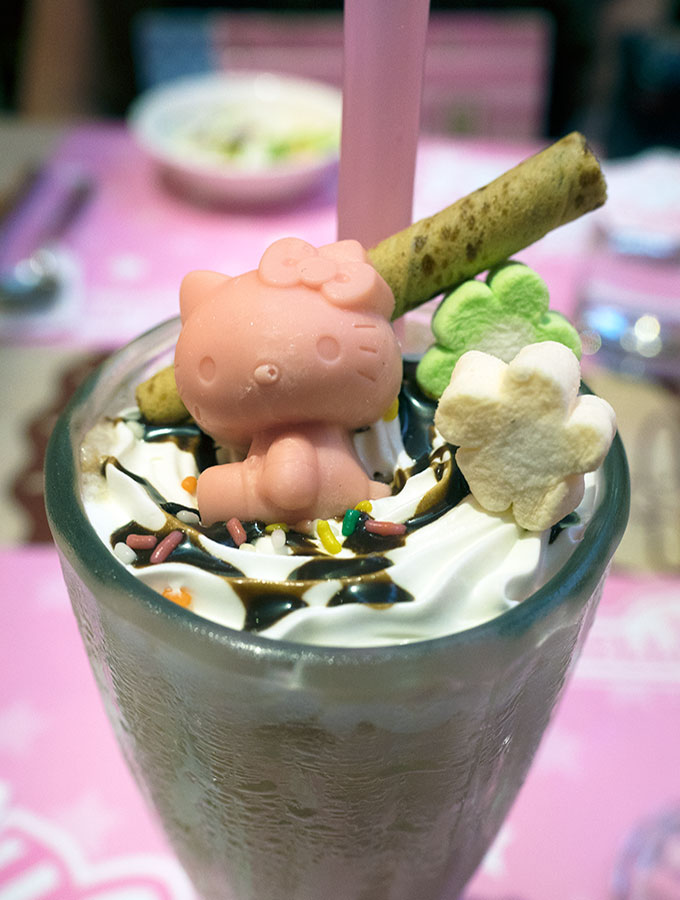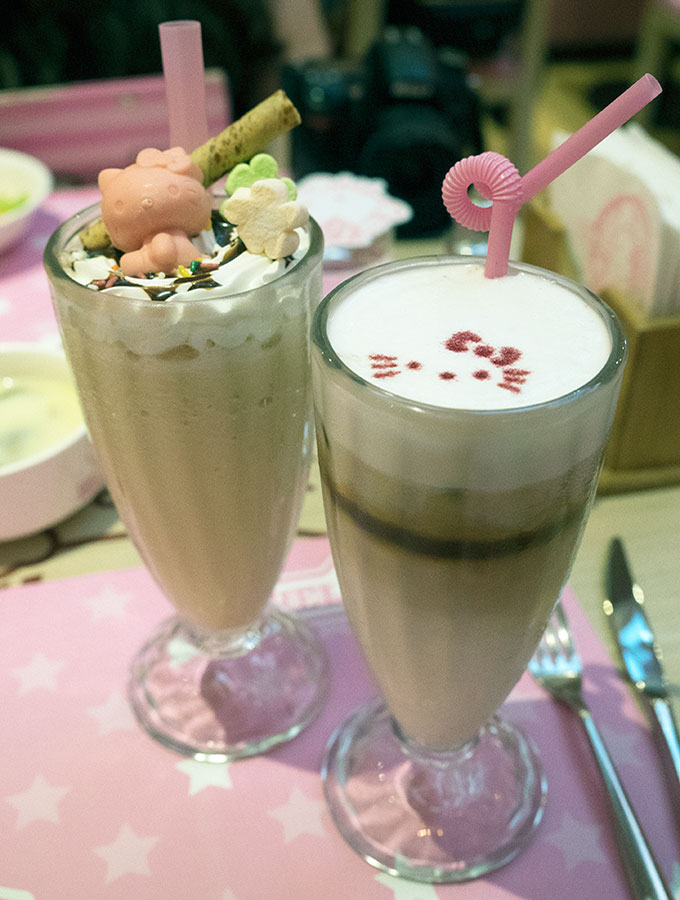 Sadly they don't serve alcohol at Hello Kitty Kitchen and Dining. Not surprising as the Taiwanese aren't big drinkers, but a couple of glasses of wine would have increased the hilarity of our pink surroundings and improved the food.
If you are a Hello Kitty fan it's a must. If you don't want to dine there, you can always pop in and grab one of the cakes to take away.
Sara xxx
Must try dish: The desserts, the cakes are Hello Kitty cute.
Who should dine here: Hello Kitty fans, those wanting to experience the quirky side of Taipei, and those with little girls, they will go gaga.
Who shouldn't dine here: Non Hello Kitty lovers
What else you should know: There is a minimum per person spend of NT300 + 10% service charge.
Price: Mains NT420-680, Desserts NT300-400, Drinks NT180-230
BYO: No & alcohol cannot be purchased
Bookings: Strongly recommended, and state upstairs or downstairs
Opening hours: 11.30am – 10pm daily
Contact details: No. 90, Section 1, Da'an Road, Da'an District, Taipei, Taiwan, Tel +886 2 2711 1132
Become a subscriber and don't miss a single delicious recipe, restaurant review or travel adventure.